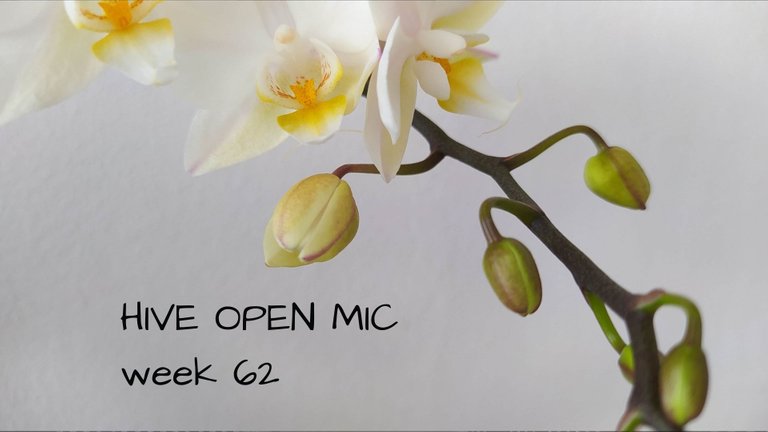 Healing song is the topic for this week 62. It has been chosen by @nahupuku and during the whole week, we have listened to different songs and saw different opinions on what healing means to each one. The topic came after the broken heart and retry themes, they are so nicely connected topics.
Healing is supposed to come after a difficult period or after a breakup.. It doesn't always come quickly, sometimes it takes a lot of time and patience. Did you have a broken heart? The healing of the same will come slowly, with love, patience, and only if you want and if you work on yourself. Healing the body also needs time and appropriate measures.
If you have seen the cover image and the orchid, you can see the buds slowly opening in and turning into flowers. It is a plant that I received as a gift a couple of months ago, and it had beautiful flowers. After a while, all the flowers withered and only dry branches remained. It was not a very beautiful plant, and just a few leaves and only branches without flowers left. But change began to happen slowly. The plant started its own healing and the buds that have appeared are slowly turning into flowers. A real metamorphosis that I can witness day by day. I hope it will fully open in some days, for now, it is full of buds that are opening up slowly. Nice metamorphosis, so my entry will come with a music piece with the same name.
It is a composition written by Philip Glass, from his album Solo Piano from 1989. There are five pieces with the title Metamorphosis, and I am playing here the second one. I don't play the repeated parts, as it would last for more than 7 minutes. It was the first and only take I made. The structure is simple, we can hear the steady pace that the left-hand dictates adorned with some long notes in octaves and fast broken chords in the right hand. Some weeks ago I performed another piece from the same composer, Philip Glass, hope you will enjoy in this one too.
In the meantime, I will wait for the flowers of the orchid to open and make its metamorphosis.