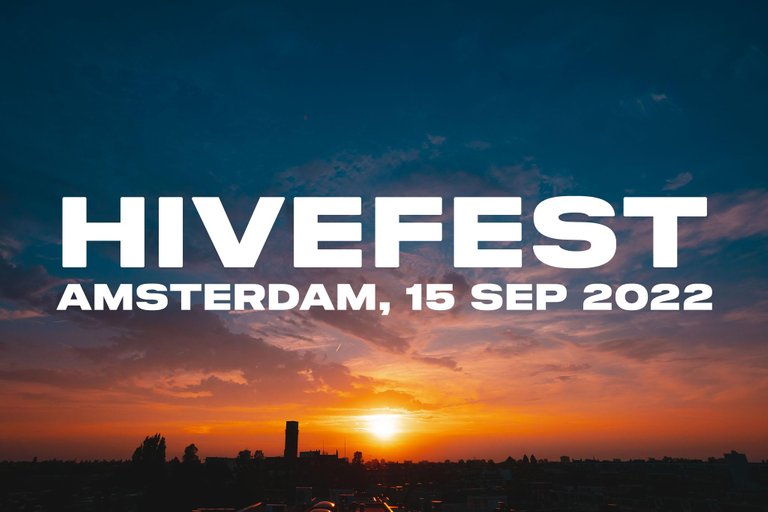 ---
Whatsup HIVE!
HiveFest was AWESOME! I finally got home and was able to look at all my photographs, but hey... we really need to have a moment, so before I'll be diving into my own experience and share the goodness of my very first HiveFest attendance with you all, I have to share some words about the man himself first.


---
Behind the scenes, and sometimes in the spotlight, the one and only...
@RoelandP, some would say he's awesome and a great guy. Awesome? for sure, but, define great. I mean, I only knew him from seeing and reading his posts on Hive as a witness, and of course as the host and organizer of previous HiveFest conferences. I was looking forward to meeting him, one of the reasons is because I am Dutch myself. Well, I can assure you Roeland is next-level 'great', whatever your definition of great is. Period. I mean, it was gold seeing him arrange everything and do his thing. He makes organizing events of this scope look easy breezy, lemon squeezy.
Roeland came across as a chill, no-stress, flexible, and funny guy. And this was exactly how I experienced HiveFest in a nutshell. Plus, it was educational.
The smoothness of HiveFest was great. All the tiny details were taken care of, and whenever something was faulty, it was taken care of in a few seconds. This shows that behind Roeland, there is also a great team of individuals who take care of all the technical stuff. Something I think we can applaud for a bit more during these kinds of events.
So Roeland, thank you very much for hosting this awesome event. I had a blast. It was an awesome experience. I have been working in the hospitality industry for a decade when I was younger, so I can see how much time and how much effort you have put into this whole event that lasted four days. Even despite the fact it was pouring 4 days straight, you managed to put smiles on everyone's faces throughout the entire event. Or... it might have been Amsterdam's grass... We will never know, but for me it is definitely the first.
You were rocking the Hive pajamas, so I might as well call you a true Hive rockstar.
Thank you Roeland!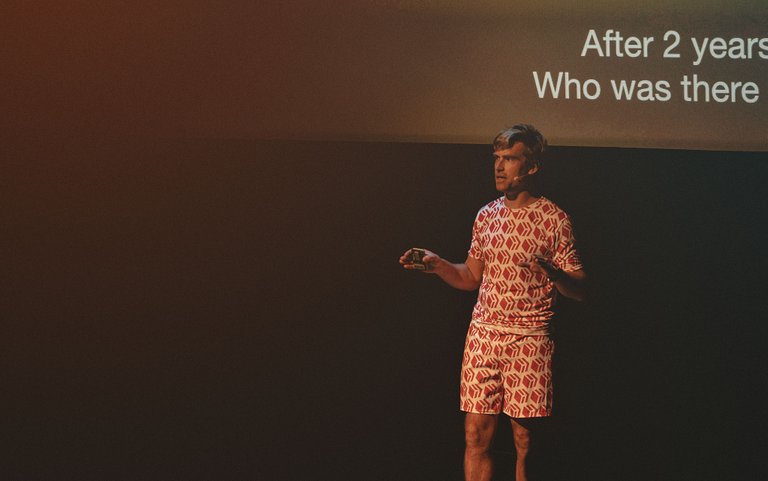 And... before I forget... since I won a HiveFest ticket... let me return you the favor, @roelandp; please, if you find any value or shots that you think you might be able to use, feel free to use -any- photographs that you find in this post and future HiveFest posts free of charge for future promotion, no credits required (but would still be cool, it's up to you), you can contact me for higher resolutions :)).



---





S U M M A R Y
HiveFest7: Opening Drinks





---
Felt like a tourist in my own country
I think I haven't been to Amsterdam for 6-7 years. What made it a tad worse was that I haven't been using my phone as actively as I should. So, there's Celestal, who I met in Estonia and Finland when we had a private group meetup. He had to help me out with getting the public transportation app. The GVB App is such an easy way to travel through Amsterdam. We paid about 25 euros for four full days of travel. This is a convenient way for any person who has to travel around Amsterdam. It was SO easy to use the app, and it was entirely digital so there were no paper cards at hand.


---
| | |
| --- | --- |
| | |
---
Meetups after meetups
Before I got to Amsterdam, I contacted one of my best friends that used to live in the East. I haven't seen him in 4 years due to covid and his health condition. It was great seeing him again, he's a surgery surgeon, so he's pretty smart. He kind of found a loophole in using the scooters that you could use around Amsterdam almost for free. Ha.. nothing changes eh? We had some lunch and talks. If you stayed long enough in Amsterdam, you might have seen him running the 'Dam to Dam loop' that was hosted this Sunday.
After this Meetup, he dropped me off at my other friend's place where I was staying, @Raz0ulplaysgames (onboarded recently). He was leaving his own house and went to his girlfriend's house so I had some privacy and could do 'as I please', during the time I was here. I just dropped my stuff here, as I thought I would have had "plenty of time" to spend some time with him, as I thought I would be a bit exhausted during the mid-day (thank you for these recovery drinks @roelandp!). After that, he dropped me off at the Volkshotel where I met up with @celestal.


---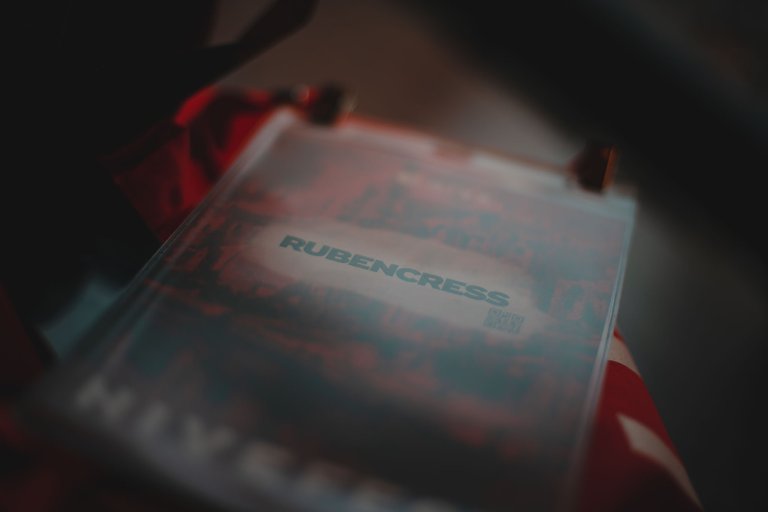 ---
Getting my badge!
I was welcomed by the then, unknown faces, but not much later, very familiar faces of @artakush, @blind-spot, and @minigunner. Oh man, at first, I thought they were just part of the crew of Roeland, but they were Hivers, which I just realized during the opening drinks.
But wait, there is more!
Besides getting my badge, there was also a goodie bag! Which hold all sorts of treasuries. One of them goodies was the very first edition of the @hiq.magazine! Which reminded me that there was going to be a presentation that I was looking forward to hearing more about.


---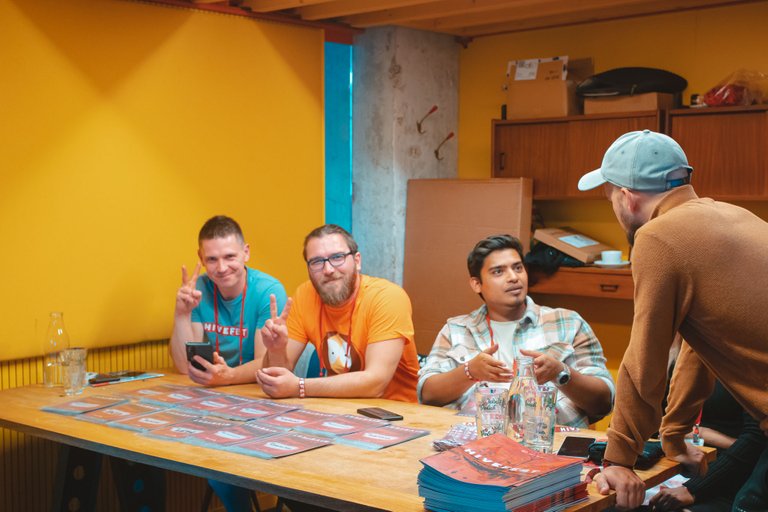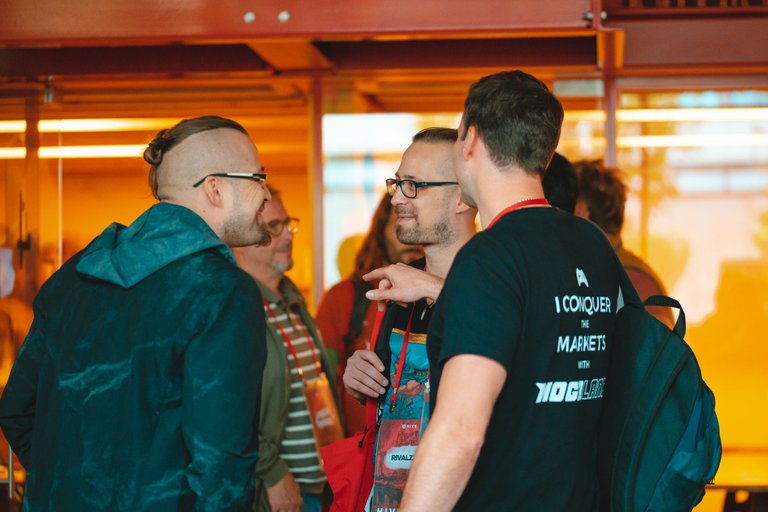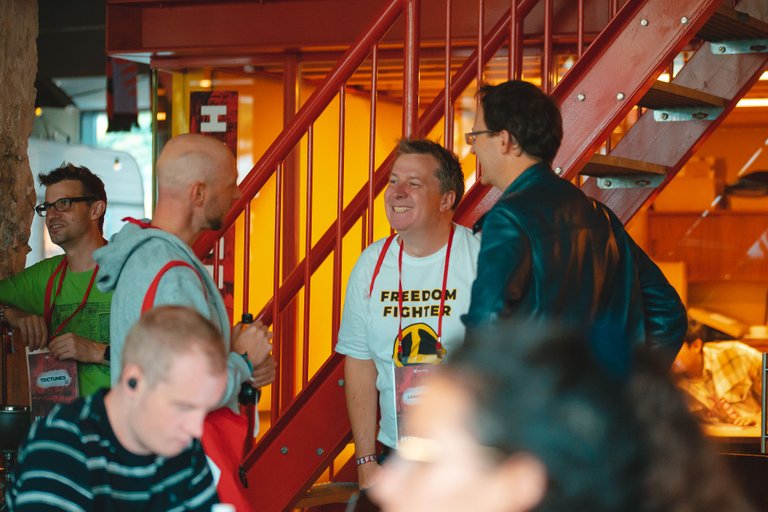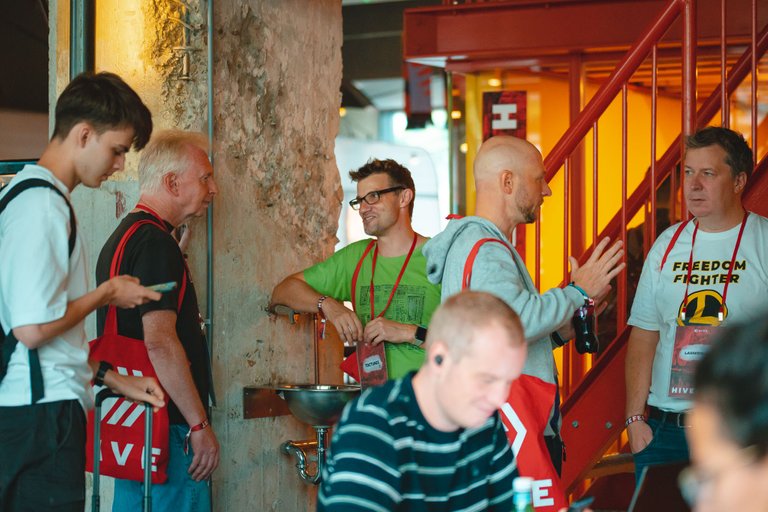 ---
Settling in
So, I had to settle in and observe the crowd as this was my very first time going to HiveFest, and was looking forward to seeing and speaking to a few Hivers. Most of the names that I saw on the badges were completely new to me. But I did see a few names I knew I had to say hi to for sure.
@celestal and I were quite hungry, and as I said before... I felt like a complete tourist in my own country, luckily we bumped into @gtg, and he advised us to go to a pretty good pizzeria just around the corner. While I'm not entirely sure if we were at the right pizzeria, the food was good, and exactly what we needed.
---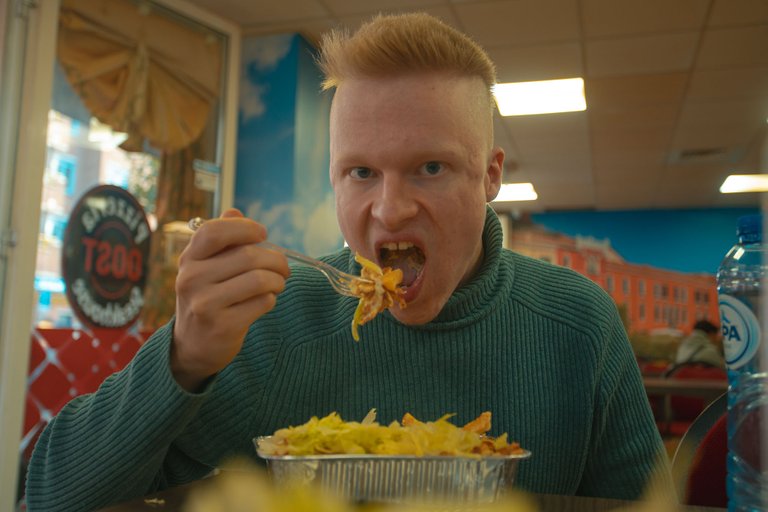 Actually, it was so nice, Celestal had to eat twice.
lol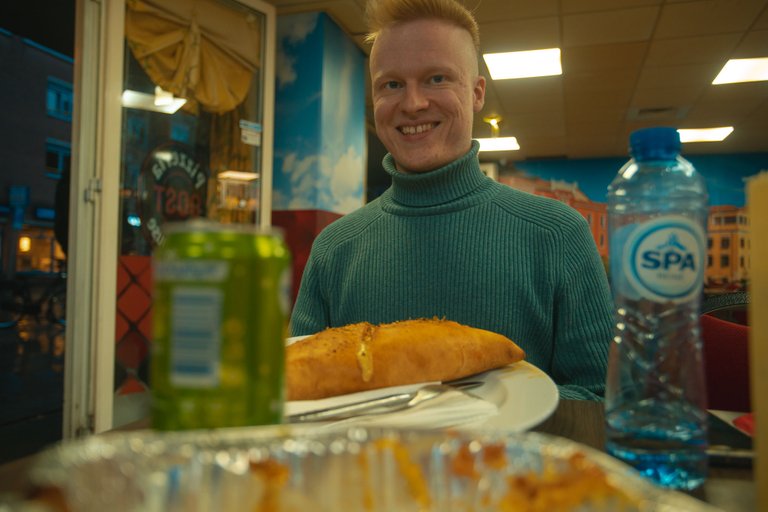 ---
This guy hadn't even finished his first meal and was most probably already fantasizing about his second. It's my fault tho because I gave him a trap; red or blue pill kind of situation. He had to choose between a Kapsalon or Pizza Calzone.
A Kapsalon is a typical Dutch fast-food dish, invented by a guy from Rotterdam who owns a Hairdresser (Kapsalon in Dutch), he just chose everything he liked and smashed it on one plate, and off he went. The Pizza Calzone I'm not quite sure if it is an Italian dish made-up by the Dutch or if it is a thing... since the Italians are pretty delicate with their meals, right? Oh well, it was quite nice seeing Celestal enjoying the food.
That's ma boi! Brings back memories from Tallinn and Helsinki lol.
Not much later, @elliotjgardner and @anmitsu were joining us as they were visiting Amsterdam for the duration of HiveFest and we ate some more together.
---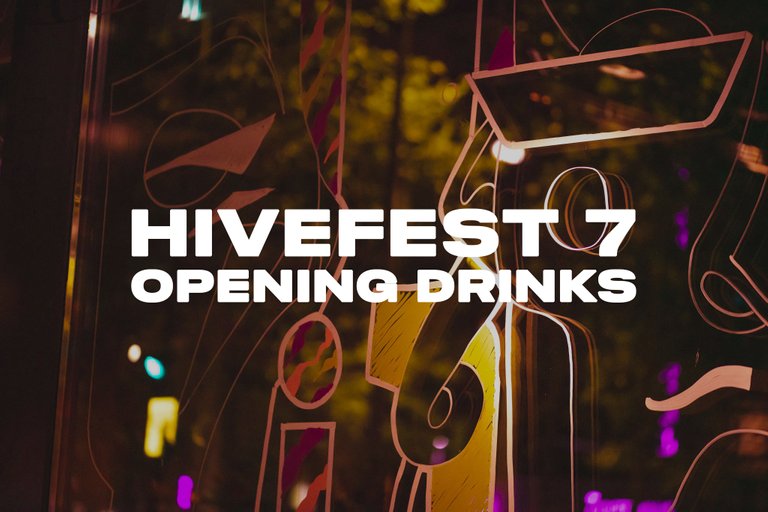 ---
Arrival: Opening Drinks
Around 8 PM we were able to get some drinks together and socialize with each other. Elliot and Anmitsu were coming in later as well. I decided to take some photographs of the atmosphere and the venue, which was a really nice place.
All the drinks were included with the HiveFest ticket, which was awesome. I mean, who doesn't like a free beer? The downside was that in return the bar was very crowded, which made you wait a few minutes before a beverage. Which was perfectly fine by the way.
Anyway, here are some photographs to give you an idea of what you've been missing out on! Shame on you :p


---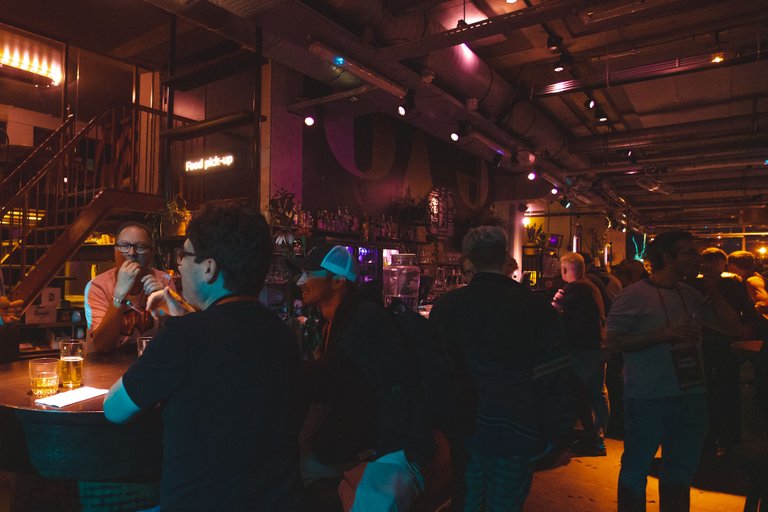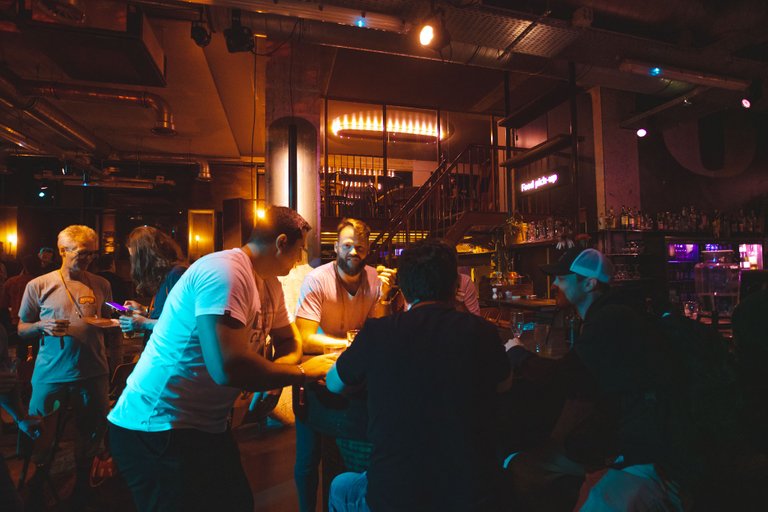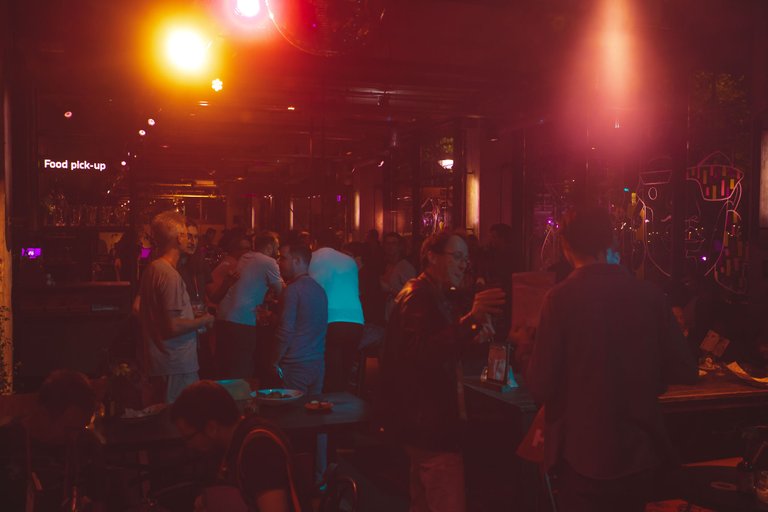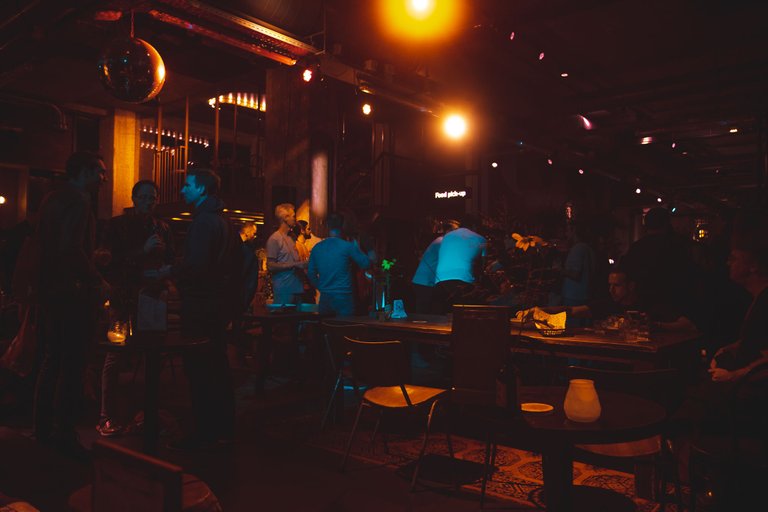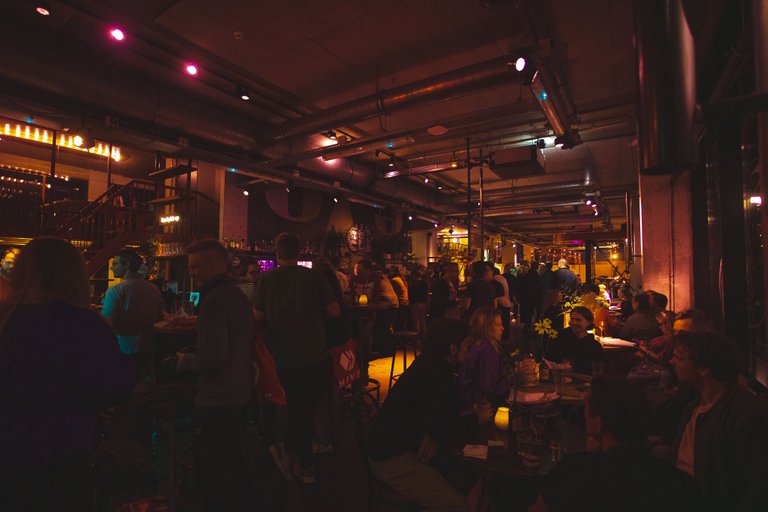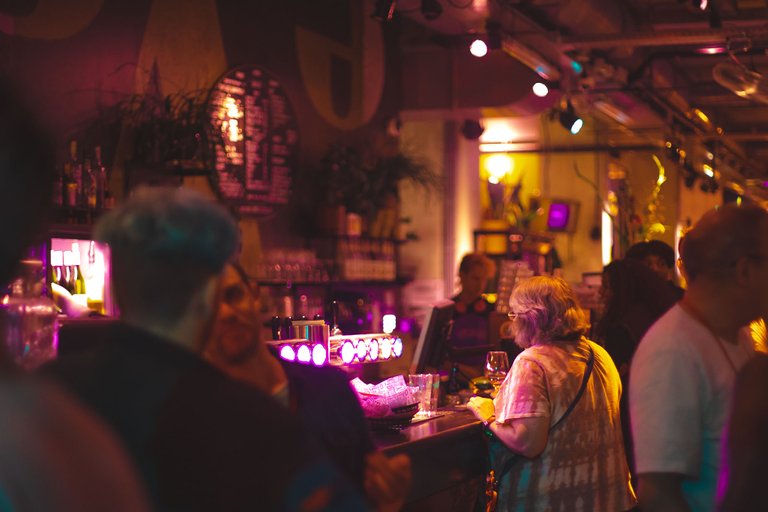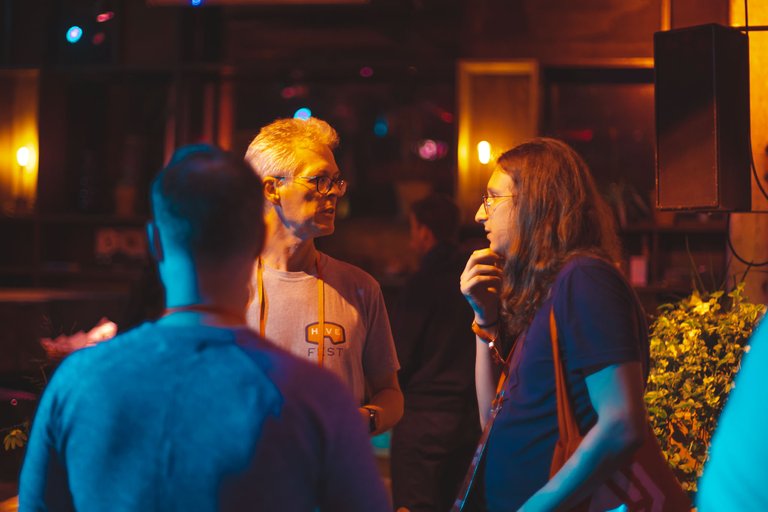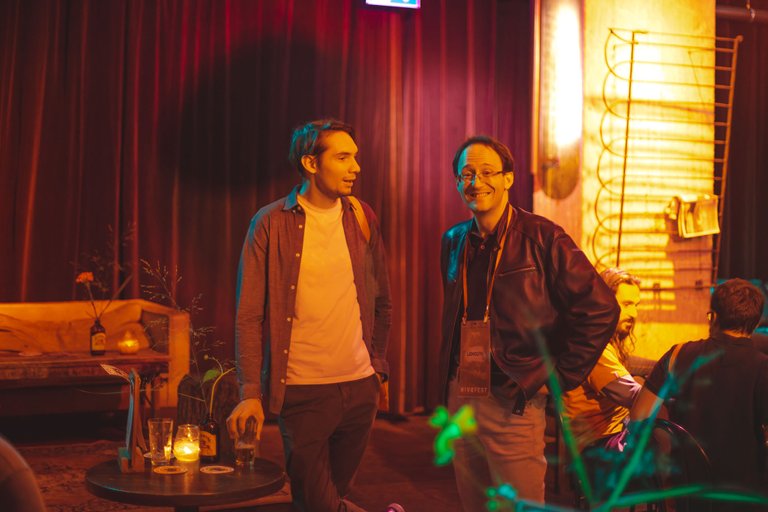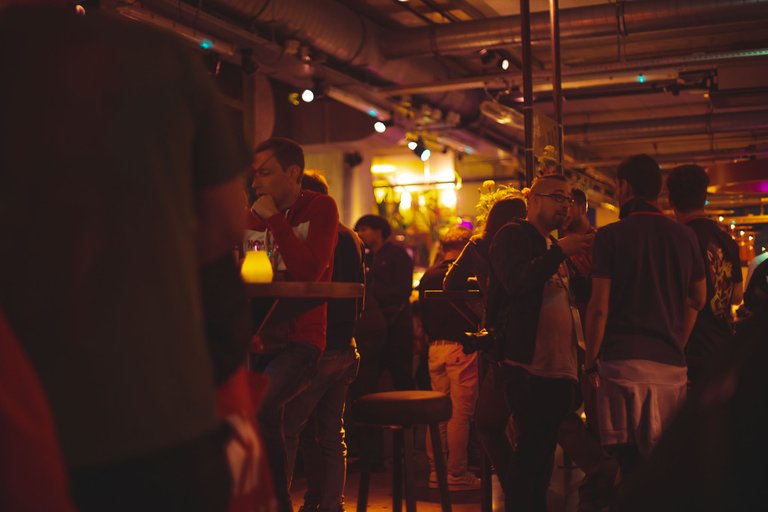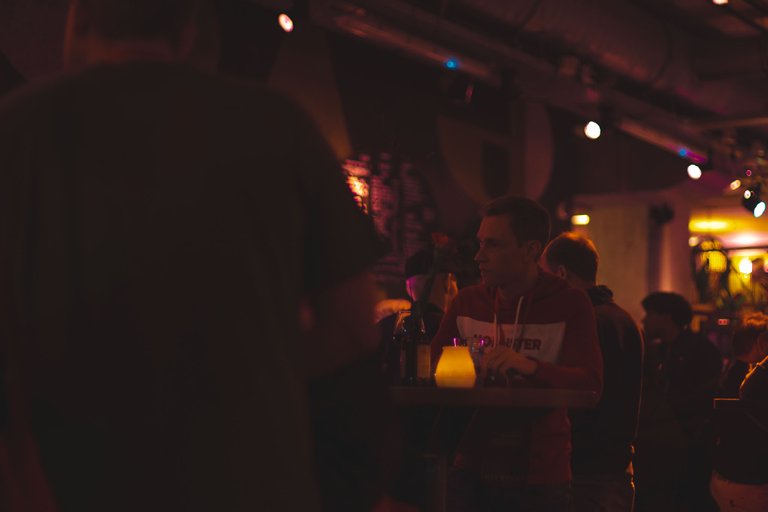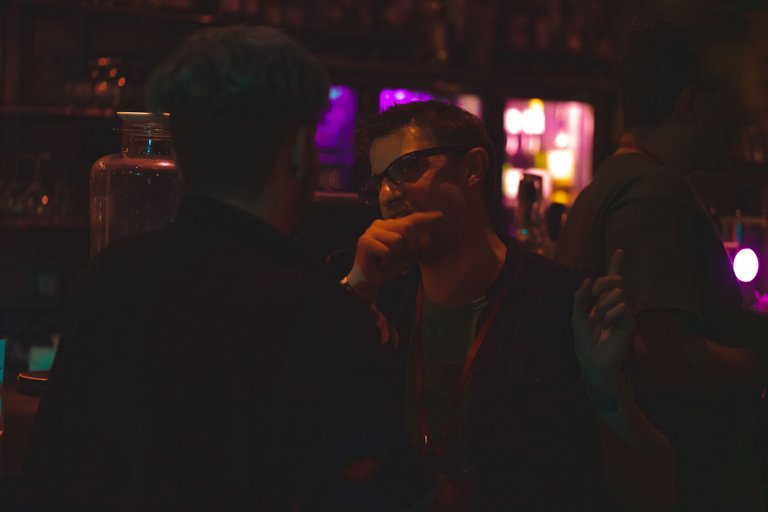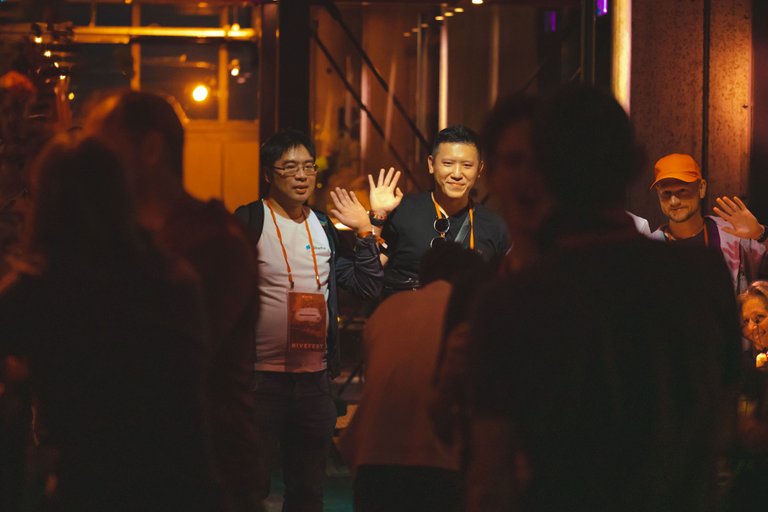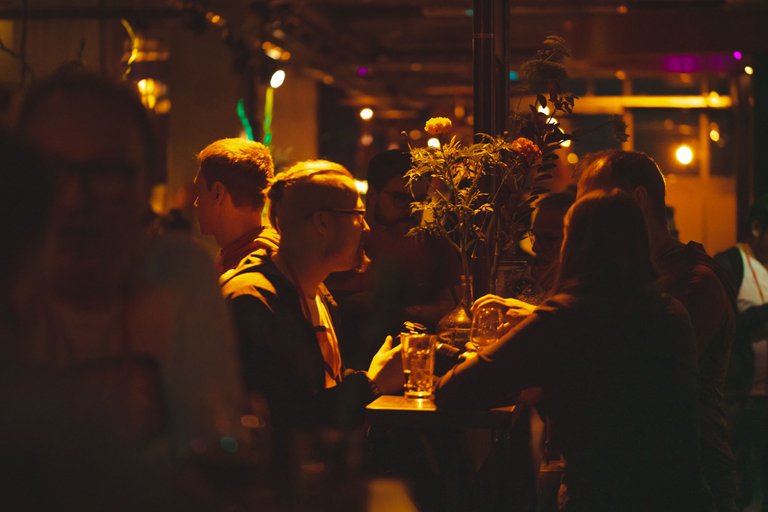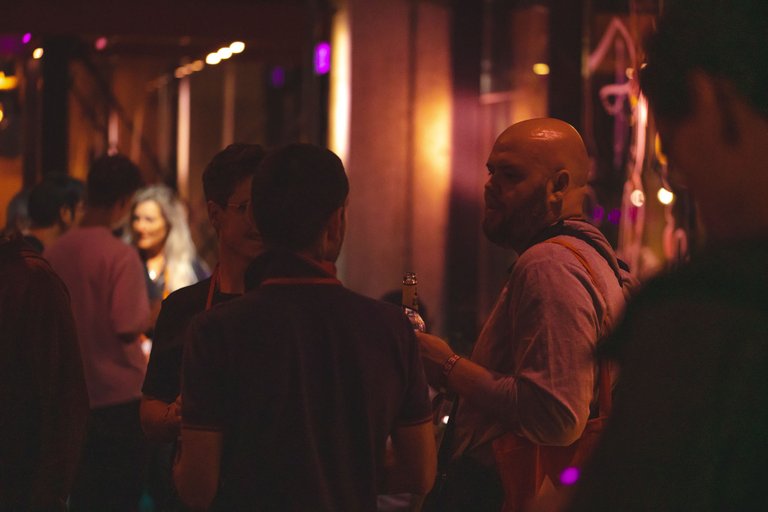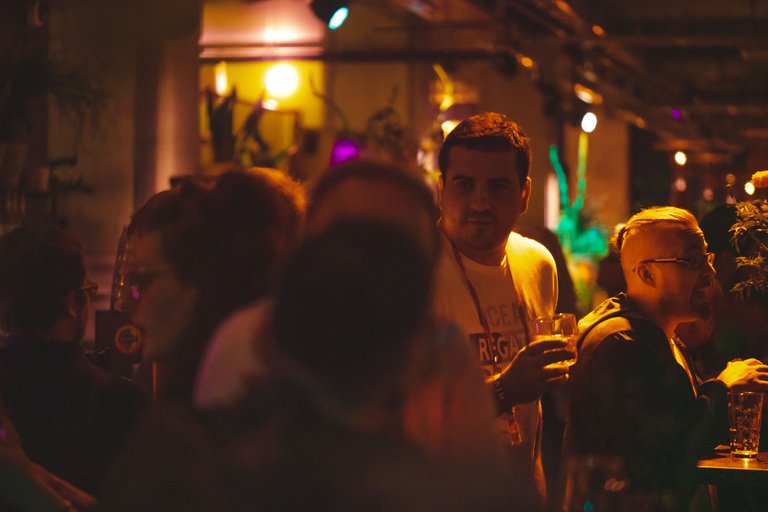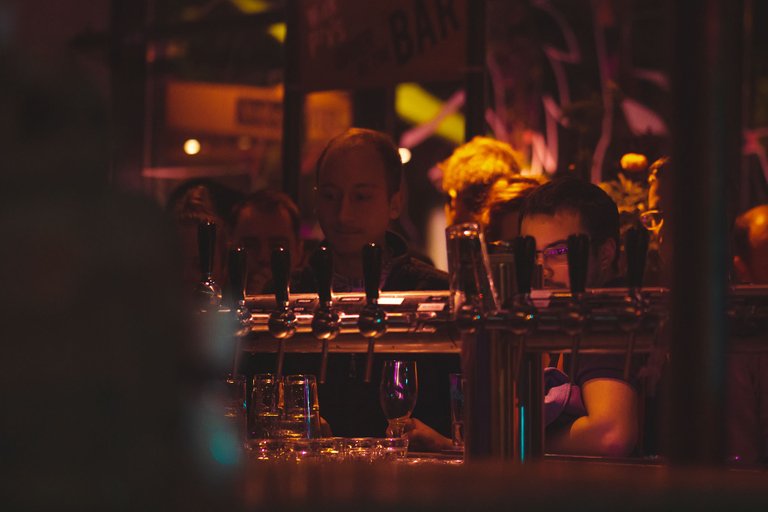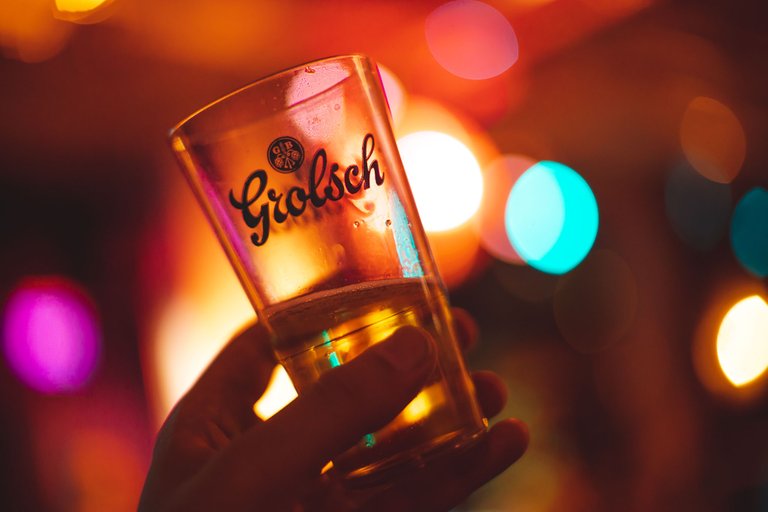 ---
I wanted to sit down and check all my photographs on my big screen before posting any of them. I spend quite some time on color grading and I'm quite happy with the result of these images.
Even though I haven't been talking with most of the people that were attending the opening drinks, I managed to have some small chats with @celestal, @Crimsonclad, @gtg, @rivalzzz, @m31, @lemony-cricket, @elliotjgardner, @anmitsu, and last but certainly not least, @jeffjagoe! He bought me a Dark & Stormy, so I had to return the favor and get him one too, even though we had plenty of beers at that time.
I hope he got the cocktail as I asked the bartender to give it to him. Well, hopefully, I will find out in the comments if he managed to get it.


---
Calling it a night, and getting ready for the real thing
Around 10'ish, I thought it would be wise to prepare myself for HiveFest and go back to Raz0uls place. I was looking forward to starting the next day fresh as I had to wake up pretty dang early! Also, I had no idea what to expect and was quite excited about it. If I had to look back at it, it was indeed a wise decision as the other days with closing activities and talks with fellow Hivers got quite late.
Cheers,
Ruben

Follow me on Foundation | Follow me on Twitter | Follow me on Instagram