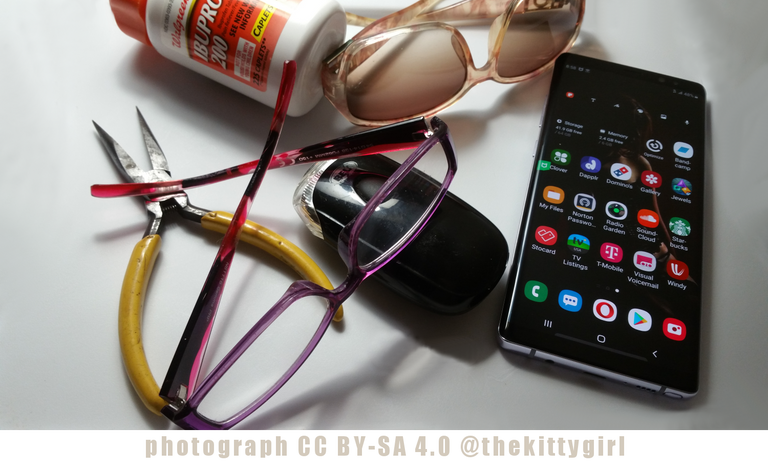 It hardly seems a whole year since I wrote the post Will you still need me? Will you still feed me? for my 64th birthday, but it has been that long. 😮 The older one gets, the faster time seems to fly, and its passage now is shocking compared to what it was like just ten years ago.
Essentials for those my age, no joke (pictured above, counterclockwise from upper-left):
Motrin™ to relive the pain from arthritis; not needed every day, but sometimes, yes
needle-nose pliers, essential in the kitchen peeling the seals from coffee cans and assorted bottles and jars
reading glasses for all the fine print that's on everything these days
bright flashlight for reading fine print and looking for all the things I've dropped
cellphone with camera app for pinch-and-zoom magnification reading small print that is beyond the scope of my reading glasses & bright light
sunglasses, important when going out, even worn indoors in bright light because of the cataracts that are forming on my eyes
Some of the above were mentioned in my last year's post, but click here to see other ideas that might help older readers, too.
I have been eligible for many "senior citizen" perks and discounts for several years, although I have rarely taken advantage of the "free small coffee" and other such things. I'd much rather pay full-price and get my usual 20-ounce cup of java than get a third of that for free... 😁 Many of the other available perks are things in which I am not interested, including the 4:00 PM "Early Bird" dinner specials (that's way too early for dinner) and discounted hotel rooms (because I hardly ever travel).
Oftentimes, I don't really feel "old" at all, like when I am pursuing some activity about which I am passionate... but sometimes I feel much older than I am, like when I am battling something for the bazillionth time and feel I just can't handle it any more. I've heard plenty of twenty-, thirty-, and forty-something people say the same thing, but just wait until you're my age. 😐
Perhaps the biggest advantage of hitting the big six-five (at least if one lives where I do) is finally being able to have affordable healthcare coverage again. I have been without any medical coverage for the past seventeen years, so it will be nice to finally have the option of seeing a doctor again. It will cost somewhere between USD $200–$400 each month plus co-pays and deductibles, depending on which options I choose, but that is better than the $700+ per month that would have been necessary the past seventeen years (and was completely impossible). Not everything will be included in the new coverage and many medical procedures will still be impossible to afford, but it is better than nothing. I'm keeping my fingers crossed that a couple of potentially-serious issues I've had for years can be addressed sometime this coming year once everything becomes situated. 😬
It will be a quiet day this year, as I have no family or friends nearby. I will open the two birthday cards I received in the mail this past week and stay home, rest, and do my usual work online on the Hive–Discord Continuum.
So, another year older, but not "deeper in debt" as the old Tennessee Ernie Ford song says! 🙌

 😊





to learn more about either of these projects, please visit: @heyhaveyamet or @theterminal

21-Sep-2020