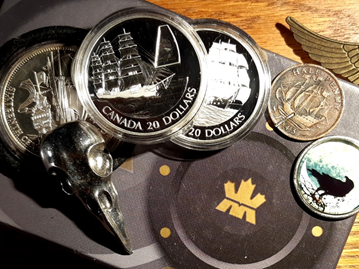 P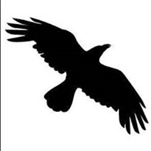 " Blackbirds tend to like Shiny Things" ~ The Bloody Raven
A recent purchase under @ronavel's Rules of Mint product acquisitions is the Royal Canadian Mint's sister coin to the 2001 Canada 20 Dollar; The Marco Polo. Leaving the legendary Bluenose as the last one of the series to be acquired.
The William D Lawrence's only historical claim is as the largest sailing ship built in the world in a time when Steamships were emerging as the reliable new engine of economics and power. With little to write about, a little fictional story is in order but first …
The Coin
2002 Canada 20 Dollar The William D Lawrence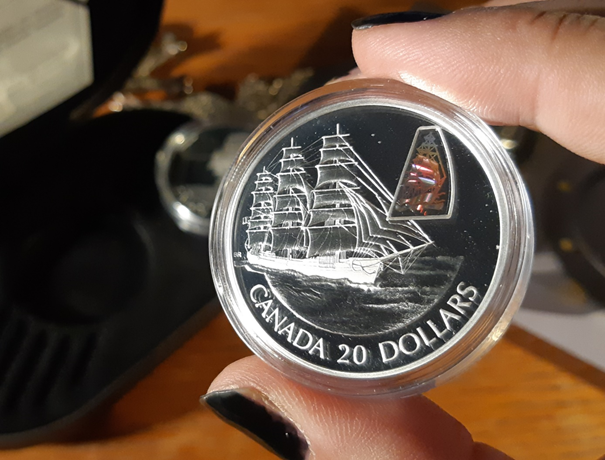 Reverse; The William D Lawrence in Full sail, Colorized hologram ship inset
CANADA 20 DOLLARS
Artist: Bonnie Ross
Sterling Silver 0.925
Weight 31.1g
The last voyage as the W.D. Lawrence (fiction}
1883 North Atlantic to Liverpool
Donald didn't sleep well last night.
"7:05 AM", by habit he checked his pocket watch before another encounter before breakfast time.
There she was at the very fore of the ship relishing the wind blowing about her in a childlike amusement as a pair of gulls challenged each other a place on the jib. Today Colleen wore a smart dark grey Juliet fascinator, a ravishing dark grey Outing jacket over a white pinstripe blouse, matching grey Twill bustle skirt. She clutched a lace parasol in her left hand and her right white gloved hand rested on the bowsprint as she faced in the forward direction of the ship.
Unaware of his presence.
Donald D Lawrence tipped his spectacles atop of his nose, straighten the lapels of his frock coat, took a deep breath and strode towards Ms. Colleen Valette whom he had met for the first time at the Captain's dinner table a few evenings prior. His heart pounded louder than usual since that first after dinner walk with her along the familiar deck of the very ship's name after his Father William Dawson Lawrence. Up to now he had only reveled himself to her as just Donald Dawson.
2002 Canada 20 Dollar The William D Lawrence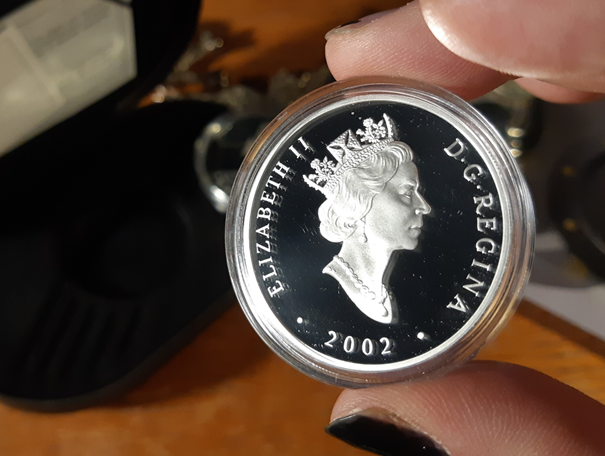 Obverse; Queen Elizabeth II facing right
Legend: ELIZABETH II D · G · REGINA · 2001
Artist: Dora de Pédery-Hunt
Edge; Interrupted Serration
Reference KM#465
Donald was not like his Father, rather than be the son of a well-known Ship builder architect, writer nor even a desire to be a Politician. He was fascinated with numbers and became a fine Accountant in his own right and now numbers often related to the real world.
At hand, his task was the proper sale of his Father's namesake ship, his pride and joy. After eight years of profitable service, The William D Lawrence is to be delivered to a Norwegian buyer for the handsome negotiated sum of $2,400,000. He did very well in his Father's eyes and to express his growing confidence thus sent his son to close the deal as it should be. Donald also withheld this from Ms. Valette.
He was surprised that young Ms. Valette worked as an ordinary Teller at the Maitland Bank of Nova Scotia that his father did considerable business with, and she was sent by her Banking Manager Father back to England to consider a suitor suggested by the Family's traditional Matriarch. She was born and raised in Halifax and hardly knew much about her English relatives and only do so under her Father's authority until a proper suitor is found. She knew she would not fancy living in a big City like London as attested from her Sister's letters.
2002 Canada 20 Dollar The William D Lawrence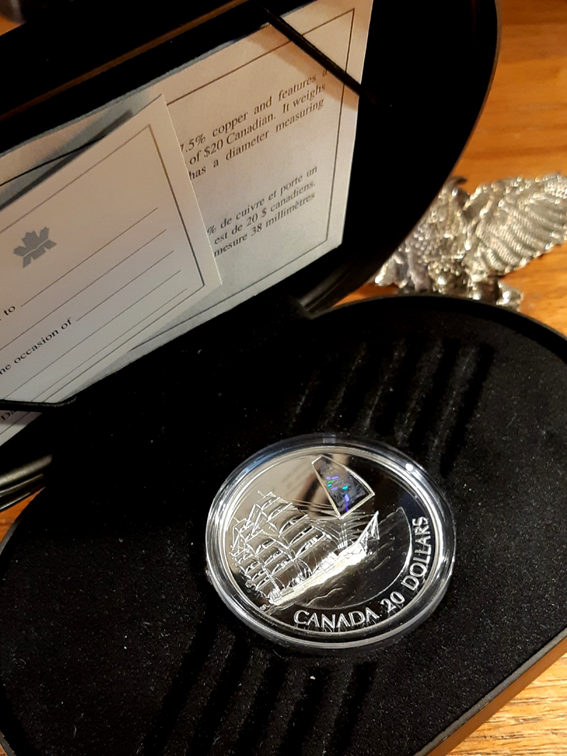 Mintage of 35,994 as per Mint.ca
Mintage of 15,000 Proof as per Numista
38mm Diameter
Sixth coin of the Twelve Coin Transportation Series
Issue Price $64.95
Donald having been trained in finances at a business school near the City of London before returning to Canada to take up his father's marine business. He validated her feelings of the crowded busy city, sooty and dreary streets and shirked at the English's ungainly version of …well English. And agreed that he would be happier in Nova Scotia as well.
She was cheerful despite her personal feelings of being shipped off to some man she knew naught and a Bank manager most likely as her two older sisters discovered. She wanted to stay in Nova Scotia to familiar surroundings, her friends and associates she had grown up with in Halifax.
However, one thing that stood out is that her eyes took a brief fanciful gaze to him as she began to learn about his place in Nova Scotian affairs, his preparation plans to manage his Father's business upon his return to Halifax. Without words he inadvertently returned her amorous gaze that betray his feelings to her as their hands touch in the simple gesture, "Penny for your thoughts?" She said.
1881 "Penny for your thoughts?" Canada 1 Cent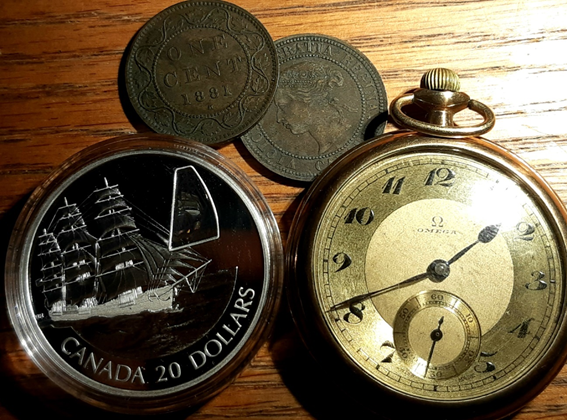 Obverse; Queen Victoria facing left. Legend; VICTORIA DEI GRATIA REGINA.CANADA
Reverse; Maple leaves and vine. Legend; ONE CENT 1881, H
Bronze, Weight 5.67g
25.4mm Diameter, 1.5mm Thickness
H Heaton Mint, Mintage of 2,000,000
References, KM# 7, Schön# 5
Most amazing thing he learned about Ms. Valette is that she very much like his late mother in the same nurturing spirit, humble with clear dreams and expectations and remarkable of independent opinion. Yet reserved enough to be always of good company. But as each day they met their feelings grew stronger until he could no longer contain himself.
Each step he took became more resolute, "Ms. Colleen Valette."
She turned and beheld Donald in his familiar handsome Light Grey Frock coat, Callahan Dress trousers and smart Powder blue River vest. "Why yes Mr. Dawson."
In good manners Donald removes his top hat, "I must apologize for my contemptable lack of planning and my unforthrightness as well. I must be candid and confide to you my deepest and most faithful of intentions."
Donald knelt before Me Valette and took her gloved hands within his. His passionate eyes gazed into her expectant brown doe eyes, speaking calmly and deliberately as if allowing her to carefully to weigh the totality of each word on the scale of purity, " I do not have permission from your Father nor have in possession a suitable ring but a promise to honor in faithful trust to fulfill your expectations as your husband."
Colleen's eyes filled with tears only to be in contrast her lovely grin. A joyful grin that acknowledged what his heart already knew and pressed on, "So I ask you my Dear Ms. Colleen Valette, will it be your wish to accept thy hand in marriage as my wife for this man's life and forever more?"
Speechless now, Ms. Valette falls into his arms and both souls embraced in an unhindered emotional rush. For long moments they silently continued their embrace punctuated with sniffles of joy from her small frame. "I do, I do" as she whispered in Donald's ear. Then his lips found hers.
The familiar voice of Captain Stewart interrupted the moment, "I apologize Master Lawrence, I thought there was a problem here and I see you have the issue well at hand."
Colleen's eyes widened, "Master Lawrence? You're Donald D Lawrence?"
"Why, I was going to get to that unforthrightness part, my dear Colleen." Replied Donald.


The Ship
The William D. Lawrence, Maritime Museum of the Atlantic under Public Domain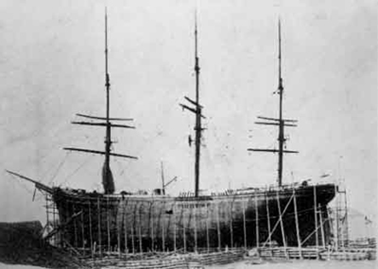 The William D Lawrence Ship Specifications.
Ship Name: The Willian D Lawrence
Owner: Willian Dawson Lawrence and James Ellis
Port of Registry: Maitland, Nova Scotia
Tonnage: 2459 Gross Tons
Overall Sparred Length: 335 ft
Beam: 48 ft
Depth: 29 ft
Decks: 2
Sail Plan: Full Rigged ship
Launched: October 27, 1874
Fate: Sunk in 1891 Dakar
I hope you enjoyed this little romantic yet seaworthy feature
Thank you for stopping by my Pirate Blog today.


The #piratesunday tag is the scurvy scheme of Captain @stokjockey for #silvergoldstackers pirates to proudly showcase their shiny booty and plunder for all to see. Landlubbers arrrh…welcomed to participate and be a Pirate at heart so open yer treasure chests an' show us what booty yea got!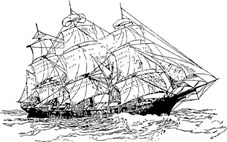 P
References
1. Me own pictures shot with a Samsung SM-A530W
P. Image under Pixabay
R. Clip art from 123RF
W. Wiki Commons
Sources
Numista: William D Lawrence
Numista: Transportation Series
Mint.ca; Willian D Lawrence
Wiki; William D Lawrence ship builder
Wiki: William D Lawrence Ship
Complete Set 1991 – 2003 Transportation of Land, Sea, and Rail
W1; The William D. Lawrence, Maritime Museum of the Atlantic under Public Domain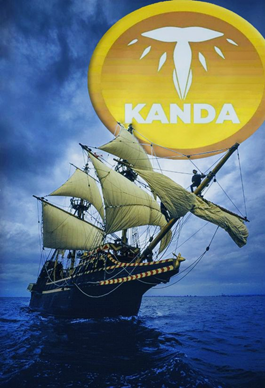 To Educate Africans of the benefits of the Block chain
Crypto Rain Alert on Discord, https://discord.gg/cmbSM5B
"Et lux in tenebris to serve laboro, sum sicarius" "I work in the shadows to serve the Light, I am an Assassin"