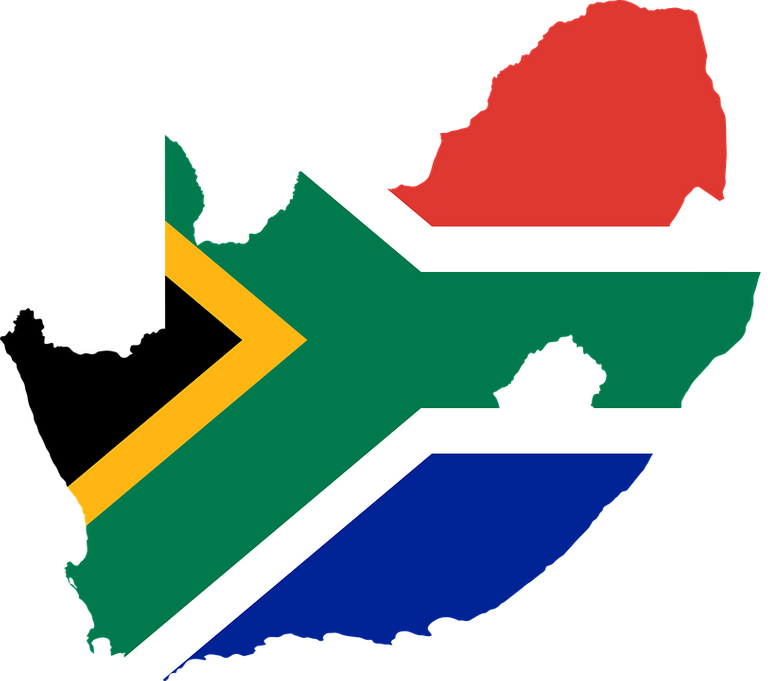 Source
Good day everyone! Zak here from Cape Town South Africa. I am here to tell you the great news, and the awesome news. It is not just about intentions but rather that of RESULTS.
I think that 2022 was a huge success of Hive and for my little community and extended community of bloggers.
The year is not over, but lets look at the FACTS: I started the year on 313HP.
I currently, at the time of writing this post have 1719HP!
That is a 549% increase! Just amazing! I went from a Redfish to a Minnow. In fact, right now I am actually over 30% of a Dolphin now! The end of the year is not yet here. On the 1st of January 2023, I will see where I am and take a final tally!
But this is not all!
I also (as some of you might know) started a community of Students. I delegated to new bloggers and got them going. I guided them and informed them and above all - motivated them.
Beyond this motivation, I also encouraged that ALL of our members support the others and I call for this to increase in its frequency as well. Votes and comments/replies and engagement is what really makes a community strong is someone actually paying attention to you, the next thing you know, you will have a strong a vibrant community!
So again, above was an intention, here is the result. As of last weekend Sunday the total HP for this little class plus myself was: 6038HP!
This means out of 313HP an increase of 1929% was earned. Even without looking at it as a percentage, this is 5725HP, which is more than a Dolphin's weight in the Hive ecosystem! That is massive. 2 of those 15 also became Minnows.
Even is we did the exact same again for 2023, the community of the same 15 people would be sitting on 11,700HP+ by the end of next year! That's over double-dolphin and I think in reality we will be much higher than that.
But this is not all.
The 2022 Class was the beginning. Next year there will be a new wave of newbies and for 2023 I want to permanently include an assortment of South African Hive bloggers and their friends in a great and interactive super community!
A 2023 plan and a 5 year plan
You can tell I am fairly ambitious with my growth and community building but it is the RESULT that drive me ever forward!
So I need to have a 2023 plan and then a plan that includes the 4 years after that as well. That means 2027.
Personal wealth for myself is awesome. Personal and group wealth for my family is better. Wealth, health, and happiness for my community is the best outcome! So what shall I do to reach that goal?
My five-year plan includes exponentially increasing the size of the community of ACTIVE members that will grow together. Another aspect of the 6000HP+ community is the fact of RECIPROCAL GROWTH.
Right now, in this community, we need to bring more and more people into the Web 3.0 Hive so it becomes relevant. Right now, we are a scattered and sporadic, though devout group. Our 5 year group will include our friends outside of South Africa. They are people we engage with and grow alongside or perhaps look up to.
After 5 year time, or perhaps along the way there, we may be able to create subgroups but without the numbers of people and the HP behind it, this is not something anyone should try to do yet.
I am talking FB numbers here. Each area and city and town has their own subgroups, sometimes multiple and interest groups within areas. The entire Hive does not even have fully functioning interest groups for all interests yet! But we WILL be able to do this... exponentially.
So you have to take growth, any growth, a little bit at a time. What I have noticed in my blogging journey is that it can be massively exponential!
2023 Plan focus
So let us zero in on the plan for 2023.
We are going to take this community of 15:
Add it to the larger community of members that I have been keeping track of (and that have been interacting with us).
Those will include:
16 . @joetunex
17 . @braaiboy
18 . @joanstewart
19 . @new.things
20 . @alonicus
21 . @hopestylist
22 . @therneau
23 . @consciouscat
24 . @edycu007
There are some others that have been on my list added at some or another stage, but there has been little interaction from them. If you do not see yourself on that list and you noticed (or someone else did) then just put your hand up and comment on this post that you want to be included!
I would like to invite more people to the list. My initial goal is to get 100 ACTIVE people on the list, but that the list also will have room for any number of dormant people who can enter active state at any time.
Please respond to this post that you are interested in the one year and five year plans and that you are interested in helping our active community grow!
Some of you have a lot of HP and I humbly ask for your support. I am fairly sure that the heaviest hitters on this list have told me that they would be keen on giving support one way or another.
This list includes the following:
(Again if you know someone that should be included or that I forgot about, please comment)
25 . @papilloncharity
26 . @cryptoandcoffee
27 . @zo3d
28 . @nickydee
29 . @lizelle
30 . @fionasfavourites
31 . @jusipassetti
32 . @rexydayz
33 . @morkrock
34 . @princessmewmew
35 . @jaynie
36 . @fermentedphil
37 . @chekohler
38 . @nikv
39 . @wynella
40 . @craigcryptoking
41 . @jacoalberts
42 . @rynow
43 . @anikekirsten
44 . @artywink
45 . @itsostylish
46 . @giantbear
47 . @breezin
48 . @dragonslayer101
49 . @awgbibb
50 . @dragonslayer109 (are the two dragonslayers the same person?)
51 . @penderis
52 . @technicalside
53 . @misshugo
54 . @julianhorack
That's all I can think of for now. More are welcome. I am looking for 100 Active accounts. Dormant accounts can sit on the list in a separate column.
Right, so the above list of 54 people and counting is PART of the Plan to build an active and thriving community that interacts with one another.
But what is the goal?
Health, Wealth and Prosperity of course!
Part of the goal and plan is to keep levelling up our members. Even the biggest HP accounts on this list @dragonslayer109 (86kHP), @cryptoandcoffee (81kHP) and @papilloncharity (69kHP) are growing daily their stake on the system.
These are the three Orcas on Hive from South Africa that I know about. We then have a collection of Dolphins, Minnows and of course a large amount of Red Fish.
This is significant because of the stats on this post by @arcange: Hive Statistics – 2022.12.19. Arcange is the creator of hivebuzz.me and many fine things!
So to use his graphic from the link above, consider the following: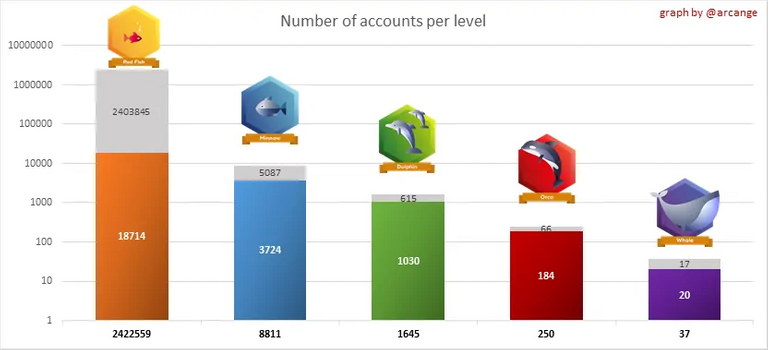 These are the number of accounts in each other the levels: Redfish, Minnow, Dolphin, Orca and Whale. They grey part in each section shows inactive accounts who have not posted or commented in 30 days and the colour section shows active accounts. At the bottom there is a total of accounts.
Thus myself, @jasperdick and @clairemobey all became Minnows this year. 3 out of 8811 accounts of that level and 3 out of only 3724 that are active. Our next Minnow from this 2022 Class will be @lex-zaiya
Not only that but...

These 6 accounts together are equal to a Dolphin! Since there are only 1030 active Dolphins, being a pseudo-Dolphin is actually kind of neat!
Together, the six of us can support at the same level as a Dolphin... we are 101% of a Dolphin. @jasperdick and myself are 42% and 30% of a Dolphin each and we both may be in the runnings to blog our way to Dolphin status each by the end of 2023.
But we have collections of Dolphins as well who will equal our three Orcas. One of those Orcas is inactive. So there again. 2 active out of 184 active on the entire ecosystem. Having an psuedo-Orca, an active one, is very cool indeed!
I will do the math and the research to see how we total up.
The Goal would be to keep everyone together, encourage cross engagement with one another. I am not suggesting we make a curation trail and just throw out votes to anyone who posts. We need to guide and integrate people and educate them on the lower levels to grow those Redfish into Minnows. 3724 active Minnows in the ENTIRE Hive? What if we had 100 of them by the end of 2023? How many Minnows will we have by 2027? How many Dolphins will we have by 2027? We may even have additional Orcas and by then and our Orcas will be on their way much more towards being Whales.
But real wealth does not just stem from having a stocked pantry (personal wealth), it comes from the prosperity of the community. If everyone's pantrys are stocked then there is peace in the land.
By 2027, we will have such a community where new people that join can integrate into a experienced and established community.
There is much more to the plan, but to make a community work, I need a community to make a show of hands and give input!
Please leave your comments if you are on the list, want to be on the list or want to be excused from the list (I will not aks why), but I think we all would be happy with some additional exposure!
I eagerly await your responses!
Cheers!
@zakludick