I asked Google for information about how to become a "Minimalist Photographer". The first answer was "simplify, simplify, simplify".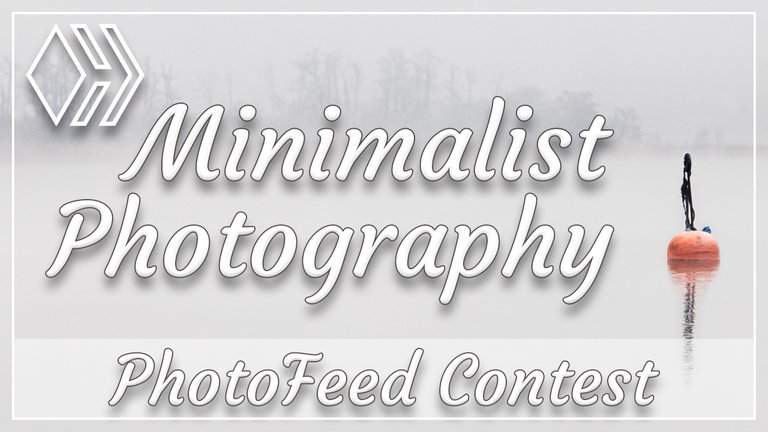 Minimalist Photography
PhotoFeed Theme Contest (12)
So, what is minimalist and what is too much or even too less for still being minimalist? In this post I want to show you some examples and you decide yourself.
The above image is my contribution to this week's PhotoFeed Contest. The theme of the week is Minimalist Photography.
"As an approach in photography, minimalism or minimalistic photography could be taken by the photographer in all genres. No matter you are a portrait, architecture, landscape etc. photographer, minimalist photos are always an option as long as you have a minimal look toward your surroundings" - Milad Safabakhsh, Founder of Minimalist Photography Awards (Source: Wikipedia)
Especially in Autumn and in Winter I find it easier to shoot minimalist photos, because most nature is just white from fog or snow and it's a lot easier to find suitable photo motifs like a lone tree or a single buoy in the water.
Or can even shooting a castle result in a minimalist photo?
Minimalist photography stems from its initial art movement; minimalism, which was a movement in the 1950s that emerged in the United States, also known as Minimalist Art, Reductive Art or ABC Art. As the name denotes, minimalism - which originates from the word minimum - means the slightest or the littlest amount required. In the art world, minimalism employs a limited amount of elements to construct the desired effect. (Source: Wikipedia)
Do minimalist images have to be in black & white or at least monochrome? Or would a heart shaped cloud in the blue sky or a rock in a river also count as minimalist photography?
Fog isn't only best for woodland photography where it helps separating the trees from the background. Dense fog on the lake lets the messy background disappear and the swimmers platform gives a nice minimalist motif.
How about the last pink colours of a gorgeous sunrise that I have missed? I was up on a little mountain where the sunrise wasn't interesting at all and so I drove back down into the foggy valley. While driving, I saw the clouds getting more and more pink and until I found a spot to park the car, the colours faded slowly.
What do you prefer - a snowy hill or a snowy hill with a tree? I couldn't take more of the tree because it's a rather large group of trees and there's also a house.
Before I end this post I want to show you my most minimalist photo which I would rather call a wildlife photo 😉 I think that's too much minimalist:
Well, that was it, my first post in 2022 and I do hope the count of my posts will not be as minimalist as in 2021.
---
Information
All photos were taken with the Canon EOS R and the Canon EF 70-200mm f/4 L lens.
If you are interested in the image data, I leave all EXIF and IPTC information stored in the pictures.
---
If you like my work I would appreciate an upvote, nice comment or maybe you want to share my post on your blog 😊 ... and maybe you would like to follow me, so that you never miss a post from me.
Thank you so much for visiting my blog
wishing you a wonderful weekend



Photos and Text: @johannpiber | Johann Piber | All rights reserved - do not use without my permission
Please contact me if you would like to have one of my photos in full resolution.
> Have a look at my NFT's on the Foundation Plattform
> My Photos are listed at the OpenSea NFT Marketplace
>>> Twitter/JohannPiber <<<
>>> See my posts on my Pinmapple Profile Map <<<
>>> Not got a Hive account yet? Sign up free here! or here <<<
2022-01-07
#hive5 from Austria 🖐️