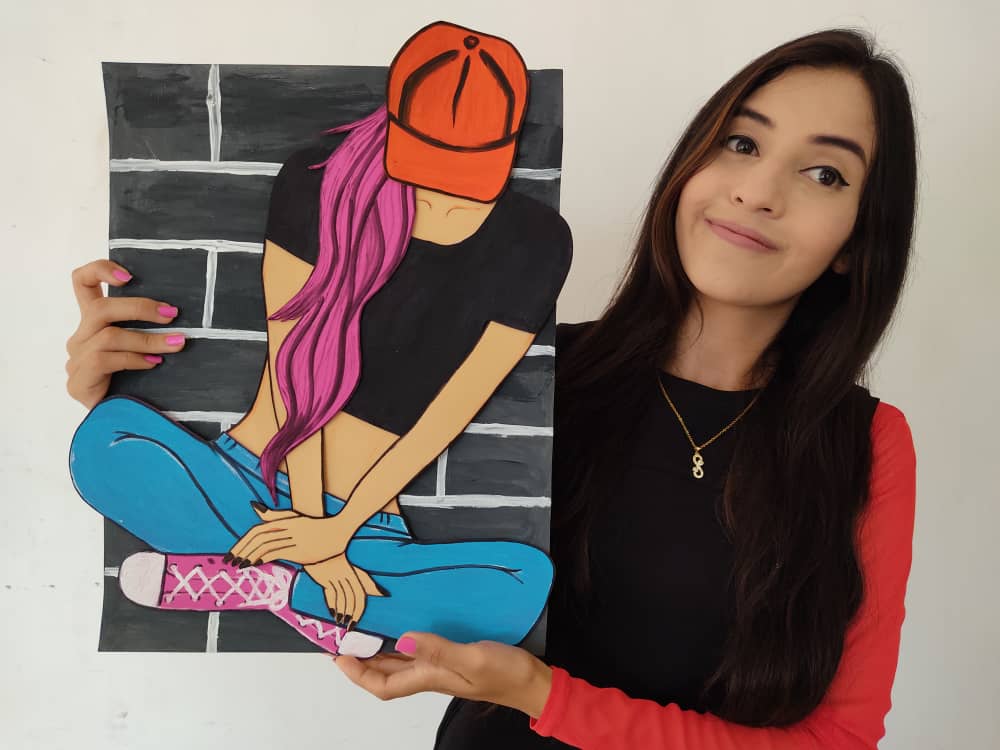 Español
Hola hermosa familia de Hive ❣️ Este hermoso día les traigo un divertido paso a paso dónde les mostrare como elaborar un genial cuadro de chica urbana, pues, esta chica está sentada en la calle mostrando su personalidad exterior un poco alocada, a través de su ropa y cabello, genial no? Muy diferente y con colores extraordinarios. Es importante que desde muy pequeños vayamos descubriéndonos a nosotros mismos, pues, hay que crear una personalidad auténtica, es decir, nuestro propio estilo, de manera que se pueda transmitir por medio de nuestra apariencia una escénica única e interesante.
English
Hello beautiful Hive family 💓 This beautiful day I bring you a fun step by step where I will show you how to make a great urban girl painting, well, this girl is sitting on the street showing her outer personality a little crazy, through her clothes and hair, great isn't it? Very different and with extraordinary colors. It is important that from a very young age we discover ourselves because we must create an authentic personality, that is, our own style so that a unique and interesting scene can be transmitted through our appearance.
---
¿Qué están esperando?

Utilizar estos hermosos materiales para transformarlos en un hermoso cuadro, es una idea muy original y económica para decorar nuestro entorno y darle un toque de creatividad a nuestras paredes. Antes de comenzar no olvidemos lavarnos nuestras manos.
What are they waiting for?

Using these beautiful materials to transform them into a beautiful painting is a very original and inexpensive idea to decorate our surroundings and give a touch of creativity to our walls. Before we start, let's not forget to wash our hands.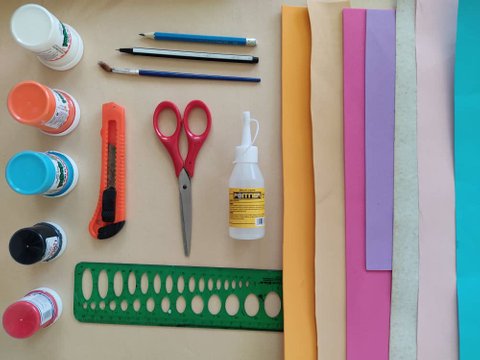 [Materiales | Materials]
Para hacer este hermoso cuadro necesitaremos:
Moldes
Foami o goma eva.
Cartón.
Pincel.
Pinturas.
Tijeras.
Pegamento o silicona caliente.
To make this precious painting will need:
Molds
Foamy or EVA foam.
Cardboard.
Brush.
Paintings.
Scissors.
Hot glue or silicone.
---
Procedimiento (paso a paso)
Process (step by step)
---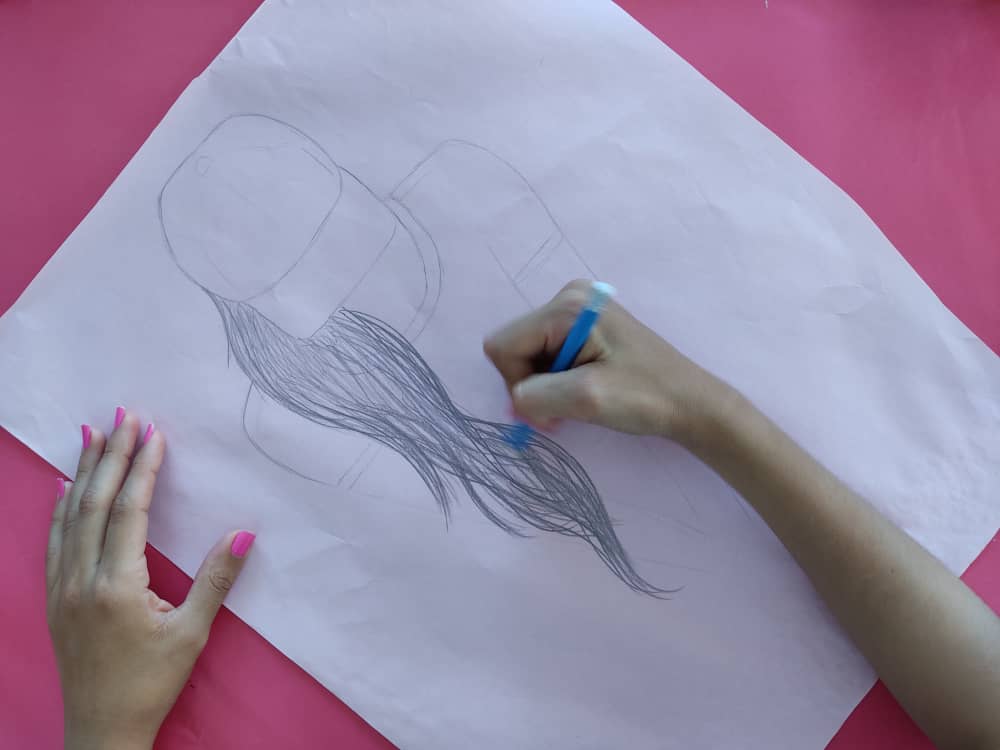 Primero, dibujamos una chica sentada dejando volar nuestra imaginación, está vez, no estará a la vista su cara, pues esta chica tiene la cabeza inclinada, y nos muestra su linda gorra sentada en la calle.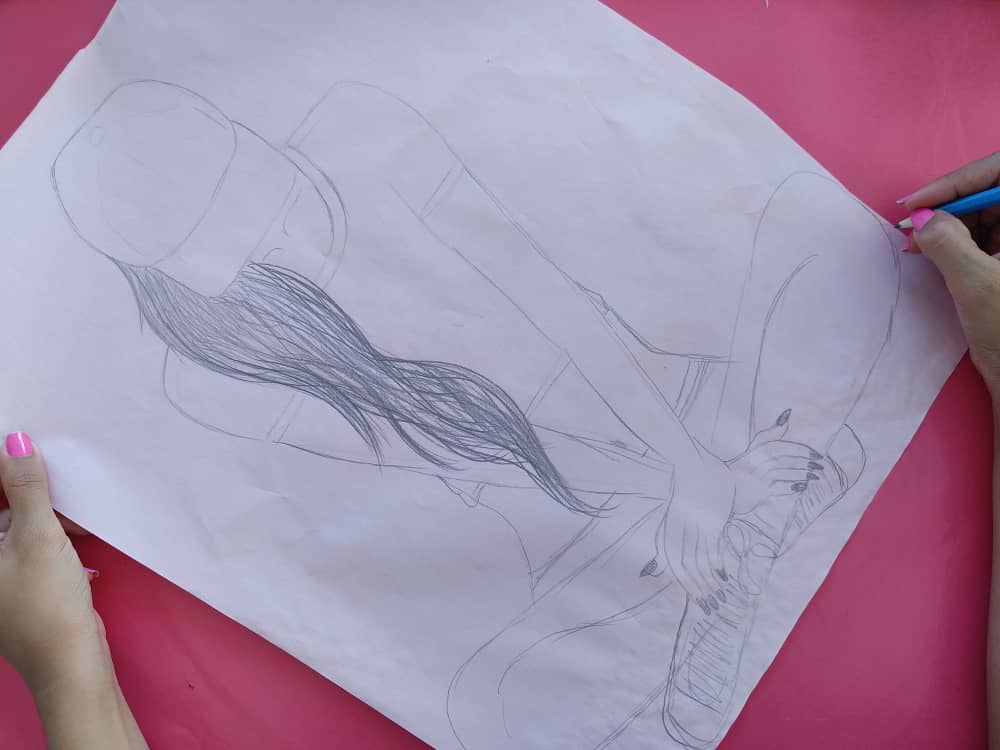 First, we draw a seated girl letting our imagination fly, this time, her face will not be visible, because this girl has her head bowed, and she shows us her beautiful cap sitting on the street.
---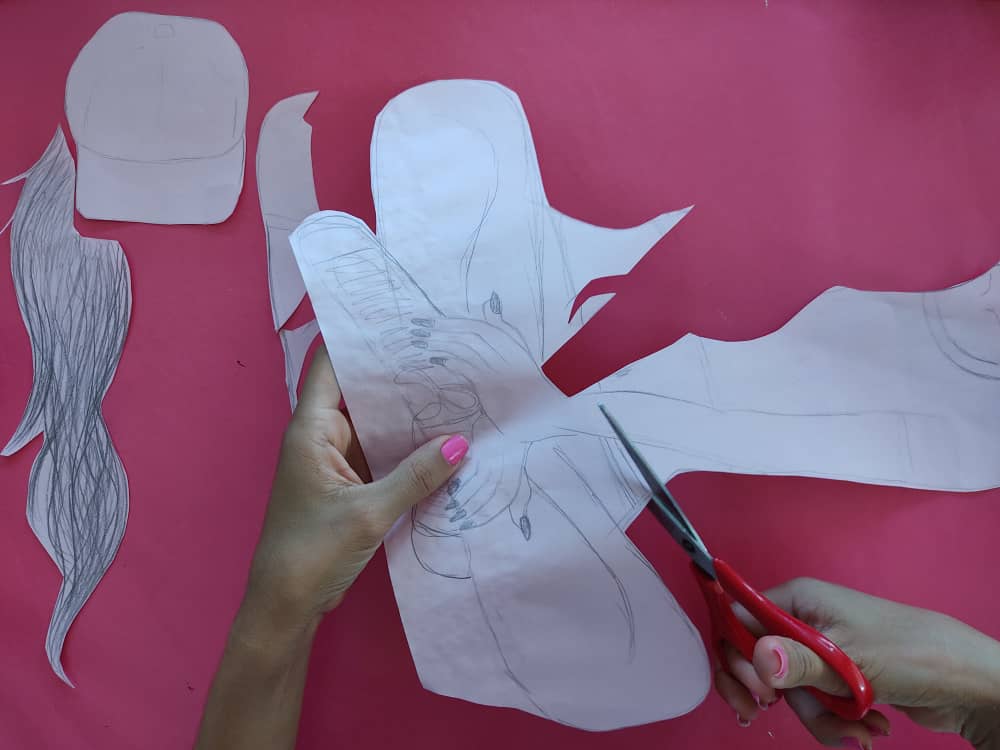 Seguidamente, recortamos con mucho cuidado y paciencia separando la gorra, el cabello, el cuello, brazos, ropa, y sus piernas.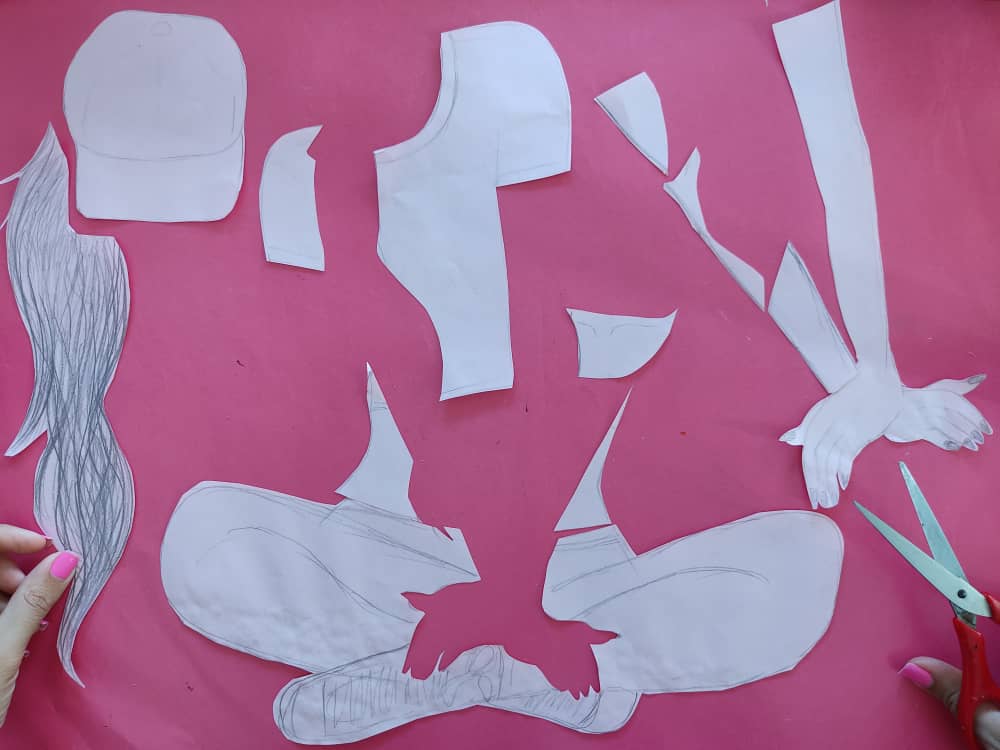 Next, we cut with great care and patience separating the cap, hair, neck, arms, clothing, and legs.
---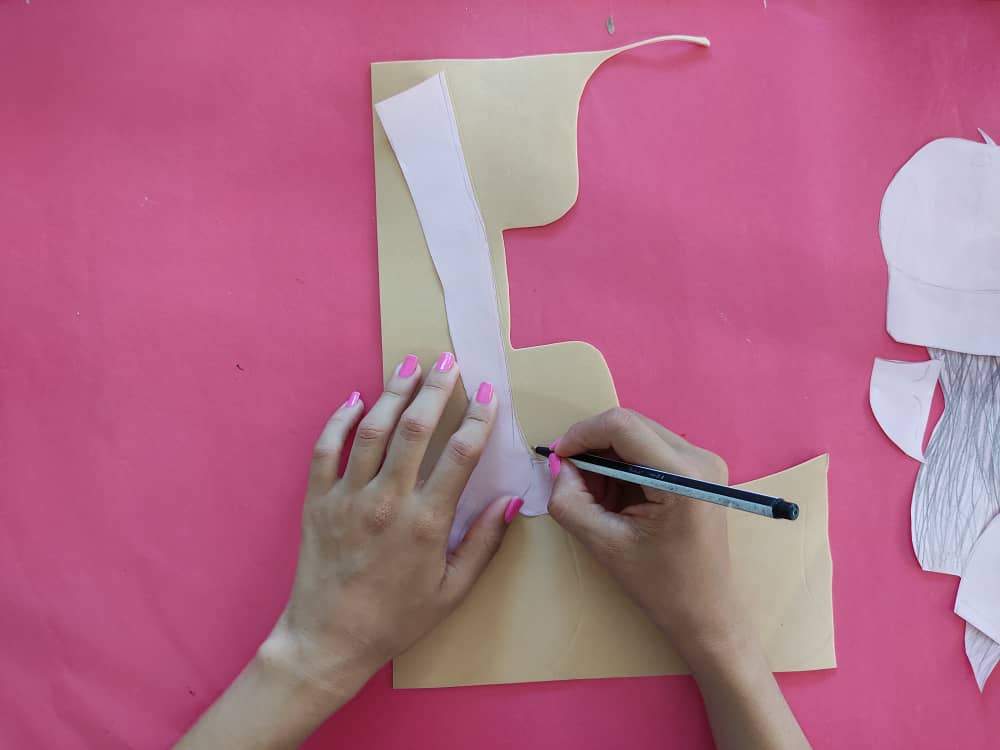 Una vez obtenidos los moldes de la chica, transferimos a los diferentes trozos de foami de los colores que deseamos, recuerden hacerlo con un lápiz de punta fina, para que no se altere el tamaño de las mismas, y recortamos.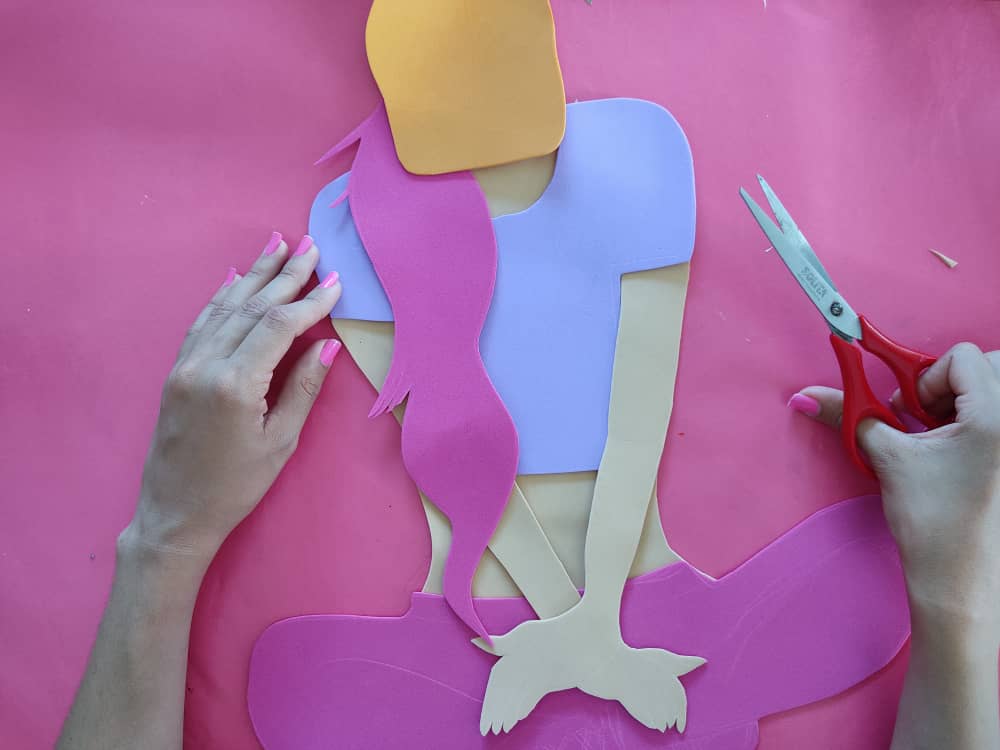 Once the molds of the girl are obtained, we transfer to the different pieces of foam of the colors that we want, remember to do it with a fine-tipped pencil, so that their size is not altered, and cut.
---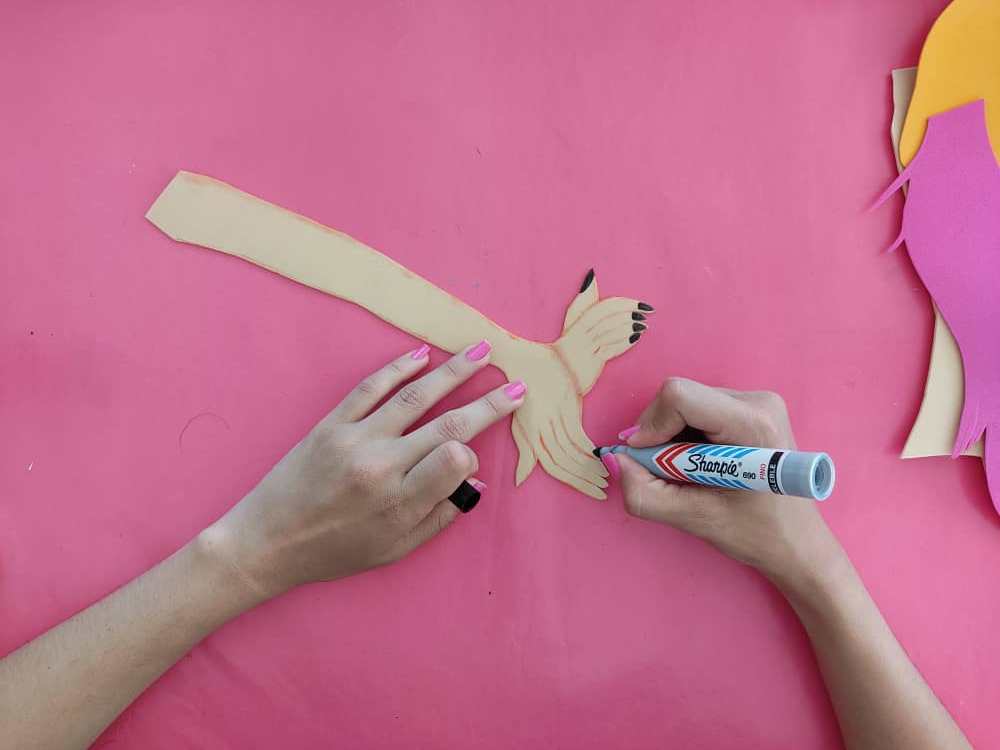 Ahora, ha llegado el paso más esperado donde le daremos vida y color a cada parte de nuestra chica, transformando estos simples trozos de foami en una increíble obra de arte. Comenzamos definiendo sus brazos, manos, cuello, y el abdomen sombreando con suaves tonos naranja, y luego, remarcamos sus bordes con la ayuda de un marcador de punta fina negro.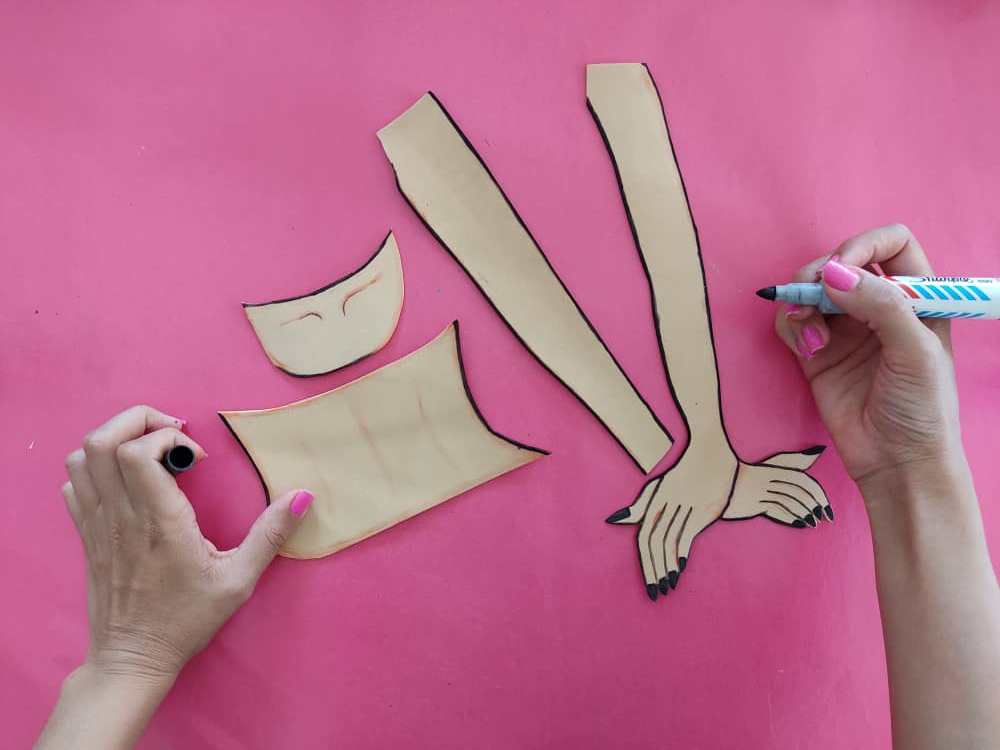 Now, the most anticipated step has arrived where we will give life and color to each part of our girl, transforming these simple pieces of foam into an incredible work of art. We begin by defining her arms, hands, neck, and abdomen, shading with soft orange tones, and then, we highlight their edges with the help of a black fine-point marker.
---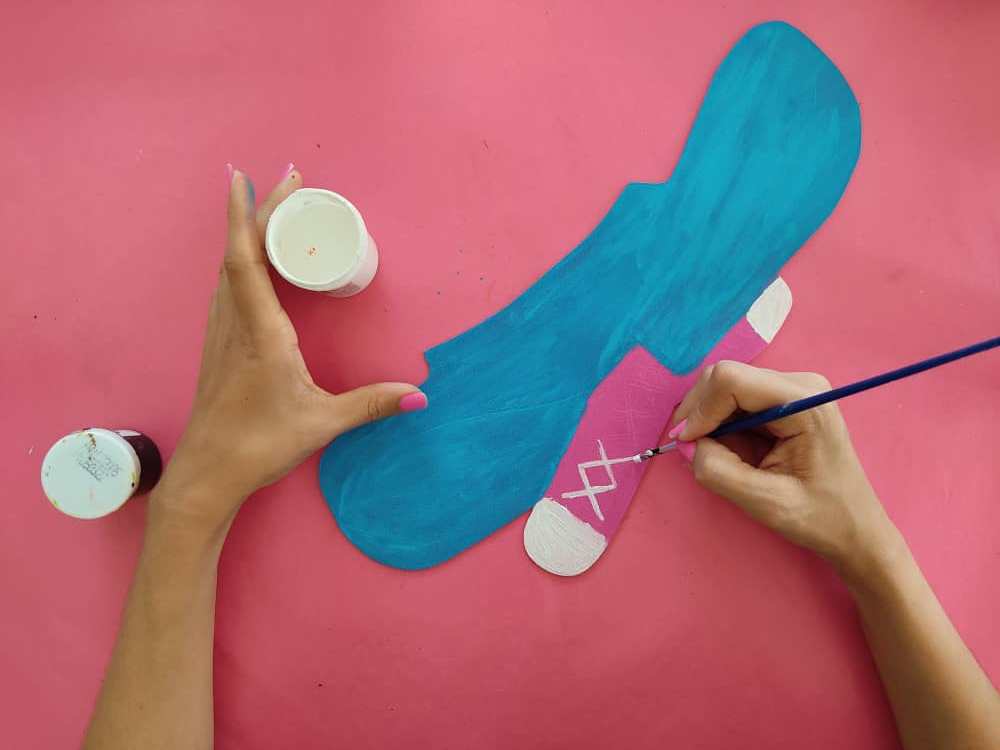 Luego, seguimos dando magia y color a la camisa, y el pantalón definiendo la forma de sus piernas, y sus zapatos, y elaborando los detalles que no pueden faltar, como lo son las trenzas o cordones.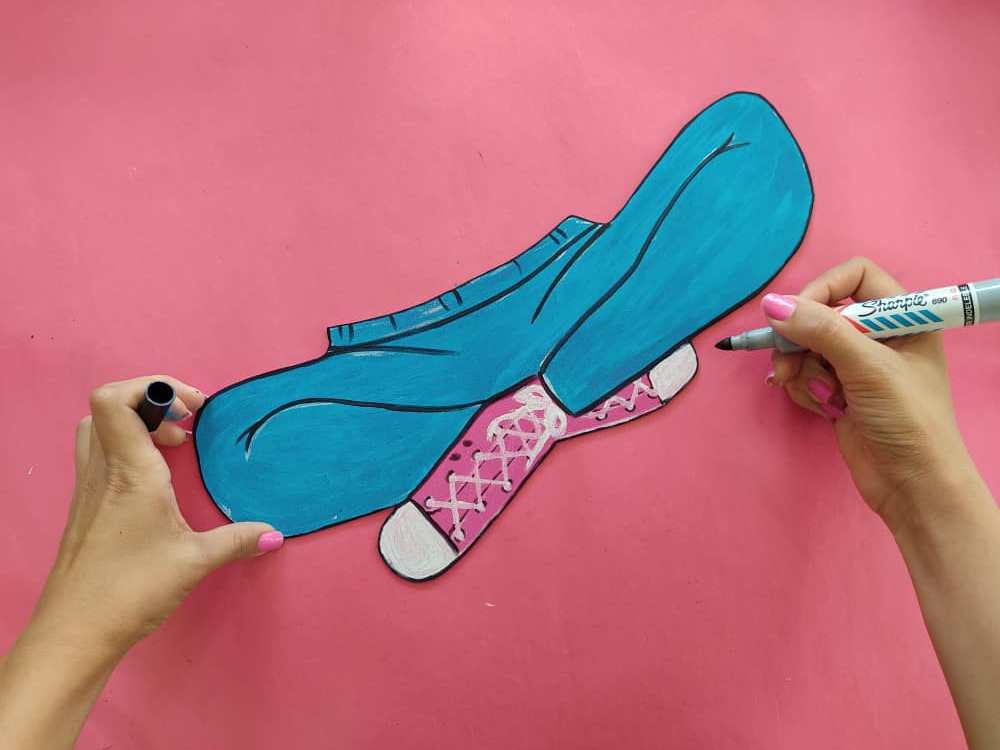 Then, we continue giving magic and color to the shirt, and the pants, defining the shape of their legs, and their shoes, and elaborating the details that cannot be missing, such as braids or laces.
---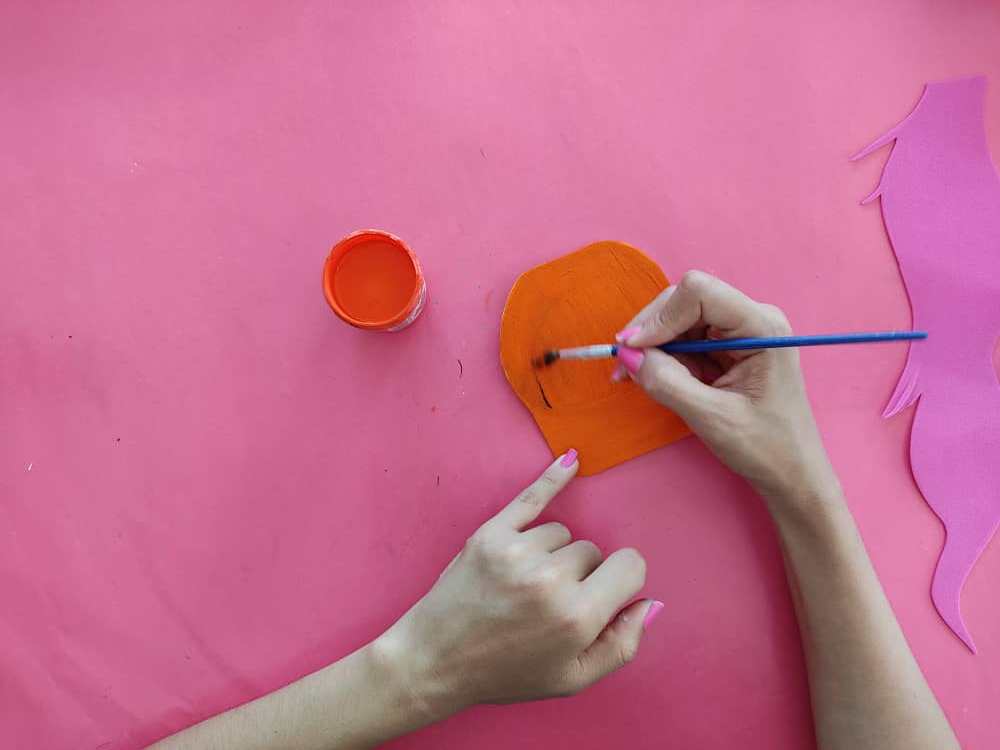 Ahora, pintamos la gorra de un lindo y llamativo color naranja, esto hará un hermoso contraste con su cabello, y definimos con marcador de punta fina sus detalles.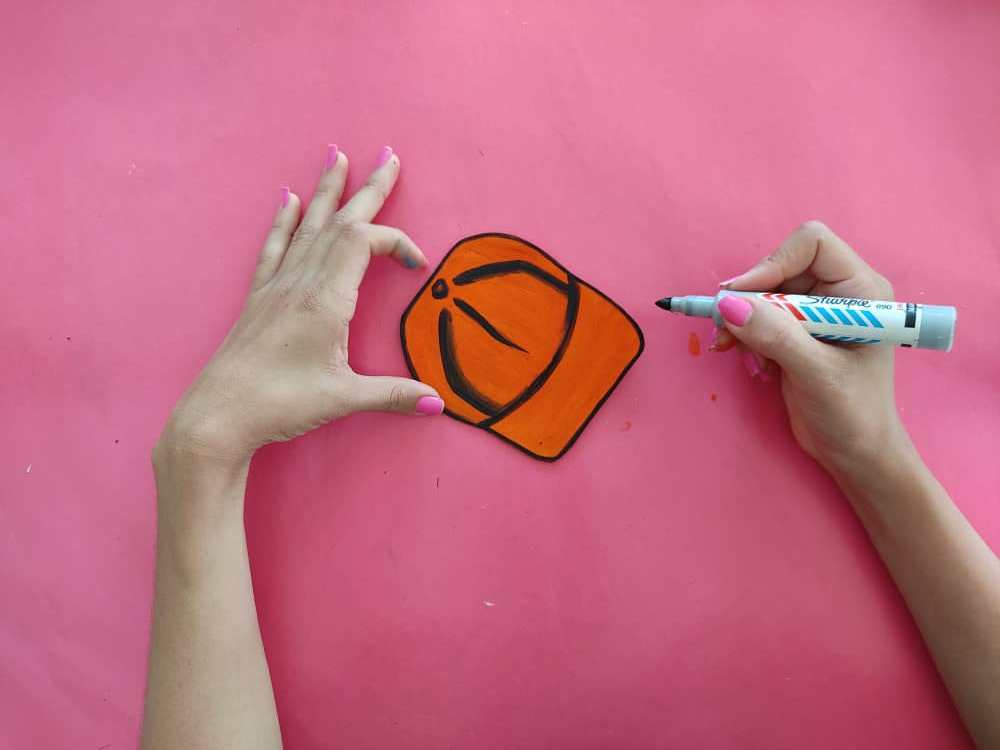 Now, we paint the cap a nice and striking orange color, this will make a beautiful contrast with your hair, and we define its details with a fine point marker.
---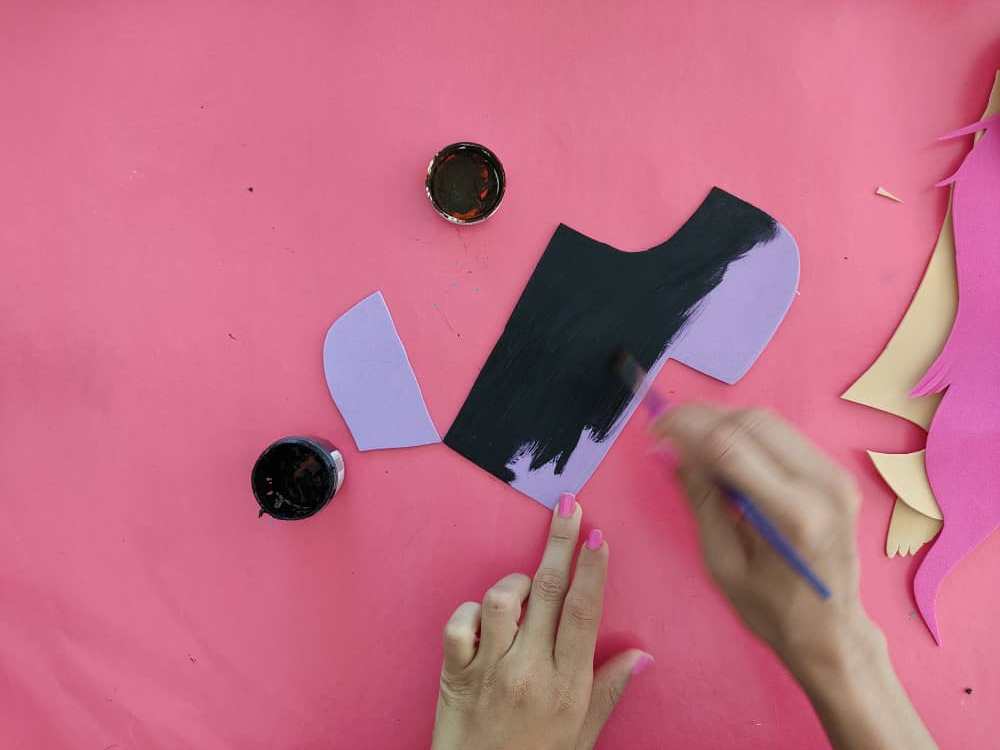 Luego, pintamos de color negro lo que será la camisa de nuestra modelo urbana.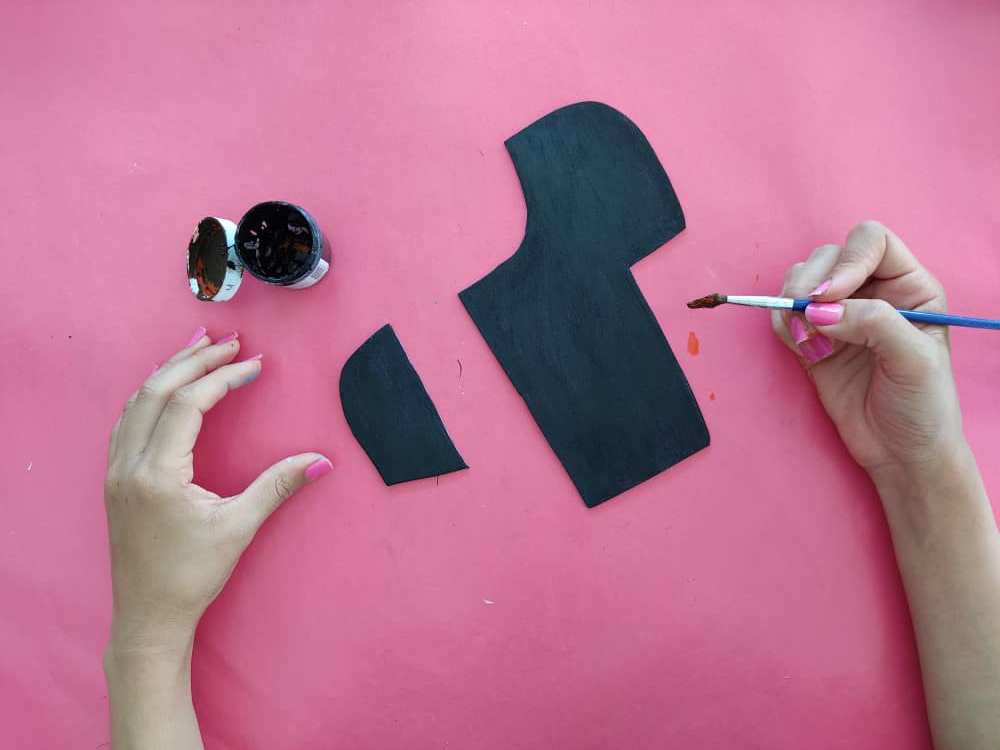 Then, we paint in black what will be the shirt of our urban model.
---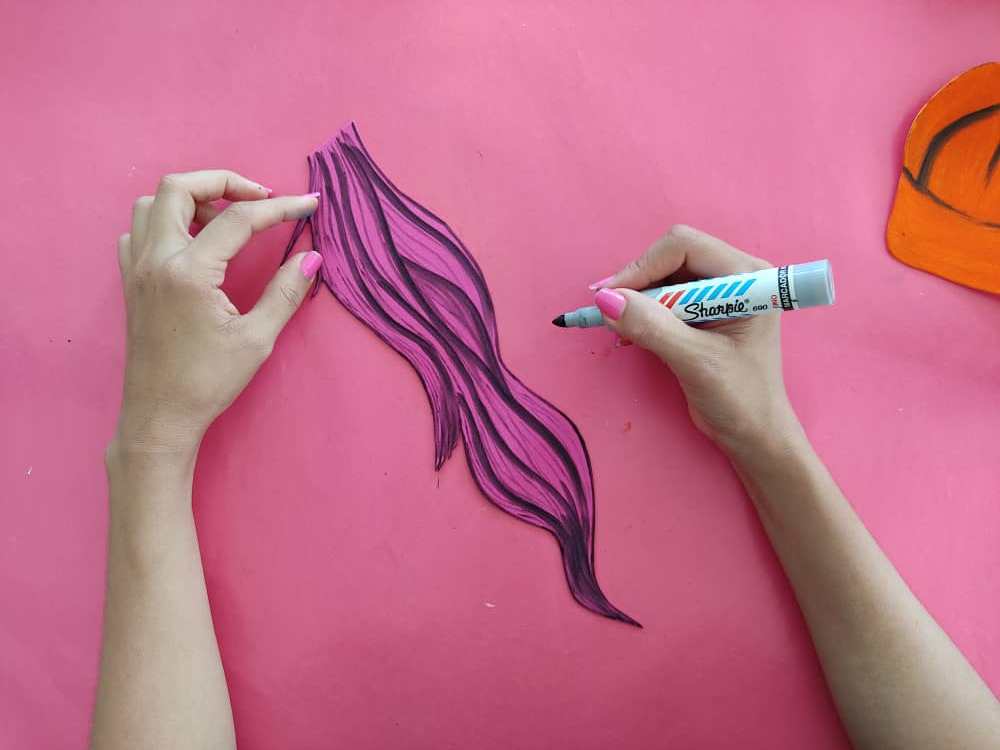 Seguidamente, definimos los detalles del hermoso y alocado cabello, simplemente hacemos curvas pequeñas y delgadas con el marcador negro de punta fina.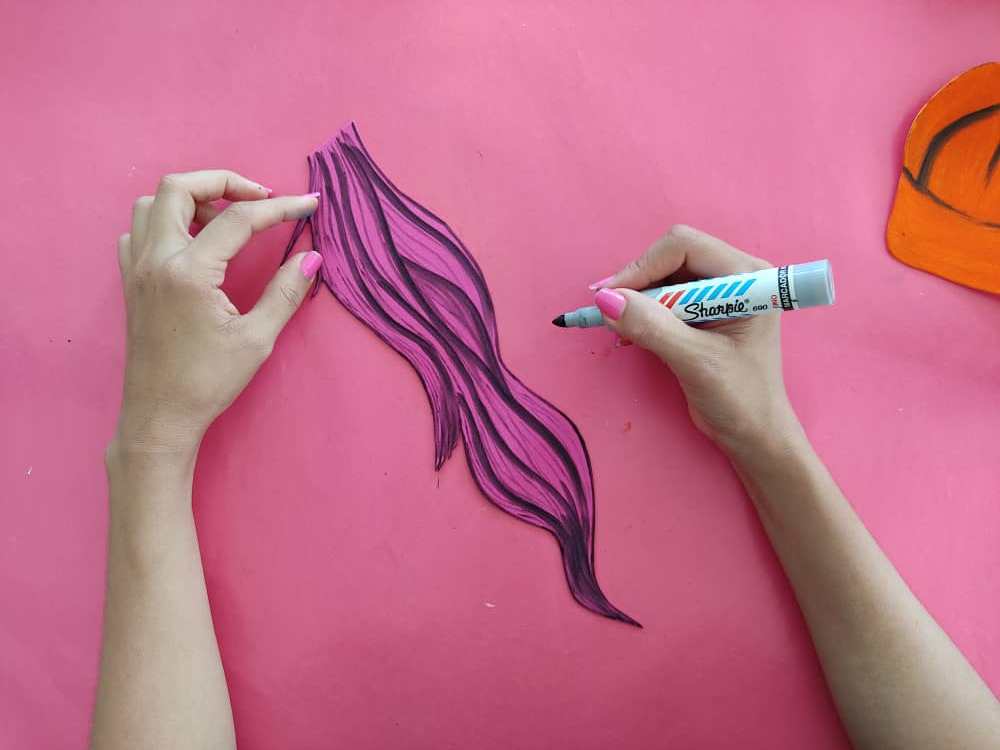 Next, we define the details of the beautiful and crazy hair, we simply make small and thin curves with the black fine tip marker.
---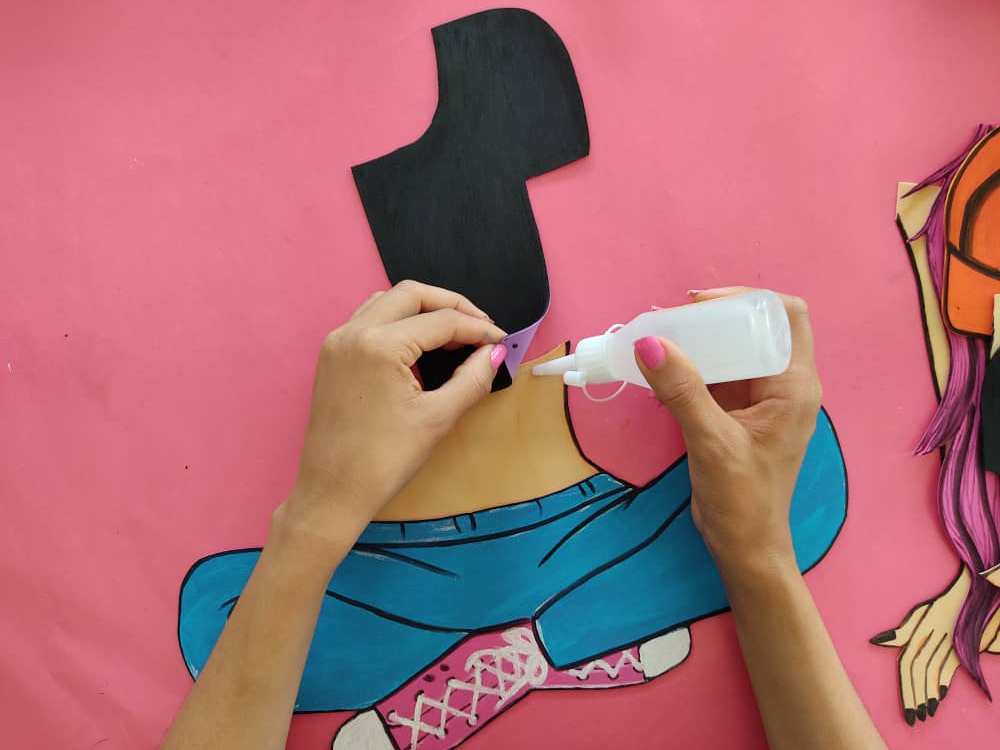 Una vez listas todas las partes de nuestra chica, armamos comenzando por las piezas más grandes como lo son, las piernas, el abdomen, la camisa, y el resto de partes, utilizando silicón líquido y haciendo presión por unos segundos para que todo quede bien pegado.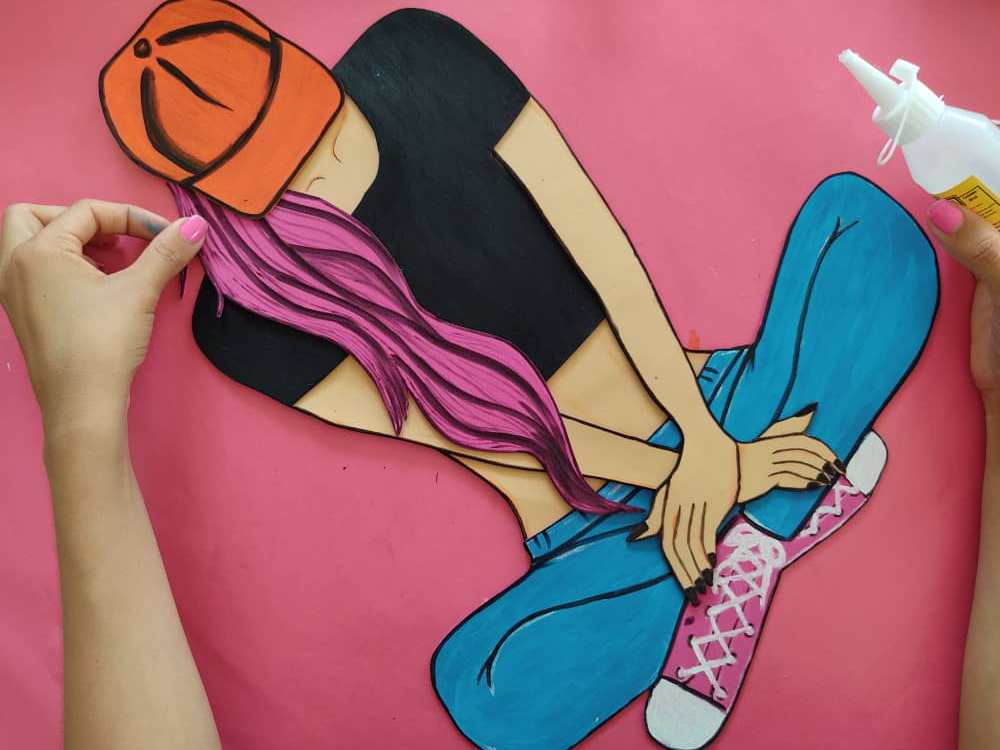 Once all the parts of our girl are ready, we assemble starting with the largest pieces such as the legs, the abdomen, the shirt, and the rest of the parts, using liquid silicone and pressing for a few seconds so that everything looks good glue.
---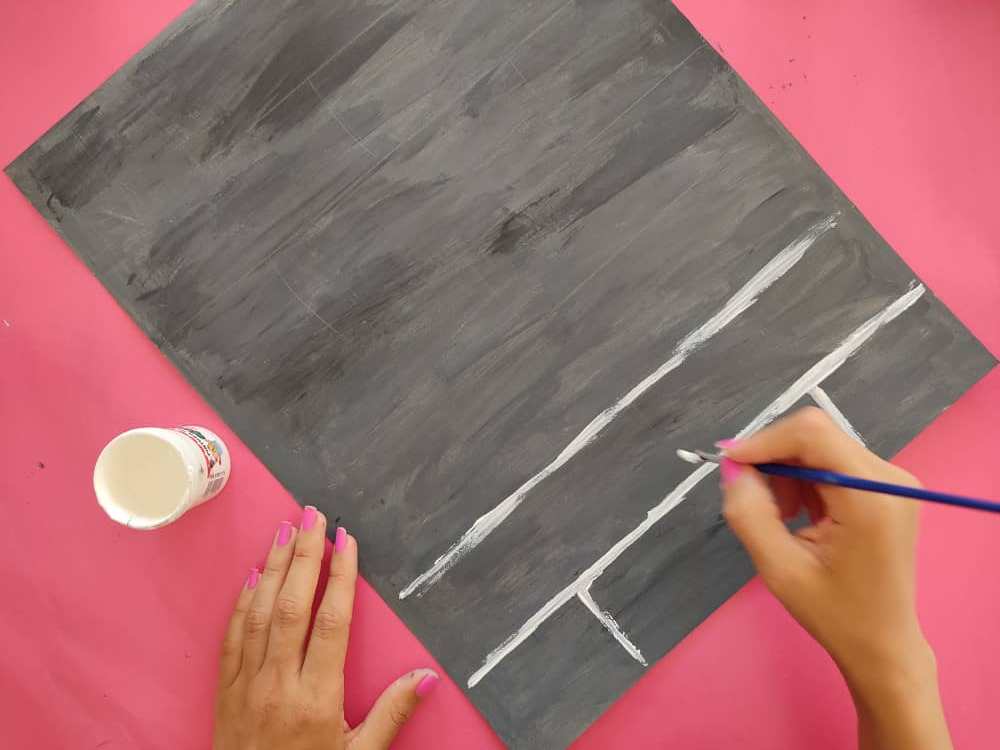 Ahora, elaboramos una hermosa base de 50 x 40cm y la pintamos de gris, y dejamos secar por unos segundos. Seguidamente, hacemos una especie de ladrillos, con lindas líneas blancas, y dejemos secar por algunos minutos. No olviden reforzar la base pegándola sobre un cartón más grueso para que quede muy firme.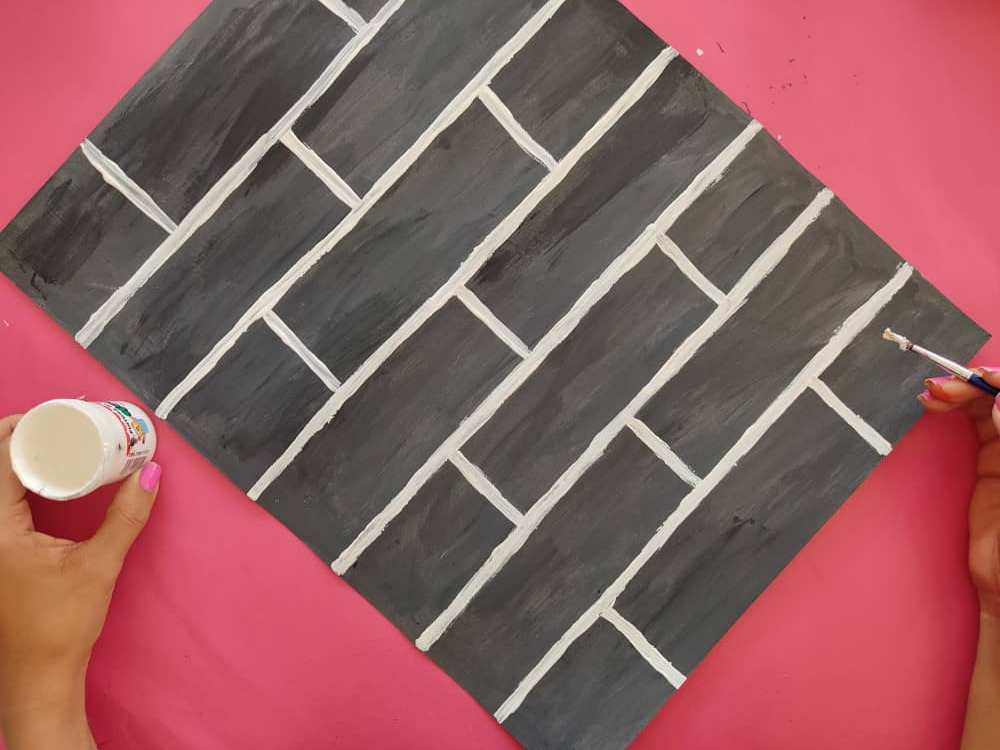 Now, we make a beautiful 50 x 40cm base and paint it gray, and let it dry for a few seconds. Next, we make a kind of bricks, with nice white lines, and let it dry for a few minutes. Do not forget to reinforce the base by gluing it on thicker cardboard so that it is very firm.
---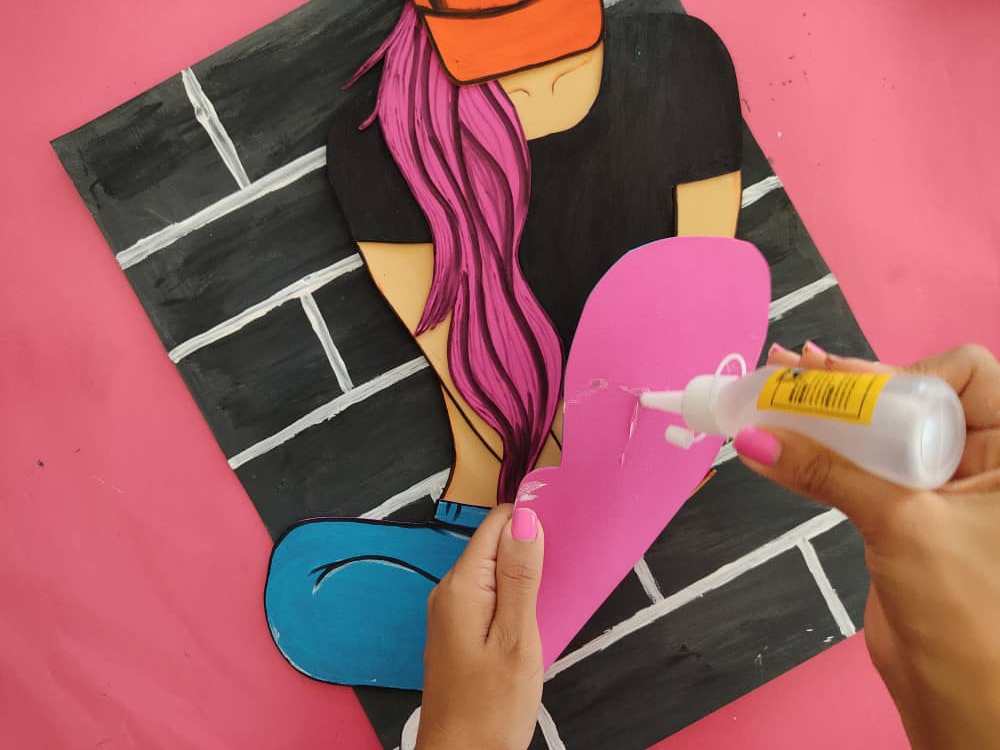 Finalmente, pegamos esta imagen tan genial a nuestra base, está vez opte por hacer todo diferente, y decidí ubicarla de forma diagonal, permitiendo que algunas extremidades sobresalieran de la base, espero que les guste.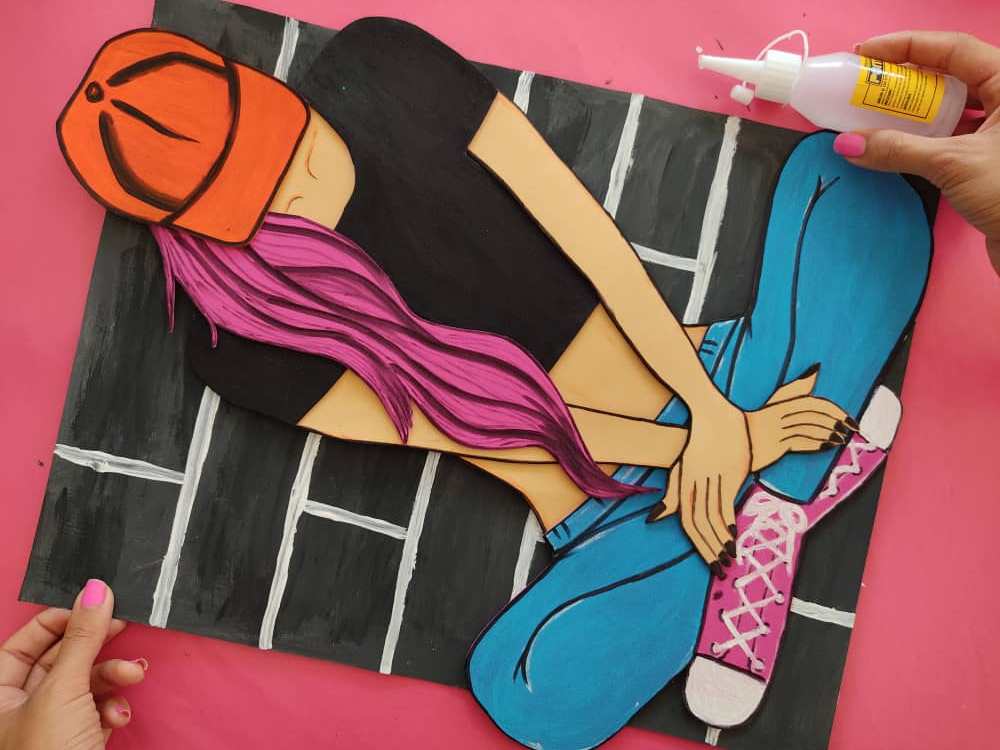 Finally, we glued this cool image to our base, this time I chose to do everything differently, and I decided to place it diagonally, allowing some limbs to stick out from the base, I hope you like it.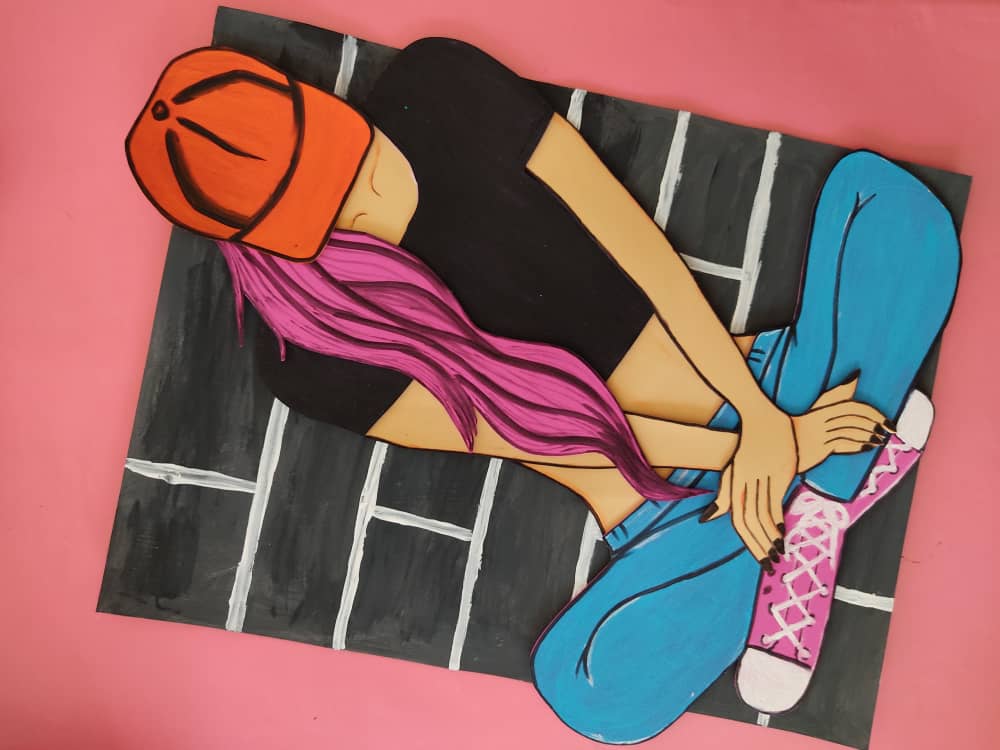 Este original y creativo cuadro de "chica urbana" es muy fácil de hacer, y perfecto para decorar o adornar nuestras paredes favoritas, llenándolas de estilo y personalidad. Sin duda es una manera muy económica de darle un gran toque de magia a nuestro entorno e incluso podemos utilizar este tutorial como material de emprendimiento, y así, reproducir muchos cuadros para su venta. Recuerda que esta es una actividad maravillosa y perfecta para compartir con nuestros tiempos de cuarentena que necesitamos distraer nuestra mente en algo divertido.
This original and creative painting of "urban girl" is very easy to do, and perfect to decorate or adorn our favorite walls, filling them with style and personality. Without a doubt, it is a very inexpensive way to give a great touch of magic to our environment and we can even use this tutorial as an entrepreneurial material, and thus, reproduce many paintings for sale. Remember that this is a wonderful and perfect activity to share with our quarantine times that we need to divert our mind to something fun.
---
Gracias por acompañarme y espero que lo hayan disfrutado. ❤️
Thanks for joining and I hope you enjoyed it.❤️
---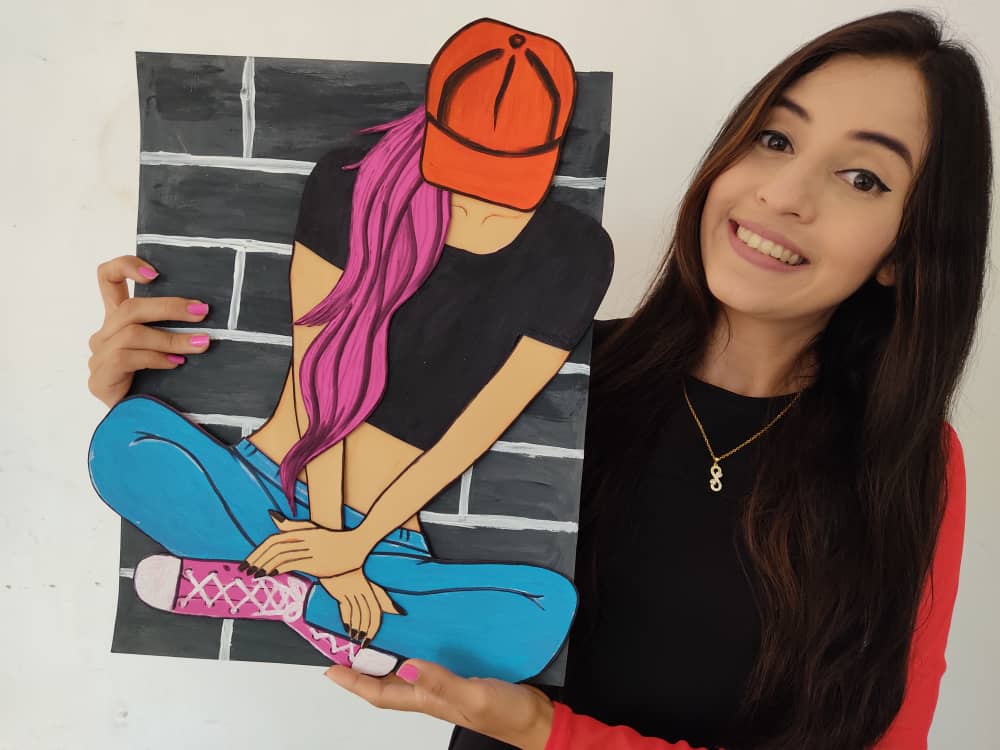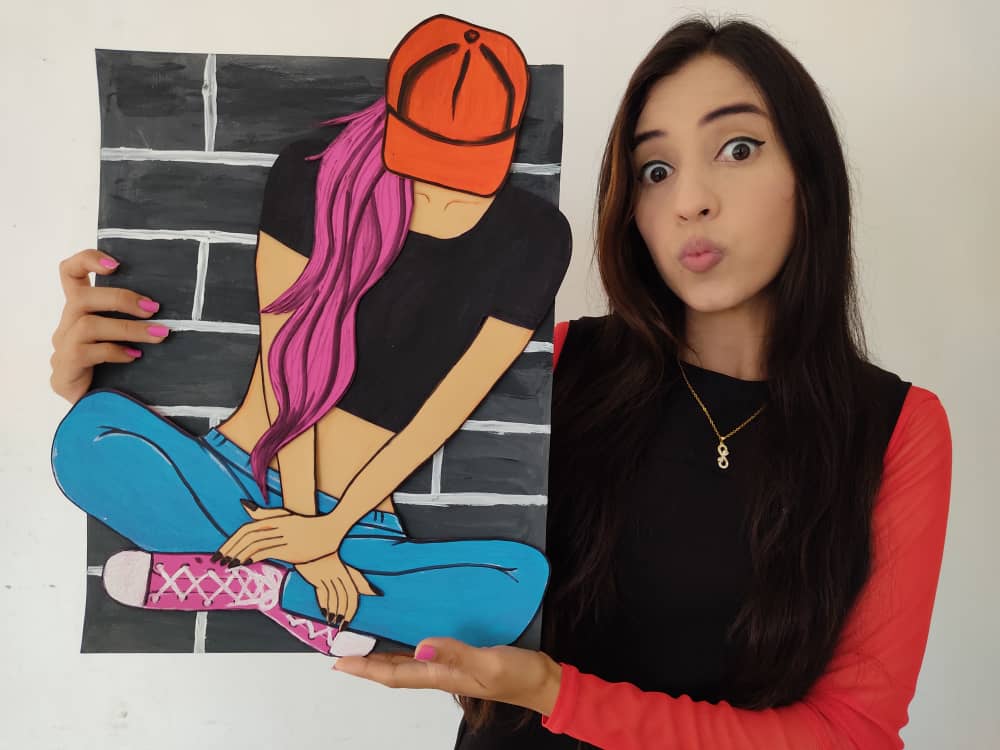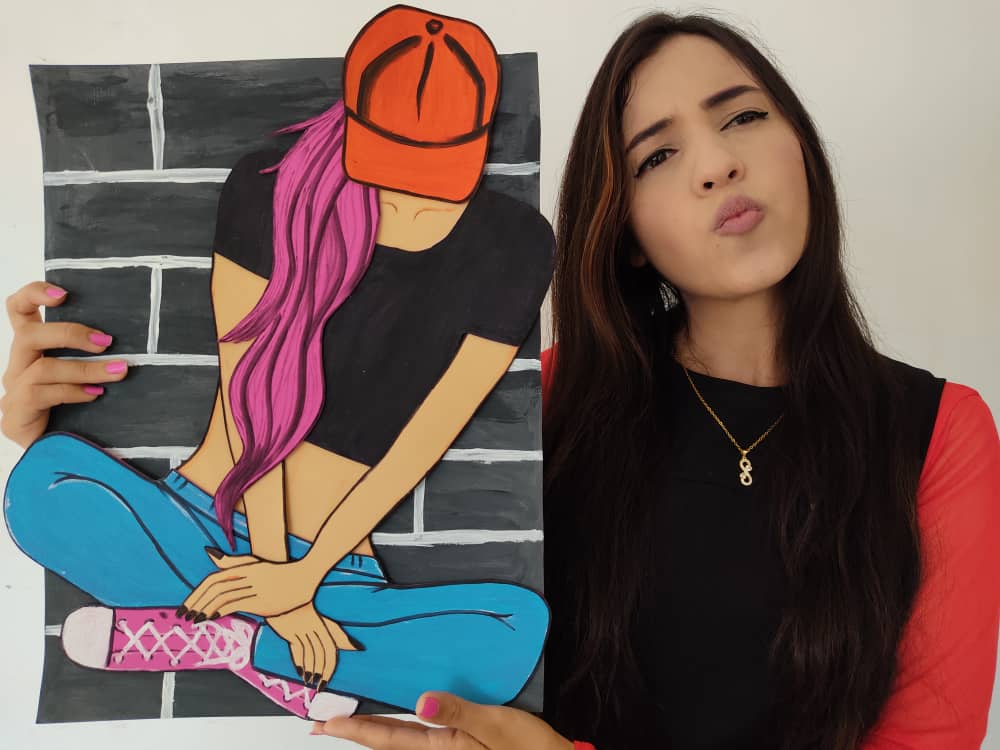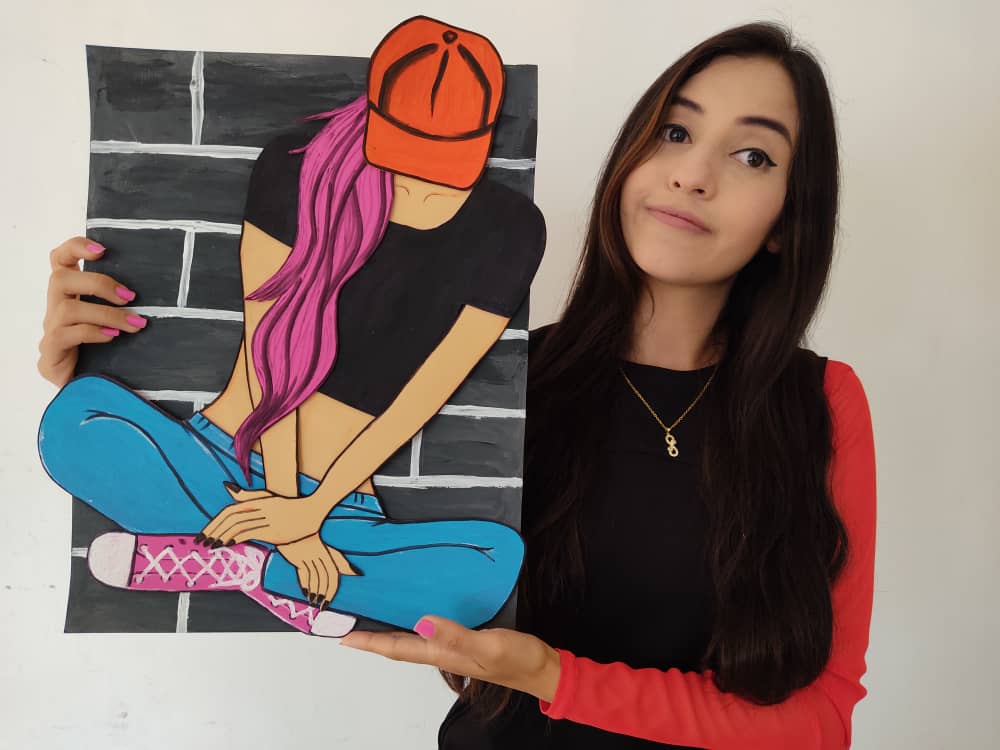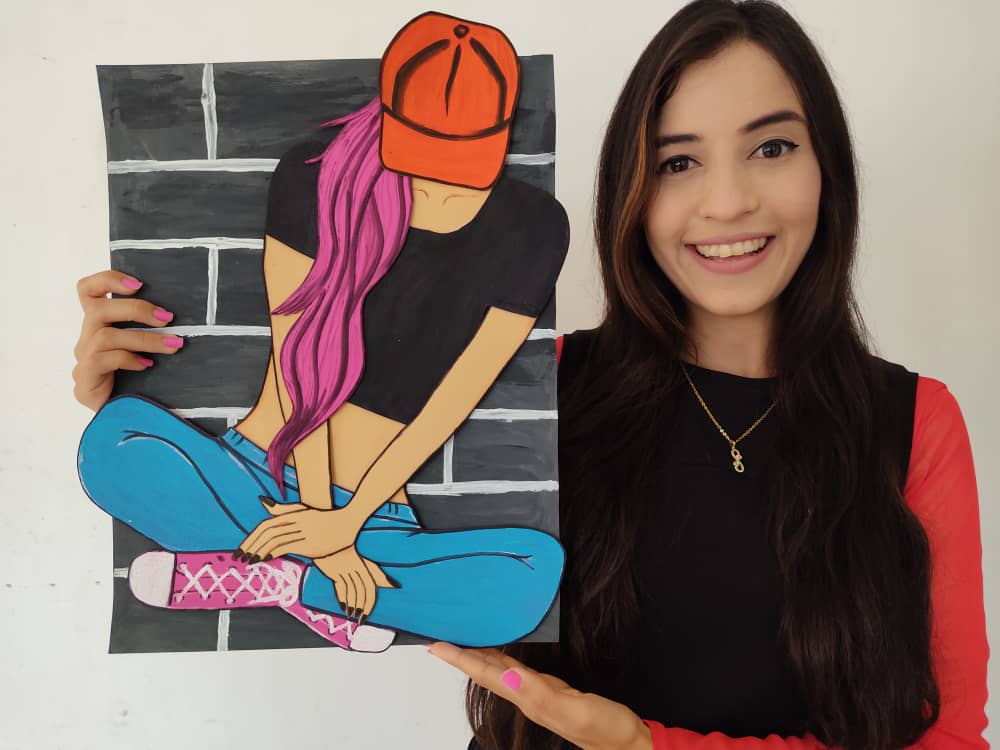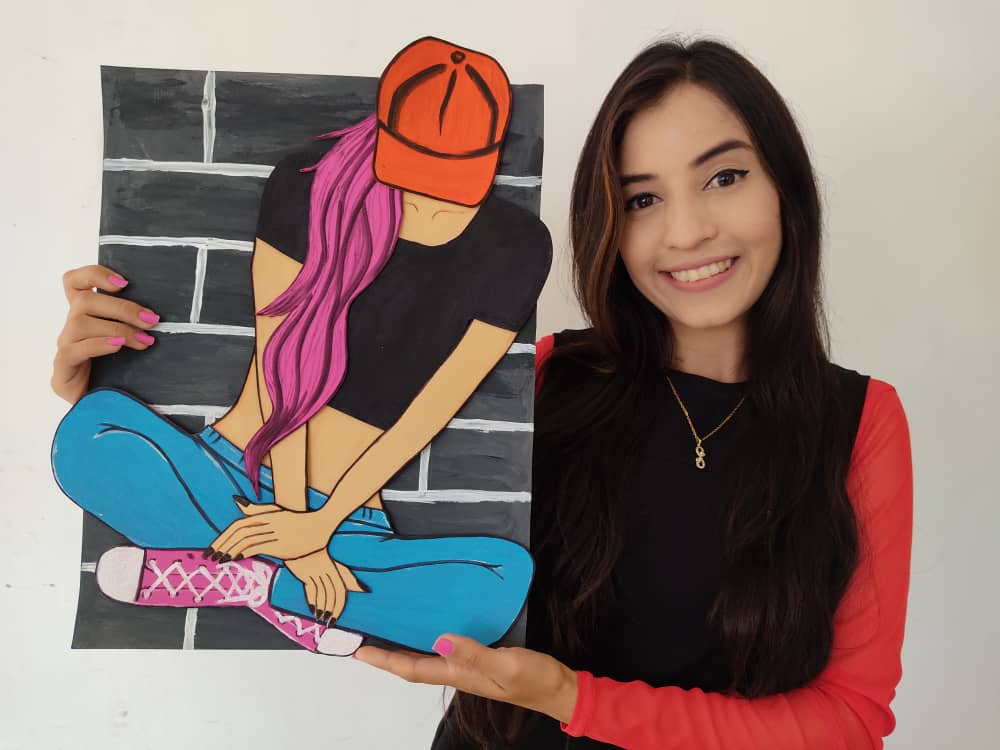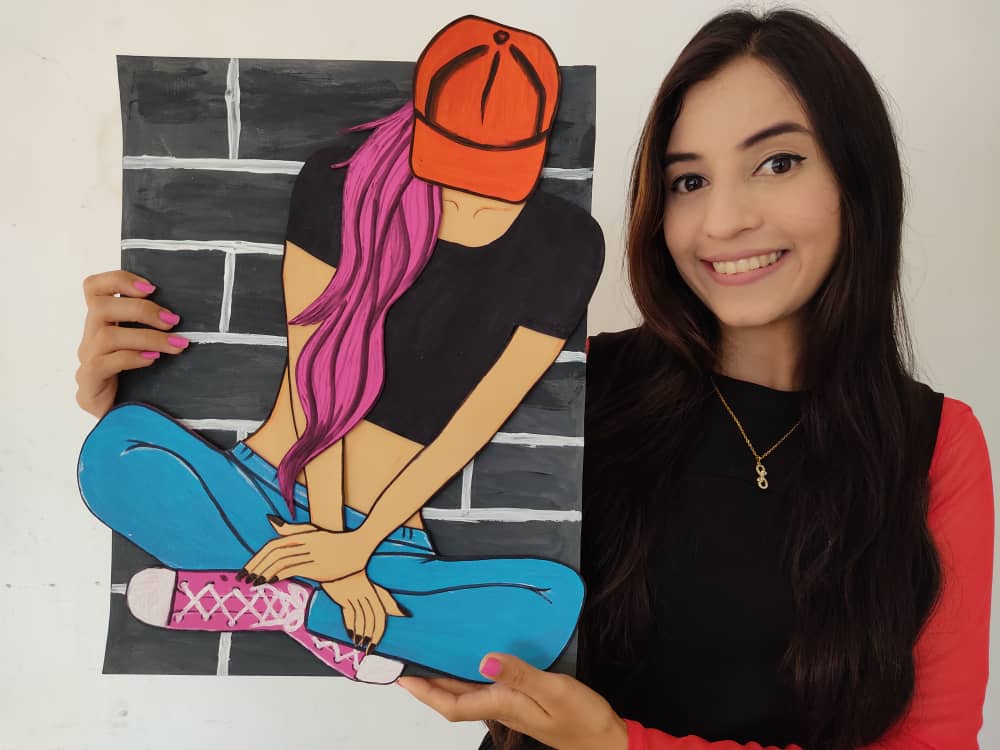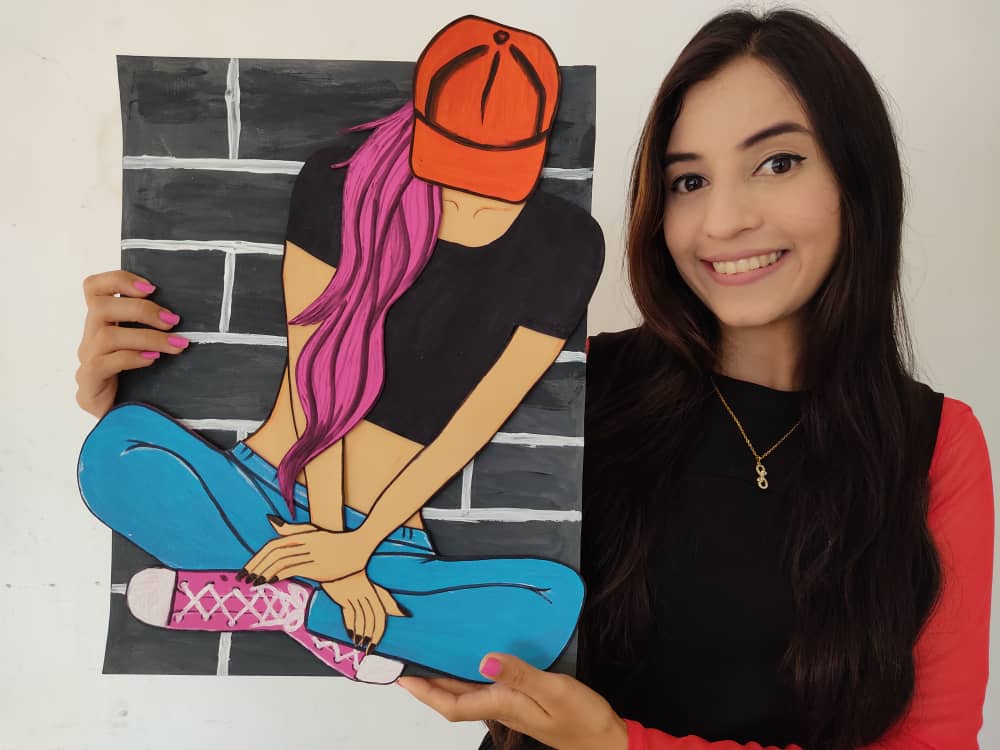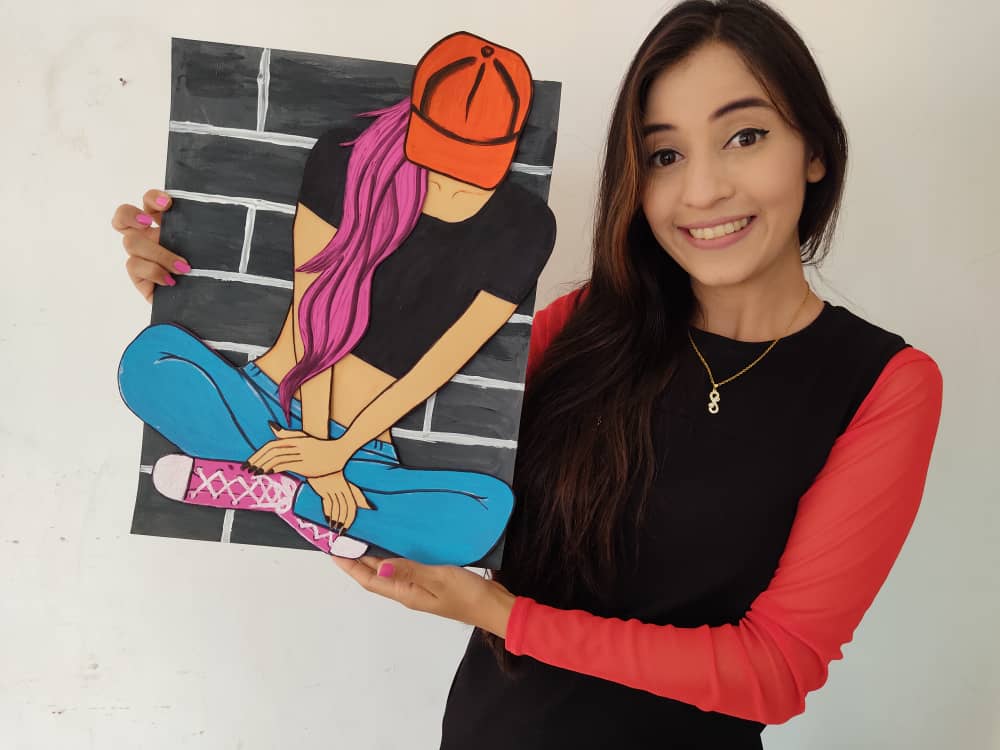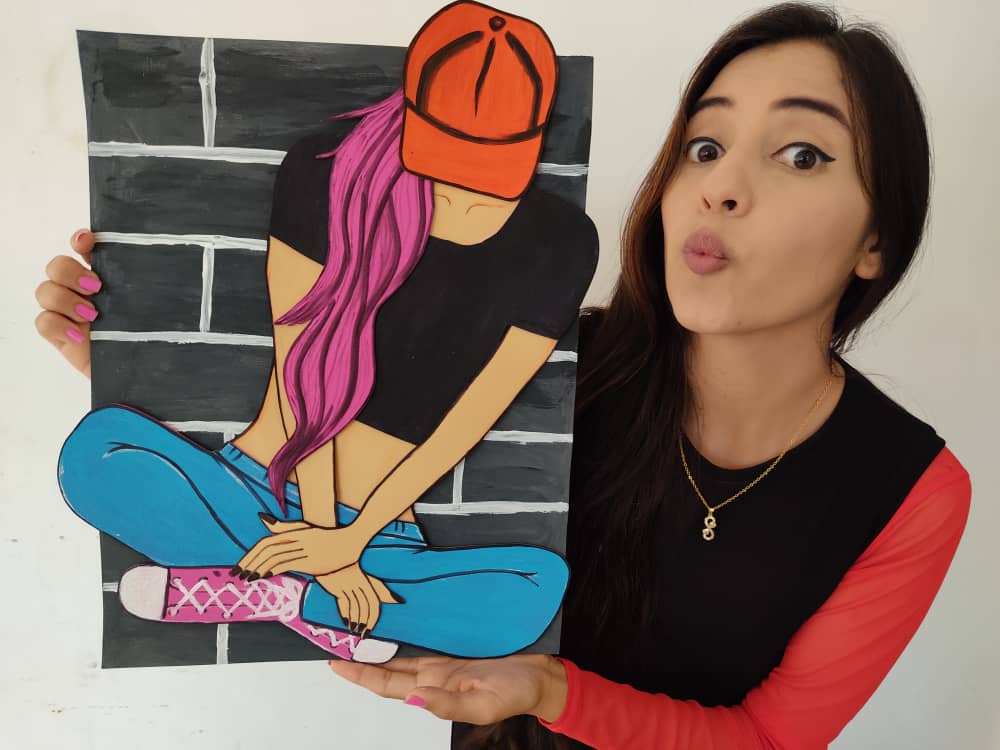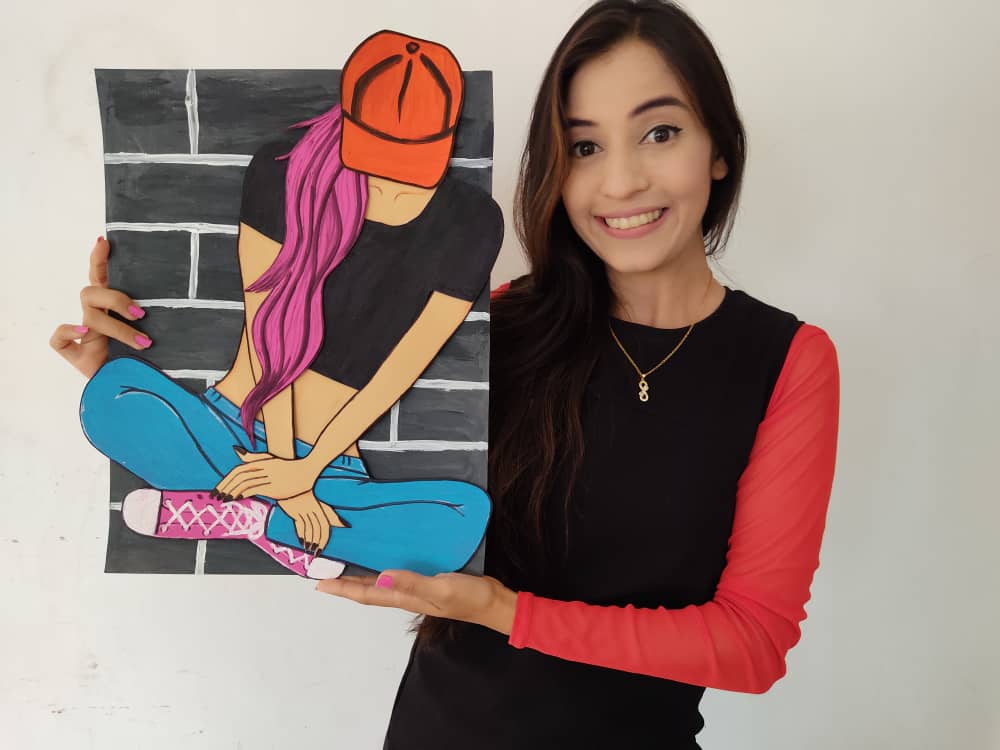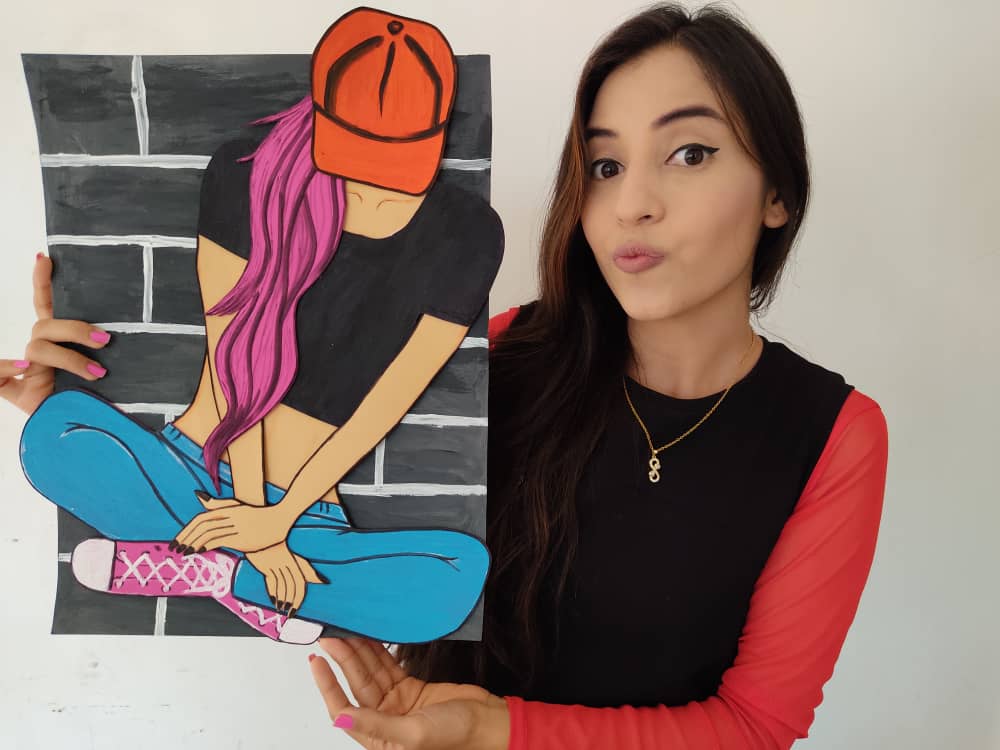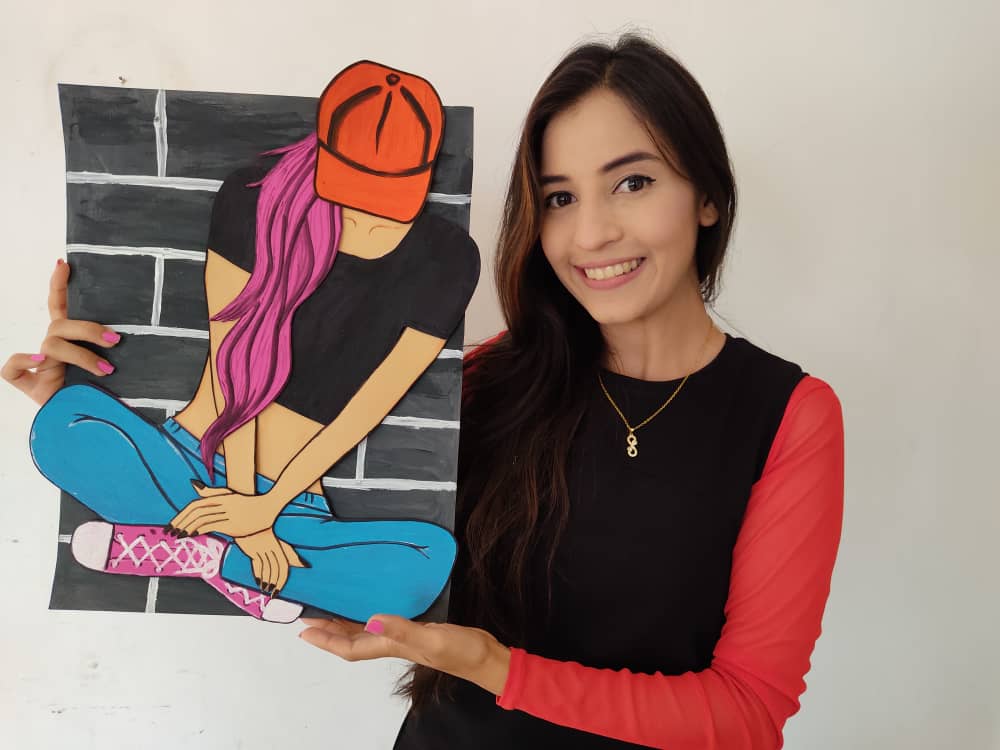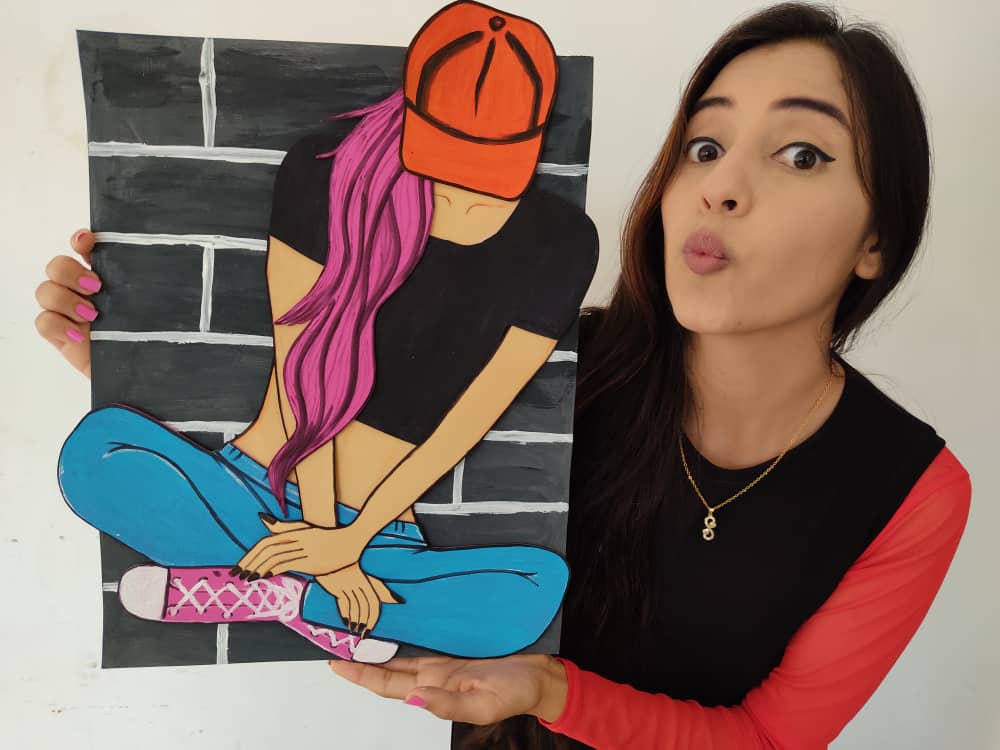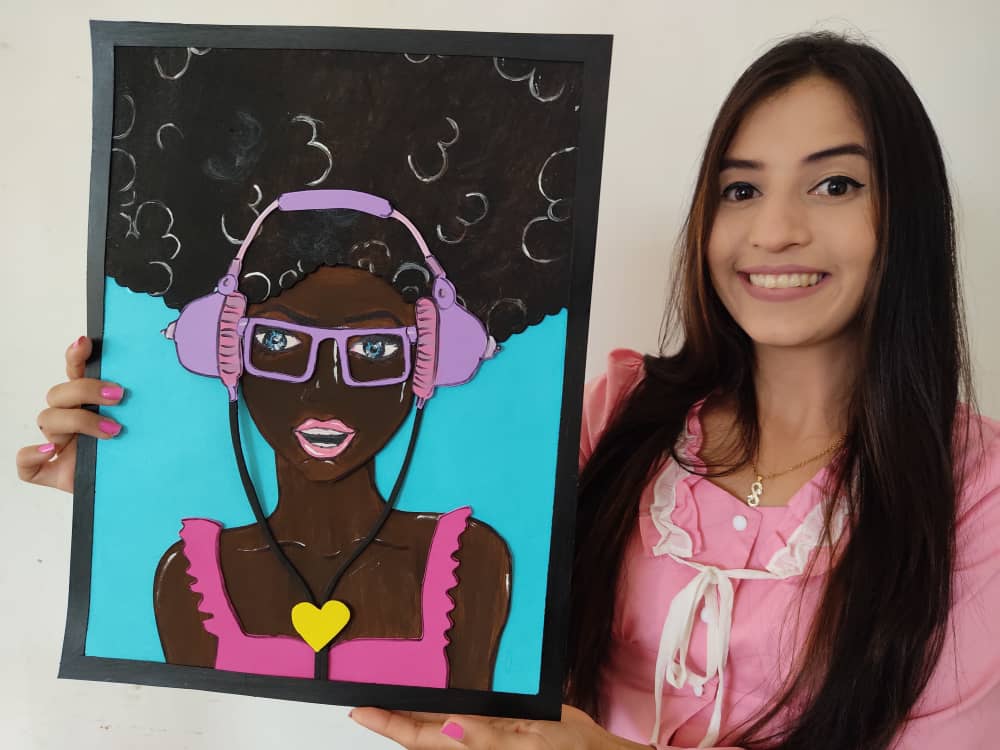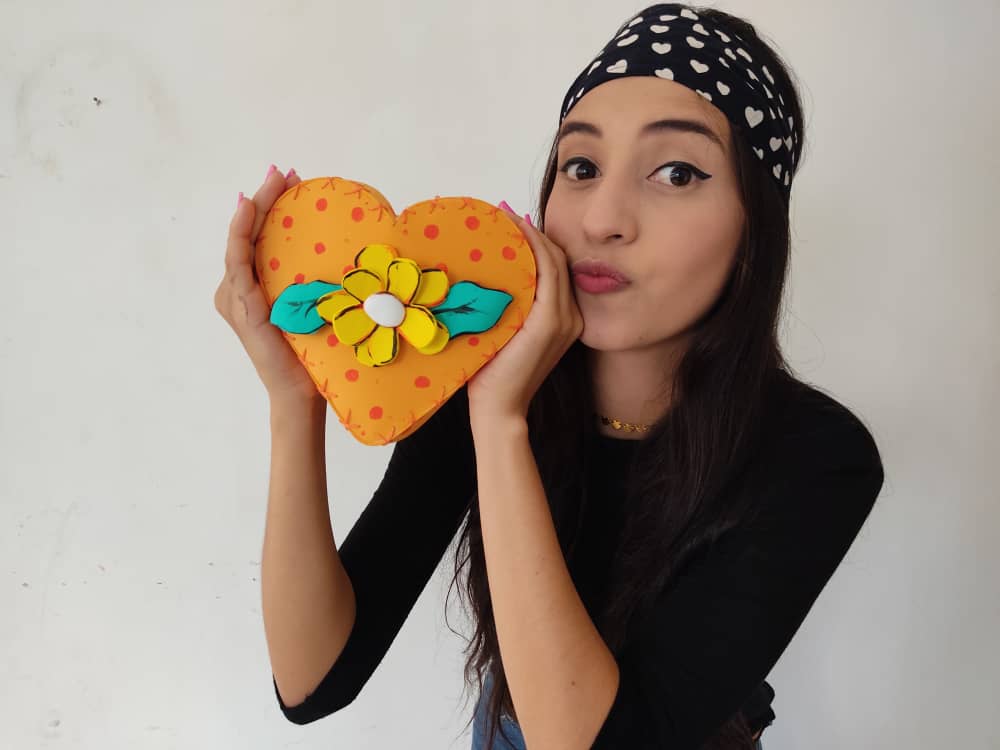 ---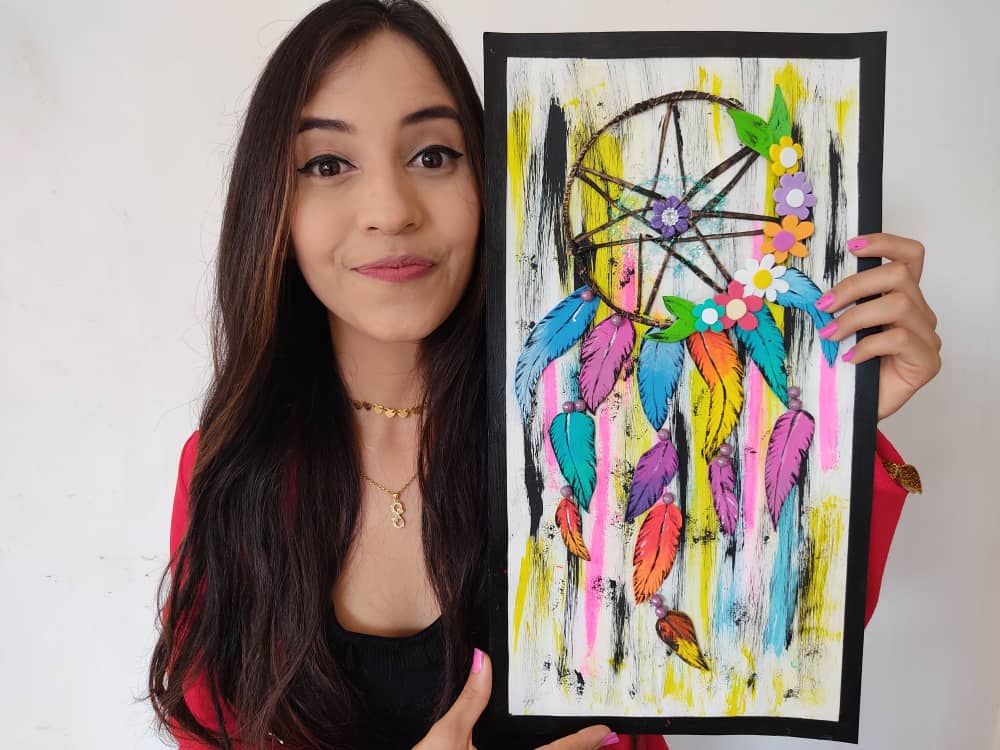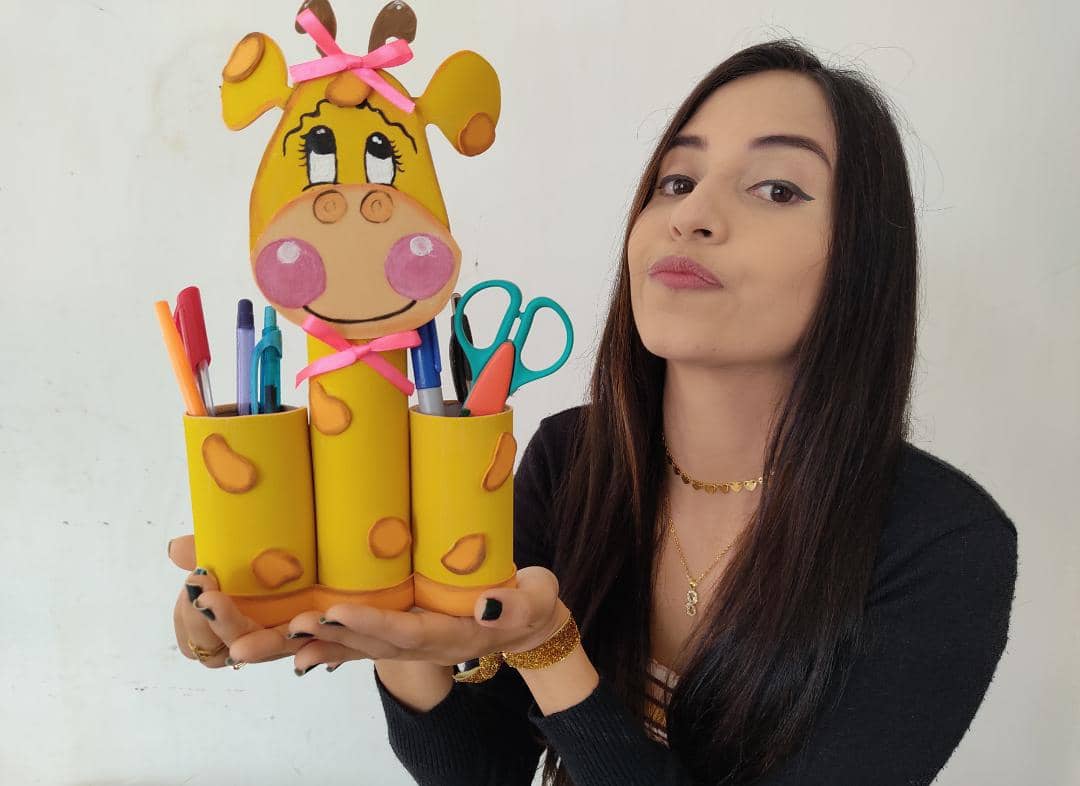 ---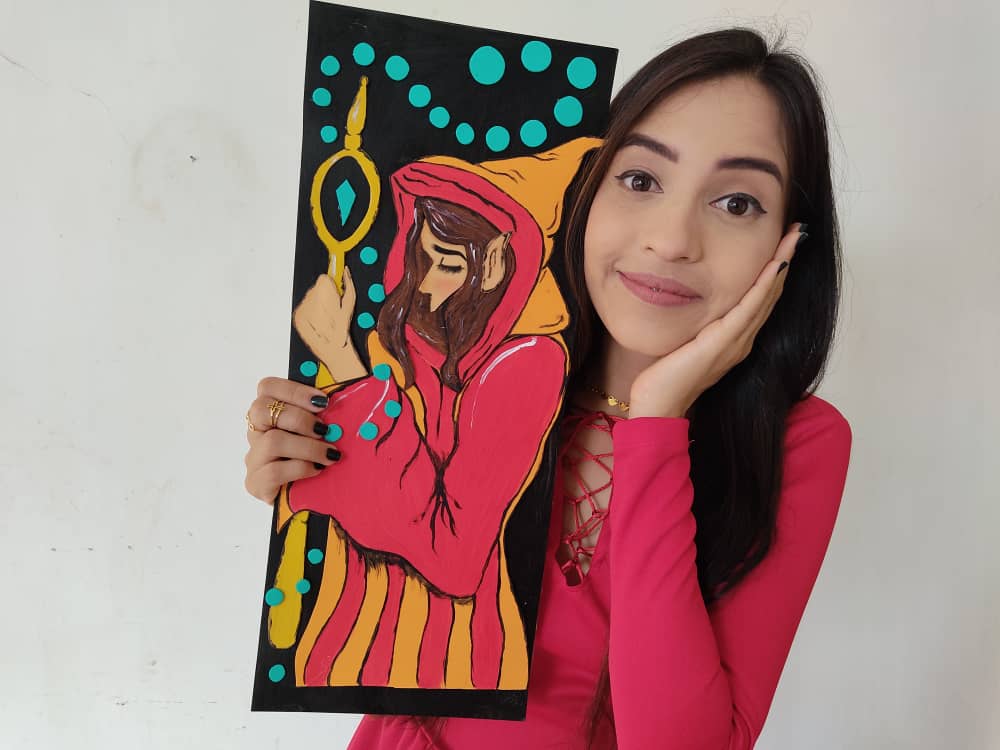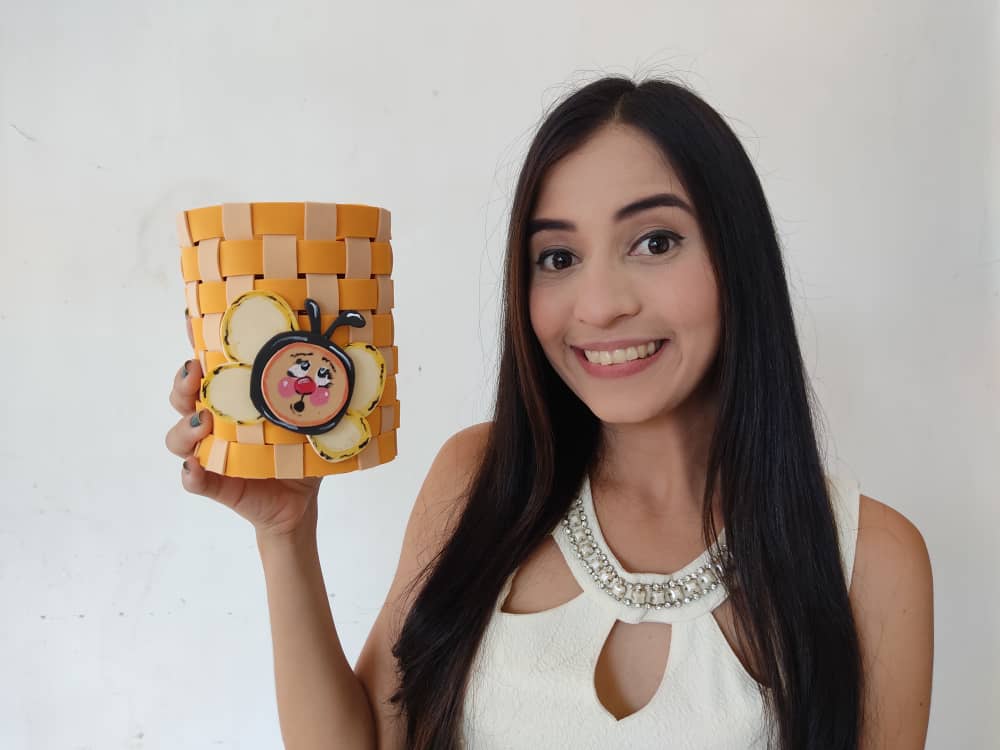 ---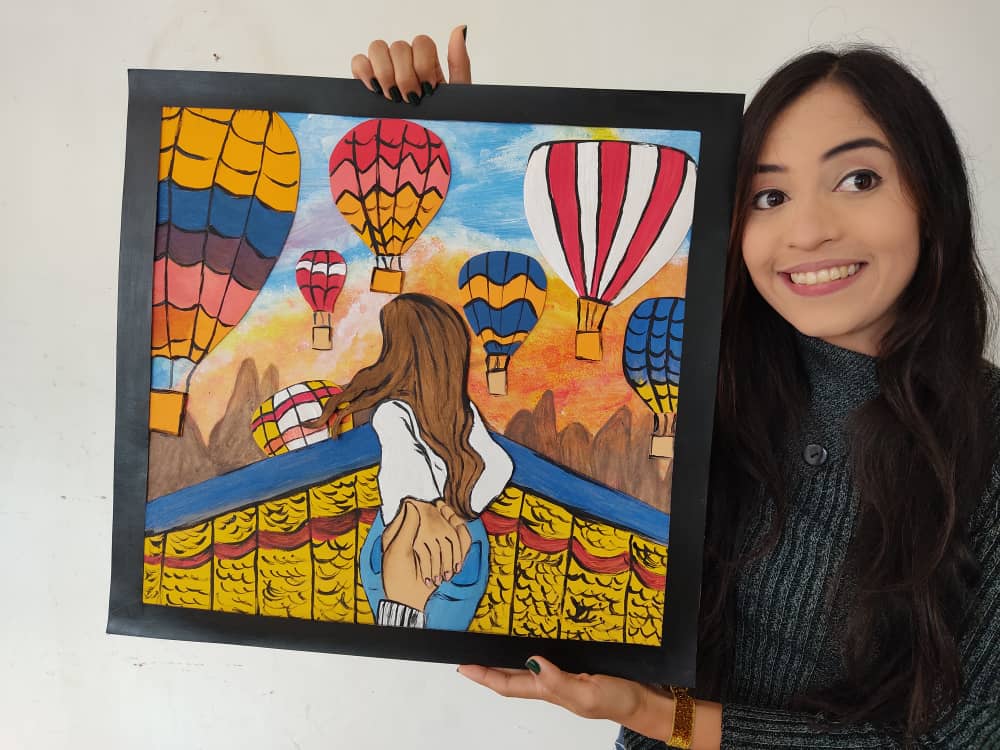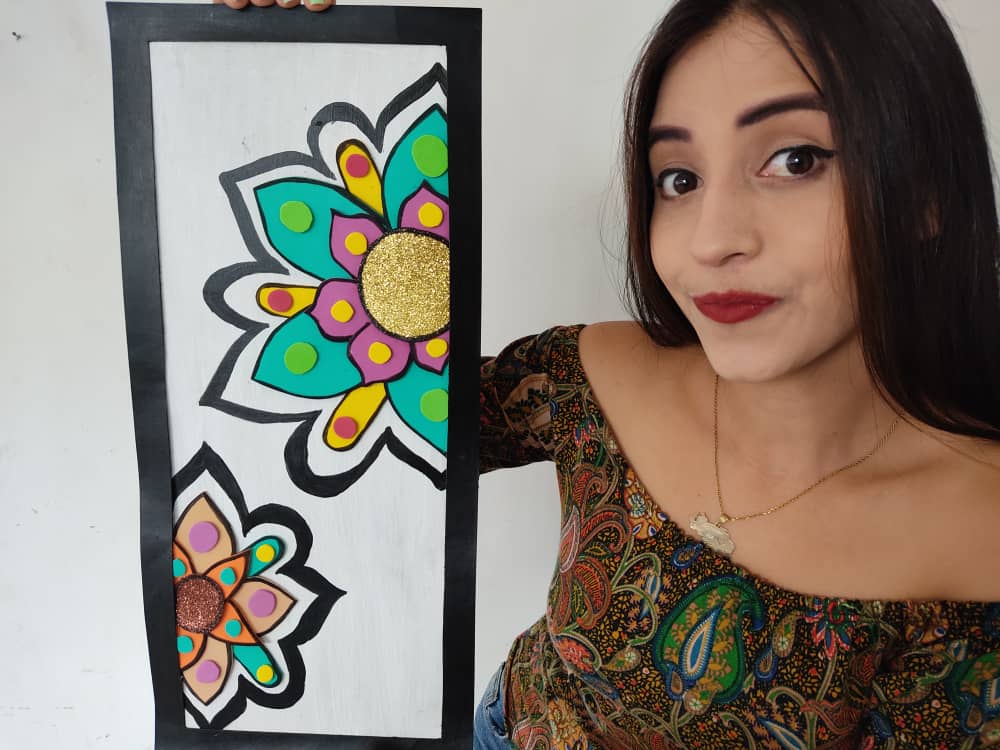 ---

@saracampero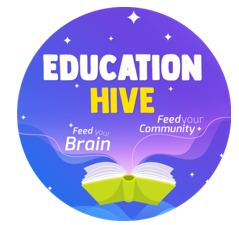 @educationhive


Click the banner to go to our Discord Server!