A new release of peakd.com is now available. Keep reading to discover the new features and check the full list of improvements ;)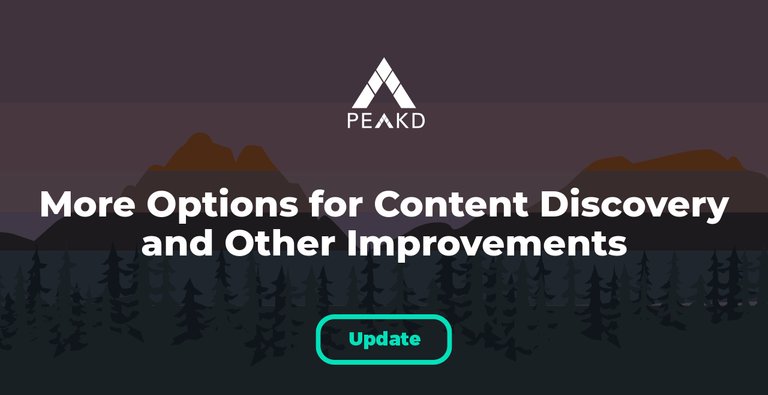 1. A new way to discover interesting posts
This is something I discussed with @jarvie for some time now ...and finally we decided to try it :)
You can now view posts sorted according to the number of views tracked on peakd.com. We plan to improve the available options in the next weeks but for now you can browse the results on this page: https://peakd.com/views or for specific topic ('hive' for example is at https://peakd.com/views/hive).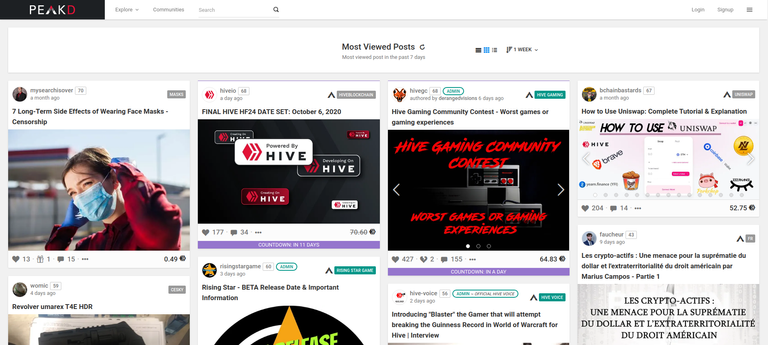 Keep in mind that defining a view is not easy as a single user opening the same page multiple times should not be counted as multiple views. So we rely on our analytics software for this (Matomo) to provide reliable analytics data.
Also please note that sometime the page requires a bit of time to load. I'm working to improve this so hopefully it will be faster in the upcoming releases.
2.Views counter when reading a post
Somewhat related to the above point it's now possible to view the number of views for a specific post (note that this is shown only if the post has received a minimum number of views)

3. Notification for upcoming HF
This is a small change that hopefully will be useful to user not aware of the upcoming hardfork. If you already know about it just dismiss the notification and it should not bother you again.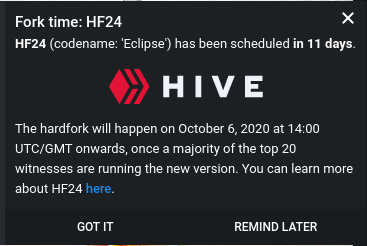 Please be sure to read the details in the official post.
4. Revamp night mode colors
Based on the feedback received by some users (mostly @encrypt3dbr0k3r and
@rishi556) the night/dark mode is now a bit darker. Hope you will link the new colors and keep suggesting or reporting possible improvements so we can achieve the best possible look.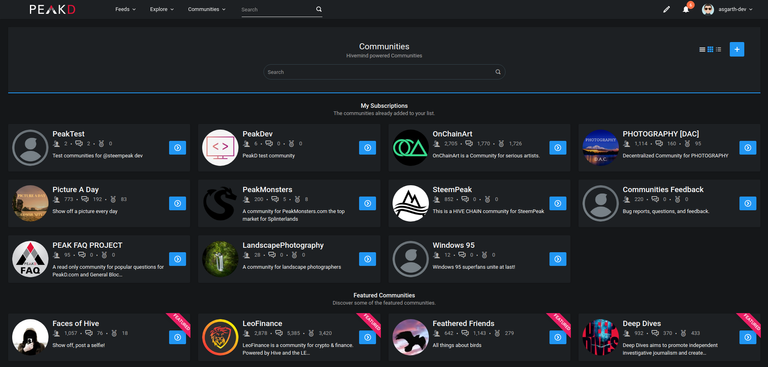 Login with Keychain is now supported when using the HiveWallet app by @roelandp (https://hivewallet.app/).
Kudos to @roelandp for his work to make this possible ;)
6. Some minor improvements and bug fixes
As always some minor improvements, updates and fixes across the website. You can check the full release notes here: https://peakd.com/about/changelog.
# Improvements and Fixes
------------------------------

[update]  Show communities role in top bar dropdown
[update]  Improve comment header layout for mobile devices
[fix]  Improve Pending Payouts estimated amounts
[fix]  Fix error on cross posting when using Hivesigner

---
Support the @peakd project
Now is probably a nice time to remind you of the ways you can support the development of @peakd.

We have a proposal on the Decentralized Hive Fund. You can review the proposal here.
If you agree to the proposal and you think the points mentioned add value to the Hive Blockchain consider supporting it using the above links or directly with this link.
---
We also run a witness server to help produce the blocks for the Hive Blockchain. You can vote for our witness so we are in a position to process more of them.
Vote on the witness page: https://peakd.com/witnesses
Using Keychain: You just have to click and approve the transaction
Using HiveSigner: You'll need access to confirm the transaction with your Active Key at least
---
The PeakD Team
About us: https://peakd.com/about
Join us on Discord: https://discord.gg/Fy3bca5