| | |
| --- | --- |
| So here they are, the interesting fungi photos promised a few days ago. | Hier sind sie also, die vor ein paar Tagen versprochenen interessanten Pilzfotos. |
Fungi & Moss / Pilze & Moos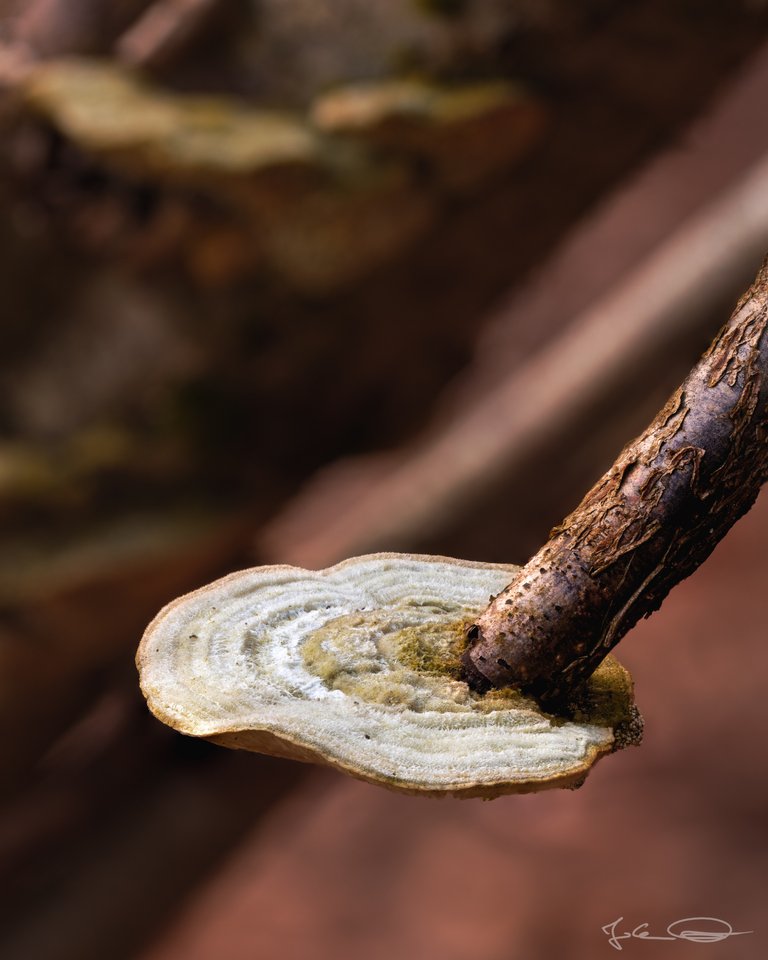 ❖ please click the image for fullsize view ❖
Canon EOS R | SIGMA 105mm 1:2,8 DG MACRO HSM
35 single images stacked with Photoshop
You don't really notice such mushrooms when walking through the forest.

At least you don't usually see all these details in passing or especially this strange looking little mushroom on the trunk besides the moss - I only saw it at home on the computer monitor.

Solche Pilze beachtet man eigentlich gar nicht, wenn man so durch den Wald spaziert.

Zumindest sieht man normalerweise im Vorübergehen nicht diese ganzen Einzelheiten oder speziell auch diesen komisch aussehenden kleinen Pilz oben am Stamm beim Moos - den habe ich auch erst zu Hause am Computermonitor gesehen.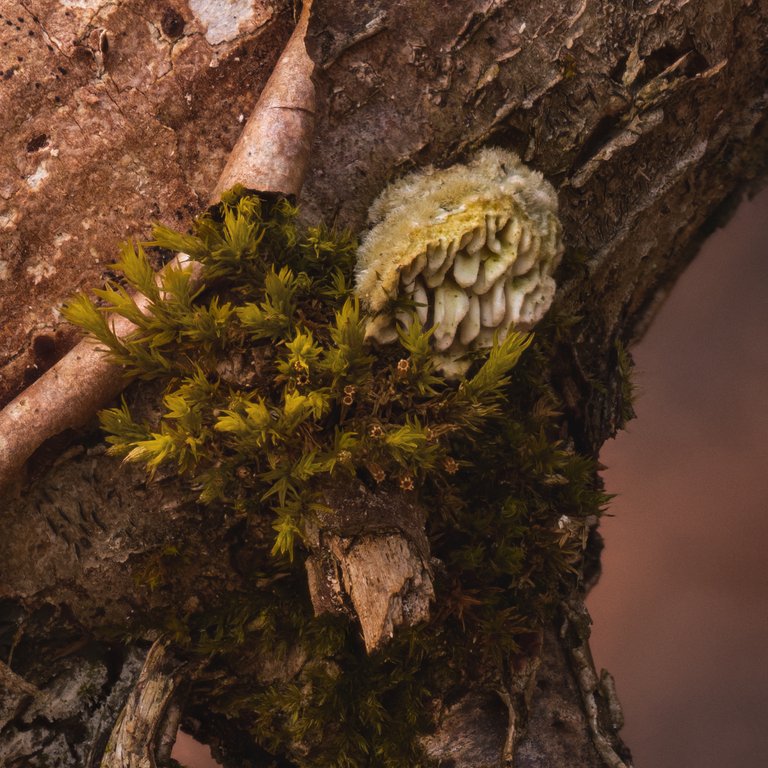 ❖ please click the image for fullsize view ❖
| | |
| --- | --- |
| Somehow, the mushroom that grows at the end of the broken branch was very interesting to me - I have never seen a mushroom growing like this one, and it was my actual photo motif. | Irgendwie war aber auch der Pilz, der unten am Ende des abgebrochenen Astes wächst, sehr interessant für mich - habe ich so auch noch nie gesehen, und der war auch mein eigentliches Fotomotiv gewesen. |

❖ please click the image for fullsize view ❖
Canon EOS R | SIGMA 105mm 1:2,8 DG MACRO HSM
34 single images stacked with Photoshop
In the photos above you can also see some moss, but that doesn't justify the title "Fungi & Moss".

Therefore, of course, there is also a macro photo of a tiny piece of moss that has grown on the same dead tree trunk. This old rotten trunk was actually a very productive photo opportunity, I would say.

Auf den beiden Fotos ist zwar auch etwas Moos zu sehen, das rechtfertigt aber nicht den Titel "Pilze & Moos".

Deshalb gibt es natürlich auch noch ein Makrofoto eines klitzekleinen Stückchens Moos, das auf dem selben abgestorbenen Baumstamm gewachsen ist. Dieser alte morsche Stamm war eigentlich ein sehr ergiebiges Fotomotiv, würde ich sagen.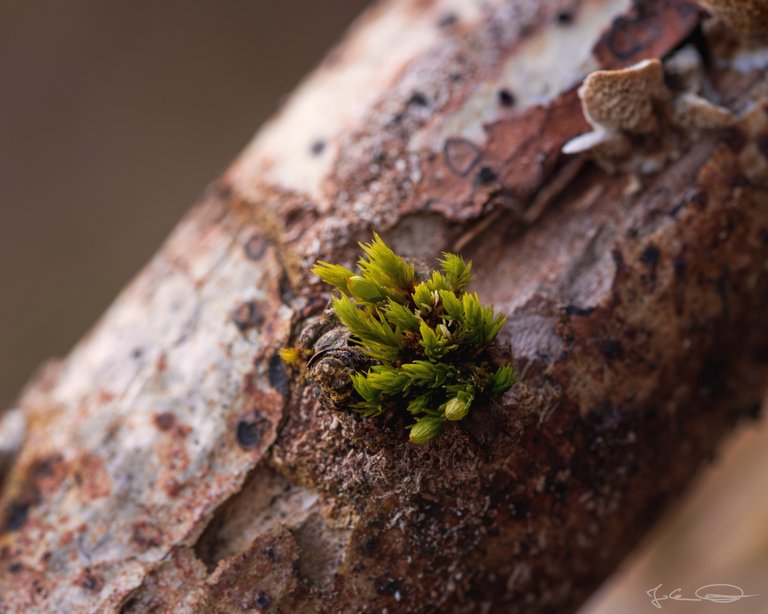 ❖ please click the image for fullsize view ❖
Canon EOS R | SIGMA 105mm 1:2,8 DG MACRO HSM
23 single images stacked with Photoshop
I am always happy if the focus stacking with Photoshop works with such images without much post-processing. But that doesn't mean that Photoshop is to blame, but rather me with my focussing skills.

I hope that Canon will enable automatic focus stacking with a future firmware update for the EOS R, just like Olympus has such a function.

@brianhphotos reminded me a few days ago of the photo stacking software Zerene Stacker, which I had already tested last year, but dear Brian, the result with the single photos used here did not improve with Zerene either. I still have to practice a lot to get even near the quality of your macro photos: https://peakd.com/@brianhphotos

Ich bin immer wieder froh, wenn das Focus Stacking mit Photoshop bei solchen Bildern funktioniert, ohne dass viel Nachbearbeitung notwendig ist. Das soll aber nicht heißen, dass Photoshop schuld ist, sondern eher ich mit meinen Fukussierkünsten.

Ich hoffe, dass Canon mit einem Firmwareupdate für die EOS R das automatische Fokusstacking ermöglicht, so wie Olympus eine solche Funktion hat.

@brianhphotos hat mich wieder an die Fotostacking Software Zerene Stacker erinnert, die ich schon einmal letztes Jahr getestet hatte, aber lieber Brian, das Ergebnis bei den hier verwendeten Einzelfotos ist auch mit Zerene nicht besser geworden. Ich muss noch sehr viel üben, um auch nur einigermaßen an die Qualität deiner Makrofotos heranzukommen: https://peakd.com/@brianhphotos
Information
All photos were shot with the Canon EOS R and the SIGMA 105mm 1:2,8 DG MACRO HSM, SIGMA 150-600mm F5-6.3 DG OS HSM C lens.
I leave all EXIF and IPTC information stored in the pictures.
---
If you like my photos I would appreciate an upvote, nice comment or maybe you want to share my post on your blog 😊 ... and maybe you would like to follow me, so that you never miss a post from me.
Thank you for visiting my blog,
have a nice evening,



Photos and Text: Johann Piber | All rights reserved - do not use without my permission
#originalcontent #originalworks




2020-04-03
[//]:# (!pinmapple 46.555333 lat 14.436220 long 20200403-Drau-Reservoir-Annabruecke d3scr)