January 1st, 2022
---
Monthly/Year End Progress Report December
My monthly progress reports serve a couple of purposes:
The first one, and primary reason for doing them, is that it allows me to see where I have been, where I am going, and where I am falling short in my personal goals.

The second purpose they serve is to let people, new accounts and old, see an honest representation of an account built from scratch and not really knowing anything at all about cryptocurrency.
Just before Christmas, on Winter Solstice my Desktop computer crashed. I had to rebuild my spreadsheet, as they were lost in the crash. There will be no 4th quarter Hive-Engine token report.
Scattered throughout the post will be yearly update information. Now on to the report starting with the spreadsheet table.
Monthly Charts and Tables
The Monthly Progress Report Table: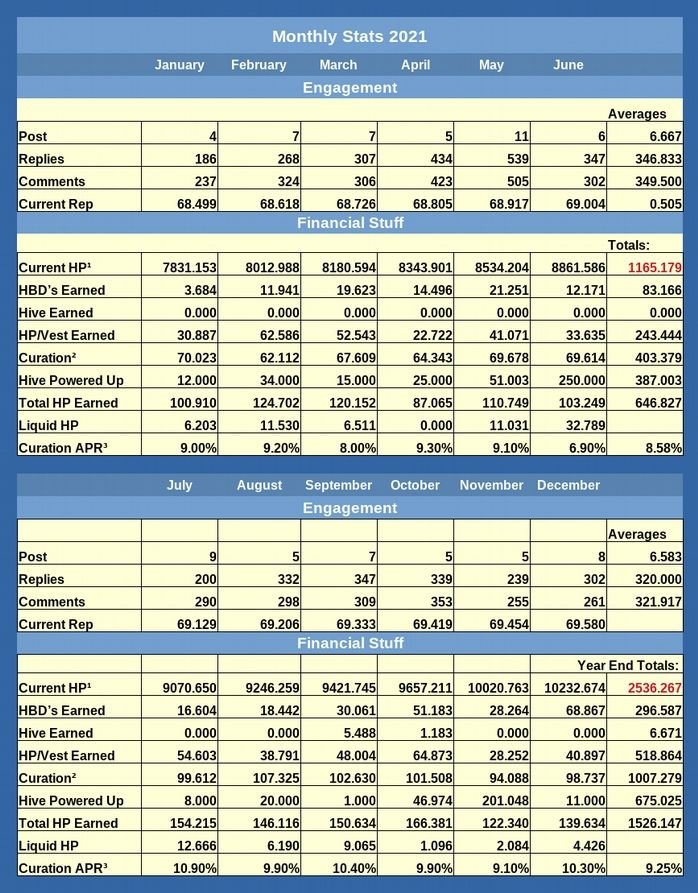 I began the year wanting to reach a goal of holding 10,000 HP. I managed to reach that goal toward the end of November 2021. For the year my HP holdings increased by 2536 HP.
---
Most earnings still are coming from curation, and I really do not see any change in that for the coming year.
As we can see in the Yearly Earnings Pie, earnings for the year were mostly from curation.
The HBD-C is HBD converted into a Hive Value via the internal market. Not a real accurate way to go, but the best I can do. The Monthly chart HBD value was converted yesterday at chart creation time and the Yearly HBD converted today at chart creation time.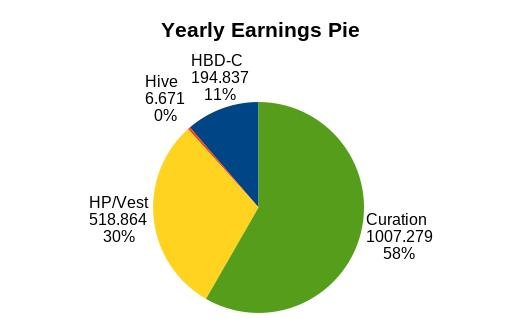 ---
Monthly Account growth, slow but steady progress.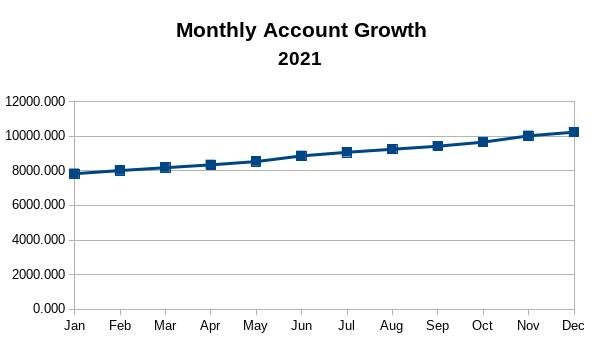 ---
Engagement Charts and Tables:
Monthly post:
The data in the chart came from PeakD tool page.
The Hive Engagement League ran from 1/3/2021 to 12/27/2021.
During that time I made 73 post. That is slightly less than 1.5 post a week, (1.40384615384615), per the Engagement league. Numbers may not add up as there were a few days before and a few days after the year run the League numbers do not account for.
---
Levels of Engagement: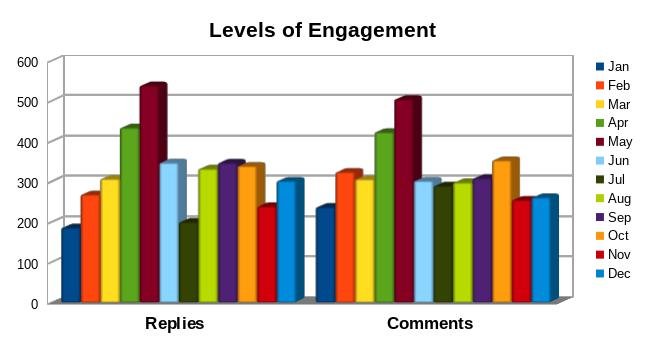 I had a couple of pretty good months then things settled out to a fairly steady average. For this chart comments and replies were taken from PeakD tools page.
Per the Hive Engagement League I entered 3841 comments, and on average left comments on 28 different peoples post each week.
Not covered elsewhere in this post or tables but well covered by the Hive Engagement league, I entered 14,130 votes during the League year, These votes were cast on average each week to 134 different accounts. For 2022 I can see the different accounts number possible growing this year. More HP means I can vote on a lot more content, but initially I am going to try to maintain a good mix between content and comments.

Conclusions and side notes
2021 saw Hive Token price start at around 0.10 to 0.12 for several weeks, then slow steady rises ending at about 1.50. It would be nice to see the same level/percentage growth for this year and it would be amazing if it did happen.
With reaching my Hive HP goal last year this year I think I am going to try and get to 500 HBD in my savings account. It will be hard, but with the 10-12% interest payments it would be nice to be there.
I would like to increase my posting rate, but I am not sure that will happen. I will be happy to maintain the current rate, and I hope to maintain my current levels of engagement on chain with people.
Computer crashed, a blessing in disguise. I am free from microsoft currently, and have been doing all my Hive activity on a simple little Raspberry Pi computer.
About The Hive Engagement League
The Hive Engagement League the link is to the last post for 2021. Asher started the league over on steem block chain, when he moved to Hive he brought the league with him and has been posting results since April 5, 2020.
I have been tracking myself and building a spreadsheet for all the thing he tracks for us, thus it was pretty easy to come up with the number of votes, number of comments and post and other information. He provides a pretty handy tool of information all in one place.
It is very easy to join and make yourself available to his tool, of course you would have to try and keep yourself in the top 100 to make use of his table, I did miss one week of not making the cut in 2021, I hope not to miss a week this year. To join simply leave abh12345 a comment on the post asking and he will add you in for the next week tracker.
---
Related Progress Report Links:
---
Tiny Picture links back to my blog:

edited to center images