Venezuela is frequently presented as a country where crypto is helping ordinary people to survive in the midst of intense hyperinflation - this is clearly the message in this Reuters article from earlier on in the year for example: As Venezuela's Economy Regresses Crypto Steps in to Fill the Gaps.
The economic situation in the country is certainly dire - Venezuela has experienced the most drastically intense period of hyperinflation in modern world history - it has been in double digits since the 1980s, became the highest in the world in 2014, reached 400% on 2016, 2000% in 2017 and peaked at over one million percent in 2018 at which point the government stopped producing inflation figures, but current estimates from external sources put inflation at over 2000% in 2021.
The minimum monthly wage in Venezuela is now $3, which means people either have to rely on remittances from abroad (5 million have left the country since hyperinflation began), side hustles and/ or black market economics to escape dire poverty and survive day to day, and there have been a lot of reports that crypto has played an important role in this, given the fact that the Venezuelan Bolivar is now effectively worthless in dollar terms.
Crypto Adoption in Venezuela
Venezuela ranks third on Chain Analysis' crypto adoption index and there is also robust anecdotal evidence that people in Venezuela have become increasingly interested in cryptocurrency with the most popular coins being Bitcoin, Ether, Dash and Eos, and apparently Binance exchange has become as well known as the country's biggest commercial bank, Banco de Venezuela.
There are three main ways in which Venezuelans use crypto in their day to day lives:
To send remittances
To protect wages from inflation
To help businesses manage cash flow.
Five million Venezuelans live abroad and many residents rely on their remittances to survive - crypto is crucial here because there are very few fiat currency trading pairs for the Bolivar (VES), so most expats send their remittances in crypto - local Bitcoins being the most popular P2P transfer site, as that allows BTC to be sold for VES.


Current price = 178 BN VES for 1 BTC.
Fast food chains Pizza Hut and Church's Chicken as well as some supermarkets are accepting bitcoin and dash as payment and it is also increasingly possible to pay street vendors with digital coins in some of the larger Venezuelan cities like Caracas or Valencia.
In terms of businesses, they are increasingly converting any VES they receive into crypto ASAP as it simply holds its value better, such is the unreliability of the VES.
This article from DW is worth a read for more information.
What happened to the Petro...?
The Maduro government developed its its own digital token in 2018, the Petro, on a centralised ledger, supposedly backed by the value of oil.
The Petro was distributed to millions of Venezuelans and apparently it is accepted as a form of payment for taxes and in state run petrol stations.
HOWEVER, there is little evidence that the Petro has had that much use, it is currently very difficult to exchange it for anything else and it seems to be a dead project, even though there are calls to revive it.
There is also some evidence that the main use of the Petro was for the government to move very large sums of money out of the country, so this is more about the wealthy extracting funds from a failing economy rather than helping the poor survive, Chain Analysis found last year that 90% of funds moved were for sums over $1000: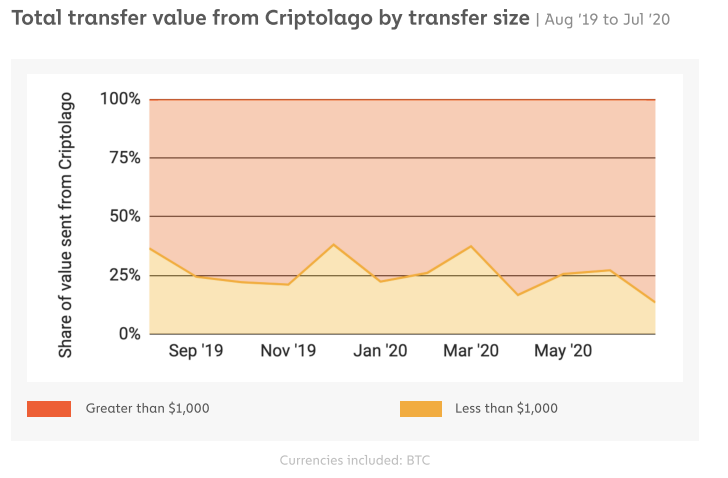 One of the approved Maduro exchanges to facilitate trade in the Petro.
So how important is Crypto in Venezuela really?
Despite the fact that the country is ranked third in global crypto adoption it seems that crypto is mainly being used by expats and the better off, the middle classes, if you like.
According to Triple A, only 10% of the population own some form of cryptocurrency and so I imagine that for the very poorest, the only access they've had to crypto is through the government's Petro token, which is a fundamentally flawed project given its closed nature and probable use by government officials to extract funds for themselves.
At the end of the day it's not so much a matter of crypto being used 'in' Venezuela but rather 'through' Venezuela' as those who are lucky enough to have access to friends and relatives abroad are able to receive funds on a regular basis and cash that into VES as they need it, and I think that's probably playing a significant role in keeping millions of Venezuelans going despite the government mismanaging the economy.
As with all things crypto, I imagine there's a polarising effect going on - those with external links are surviving, those without them are probably suffering for more severe hardships.
I also wonder how far crypto might be playing a role in keeping the current regime in power?
IF the middle classes are managing to bypass the worst hardships of hyperinflation through crypto, there's maybe less of an impetus towards regime-change?
Final Thoughts...
I know there are a few Venezuelans active on Hive, I'd be interested on hearing from them how many people have access to crypto in their day to day lives and how important it is.
Posted Using LeoFinance Beta