Last night @steemmatt had the dubious idea of throwing my brother @tarazkp and myself into battle by way of a series of ten questions we must both answer without seeing the other's answers. (yes he really is my brother - I'm the dumb older one)
The term battle brings images to mind of the Holmgang, the traditional method Vikings would use to solve disputes, one-on-one combat, but between my brother and I there is no conflict so it's more of an insight rather than a fight or battle I suppose. So just questions...No arm wrestle, or paper, scissors, rock challenge. Because we're good sports we figured, that in the spirit of community, we would play along.
Below are the ten questions and my answers plus a bonus question Matt also posed. I have not seen my brother's responses nor he mine...So gather around the fire and settle in.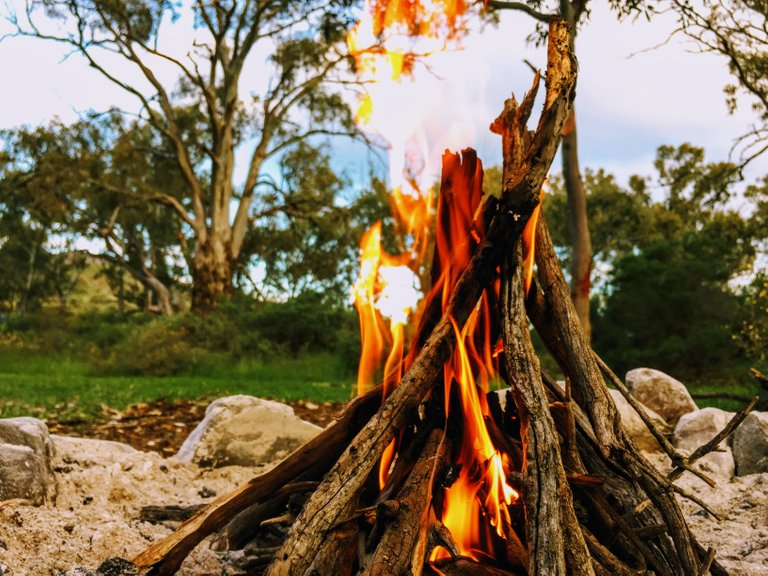 1 - Who always followed the rules and who was the rebel?
A tough one - I would say I'm more the rebel.
I was asked to leave home at mid-seventeen years of age and made my own way in life from then. I think conforming to the norm in that situation isn't possible so I have had to adapt to situations, think outside of the box and to overcome adversity; It's easier to do so if one has the ability to rebel against complacency, fear of failure and acceptance of ones perceived limitations.
With my rebellious nature comes great strength of character, fortitude, resilience, ownership and responsibility - Traits that have helped me overcome life's challenges.
We were both brought up with manners, respect and courtesy although, speaking for myself, I have done bad things that I regret...In the main though, I see any rebellious-streak either of us has, as a positive part of our natures as it means we don't accept the social convention as the only way forward.
I used to rebel against common sense though and did many dumb injury-producing things as a kid...I've written here about a few. Here's one and another and one more.
2 - What activities do you have fond memories of doing together as kids?
Our family didn't have a lot to spare financially so we made our own fun, usually outside where we'd pretend to be soldiers or cowboys, ride our bikes and things. He was quite a bit younger though so we also did age-appropriate things like playing in the sand pit, drawing and educational stuff. We just found adventure where we could though and played like most brothers do I guess.
We both played hockey for the same team, but years apart, and as he was coming up I'd take him to training and games and get involved. I recall those times fondly.
We were born on the same day, but nine years apart, so we shared birthdays. It was sort of cool. We weren't kids at the time I guess, but to have my 30th and his 21st on the same day was cool. My brothers got me drunk on a bottle of whisky - Assholes. I was messed up the next day.
After I left home I'd take my two younger brothers and sister for outings...Movies, picnics, the zoo and stuff like that. My sister was 5, Taraz 9 and my other brother 13. I was with Faith by then and we'd all hang out. It's as close as I would come to being a parent I guess, as we can't have kids. Good times though.
There's far more of course, but that's not for the blockchain.
3 - How would you describe your brother's sense of fashion before he got married? The term fashion is used loosely.
He actually had a good fashion sense growing up although our parents weren't very financial so he ended up with some hand-me-down stuff. He wore it with style though, and his easy-going fun personality made up for any lack of style. He was a good kid and generally happy which seemed to project outwards no matter what fashion-tragedy he may be wearing.
As an older dude his fashion sense got a little more stylish and it was rare for him not to present the best version of himself from a fashion perspective.
I grew up in the 70's and 80's so I'm afraid of how he will answer this.
4 - What was a sport or game you'd always destroy your brother at, and likewise, one he'd always kick your ass at?
A hard one due to the age difference. We played different sports too.
So, shooting is my thing and not his so I'd completely destroy him in that area - Although to be fair I'd destroy most in that sport considering how much and how long I've done it. Not being immodest, just factual.
Not a sport, but drawing/art was never my thing and try as I might I was always terrible at it. The thing is that Taraz is very good at that endeavour (photography too) so he would slay me in that area for sure. He got my dad's talent for it, I got none. At 4 years of age he drew like a 4 year old; At 50 years of age I draw like a 4 year old.
5 - Has blockchain helped your relationship grow at all, if you previously had little in common and have been drawing a blank on all of these?
We have much in common, despite being completely different in make up, but the blockchain has changed our relationship somewhat as I'm the novice and he's the more experienced of us. I'm always asking him stuff and he gives me direction, chastises me when required and supports me often for which I am grateful - Like I did with him when he was growing up I guess. It's been a good thing to share and we both enjoy it and have some optimism of around it's future. Enjoying it is one of the keys to consistency.
He's in Finland and I'm in Australia, exactly 137.35 bazillion kilometres away from each other so we talk a bit by phone and video. Since the blockchain those occurrences have multiplied to usually 3-4 times a week so it's been good.
6 - Any embarrassing fact or story about your brother you've been hoping someone would ask you to make public on Hive?
Like most kids we have embarrassing stories but I'd say there's nothing I'd single out. (Go and read those links I put above which are personally embarrassing though.)
It would be nice for people to be interested about what he was like growing up though because I'd have a lot of good things to say in that regard and I know that whilst people think they know what he's like, they simply don't. Of course, no one is interested and so they'll never know.
He was a good kid and from the moment he was born I always felt protective of him. I tried to be a good older brother, one to look up to and respect, and I lead by example as best I knew how.
I have to be careful what I say and do here, as do we all, lest someone makes a really dumb picture of us, and so I always temper what I say and divulge here. People see my life playing out, although not all of it, and I think it's best to keep it that way. I would never compromise Taraz although I have so much photographic evidence and stories to go along with them I could if I chose. It's not going to happen though.
7 - What's your secret for each of your wives being so cool with all your time on Hive? This is the most important question.
Good question.
My wife is the coolest person. Supportive, and has never prevented me from pursuing something, ever. She's very proud of me, fiercely loyal and incredibly committed to our relationship. I don't know why, but she sticks with me.
When I spend time with Faith I'm present in the moment and we make every second count. I think that makes things easier at those times when I'm here on my computer on hive. She rarely reads my blog but knows how much it means to me to put my thoughts into words and she can see that it genuinely makes me happy and is cathartic when it needs to be.
*I wrote a book a while back, over 440,000 words which took over a year to complete. She gave me the time to do so, the space, like she does now for hive. I had it hard-bound and gave it to her as a wedding anniversary/birthday gift. (Both days occur on the same day.). I guess what I'm saying is that she knows how important writing is to me - I write a lot, hive only sees a portion, and I'm lucky I'm afforded the time.
We are a team and so I enjoy her complete support which I reciprocate of course. It's difficult to explain, but after an amazing 33 years of life together we just work well, like whiskey and ice.
The secret? No secret really...Just mutual respect, understanding and the ability to fit together perfectly enough, even when doing different things. We are always together. Bound.
8 - Who does it better: cook, sing, dance?
*Dance...Not me - I dance like a retarded spider monkey on crack, with a bad back...To be honest I hate dancing myself, I don't see the point to it, although I like watching the girls do it. Taraz is a good dancer, especially salsa which he really enjoys, but probably doesn't do enough.
Sing...I'm not too bad...I'll say me because I love country music and metal (among many other genres) and it's easy to sing to those even if one can't sing. I'm a way better singer when no one is listening though - You'll have to trust me on that.
Cook...I'll say him although...I cook a mean BBQ and home made pizza...Hmm, OK, let's call this one a draw. Between us we could put together a perfectly satisfactory meal for a dinner party, let's just say that.
9 - Could you PLEASE share a funny childhood picture?
Jeez dude, you're pushing your luck here.
This is me playing Lego in my PJ's. Not sure how old I was, maybe 4 or so I guess (1974/75)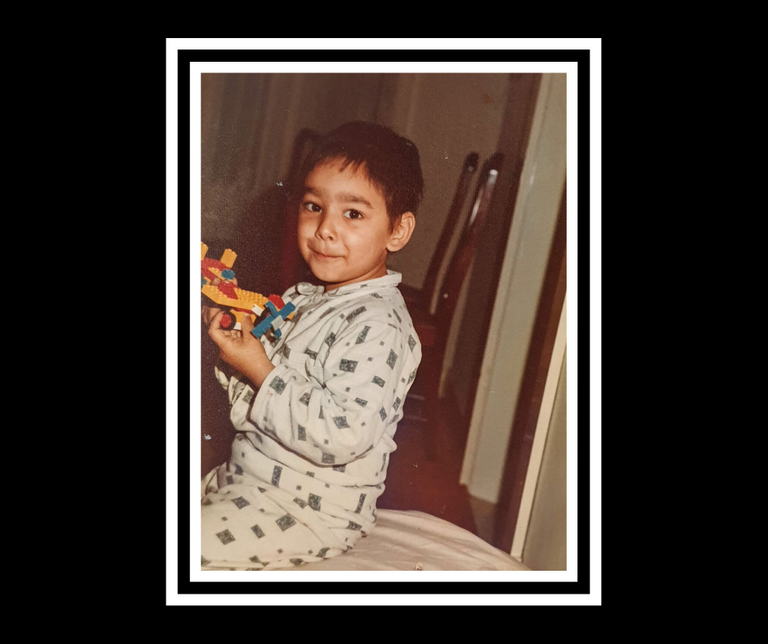 10 - If you could go back in time to spend one day with anyone who's ever existed, and be fluent in their language, who would it be?
I thought about this one long and hard and had trouble narrowing it down as there are so many people I would like to ask questions of, understand better; That's the burden a history-addict like me must carry.
I'm going to say my father in-law whom I never met.
He died at the age of 33 when Faith was only 11, and despite that, he has been a strong influence on her. Him passing (Non-Hodgkins lymphoma - Blood cancer) had a profound affect on her life and whilst it shaped the person she is now, it has been a difficult life.
I guess I'd just like to know who he was, understand where his strength came from to fight cancer, and how he felt knowing that he would see his daughter grow up. I'd also like to tell him about her, that she turned into an amazing woman.
He is Faith's hero and even now she sometimes cries at night thinking about him. Last week would have been his 70th birthday, 25th April, and it was difficult for her but she dealt with it like she deals with everything - I'm very proud of her. So, yes, I wish I knew him and that's who I'd spend a day with because I know how happy that would make my wife.
Bonus question: If you and Taraz had a best-of-5 paintball battle in wooden terrain, how many rounds would he win
This is easy...2.5 each!
Nah, that's the easy way out. I think I'd win the first two as I'm a shooter and that's my thing, but he's a quick learner so would come back strong, John Rambo style, and take the next two in a close-fought contest. After four games we'd stop for some refreshing donuts and coffee then decide if we really needed to play the tie-breaker. If we decided it was required I think I'd take it because I'd cheat, resort to non-conventional warfare, tactics that contravene the Geneva Convention and ROE (Rules of engagement) and besides, the dumb one has to triumph at some point right? G-dog 3, T-dog 2.
Right. There you have it, 2293 words.
I'm not sure if that is what you had in mind, but this is what you get...Call it the rebel in me if you don't approve.
I've been as candid as I can be on the blockchain and despite knowing few, if any, will ever read it all the way through I injected a little passion and personality as I always attempt to do.
My brother and I are completely different people; It doesn't make sense to think we'd be similar. We may have similar values but we also have vastly different ones too, just like we have different likes and dislikes. I suppose those that have followed me feel they have me worked out, although there's many layers to me, as with everyone...There's a few above if you took the time to read it...But not every layer.
---
Design and create your ideal life, don't live it by default - Tomorrow isn't promised.
Be well
Discord: galenkp#9209