Hi guys, I hope you are enjoying this Sunday. It is the only day I get to relax, take a nap, and enjoy the silence. Sunday is purely a resting day.

Yet the newsletter continues. Three weeks ago, I started this with a promise to send out a newsletter every Sunday.
So here is an update along with 13 bite-sized news.
Note: If you didn't know yet, you can sign up by clicking here. Just enter your email address to receive future newsletters in your inbox. You will receive it every Sunday. With love. ❤️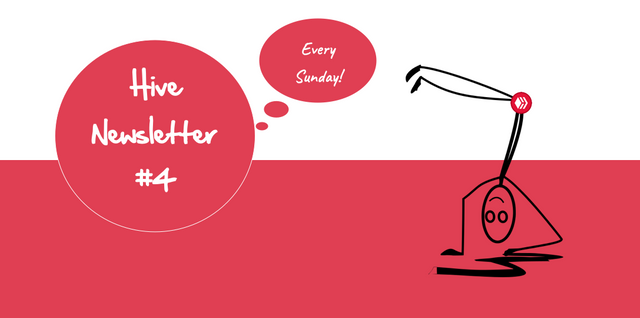 This week, once again, we have 13 bite-sized updates. Let's get started:
#1: Update: HardFork 24 has several major improvements. It is codenamed Eclipse. Goes without saying: HF24 will continue to create hype. 
---
#2: Steem Chat is no longer active. It is now replaced by Open Hive — with 4 simple default channels and multiple new channels created regularly. Low on users though. 
Check out OpenHive.
---
#3: After the biggest Indonesian exchange listing Hive, we have a Nigerian exchange (Bitfxt) listing Hive on July 1st. Bitfxt isn't hugely popular but was funded recently with $15 million. [Details]
---
#4: Want to try something new? Check out Hyperion. It is a minimalistic front-end to discover new Hive articles. You can also sort by tag, category, and author. Very simple and clean. [See image] [More Details]
---
#5: Good news: Quidax is another African-based exchange that created this poll to vote for your favourite tokens. Among the 4 tokens listed, Hive won.
---
#6: Ever wondered what is the average payout per post? Answer: ~30 cents. Arcange reveals a bunch of charts too. [Details]
---
#7: Now you can get your own token, a website, and a tribe through Hive-Engine. Basically, any business can be on blockchain. [Details]
---
#8: SteemGyft has moved to Hive. They are offering gift cards at a 15% premium price. One can pay through Hive or HBD. Link: HiveGiftCards.com — only offers Amazon gift cards. [Details]
---
#9: @Steem.leo's LEO (Hive-based token) is now listed on Cryptex24. This move adds value to the entire Hive ecosystem. [Listing details]
---
#10: @Swap.app deserves a shoutout. In one simple click, you can trade your Steem, Hive, and HBD. Send the token from your Hive wallet to Swap. It is that simple. Check out how it works here.
---
#11: For those who play dCity, the game rolled out its first presidential elections. The deadline for voting is 7 days. Elected president will set city taxes.
---
#12: Ever seen a "Hive" tweet with 5000+ likes? We have one here from a Steem whale who is moving to Hive. Show your support. 🔥
---
#13: Did you know: Hive has completed 100 days today! YES! 100 wonderful days. Here's to the next 100! Cheers! 🥂🎊
---
Tip of this week:

Life is all about living in the moment. To make it happen, try this 1 minute meditation exercise. It is simple, easy, and you will feel good too. Only takes a minute!
---
This week's sponsor:
A BIG shoutout to our lovely sponsor. Check out Unstoppable Domains. Now you can create your own censorship-resistant website (such as decentralized blog) in 5 minutes. See how here. 

That's it for now! Hope you are resting too!

See you next week! 🙏

Cheers,
@Sidwrites