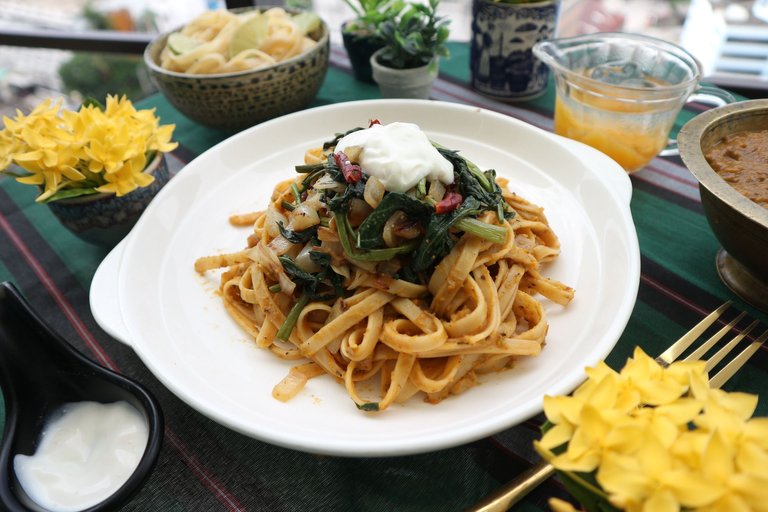 As a Part-time Vegan, I always seeking and doing a lot of research to find a non-dairy substitute that I enjoy and taste wonderful. So today I'm sharing my other favorite vegan sour cream recipe that definitely must try.
I also want to dedicate my post to participating with Hive Top Chef, this week's topic is "Sour Cream" in which my vegan sour cream recipe is creamy, rich, and tangy like regular sour cream. In this recipe, I offered dairy-free Vegan sour cream to make Roasted Pumpkin and Vegan Sour Cream Pasta with Spinach.
This dairy-free sour cream recipe is another option from the traditional tofu-based or cashew sour cream which seems easier, uses less time, no soak, and no blender need.
It is quite useful and I also used them as the main ingredients for my roasted pumpkin sauce for a creamy element by blending them with roasted pumpkin, then tossing the sauce with fettuccini pasta.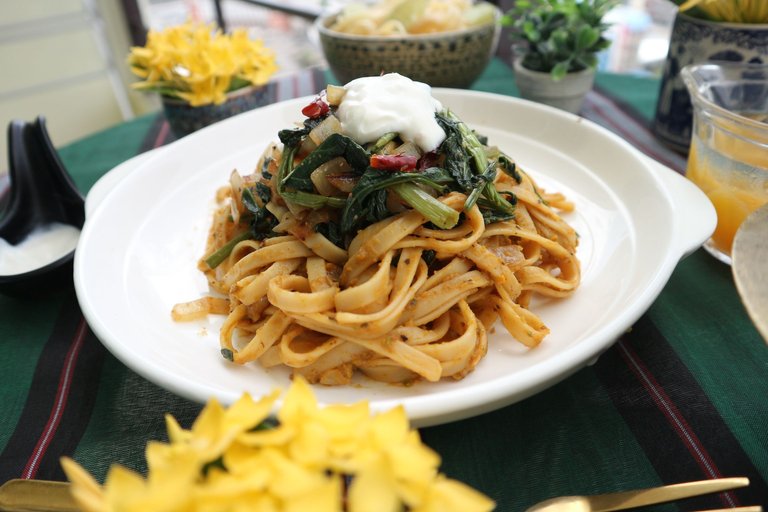 I did create my own vegan sour cream recipe with just 6 simple ingredients and can be completed in 10 minutes. My vegan sour cream is made from a mixture of a bottle of soy milk and a cup of soy yogurt. I do add the soy protein for a creamy texture and high nutrient purpose. Then add the cornstarch which is the best for thickening texture. Lastly, I add fresh lime juice for the additional sour complexity of vegan sour cream.
Vegan sour cream is the key ingredient that gives this pasta sauce its delicious, rich texture, and uniqueness. The vegan sour cream pairs perfectly well with the roasted pumpkin that slightly chars and aromatic fragrance with various spices. I roasted the pumpkin with a half clove of garlic, dried sage, dried Italian basil, dried rosemary, fennel seeds, and nutmeg. Then I do simply season with salt and pepper.
But there's so much more to enjoy about this dish. I also do simple stir-fried water spinach that sautés with garlic, onion, and dried chili, and sprinkle the pepper and salt to taste.
And just before serving, I top the dish with my vegan sour cream and serve it for a delicious healthy meal.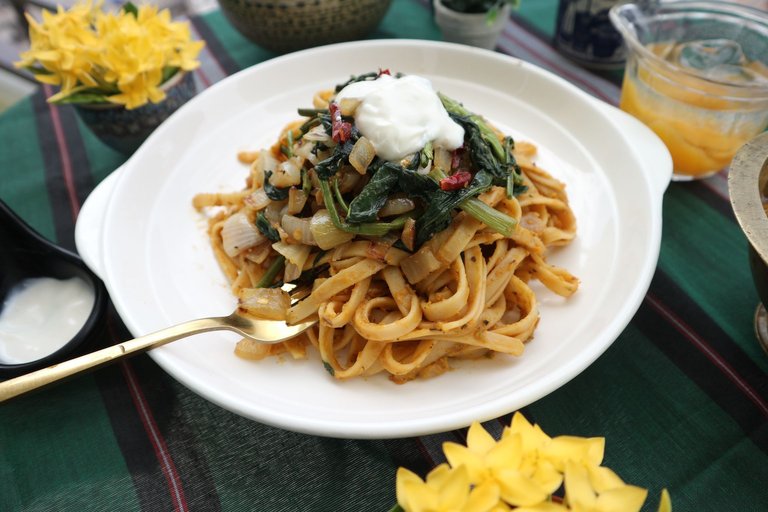 Vegan Sour Cream Ingredients
1 Bottle Soy Milk
1 Cup Soy Yogurt
1/2 Cup All Plant Proteins
1 Lime juice
2 Tablespoon Cornstarch
1/4 Teaspoon Salt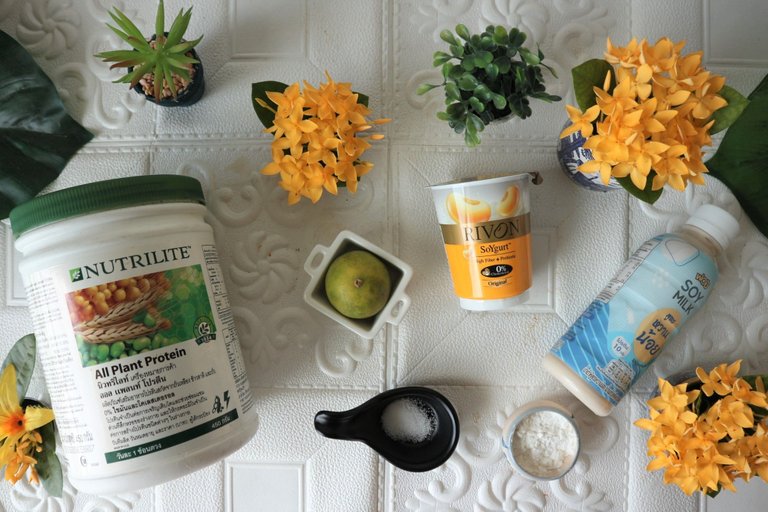 Roasted Pumpkin and Vegan Sour Cream Pasta with
300 Gram Fettuccini
3 Cup Vegan Sour Cream (From Above)
1 Small Pumpkin
1/2 Clove Garlic
1/2 Cup Vegetable Stock
1 Tablespoon Vegetable Oil
1/2 Lime
1/2 Teaspoon Dried Rosemary
1/2 Teaspoon Dried Sage
1/2 Teaspoon Dried Basil
1/2 Teaspoon Fennel Seeds
1/2 Teaspoon Nutmeg
1/4 Teaspoon Salt
1/4 Teaspoon Pepper
 
Stir-Fried Water Spinach Ingredients
300 Gram Water Spinach
1/2 Onion
1/2 Clove Garlic
1 Tablespoon Vegetable Oil
1/2 Teaspoon Dried chili
1/4 Teaspoon Salt
1/4 Teaspoon Pepper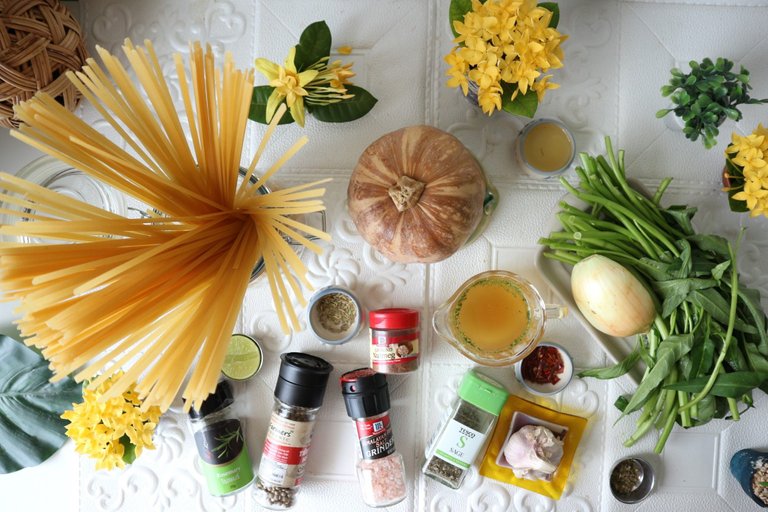 INSTRUCTIONS
Step 1 - Making Vegan Sour Cream
Pour the bottle of soy milk into a small pot.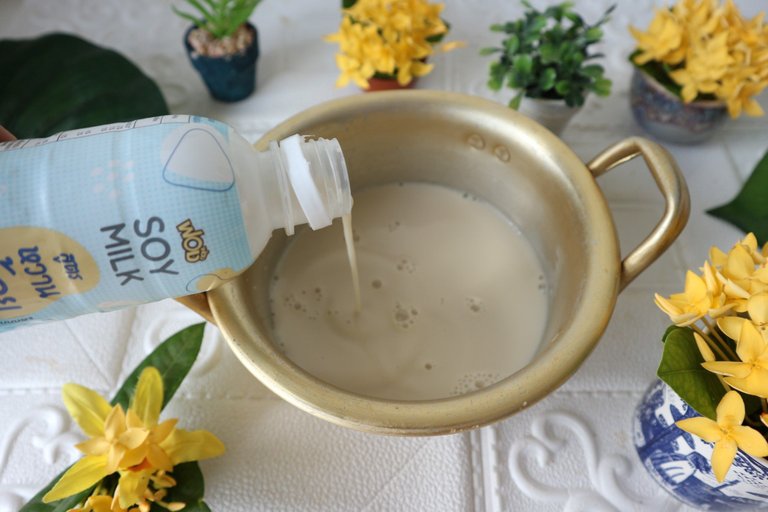 Followed by the soy protein powder and cornstarch.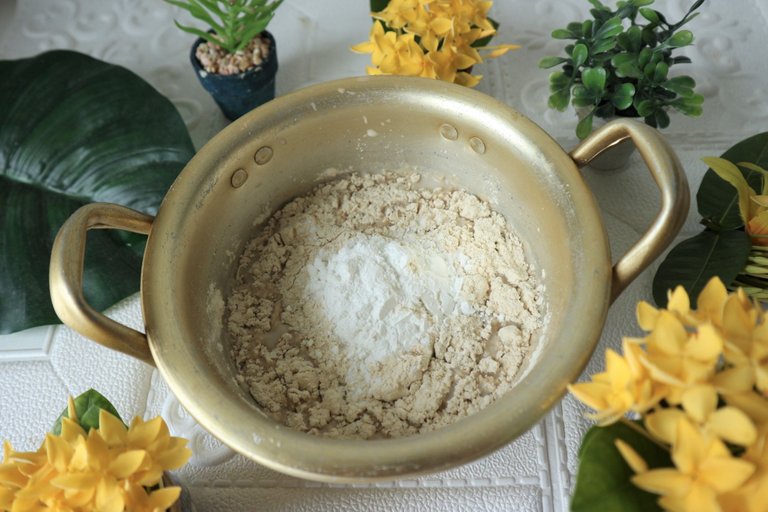 Mix together the cornstarch and soy proteins until they are completely dissolved.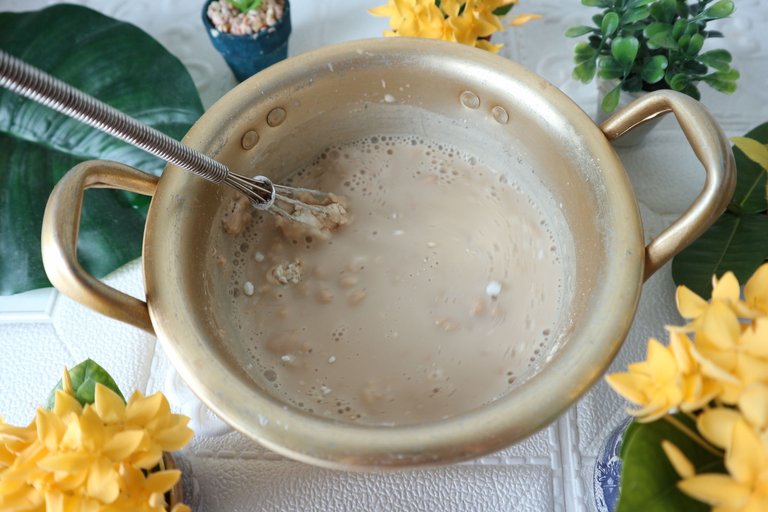 Add the soy yogurt to the same pot and mix until the soy yogurt is dissolved and combine until the mixture didn't have any lump left.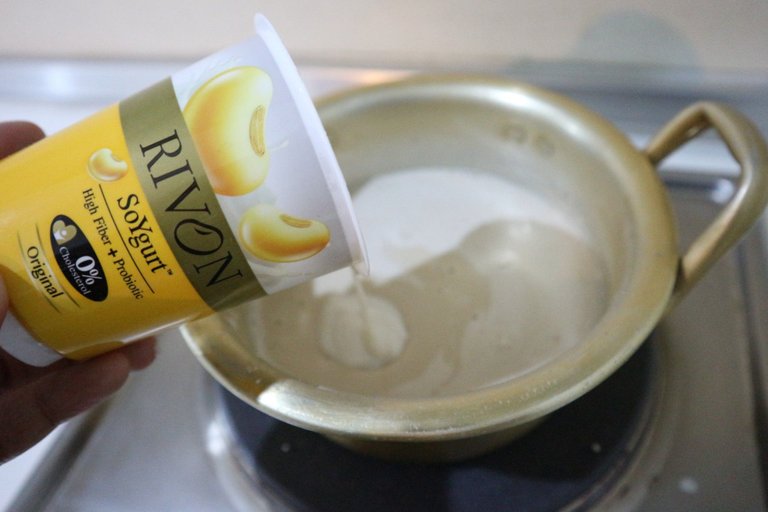 Turn on the stove over low heat and bring the mixture to a gentle boil and keep stirring frequently for about 3 minutes until the mixture is consistent.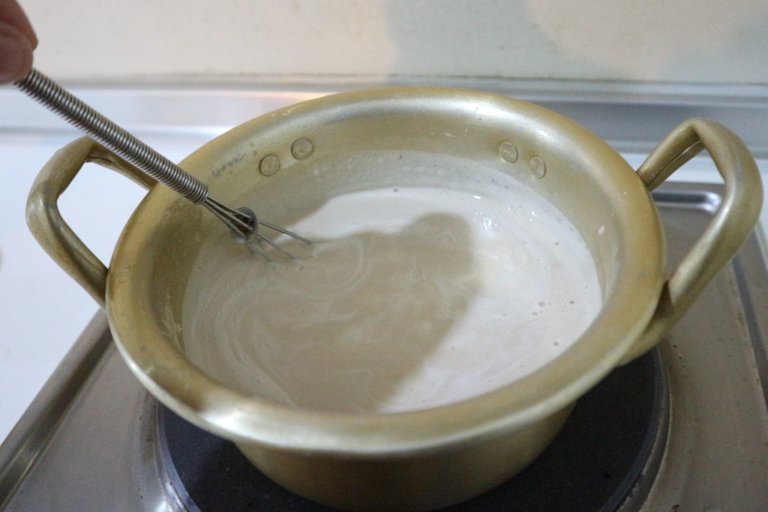 Over low heat, squeeze the lime juice and stir well to incorporate,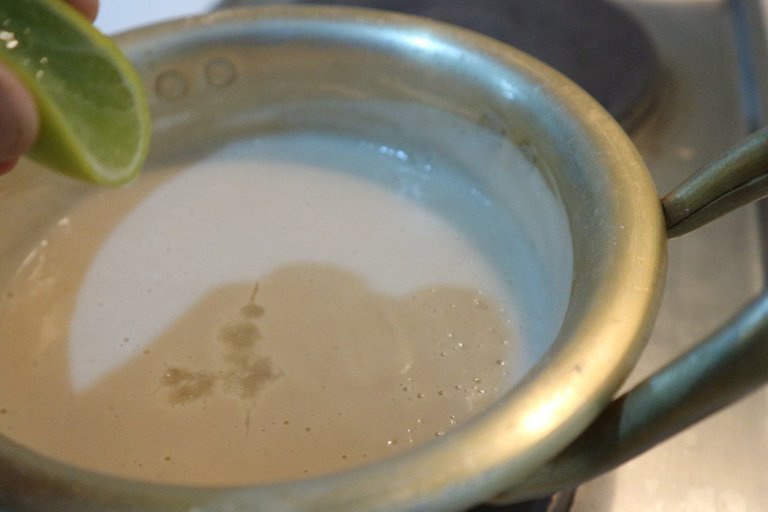 Continue to stir and cook until the mixture is thickened for about 2 minutes more. Then turn off the heat and allow the vegan sour cream to cool down at room temperature. Then transfer them into the refrigerator and they will get a bit more set and firm.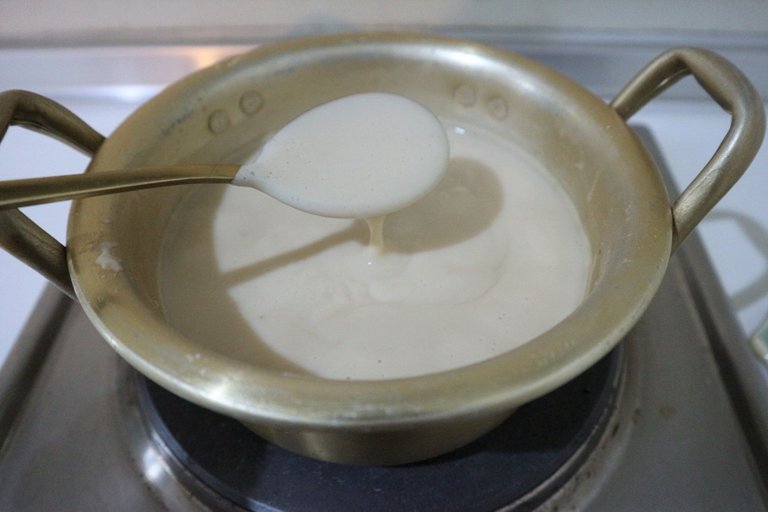 Step 2 - Prepare the Veggies
Prepare the pumpkin by washing it first, then peeling off the skin and cutting them into even line sections.
Rinsed Water Spinach before using under running water and patted dry, chop the water spinach into bite size.
Cube and dice cut the onion into square pieces of equal size.
Cut half the garlic head. Save the half head for roasted and chop another
head into square pieces of equal size.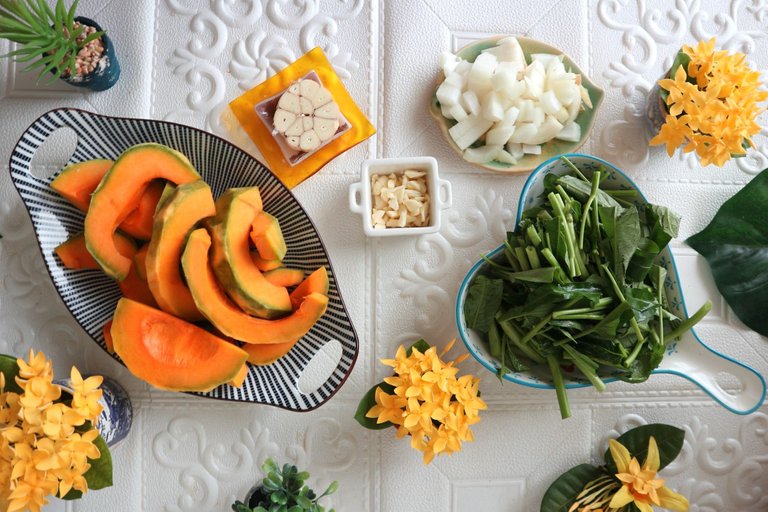 Step 3 - Roasted the Pumpkin
Lay down the pumpkin and half head garlic into the air flyer over the foil.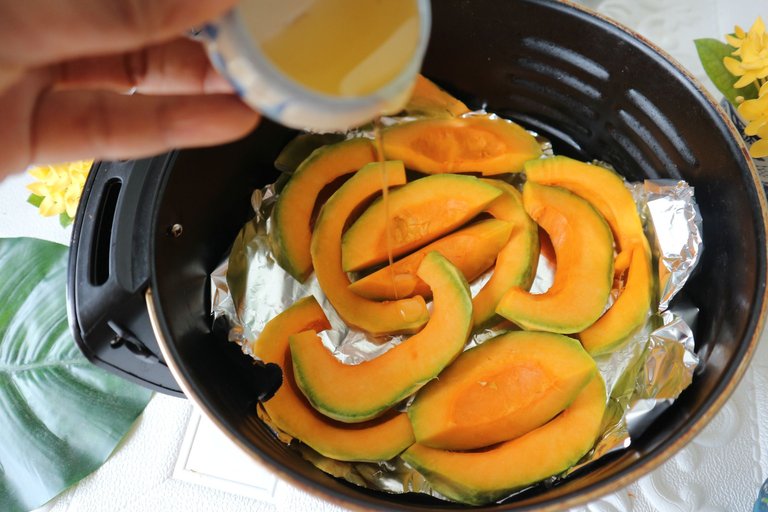 Then drizzle each with a little oil, sprinkle with Dried Rosemary, Dried Sage, Dried Basil, Fennel Seeds, and Nutmeg Pus a couple of pinches of salt and pepper. Roast the pumpkin and half garlic heads for 20 minutes over 180 C.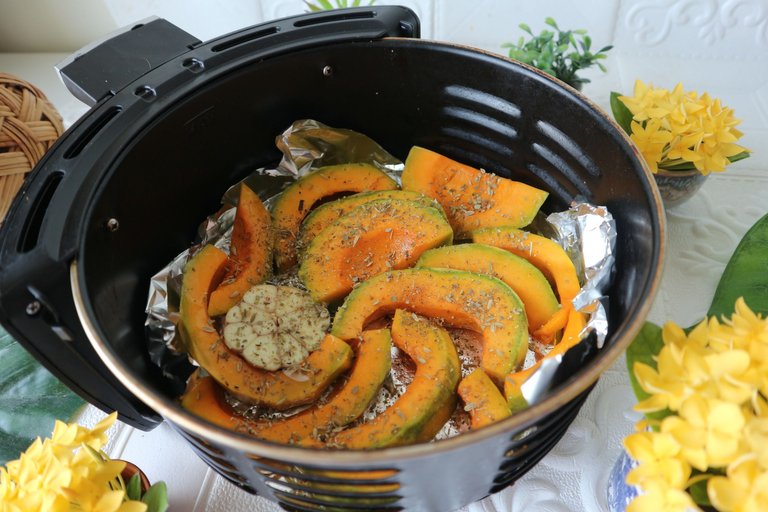 Once roasted, turn off the heat and allow them to cool a bit, then unwrap the heads of garlic and set them aside for the next step.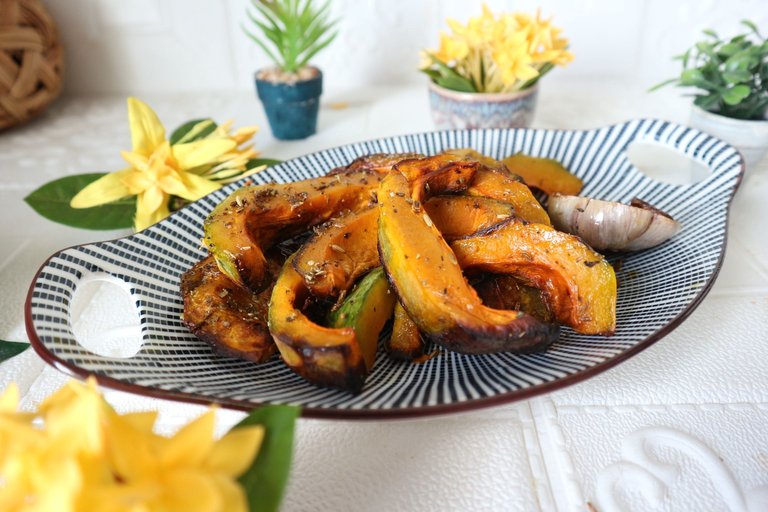 Step 4 - Making Pasta Sauce
Add the ingredients like Roasted pumpkin, Vegan Sour Cream, Vegetable Stock, Salt, and Pepper into the long container.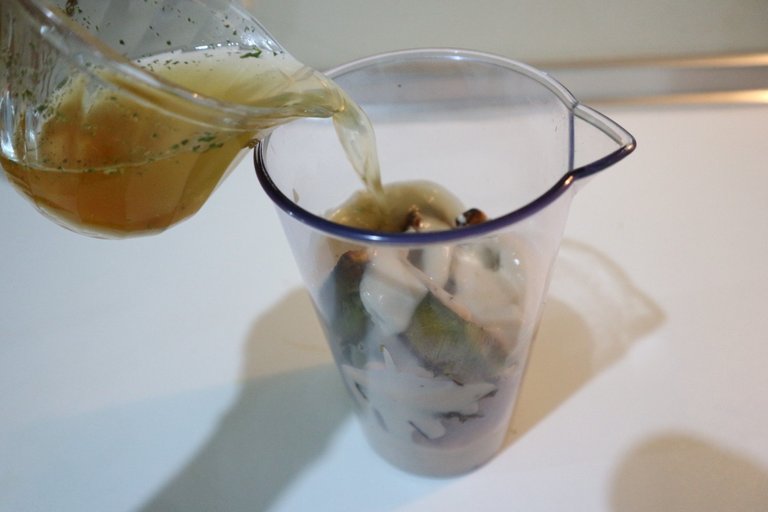 Then use a hand blender and blend the ingredients together until rough and smooth.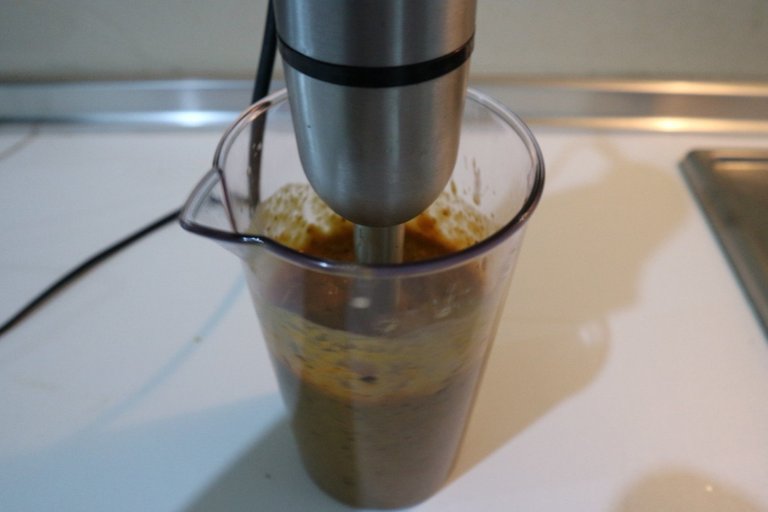 I always prefer to just blend them with the tiny chunky left and set it aside.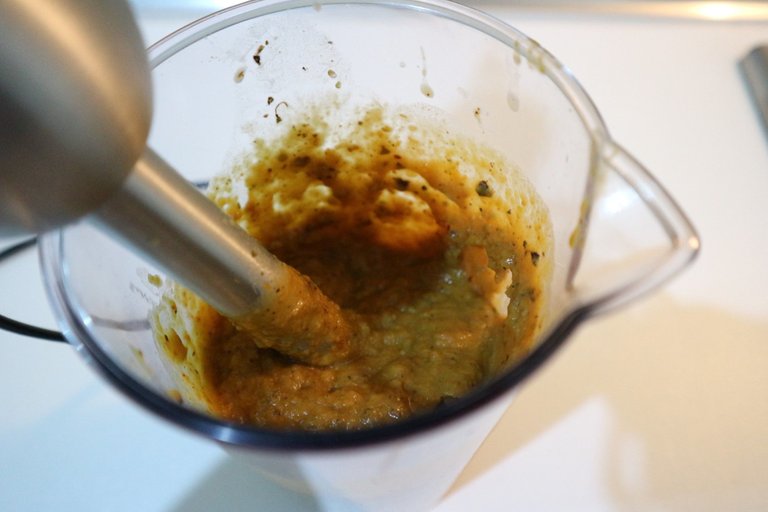 Step 5 - Sauté the Water Spinach
Start by sautéing the chopped garlic in a nonstick pan with hot oil and letting it yellow on all sides. Add the onion then whisks until they turn dizzying. Then sauté them and keep stirring for about 2 minutes.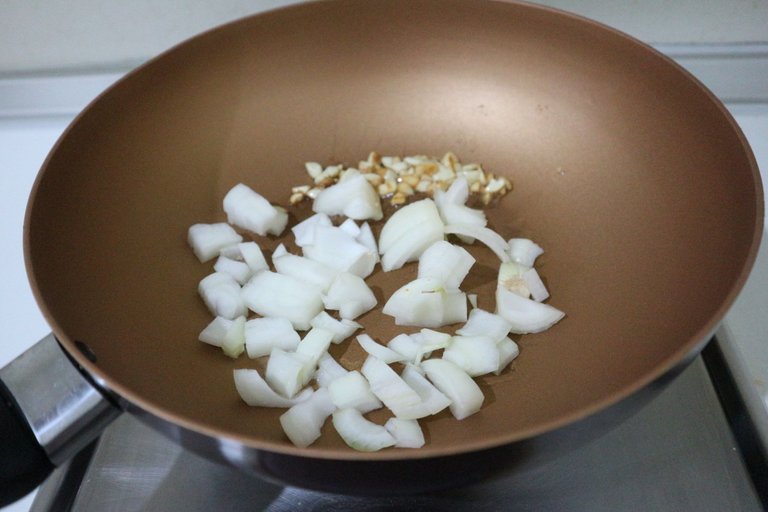 Once the garlic and onion are cooked and translucent, then add the Water Spinach and stir to combine.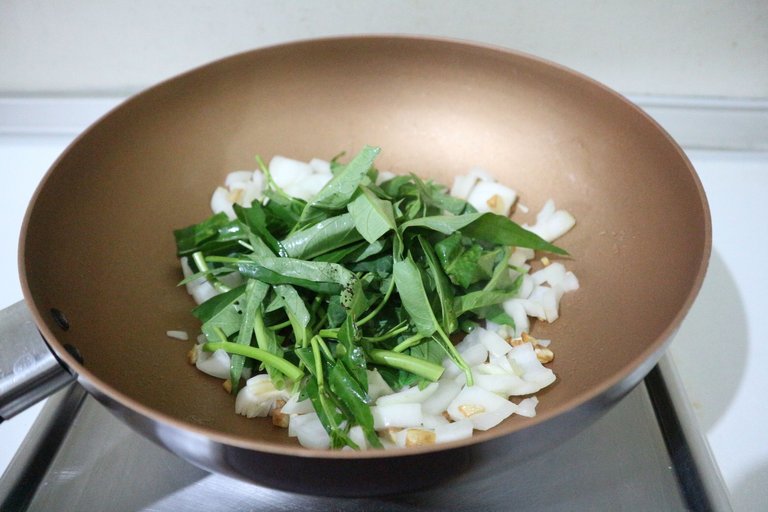 Add sea salt, ground pepper, and dried chili flake into the pan and whisk them gently. Turn off the heat and set it aside.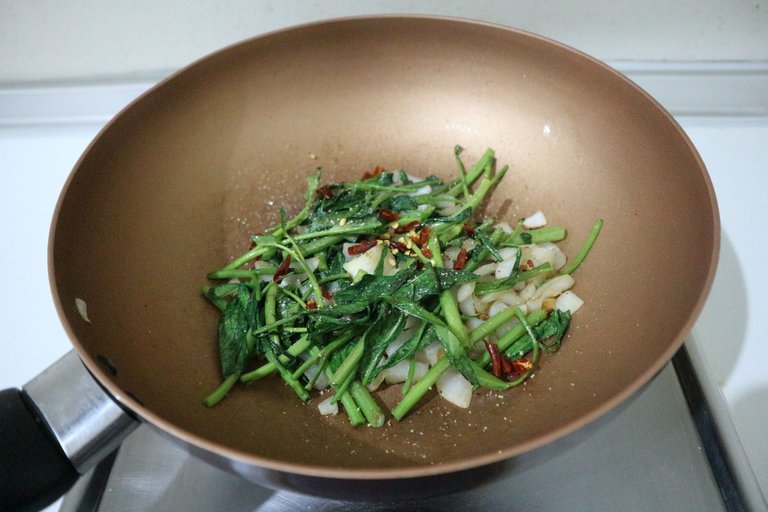 Step 6 - Boiled the Pasta
In a large pot, bring water to a boil. Add in the fettuccini pasta and add the salt and stir until dissolved.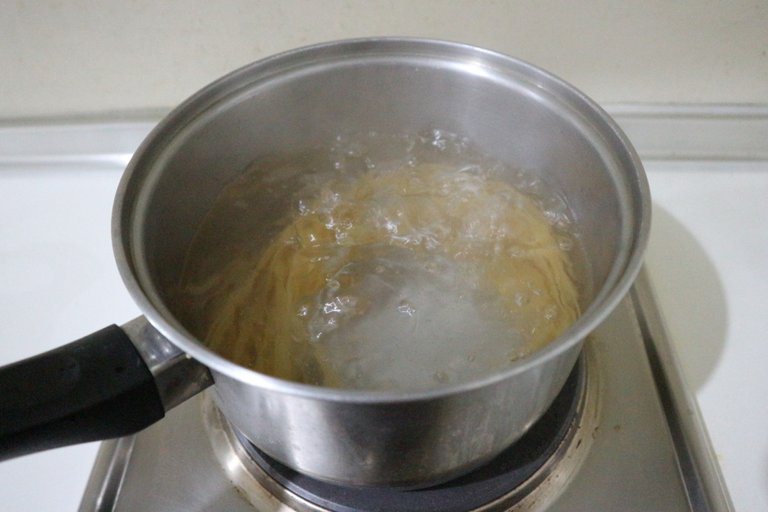 Then stir a few times to prevent the pasta from sticking together. Cook for about 10 minutes following the package directions.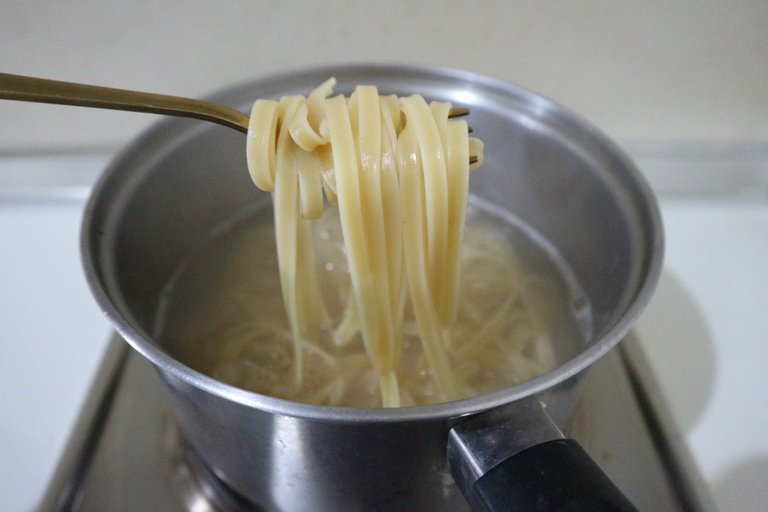 Drain and toss with olive oil and lime juice.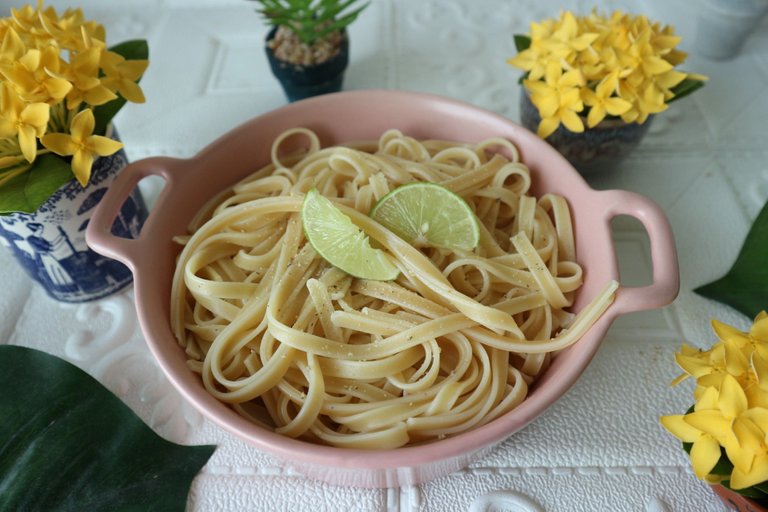 Step 7 - Gather the Component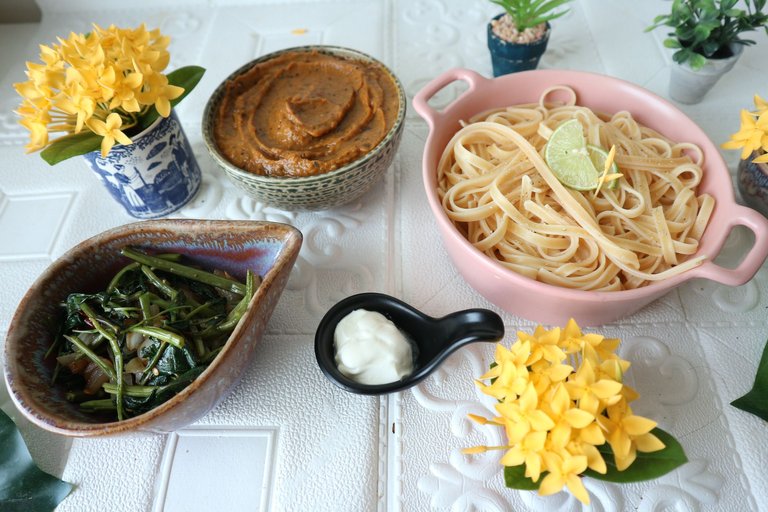 Step 8 - Toss the Pasta with the Sauce
Combine the boiled fettuccini and roasted pumpkin and vegan sour cream sauce together.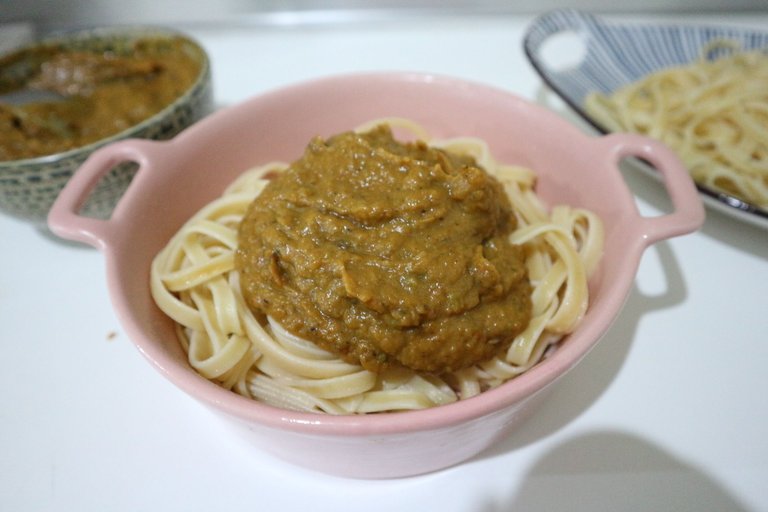 Keep mixing until the sauce combines well with the fettuccini pasta.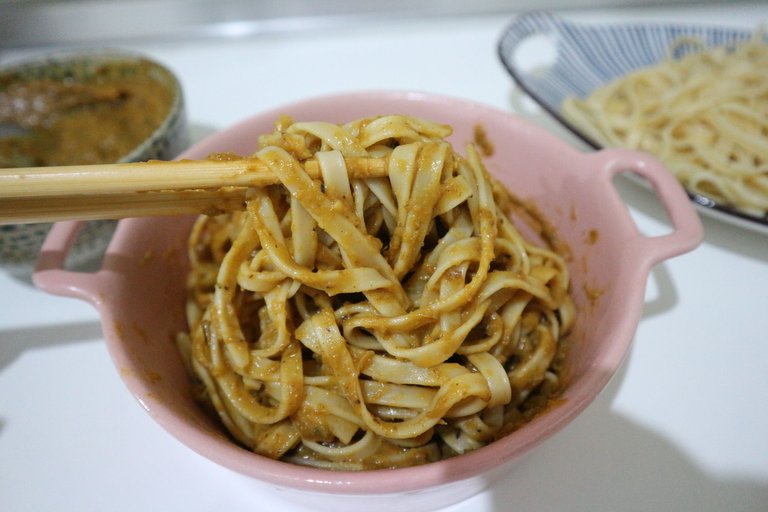 Step 9 - Platter
Divide the pasta between serving bowls and top with stir-fried spinach.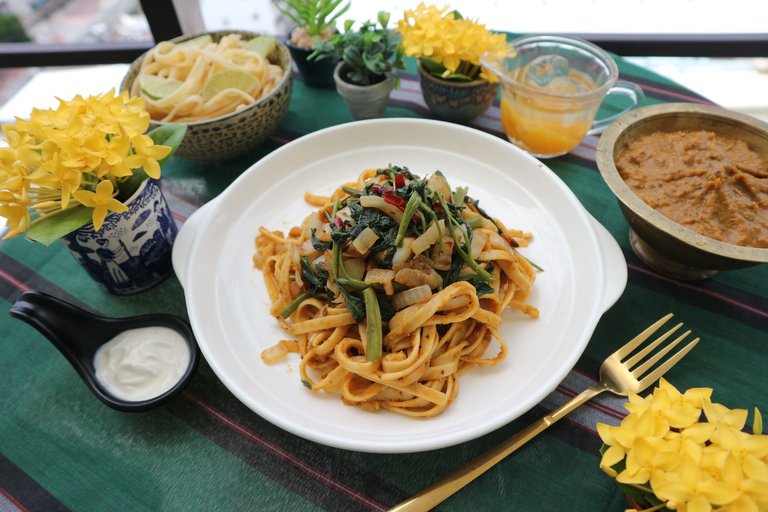 Lastly, add a spoonful of vegan sour cream on top. I love all the components and non-dairy vegan sour cream versions of these recipes! The sauce can definitely be made ahead of time and also the stir-fried spinach. Just mixed them with the freshly cooked pasta before serving.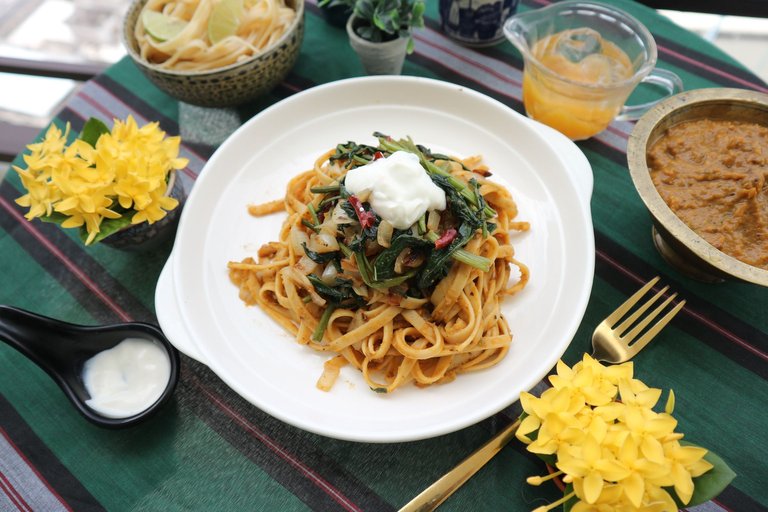 This tasty vegetarian dish is so flavorful with roasted pumpkin, sassy vegan sour cream, aromatic spices, and stir-fried spinach. This recipe makes enough for 2 large servings. Although leftover vegan pumpkin pasta actually keeps quite well when mixed together inside the tight container inside the fridge.
 
Hope you guys have a happy day and many thanks to stop by! ✨💛🙇