It's been a while since I bought myself something. While it would be nice to give oneself a present again, I don't really have an absolute urge to splash the cash or swipe the plastic. Of course, there's exceptions in life and occasionally something triggers a cute feeling of cool.
Normally I would be all over this set at a whopping $399. How could I not, it's LEGO after all. Not just LEGO but it's the fourth biggest LEGO set yet at 5,544 pieces.
Yes, you read that right: 5,544 LEGO bricks.
What's not to love about that?
Well, for one, and I know people are going to think WTF because I'm a geek after all so how can I not like it? Especially because the movies were directed by Alfonso Cuarón and feature Michael Gambon, Gary Oldman, and Ralph Fiennes. Not to mention Helena Bonham-Carter.
Yet, I'm not a fan of Harry Potter and the new LEGO set #75978 is a Harry Potter set.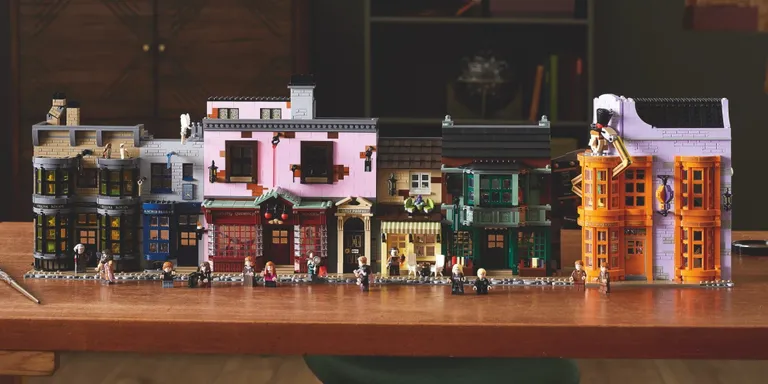 Which kinda sucks. Or a little. Because it's been while since I gave myself a present and I would totally gift myself a 5,544 pieces LEGO set.
But it's a Harry Potter set and I never truly liked Harry Potter. It wasn't for trying, oh no. The ex made me sit through the first movies, although she didn't insist too much when I preferred playing Pocket Planes on the iPad. But she did make sure we had all movies downloaded because we were so cool we still saved our media locally rather than stream it.
Which was quite the boon for me because I left with all hard drives with those 12TB of movies on. Weel, that's a lie. There were probably only 10.5TB of movies and close to 1TB of comics on them. Don't ask, just don't ask.
Maybe I should connect them again because tbh I haven't really used them since. That's because I finally joined the streaming evolution — so did she btw but that wasn't why we drifted apart. But I digress.
5,544 pieces. Multiple mini figs (14!) with four new mini fig characters you won't find in any other set so far. And more ™ signs on a single webpage than you've probably seen in a long while.
But I'm sure there's plenty of magic loving geeks here on Hive and I would not want any of you to miss out on the fun. I won't hold it against you if you like the set. And neither will our friends in Denmark when they cash in a whoppping $399 from you.

As for myself I'm just going to continue dreaming about that awesome LEGO Technic Bugatti Chiron. Dreaming yes because our local importer doesn't seem to like me enough to take a pre-order. And at around $350 there's no way I'm going to pay additional import tax for those awesome 22" when fully built. Even not if the set is truly amazeballs. Way more than that shopping street from Magic Town.
Besides, LEGO released the Old Trafford set earlier this year and that's definitely going above that souped up Volkswagen on my wishlist. Absofrakkinlutely.
Meanwhile y'all should order the new Harry Potter Diagon Alley LEGO set so there won't be an availability issue when I finally decide on Old Trafford or the Bugatti Chiron.