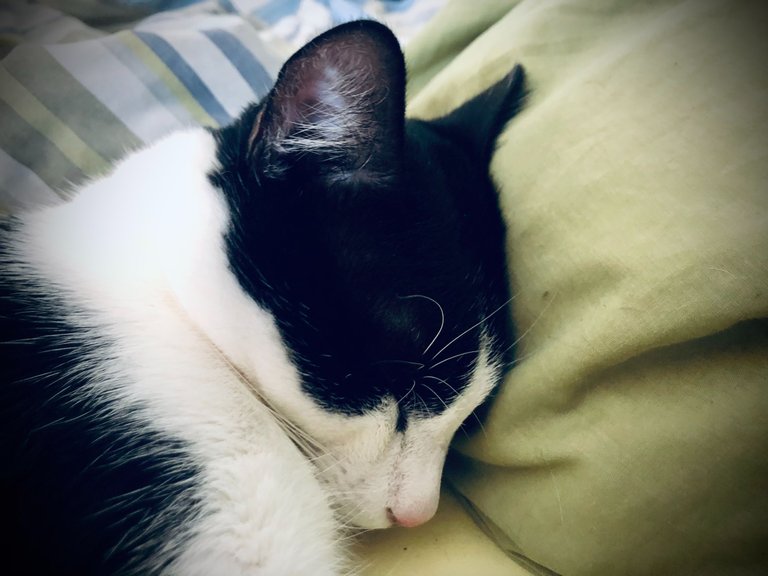 Sleep is the best meditation. - Dalai Lama
---
For some time now, I have wanted to participate in some of the writing prompts proposed by @anttn for the Unity Toward Freedom community, but for some reason or another, the deadlines always passed me by. But better late than never, and this is my chance to participate. So let me tell you about how is my relationship with Sleep. But first, if you also would like to join, see the details here.
Sleep habits
I am a person who rarely has trouble falling asleep. And my sleep is usually so deep that it is difficult for any noise to disturb me while I sleep and wake me up.
I have never needed to take any medication or any herbal tea to help me sleep. And I can drink a whole pot of coffee before going to bed and still get to sleep soundly.
I like to go to bed late, but I tend to sleep as deeply as a baby. The world can be falling around me, and I probably won't even notice it. My husband, who is the opposite and is a light sleeper, is used to the fact that it is useless to ask me if this or that woke me up during the night.
And It's funny because when I was a child, I used to be one of those children who refuses to go to sleep. For some time, I gave my parents a hard time concerning sleeping.
Every night, I used to leave the room that I shared with my sister to go to my parent's room to tell them that I couldn't sleep. At first, they read me some stories. Patiently tried to get me to go back to bed. I don't remember how long that lasted. But I do remember that the problem got worse and worse, to the point that I would cry at night because I didn't want to sleep. And in the mornings, I didn't want to wake up for school. At some point, my desperate parents decided to change the strategy and instead of letting me cry because I didn't want to sleep, they started to tell me that if I didn't want to sleep I shouldn't sleep. And they would put me to do homework, they would sit me at the kitchen table to draw or color and they would go to sleep. I started by doing the homework for a few hours, but every time I went to sleep earlier because I didn't want to do the homework, and at some point, I started to go to bed without complaining and the problem was solved.
Thinking about it all, I was lucky that my son never had any trouble sleeping.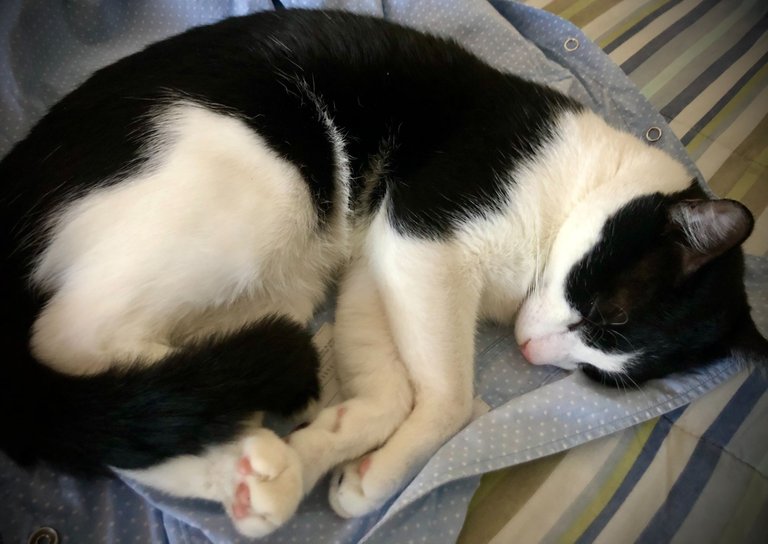 Grogu in one of his naps. On that day, he decided to take over a shirt that the husband had put on the bed to put on. Of course, hubby ended up going out with another shirt 😹
Naps
As for naps. I used to have problems with that. I was always one of those who could not take a short nap, catnaps were not my thing. On the rare times that I used to take a nap, I would take it for hours and wake up feeling dull and sleepy. That has changed lately, especially since a couple of months ago when I was given rest after the heart attack I had at the end of November. Now, I have taken the habit of taking short naps when my body asks me to. Sometimes, I have Grogu's company. He never has a problem taking short or long naps.
And now that I am being able to take them, I understand how restorative and beneficial a short nap can be.
Dreams
It is rare for me to remember what I dream of. My mind after sleeping is usually like a blank notebook. But I remember that there was a time when I was young, that sometimes I had those dreams half nightmares, in which you see yourself in an everyday place without something you should wear. And I used to dream a lot that I arrived at school or college and was barefoot. If that has some meaning, I never knew.
That's all about my relationship with Sleeping. Thank you for reading!!
All images and writing are my own unless otherwise stated.
© CoquiCoin
February 3, 2023
If you're reading this and you are not on Hive yet, I invite you to join through my referral link. And I could delegate some Resources credit to help you get started.