Siren Light Show

RUSH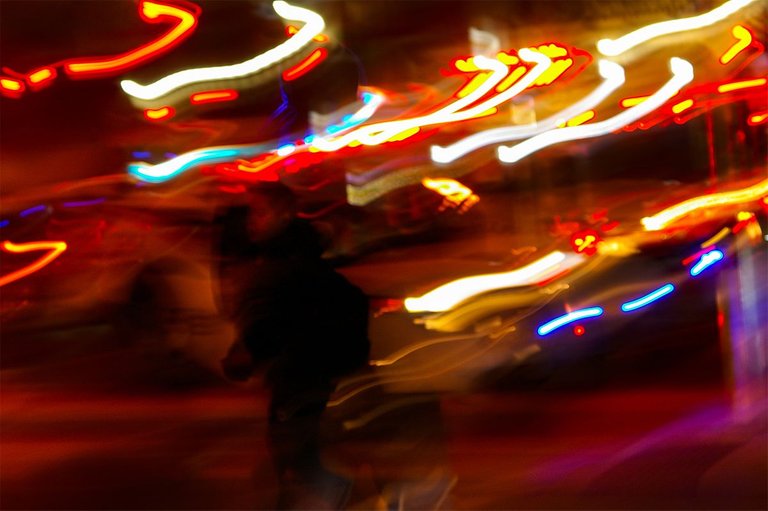 Sirens scream dancing in from all directions. The end of my street is lit up like roman candles punching out through the dark. Six police cars, three fire trucks, and two paramedic trucks. No smoke billowing, no flames whatsoever; lit only with noise and light fire flashing out.
Some stranger asks me what I'm taking photographs of. I know where this is headed. He's a talker. I don't want conversation. Timing is everything with this light show, if I even get any decent shots. I tell him the fire trucks, no further explanation. He continues on talking as I drift away. He gets the message, no chatter bug, only shutter bug and trails off.

FIRETRUCK FRENZY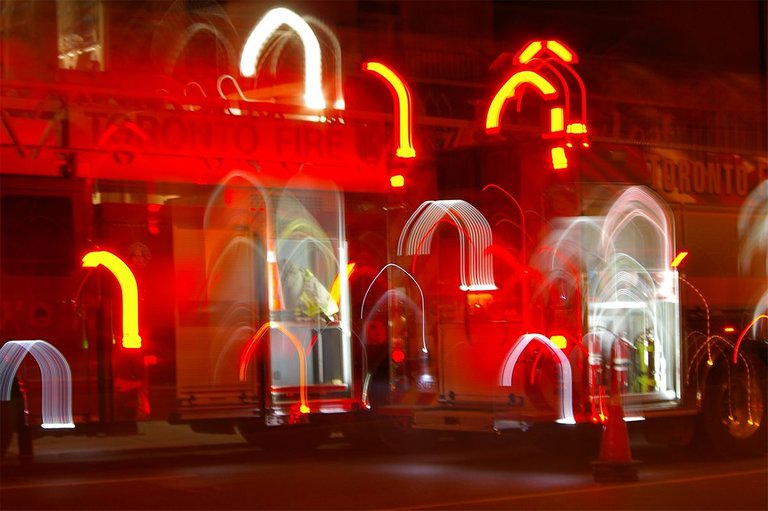 In a city bustling with millions rushing, it amazes me how taking photos with a camera on the street is an invitation to conversation with strangers. Then again, the last two years are the only time I've ever done this with camera in tow. I don't typically take pictures of the city for many reasons. I've forgotten how creating in public draws attention.
I've drawn often in public for a long while. People approaching to talk and ask questions when they see you creating is common experience. It slipped my attention until recently. Often, I pause to have a chat. Almost always, it's with a person I'll never see again. I've had some interesting conversations. Some people have posed for photos when I've asked. Fun times and unexpected experiences. This night was an exception. Sometimes I decline the invitation in various ways, especially if I don't wish to be interrupted.
Blocking the street half way down were police cars flashing furiously. They reflected off an old Victorian style stone and brick townhouse with a modern wooden staircase. In this case, a lightcase. I shot the following series playing around exposure time and subtle camera movements.

LIGHTSTAIRS I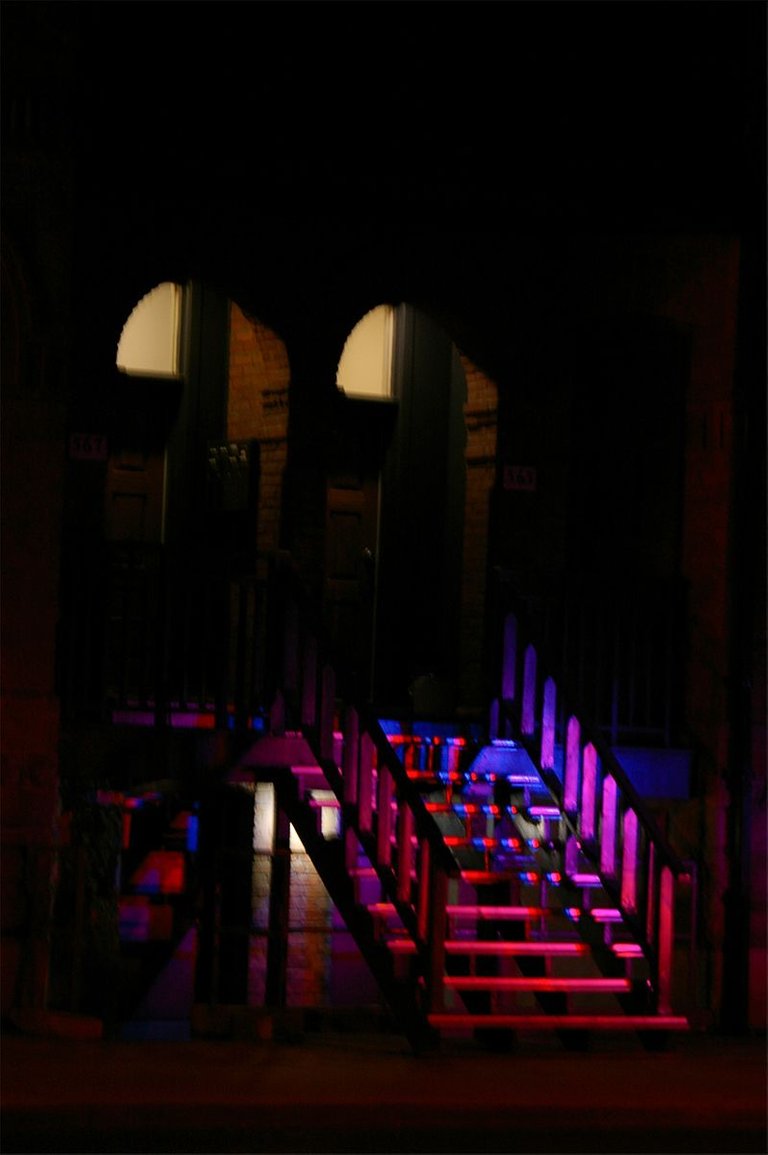 LIGHTSTAIRS II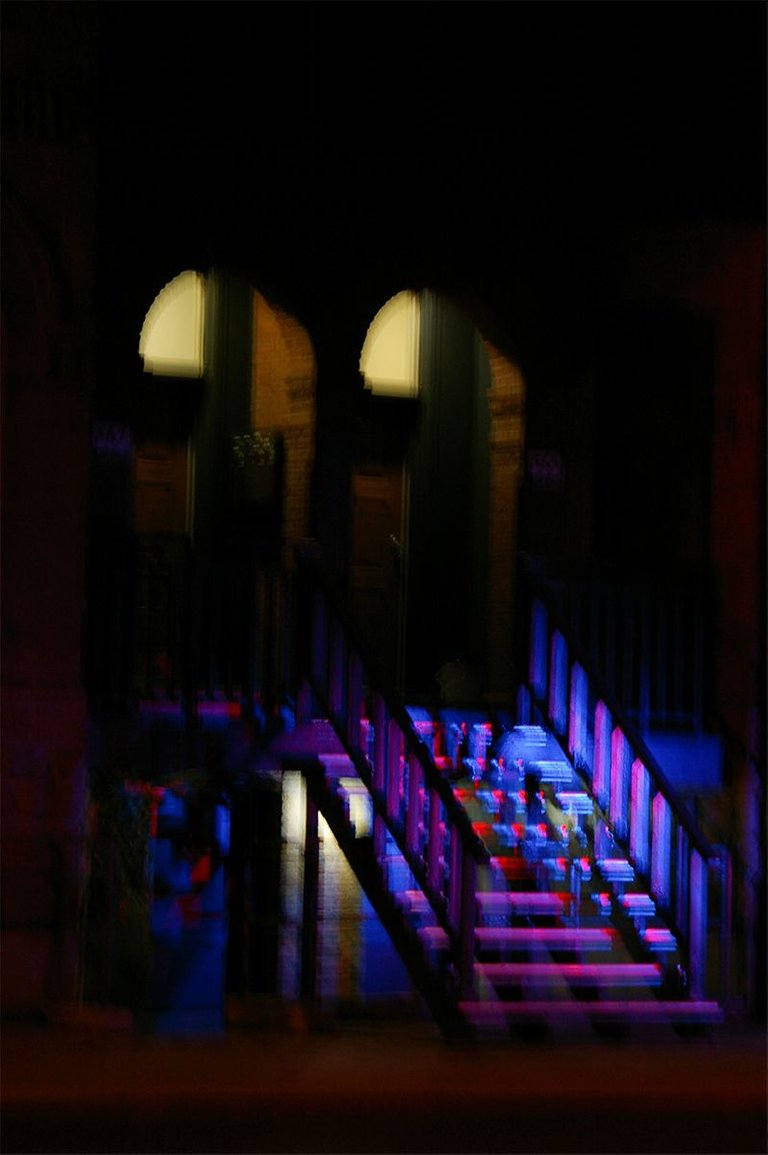 LIGHTSTAIRS III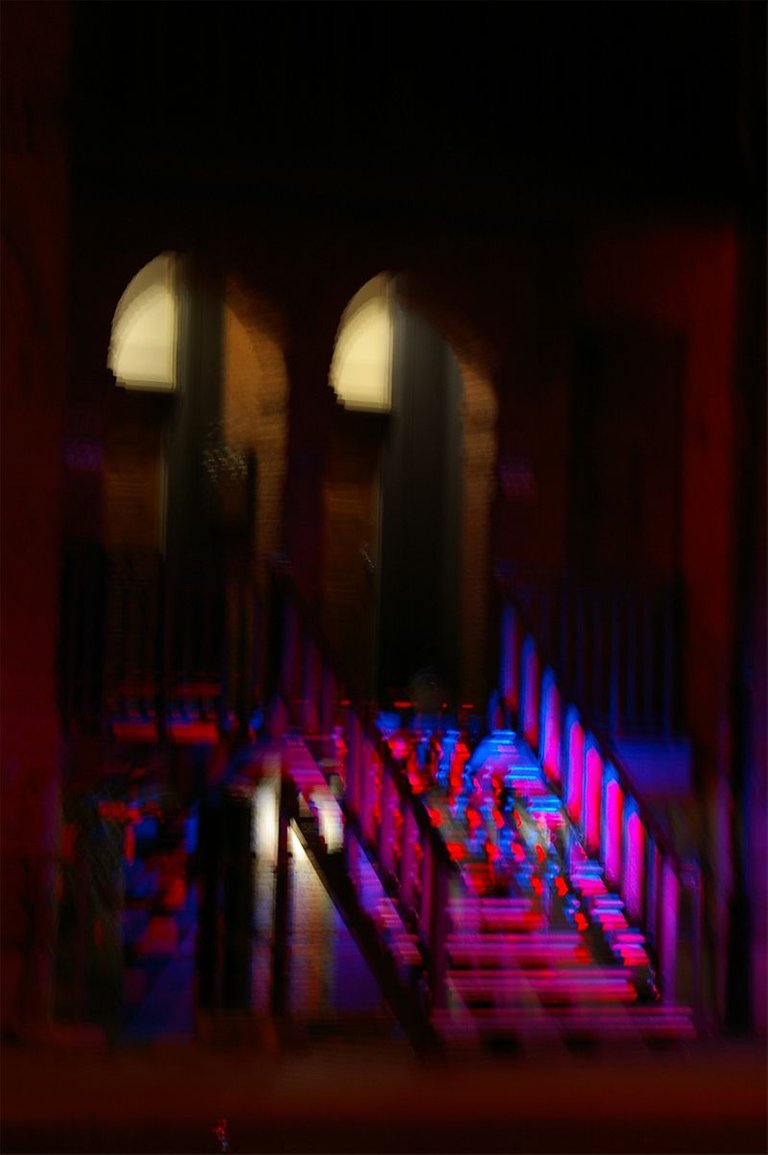 LIGHTSTAIRS IV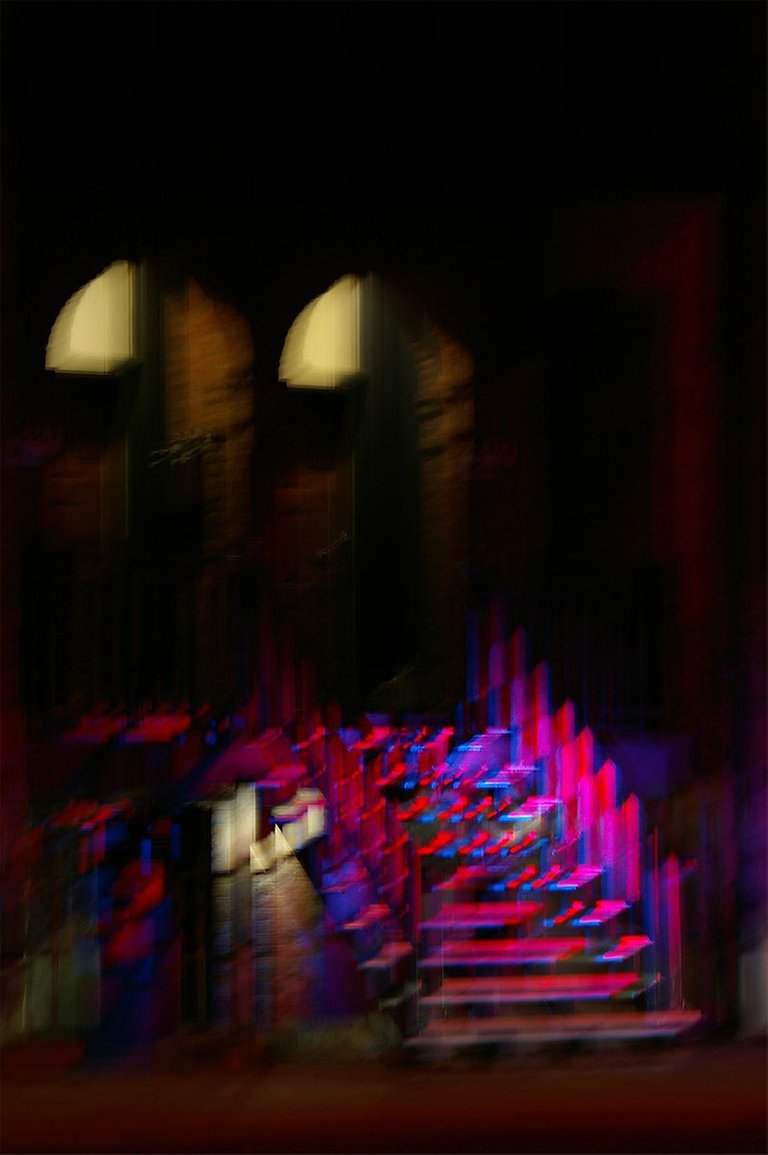 LIGHTSTAIRS V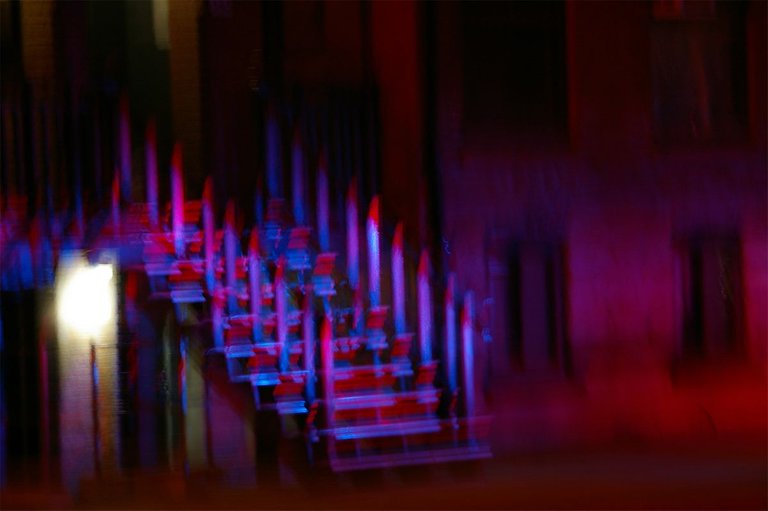 All those fire trucks, paramedics, and police looking like actors on a set, standing around talking, waiting for their cues. Stage set. Missing props. No director calling action, this can't be a Hollywood projection, or is it? Film crews are a common occurrence here. None of that set up and entourage in sight anywhere. All for naught in a puff of colours.

WINDOW FIRE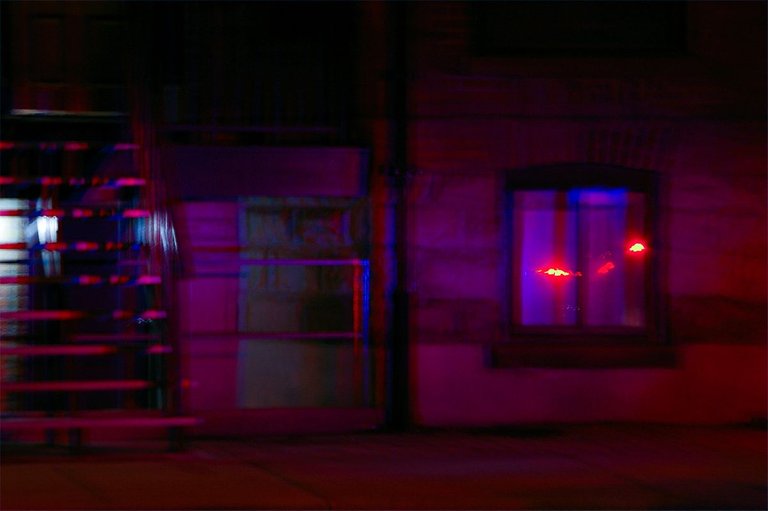 Walking off away from the dancing lights, down a small street into the night, I watched a guy take a different turn, rolling baggage on sidewalk, kind of forlorn. Never found out the story of that night that provided the bright painting lights, so I returned back to blue to contemplate my state.

BLUE RETURN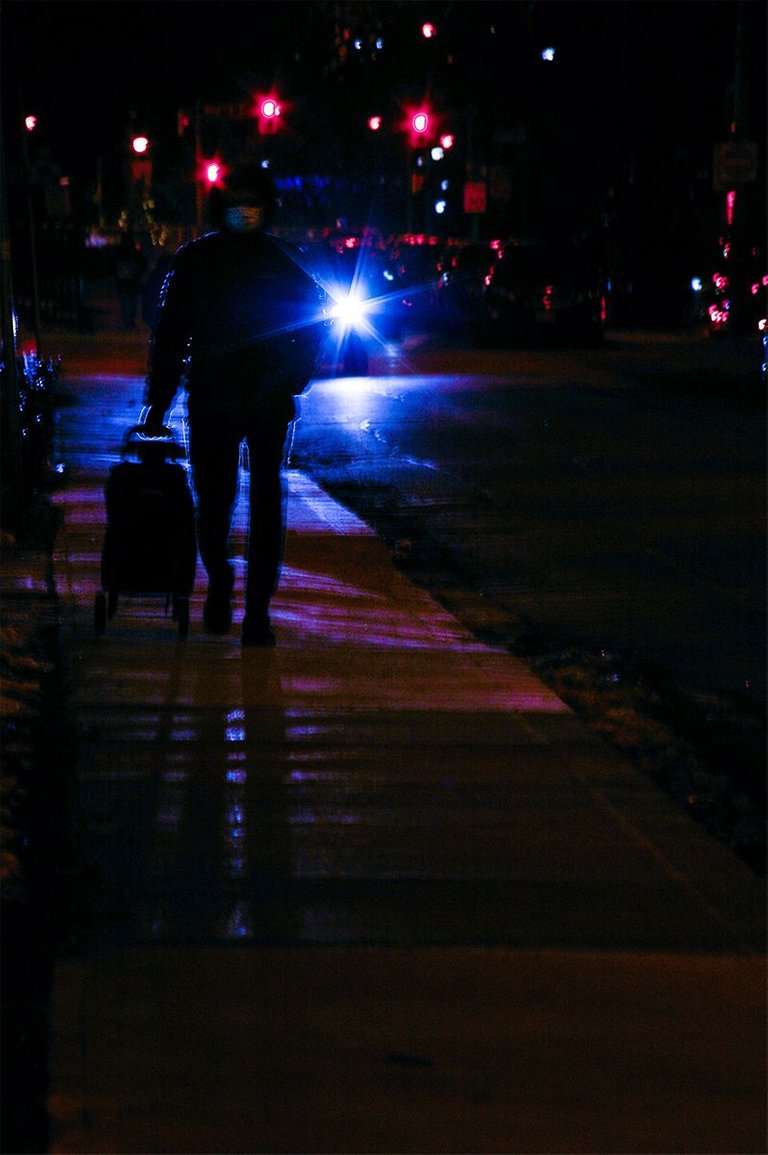 All photos taken by Nine with a Pentax digital 35mm camera.