Totally Stalkerish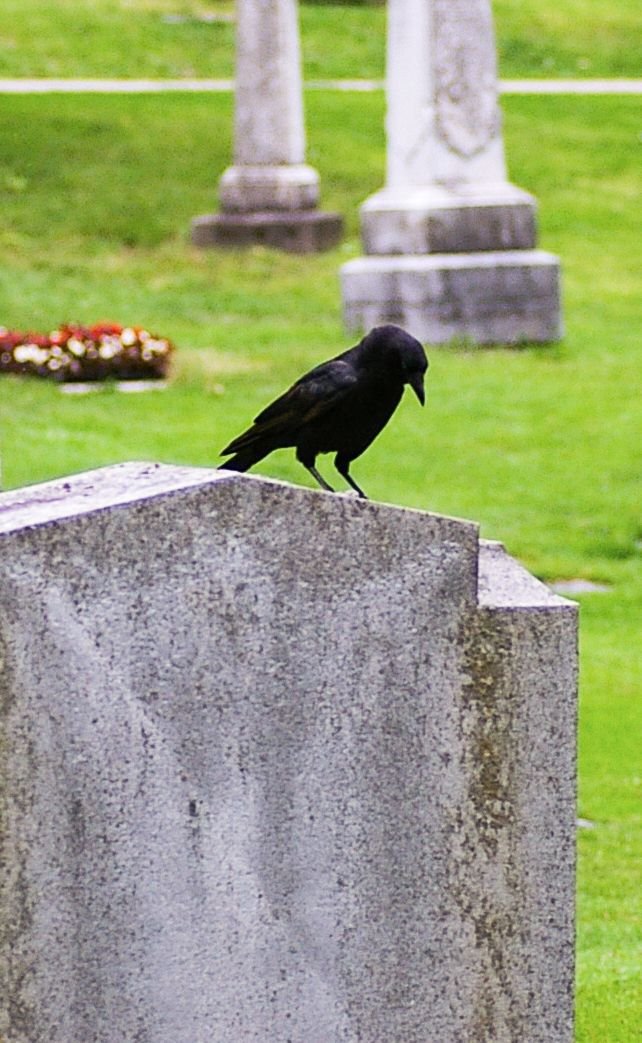 "You over there, I see you. You and your click click black shiny eye thing can come closer. Listen up; I've got something to tell you. I have a message. I've been watching for you," says the crow.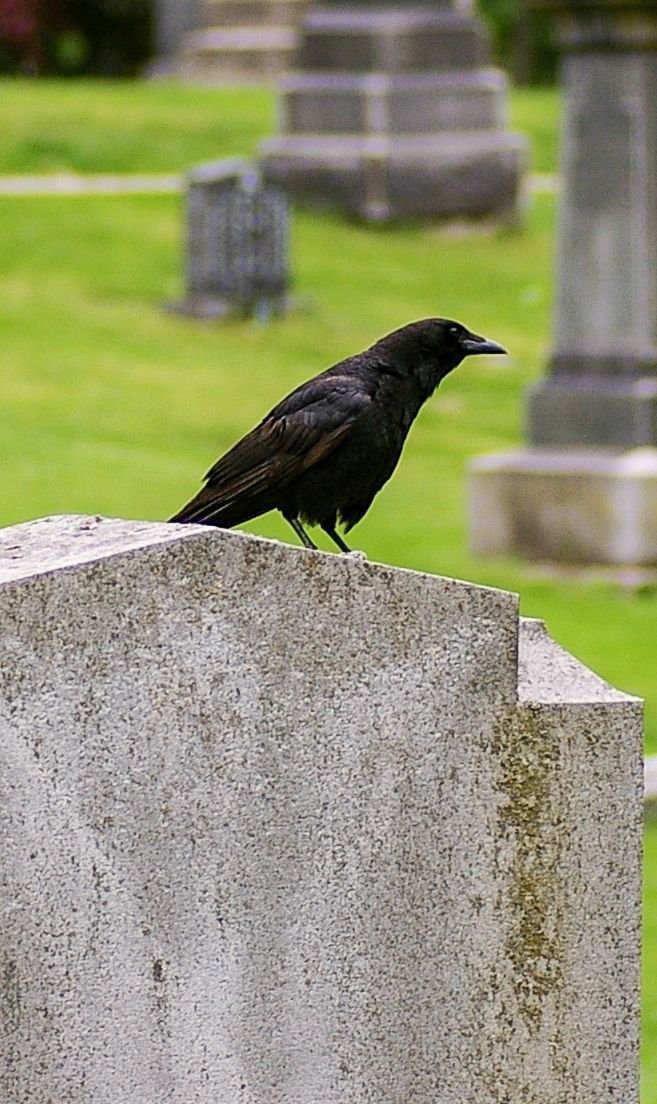 I thought I heard one call out earlier, couldn't see it, must have imagined it. Stalking slowly closer with my camera, I'm clicking away. I can't believe this. There's a crow! I must get photos. Blasted lens, macro lens, wrong lens, on so much this depends. No nuts that aren't nuts, no tasty treats to entice this feathered one.


Instead, I ask if it will stay and let me photograph it. I'm thinking, please, please, please stay crow.
"Are you listening to the message?" asks crow.
"Yes I hear you."
It's cawing like crazy while facing east. I get the message. I'll think about that later on. I'm more than a little entranced at seeing a crow and stalking it down for photo proof.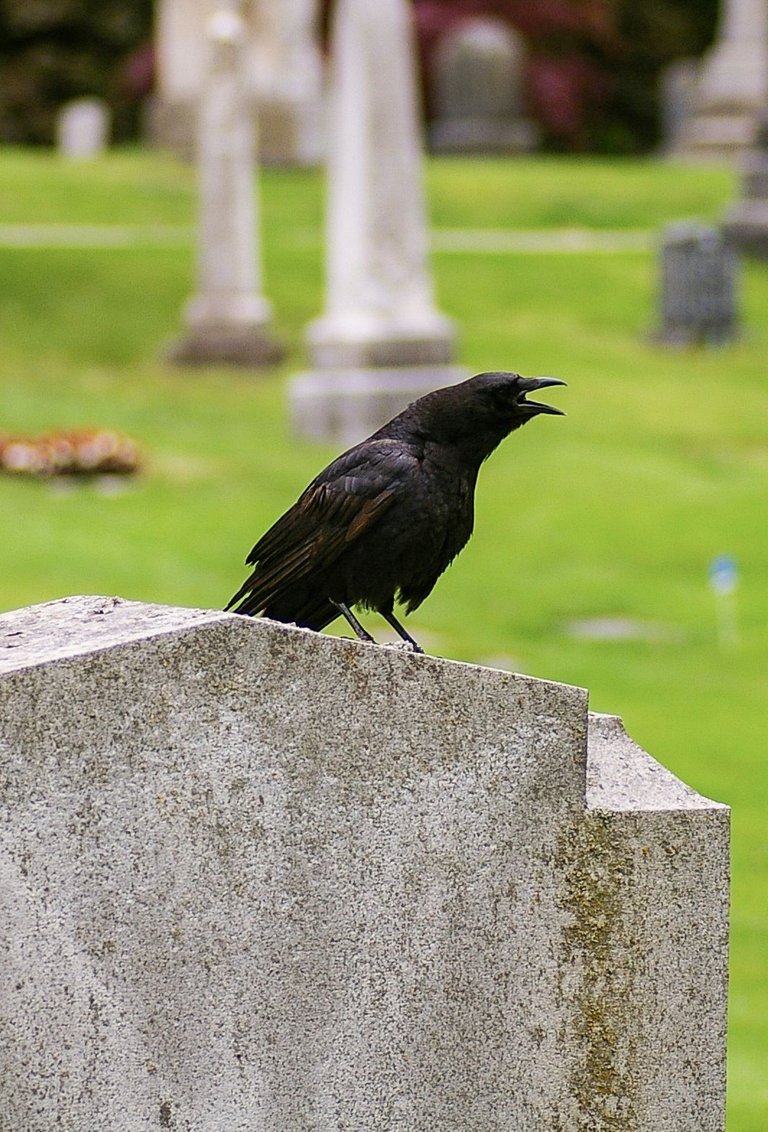 All this talk of crows for months with @corvidae has fed my fixation with crows and ravens. Definitely no ravens here, wrong environment. There are crows, but I was convinced that they weren't around anywhere close to me, since I never see them. I was wrong @corvidae. I'm cawing about photo proof, some decent shots of a crow. First ever! I think the crows got wind of my wishes. One came to visit me. It made my day. These are the kind of moments in the run of a day that I treasure.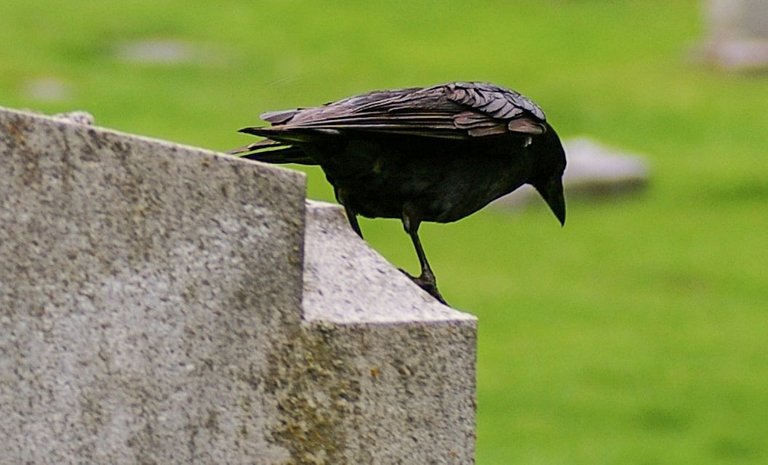 "You got the message. My job is done", says crow as it positions itself to jump down from the tombstone.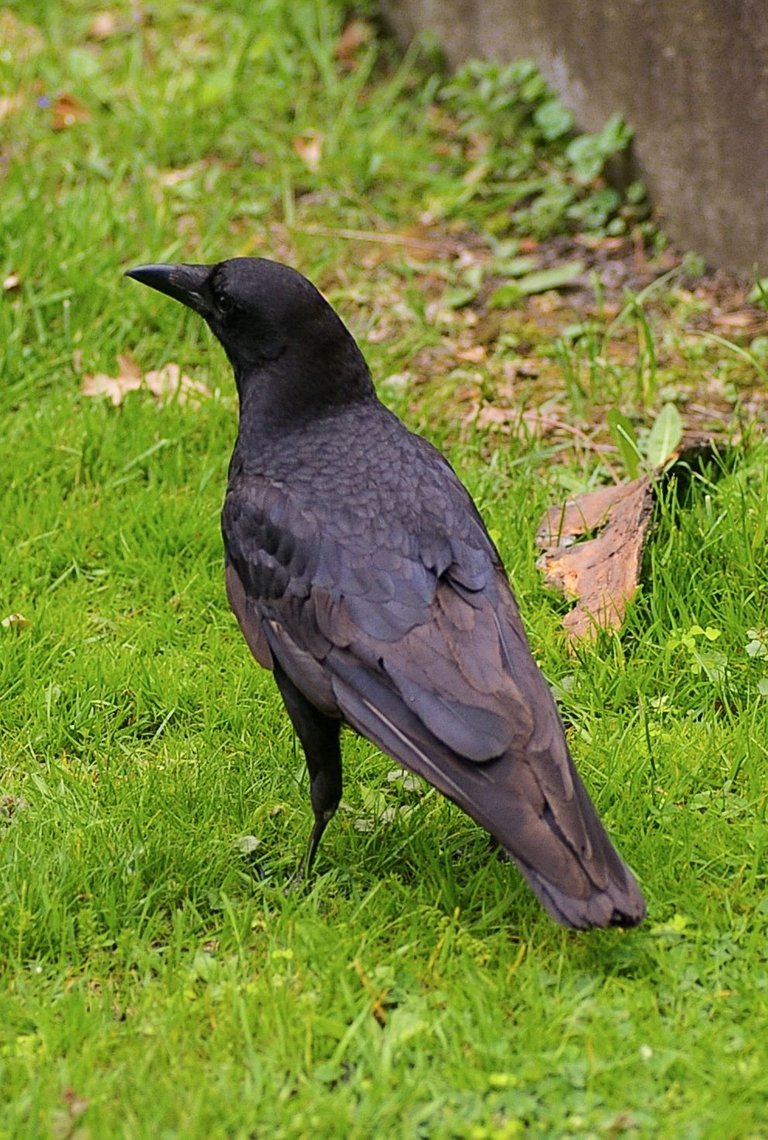 I'm obsessed. I want to take more photos and to get even closer. Stupid macro lens. I don't dare change the lens, the crow might go. I ask if crow will hang around and pose for more photos.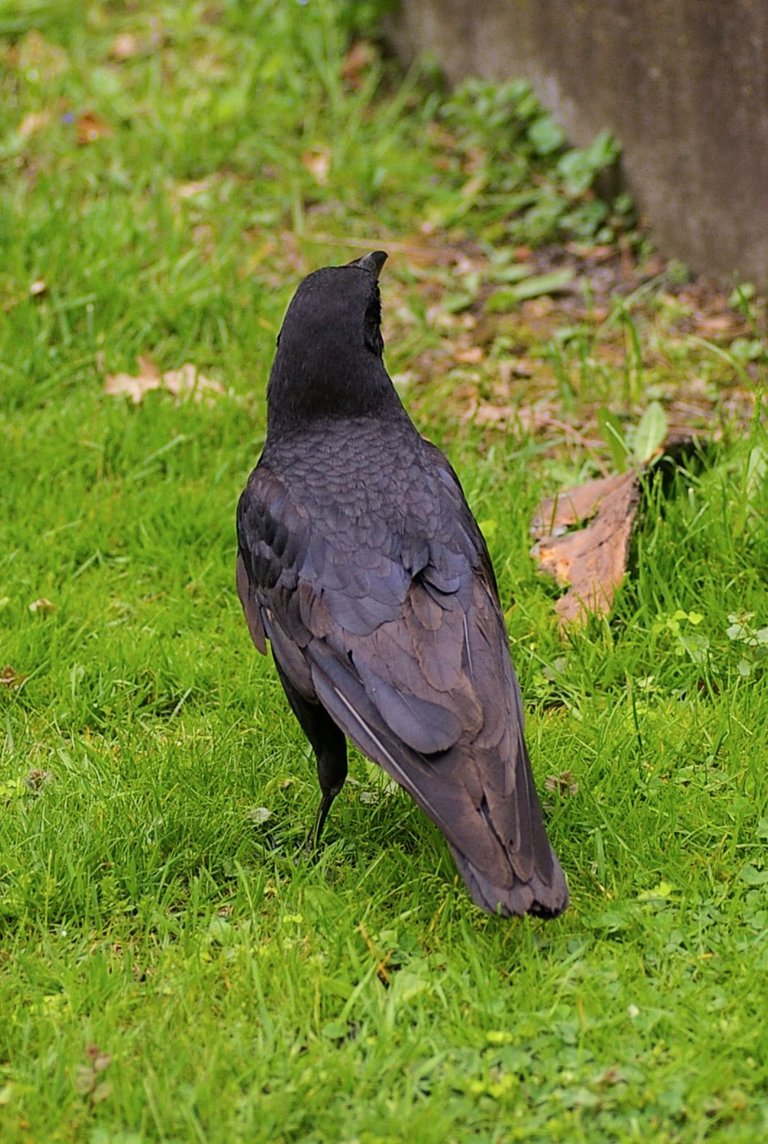 "Let me see….."
"Okay, I'll stay here for a short while and pose for you, given the circumstances", says crow.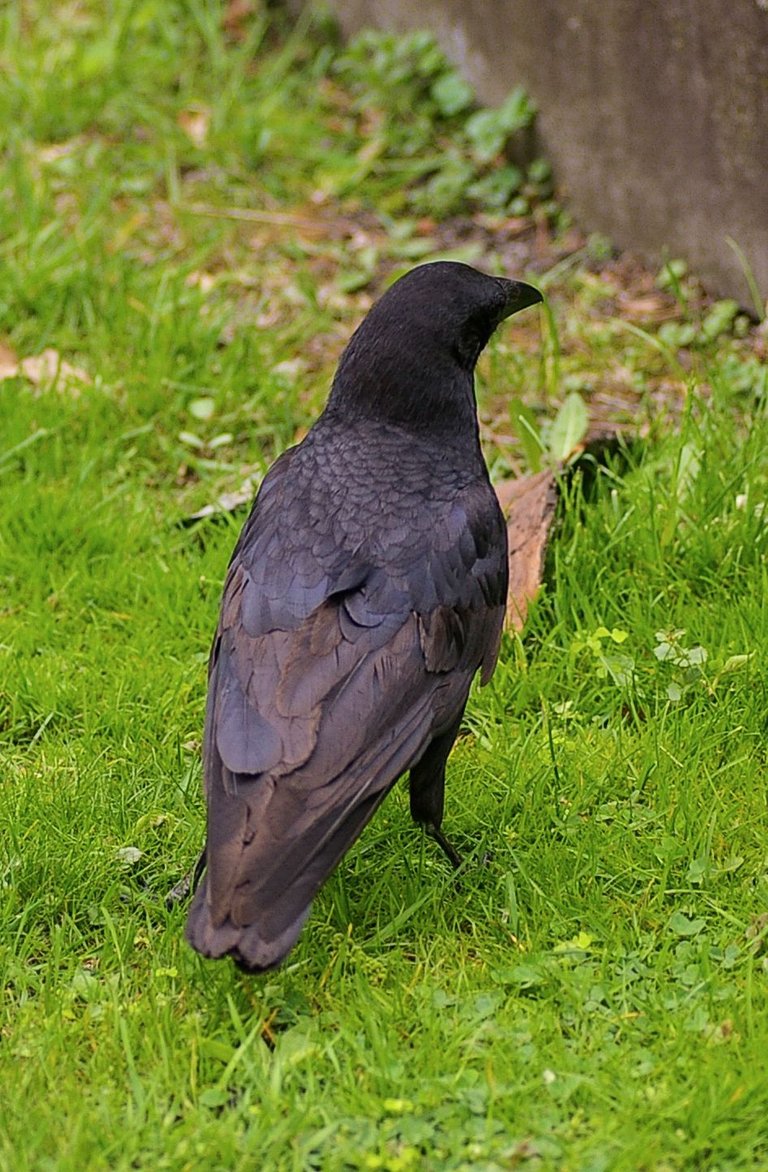 Crow looks off and says, "I'll walk around here and eat seeds I find while you take photos."
Thanking crow, I go bonkers with the camera. Edging closer, clicking non-stop, eye melded with the lens, I took a ridiculous number of photos in my excitement.


How stalkerish can I be? How near will it allow me? I kept edging ever closer to get better shots. Crow kept on searching for edibles in the grass.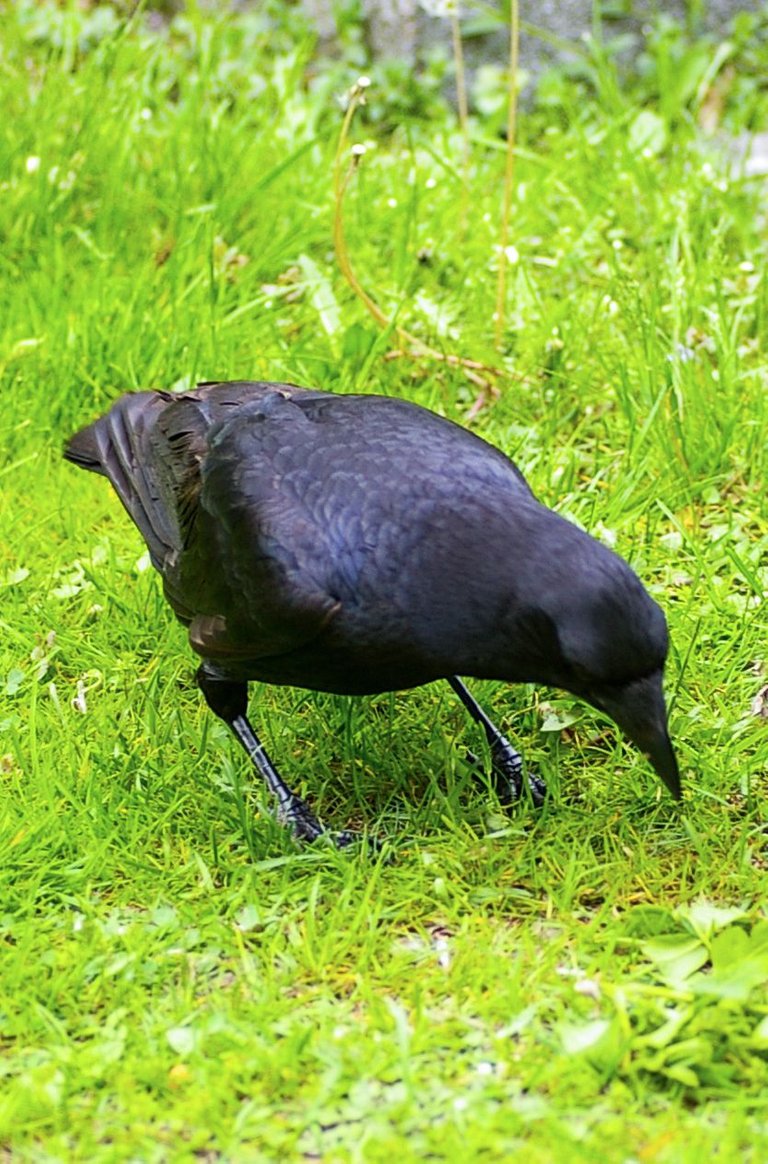 Oh those feathers! The iridescence! I'd never studied a crow's feathers up close before. So beautiful.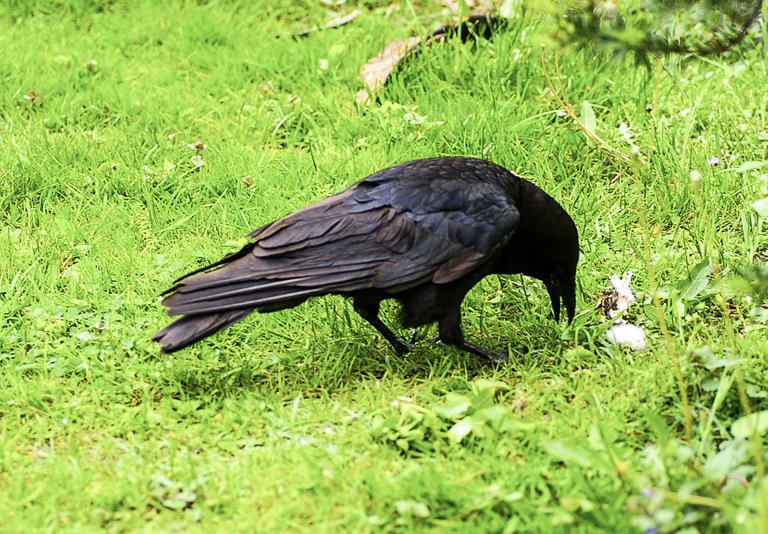 "I think I've found something", says crow, beak diving in.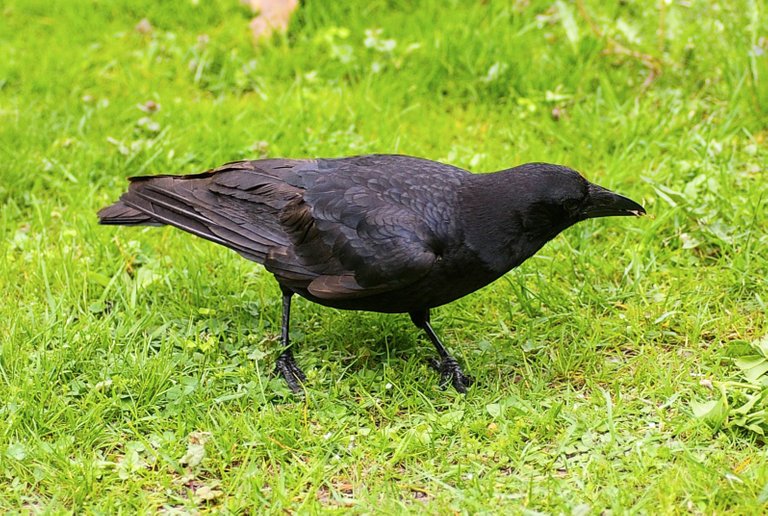 What on earth has crow seized upon? It looked like a dried up crusty thing better left decaying on the ground.
"Are you going to eat that?", I ask.
"What would you know? It's not like you brought any food with you. What happened to that bag of nuts you always carry?", asks crow.
"This isn't an all day trip I have to pack food for crow."
"Now you have a reason for next time, since you know I'm here", says crow.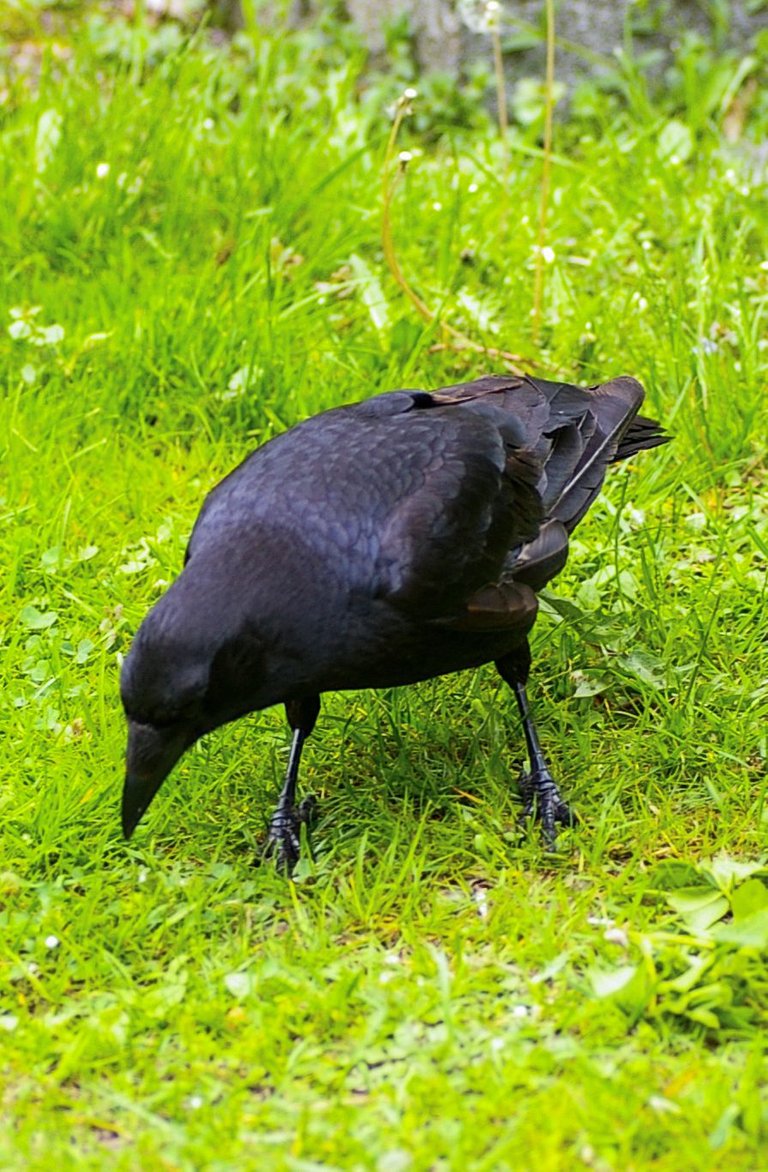 Crow keeps searching for food. It's moving around giving a fine dancing display. Show off. Sure wish I could fly.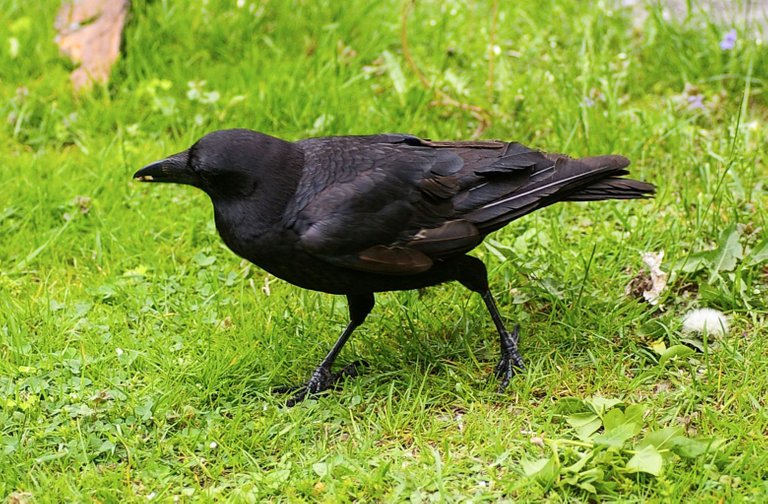 Score! Crow's seized some kind of light green seeds of unknown origin. I get the feeling that all this display was an indulgence on crow's part.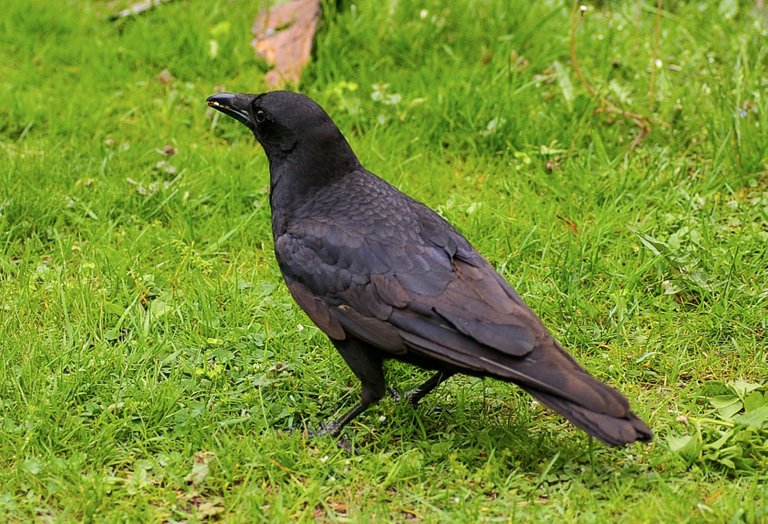 "I'm taking off now. You've got plenty of photos. Remember the message I gave you", says crow.
I'm disappointed to see it go. Capturing photo proof is a treat though. I'm happy about finding a place where there are crows I can hang out with.
I went back a second time a week later, peanuts and cashews in tow thanks to @corvidae's suggestions. Correct lens on camera. Ready to go crow.
No crows in sight. I kept walking. I called out to them to visit me with no words. I have goodies guys, come on, where are you? Nothing. Silence for the longest while. Then I hear some squawks.
I go into instant stalker mode, tracking the one I heard by sound. It's on the other side of the cemetery. I walk that way. I see it on the grass. I'm not close. It spies me and takes flight. I see a second crow fly out of a tree from nearby that disappears into the trees just as quick. The first crow lands high up in an old maple tree. So there are at least two hanging out here.
Nothing would entice crow out of the tree, so I sat down under the tree and watched. Crow took flight again. I stalked it to another area of the cemetery still hoping to get photos. It's pecking away at something on the ground. I'm too far away. It spies me and squawks, taking off in flight. I hung around for a while. Gone. For now.
Oddly, there's a memorial marker that is a flat metal bird feeder, designed so squirrels and the like can't raid it. I left my nut offerings to the crows there. I'll be patient. I'll be back again. I'll always have crow treats with me now.

CROWMATION

All photos taken by Nine with a Pentax digital 35mm camera and 90mm Tamron macro lens. "Crowmation" is a compilation created in Photoshop.