This post is an Ask Hive of sorts without particular expectation of answers - it's perhaps more like asking Hive to consider what I am raising. If a discussion is stimulated around this with the result of greater transparency in where - if anywhere at all - this might be headed, that'd be kewl. Even better - for me - would be to observe this conversation taking place without myself getting bogged down in it. Although I may have my own observations, thoughts, analyses and opinions on what I am about to present, my intention is to leave out detail and keep things as open and high-level as I can.
I wish to call out and acknowledge what I see and to do so without engaging with the energy of dispute or waggy, pointing fingers. Much has already been written along this theme from various perspectives and under various headings. I'm sure there will be recognition in many minds of what I refer to at a general level. That is my starting point!
A bug has been stuck in my throat for a rather long time. This post is the process of relieving myself of it.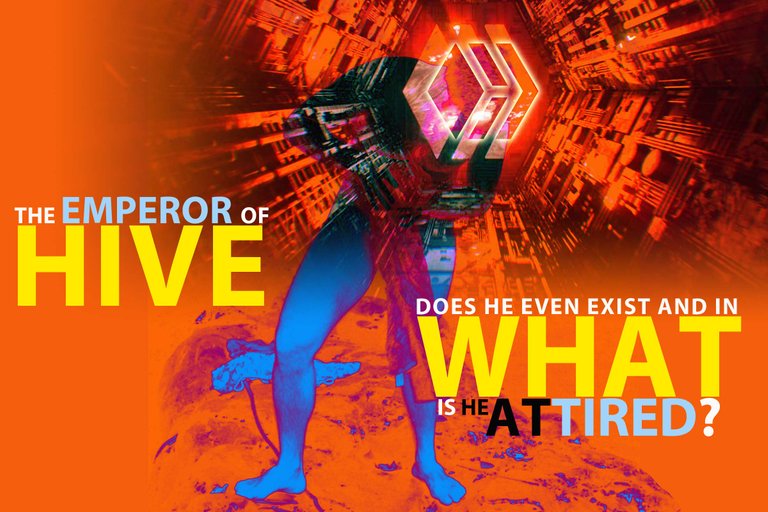 Basically:
The core of the issue is - as I see it - perceptible currents of action on Hive being taken around the question:
What content should and what should not be 'allowed' on Hive?
Within the context of a public blockchain, this really equates to what 'should' and 'should not' be visible on Hive. Nobody can be stopped from interacting with the blockchain but the amount of visibility these interactions get can be greatly affected by a number of factors, including the actions of other users of the Hive ecosystem.
However, the issue seems to me to be more nuanced than the above formulation and appears to be informed by the notion that:
Certain type(s) of content should not/ought not to be allowed full visibility on Hive.
I am not talking about the obvious: abusive porn, hate this or hate that. I'm not talking about the kind of stuff that looks and feels dirty, violent, aggressive in ways that are unmistakably destructive. I'm not talking about the kind of stuff that is already locked out of most communities on Hive!
In view of the above, the core issue – as I see it – can more accurately be reformulated as action and thought on the Hive blockchain which is galvanising and being galvanised around the notion that:
There is a certain kind/type/genre/class of content which already exists on Hive which should not/ought not to be allowed to have full visibility on a par with the 'regular' stuff. As this content cannot be prevented altogether, it can at least be discouraged and/or suppressed through various means.
That's more like it!
I'd like to query the Hive Blockchain itself on this to gain a better understanding of what is/may be taking place. I am NOT calling out a 'conspiracy' (har har :), I am issuing a call for transparency. I am also, I guess, asking Hive to bring self-awareness to this issue such that it may be addressed at a more consciously acknowledged level. I don't code and this is not Python being scripted 😱. This post itself is the query and I do not know what the output might be, nor do I have an intention for putting the data to any specific use. I'm just Open-Sourcing my thoughts!

Right, so WTF? What is this 'Content' I speak of?
Anyone remember @quackwatch and the his/her list of 'quacks'?
The QW account states that:
"This is an account that keeps track of all sorts of quacks that have been infesting the Hive ecosystem like a disease.
It has been created to inform the users about all sorts of quackery, delusional/irrational beliefs, toxic ideologies, and pseudoscience.
Although some of the information published by the users that have been added to the blacklist may have little harm, the majority of it are very dangerous ideas/beliefs.
...
This account is a form of resistance to the spread of intellectual foolishness and lunacy that is threatening the intelligent and sustainable progress of human civilization."
QW then goes on to list the accounts on Hive considered to engage in this dangerous quackery.
My account is on the list of 'quacks' and you can read my response here - which I believe is pretty measured and also offers a counter-balance to QW's rather dramatic statements.
The point is that there is a discernible movement (wider than Quackwatch but seemingly contiguous with QW thinking) towards, and appetite for - labelling certain content as 'dangerous'. This is clearly taking place in the world at large and it seems also to be finding favour in chunks of the Hive blockchain. This 'dangerous' information is generally of a nature that questions or challenges the existing/current/mainstream narrative on history, current events, how the world runs etc. 'Dangerous' is also the term increasingly being used by many to describe, for example, information that challenges the notion of the current pandemic and the governing/reigning view on the need for a global vaccination programme and how this ought be carried out - ie information that describes a situation closer to a 'pLandemic' than a 'pandemic'.
This is also - clearly - the kind of information that tends to get collectively lumped together under the umbrella term 'CONSPIRACY'. In spite of this category being extremely broad and wide-ranging, the term itself is widely-accepted as being somewhat synonymous with dismissible labels such as 'crazy'. The label 'c/Conspiracy' can be stretched to cover almost anything.
I do not intend to delve into the philosophy or psychology of 'c/Conspiracy' or make a big deal of the label. Many aspects and accepted 'truths' of current life were once held as being fringe, far-out etc and would've had 'conspiracy' or similar labels applied. Also of note amongst the human population is the almost universal experience and acknowledgement of how power corrupts and how Power seeks to perpetuate itself through any means, including using force and manipulation. Examples are littered throughout history and one may ask why the Present Moment would be any different in this regard!
Facebook, Youtube and other BigTech, as well as the mainstream traditional media and various influential national and trans-national bodies and organisations, have been taking action to prevent discussions of various topics and this is a huge understatement! There are 'fact checkers' who provide 'approved' and sanitised versions of what passes as 'news' along with the underlying message "trust us to filter your information for you as it is a very confusing world out there and you don't really have the tools to do it for yourself". One is not presented with the 'full picture' by any means. Informed consent, informed choice and all those other 'informed'-dependent activities naturally become compromised in such a system where confusion reigns and a subset is presented as if it were the 'whole'. The 'authority' of the system is stressed and trust in it encouraged at the expense of a more DYOR approach to information gathering, personal opinion and decision making.
It seems as if a variation of the above is now beginning to feature in the Hive ecosystem, a place - ironically - formerly seen as a refuge from the crackdowns taking place elsewhere. On Hive there are voting patterns, discussions/arguments/debates and discernible behaviours that indicate this to be the case. There are suggestions and hints of various forms that point to the existence of some kind of 'Power Structure'. I do not make any calls on how amorphous or well-formed these structures may be, but they will most likely be composed of networks, friendships and mutual interests who would wish to see the blockchain steered in certain directions (and, implicitly, not other directions).
I dare say that if you, the reader, have made it down this far then you have a fair idea of what I'm talking about, whatever your personal position on this may be!
There clearly are Power Structures already on Hive - each selfconscious grouping of individuals with clout that intends to use their power and clout to bring about certain alterations, launch various projects etc can be said to fit into this category. Many of them do excellent work and we would not be here without them. Some Power Structures are less visible, less fully-formed - perhaps secretive, perhaps conspiratorial. This is possible, even likely.
It seems very clear to me that there are lines being drawn on the Hive blockchain regarding the visibility or not of certain content. I do not know much about what form the planning or intention for action takes. There seems to be a definite interest in pursuing something along these lines amongst a number of folk with hefty wallets but I cannot (and do not care to) speculate on how loose or how formalised these 'groupings' might be.
I only have circumstantial connections to offer with which to follow such trains of thought. The following connection is one such circumstantial connection and all I am doing is exploring and enquiring...there is no accusation or assumption of intent on the part of anyone to do anything in particular. I am also not implying that anyone in particular may be part of any of these 'power structures' on Hive. I'm interested in where this 'whole thing' may be heading and I think the example below is relevant here - that's it!
On a recent post which featured some heated discussions, I came across a comment made by @blocktrades in which he was talking about the design for a new system to rate information on Hive. Part of what he said was:
"...some people say false things intentionally, sometimes by mistake. I want to build a system that helps you decide the truth in both cases. The second case is really the harder problem, as you might imagine, although even spotting simple deception can be tough enough sometimes"
The comment which followed in response to what he said made me sit up. This is the 'circumstantial' connection that I am making between the ideas in the post and Blocktrade's proposed work. It is not accusatory - I stress this point again! Here is the response to BT's comment:
"Ah yes, that sounds good. Kind of like a fact check system. There was alot of misinformation going around about the Vax and deaths from COVID etc. I try to avoid those posts, I know everyone is entitled to their opinion and free speech but there is also a line when it can cause significant harm."
Like I said, circumstantial only! An opinion of a fellow Hiver, yet one that seems to have many echoes around the world and around Hive too. It is therefore usefully pointed out in this example, along with the underlying tone of agreement with a system that would decide what is and isn't true for the benefit of all as it would protect from information which is dangerous and can cause 'significant harm'.
It may sound good to some, but WHO decides truth and how can one know anything of this truth if it is not openly discussed, simply accepted as true on the authority of a Fact-Checker (human or algorithmic)? Algorithms are written by humans and can therefore carry a human bias into the code! 'Truth' is much more nuanced than even the largest trail of data that an algorithm can crunch before making a decision.
Besides - and this is a BIG one - if something like the label 'dangerous misinformation' runs in only one direction, how can one be certain that the label itself is not the very act of 'dangerous misinformation' being used to conceal 'dangerous truths' on the part of those applying the label? One cannot be certain under such circumstances! This is one of the basic contentions of many of those listed as 'conspiracy theorists' for example, and is a strong argument for full information disclosure so that own minds can be made up. Here we can also - for the sake of contrast - pivot around to the opposite notion which holds that since the abundance of information is super confusing, there is a need for a middleman entity (fact-checker type) to simplify it for our understanding. See how this could be used in a twisted manner by 'authorities' and 'powers'? Does anyone imagine that this is not already taking place on a massive scale?

But hopefully not here on Hive!?
Blocktrades elsewhere provides links to two posts of his on the topic of designing/building a system to rate information on Hive. These posts were written around six months ago and they are high-level descriptions and analyses. The second post states early on: "...I'll start to introduce some possible ways that computers can help improve the ability to rate information. In particular, I want to look at ways to improve our ability to rate information based on other people's opinions. Many of the ways we'll look at to do this are just extensions of methods that we already employ today in our normal lives." The two posts are linked below:
If you read the posts, you will see that what is being described is not by any means an easy, simple or clearly-definable thing. It should also be made clear that Blocktrades does not explicitly state that certain types of content ought to be excluded. I do however wonder what his thoughts on the 'core issue' of this post are - is he sympathetic to what was said in the reply to him quoted above and on-board with a system to identify information that can cause 'significant harm'? I do not ask/demand that he justify how his system is or is not this or that, but I welcome clarifications if he be so inclined.
I think that one can quite easily see how such a system could be designed and built with biases embedded into the model itself. Technically and hypothetically this is true right? I am NOT stating that BT is doing this but I am using this example to question the need and efficacy of such/similar systems especially if they do take the notion that certain information is 'dangerous' and if they offer to 'decide' on my behalf.
A system such as described by Blocktrades will likely be optional to use but widely deployed. Where it has features of 'search', I welcome it. Where it has the potential to carry through what I see as fundamental biases, I remain aloof until I know otherwise. BT may have no such intentions, but it does seem to me as if other powerful interests on Hive do seem to desire a system for identifying 'dangerous' information.
Is it true that information can be dangerous!?
Although I think witholding info is more harmful than holding info, I am really not sure whether the concept that 'information is dangerous' is itself sound. This is the basis for the reasoning against letting certain information be visible and it doesn't seem at all clear-cut or black'n'white to me!
Is it true that folk benefit from fact-checked info?
...or is this simply convenience often at the expense of precision, even truth?
Is it possible that the design of a system to rate information on Hive could be designed with some of the biases towards 'unwanted' information of the type referred to in this post?
Is this likely? Is this to be desired? Am I being paranoid?
Questions Questions Questions
........trillions of them, everywhere....when they bite, when they prick, when they trigger - are the questions themselves at fault? Is the questioner perhaps at fault? Why does this sound kinda wonky?

The 'Unity' of Polarity?
Thing is folks, we are in this together. Like it or not! Regardless of POV and positioning on - for example - the spectrum of 'pandemic' vs 'pLandemic', the issue affects us all. In this particular example, one spectrum of polarity seems to be something along the lines of:
EITHER
Humanity faces an existential threat like never before! We must all adhere to officially proclaimed, expert-led guidelines in order to survive. Those that do not, or refuse to comply, potentially threaten everyone's survival by their non-compliance. Information which challenges or purports to dispute official claims/the 'accepted' view is mis/dis-information. This information is dangerous, in part at least because folk could be lulled into a false sense of security and underestimate the danger posed by the existential threat. The Science is pretty much settled on this and in any case, we are in a Global Emergency requiring unprecedented action, even if that means curtailing what were once held up as unassailable Human Rights. We need to pull through this together and this will only really happen if we all act in the unison of conformity to officially agreed and advised action. Any notion of a 'conspiracy' behind the global pandemic is as outrageous as it is ridiculous!

OR


The above is a heavily controlled and manipulated narrative propagated by powerful vested interests which have been hard at work on an agenda to control humanity for at least a century, if not longer. Many global and trans-national govt. and non-govt. bodies and organisations; BIGpharma, BIGoil, the military-industrial complex and the vast majority of politicians and social influencers - are already under the control of these interests. Far-out as this may seem, there is ample evidence for the above claims although the bigger picture does take a while to emerge through the cracks in our conditioned consciousness (if curious, please enquire in the comments and I or someone will provide some links to explore if possible). The current global situation is a planned-pandemic: a 'pLandemic'. The visibility of information supporting this is being suppressed by the very interests that are pushing the narrative of Fear. Counter-information is currently mainly to be found on alternative sources (one of which is Hive :). If Folk were able to have free access the full spectrum of available information, they would be able to make up their own minds. They may be shocked and surprised at what they learn and this is often an incentive to stop researching further for fear of what one might find out. However, we need to explore for ourselves - each individually - if we are to wake up to the multiple LIEs that are so big they can sit pretty in plain sight in spite of all the evidence. A tsunami of manufactured fear and division leading to loss of liberty, even loss of humanity, is the threat we face collectively. These are big statements and they are being increasingly repeated the world over by many people who just a few years ago would be considered 'establishment' figures and not 'nuts' for having chosen to speak out. What if there is something to all this after all? Might it be worth a wee investigation with an open mind?
Many labelled 'Conspiracy Theorists' have, actually, through the course of life's experiences, moved from positions akin to 1 above, to position 2. I am certainly one such who has made that shift. I refuse to see ABSOLUTE divisions - everything is in flux and this changes constantly with understanding and perception. I acknowledge that the TIMES are such that sitting on the fence feels sharp and uncomfortable and there seem to be fewer places to hide one's head in the sand. Either side of that fence appears to be populated by extreme voices that seem to drown out the VAST areas of overlap that exist between ALL shades and variants of human thought and existence, both on and off the fence.
Divisions are like boxes - they confine, separate and insulate. We are the overlap, we are the 99% and all that Jazz. We are the unbounded ones with Power though we may choose to give it away. Regardless of any this's and thats, we are in this shit together - CHECKED AND VERIFIED FACT ✅.....right?
I say let the Emperor stand tall that his nakedness may be inspected and dissected, awkward as it may be on closeup view. May there be no pretence of clothing where none is present. Should the noble creature be dressed in this or that attire by one or other (or a collaboration) of Hive Power Fashion Houses, may this be done in an open and transparent manner such that those, like myself, who are rather delicate and sensitive souls, be able to make informed decisions about whether to move on in a search for an anarchic, emperor-less domain... or else stay on this beautiful experiment of a blockchain and expand along with everyone else....hmmmm!
Perhaps we may be pleasantly surprised to find that there is nothing to worry about after all and that outpourings such as this post are the products of the type of deranged mind which has already - alas - succumbed to the dangers of misinformation and whose wild-eyed call for folk to wise up to what's going on can safely, sensibly and with full trust in the certainty of one's own received knowledge, be ignored, dismissed as crazy rantings and muted for the good of all.
If you've made it down this far and still think the mind that penned this (and other similar minds you may come across on Hive) to be unsound, vulnerable to/a proponent of dangerous misinformation, unsteady and unable to think for itself, I heartily congratulate you!
Many thanks for your time and attention
Namaste 🙏