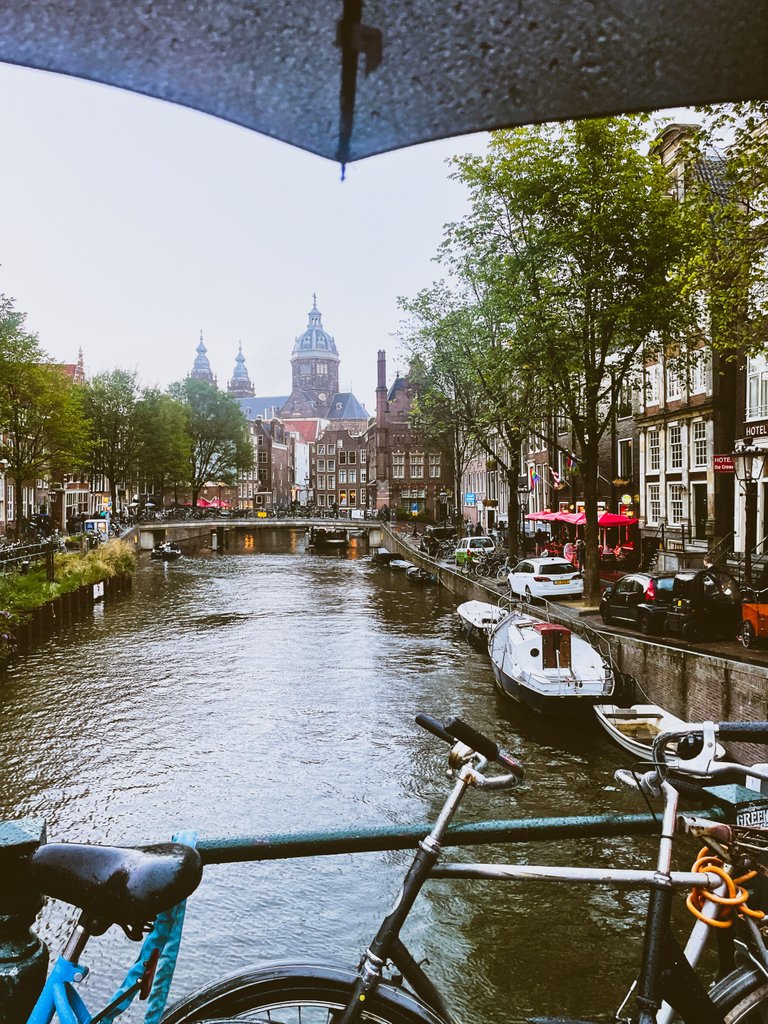 Oh my.
HiveFest is over already.
---
I'm kind of groggy today. Sleeping late 3 consecutive nights and not being 20 anymore does this to you.
But I'm thinking back of those 3 days and am just smiling...
---
Today the HiveFest Telegram group is buzzing with people updating each other on their travels back home. Schiphol has severely failed this year to serve its customers and lines have been crazy, baggage has been lost, tents have been served to protect people who have to wait outside the airports before even being able to stand in the line inside...
What an embarrassment.
But for now it seems everyone is making their flights and are able to get back home - I just realize even more what a luxury it was to have HiveFest in my own country!
---
What else?
Oh right.
People.
So many people...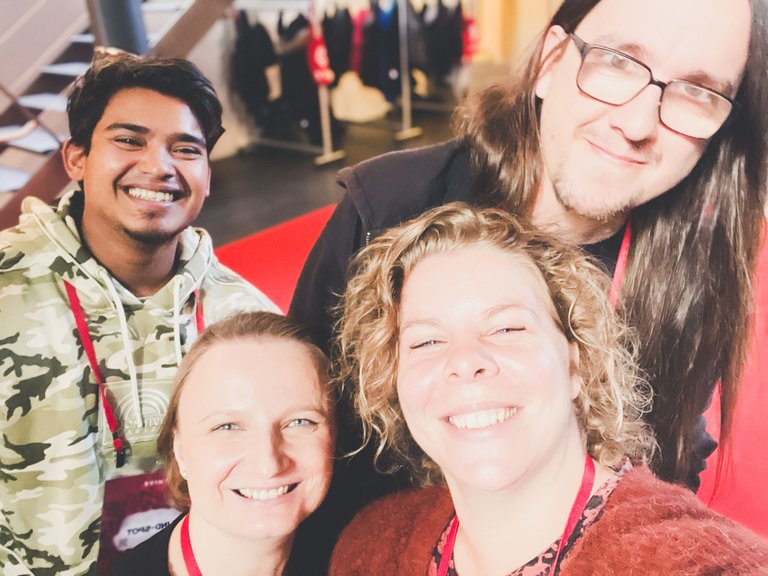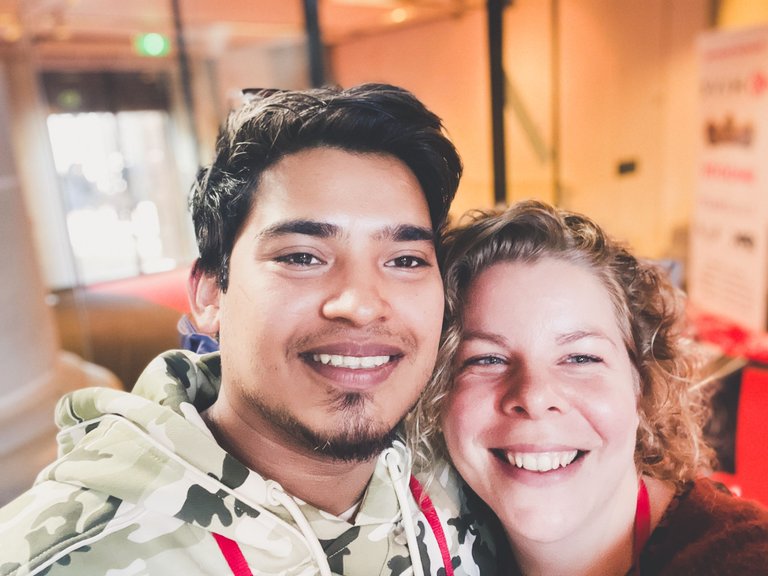 Church light on our pretty faces: @blind-spot, @gtg, @delishtreats
---
I haven't been as active on Hive as I was back when we went to the Fest in Kraków. "Do people still remember me? Will everyone have moved on and will all the new people look at me and wonder who I am?"
Ofcourse it wasn't like this.
Damn, there were so many old friends!
I was able to meet again, in random order:
@brittandjosie, who, being from my own city, I don't nearly see enough, and was so well dressed with handmade additions to a cool blue suit. @detlev, who I appreciate so much for his efforts in creating communities, and who organized an amazing #BeerSaturday during the Fest. @arcange, who touched me with his beautiful smile and his heartfelt words to me about my health (thank you).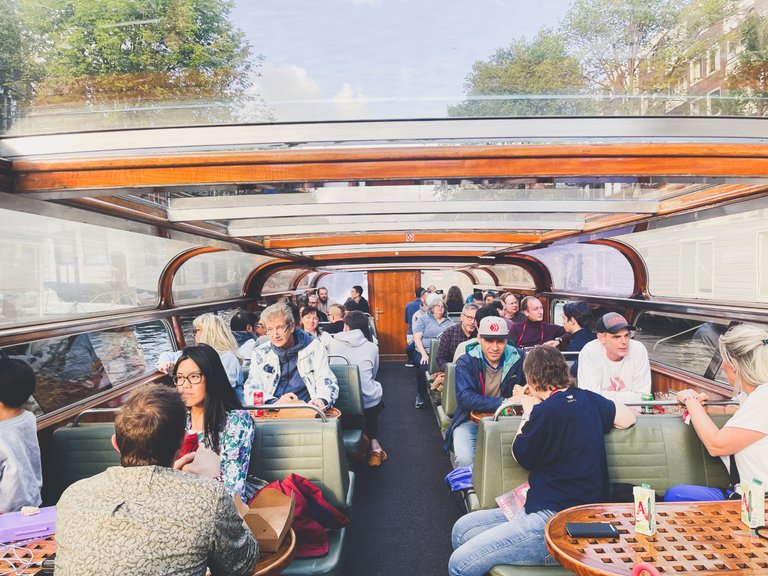 The boat trip over the Amsterdam Canals was a great way to have a quieter conversation with a few people.
---
@karinxxl, who is my fellow Dutch lady that is so easy to talk to, and hope to maybe grab a coffee with in one of our cities before the next Fest. @celestal, who is just an all-round amazing person making progress in his life, and who I learnt a great deal of Finnish from (co cocococo, co co co, cococo). @gtg, who is just the best hugger on the Fest, and also a great photo bomber and never shares any gossip of past times. @crimsonclad, who carries the truest community spirit with her, had the best hair at the Closing Dinner, and I shared some lovely under the bridge moments with.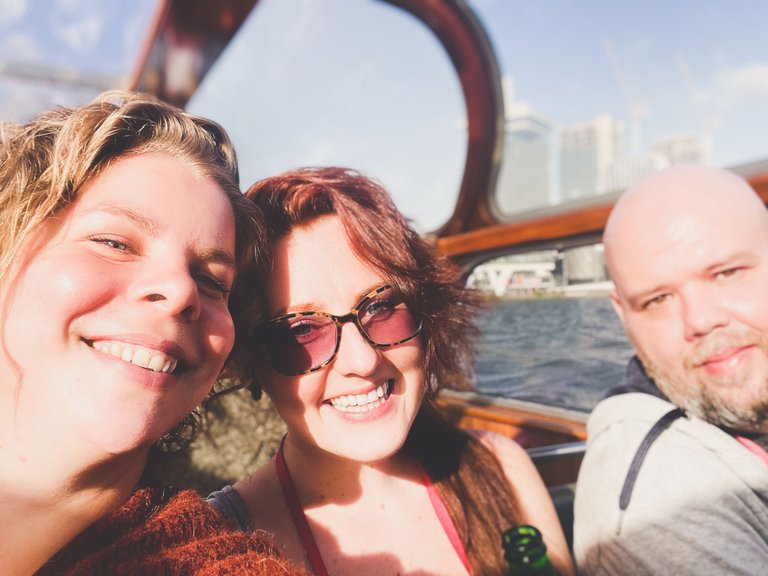 The always lovely @crimsonclad and the amazing @bil.prag who I should've taken more selfies with.
@roxane, who wasn't officially af HiveFest, but was visiting Amsterdam and I hugged outside of the Eye. @revisesociology, who has twinkling eyes, from being in good spirit and making some great decisions for himself in life, which I love to see. @steevc, who loves sharing previous HiveFest memories and got chased away from the stage for being such a great gitarist ;-). @tibfox who has the best hair and some great future plans for @diyhub. @starkerz who masters the power of asking questions after presentations and gives some great ones himself, sharing the cool stuff he's working on. @apshamilton who is so passionately working for the wider crypto community and just breathes passion for his task. We shared a meal with @brianoflondon who turned back to coding and presented his creations with a lot of fire and humour. @demotruk who was on the quieter side but one of the true OG community members. @elmerlin who I got to sit next to at the Closing Dinner and is passionately creating @liketu.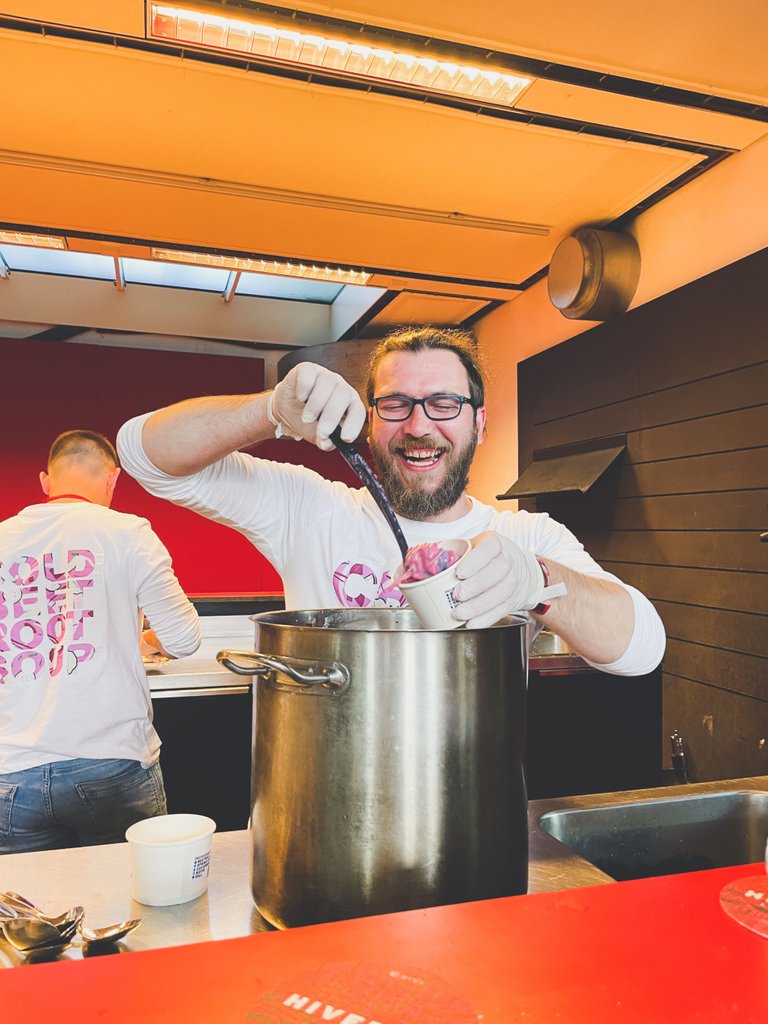 That smile? That's what making and eating @coldbeetrootsoup does to you! It's that good!
---
@martibis who I must say has such a great smile and warm personality. @alexvan who touched me with some words and showed his good heart. @lizanomadsoul who was shortly at the Closing Dinner but had to run to stand in line at Schiphol Airport sooner than she wanted. @rivalzzz and @louis88 who I didn't drink enough beers with this year. @artakush who never got to my meet-ups but we'll now organize them with his fellow @coldbeetrootsoup member @minigunner in The Hague. @jarvie who you can trust to work incredibly hard on Apps for our chain or travel some great places around the world to photograph.
---
Oh, how I loved seeing those old friends! I wasn't able to join Bangkok and then... well, then the world closed down for 2 years. So after three years it was a true gift to see everyone back again.
Also very very amazing: all the new friends that were made!
---
The first to welcome me at HiveFest was @blind-spot, who gives amazing bear hugs and is a bright intelligent person to chat with. Also @priyanarc who is such a lovely lady and I promised to drink a cup of coffee with soon. Also @cryptospa who made it all the way from Eindhoven Airport, and @loonatic who was the first to give me a WeedCash goodie. Then there was @manncpt who I sort of met during one of the AltFestsVR but he's way cooler IRL ofcourse. Very happy to finally meet @bil.prag who might not know he has the kindest eyes and sweetest personality. I finally met the sweet @delishtreats who speaks my language and brought her lovely Husband. And introduced me to @zirochka who has an amazing presence and probably had the most challenging 'Road to HiveFest' of all of us and I wish I could've spent more time with. I also met @rubencress who made me jealous when he was able to photograph @hiddenblade's artwork in Paris. Just a short "Oh, so that's YOU!" moment with @thejohalfiles while I was just leaving the hotel after my last drink. I spoke with @rollie1212 of @cryptobrewmaster who showed the cutest pic of his son in Prague. I had loads of fun with @pardinus who likes animals more than humans but was surprisingly friendly towards me nonetheless. And his (and now my) friend @xrayman who I had the pleasure of dancing with during the closing drinks, while everyone else was ignoring the beats. @growandbow who is both back and looking forward to great adventures in life. I spoke to @ph1102 after the Closing Dinner and despite all the numbers in his name is a real and really cool human who motivated me to write about my current field of education.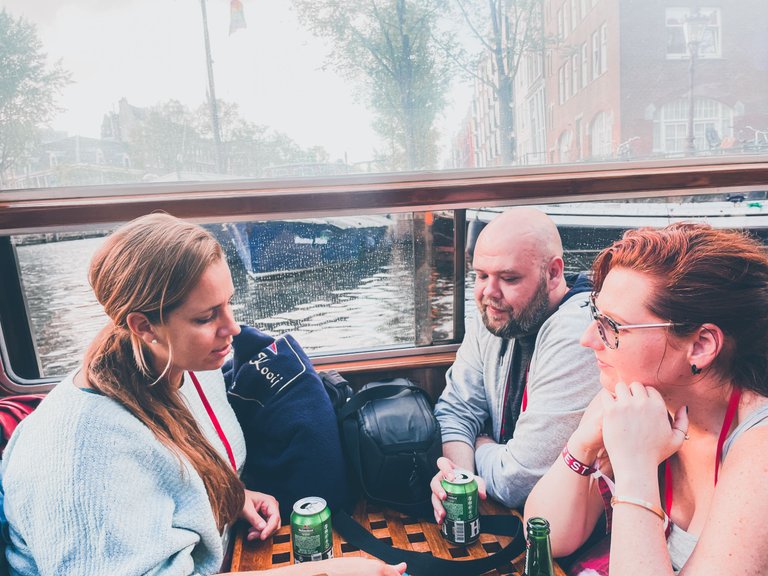 @karinxxl, @crimsonclad, @bil.prag
---
@ana-maria who I immediately closed in my heart because she is just so pure and enthusiastic and easy to like. I teased the lovely and fun @adambarratt so hard he might never come back to HiveFest anymore, and the same with the talented musician @tdctunes, but just know I appreciated the laughs and beers I had with you both a lot <3. @howo, who showed his great new house and shared some stories on the canal boat tour.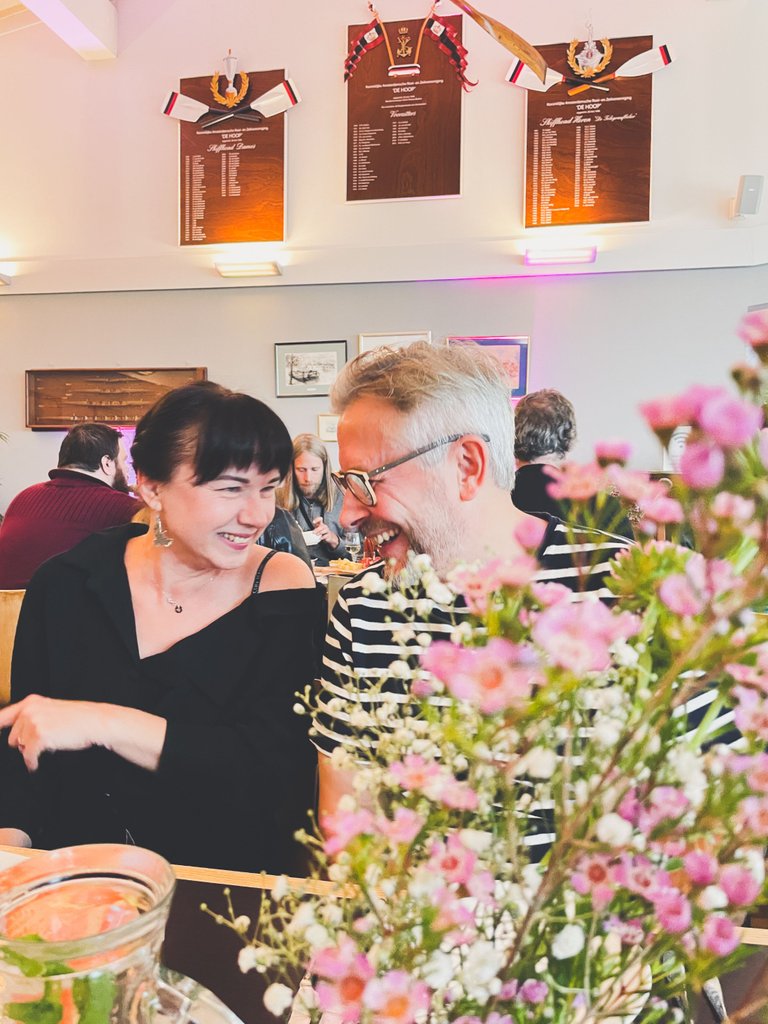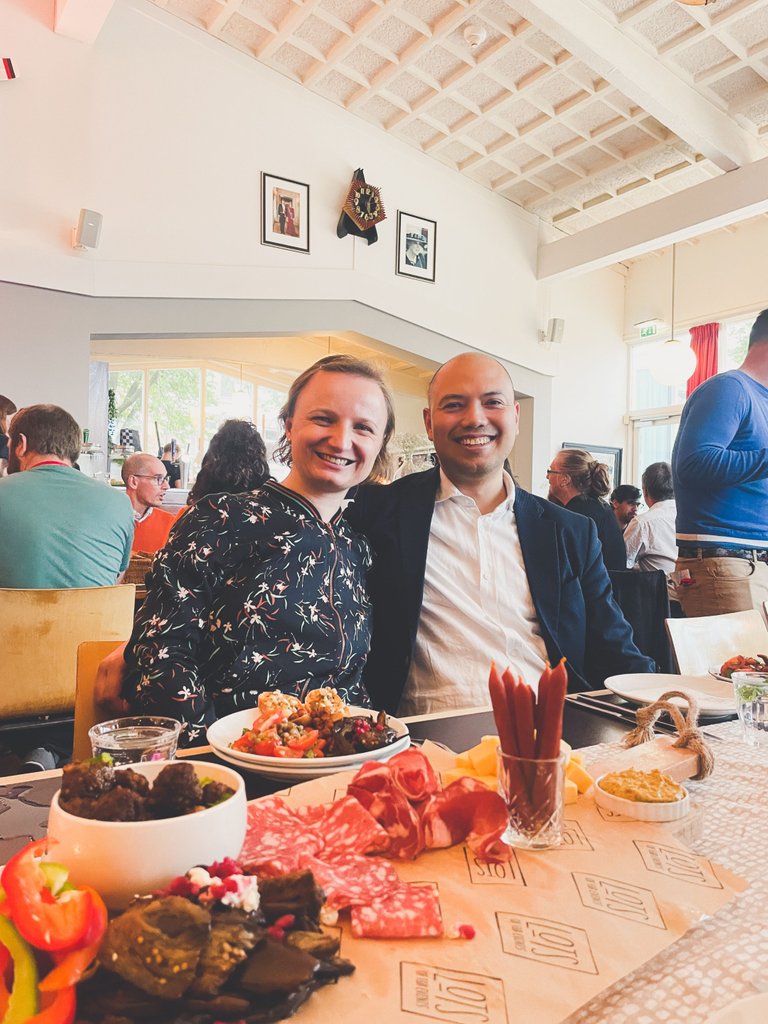 I love the pic with @zirochka and @arcange - so much genuine love is visible. And look at @delishtreats + husband! Gorgeous couple <3
---
Ofcourse @livinguktaiwan who I wanted to speak to more but it was so lovely to finally see her IRL. @pibara who had a very intelligent presentation to protect us all in the future against attacks, and @edb, another Dutchie who gave another great presentation. @lemouth who is passionate about STEM, Paris, wine, so definitely a person to hang out with. @asgarth who I absolutely want to speak more with as well, but lives in a country that I want to visit more, so I know it will happen someday. @slobberchops who was at earlier Fests but I never had the chance to speak to. @sjarvie5 who is just the kindest soul which I already knew but now confirmed IRL - we finally met up at a Fest that wasn't virtual!
After the last Fest I had a few people I was surprised I didn't get to meet - this year it's @lordbutterfly who I only after reading other people's post and seeing pictures with him tagged in it know I saw a few times - but didn't say HI to because I missed his presentation and then he walked around without a badge so I never had that 'ohhh that's YOUUU' moment where I could say hi.
Anyway - that's the wrap on HiveFest. After posting this I will think of at least a dozen names I didn't mention - just leave a comment so you can make me feel bad about not including you in the post :D
Thanks again @roelandp - without you these Fests would never happen and I'm so grateful for you to have such great passion to use your 'hobby' to bring us all together once a year - even during Pandemics!
And thanks to everyone - I mean EVERYONE I spoke to and even those I didn't speak to. I'm so happy you all showed up despite there being so many reasons to maybe not go - a pandemic, rising prices, bear markets... You really made me feel part of the FAMILY again and I can't wait to see more of you at or even hopefully before the Next HiveFest.
There's still a little more reflective post I want to write about what you guys made me feel during the Fest, as you did make me feel a lot of feelings, and I will process them and share it after all the first wave of after-HiveFest posts has died down.
Cheers!