It's been a while, and it is true that a lot of my posts that I manage to send out start with that.
I am busy, I am really busy but it is not all with good things, and some are. So a quick update on the things that are going on lately:
School is starting next week. It was suppose to start in 2 days but the boards have delayed the entries in order to give a more safe entry. Here are the dilemmas:
I don't want to send my kids to school.

Ex wants to send them to school.

I have a child with asthma. Don't want to take the risk

Lawyers are in the picture and we are waiting relentlessly for a reply on both ends for this part.
We, as in my ex and I, are dealing with a troubled children because of this separation so it is causing me to spend even more time on activities, down time, emotional time and whatever you can think and name of. The problems that has arisen:
My oldest child was preparing to run away. Gave many problematic attitudes and wants to argue a lot and not wanting to listen to anyone.

Middle child has a lot of attitude but is overwhelmed and so she cries a lot and doesn't understand why.

Last child is trying to run the show being extra bossy, thinking she can get away with everything.
My house is a mess. This whole ordeal is a disaster and it is reflecting in this house and I am a one woman team against 4 in trying to clean this place up and dealing with the kids.
I have been looking for work. It has been an emotional ride adding to the roller coaster of disasters. Here's what it looks like:
Applied to a work at home job, ended up calling the company slave drivers.

Applied to work for another company, they already hired.

Applied to the post office, no replies yet but I would only be working as back up replacement so its not even weekly.

Feeling like I still need to do something, I resulted in opening up an account to sell my photographs but I am not even sure if the site is legit. Only putting some pictures on, I am waiting to see if it actually works - will post a link later in the post.

Almost feeling desperate at this point so I started a collaboration with a clothing company and becoming an ambassador. Just trying it out to see if anything good can come from this. -will also post a link later in the post.
I have painted only a little as I am running out of inspiration or music and time. But a good thing, violin lessons will start back next week as well, sad part, I have not practiced all summer which put me behind in my skills and I keep planning on practicing but something always comes up.
For this separation thing, I am still hanging in there, nothing has happened yet, the lawyers are damn slow and I mean real slow. Snail, turtle, sloth, iguana twitching slow. It is getting to me, I do want to scream at them and get a move on, I need this change to happen because it is affecting me mentally and physically. Still trying to be strong, some days are better than others.
So I still want to be part of this Hive family, I just have less time to jump on the laptop than ever before. I still love writing, I still love being part of the community, I still want to embrace the image of what this platform could be.... Wondering if everyone actually lost site of that by now. Consider me old fashion.
Here is my photographs store, it holds just only a few in there that are lesser quality as I am still figuring things out, to see if this site is actually worth using, let me know what you think about the site, share your knowledge :)
https://foxyspirit.picfair.com/
And if Gothic clothing is your thing and you want that new dress or those new boots to fit your weekend then check out this shop! Type Rottie40 in the discount box to get 40% off your order, and right there there's a sweet sale happening, so be sure to check it out :D
https://jintyx.com/
I bought myself the Harriet dress which is perfect for the fall time weather. Once it comes in, I'll show you on the next blog :)
Besides all this I think I am getting better at taking selfies lol.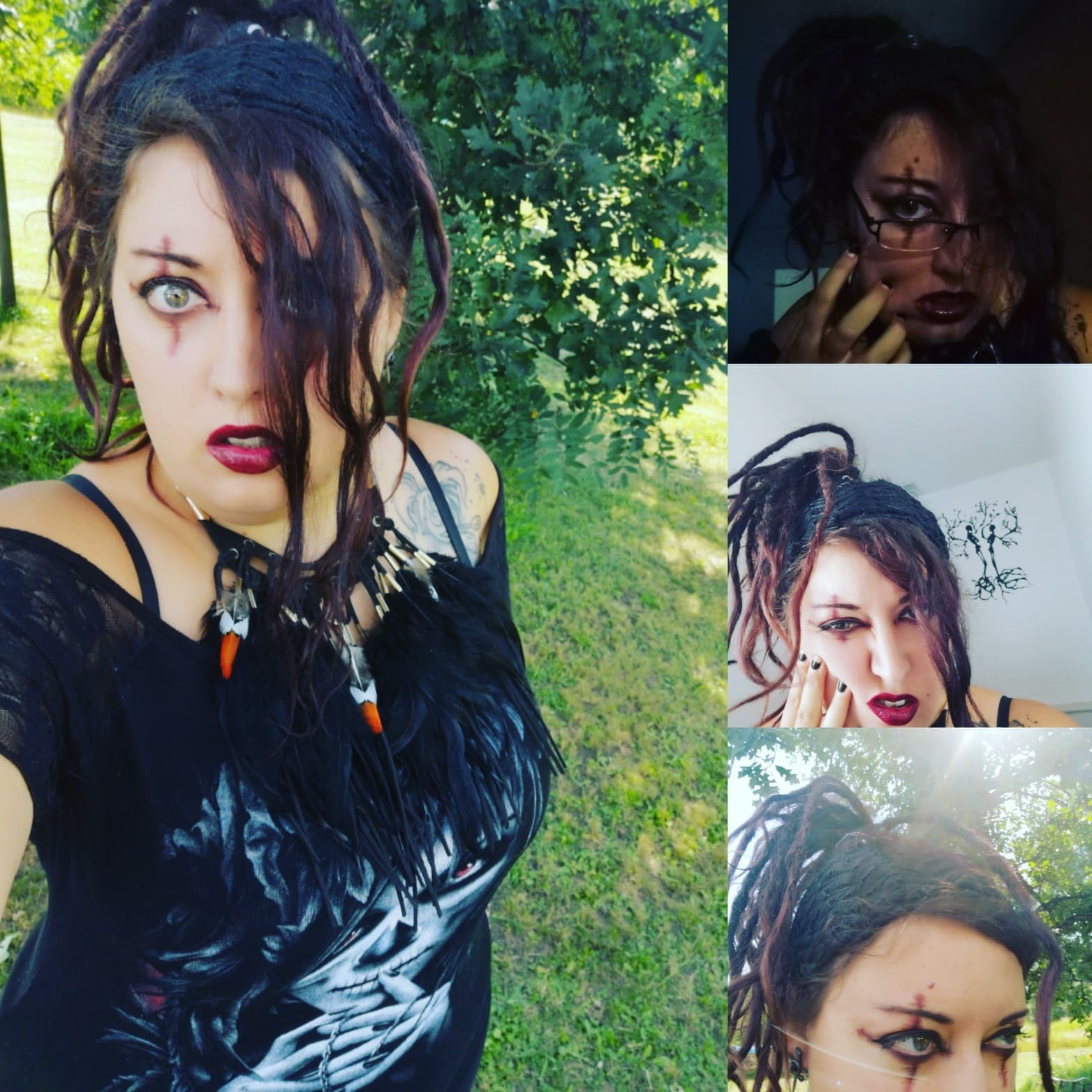 When I start running out of ideas how to pose and get tired of the never ending bad shots, I just mess around doing silly things and I think it kind of works!
Here is another one I did when I played with makeup, being inspired by the autumn season and well, you guessed it, foxes! :P
If you are up for checking out my Instagram and would like to gain a follower, hit me up! I post randomly on there, mostly sharing pictures of my adventures :)
https://www.instagram.com/rottierottiepiper2019/
This is all the time I have today, quick to the point with the latest news :) I will be back with quality posts once more when there is movement in my personal life. Till next time, take care! xx