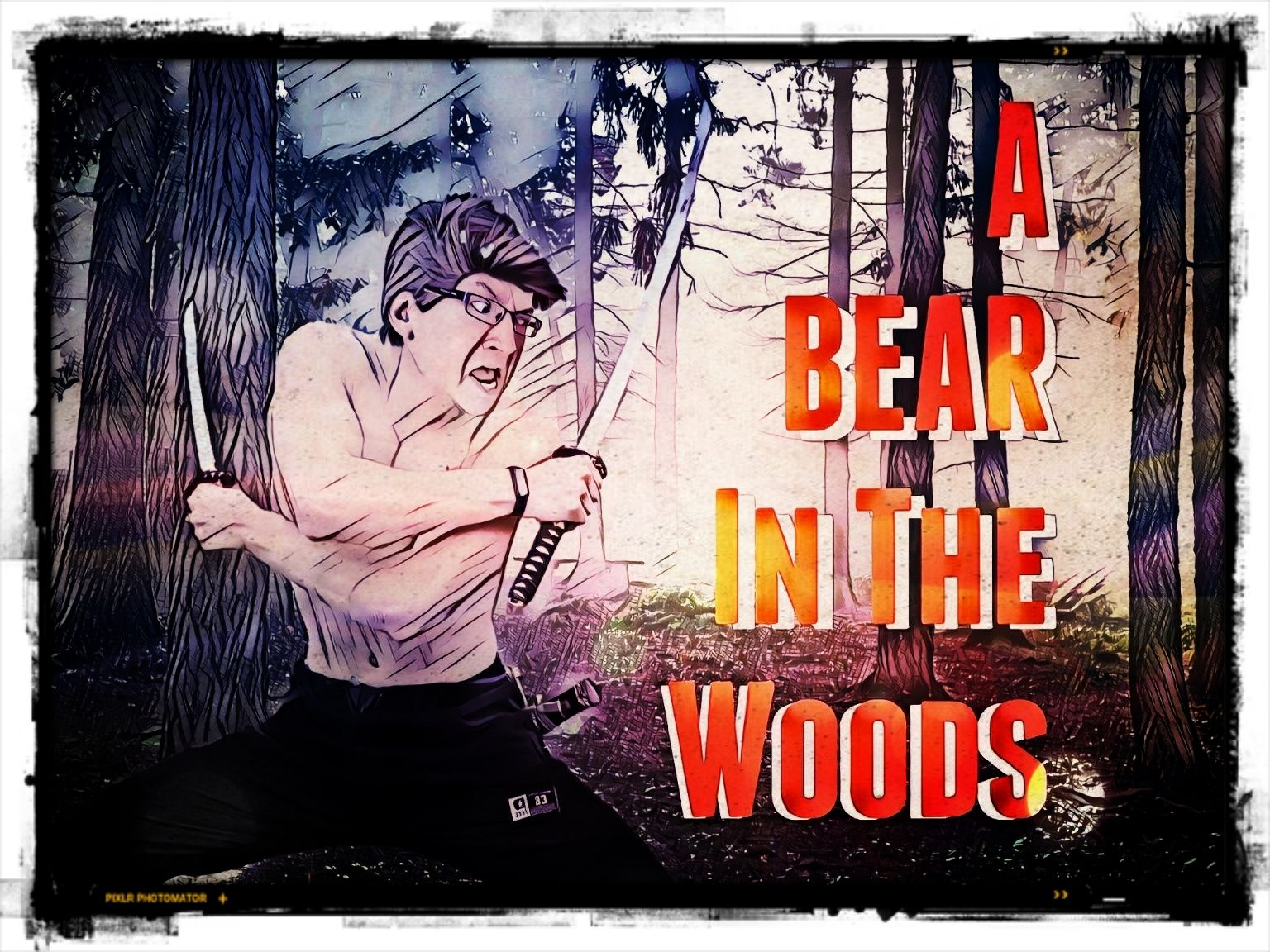 You look laht you could doo with summat dark and smooth inside yer.
A hand gripped my shoulder as the words were muttered into my ear.
My chocolate octopus slammed shut in a spasm of manly self-preservation.
Oh fucking gawd, what the fucking hell was this?
Was I about to be made into a human beef wellington before being tossed into a ditch like an empty can of coke?
Surely not, it was broad daylight? In fact, we were at a festival. A food festival no less. It was all very jolly with little stands everywhere and lots of free shit to make up for the fact that it cost a fucking fortune to enter the damn place.
Well, I wasn't going down without a fight.
In fact, I fervently hoped I wasn't going down.
Despite the bear-like grip of the meaty paw on my shoulder I managed to whirl around and drop into the fabled, Tantanmen stance. My hand curving round into a deadly blade of flesh.
I stopped.
Laughter bubbled from my lips and I found myself striding forward and giving the big bastard who had me a captive of my own imagination only moments before, a giant bear hug.
Which was only fitting, because it was the Bear-Man
A man who owned the finest beer shop in the land. A man who had gotten me so drunk on a freebie night that I had woken up on the couch the next morning next to a traffic cone and wearing the previous night's kebab.
Despite not being able to remember a jot of that night I still thought of it fondly, it had been a cracking night.
The Good Lady still bought it up sometimes.
What the hell are you doing here?
I smacked him affectionately on the shoulder in the way of men.
Am selling shit aren't I?
He grinned his big bushy bearded grin of old and I found myself grinning back.
Selling shit? Well, if you are selling, I am buying. Where is it?
I hopped from foot to foot. I could do with some exotic beers. There is nothing in life that cannot be sorted by a fourteen per cent ABV stout preferably with a random picture of a wolf dressed as The Fonz on the front of it.
Follow me mate!
The Bear-Man led and I followed him to his stand.
Confused I looked around, it was definitely the Bear-Man Beer-Man who had led me here but there was no beer. Just a small selection of bottles of exotic-looking spirits.
Um, I thought there would be beer?
I said, scanning the stall again just in case my eyes had been replaced by dogs' testicles and were no longer working.
Beer? At a festival? Nah. Not cost-effective. Here, Ah told you ah'd get summat dark and smooth inside ya!
He handed me a ridiculously large measure of something sleek and brown and smokily potent looking in a glass.
I took a swig.
It was fucking amazing. Coffee, vanilla and wait... was there spice? Yes, there was chilli heat and lots of it! I love chillis! I love spirits! I love coffee! Even more, the bottle had a grim reaper on it!
Holy shit, was this the holy grail?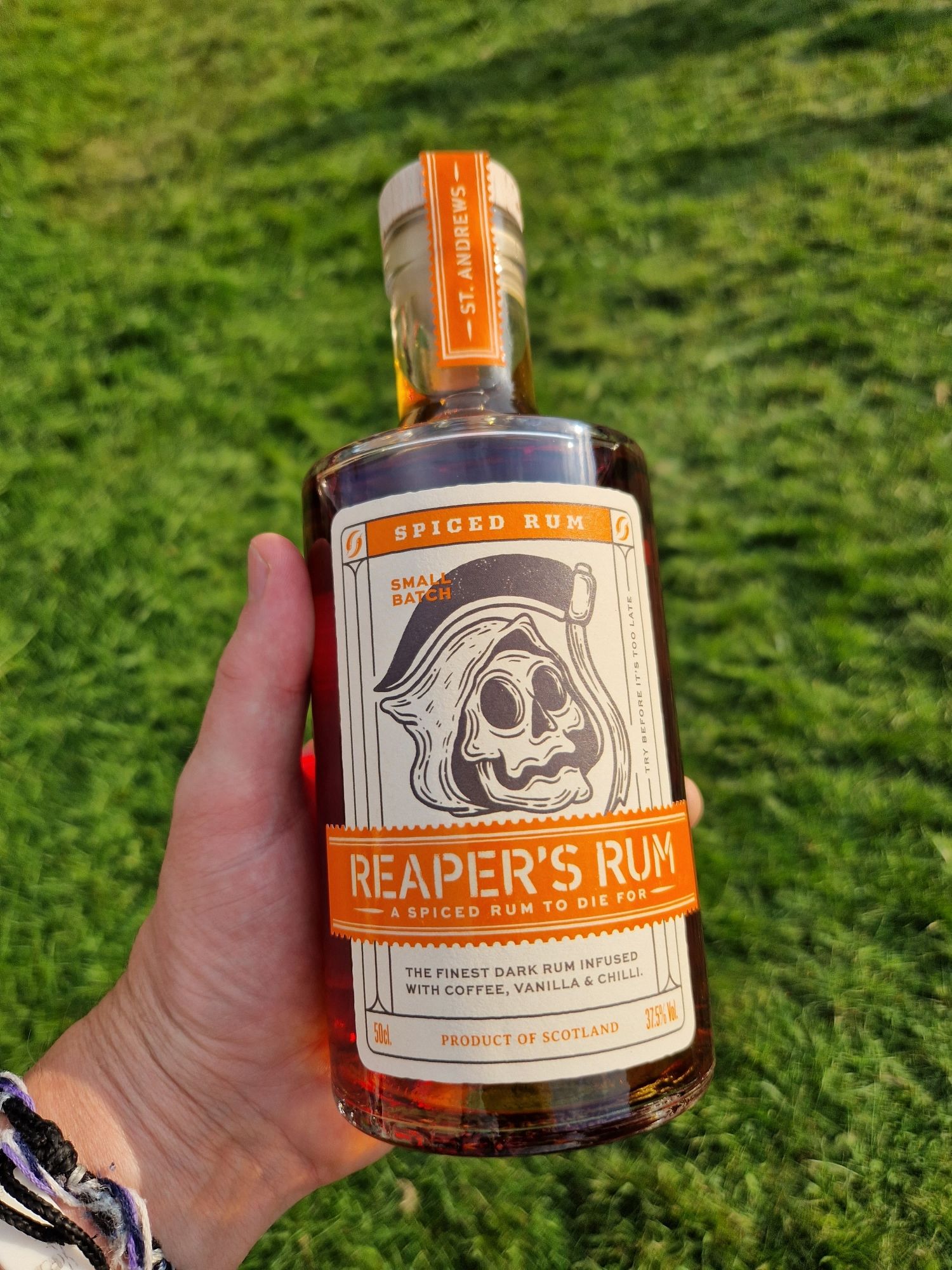 Ah know you like skulls and when ah saw this ah thought, where's that fucking Boomy? And then... There you were!
He poured himself a couple of fingers of the rum and sipped it, smacking his lips.
Another?
He motioned the bottle at me.
Don't come back mashed and stinking of drink.
The Good Lady's warning as she had told me to go off for a wander came back to me all of a sudden.
I had better not, here with the missus and all that.
My inner Mad-Scotsman squirmed in disgust at the words tumbling from my mouth.
The Bear-Man looked crestfallen for a moment then he perked up.
I understand mate. I really do. Let's av woon more for the road and I will let you go. Might even give you a bottle for nowt!
My inner Mad-Scotsman perked up at the mention of something for free and took over the controls of my brain.
A short time later I met back up with the Good Lady who rumpled her brow at me quizzically.
I met the Bear-Man! And look, Free Rum!
I waved the bottle of free rum I had victoriously at her, Her inner Mad-Scotswoman took control and her eyes shone with delight.
Free-Rum?
She cried.
I nodded and put an arm around her waist.
FREE-RUM!
Now we just needed to get our faces painted blue.