Yes, I'm bringing the puff pastry back!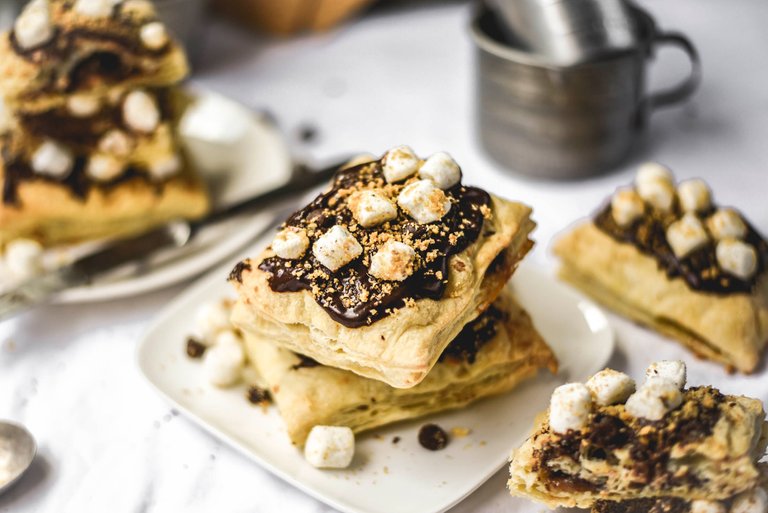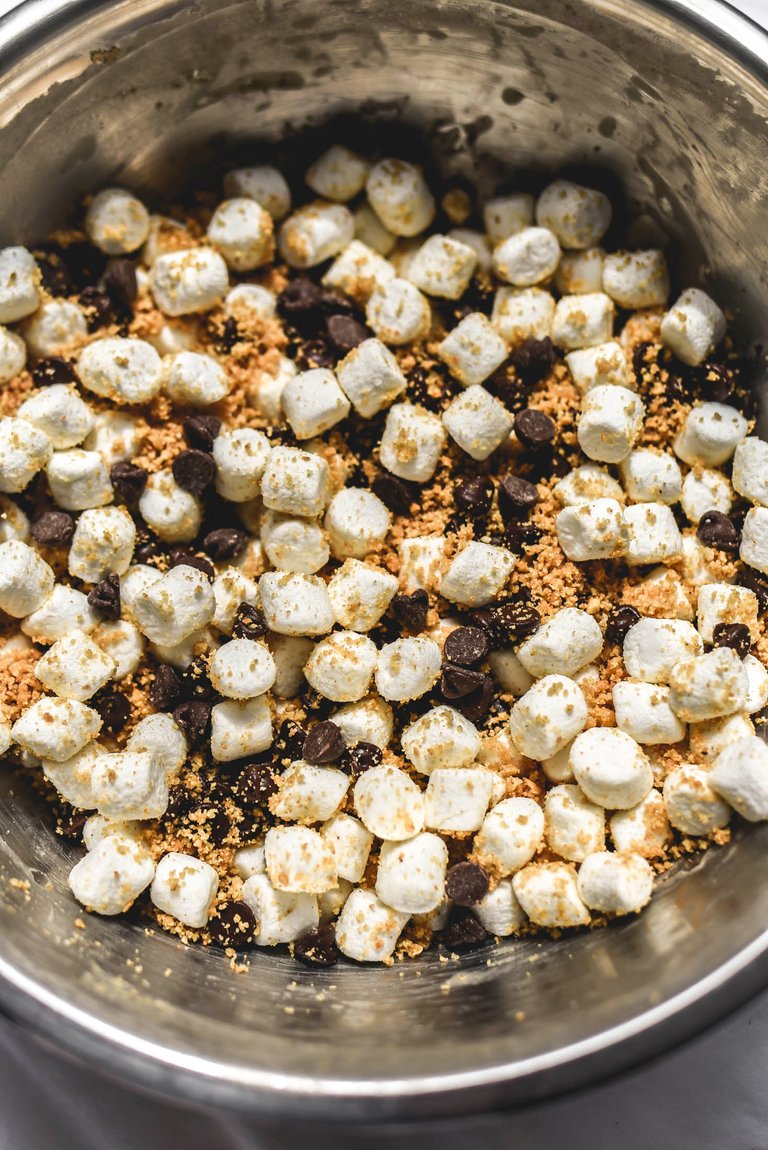 Considering the fact that they're s'mores flavored you can probably guess what at least 3 of those ingredients are. Yep, we're taking the pieces that make up a great s'more and stuffing them into puff pastry for a really simple treat that will convince everyone you spent hours on them, when in reality they only take about 35 minutes. Score!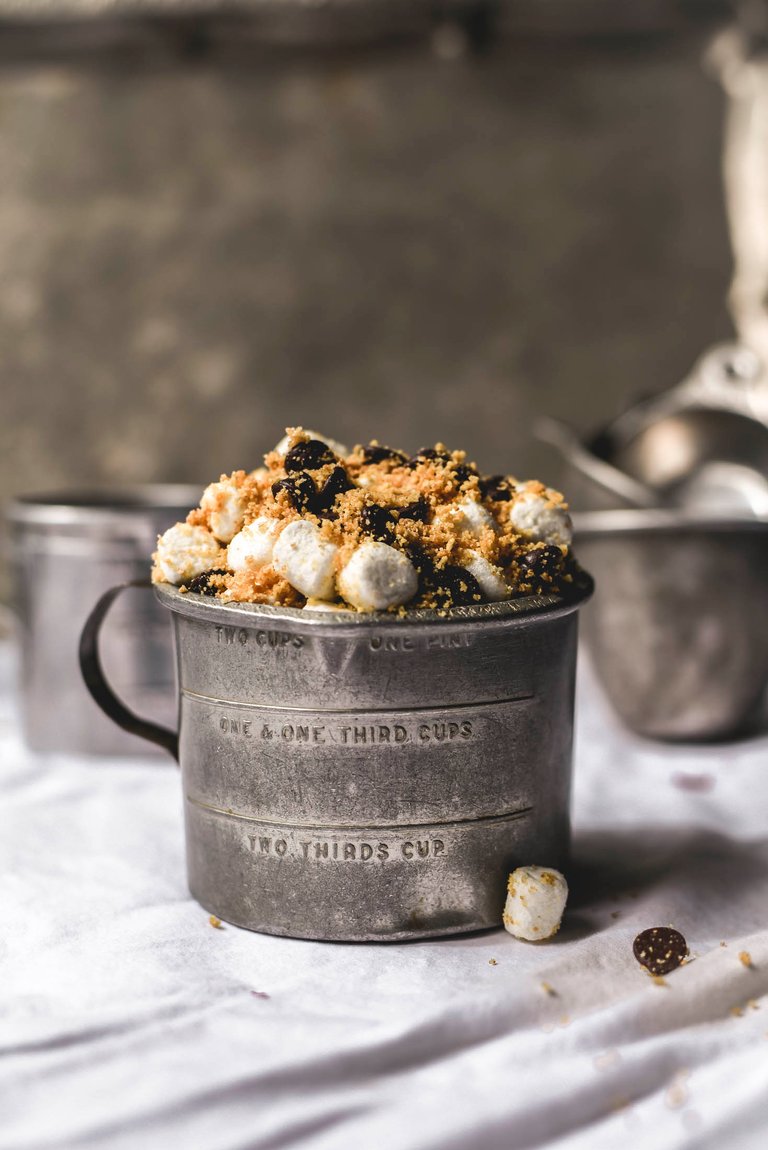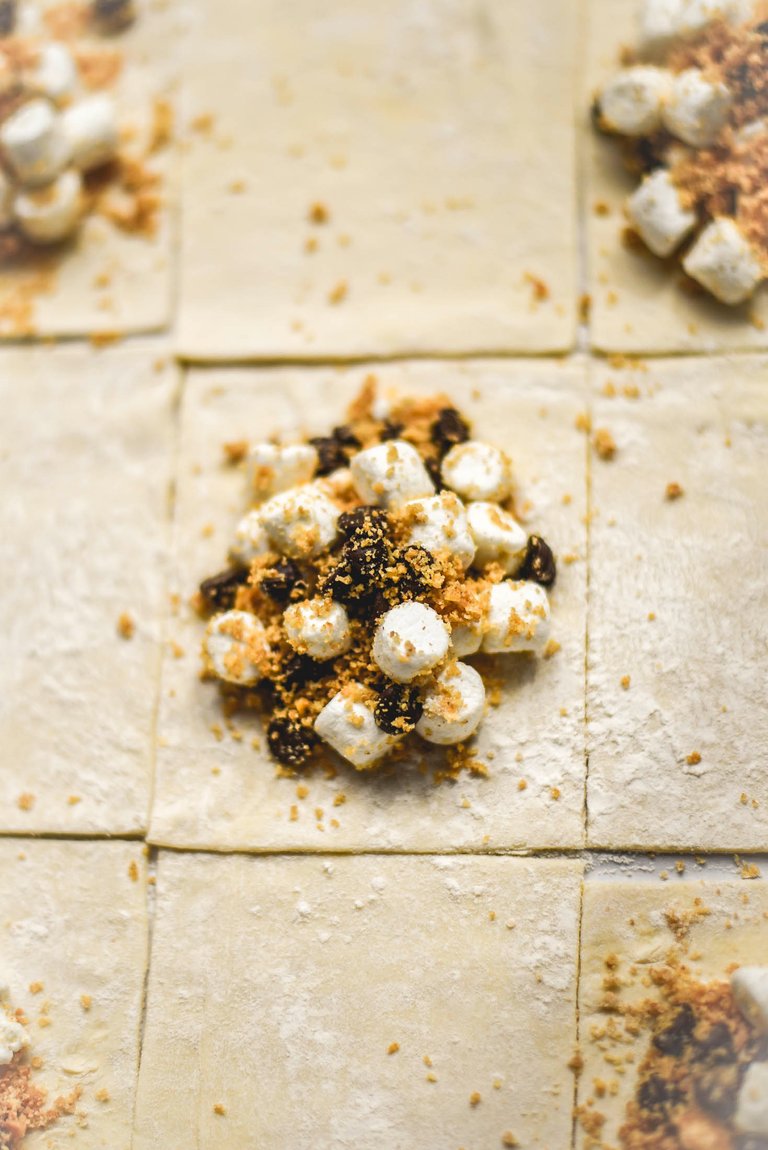 So my cousins are still staying with us and I love this because they're a great source of inspiration when I need to make something new. A few days ago I was asking which things I needed to try making while they were here and one of their request were pop-tarts. I was totally on board with that idea because, not only has it been a while since the last time I made or shared a pop-tarts recipe, but I've been wanting to try them with puff pastry.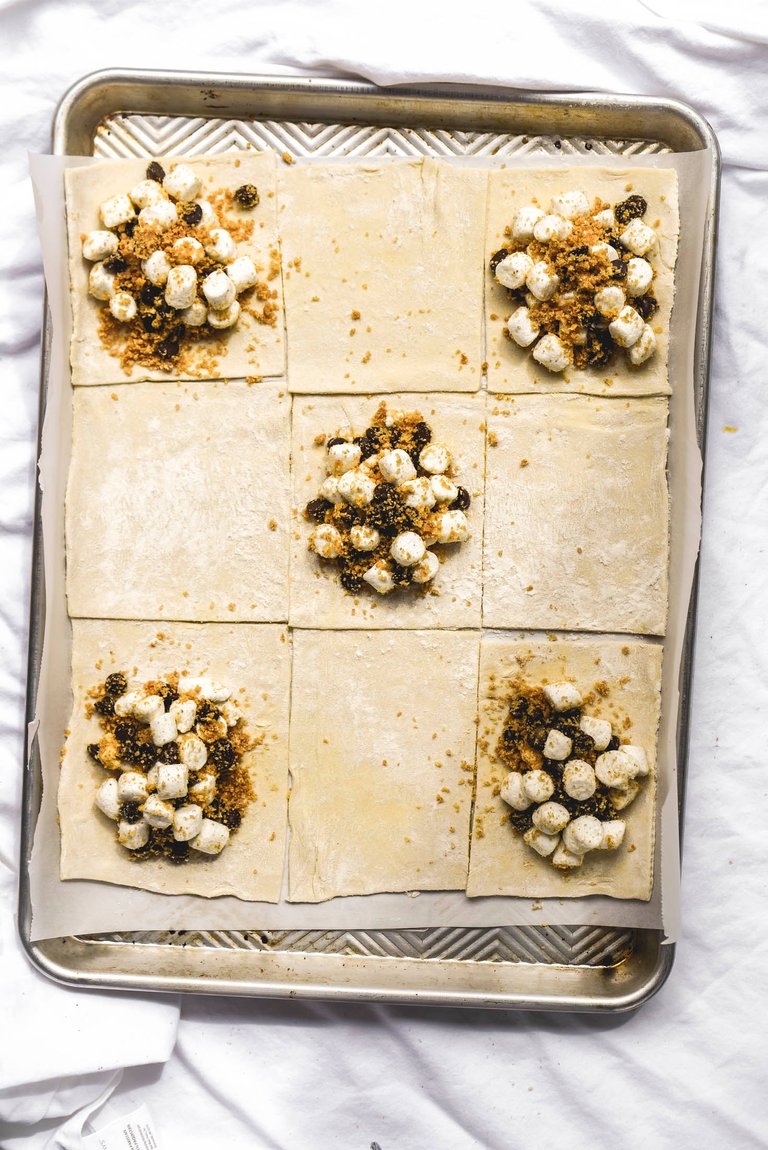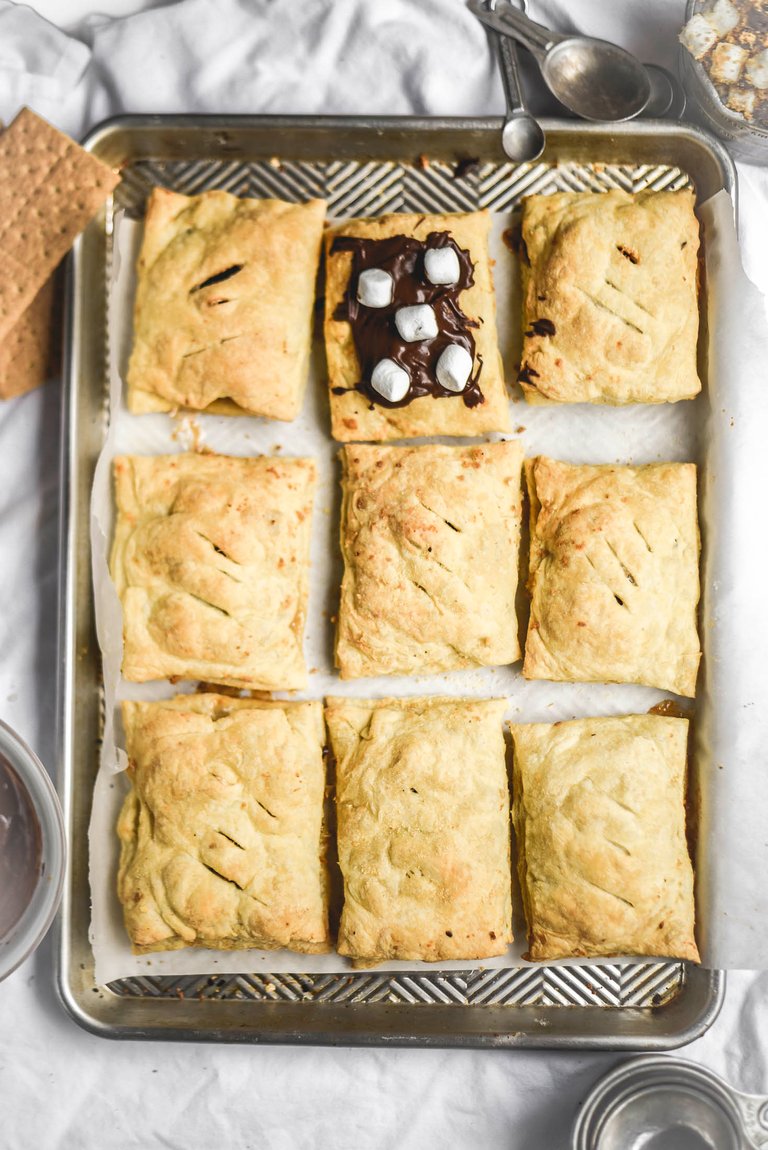 A few weeks ago I shared a savory recipe using puff pastry and it turned of to be delicious, but ever since then I knew I had to share a sweet recipe. I had this idea that seemed like it might work well and I'm so happy to say these turned out to be one of the best, minimal ingredient, recipes I've created for the blog. Not even joking, the first batch of these was devoured in a matter of moments and the fam couldn't have been happier to help out with being my taste testers here.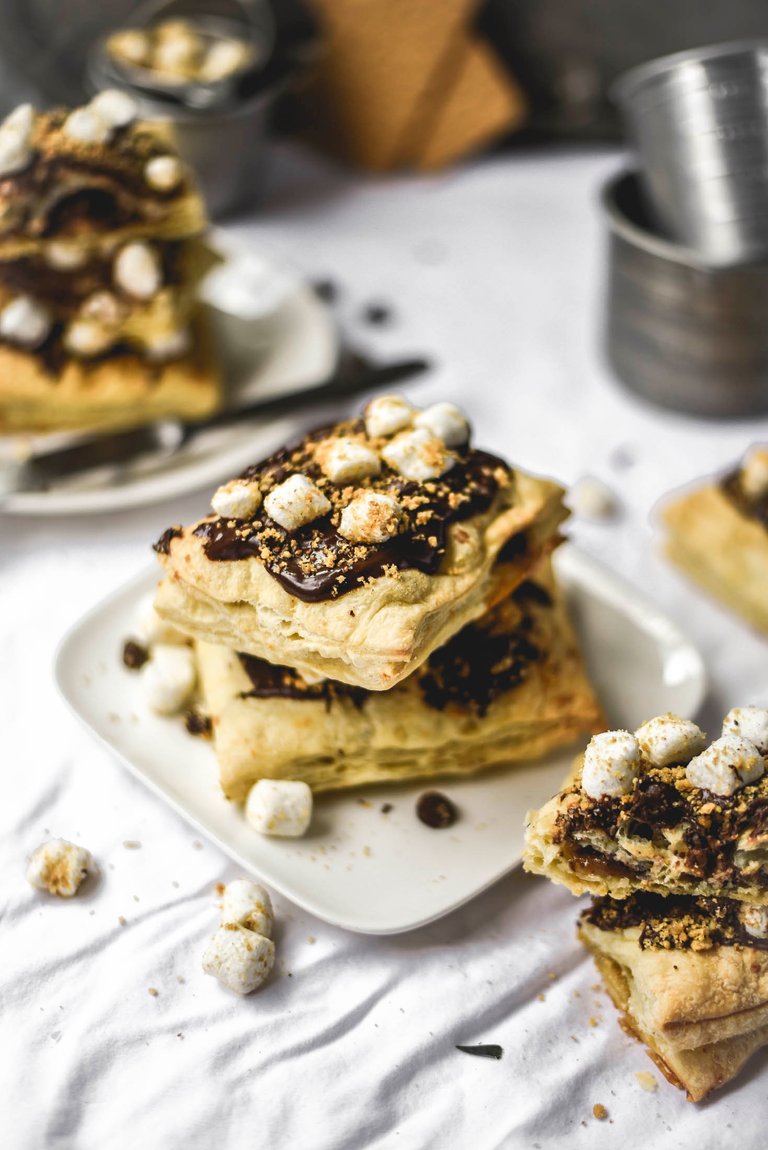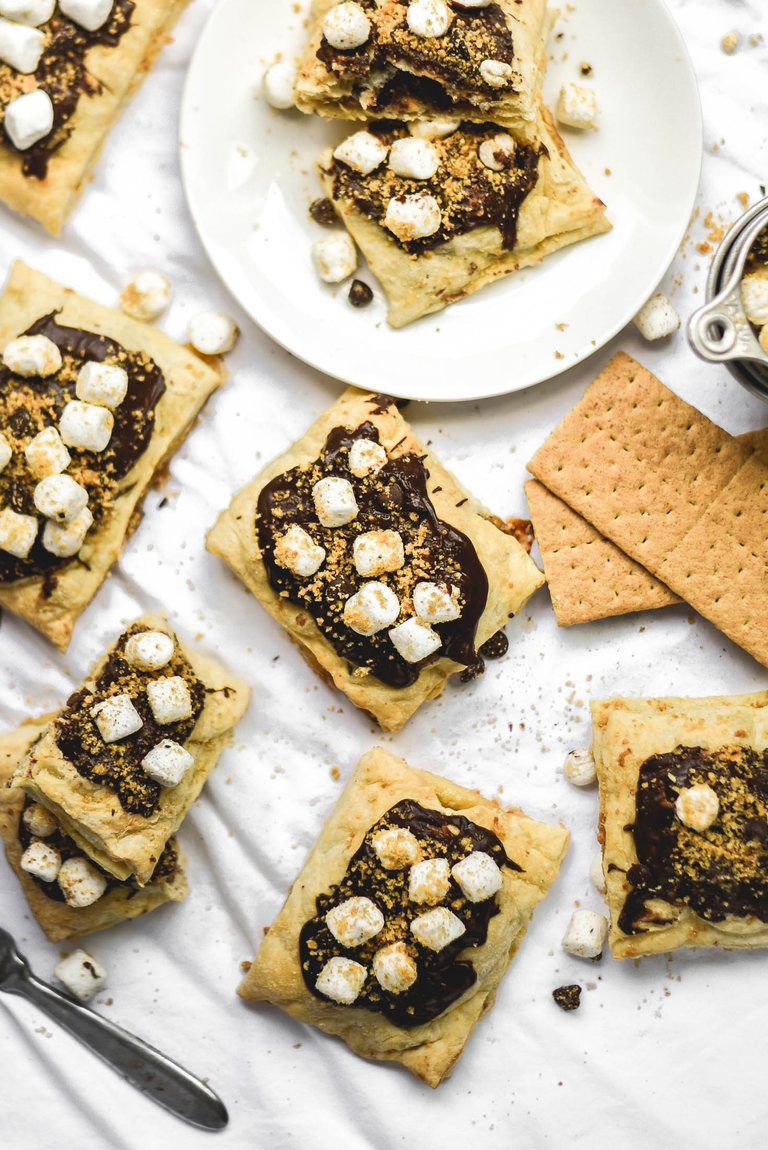 I know it's a bit like cheating to use factory made puff pastry and the other ingredients here, but honestly, sometimes it's just really nice to take the short-cuts. Not gonna lie, I've made puff pastry in my own kitchen a handful of times and, while I really appreciate the craft and technique, well, it takes a looooooong time.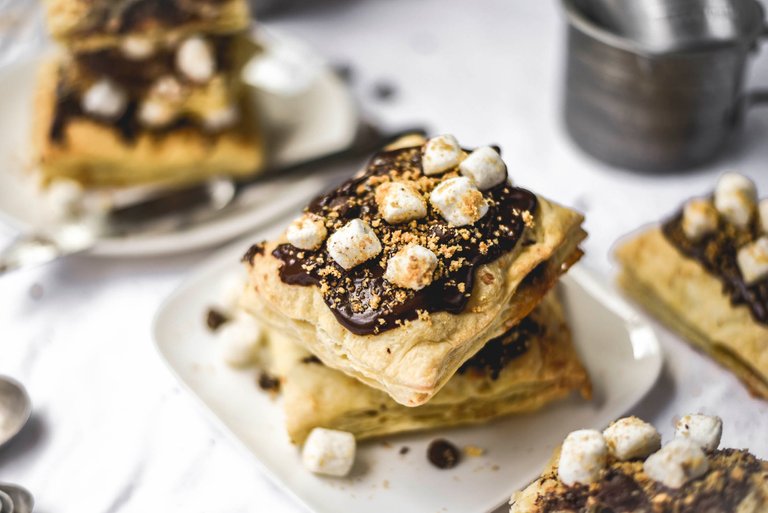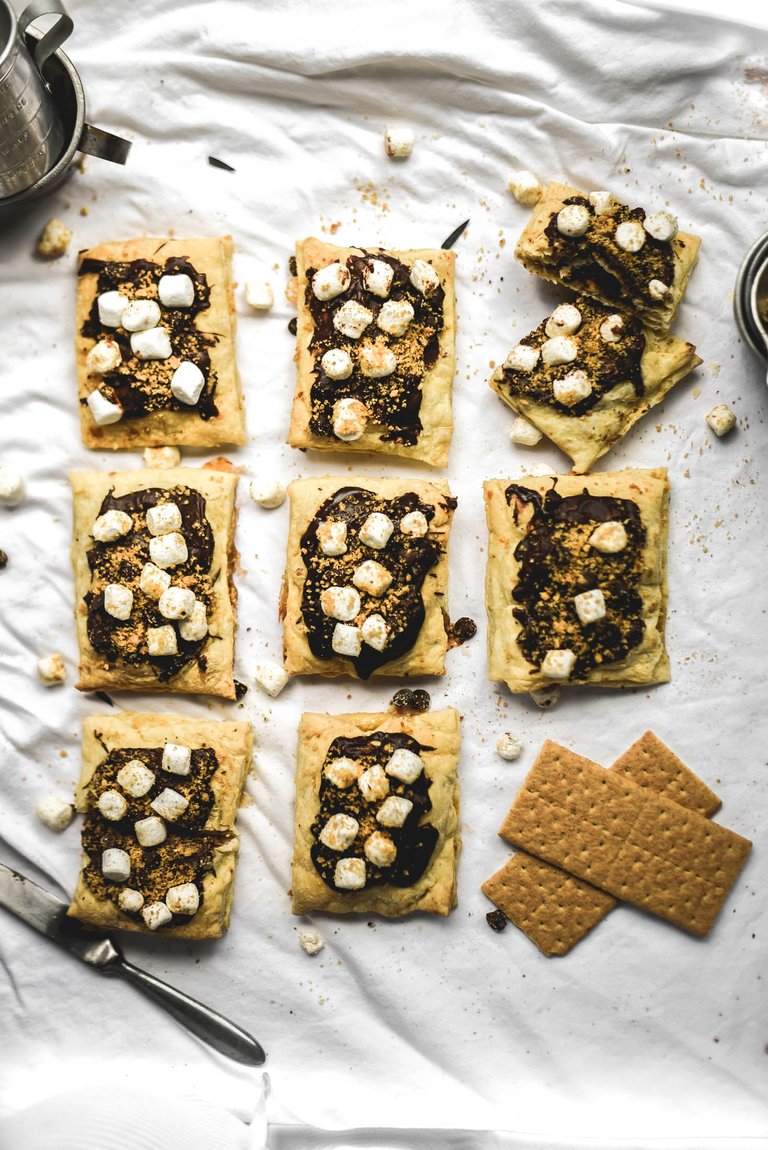 Besides, I can pretty much guarantee that when you're serving these after a fraction of that time you'll totally agree with me that quick and easy is pretty nice.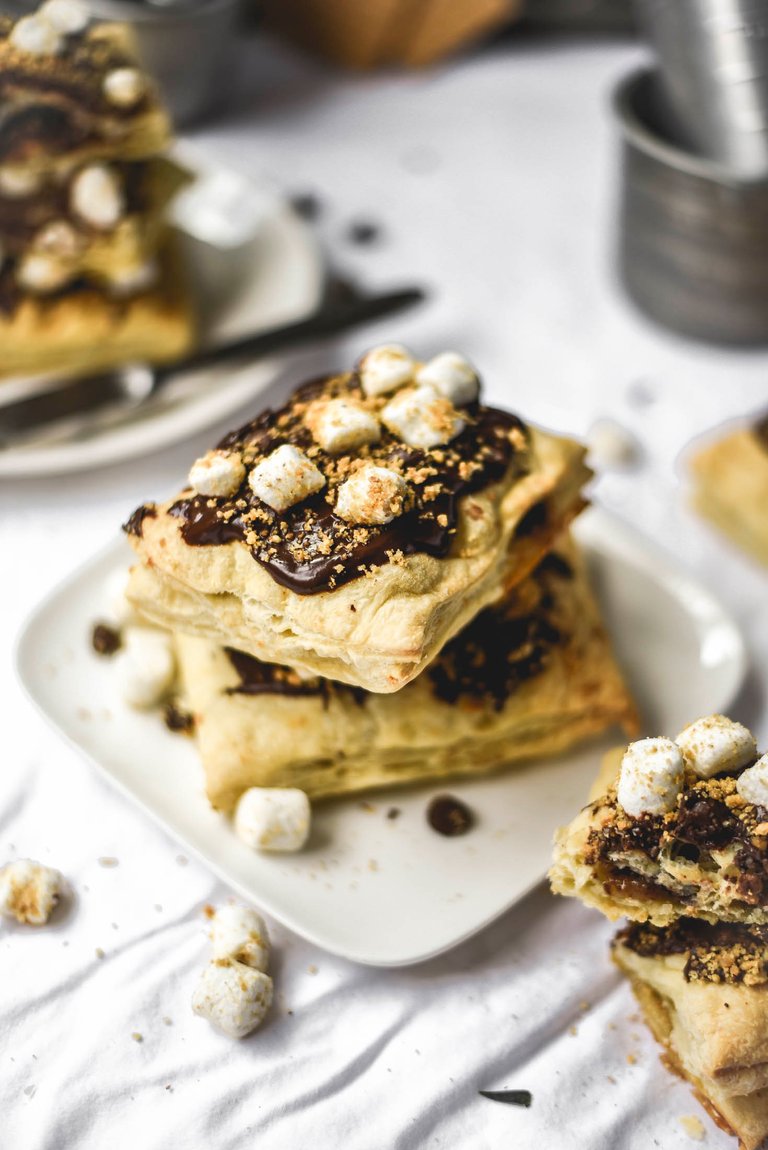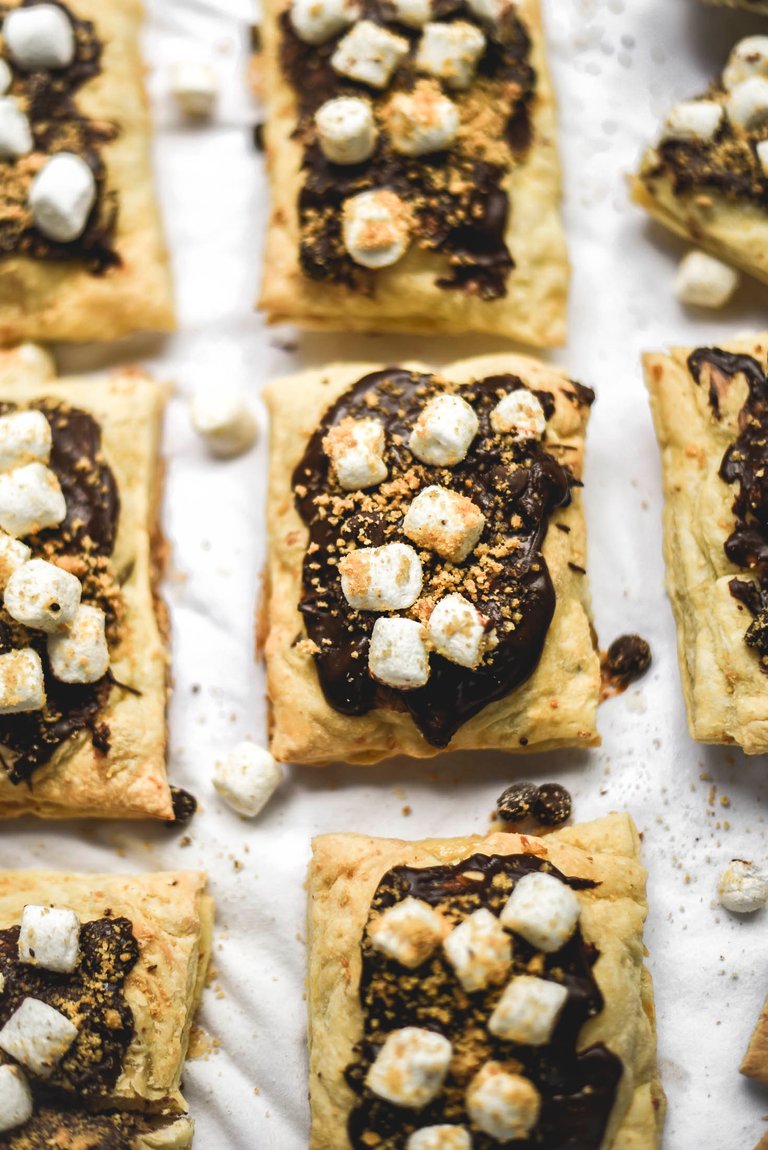 5-Ingredient S'mores Puff Pastry Pop-tarts
Prep Time: 20 minutes
Cook Time: 20 minutes
Total Time: 40 minutes
Yield: 9 pop-tarts
Take you're favorite campfire treat to the next level with these quick and easy puff pastry pop-tarts that only need 5 ingredients!
Ingredients
1 (17.3-ounce) package Puff Pastry Sheets (2 sheets), thawed
2 1/2 cups mini marshmallows
1 and 1/2 cups (150g) graham cracker crumbs (about 10 full sheet graham crackers)
6 tablespoons butter, divided
2 cups (300g) semi-sweet dark chocolate chips or chunks
Instructions
Lightly dust a clean work surface with flour. Unfold one of the pastry sheets and roll into a rectangle that's about 18x9-inches.Place the sheet on a parchment lined baking tray and cut into 9 (or 12 for smaller ones) rectangles and prick the centers of the pastries with a fork. Repeat the process of rolling out and cutting rectangle with the other sheet of pastry.
Melt 4 tablespoons of butter in a large glass bowl and mix the graham cracker crumbs in. Add the marshmallows and about half, 1 cup, of the chocolate. Place a scoop of the mixture in the center of each rectangle, leaving about 3/4 inch of space around the edge then brush edges with water.. Take the pieces you cut from the second sheet of pastry and place them on top then press down the edges to seal. (You should have about 1/3 of the filling mixture left).
Place the tray in the fridge or freezer to chill and preheat the oven to 375 degrees F (190 C). Once the oven is hot, remove tray from chilling and bake for 15 to 20 minutes or until puffed and deep golden brown.
Allow them to cool and while they cool, melt the remaining 1 cup of chocolate with the remaining 2 tablespoons butter in a double boiler, over low heat,until smooth. Spread the melted chocolate over each tart and immediately sprinkle with a bit of the remaining filling mixture. Allow the chocolate to set and serve!

For more great food ideas and inspiration, please do not forget to look at my other recent posts
ALL CONTENT IS MINE AND ORIGINAL! All of these food photos were taken with my Nikon D750 and my favorite Lens, the Nikon AF-S FX NIKKOR 50mm f/1.8G. You can find out more in my INTRO POST.
And, by the way, to all the minnows out there, my intro post did a huge $0.21. The key to success on Steemit is to be consistent and persistent. Click on the link below for some great tutorials on how you can also succeed on the steem blockchain:
Also, a huge shoutout to @rigaronib for designing my logo!

Do you want to learn more about me? Click here to see a recent @wadepaterson interview with me - 20 questions with @gringalicious