As some of you may know, one of the drivers that wholeheartedly brought me over to STEEMIT was that although I earned very little at the beginning, I thought it was pretty darn cool that I could literally post the same content on STEEMIT that I would on Facebook for free, and actually earn some "free" crypto to boot!
Even more amazingly, on STEEMIT I found a passionate, vibrant community of people with all types of interesting and unique backgrounds. However, while on Facebook and Twitter (and YouTube), I increasingly found myself wasting untold amounts of time fending off those who would berate anyone who didn't wholeheartedly embrace "Hillary Clinton" and the entire SJW "movement".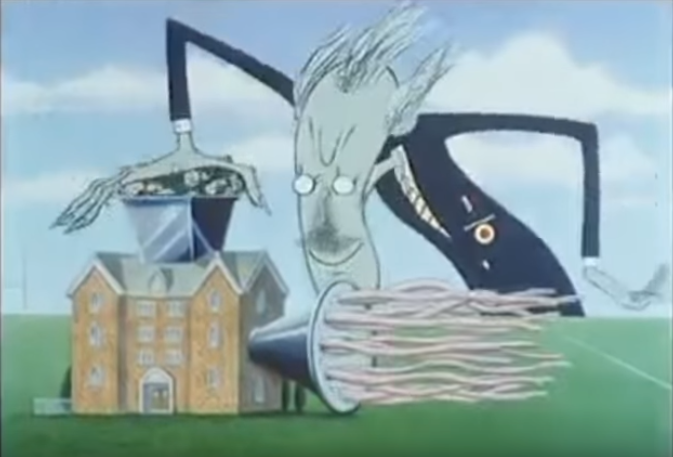 On STEEMIT, however, not only could I earn money from my posts, but I also crossed paths with a wide variety of like-minded individuals who understood, appreciated, and embraced "Libertarian / Classical Liberal" ideologies.
Understand now, it's not even like I was pounding the table as a "Trump Supporter" either. The binary logic at the time was you were either "WITH US" or "AGAINST US", there was no middle ground whatsoever. Here, I finally "came out" and presented my ideal choice for POTUS: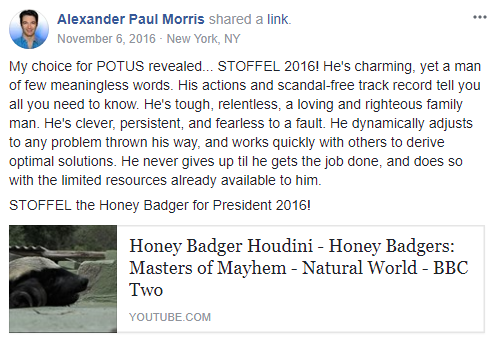 Next to this, STEEM seemed like a DREAM, where you can come across other terrific like-minded folks from across the globe, and let them know how much you appreciate their work with a simple upvote that would mine them a bit of crypto currency, without any additional monetary investment. All you had to do was put in the time and effort to build a following and post high-quality content to the blockchain!
That's exactly what we did when we first built up our YouTube channel to nearly 100,000 subscribers over a decade ago. We didn't even make a dime for the first TWO YEARS either! 😲 On STEEMIT, we earned some crypto (albeit, only a small amount), nearly DAY ONE! I was also comforted by the fact that we weren't wastefully consuming untold amounts of energy for the sole purpose of mining new BitCoins.
And, on a less "jovial" note, many of you are probably also aware of how our YouTube "experience" turned out, as I described in my previous post: "GoodBye YouTube, it's the END of an ERA :: Hello STEEMIT and DTUBE! 🤗":
Predictions, One Year Later... How Have They Fared?! 😰
Before last year's elections, there were many "predictions" and scare tactics tossed around, such as "Trump Will Kill Us All" (from Saturday Night Live).
Another "authoritative prediction" that was spread around by CNN was that the markets would CRASH if Trump were elected. Well, in a way they were sort of correct. The market did sort of CRASH... except that the market crashed UPWARDS! lol
Here's an entertaining link featuring all the so-called "experts" whose predictions were, as generally expected, completely wrong. For example, I can only wonder if Mark Cuban is still "loading the boat" on short positions as he holds steadfast to his erroneous worldview. I mean, how can you back down from your "opinion" when you're 100% confident that you're not full of shit (or is that... 100% certain you are full of 💩💩💩)! 🤣
Mark Cuban. "I can say with 100 percent certainty that there is a really good chance we could see a huge, huge correction," Cuban told CNN. "That uncertainty potentially as the president of the United States — that's the last thing Wall Street wants to hear."
Link: All the Experts Who Told Us Stocks Would Crash if Trump Won
So, for the good news... We're all still here, the markets are thriving, and the crypto-space is thriving to an even greater degree!
Many of us are awakening to the possibility of a world without all the corrupt middlemen extorting most of the world's resources for their own nefarious purposes. And while society will likely still require the inevitable "crash & burn" to get there, there does appear to be a light at the end of the tunnel.
While the "globalist dream" of bringing the whole world together may finally be within reach, to their detriment, it may very well not be the one they envisioned, where they are the farmers and middle men who are in complete totalitarian control of, well... totally everything! 😱
In 2018 Political Correctness, however, sinks to an expected and inevitable NEW LOW...
Controlling "what people say" and "how they say it", along controlling people's "freedoms" and "privacy", is often described as a "slippery slope", and nothing clarifies this better than the following headline:
Man Charged with Molesting Girls: I Am a 9-Year-Old Trapped in a Man's Body

Joseph Roman, a 38-year-old Chicago man accused of molesting three pre-teen girls told police he is a boy trapped in a man's body, according to court documents.
Link: Man Charged with Molesting Girls: I Am a 9-Year-Old Trapped in a Man's Body
And I must say, especially in an extremely "liberal" state such as New York or California, I can only wonder why in the near future, someone like Larry Nassar, recently convicted for abusing over 150 children, couldn't just claim to be a "9-Year-Old Trapped in a Man's Body" as an "excuse" for his behavior and simply "get off the hook".
In fact, from the SJW perspective, Nassar and Roman are potentially the victims here! They were tempted by these "nasty" little children, not so different than accusing an un-hajib'd woman for "tempting" a group of barbarian horde men to assault her.
Lawrence G. Nassar, the former team doctor for the American gymnastics team, was sentenced to 40 to 175 years for sexual abuse. More than 150 victims, many of whom are former gymnasts, spoke at the sentencing hearing.
Link: Larry Nassar Sentencing: 'I Just Signed Your Death Warrant'
While just a few years ago, such claims would have seemed outrageous and unrealistic, come 2018, and the liberal media increasingly seeks to support such very notions, perhaps with the goal of normalizing pedophilia for the blood cult of baby eaters "powers that be" who are systematically being outed as the monstrous demonoid creatures they are.
Finally, I'll leave you with two terrific anti-SJW segments that will really help place things into perspective.
The first one is a very "satisfying" interview with professor and clinical psychologist Jordan Peterson. I recommend watching the whole interview when you get a chance, because it's just a terrific logic-based "reverse-psychological" shredding of extreme feminist and SJW bullshit (which truly no longer has anything to do with "female empowerment" or otherwise):
"Why should your right to freedom of speech trump a trans person's right not to be offended?" asked the Channel 4 reporter.

Peterson: "Because in order to be able to think, you have to risk being offensive. I mean, look at the conversation we're having right now," Peterson answered. "You're certainly willing to risk offending me in the pursuit of truth. Why should you have the right to do that? It's been rather uncomfortable."

Peterson: "Well, I'm very glad I've put you on the spot," Newman replied, deflecting from his point.

"Well you get my point," said Peterson. "You're doing what you should do, which is digging a bit to see what the hell is going on. And that is what you should do. But you're exercising your freedom of speech to certainly risk offending me, and that's fine. More power to you, as far as I'm concerned."

Newman [the reporter] was rendered speechless.

Newman: "So you haven't sat there and — I'm just trying to work that out," she said clumsily, giving off a sigh.

"Ha, got ya," the professor playfully quipped.
Link: WATCH: Psychologist Leaves Reporter Speechless Explaining Why Free Speech Trumps Someone's 'Right' To Not Be Offended
And lastly, I'll share this Alex Jones clip, also featuring Millie Weaver and Milo Yiannopoulos, as they attempt to diagnose why democrats seem to DESTROY everything they touch.
Democrats Create Sh!thole States, Then Flee To Conservative States To Sh!thole Them:

As always, I appreciate your upvote, your follow and all your comments!