HiveTips – Tokenizing The Internet With HIVE.
Hello from the team at FullAlt! Noticing the title, you will correctly have assumed that the content contained herein is all relative to a proposal we have set in motion. We feel the numbers will speak for themselves and product is genuine. Never in the history of Hive, has there been such a sound bridge between a blockchain and other traditional centralized social media platforms. We have full faith, that over the course of the next couple years, that HiveTips will be one of the lead horses in the race to expose Hive to the masses of people that are still (knowingly or not) waiting to break away from the chains of the corporate giants. So without further ado, we give you:
HiveTips

Proposal Type:
Hive service
Principals:
Website: https://www.fullalt.com/
Discord: https://discord.gg/pymVZT2
Which is comprised of the following team members:
Lead Developer/Coder (Contractor):
All listed on our website:
https://www.fullalt.com/the-team/
Intro & General Description of HiveTips
What Is HiveTips?
The name says it all = Tipping with HIVE.
However, not only on UI's that are integrating Hive, but instead, all over the internet!
Is the idea of making HIVE mainstream possible?
HiveTips has proven that it is possible!
Hive is ALIVE!
Background:
Tipping as a means of sharing rewards has been a normal means of rewarding others since the dawn of trade. Gratuities/Tipping are very personal and a true to life sincere gesture of appreciation. In fact it was one of the very first real life use cases of Bitcoin (BTC).
What The Crypto Media Thinks & Says about Tipping with Crypto:
Rather than us say anything about this, here it is, direct from the sources.
There have been numerous articles written about the potential of tipping:
"The 'tip' of the iceberg"
"While cryptocurrency still looks for a place to achieve scale and mainstream adoption tipping could be the one area that it can take a foothold. It has been neglected by centralised services and is by no means a monopoly at this point."
"I think that the growing need for independent, unbiased content and the tipping trend can be combined with cryptocurrency and could be the springboard the sector never wanted but needs to become a viable mainstream trading medium."
Source: Hackernoon
Will digital tipping become cryptocurrencies first real-world use case?
"If micropayments do catch on, it will probably develop from online tipping. Some of that already exists, but it's sparse and uncoordinated."
Source: Coindesk
The Tipping Point of Bitcoin Micropayments
Online tipping statistics are now being accumulated and followed, as the numbers and frequencies of tips rise:
i.e. Average single amount of tips given by teenagers when watching live streaming contents in China as of 3rd quarter of 2019, by price level
Note: There are many more from where those three articles came from, but these should suffice in making the point.
HiveTips makes everything these articles talk about = REALITY!
The best thing about HiveTips is that it promotes the idea of 'tokenizing the internet'. It also encompasses the fundamental need for networking. No 'exclusivity', but real, down to the core, interconnecting platforms and the people on those platforms. So not only does HiveTips fulfill all the criteria of decentralization, it also fulfills the criteria of decentralization. Let's take a look at the platforms that HiveTips is currently helping make greater with Hive (and HIVE):
Twitter
Youtube
Google
There are also 'Direct Tips' available. Hang on, what does that mean? HiveTips is helping to open peoples' eyes to the potential that Hive has to offer with its 'Fast & Free' transactions. Being able to tip a person with a Hive account, for anything on the internet, is an added bonus. HiveTips is FREE, in that there is no skimming off of the top of any transactions. It is 100% in line with the idea that sets Hive apart from many, if not most of the ecosystems out there in the world of cryptocurrencies.

The goals do not stop there, now that we have HiveTips working on the above listed platforms, the plan is to expand it all over the internet. On gaming sites & platforms, other social networks in fact, anywhere where people hang out and contribute with their content. Which potentially is unlimited as the diversity of offers on the internet keeps growing daily.
The sky is the limit.
As you can see, we did all the work, took all the risks and made it happen. From idea, to a reality. Contributing to the wealth of opportunities Hive has to offer everyone on the internet. We are, in a way, leading by example and deeds. We know that there are many other potential projects out there that people would love to make come to life and we believe that this is the way to go about it. After all, this is a business environment that we are in. Every aspect of crypto is competitive, as it is on the open market. We are 'walking the walk', as that old saying goes. Let's now get into the primary goals behind this project and discuss them, shall we?
* Decentralization
* Tokenizing The Web
* Diversity
Decentralization
People often toss this term around casually. What HiveTips achieves in this field is something that literally takes Hive and HIVE (our cryptocurrency) to the world. There is no 'centralization' of Hive. Instead of insisting that the entire world conform to what others want from them, or limit them in any way, we are mainstreaming HIVE by making it a norm to their routine, daily life, and ever increasing time spent on the internet.
Tokenizing The Web
With
#hivetips
, we have added a new way to do just that! In this first phase, we have fully integrated with
#twitter
,
#youtube
,
#gmail
, employed Direct tipping and yes, have added both hive.blog and PeakD. Yes, you read that right, HIVE, the cryptocurrency, is now on all of those platforms. We have made possible, what many other blockchain/cryptocurrency endeavours are only dreaming about. Please watch these comprehensive videos by our developer -
@lightproject
.
Diversity
We truly want to make Hive great and nurture it to become the premiere blockchain. By giving people multiple user friendly means to harness Hive, and by bridging some of the long gaps between other social media platforms and community websites, we believe that diversity will help take Hive and HIVE coins together with it, to the mainstream. With over 4.5 Billion people using the internet, HiveTips will be a valuable tool for reaching out to many of them. The more sites/platforms HIVE can be utilized on via HiveTips, the more of these 4.5 Billion people will have an opportunity to ask "What is Hive?" - and that is the name of the game. We can't realistically expect to reach out to every single individual immediately, but over time, Hive will be heard of and utilized all over the internet and a lot of that will be thanks to HiveTips. That is a very realistic premise.
Relevant Posts/Articles:
https://hive.blog/hivetips/@fullalt/hivetips-and-the-3-0-percent
https://www.statista.com/statistics/617136/digital-population-worldwide/
Technical overview
Technical Intro
HiveTips has been developed to avoid Single Point of Failure (SPOF) under an agile Feature Driven Development (FDD) framework. The project is composed of different blocks which make possible tipping on several social media platforms. Each HiveTips module runs independently. By adopting a modular approach, in case a service goes down due to a technical issue, the continuity of the rest of the services will be guaranteed.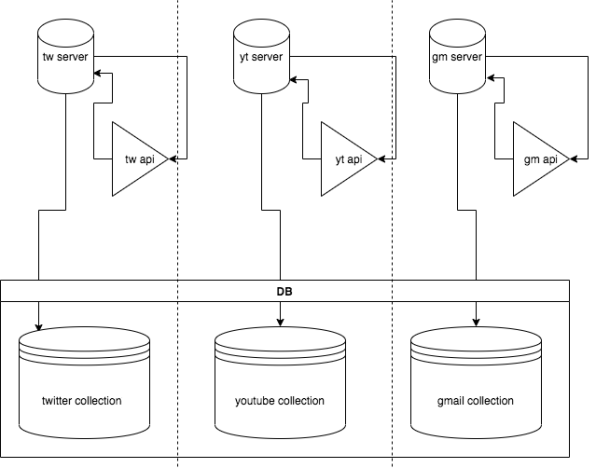 Collection is a subdivision of a non-relational database.
The transactional "source of truth" will always be the blockchain. There is no middle data manipulation. HiveTips ultimate source of transactional data is the HIVE blockchain ledger.
Note: Databases might be used in order to improve read performance.
Features
Menu Features
Overview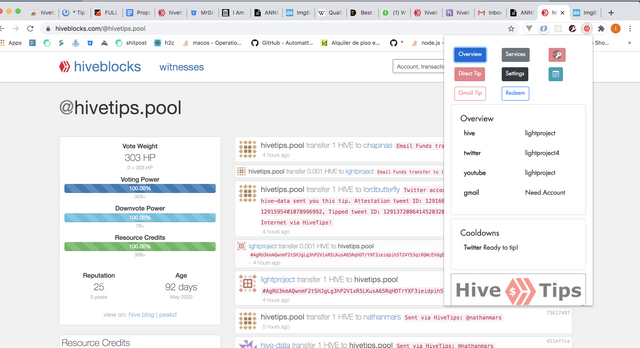 Provides the user a general overview of his social media linked accounts in hivetips.
Settings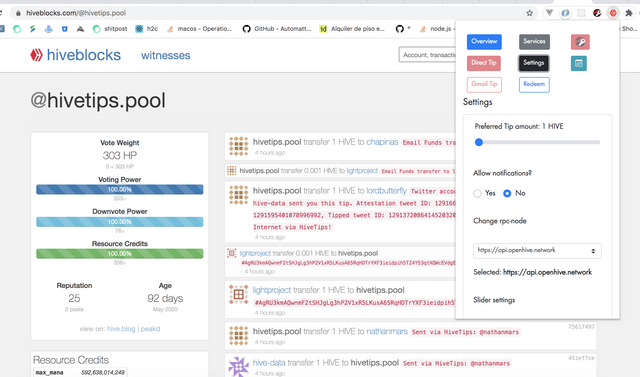 Preferred Tip Amount: handy configuration feature that sets a predefined tip amount in all different compatible platforms.
Allow Notifications? Enables/disables incoming Tips browser notifications
Change rpc node: lets the user decide the hive rpc node
Slider settings: enables setting the bar upper and lower limits
Service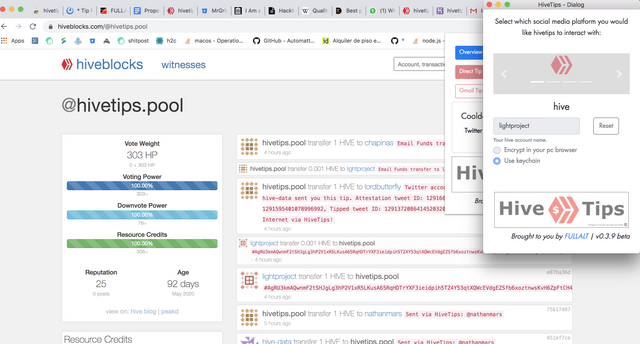 Service dialog popup takes the form of a web carousel where credentials are to be provided.
Direct Tip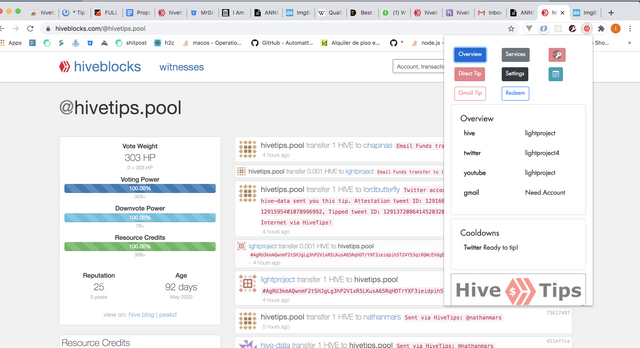 User interface for Direct Tipping compatible for peakd and hive.blog.
Gmail Tip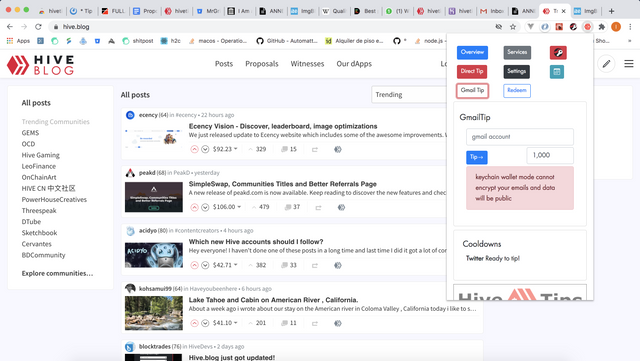 User interface for gmail tipping including tip recipient gmail account input field.
Development Principles
Modularity in design: Each social media implementation is a separated repository.
Modularity in operations: Each social media implementation runs on a dedicated server.
Privacy responsible: user authentication tokens are only stored encrypted in the database.
Quality by Design (QbD): Customer-focused optimization.
Blockchain driven: the App considers the blockchain as the "single source of truth (SSOT)"
Quality Assurance
Following measures have been undertaken in order to prevent mistakes and defects while developing or updating existing software:
Linter
A code quality tool, identifies and report on patterns found JavaScript code.
Software: ESlint
Patterns style and rules: Airbnb
GIT version control good practises
Clean, single-purpose commits
meaningful commit messages
Commit early, commit often
Staging environment
A staging environment (stage) is a nearly exact replica of a production environment for software testing. Staging environments are made to test codes, builds, and updates to ensure quality under a production-like environment before application deployment.
Quality Control
Testing environment
A testing environment is a setup of software and hardware for the testing teams to execute test cases.
Technological stack
Backend: nodejs
Frontend Framework: vuejs
Database: mongodb
DB modelling engine: mongoose
Periodic activities & Service maintenance
HiveTips will perform a daily refunding round (at a fixed time). Each unclaimed tip older than 30 days will be sent back to the tipper.

What is Hive Patron?

Hive Patron is a blockchain based service, contained within HiveTips, that makes it easy and safe for creators to get rewarded another way for their hard work. If you do not have HiveTips on your browser, please visit our website and download the one that suits you. Hive Patron was inspired by other similar services, found on and offline, that are based only in the fiat atmosphere and heavily centralized.
Is it free to use or are there any fees?
Yes. It is totally free of charge. We do not take any fee from your usage. Every penny that goes through your patronage ends up in the beneficiary.
Can it be used for donations?
Yes. HivePatron is a great new way to honor any charitable bone you may have in your body. Share and share alike!
Can it be used for supporting others?
Yes. We encourage you to support others in any way you can and help to hone the budding ecosystem we have here at Hive.
How does it work?
For creators, Hive Patron is a way to get rewarded for creating the things you're already creating (webcomics, videos, songs, blogs etc). Fans can send a few bucks worth of HIVE (cryptocurrency) to you each month, and then you get those funds in your wallet/account automatically every month. Consider it a stipend for being awesome.
For patrons, Hive Patron is a way to join your favorite creator's community and reward them for making the things you love and enjoy! All payments are automated to monthly transfers, directly from your Hive account, to the creator's Hive account. You are literally creating your own coded contract, which is totally independent of any third party. Yes, that is right. You create the contract and the rest is all inscribed on the ledger of the blockchain.
How can I undo a Patron contract?
Active contracts will always display a trashcan icon on the right side of each row in the 'my Patron Contracts' list.
Is there a way I can see actual blockchain references to the Patron contract?
Yes you can. By clicking on the Ref button in the 'my Patron Contracts' list, a redirection to the hiveblocks.com blockchain explorer will take place. There, you will have the chance to take a look at a secondary source of information regarding the nature of the contract operation.
Tech Questions & Answers
How does it work 'under the hood'?

Special operations called 'custom_json' are signed in the blockchain representing a contract between the Patron (supporter) and the beneficiary. These, once initiated, can be seen on sites like HiveWorld or HiveBlocks once the transaction is written to the blockchain. You will often see these same types of transactions when playing a game that was built on Hive, or using other front-ends to deploy a post. These operations serve as references which additionally provide the following benefits:
Public immutable data
Non-ephemeral storage
Thanks to the signed references in the blockchain, the wallet can now, without 3rd party support, scan the blockchain autonomously and determine what contracts are due. Additionally, the token transferring takes place in your own wallet without any central server doing it for you.
Is it truly a 100% decentralised solution?
Yes, it is. The client (your HiveTips extension) relies uniquely on the blockchain and own resources for the Patron service utilization.
Do I need to install anything?
No. Only HiveTips itself and any HiveTips version 0.5.2 and above already brings all the necessary updates for you.
Update Posted on: 07 January 2021
Cost Breakdown:
2020 Costs
$59,100 USD
Ref: FullAlt: 2020 Checks & Balances
https://hive.blog/hive-175447/@fullalt/fullalt-2020-checks-and-balances
Note: The above recap for 2020 was completed on the 23rd of December 2020. All work done in the days, prior to 01 Jan 2021 shall fall into the 2021 budget.
2021 Projected Costs
Costs
Labour (Dev) 220 work days x 6 hrs @ $45/hr, from 01 Jan 2021: $59,400
Potential overtime per month (including potential emergency calls during the 145 days off): Up to 4 hrs x 12 months = 48 Hrs = $2,160
Staging and production servers and other equipment: $1,200
Third party mandatory operation costs i.e. APIs: $1,800
Incidentals: $300
2021 projected total: $64,860
Total 2020 + 2021: $124,000 (Rounded up, 62 Days of funding)
Opportunity to Empower
We are considering a couple strategically-placed press releases that would focus on Hive itself far more so than on HiveTips and Hivepatron. For this, we will collaborate and coordinate with the individuals who have organized Hive communication to-date; ie. the individuals who manage the @hiveio account.
We will source these opportunities and obtain them where possible for free.
To give an idea of the market prices, we have done the following research to obtain outlet pricing: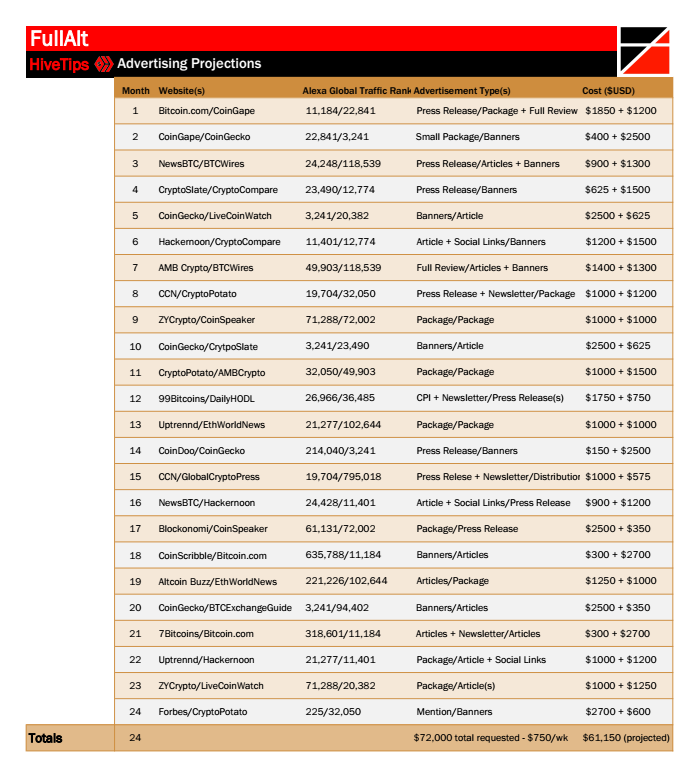 List of site prices: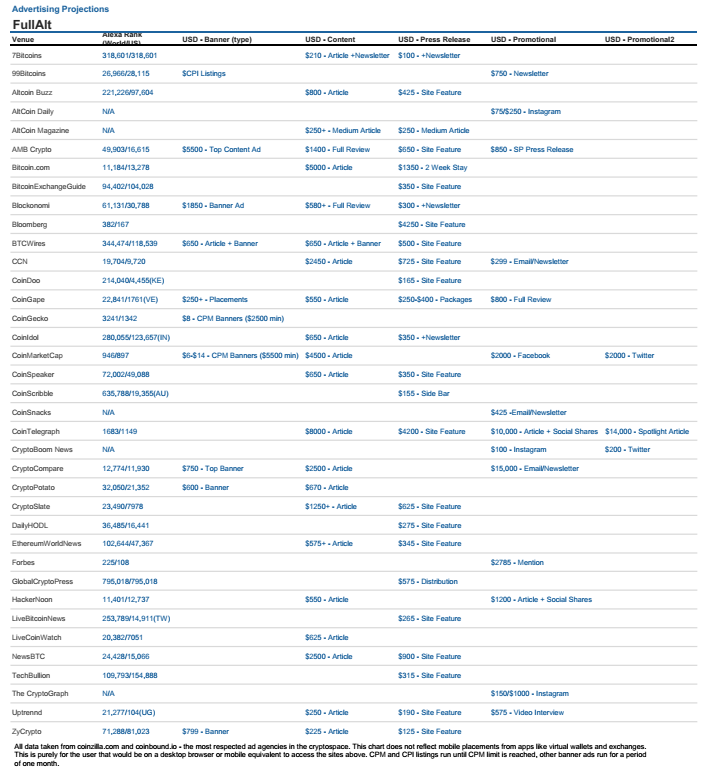 As you can see, should all these outlets and their options be utilized in this small manner, the costs are quite significant. We included that number for your information.
Gratitude
We appreciate everyone who has voted on our proposal so far and everyone who has enjoyed our products.
Notes
All timesheets and invoices are reviewed and audited prior to any payment being made. Only the hours invested and actually worked are paid, all at a fixed hourly rate. We believe in paying a fair rate for our developer hours and we do not attempt to milk the rewards pool for this with upvotes.
If you choose to support this proposal, we kindly ask that you inform us, so that we can add you to our DM list for sending out a reminder when the above defined funding goal (amount) is achieved.
This is our obligation to ensure that you are directly informed on time.
As stated in the video, the general scope of work and objectives remain unchanged.
Proposal Link on PeakD: https://peakd.com/proposals/128
This is a 'Cut' Proposal
Once the funding goal is achieved, the proposal shall be removed and everyone shall be informed via an update.
Major Unforeseen Changes
All unforeseen additional options can be submitted as new proposals, if necessary.
I.e. as new sites are added, most of them have a fee for using their API, these costs were originally included in the Incidentals, but are now omitted. Most platforms state very clearly, that they have a unilateral right to determine costs, based on their own criteria, i.e. number of API calls. If these exceed the current proposals planned budget then we have the right to submit those as new proposals. In short, if (once) Hive becomes amazingly popular (which will be awesome!) and our API costs go through the roof, then we'll need your help! Any such situations shall be transparently defined, with proof from the relevant platforms prior to submitting any such Proposal(s).
Reach us
If you choose to support/vote for our proposal or if you simply enjoy using our products, please join our Discord and stay up to date!
Link to FullAlt Discord: https://discord.gg/ESN9gz9
Proposal Link on PeakD: https://peakd.com/proposals/128
Explanation of proposal costs
HiveTips is aiming to be a 'non-profit' project wherever possible on the internet. This is in line with the Hive ecosystem which offers Fast & 'Free' transactions. However, as we all know, there is no free lunch. Tokenizing the internet with HIVE via Hive is no easy task and HiveTips has the potential to achieve a good chunk of the work for Hive. Realistically, HiveTips offers huge potential in getting the needed momentum going to tokenize the internet with HIVE.
To back this proposal, we have provided proof of costs to date, with detailed invoices and proof of payments (on the chain). Likewise all the figures are based on realistic figures and estimates of work needed to be done, based on the experiences to date. Running costs are also based on the costs being incurred for the current hardware (servers) needed. No member of FULLALT is getting funded or compensated for any work invested into HiveTips.
Our contracted developer/coder for this project has given a discounted rate as he too sees the real potential HiveTips has to offer everyone on Hive. Which is, more than what many consider to be 'fair and reasonable' in the competitive open market.
Likewise, his integrity to date has been impeccable. To the point that during the course of the works so far, we were faced with an unforeseen issue with one of the platforms, he offered to not charge a single cent for the seven days work needed to remedy those issues caused by the third party platform. He shared the responsibility as only a professional and dedicated contributor should. This confirms the earlier stated fact that he believes in HiveTips and just how much potential it has to offer for/to Hive.
Note: In the event that there be anything left over in the budget after the defined period. Those funds, depending on how much they are, could be converted into regular maintenance costs for the future from that point forward, or be invested into marketing. All depends on what figure if anything is at question. (This is a hypothetical, based on current figures out on the market.)
We would like to emphasize the following;
Hours invested by the following people and groups of people to date are and shall be $0.
@jackmiller : coordinating, managing and reviewing everything with the developer and team members on this project plus auditing equals countless hours for free.
@guiltyparties: interviewing, negotiating and negotiating coders, reviewing code, monitoring all communications between team members and the coder, auditing, setting up and maintaining the necessary hardware infrastructure equals countless hours for free.
@enginewitty: coordinating with volunteers for PR and Marketing, market research, going through the red tape of listing HiveTips on respectable D/App sites, covering all the following social networks: Twitter, Facebook, Instagram, LinkedIn and others. Posting on Hive and managing the Discord Server and coordination with independent testers from within the Hive community equals countless hours for free.
@inthenow: graphic design, branding, video editing & production, website setup & maintenance equals countless hours for free.
Other peoples' input, from testers & those volunteering to help out with the marketing on Hive and elsewhere equals countless hours for free.
If you put a dollar value per hour of work invested and then calculate how many more hours all of us are going to be putting in every month independently and figure it out. We are looking at Hive as a long term blockchain endeavor which is worth the time and effort. We wholeheartedly believe that in the long run, all our efforts and commitment to making Hive everything it can be, will be worth it for everyone.
For an in depth review of the above statements, please refer to:
"Annex B for Proposal on HiveTips"
Progress reporting
By milestone: Weekly/Monthly
Note: Weekly timesheets and invoices from the coder shall be given to FULLALT reviewed, processed accordingly & made public via the chain no less than once a month.
Accountability & Auditing
All coding costs, weekly reports, time sheets, and invoices shall be reviewed and audited by @guiltyparties and @jackmiller prior to payments being made.
Sample of submitted timesheets/invoices: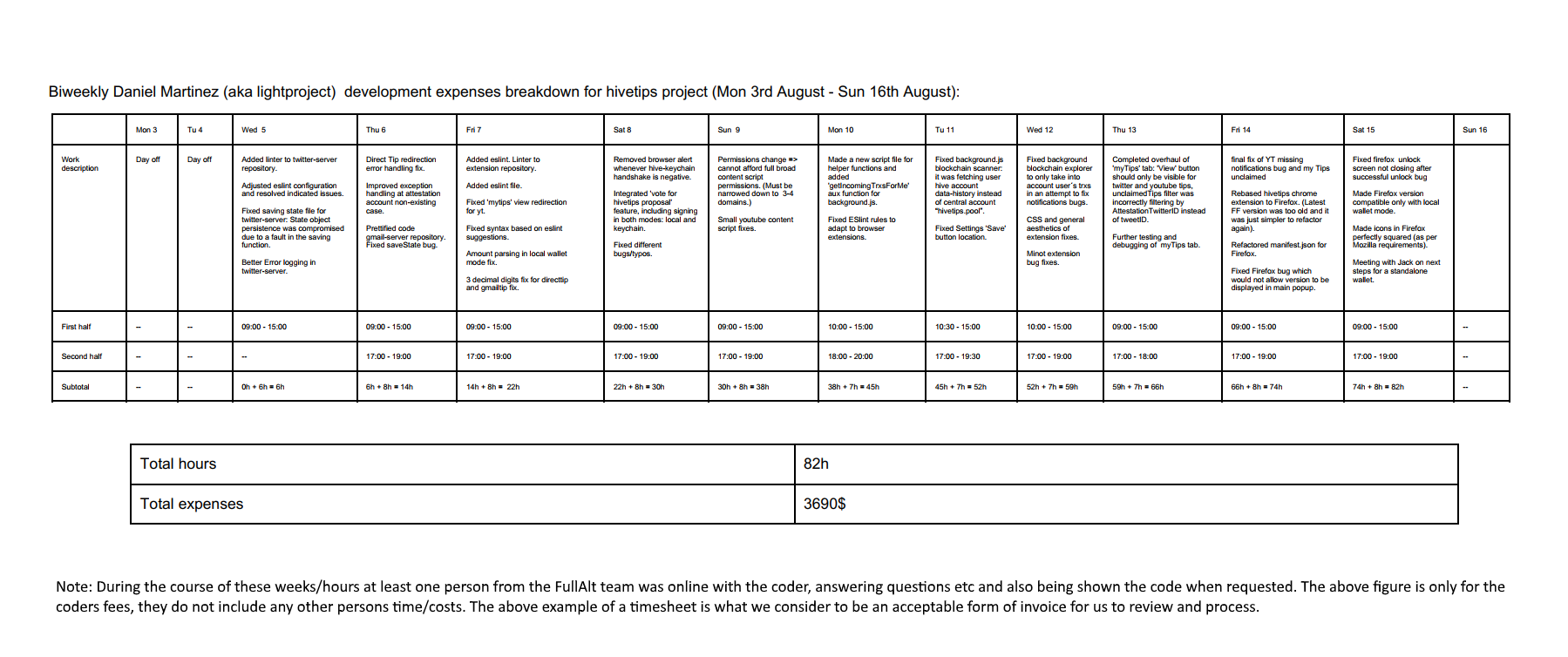 This is an added level of accountability that the funds being invested are handled in a professional and responsible manner.
As stated earlier, all transactions will be transparently executed on Hive.
2020
Posted on the 23rd of December 2020.
@fullalt.dhf
This will be the account that will be utilized for any and all funds from the DHF. It will serve as the account for transparency, easy tracking, auditing and managing those funds. The proposal will be open until the funding is fulfilled in its entirety. After which it will be removed.
Project Summary
HiveTips is an extension that is available on Chrome, Chromium, Brave and Firefox.
It enables anyone to give tips in HIVE to people on the following platforms:
Twitter
Youtube
Gmail
Hive.blog
PeakD.com
HiveTips also makes it possible to tip people with a Hive account for anything on the internet via 'Direct Tipping'.
The project goal is to expand Hive all over the internet.
Literally making the dream of tokenizing the internet with HIVE come to life.
In order to list the benefits and potential benefits, we're going to first address the current ways one can use their HIVE. Currently, on the open market, there are 370 million +/- HIVE coins for which people have a very limited use for. Those would include primarily:
Trading on crypto exchanges.
Staking on Hive to increase your holdings in various ways.
Participating in games and other activities within the ecosystem.
Purchasing merchandise via communities like #weedcash and #hivehustlers.
There are other use cases for HIVE, but all are limited to a specific site within one niche. HIVE is still far from having a diverse range of uses on the open market, neither online nor in the real life business world. It is clear to everyone, that for any cryptocurrency that wishes to diversify its list of investors, owners and users, that there must be legitimate reasons for them to make such a decision.
Some influencing factors for a person to choose HIVE over other cryptocurrencies are:
Fast and Feeless (aka Fast and 'FREE') transactions.
Decentralized and resistant to manipulation by a founding company.
Use cases. (Where all they can use their HIVE).
Hive already has the money saving side of things covered, and much better than most of our competing blockchains out there. Transactions are not only fast - a mere three seconds - which is real time. But also, feeless. You would hard-pressed to find another blockchain that offers this. Together, we are 'Fast and Free'!
It is the use case scenarios where HiveTips is required all over the internet. No, not just in niche spaces, but all over the internet. Where there are people in the services markets, there is a potential need for rewarding those people via tips. Which brings us to the benefits HiveTips has to offer to Hive in the segment of outreach.
Outreach Opportunity
This opportunity is a staggering number. We have the potential to reach over 30% of people on the internet - with just the current platforms - that HiveTips covers. With every new platform or website added, that number grows. The larger the number of people who see HIVE being predominantly utilized on various sites, the larger the potential that they shall one day too choose to see what Hive is all about. That is an opportunity that anyone reading this now, is glad they capitalized on. Here are some of the statistics of just how many people use some of these sites and platforms:
This is why marketing this use case is extremely important. The crypto scene is very competitive and without investing into it, we will get overshadowed by those with deeper pockets even though we have an innovative blockchain and exceptional community. Reaching out to people, having them become familiar with the services out there in the particular niches that they are interested in, is a process that takes a lot of work and investment. Marketing and advertising campaigns are an extremely important part of that process. With this, comes the following benefits that the proposal covers:
Diversification of ownership for our native cryptocurrency - HIVE (more investors!)
Active use of Hive and monetization of various platforms all over the internet, used by millions of people all over the world.
Potential enhancement of onboarding efforts by spreading investment with HIVE all over the internet.
mobile apps.
One of the great things about HiveTips is the way it is set up to work giving the following added benefits to people who receive HIVE via HiveTips:
People who do not own any HIVE will have a thirty day window to claim their HIVE by opening an account on Hive.
Upon creating their new account, they instantly become a part of Hive with their own HIVE.
Adding that thirty day grace period to collect, means a lot in ensuring that people have a reasonable time frame in which to open up a Hive account and collect their tips.
Our most recent addition is a Hive account creation service: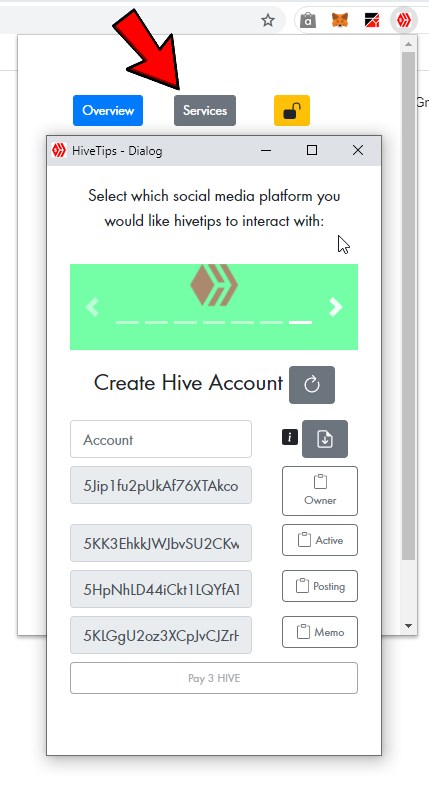 Benefits of HiveTips:
HiveTips aims to be a major factor in the expansion and adoption of Hive across the web as all of the above listed will increase exponentially. The current number of people on the internet is over 4.5 billion and that number will only grow and HiveTips is a great vehicle to reach this audience. HiveTips is solely dedicated to giving a well known and utilized use case 'Fast and FREE' in which the 370 million HIVE out there can be put to good use. Unlike many other ventures that came before, HiveTips doesn't rely on upvoting or otherwise extracting rewards from the rewards layer. Instead, HiveTips champions investment. HiveTips users freely give their HIVE to others while tipping. It is investors creating investors.
By providing use cases, we will build a demand for HIVE. Tipping is not new, but tipping without any middleman taking a cut off the top is definitely not something that anyone is used to online. Thanks to Hive, that is now available via HiveTips. This alone is one of the best advertisements for Hive and what Hive has to offer the world. Tipping has become so important as a means of income, that online tipping statistics are now being accumulated and recognized. We can safely state, that as the number of use cases increase for HIVE, the demand will rise with it.
What happens if the proposal becomes unfunded?
In the event that the project is not funded, we will continue forward with our plans, however we will be limited in the dynamics of where and how our HIVE can be used. To date all costs incurred have been covered by @jackmiler and @guiltyparties (ref: Annex A)
In the event that funding gets cut off, we will re-evaluate what can and cannot be done in accordance with our capabilities and financial resources. The plan is to stick to our ecosystem and the main economical features of Hive, which is 'Fast and Free'. It would be counterproductive to introduce fees of any sort as this project is expanding Hive and is not intended to be a profit based venture.
We have no intentions of abandoning HiveTips as we see that it has way too much to offer Hive presently and moving forward. It isn't all about the money. If it was, we wouldn't have been ready to risk what we have invested to prove that a working product and use case of Hive & HIVE can be expanded to a diverse range of platforms on the internet.
As per the earlier listed facts and stats, HiveTips will be utilized on not only the listed platforms out there, but on others too, hence being seen sooner or later by well over 30% of internet users, which is HiveTips' current potential outreach.
"Hive is ALIVE" because so many of us in the community believe in everything Hive can become. HiveTips is one of the premiere tools that will help make all of these dreams come to life. If we fail to capitalize on this potential, then it is highly likely that our competitors on other blockchains will seize this opportunity instead of Hive.
Notes:
This proposal has been presented in accordance with the general guidelines presented to the community.
ref: https://hive.blog/hive-102930/@blocktrades/draft-template-for-proposals
This proposal is fully in line with what is expected from a transparent, clear cut, definitive business proposal.
ref: https://hive.blog/hive-102930/@guiltyparties/dhf-trust-and-integrity
Final Statements:
We have successfully integrated HIVE and Hive with the internet giants via a fully operational Beta product that tokenizes the world wide web. This is no small feat, and we feel our accomplishment should not be taken lightly.
"Why are we putting in a proposal now and not earlier on?"
We believe in this project. We know what the potential benefits are for Hive so to put a proposal in with an incomplete Beta product, would be like selling an idea with nothing to prove its tangibility. We have proven that it is possible to present a complete project and product.
HiveTips is taking HIVE directly to the mainstream, where the vast majority of the 4.5 billion people on the internet hang out!
HiveTips is being built for the best interests of Hive. The blockchain scene, and even more so, the cryptocurrency atmosphere, is extremely competitive. We are here to ensure the integrity of this project.
This means that until HiveTips achieves its goals, it can't be part of the open source (OS) movement. We have our priorities straight and priority number one of HiveTips is - Hive ensuring that Hive has the upper edge over its competitors.
Finally, we would like to ask that you support this proposal with your vote. We all want to see Hive, HIVE and HBD go mainstream. HiveTips can be a major game changer in that process. Your support will be a testament that everyone can be a part of tokenizing the web with HIVE.
Thank you.

This addendum has been created to address all of the questions we have received throughout the preliminary time frame leading up to our proposal going live on September 14th, 2020. We hope this provides any answers you may be looking for.
Where does the money come from for proposals?
The funds in the Decentralized Hive Fund (DHF) are exclusively held for projects and programs that are made for the advancement of Hive and the Hive ecosystem. The DHF currently has funds already in it and is replenished from the daily production of our cryptocurrencies with a portion being allocated to the DHF. Funds not utilized remain in the DHF and accumulate, increasing the total available.
What will the HiveTips proposal money be used for?
The coder costs, full-time coding (8 hrs a day) for 12 months, and part-time for an additional 12 months.
All coder hours are recorded on timesheets and audited prior to payment.
24 months of target market online advertising.
24 months of servers.
Third party APIs.
Incidentals (which includes third party API costs as required for new platforms).
Why does this project have such a high cost?
The detailed business plan presented won't cost the community a single cent from the rewards pool. Some projects in the past were funded with delegations worth millions of dollars. With the money made from the delegations combined with a predetermined percentage paid to them from product and service usage, they were able to fully fund their projects.
Examples:
PeakD currently takes 5% of post rewards from people that post on their front end to help fund their platform.
SteemPress currently takes 5% from post rewards and will vote on users of their application and collects curation rewards to help fund their progress.
3Speak currently takes 11% of post rewards and will sometimes vote on its users to help pay for the housing of videos and fund their movement.
DTube currently takes 10% of post rewards from its users to help keep their platform alive and well and moving forward.
Actifit currently takes 5% of post rewards from active users to help fund their themselves and their application.
We want creators on Hive and users of HiveTips to receive their maximum rewards and will take zero 'off the top'. HiveTips is all about making Hive mainstream by providing a use case scenario and demand for HIVE through the gratuity features it offers.
How can we have faith that you'll use the funds appropriately?
Our proposal shows that business ethics, investing and trust must be mutually shown and proven.
We have invested well over $50,000.00 USD cash to date , (not counting our work invested by the team at FullAlt as shown in Annex B) and we will invest more along with the DHF HBD funds.
We want to set the pace and lead by example.
Our proposal shows that the DHF is not 'free money'.
Our DHF funds will be easily tracked by our dedicated account - @fullalt.dhf.
We have given a model for accountability, tracking, timekeeping, and auditing that can all be put on the chain.
How will HiveTips help the Hive ecosystem?
Adds a tangible use for the 300+ million HIVE that is on the open market.
Strengthens and adds features to appeal to a wider audience.
Makes HIVE more accessible to the general masses.
Makes HIVE more visible to the general masses.
Makes HIVE more useful to the general masses.
Taps into the multi-billion dollar marketplace of direct rewards/tips/donations.
A minimum 24-month marketing action plan to promote Hive on an unprecedented level.
Expansion to include new sites and platforms with the user numbers and the need for a tipping feature.
Helps build up the needed momentum to put HIVE and Hive ahead of its competitors in the cryptocurrency kingdom.
Why is HiveTips focused on the mainstream market instead of existing Hive account owners?
The value of currencies on the open market such as BTC, HIVE, etc are all dependent solely upon DEMAND. There are currently some 4.5 billion people on the internet who make up the mainstream. We want to tap in to that number with HiveTips.
What is the potential outreach if we make HIVE available to the mainstream?
Please see the chart below: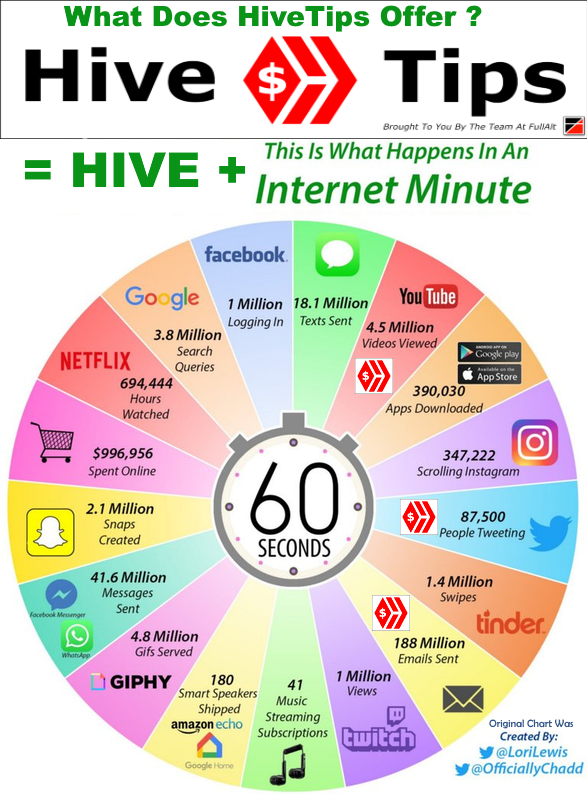 We have managed to tokenize three of the internet giants and we have full intentions of adding more.
How many people are responsible for running HiveTips?
Five people.
-- @jackmiller: Chief Executive Officer (witness 3 years running)
-- @guiltyparties: Chief Development Officer (witness 4 years running)
-- @enginewitty: Chief Marketing Officer (witness 3 years running)
-- @inthenow: Chief Visual and Graphics Artist
-- @lightproject: lead developer and coder for HiveTips
Should the Hive user base be larger before this project gets released?
Outreach along with tangible use cases is what brings in more users. For a tree to grow, one must plant a seed and nurture that seed. For a garden to grow, one must plant multiple seeds and nurture its growth.
Why is HiveTips a browser extension?
The current practices for tipping have shown that the two most commonly used models are browser extensions and websites. The choice to go with a Chromium browser extension (Chrome, Brave, etc.) and Firefox, was to make your desktop browser into your user interface (UI). Trends are forcing the website option to become obsolete.
Does HiveTips plan on going mobile?
We have plans to create a mobile version of HiveTips, but such an option for Android and IOS takes a fair bit of coding and testing prior to release. These options are covered in the proposal figure.
What other platforms will HiveTips be on?
We want to include the community in helping decide which order of priority before stating a definitive outlet to tackle. We know that with input from the thousands of current active Hive users, we can choose the best paths to take.
Will HiveTips be limited to only tipping or will there be other options added to it?
In the future, we will be adding features to meet all the market needs and updating them as we get feedback from users of HiveTips.
What if I have proxied my vote to someone?
Even if you are proxied to someone else that has already approved the proposal, your stamp of approval states that you also believe in the product and vision. All of us are what make Hive a thriving community.
Why is the proposal listed as $2,000 daily?
The current DHF has 5,300 HBD available daily. (HBD = $1)
Of that 5,300 HBD, less than 1,300 is being used on a daily basis.
The HiveTips proposal is capped at $256,000.
HiveTips will be funded up to the $256,000.
Once it reaches $256,000, the proposal for HiveTips will be withdrawn.
What edits have been done to the proposal post to date?
We have adjusted the links to the proposal for voting to make approvals easier.
Small edits to the text - I.E. recommendations, more specific wordings, etc.
Added the video overview of the proposal to accommodate people who prefer video over text.
Where and How can I vote for the proposal?

---

---
With HiveSigner: Note - this is an instant approval link to show support for Hivetips.
---
Does it cost me anything to vote?
Is the code for HiveTips Open Source?
It will be once we ensure that Hive has a strong foothold in the gratuity arena. Our first and foremost priority is Hive. Once we attain a competitive edge on the market, we will contribute the repository to the Open Source Movement.
Where can I get HiveTips installed onto my browser(s)?
Why are there cooldowns between tips?
This is an anti-spam feature.
Will there be more tutorials about how to use HiveTips and all the other features it will have when they are made public?
ANNEX A
2020
Link: https://hive.blog/hive-175447/@fullalt/fullalt-2020-checks-and-balances
Posted on the 23rd of December 2020.
---
CRITERIA AS PER:
https://hive.blog/hive-102930/@guiltyparties/dhf-trust-and-integrity
Integrity
"Does the requester make a genuine effort to reach out to others, collaborate and donate their time and efforts to Hive?"
YES.
FULLALT has opened direct means of communications for anyone and everyone who is interested in any of our works. Including but not limited to HiveTips. Our Discord Server is open 24/7 to the public for these purposes.
"Does the requester keep in touch with a wide range of people, not just with those who may be of use to them, and is part of the Hive ecosystem?"
YES.
All of our team members are active in the community and in various communities that make up The Hive Community. Nobody can be everywhere, however, with four members who are active in various niches and branches, there is a nice diverse variety of activity when it comes to the range of people we have contact with and work with daily on a wide range of topics that involve Hive.
"Does the requester understand how Hive works?"
YES.
"Does the requester make it a habit to thank those who have helped or supported them, including those who have given them valuable insight or ideas?"
YES.
"Is the requester actually qualified to deliver the service or product?" (i.e. number of years in the industry + education + previous projects)
YES.
Apart from the coder, who is without any shadow of a doubt a reliable, trustworthy professional in his field, the other members of the team combined cover a wide range of skills for the overall needs of this project. Diversity is the key to this project and within the team itself, we have tech, gaming, stacking, networking, music, arts covered as first hand know how and experience. Then there are all the second level niches, which could fall under "non professional experience". (as every person has some knowledge outside of their profession)
"Is the hourly wage the requester is assigning to themselves equal of the hourly wage they are entitled to if formally employed by a company?" (i.e. nowhere is the salary of a junior developer $200/hr)
YES.
Well under what is expected for such work. The coder has himself gone under his usual price as he too believes in the value that this project can add to Hive.
"Has the requester ever scammed or exploited on Hive or formerly on Steem?"
NO.
Value
"Is the proposal responsible?" (ie. the service won't cause damage to Hive or adversely affect it)
YES.
"Are the amounts requested realistic?"
YES.
"Is there a detailed breakdown of what's required?"
YES.
"Is the amount of HBD requested the same as the amount described?"
YES.
"Does the proposal round up or round down?"
DOWN
"Is there any discussion about what will be done with any unused or overpaid funds due to rounding up?"
YES.
"Are there similar proposals by more established, verified service providers?"
NO.
"What is the expected longevity or utility of the funded project or product?"
As long as Hive is Alive, this project has a beating heart.