SPS
I like to write this short post to celebrate this milestone and have it on my blog as a personal record. Yesterday, July 27, 2021, Splinterlands launched its BSC based governance token called SPS. For those of us who are in crypto for a while, we know having a Binance/Binance Smart Chain listing is important in this age of de-fi. The reason it is important for a project, especially a gaming project, is the fact that increases the reach immediately. All game need players. 'Get-paid-to-play' games need fewer players than conventional digital games, several orders of magnitude fewer players. So listing in Binance is a good practice and definitely draws the players into the game. SL (as we like to call Splinterlands in short) is currently doing all the right things. Here is another thought :
Can we partner with Apeswap?
They have a large following, and an active community on social media. There have been established projects like ONT partnered with them and there have been gaming projects like BFT sold intial tokens there. Just a thought!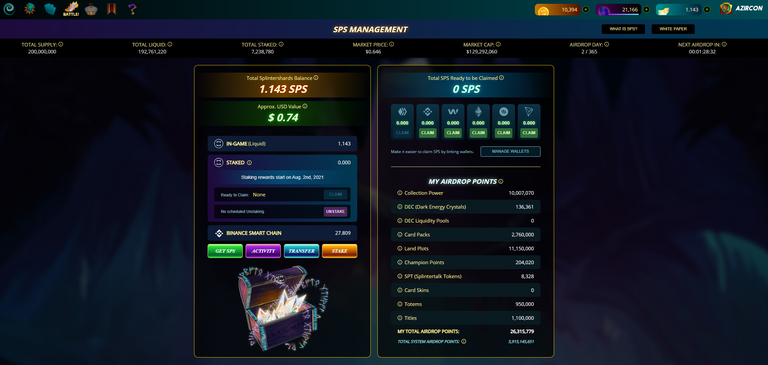 I have been a late, but still a long-term player of Splinterlands. I am playing since December 2018, as per my game document on my profile. I have seen my game assets and cards rise in value exponentially over the last few weeks. This is what we always wanted but never got.
On 27th right around 11 AM (CST) I got my first SPS airdrop. We had no idea what will be the market price of the token. I don't know if I ever be able to sell my token at that price. However, just for fun, I have started a google slide (maybe later I have to start a google sheet) to keep track of my daily SPS earning. You can see below my first two days of earning based on my in-game assets listed above.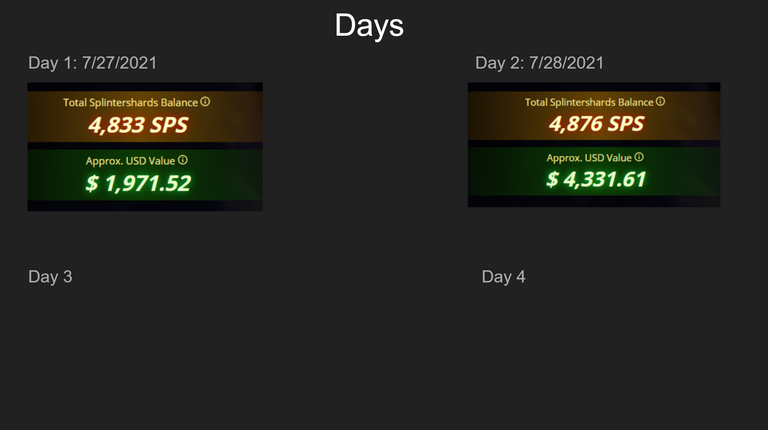 Mind you, this is paid daily. Also the USD price was at the time of screenshot, it is NOT its current value. From my point of view, it is not the exact value that matters, its the economy of the game that matters as a whole. What it created however, is a general interest across the broader networks outside of hive. This is the first time I have seen an influx of people coming into hive and really asking question about Splinterlands and Hive. This is fascinating to watch and absorb.
Game Economy & Effort
In a 'Get-paid-to-play' game per-game/per-win earning metric is very important. Below is the last win (damn! I haven't played in 13 hours!)

My last win in Champion 3 league, got me 232 DEC. At current price that is about $1.5. I typically play about 20 games per day on average over the season of 15 days. 300 games per 15 days. 600 games per month. If I do a flat multiplication at present prices of DEC that can earn me $900 just from the winning alone. Well I don't win every game, LOL! Assuming, my win rate is 50%, that would be $450/month. In addition you get quest rewards 1 each day, granted I don't do quest every day, but I can if I like to. Here is my quest data of the current season.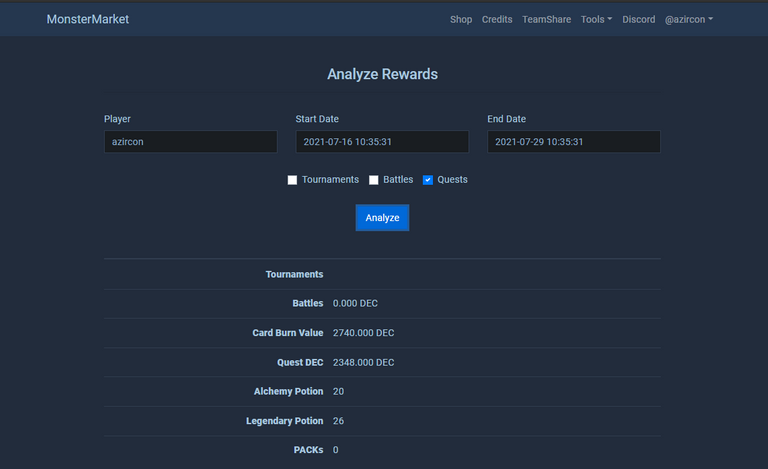 https://monstermarket.io/analyze-rewards
5088 DEC is the sum of quest rewards, about $30. Plus there are tournaments and end of season rewards. Point is, even a casual player like myself, can earn ~$500 + /per month by playing this game at the current prices. There are pro-players that can earn 3-4 times that. I have seen yesterday, some of the top players were talking about earning $7/game! Mind you each game last about 3 mins :). My main point from all these, that Splinterlands have created a whole alternative economy. I think for hive that swells!