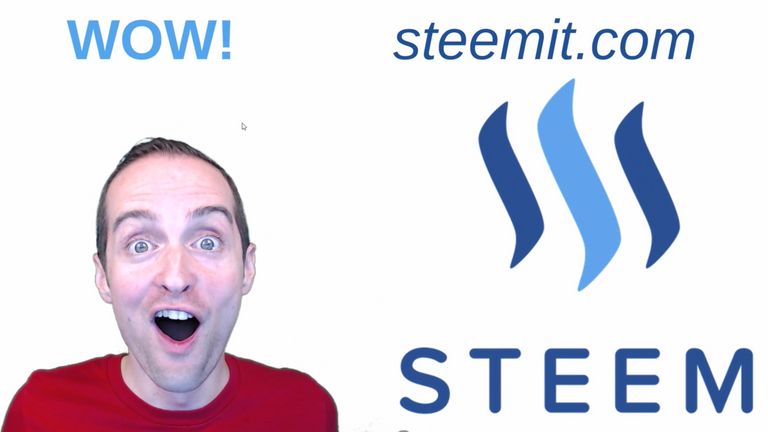 Are we ready to bring the most active Facebook and YouTube users to Steemit? Our rewards here pay the advertising budget for the second video ad I filmed today named "#1 New Social Media and Blogging Website? Steemit!" which is an hour long in depth look at what value Steemit offers for each of us! Would you help fund this second advertising campaign by upvoting this post because I will then spend the total rewards shown in USD on video ads with Facebook and YouTube?
View the video ad on Facebook at https://www.facebook.com/jbanfield/videos/1460116067341898/ or below on YouTube.
The basic pitch in the ad is that Steemit provides the best opportunity ever to get started, grow, and monetize a blog combined with the first established platform to get paid for curating and commenting. For each of us already here, the more active users we get, the more value we all gain out of what we have invested already. While the last video we generously funded at https://steemit.com/steemit/@jerrybanfield/steem-video-ad-1-on-facebook-and-youtube-featuring-10-reasons-for-usd10-steem-in-10-months was targeted to existing cryptocurrency users, this new ad is aimed more at content creators like me whether they have ever used a cryptocurrency or not. Here are the objectives for this specific ad!
Bring new daily users to steemit.com.
Inspire bloggers and content creators with an existing audience to test Steemit to see if it is worth making the move away from what they use now.
Attract new bloggers, YouTubers, and Facebook users to invest time and creative energy in Steemit instead of WordPress, Facebook, and YouTube.
Remind cryptocurrency investors having seen the previous ad of the long term growth potential of Steem with the hope of keeping the Steem price rising as more buy, hold, and power up.
Encourage more developers like https://steemit.com/@jesta to start coding for us along with freelancer journalists, marketers, and artists to invest time in building tools, services, and posts that we will love! This objective comes directly from a request on the previous ad and I focus a lot on it in the new video!
Will you review the initial results from the last ad to qualify me to complete this next campaign? In summary, the first ad campaign we funded has already reached over half a million people online with less than 20% of the total budget spent so far!
Over the next two months as the ads continue to run, we can expect that for the total results the first campaign will reach about 2 million people with the good news about Steem an average of 2 to 5 times each!
Here are the Facebook results which you can see for yourself at https://www.facebook.com/jbanfield/videos/1349575128395993/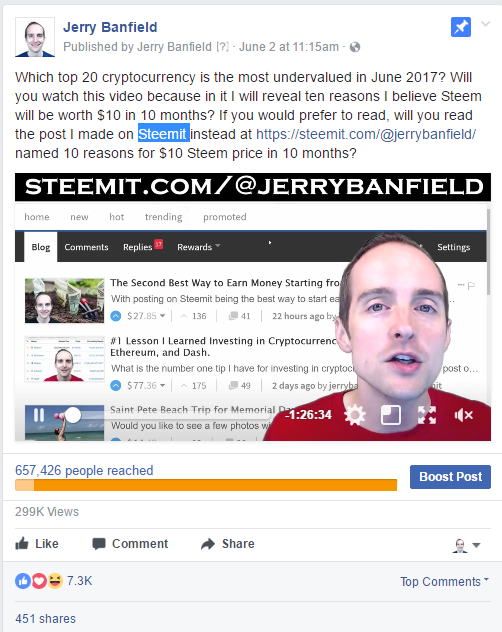 The screenshots below show the data directly from Facebook ads.


These results are AMAZING because for every $1 spent on Facebook ads we are getting 4 people to visit Steemit directly by clicking, one person to share the post, and about 20 people to like the post ad making it easier to advertise to friends! In addition to the direct results, the branding from showing the word Steem and Steemit around so much is hard to calculate and might help with increasing the amount of buying and holding of Steem which is sure to drive up the price! See the views and help with the comments on the YouTube video at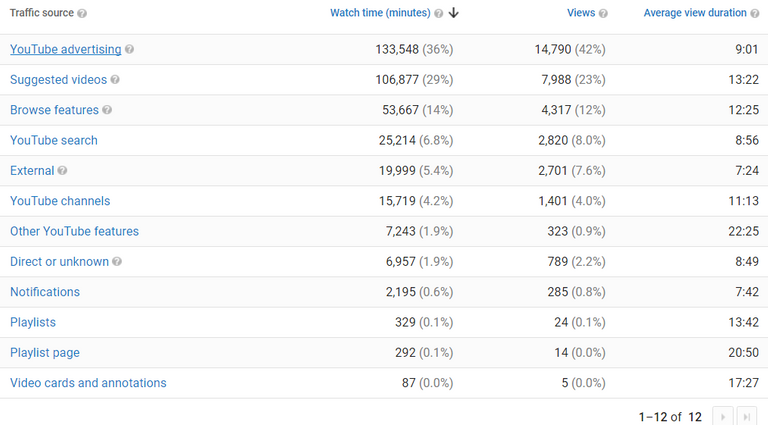 With the Facebook ads reaching so many people, why even spend the money on YouTube ads? If you see the suggested video results above along with browse features and everything besides YouTube advertising, you are seeing organic traffic to the video. While a lot of it is from my channel directly, most of the numbers are higher as a result of the YouTube ads. Being found in a suggested video or YouTube search is one of the most valuable forms of marketing I have found online. The more we advertise this on YouTube, the more of those really valuable views we get.
When we combine the brute force branding and high reach of Facebook ads with the increased organic traffic from YouTube, we can expect the very greatest results in every possible good way from a higher Steem price to more users on Steemit to more influencers to more upvotes on our posts to more new apps, software, and platforms designed for Steemit to new integrations with existing wallets and exchanges.
Would you help me choose the budget for this campaign with your upvote on this post because I will spend a minimum on the ads here of what we give on this post as I am doing for the last post which currently has a budget set of $3,382.13? Will we give more, less, or about the same for this one? I am excited to find out and to continue being of service here to our community! As soon as I finish this post, I will upload the ads to Facebook and YouTube starting at $10/day each and scale to whatever the final number is here for a one to three month advertising campaign!
Thank you for reading this and I hope you have a wonderful day!
Love,
Jerry Banfield