The Singularity Lore
Origin Story - Planet of Tel
Volume 4
(Volume 1)
(Volume 2)
(Volume 3)
Sarlan, obsessed with the glory of the hunt, knew of nothing greater. His entire life was hunting, what could possibly be greater?
"If there actually is something greater than the glory of the hunt, then I must have it!" he told Lyranthia.
"Look into my eyes Sarlan, and do not fear." she told him.
As he gazed into her eyes he saw flashes of things he could not understand.
Similar to what we all saw back then from time to time yet greater.
Much greater.
It excited him and scared him equally.
He ran back to the village exclaiming he had to tell the whole village something powerful and called a circle.
As he talked none of us could understand him at all. It was like he was starting one sentence yet finishing another.
His mind was completely scrambled.
His parents, having not seen him since his banishment, became deeply angry at the site of this!
They gathered a select few and with rocks and sticks in hand… they went to "talk" to Lyranthia.
Lyranthia of course knew they were coming and sent out a call.
Her voice wrung in each of their minds at once.
Saying softly, "He is safe, do not fear."
Hearing this had the opposite effect than Lyranthia had planned.
Upon hearing this in their minds all in unison it scared them ever so much more.
This made them march harder and faster toward her home.
They were now prepared to kill.
When they got to the hut where Lyranthia lived they saw her levitating above her hut.
Legs folded, eyes closed, hands folded in front of her.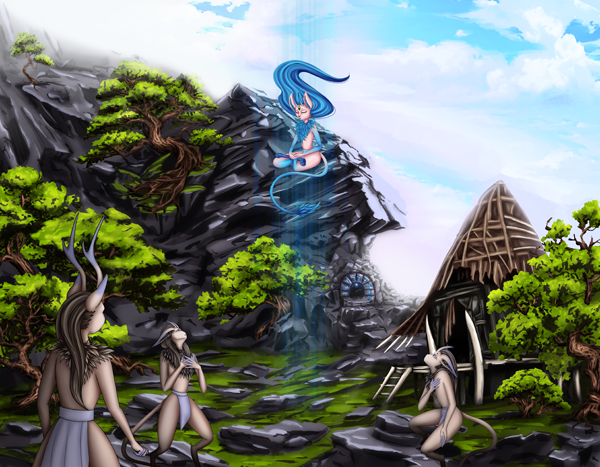 Cautiously they approached...
As they got close a large 3rd eye opened from her forehead.
It drew their gaze towards it with immense force.
Immediately they dropped the sticks and rocks, each and every one caught in a trance, unable to break free.
After being locked in the gaze of her 3rd eye for only a moment, they all forgot...
They forgot why they were there, they forgot Lyranthia... and even Sarlan himself.
They could no longer see Lyranthia or the hut and they all went back to the village very confused.
By this time of course, Sarlan had been banished again by the villagers, this time with even more fear than the last.
At this point his mind was so scrambled that he did not go back to Lyranthia.
Instead he wandered for many, many moons.
That day, Sarlan became the first of the lost.
When the angry party returned it was very clear to the other villagers that they did not remember anything about Lyranthia or Sarlan.
To prevent the heartache of Sarlan's parents losing him to madness, the villagers all agreed never to speak the names Lyranthia or Sarlan ever again.
Every single villager that remembered them both honored this decision.
Until...
To be continued...
Website - Discord - Twitter - Instagram
Art by Olga Evirol
Previous Lore:
The Singularity Lore | Origin Story - Planet of Tel | Volume 1
The Singularity Lore | Origin Story - Planet of Tel | Volume 2
The Singularity Lore | Origin Story - Planet of Tel | Volume 3
​
​