It was meant to be a Daddy/ Daughter day as my wife has gone back to work now that Christmas is behind us. The plan was to dress up and go into the city where we would play in a park and then have coffee together and perhaps have a look around a shopping center. However, last night she got a fast onset flu and I was up until 3 am with her coughing and spluttering. This morning she is not much better, yet I think me might make it into the city, even if it is just for a drive as she has spent so much of the last month indoors ill, and this illness is on top of a mystery allergic reaction that we haven't been able to work out yet.
What we have done today however is play Twister, something we got her for Christmas. It is far too big for her to play properly, but she loves it all the same. Since she spends so much time inside, we figured it was a good way for her to still get some decent movement in.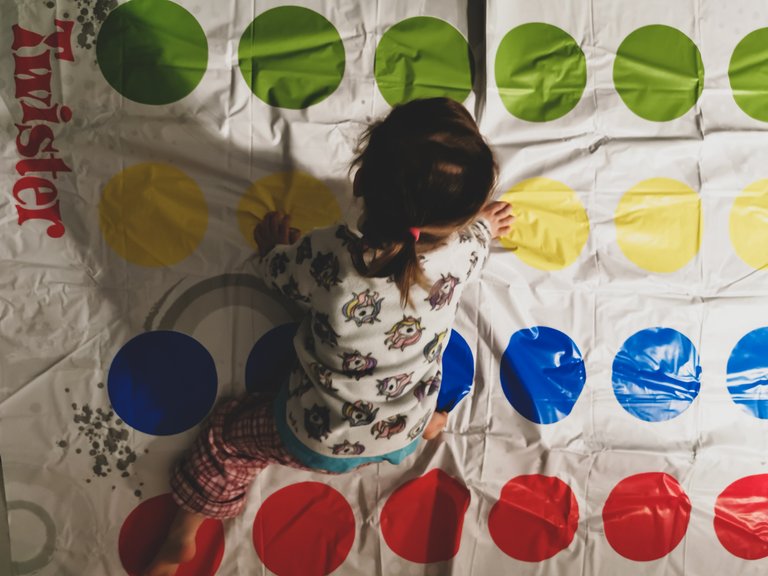 To be honest, I am a little disappointed as we haven't been able to go out together for quite a while and the last few months have had so many health issues here. It isn't easy at the best of times, but having constant illness to contend with on top doesn't help matters. We are pretty lucky however, as @smallsteps is about the best a kid can be under these circumstances and she is generally mature beyond her years when it comes to dealing with it all.
It kind of worries me at times too though, as I know what it is like to be a child that matures a little too fast as a kid can end up feeling somewhat disconnected from peers. For me, it was for different reasons, but I am guessing that the outcome could be quite the same where there might not be a great deal of friends in the age group in the early years and one connects more with adults.
Later on there can be benefits to this also however, and at least for me, one of those things is that I have never felt below others, no matter their relative status based on social indicators - instead I have felt and acted as more of an equal. For me at least, this has been valuable for my professional dealings and has opened doors that might have remained closed if I had been unable to hold my own amongst elders and people more highly skilled than myself.
The "old soul" issue might be genetic also, but I am sure that the nurture through childhood supports its development. There are pros and cons to every personality however, and once we get past about the age of 12, there is very little we can do to change it, but we can learn to understand how we operate and react, and then implement better and earlier detection and filters to improve outcomes.
It is part of the "examined life" and those who think that they can't change are likely very mistaken as under the right conditions, everyone seems to have the capacity to be fundamentally changed. It doesn't mean it is easy of course, nor that the conditions required are pleasant.
I believe that many changes are made through the most challenging times of our lives, but even under similar conditions, people can react quite differently. A person abused as a child can be broken, or strengthened by the conditions - A lottery winner could be empowered or restricted by the prize. While we all have various predispositions, it is up to us to at least attempt to change if we want, but I find even people who want will justify the lack or limited attempts made by saying, it is just the way they are.
Maybe it is true, but if one actually wants to change, why would they ever stop trying and experimenting with different after failures? Even if failure is near certain, the attempt is still valid if the desire for an alternate outcome is present. Of course, whether one wants to change is a personal decision as well, and some people feel that their own status quo is better than attempting and failing. Perhaps it comes down to hope and disappointment - one can't be disappointed by the failure to accomplish what one never entertained as a possibility.
It is all well and good for me to spend time thinking about these things, but I have the hope that my daughter will be strengthened enough by her early challenges so as to be better prepared to face the ones to come. I do not envisage the world getting fundamentally better or easier to negotiate in the coming years and as always, it will be the ones who have skills, drive, resiliency and tenacity who will find ways to overcome what the world puts in their path. Of course, the first hurdle to overcome is oneself, and that is a challenge that requires lifelong attention.
The road of life is full of twists and turns - maybe Twister will support the development of skilled hands and sure feet.
Taraz
[ a Steem original ]