It's Easter Sunday morning. I am happily sitting here, sipping some coffee and eating my yogurt. I slept in because I chose to stay up half the night. I love the weekends when I can do that. 😄
Easter is a celebration of the resurrection of Christ in the Christian faith. I do consider myself a Christian, so it is a special day to me to remember the sacrifice of Jesus, because he loved me !
I do understand not everyone is a believer and just so you'll know, you get no judgement from me. It is your choice and I love you no matter. 💛 💜 💚
Back in the day, Easter Sunday nearly always meant a pretty new dress for church and an Easter Bonnet for the ladies. Here is a photo from 1959. I am two years old and the youngest at that time. This is my mother and my older sister and brother, Vicky and David. Later in life, two more of us were born, for a total of 5 children. Believe me when I tell you, there was never a dull moment ! 😂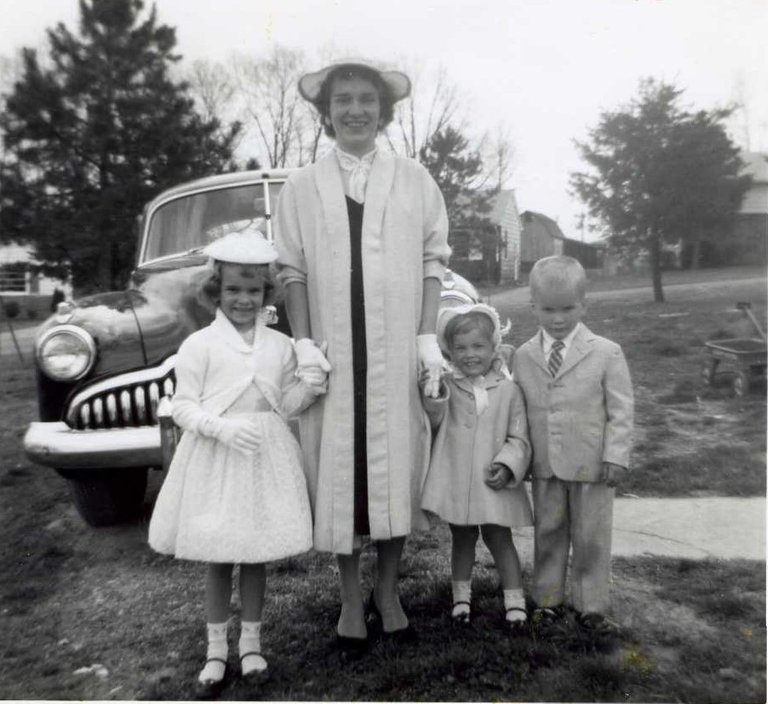 As you can tell, also the same day, Mom and David switched places behind the camera and now you see what my Dad looked like then. Fun photos.... right ? Darn I was cute !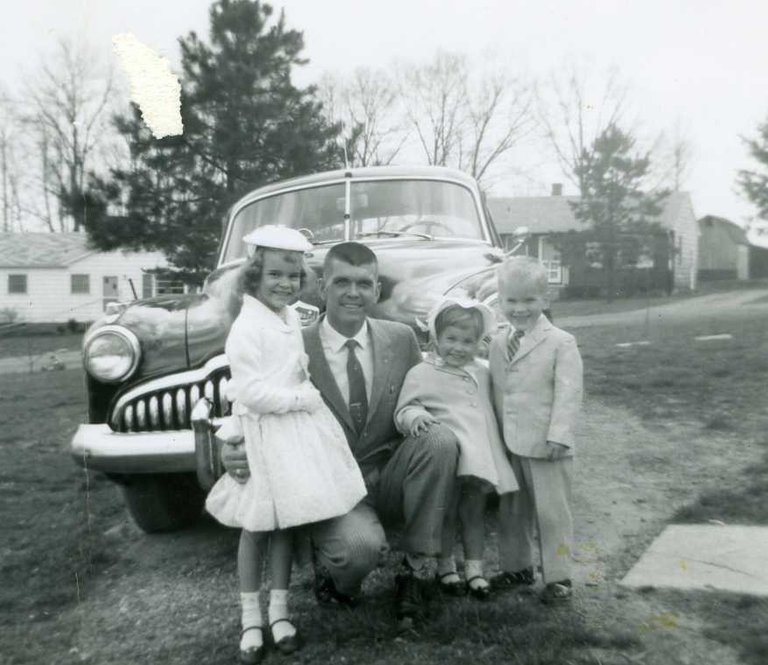 After I finish this post and my yogurt and part of my coffee, I will make some deviled eggs out of some eggs I boiled last night and then put some hot curlers in my hair hoping it will look half decent for my visit to Moms.
I made her this Easter Basket. I put a few things in it that she loves and a couple of new surprises that I have no idea what they taste like, but they sounded good so.... ha ha....I included a cute little stuffed Peep so it would look fun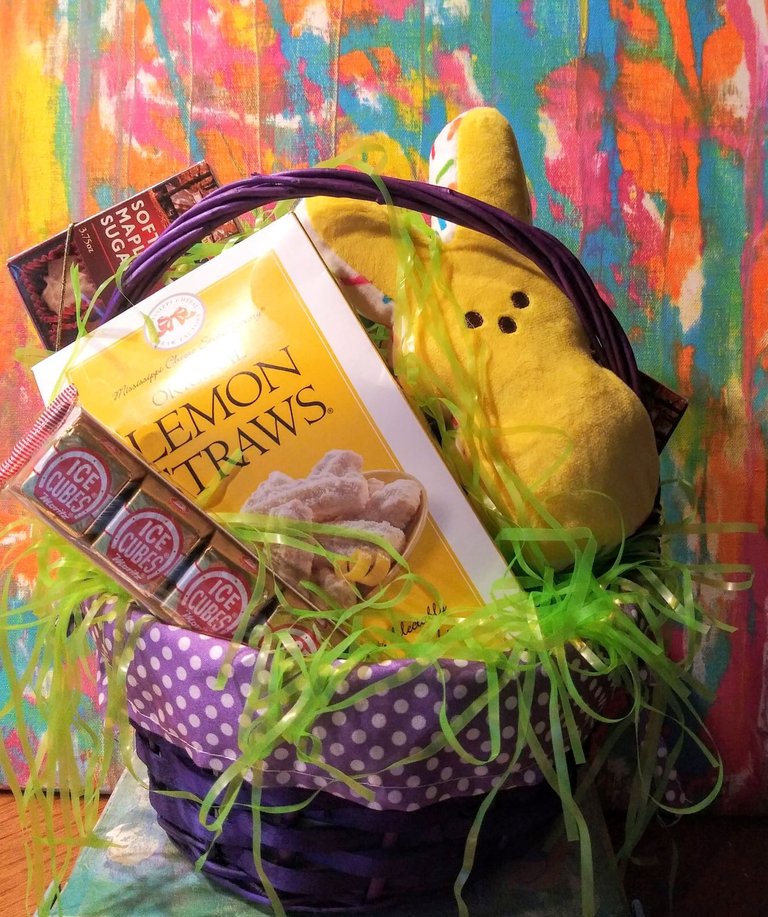 I didn't make an Easter cake this year. I use to be an avid baker and would try to make some sort of fun looking cake for our family occasions. I pretended it was to please the kids, but of course I was also pleasing myself.
One year I made this egg shaped cake out of a set of oval layer pans. I made the layers different colors, so that when it was cut, the inside was just as fun as the outside.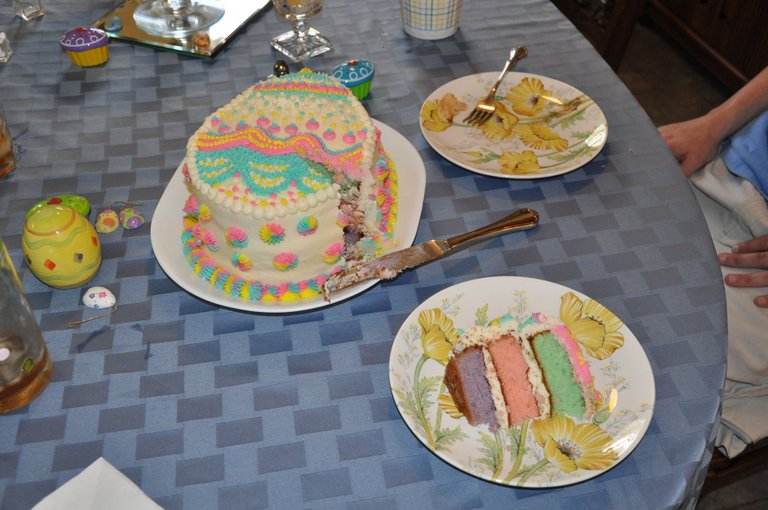 Another year I made this fun cake sculpture thingy. The bottom was pound cake cooked in a bundt pan. I then made a few jumbo cupcakes and a couple of mini cupcakes and stacked them on top. I drizzeled glaze down the outside, sprinkled pink and purple sugar lightly and then added malted milk candy eggs as accents.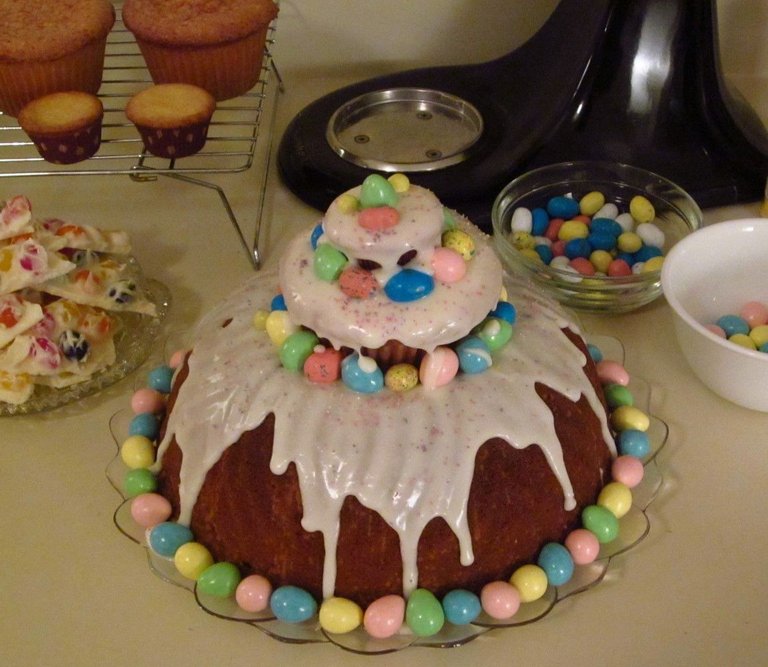 Another year I made a cake on a pedestal and tacky'd it up with assorted Peeps and Jelly beans. Looking at this photo made me laugh just now. It was a Hershey Bar Cake and they are always good, no matter how they look on the outside.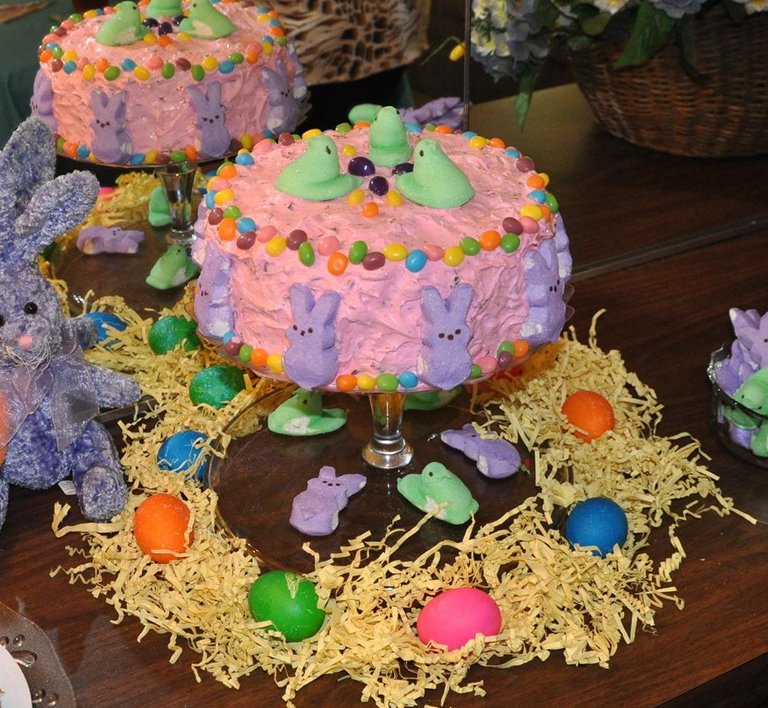 I made this jelly bean bark one time. I can't say it was the greatest end product, but it was sweet and looked fun.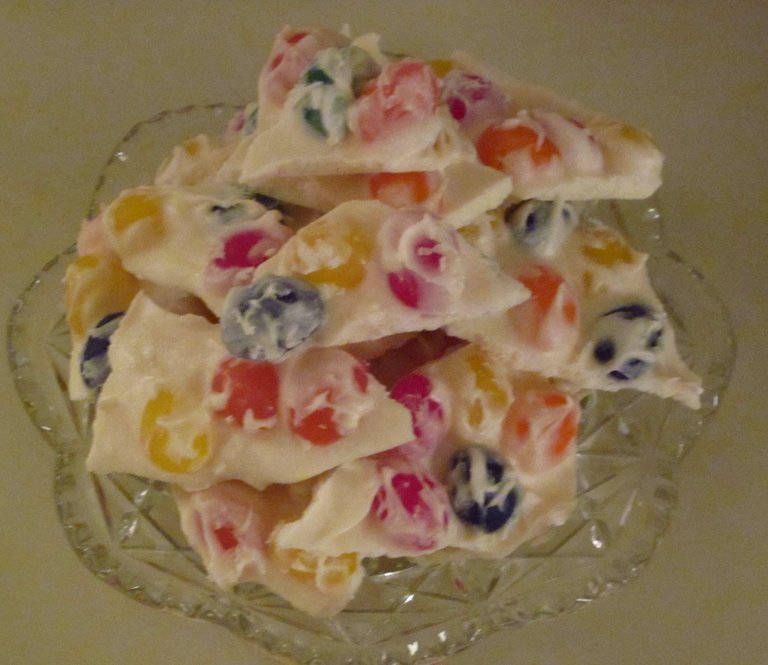 A couple of years back, one of my nieces, Miranda, made these fun Easter cookies. I have to say, she takes after me with the gift of making fun candies and baked goods. Very creative.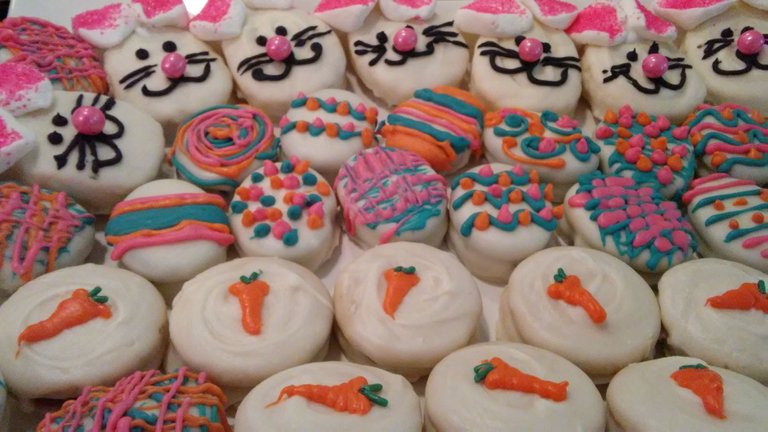 Of course you can never go wrong with quick and easy iced cupcakes of any flavor with jelly beans on top.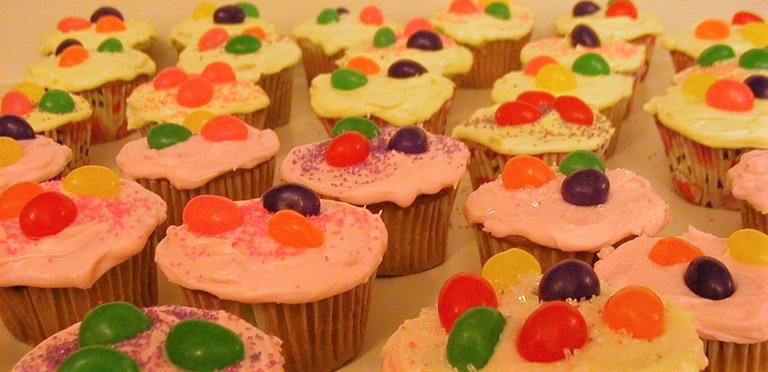 About 25 years ago, I use to bake and decorate cakes for other people out of my home. This is one of the Easter bunny/egg cakes I made. Back then, there was no internet in my home or cell phone and a lot of the photos were taken with a Kodak Instamatic camera, which truly didn't take great photos of anything, but was instant, so was the best I could do in the day. I had a 9mm that took better photos, but that was when you had to take the photos, then when a roll of film was completed, you took them somewhere they could be developed, waited days or a week for their return and then you would look and see if any of the photos you took came out decent. LOL ! MY ! how the times have changed.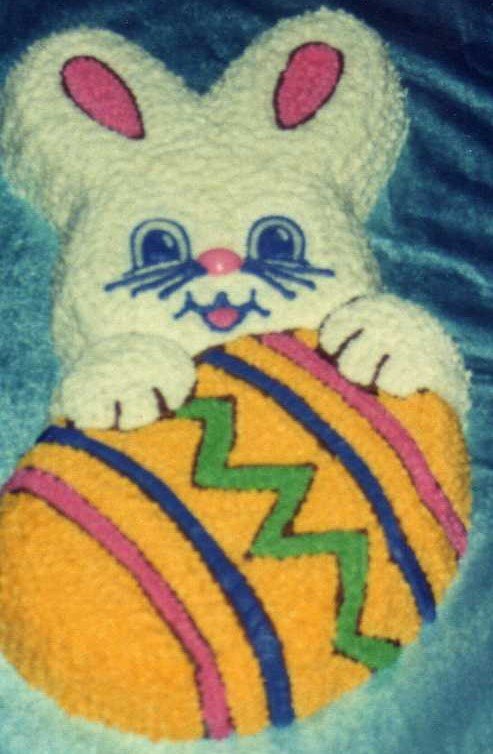 As a child, we left out Easter Baskets the night before Easter and the next day they were miraculously filled with candys and fun doodads. No telling what all would be in them but we could be sure that part of it would include some of our favorite candies. Such fun childhood memories.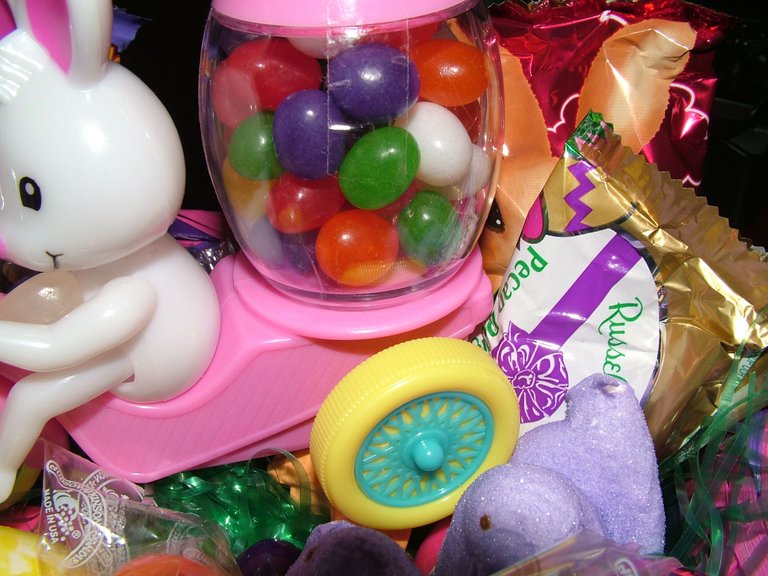 .... and Easter simply would not be complete without a few Peeps hanging around.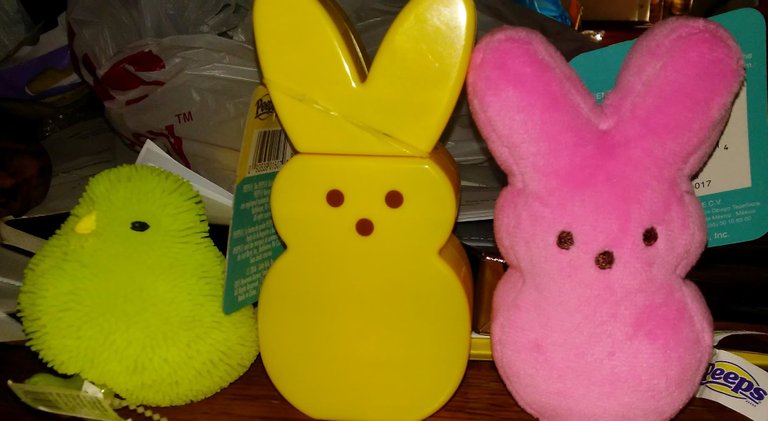 I hope you all have a good day and that your hearts are happy.
Happy Easter !
Love you !
Jacey