Exactly a week before we were finally supposed to re-open and start working once again - after a two-month long break - we were called in on a meeting to let us know that they needed to fire 30% of the staff, myself included.
Well, fuck me dead.
This is definitely not what I needed to hear right now.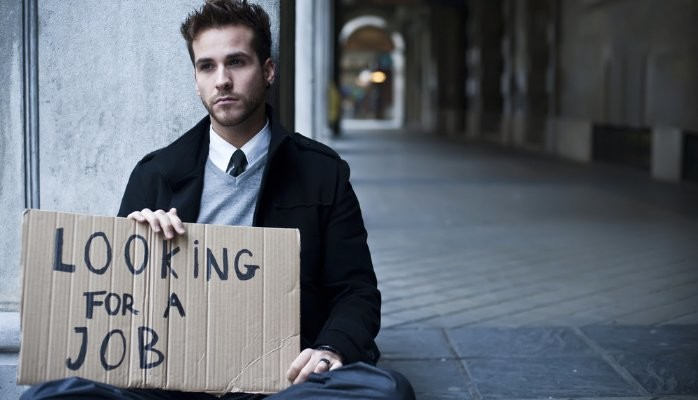 source
Just as I'm in the middle of moving into a new apartment - expecting some major expenses ahead - I'm told that I don't have a job to come back to. And so it continues.... The ongoing SCAMdemic/PLANNEDdemic keeps reaping victims but not in the sense of people getting infected and falling ill but rather loosing their livelihood by being laid off of work because of highly decreased profit margins caused by the worldwide lockdown and this time around, I was one of them. As I've said so many times before, the economic impact of this overexaggerated lockdown response is going to cause much more pain, suffering and possibly even deaths, than the disease itself.
While many of my colleges were devastated, some even crying, I had a huge smile on my face because I'm taking this as life's biggest challenge I had yet to face and that excites me. I'm not the type of person that would get depressed by something like this. Although it's a tough pill to swallow, my mindset allows me to always look on the bright side of life. Even in the worst possible scenario such as this, I always find something good in it and keep building from there until I get back to where I want to be and beyond.
As they were telling us how their expected profits for the next few months are only 15% of what they are used to earning pre-coronies and how because of it they will have to lay us off a very powerful quote was flowing through my head.
This is the chaos from which you create greatness. Your turn to roll the dice!
Creating greatness out of hardship, that's the plan and there is no greater incentive than seeing everything fall apart right in front of your eyes. A fire burning beneath your feet and your mind begging you to find a way out. Absolutely all bridges burnt to the ground, with no way to retreat other than climbing the self-made ladder to success.
I consider this to be a blessing in disguise.
To be quite frank about it, the entire year I spent working there was quite dull, boring and repetitive. Even though I was pulling in a decent amount of cash per month and investing most of it in crypto, I felt unfulfilled, drained and exhausted. All other facets of my life were taking a huge hit. I had no free time for myself, my girlfriend or my friends, zero motivation to workout, write, read or do anything productive for that matter, got me to a boiling point where I felt like I was about to explode if something didn't change quickly and it did.
I got laid off.
How to move on from here?
Well, I was expecting something like this to happen so for the past few months I was preparing for it. I stashed some money aside to keep me afloat for a couple of months and was constantly contemplating how to react if shit hits the fan and I get permanently laid off with no chance of finding additional work.
This is what I came up with.
Monthly target:
$600 is doable and I can survive, but not thrive on that amount
$1000 + per month is what I would need to earn to be able to thrive
GAME PLAN
Trading I Posting I Passive Income I Side Hustles
That's all I got right now as possible sources of income, let's look into them.
TRADING
I've already got a nice sum invested in trading which I diligently saved up during the past two years. Last three months alone, my portfolio is up by 40% even though I bought a majority of my stake @ 9.2k btc right before it crashed to 3.8k, ouch! I'm still stuck in a couple of -50% trades and that's really holding my profits down. If it wasn't for these few lousy trades which went south on me, I'd already be up 100%.
If I can make 20% per month on trading that would put me well above the doable mark and slightly above the thrive point.
NOTE: this is coming from someone who was a complete noob at trading a couple of months ago. If I can make such profits, anyone can and you will be able to do so with me. Follow along my journey towards sick gains and nothing but green candles!
POSTING
Now that I finally got the necessary free time to devote to content creation, as soon as I move into my new apartment, I'll go full-force on Hive! I plan to build up to one post per day and even more if I'll have enough creative juices flowing.
I expect this could turn into 200$ per month if HIVE manages to hold the 40c price point, but that's something I won't hold my breath for.
PASSIVE INCOME
This includes all staking coins that I own and the amount of income they generate without my input. Currently, that's mostly HIVE but also NRG and some STEEM which I'm still powering down.
At these prices (which I can't expect to hold up) this adds up to around 200-300$ per month.
SIDE HUSTLES
Include everything that I can possibly think of that generates an income.
Whether that's doing some illegal (without contract) construction work or hard labor, marketing campaigns for crypto companies, affiliate marketing, internationally buying stuff of Ebay to resel it locally and some other sources of income which I won't mention here because they might get me in trouble with the law.
Currently I'm earning 0 on this as I haven't put it into motion yet and I can't even estimate how much I would earn from these activities as they include so many unpredictable variables I can't possibly price in.
THAT'S MY CURRENT GAME PLAN
Adding up these numbers looks like I'll do fine and that I can finally live my dream life of being able to sustain myself financially, without having to work for someone else.
By the looks of it I'll even earn double the amount that I'd usually make at my former job which I quite literally hated and which was killing me slowly but hurting me deeply. Although this might all look like sunshine and rainbows right now, the assumptions I've made here are mostly based on the current crypto prices which as you know are highly unstable and can very quickly and easily go in the opposite direction and cut my profits in half so I'm very cautious about getting my hopes up.
I'll rather cut my expected profits in half just to have a more conservative perspective and in the end be surprised when they turn out to be double than expected instead of having high expectations and get disappointed if they turn out to be much less.
IN CONCLUSION
Even the hardest times can be the best of times with the right mindset.
Instead of being all depressed about my current life situation, I'm actually thrilled to be faced by such a great challenge. It's beyond exciting and invigorating. This is the next chapter of my life story. One that I'm very excited to experience and live through. Finally, I'm taking that major leap I've always wanted to make but was overly scared to do so. Now that I'm forced into it, I have no other choice than to make it on my own. No overhead, no boss telling me what to do and how to do it and definitely no more trading my finite amount of time on this planet to make a profit for someone else.
Only working for myself from now on and fully dependant on how successful I am.
For the next four months I'll receive 60% of my paycheck from the government so I'll take this entire time to test the viability of my plan. I'll meticulously work towards achieving my goal of self-sustainability through the above-mentioned sources and transparently report on them monthly or weekly on Hive.
If it turns out that I can earn the same amount or more than I would by working a regular 9 to 5 job, you can rest assured that I'll never go back to that miserable life.
On the other hand, if it turns out that I can't make enough to live a normal life, well then I'm fucked.
I don't even want to think about that right now but whatever happens, I know that I'll be fine.
Fingers crossed.