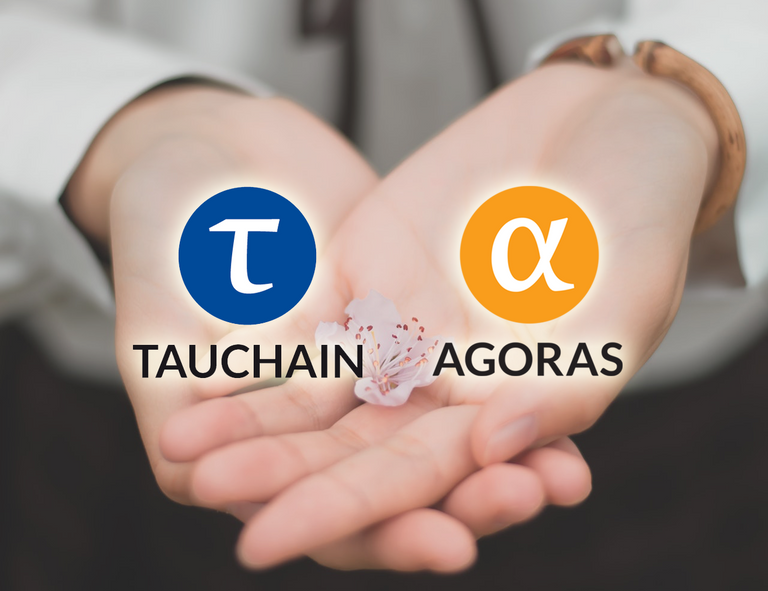 Tauchain is a profound project that has taken years of deep research and development. Some of the smartest people I've known on this platform highly recommended it, which is why it has been making me do a few things I've not been doing for a while now:-
Studying academic materials to understand the project (please check out @dana-edward's brief on it)
Logging into IRC to see what has been going on for the past couple of years.
So one of the first things I noticed in #idni's IRC channel is a cool-looking username "naturalog". While I'm pretty sure it just means natural logarithm, could it be natural OG instead? The natural, original gangsta? In casual parlance of course. Turns out, that's Ohad Asor's (the founder) nickname. What a smooth operator. That username is like wordplay: a mathematician with street cred. Too bad that Steem username is already taken.
The Natural OG
Reading through the logs I soon realised that I can trust his words. Why? Other than his experience, I think it's because I'm somewhat the same in nature. Not that I'm a genius with great knowledge and expertise like he is, but I do appreciate stuff like language, semantics, logic, and such. They're the kind of subjects which I think helps shape clear communication. It shows throughout his replies in the logs.
Many might not know it, but everything I say or type usually takes quite some time because I do try to be careful with words. Sometimes I even spend minutes to decide whether or not to say "could" instead of "would", amongst all of the other nuances in communication. Because, what else do we really have between us other than words? This is why writing is almost sacred to me.
The ability to question oneself and question one's choice of words are part of our learning process. Why do we really say what we say, or think what we think? Can't speak for everyone, but I expect introspective, lifelong learners to be more trustworthy when it comes to dealing with complex subjects. Plus, the obvious elements of the project seems to speak more about substance than hype:-
The founder, Ohad Asor is a logician, mathematician, programmer, and computer scientist. To add, he attended university at the age of 13 and have about 30 years of experience with programming and mathematics. While I like to think of myself as a jack of all trades, master of none, Ohad Asor is like a master of all trades. From the chatlogs, he admits that he's still always learning and there are signs that actual research is being done on so many levels, so I quite like that.

Tauchain / Idni Agoras has been operating with a bare-minimum website during its research phase. The specifications of the platform are mostly done now as far as I know, so the team is currently working to update the website. This move is quite the opposite of today's crypto and ICO websites that are packed with buzzwords, marketing powerpoints, and squiggly mesh-network animations in the background to add some hundred millions to their perceived value.

The complete whitepaper is not even out yet after a couple of years. I take this as a good sign of proper research to get things right on the fundamental level from the start. It would be foolish to think anyone can figure out these things in record time and be certain about it. Not with a project like Tauchain. The passage of time is required even for founders to figure out the potentials and limitations of their vision. For an overall view of the upcoming whitepaper (which will be more of an engineering plan), check out the latest blog: http://www.idni.org/blog/the-new-tau.

Only 3% of tokens are reserved for the team. I think it's a great decision for proper budgeting and development instead of asking bullshit amounts upfront that would most likely be wasted mainly on marketing. Google certainly did not spend millions and billions when it first started as a simple search engine. Great technology will speak for itself.
So all things considered, the project is unlikely to be a scam. If you search through the ~28 megabytes worth of IRC chatlogs, you will even find three ultra-rare instances of Ohad Asor aka naturalog mentioning "before it was cool". Look at the image below. Knowing his history and experience, I think it's safe to conclude that this dude is a certified OG. The natural OG. Total man crush! I might even ask him for some dating tips once he's done with the bulk of the development.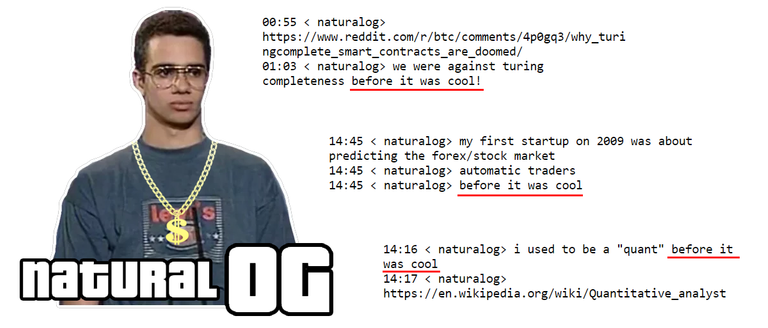 If those points above are not enough street cred to establish an OG status, check out this section of the chat log below:-
10:39 < Liaomiao> you must know a lot about blockchain architecture if you came up with some of the ideas behind graphene
10:40 < naturalog> i didnt come up with graphene i only explained to him a generic way to have faster datastructures than he had
10:40 < naturalog> boost interprocess memory-mapped-file containers
10:40 < naturalog> which as far as i remember that's what they use
10:40 < naturalog> http://www.boost.org/doc/libs/1_65_1/doc/html/interprocess.html
10:41 < Liaomiao> i see, well i guess if that's one of the reasons why graphene is so fast, tau blokchain is in good hands :)
10:41 < naturalog> my handwritten datatsructures will be x10 faster at least
10:41 < naturalog> im writing fast sw since people around were in highschool if born even
Just good to know that he might have had some influence in the creation of Graphene, Dan Larimer's creation for Bitshares that subsequently shaped both the inner-workings of Steem and EOS. Impressive indeed. It's a good sign for Tauchain / Idni Agoras. In contrast, I was still riding rollercoasters all day high on sweet carbonated drinks in Disneyland during the same age when Ohad Asor was already grinding like an OG, writing production-level software.
Conclusion
So it would seem like my investigation into the heart of Tauchain has quickly turned me into a huge admirer and fan of the project. It has never happened to me before to this extent, but I certainly don't mind given the project's scope and the main developer's character. It's at least a much better story than elevating irrational loonies and sensationalists with no appreciation of well-founded knowledge, which unfortunately is all too common in society these days. If anything would make the world a better place, it would be intellectual curiosity, not intellectual dishonesty.
For now, I'm quite happy to have found the natural OG who has been working quietly behind the scenes. So far it seems to me that it could very well be the next big thing other than Steem communities and SMTs. I'll be posting more about the project in time. As always, thanks for reading.
---
Resources
Website - http://www.idni.org
Github - https://github.com/IDNI/tau
Telegram - https://t.me/tauchain
Reddit (with FAQ) - https://www.reddit.com/r/tauchain/
Coinmarketcap entry - https://coinmarketcap.com/currencies/agoras-tokens/
---
Here's an hour-long interview with Ohad Asor that you might want to check out.
---
Not to be taken as financial advice.