Hi there my Hivean friends and followers!
It´s already been one year since I started to work out at this amazing outdoor gym here in Krakow, Poland so I figured it might be a good opportunity now to share some updates on my progress with you.
Before I ventured into this world of weight lifting, I was mostly doing calisthenics, which is a type of work out as well but as I soon found out, a very different one in fact. Calisthenics is much more complex - you train various muscle groups together as the exercises require many different parts of your body to cooperate, thus improving your overall strength, flexibility, endurance and fitness.
Weight lifting, on the other hand, is more about building individual muscle groups as the exercises mostly focus on just certain, isolated muscles that are stimulated to grow by lifting heavy weights.
Without further ado, let me now show you some pictures from my work out session. (I am still not comfortable showing my face here so I used my "brilliant" photo editing skills again to keep some anonymity, don´t be scared by the creepy smileys :D)
---
Dumbbell bicep curls. My current max is 25 kg (55 lb). Plus the chain :D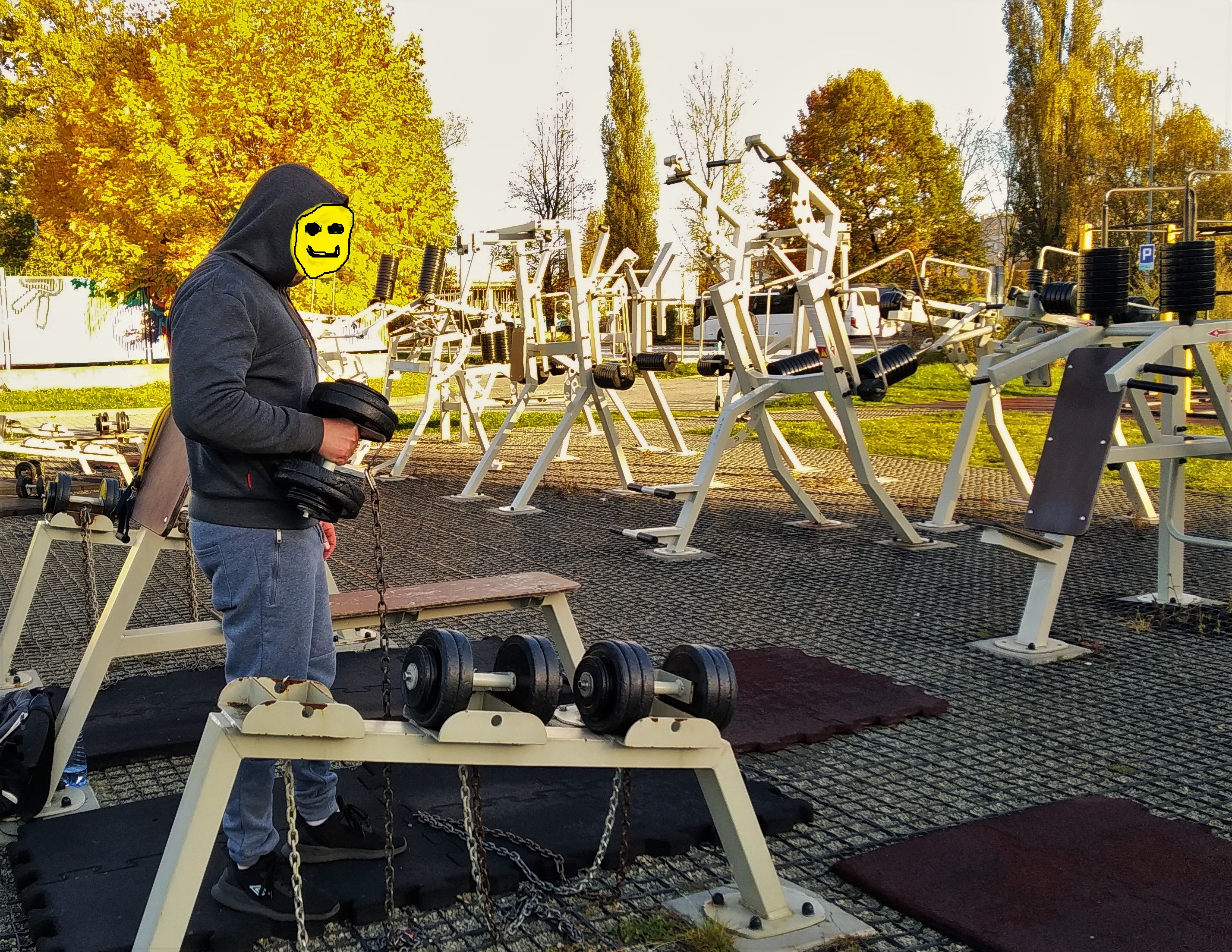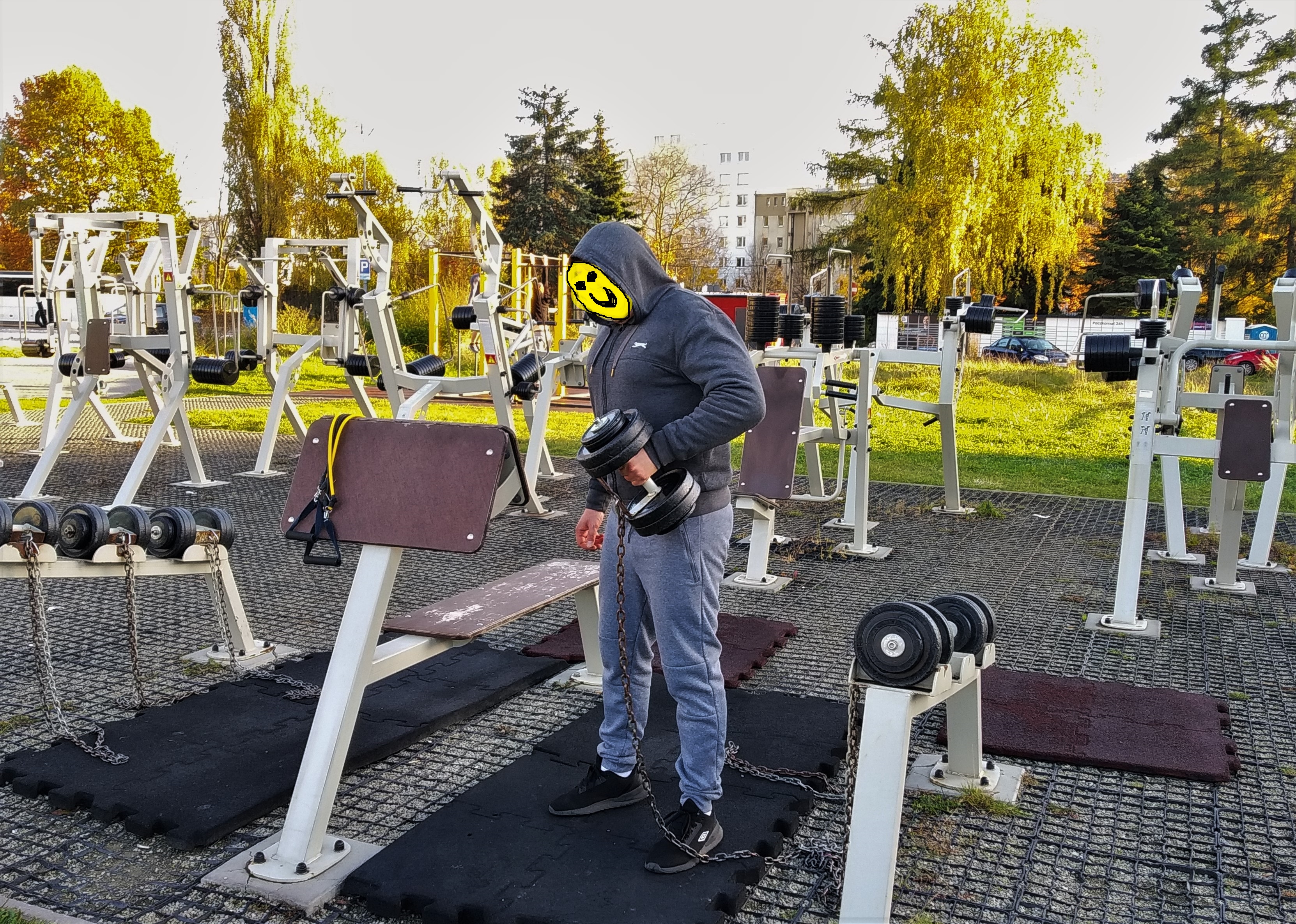 ---
On the benchpress, I recently run out of weights :D The max I can load up there is 130 kg (287 lb). But as you can see in the picture, there is this little leverage effect going on here so lifting 130 kg on this machine is probably a bit easier than lifting a regular barbell of the same weight.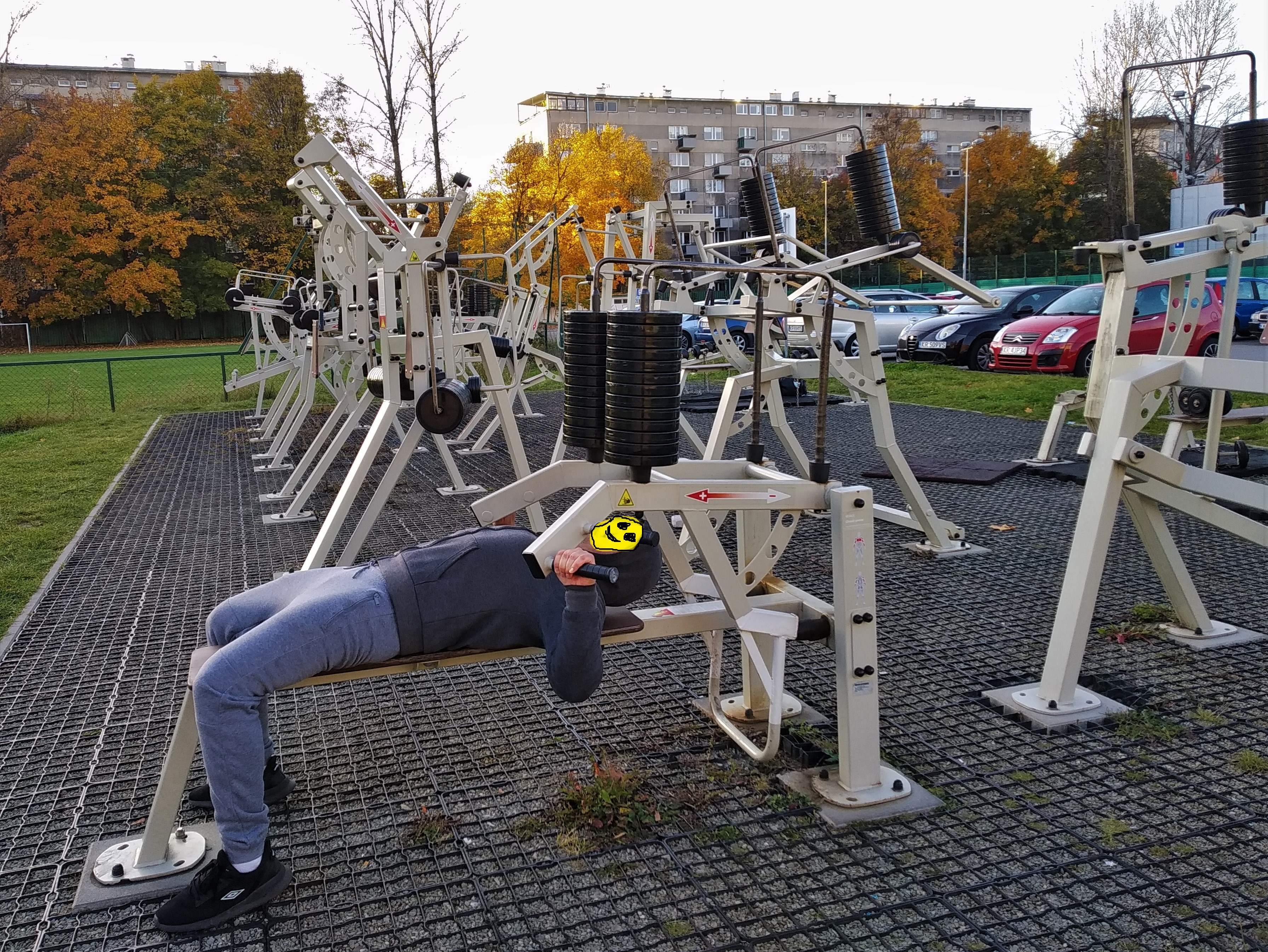 ---
Same here on the shoulder press machine. My current max here is 110 kg (243 lb) though.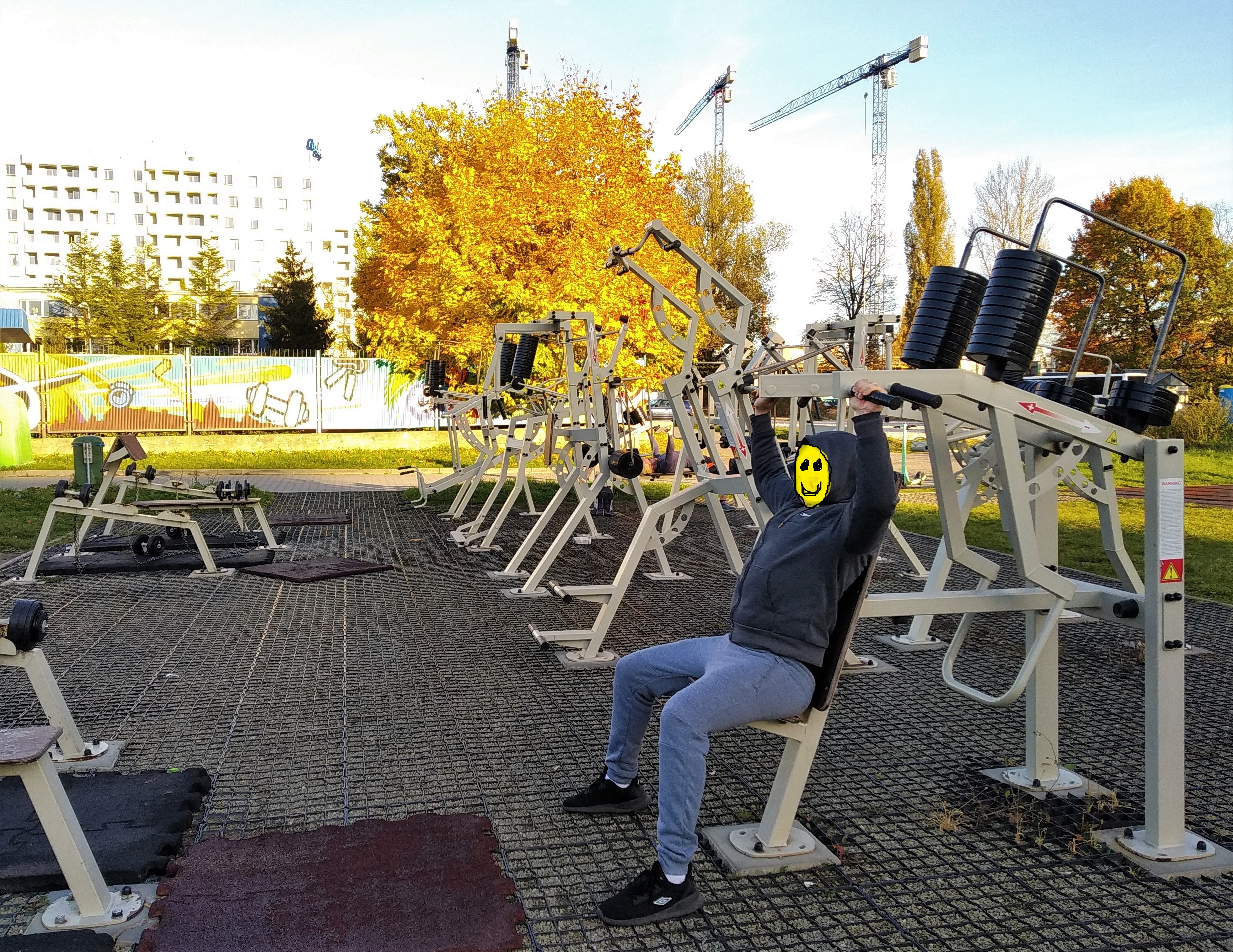 ---
I work out on several other machines at this gym too but I don´t have any pictures from there so let me wrap this post up with a shot of me using one of my favorite fitness accessories - the resistance bands.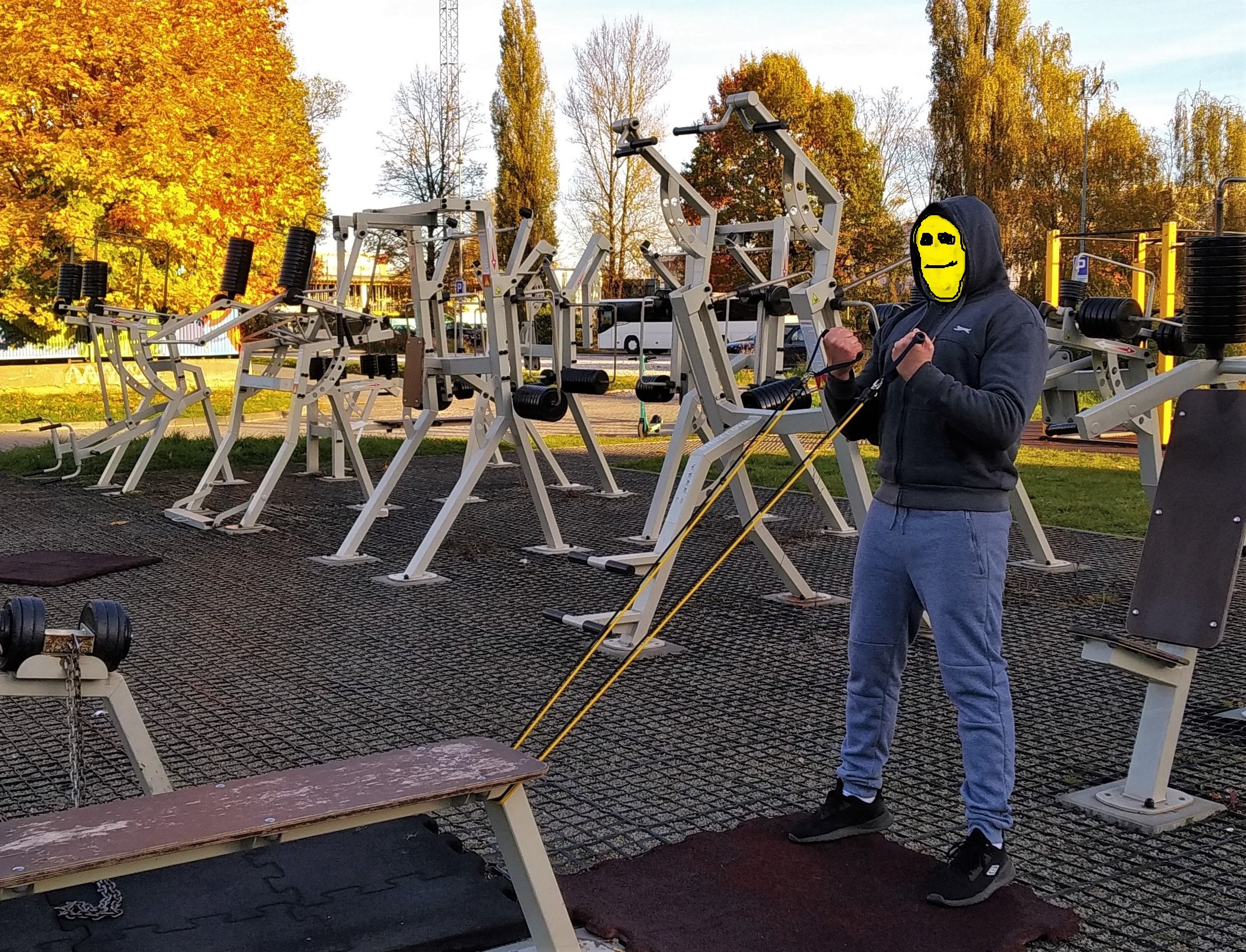 This is something I started using many years ago when doing calisthenics and I still do it, just like push ups, dips and some others exercises. Great way to get the final pump at the end of your work out session ;)
So that was my little update on my workout progress. If you work out too, feel free to share yours, I would love to know :)
---
---
---
This post was created by me for the Hive blockchain exclusively. All rights reserved.
---
---
---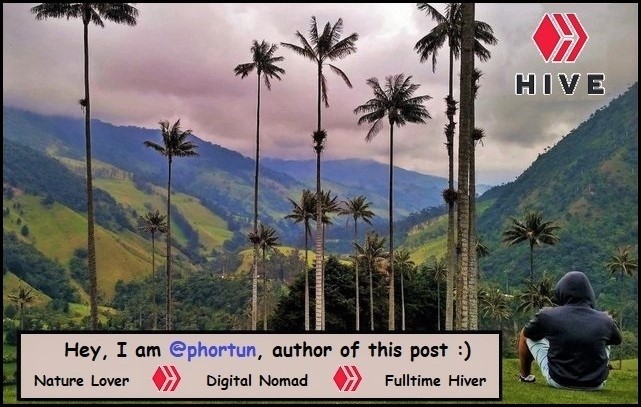 ---
Thank you for visiting my blog. If you like posts about Nature, Animals, Ecology, Crypto, Traveling, Sport, Photography and discovering secrets and beauties of the World, feel free to follow me as these are the topics I mostly write about. Have a wonderful day and keep on hiving, guys! :)