The bathroom bunker is coming together and if we get a delivery or two this week, it might even get close to being completed. As you can see, we went with the ever popular "military grey" - we are very happy with it so far. The furniture will go in this week (cupboards, sink, toilet, shower, towel rack and glass wall and mirror if they arrive) and then it should be good to go, we will have completed one room of the house - "99" more to go.
At the end of the week, the windows will be installed, the week after the exterior painting starts and at the same time, hopefully the attics will get opened up so that we can begin doing the upstairs surfaces. That is where I actually get to build stuff, rather than just demolish. There is a massive amount of dry walling, sanding and finishing to do up there, then we move everything from downstairs - and begin the next phase.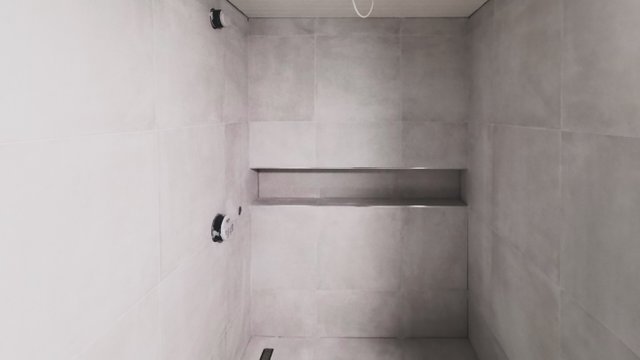 It has been really interesting to bring everything together so far and while there have been plenty of little headaches along the way, we are quite lucky that things have gone relatively smoothly, although well outside our budget. I am looking forward to getting the upstairs area done that we have a space that is "ours" - something we have created and something we will enjoy living in. We wanted the upstairs area to be a little different to the downstairs, a little more modern (but homey - despite the hardness of the bathroom) with clean lines and colors that we can accentuate with decor over time, something that can support a more eclectic range of furniture and styles.
For now and probably for some time to come, we aren't likely to have the budget to extend out to actually buying furniture as we are putting it all into the structure itself, the stuff that isn't going to change often and hopefully will survive the next couple decades without us tiring too much of it. Once we have done the two living floors, we are going to have a lot of empty corners as the area is about 2.5x the size our apartment was - it'll be nice - I dislike clutter and trinkets on shelves.
A friend visited here for the first time last night and said, "you will need to have a couple more kids to fill it" - but that isn't going to happen - too much clutter ;D Actually, we were originally planning on two, but that wasn't in the cards, so it is lucky we did such a good job on the first one.
Our place definitely isn't go to be to everyone's tastes, but that is why we chose a home over another apartment or a row house, it is ours, a place we can create that fits our preference and purpose as well as something that we are willing to invest our time and effort into, because it is ours. While we renovated our last apartment and made it "ours", it never felt like the kind of place that we truly owned, it was more like renting a space because we were going to move on from it.
There were people living in the building who had lived there since it had been built in the mid-70s, and even they didn't seem to consider it a home - which I consider a strange life to live in some respects, always kind of one foot out the door, never really settled, but also not going anywhere. With little exception, all of the people in our last apartment seemed to be bitter at the world or disappointed with their life in some way and it seeped out of them, projected in their views of others.
Perhaps it is only when we can feel comfortable where we are and in our own skin can we start to look at others with a more accepting eye and a little more compassion in our filter. I think that this is part of the problem with the life of consumption we have supported, as we are always wanting more, always chasing and always having to watch our backs in order to hold our jobs and keep the debt collectors at bay - how can we feel "at home" when we are always running, where is home base?
A bathroom is just a bathroom, a house just a house, a city just a city, a country just a country - but it is the meaning we apply to them and the personal relationship we have with them that can make us feel attached and grounded. Many of us seem to choose to cable ourselves to the disposable, when what we are seeking is the connection with that which we can grow and create and perhaps the most important of all and scarce at this moment of time, is the sense of community - the people around us that keep us balanced, keep us engaged, keep us wanting to be our best, not in order to reach a personal milestone, but for them, to support their growth and potential in the world.
The value of creation, is being able to share it with others who appreciate it. It doesn't matter if it is to build a home for family or cook a barbecue with friends - it is the relationships we hold that give meaning to what we do.
Time to grill.
Taraz
[ Gen1: Hive ]