Dear Hivers,
If you didn't know, the devotion series explores life, knowledge, and the truth around us. In this article, we will explore the power of seeing our lies.
Two thousand years ago, greek philosopher Diogenes shocked the crowd. One day he decided to walk around Athens with a lit lamp — in the broad daylight.
This made everyone curious.
Even puzzled.
Why would anyone need a lamp on a bright sunny day? And so he was surrounded and then questioned. To which Diogenes calmly replied: "I am here searching for a honest man."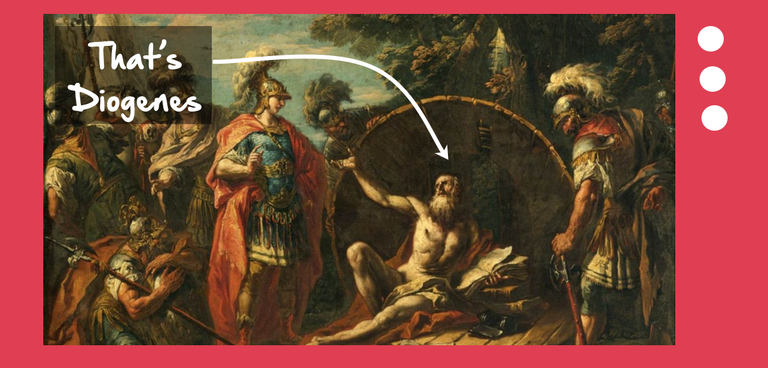 You see, all his life, Diogenes only found frauds, hypocrites, and liars in the society. Not a honest man. This old story also reveals another key lesson to remember. To be honest is incredibly rare.
That's because we lie — not to others but also to ourselves.
As we refine communication, we also learn to manufacture lies better than yesterday. While most lies are small and ineffective in our thoughts, the lie we tell ourselves are the worst kinds.
It imprisons us for life.
Example: Promising to do something — and not doing it. Setting goals for the future — and not committing to it.
These are hard to digest. Therefore we often neglect them.
All our lives, we swing like a pendulum with truth on one side and lies on the other. We pay less attention to lies because they are ugly. That is why they stay within us — often buried and never see the light ever.
On the other hand, if you find people who say they never lie — yet a number of studies reveals that we lie (that we don't lie) to design a better public image.
Some lies are told to hide the truth. While others are caught in the web of expectations. It is important not to neglect any of them. In fact, for most people, small lies turn into lifelong habits.
That is why American writer Derek Sivers says to keep your goals to yourself. The moment you let it out? You are psychologically lying to yourself and the whole world.
Isn't it time to look into these lies? But before we get into the next section, I would also like to share this:
Knowing ourselves is a journey of self-realization. The reason to write this post is not to preach but to activate those thinking cells hidden in our brain. To make ourselves better. To grow.
---

---
It is not that lies are bad but they observe our mental energy and move us in a different direction. Therefore most spiritual texts will tell you to drop these lies.
They serve no purpose.
To drop, one must take a step back and re-evaluate life. This shouldn't take more than 10 minutes. In fact, there are two steps to follow:
Step 1: Spot the lies — write them down
Step 2: Minimize these lies — be aware
Seems simple, right?
Let's explore: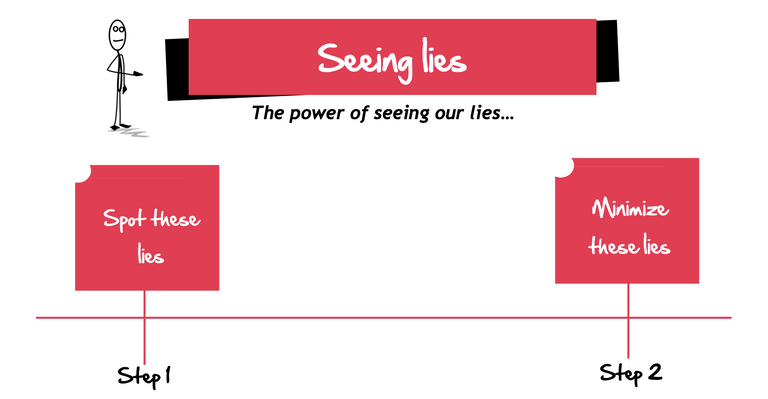 Step 1: To spot these lies, one has to accept the truth.
As mentioned in the extreme life lessons, I follow a habit of saying truth in the 90 days. This truth reveals the lies I tell myself. From a simple promise of overdelivering to living in the fantasy of future — with expectations. I have done it all.
The trick is simple: See your own lies as a different person and then peel it like a layer of dust. Write it down. Make a list. Save it. And read it once.
Step 2: Minimize these lies — be aware
Once we go through this list of lies, we become aware of our own being. We understand ourselves better. The idea is not to tell anyone anything. The idea is to be true to yourself.
That is why one has to minimize these lies:
Making big promises? Stop doing it.
Set yourself high expectations? Stop it. Don't expect.
Not feeling good yet pretending? Stop pretending.
The more lies you write, the more truth you can find. Just this simple exercise has changed my life dramatically. I can't stress the benefits.
Through this exercise of writing down our lies and facing them, we stop promising and start delivering. We increase our awareness and see through our own lies. We don't neglect it anymore. This heightened sense of awareness is the end goal.
If you wish to do it mentally, pick one lie that you hate to admit and think about it this week. See it as a conversation with another person. In no time, we begin to see our true self. Moment we witness these lies, we also get to know ourselves better and treat ourselves better. Our insecurity diminishes and we start to live a life of abundance.
With this thought, I hope and wish everyone can add more smiles and joy to their life while living an abundant life. I hope and wish everyone can spot lies and minimize them.
No pressure — just do as you feel. The idea is to explore ourselves. Because in this journey of life? If we can conquer our insides... the outside world turns into our playground.
Cheers,
Sid
---
If you liked the article? Feel free to upvote and reblog.
More From Devotion Series: