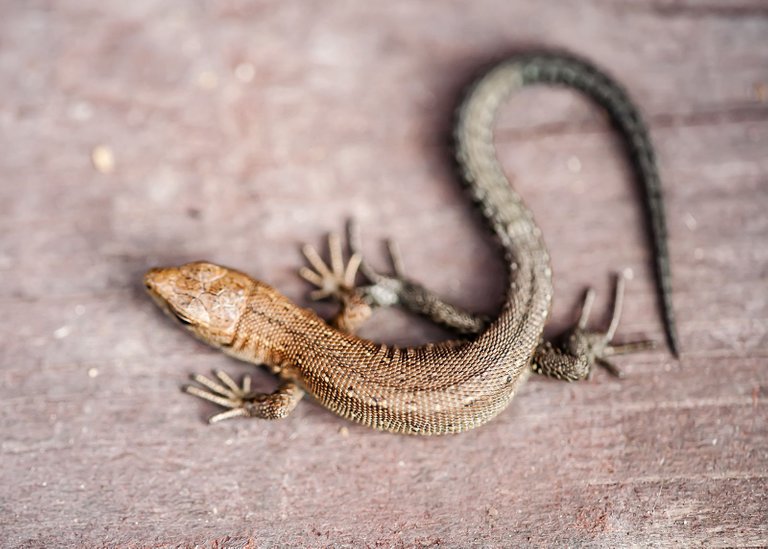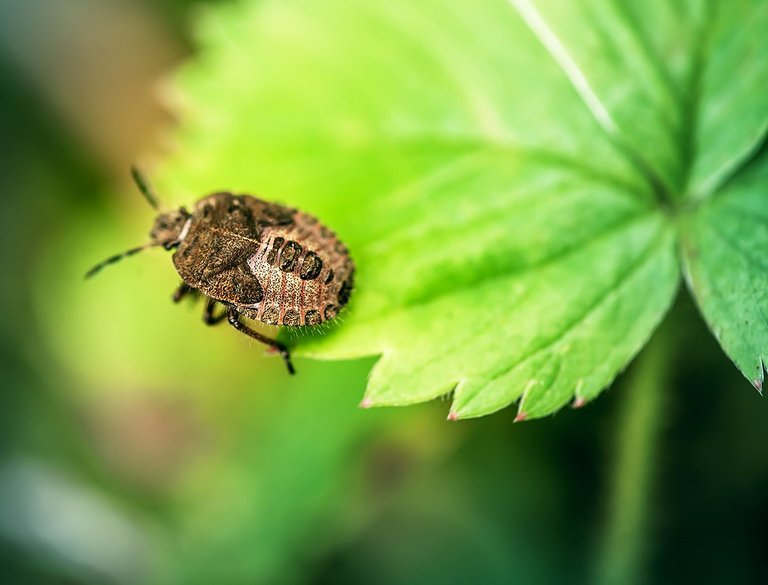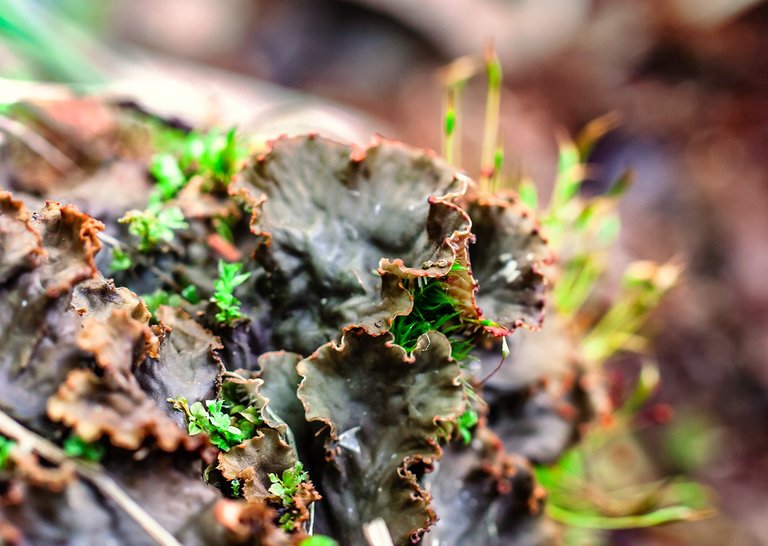 Post goes for #AmazingNature Thematic Challenge; weekly theme was: Natural Macro.
Being a vivid macro photographer, no doubts I have a lot to share. When I checked the week prompt I said myself: yes! - and immediately forgot about the competition, because I was busy all week, and for a couple of days I didn't even write one post. Happily.... on Saturday night (at 3:00 AM) I checked the few pages I check on a regular basis... checked the Feathered friends' page for current week contest (it is: Angry bird. a splendid one!), and the Amazing Nature challenge, as well.
Now I am in the middle of considerations what I am supposed to come up with. But - happily! -- I have a deadline coming in 19 hours, so this will help and work as a booster, haha.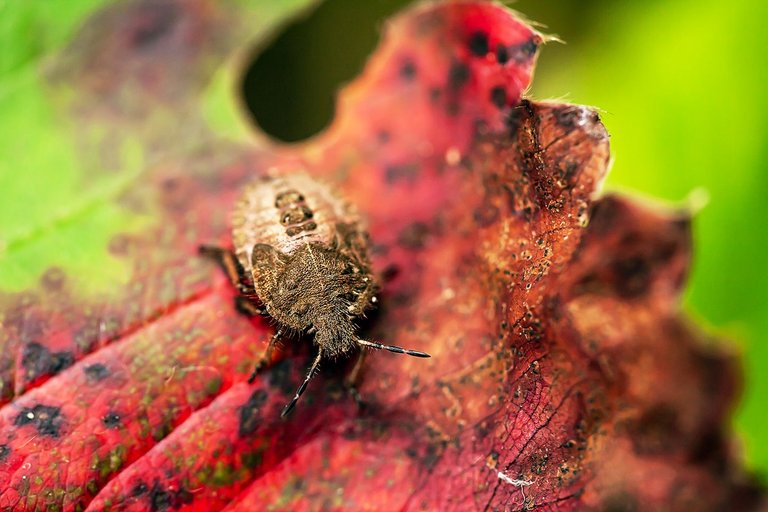 As it's macro, I will post hi-res images today, so that you may open the pics in a separate window to see the tiny details and enjoy the captures in all their hi-resolution majesty.
Mother Nature is a good designer ... maybe it uses a blind method and is not always too consistent, but note, it has many resources, the main of which is time ... it had many billions of years for experiments. And Nature may boast a huge number of successful and interesting designs. An infinite number of samples, actually ... each of them is a unique piece of work!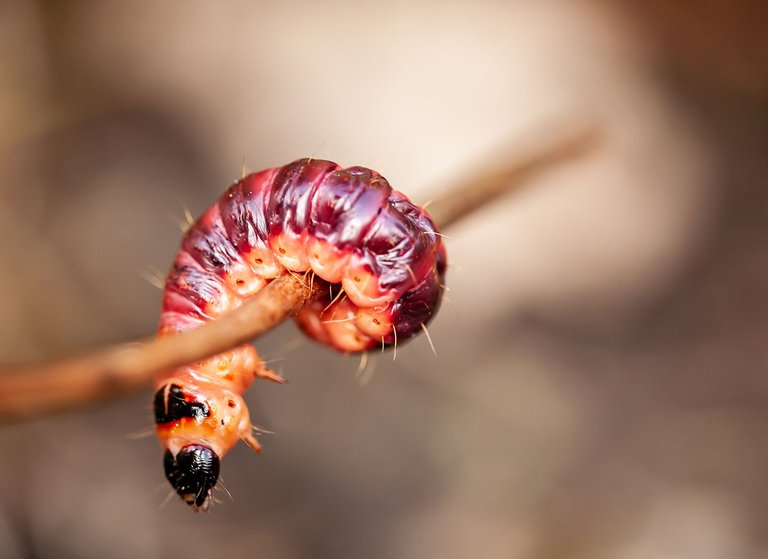 ---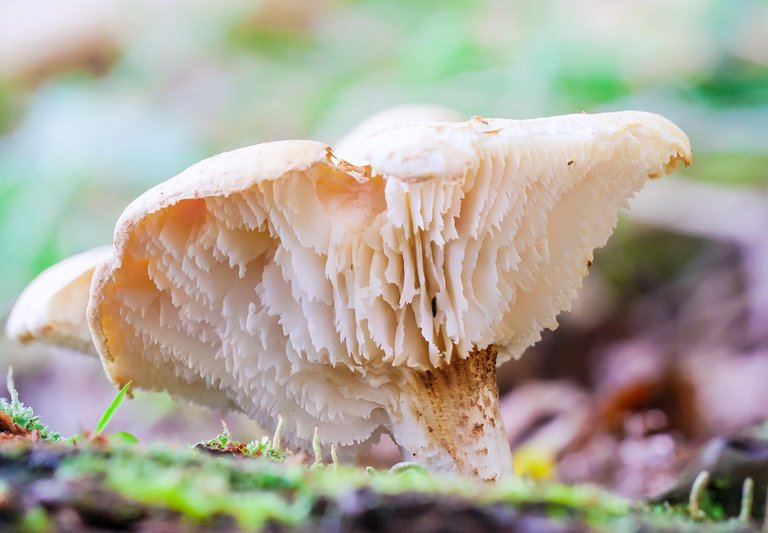 | | | | |
| --- | --- | --- | --- |
| location: | St.Petersburg, Russia | July 2020 | natural lighting |
| camera: Canon 350D | lens: Tamron 60mm | raw-conv. | x3 focus stake |
With this magnificent image (which I am actually proud myself) I decided to let you slip into my 'macro' kitchen for a little excursion. A feature of macro photography is the impossibility of obtaining a large area of magnification; a macro lens can focus only on a small area, in which we get a detailed image, and everything else turns out to be blurry.
С этим великолепным изображением (которым я на самом деле горжусь) я решил дать вам возможность прогуляться на мою «макро» кухню. Особенностью макро-фотографии является невозможность получить большую зону увеличения; макро-объектив может сфокусироваться только в зоне 1-2 мм, там будет детальная картинка, а все остальное окажется размыто.
---
This mushroom was quite large, 6-7 cm in diameter of the cap. In the photo you can see all the grills clear and detailed, they are all in the focus area - because a) I did not bring the camera too close to the mushroom, did not focus on one grill only (then we would see it with a high magnification and in the focus area, but would not see everything else), here in the focus area is "the whole mushroom"; and b) even so, I had to assemble this synthetic image from three separate frames.
Этот гриб был достаточно большого размера, 6-7 см в диаметре шляпки. На фотографии вы видите все пластинки чёткими, все они находятся в зоне фокуса - потому что а) я не стал приближать камеру к грибу слишком близко, не стал фокусироваться на одной пластинке (тогда мы увидели бы ее с большим увеличением и в зоне фокуса, но не увидели бы все остальное). Здесь в зоне фокуса находится "весь гриб" - но даже и в этом случае, мне пришлось склеить это синтетическое изображение из трех отдельных кадров.
---
The name of the technology is 'macro focus stacking'. / Технология называется "макро фокус стейкинг" (суммирование макро-фокуса).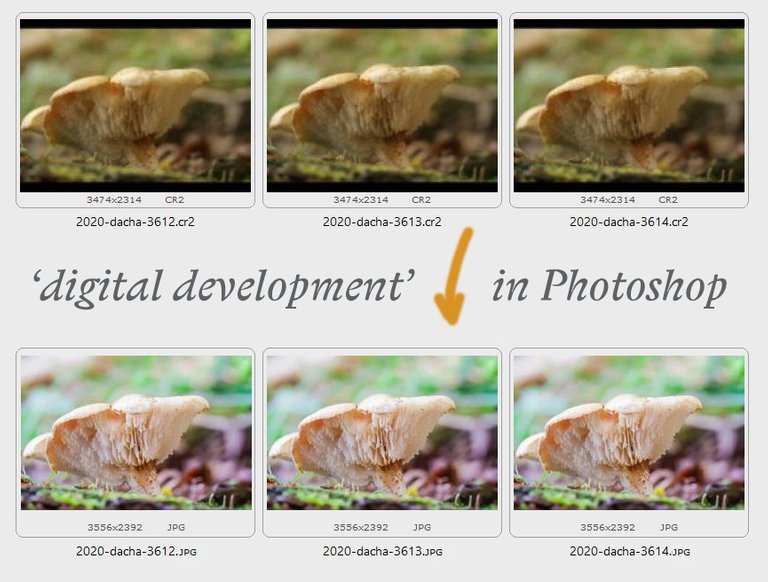 In the beginning, of course, the photographs themselves are taken. With a slight, extremely smooth focusing ring stroke, I took several photos, shifting the focal point from the farthest point of the subject to the nearer one. Then I processed the photos in Photoshop (nothing out of the ordinary: lightened the shadows, raised the contrast, made the colors clean and pleasing, that's beyond the scope of this story). Then all three photos are placed in one file, on different layers.
Вначале конечно делаются сами фотографии. С небольшим предельно плавным ходом фокусировочного кольца я сделал несколько фотографий, смещая точку фокуса от дальней точки объекта до более ближней. Затем я обработал фотографии в фотошопе (ничего необычного: осветлил тени, поднял контраст, сделал цвета чистыми и приятными, это за рамкими данной истории). Затем все три фотографии помещаются в один файл, на разные слои.
---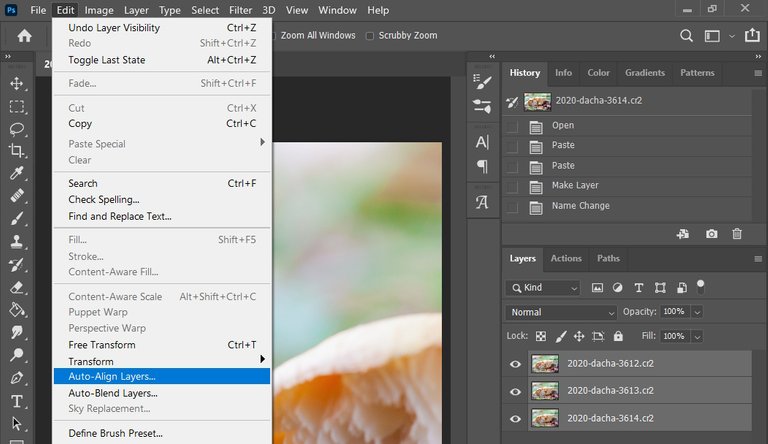 The "Auto-align" command aligns the photos within the subject, and then the "Auto-Blend" command actually performs all the nasty work: Photoshop's artificial intelligence analyzes each layer, selects the most sharp and detailed image area, and erases the rest. The resulting "layered cake" consists only of desired image areas that appeared in the focus zone (well, as much as the photographer was able to do it, of course). The more source photos were taken with small and smooth focusing steps, the better and more detailed the result will be.
Команда "Автоматическое выравнивание" равняет фотографии относительно сюжета, а затем при помощи команды "Автоматическое сшивание" собственно и делается вся работа: искусственный интеллект фотошопа анализирует каждый слой, выбирает из него зону изображения в фокусе, а остальное удаляет. Результирующий "слоёный пирог" состоит из участков изображения в фокусе (насколько это удалось фотографу, конечно).
---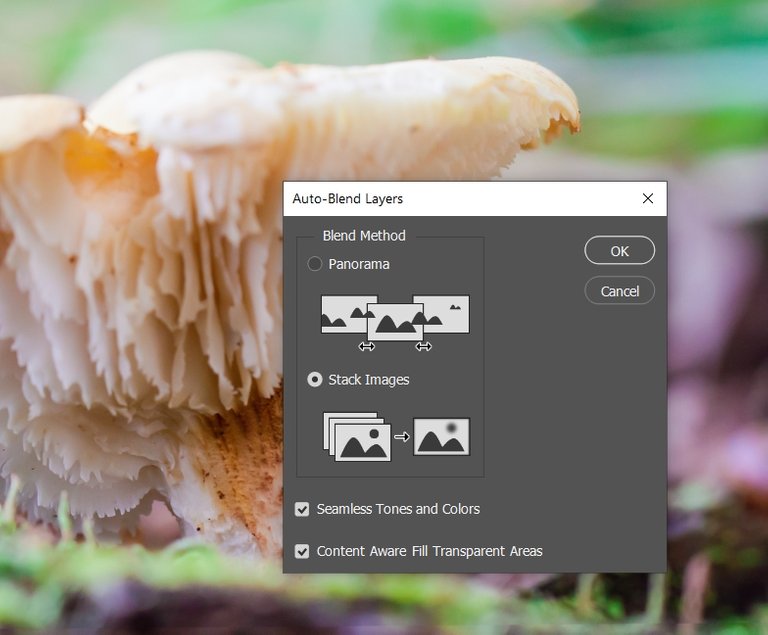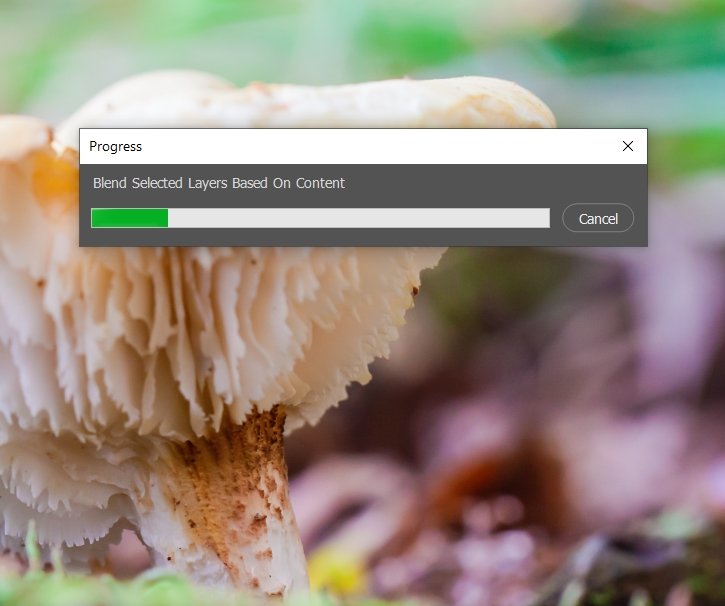 Some macro photos are collected from over a hundred separate frames! Needless to say, this fun is quite time and resource consuming... actually its my fondness of macro photography and focus-stacking became one of the main reasons for me to upgrade PC a few years ago.
Чем больше фотографий, сделанных с плавным шагом фокусировки - тем качественнее результат. Не могу не отметить, что эти операции весьма прожорливы в плане времени и ресурсов компьютера... именно увлечение макро-фотографией вынудило меня сделать апгрейд компа пару лет назад.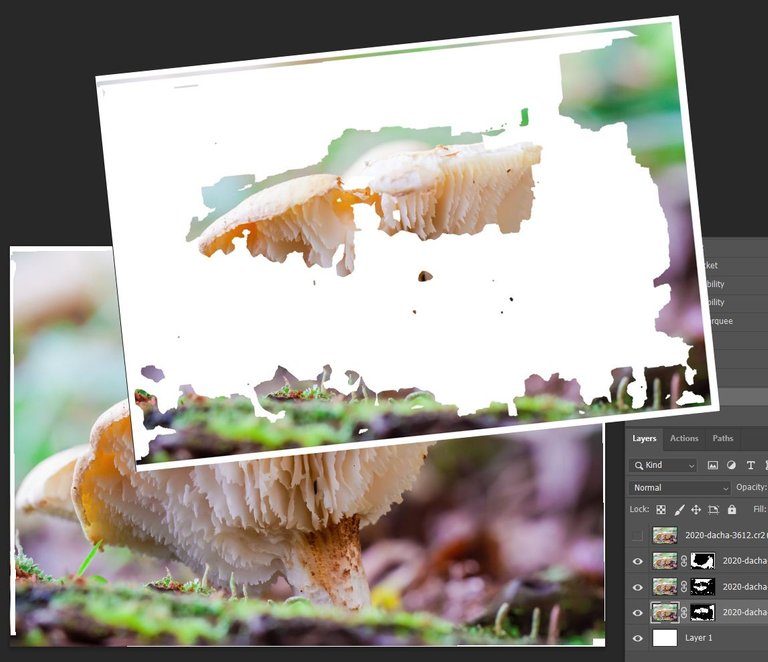 ---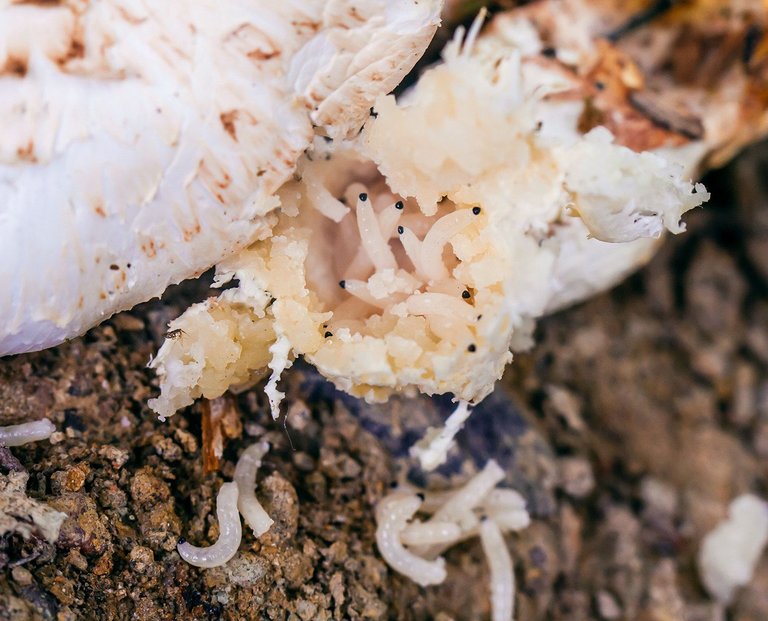 And this is what you can find inside of the mushroom, if you are equipped with a macro lens. Yeah, some lovely worms. Most of mushrooms dont left untouched -- very soon they got tenants! The most tasty and soft ones got tonns of them 😜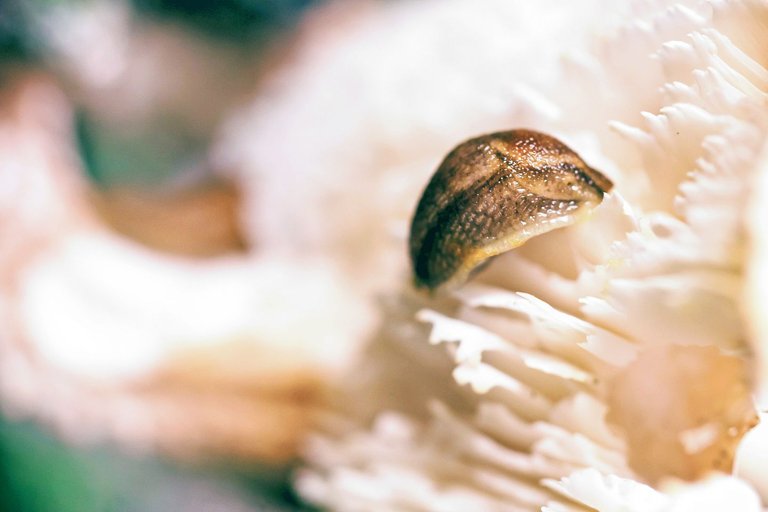 If you live a poor life and do not have enough money to spend a weekend in the Maldives ... or you cannot afford a jet to Sumatra to acquaint with all the jungles, insects, mushrooms, coral reefs there - no problem: Macrophotography will help you! Even your backyard can be a great place to travel - the main thing is that you have to equip your eye with a magnifying gadget. The $3,000 lens and a full-frame camera isnt a must, smartphone patch can save you as well! And then - I wish you a lot of free time and sun, good lighting, calm windless weather, and of course a great bio-diversity. Any bush and flower or mushroom will become to you a fascinating long memorable macro-journey to another planet inhabited by ... someone.
Если у вас не хватает денег слетать на Суматру, чтобы познакомиться поближе с тамошними бабочками, джунглями и коралловыми рифами - не беда! Вам поможет мкрофотография. Даже ваш задний двор станет отличным местом для путешествия - главное, вы должны вооружить свой глаз увеличительным гаджетом. Объектив за 3000 долларов конечно очень хорошо, но нашлёпка для смартфона тоже может оказаться полезной. А дальше - желаю вам много свободного времени и солнца, хорошего освещения, спокойной и безветренной погоды, ну и конечно био-разнообразия. Любой куст и цветок или гриб станут для вас увлекательным путешествием на другую планету, населенную кем-то интересным!
---