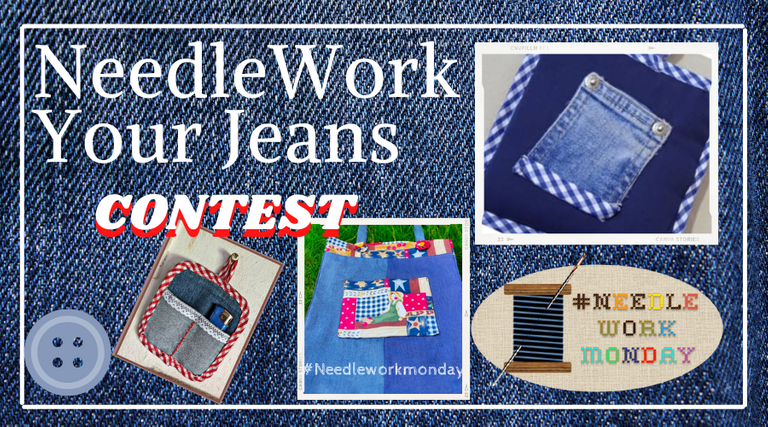 photo credit: @yasern, @carolinacardoza, @blanca56
A new contest has arrived at Needleworkmonday!

The Jeans
Who could have imagined that the pants that were originally made for men and more specifically for the miners in the gold mines popular in the 1870s, would become an indispensable item of clothing in the closet of anyone in this century.
Jeans is the name given to pants made of denim fabric. Also called "Vaqueros", this garment has evolved over time, from being a symbol of counterculture and rebellion of youth against the system in the 60s, to become an essential garment. Its versatility has allowed great designers to create their own brand, their own style and even their own culture around jeans.

Needleworĸ Yoυr Jeans!
As you may have already noticed, Jeans is the protagonist of this new contest in our community. The idea came up thanks to the creativity of the users themselves who have presented us with many projects made with recycled jeans. Now it's time to invite the whole community to
Needlework Your Jeans.
A contest in which you can express all your creativity and ability to transform an old jeans into a great craft project.
Remember that you must involve needles of some kind in your creative process.
Don't have a pair of jeans you can use for this project? Don't worry you can use any fabric that looks like it such as Drill, Denim, Canvas or something similar.
Show us your creative process with some pictures, but we also want more than just a tutorial. Tell us what's behind the project: motivations, ideas, difficulties, anecdotes etc.

Contest Guidelines
1.- Make your project with jeans fabric or something similar.
2.- All items you make with jeans must include a needle. We will also accept any form of fiber arts that has to do with knotting, braiding, felting, tying or any form of fabric and thread manipulation. You can even combine different sewing techniques together.

Some Ideas
You can make garments or transformations of garments, accessories such as bags, pencil cases, cosmetic holders, costume jewelry.
Objects for the kitchen such as pot holders, aprons, cup holders or glass holders, placemats or ornaments.
Whatever you can think of that can be made with jeans.
Here you have some examples: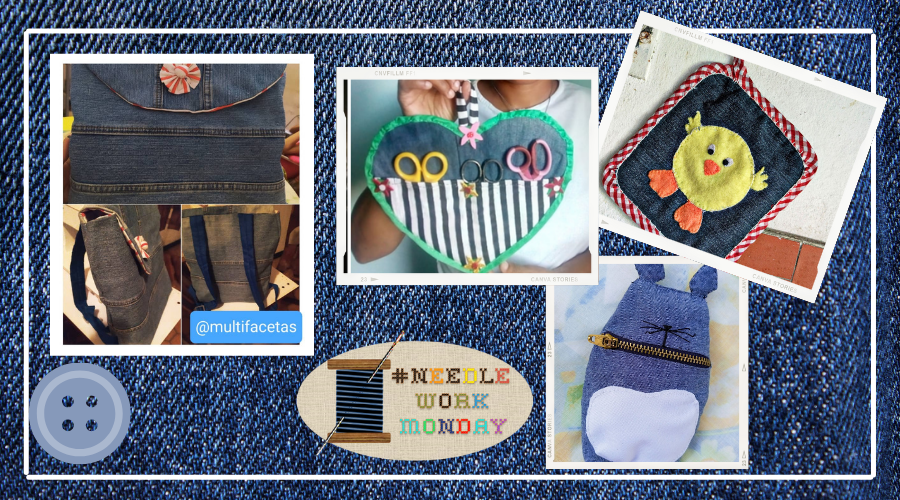 photo credit: @yasern, @bleuclair, @multifacetas, @coromoto20

Rules
1.- Show at least three photos of your creative process.
2.- Include a translation into English if you write in another language.
3.- Mention the source if you publish patterns that are not your own.
4.- Comment and support at least two entries in the contest.
5.- Use the hashtag #NEEDLEWORKYOURJEANS.
6.- Post directly in the NEEDLEWORKMONDAY community.
7.- Leave the link of your participation in the comments section of this publication.

Eɴтry Deαdlιɴe:
All entries for this contest are due in two weeks on Monday, March 21st!



Prιzeѕ
• 1st Place - 30% of the rewards of this post
• 2nd Place - 25% of the rewards of this post
• 3rd Place - 20% of the rewards of this post
• 4th Place - 15% of the rewards of this post
• 5th Place - 10% of the rewards of this post


We are looking forward to seeing your entries! Ready, Set, Go Needlework Your Jeans!!! 🧵🧶

Join us on Discord by clicking the logo below!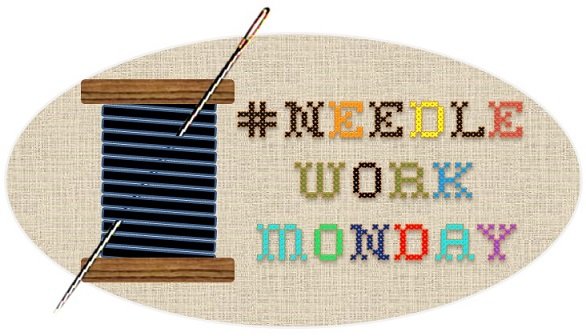 NeedleWorkMonday Founder:
Administrator:
Community Builders: