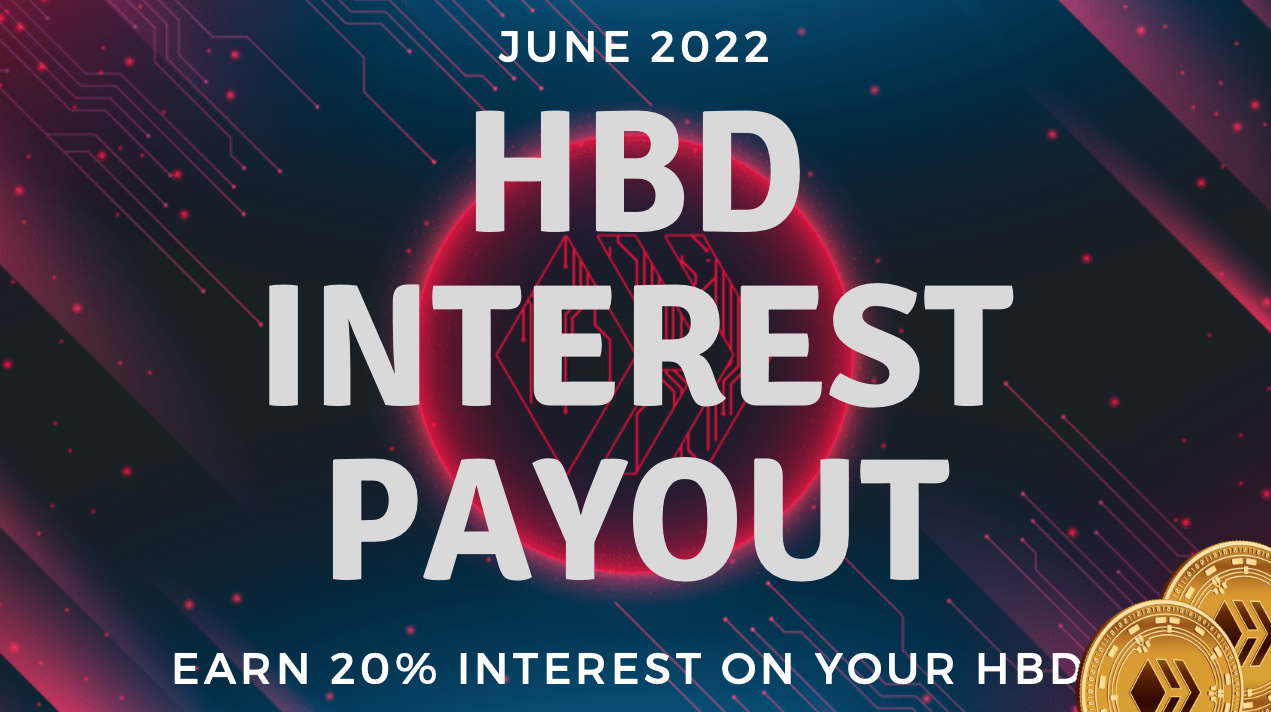 Hello Hive & Welcome July!
June has been super busy month for me. My blogging has been almost nonexistent. Last week, Hivebuzz was kind enough to remind me it has been five years since I joined this decentralized network. Time never stops and doesn't slow down. It has definitely been amazing journey to be part of decentralizing the web for the last five years. I was planning to write a post summarizing all awesome memories, achievements and benefits of these five years on Hive. But wasn't able to do so, due to deadlines on some other projects I had to complete. And the work done will hopefully free up more time in coming months for me to be more active on Hive.
It has become a routine of mine to check the HBD payments for the previous month at the beginning of the new one. Just because I am interested and invested to see the progress of HBD. HBD coin and system is a one of the unique features of the Hive blockchain. It has a lot to offer in Web3 world and is different from other stablecoins in the crypto world in positive ways. This has been becoming more clear during this bear market and troubling news about other stablecoins and crypto lending platforms.
UST is an old news. But it looks like other stablecoins like Justin Sun's new USDD has problems as well. Crypto and scam detective youtuber, Coffezilla has conducted a thorough investigation and posted an informative video titled The Next LUNA Ponzi Scheme. Free free to watch it yourself following the link below:
Main takeaway from the video was that, while the USDD has reached high market cap and nearing billions dollars, 94% of these coins were minted by Justin Sun himself. This number alone, once again shows the deceptive tactics and ill-intentions. Part of this scheme as Coffeezilla suggests could be to offload tron coins Justing Sun has while not affecting the price of the tron itself.
In other news we have seen how crypto lending platforms like Celsius, BlockFi, and others having financial troubles. There was a time I considered using BlockFi for dividends on bitcoins deposited. Now I am glad I decided not to do that. I hope these companies resolve their issues come out of this bear market stronger. This too has proven the importance of self-custody and having full control over crypto assets.
Failure and/or problems some of these stablecoins and crypto investment platforms facing seem to be a result of bad design, green, and/or ill-intentions. That also makes me/us ponder upon HBD and the potential problems it may have in the future. So far, I don't see any of these issues or symptoms for HBD.
HBD is not the core feature or function of Hive blockchain. It's purpose is secondary or complimentary for what Hive offers. Hive offers decentralized standards and solutions to the web, e-commerce, social networking, gaming, and community building. In addition to all the tools Hive offers for builders, it also provides solutions for financial transactions. If you are building an e-commerce platform, educational platform, social media, games, etc, having native financial transactions system is a big bonus. Especially when this system utilizes something that is familiar, a USD equivalent of a value. Add to this fast and free transactions, it becomes a no brainer how useful HBD is as a peer-to-peer payment system.
There are challenges for HBD to be widely adopted as a payment system. These challenges have nothing to do with HBD itself. They most like have to do with laws and regulations in various jurisdictions. Merchants have to take into account bookkeeping and tax obligations for every transactions. As more and more jurisdictions open up to these new technologies and provide clarity for conducting business, some of these challenges will be overcome. There are other challenges as well, like the size of the Hive network itself. Hive network will have to see significant growth for merchants to consider adding HBD payments in their online or physical stores. There is however no doubt how beneficial this can be for both merchants and customers. Payment finality, zero fees, and USD peg will be very useful.
Another use case for HBD is as an investment and savings instrument. Hive continues to pay 20% APR, and HBD holders can compound these interests every month. Even those many coins have seen significant drops in prices, HBD remains to be stable and pegged to USD. Super impressive! Unlike other stablecoins HBD has an adaptable design. It has protective measure that keep both Hive network and HBD secure. APR rates can be changed or removed easily and a timely manner if witnesses detect potential risks or issues.
Just few days ago Hive prices started going up for no reason, or reasons I have no idea about. At first I thought, some deep pockets must have discovered HBD. Probably not, and perhaps that was just some random speculations in the market. If you know the reason, let me know in the comments.
Now, let's take a look at numbers. Sorry to report nothing exciting here. In June Hive paid out 55,929 HBD to total of 2,253 account. These numbers dropped a little bit compared to May. If I were to guess, I would say some may have chosen to take advantage of low crypto prices and were more interested in other coins. There are so many options to buy these days. I also wanted to buy Hive, btc, and ltc with my HBD in savings and started the withdrawal. But changed my mind the next day and decided to keep HBD in savings as a hedge. At least for now.
Total HBD Interest Payments & Accounts By Month
| Month | Year | Total Amount | Total Accounts |
| --- | --- | --- | --- |
| March | 2021 | 10,429 HBD | 6,415 |
| April | 2021 | 12,208 HBD | 7,106 |
| May | 2021 | 16,574 HBD | 7,250 |
| June | 2021 | 38,883 HBD | 7,167 |
| July | 2021 | 1,696 HBD | 682 |
| August | 2021 | 5,646 HBD | 1,062 |
| September | 2021 | 2,570 HBD | 1,129 |
| October | 2021 | 4,914 HBD | 1,239 |
| November | 2021 | 10,931 HBD | 1,482 |
| December | 2021 | 19,004 HBD | 1,655 |
| January | 2022 | 19,740 HBD | 1,843 |
| February | 2022 | 14,775 HBD | 1,654 |
| March | 2022 | 26,506 HBD | 1,827 |
| April | 2022 | 35,223 HBD | 2,357 |
| May | 2022 | 66,025 HBD | 2,471 |
| June | 2022 | 55,929 HBD | 2,253 |
Mika continues earning the highest HBD interest rewards. Smart! Let me know in the comments if you made it to top 300 HBD interest recipients lists in June.
Top 300 HBD Interest Payments For June 2022
| # | Name | Amount | Date |
| --- | --- | --- | --- |
| 1 | mika | 13086.373 | 2022-06-08 11:38:33 |
| 2 | muenchen | 3314.068 | 2022-06-11 16:59:39 |
| 3 | shitposter | 3006.111 | 2022-06-28 05:26:45 |
| 4 | p-hbd | 2545.327 | 2022-06-27 16:39:03 |
| 5 | parkman | 1435.533 | 2022-06-06 02:18:51 |
| 6 | vaultec | 1012.585 | 2022-06-04 15:43:42 |
| 7 | feruz | 907.425 | 2022-06-18 08:17:54 |
| 8 | piggybox-002 | 875.394 | 2022-06-06 03:38:57 |
| 9 | lucius.banda | 792.738 | 2022-06-26 14:54:33 |
| 10 | investegg | 769.753 | 2022-06-10 16:32:03 |
| 11 | foreveraverage | 669.936 | 2022-06-26 21:33:15 |
| 12 | chewsk1 | 626.590 | 2022-06-16 20:17:36 |
| 13 | organduo | 618.610 | 2022-06-03 07:05:12 |
| 14 | piggybox-001 | 579.541 | 2022-06-03 07:34:54 |
| 15 | hbdsavings | 532.399 | 2022-06-01 09:41:09 |
| 16 | ehon | 493.227 | 2022-06-13 11:35:51 |
| 17 | cryptonized | 466.447 | 2022-06-17 08:34:27 |
| 18 | prinzvalium | 396.836 | 2022-06-04 07:02:27 |
| 19 | eonwarped | 389.472 | 2022-06-29 17:31:51 |
| 20 | paleking | 366.979 | 2022-06-26 16:00:57 |
| 21 | pharesim | 365.436 | 2022-06-06 14:29:15 |
| 22 | magicmonk | 349.724 | 2022-06-13 06:52:57 |
| 23 | silentscreamer | 344.274 | 2022-06-11 07:13:39 |
| 24 | inertia | 336.952 | 2022-06-17 03:23:33 |
| 25 | x30 | 320.118 | 2022-06-29 12:14:45 |
| 26 | onthewayout | 317.386 | 2022-06-29 22:46:42 |
| 27 | yunnie | 316.989 | 2022-06-06 02:33:00 |
| 28 | stoodkev | 308.672 | 2022-06-14 15:25:24 |
| 29 | eliel | 306.843 | 2022-06-15 14:38:48 |
| 30 | thevenusproject | 302.482 | 2022-06-14 15:44:57 |
| 31 | lordbutterfly | 294.453 | 2022-06-15 09:20:18 |
| 32 | sm-silva | 268.495 | 2022-06-26 00:00:15 |
| 33 | oflyhigh | 265.615 | 2022-06-22 11:40:51 |
| 34 | hivefest | 258.780 | 2022-06-14 05:22:54 |
| 35 | slobberchops | 258.179 | 2022-06-09 16:25:42 |
| 36 | konvik-cold | 250.789 | 2022-06-19 15:28:45 |
| 37 | nuttin | 248.737 | 2022-06-01 01:07:21 |
| 38 | chandpur | 243.013 | 2022-06-28 08:07:03 |
| 39 | dfund | 219.683 | 2022-06-17 02:02:30 |
| 40 | loanshark | 219.674 | 2022-06-17 02:07:06 |
| 41 | coinmint | 217.915 | 2022-06-12 07:15:00 |
| 42 | taskmaster4450le | 206.500 | 2022-06-20 23:27:09 |
| 43 | namelessnameless | 202.268 | 2022-06-16 19:39:57 |
| 44 | goldstreet | 197.353 | 2022-06-30 02:16:06 |
| 45 | krasnec | 194.478 | 2022-06-18 18:52:45 |
| 46 | hiddenblade | 183.601 | 2022-06-05 18:05:39 |
| 47 | eidolon | 180.879 | 2022-06-23 19:02:39 |
| 48 | raiseup | 178.710 | 2022-06-20 12:10:51 |
| 49 | watchlist | 156.206 | 2022-06-19 04:58:21 |
| 50 | hiveauth | 156.039 | 2022-06-07 17:45:48 |
| 51 | d-pend | 152.727 | 2022-06-14 14:44:51 |
| 52 | dwayne16 | 150.200 | 2022-06-15 09:26:27 |
| 53 | borislavzlatanov | 147.727 | 2022-06-06 18:57:30 |
| 54 | seed-treasury | 144.795 | 2022-06-01 11:33:57 |
| 55 | peakd | 140.866 | 2022-06-23 13:39:42 |
| 56 | cryptosimplify | 140.398 | 2022-06-13 21:20:54 |
| 57 | solominer.stake | 128.817 | 2022-06-11 16:15:15 |
| 58 | deanliu | 127.837 | 2022-06-15 10:35:09 |
| 59 | deepresearch | 126.816 | 2022-06-19 13:00:51 |
| 60 | teammo | 124.703 | 2022-06-16 13:51:06 |
| 61 | achim03 | 122.869 | 2022-06-23 11:00:39 |
| 62 | belemo | 122.822 | 2022-06-04 18:49:12 |
| 63 | lunaticpandora | 121.987 | 2022-06-04 18:31:24 |
| 64 | walterjay | 119.980 | 2022-06-08 08:16:51 |
| 65 | rival | 119.951 | 2022-06-22 08:22:45 |
| 66 | yogajill | 117.676 | 2022-06-15 19:14:48 |
| 67 | hrichakar | 117.652 | 2022-06-18 13:53:18 |
| 68 | trumpman | 113.697 | 2022-06-13 05:14:15 |
| 69 | geekgirl | 112.976 | 2022-06-17 21:17:21 |
| 70 | city-of-dresden | 112.354 | 2022-06-12 17:53:51 |
| 71 | scottcbusiness | 109.379 | 2022-06-09 17:59:24 |
| 72 | keychain | 104.738 | 2022-06-21 08:14:36 |
| 73 | chesatochi | 104.147 | 2022-06-25 11:47:09 |
| 74 | photofeed | 95.970 | 2022-06-06 11:12:36 |
| 75 | meesterboom | 95.861 | 2022-06-16 15:16:03 |
| 76 | holoz0r | 95.471 | 2022-06-06 03:28:06 |
| 77 | spinvest | 95.333 | 2022-06-29 11:44:12 |
| 78 | yann0975 | 94.215 | 2022-06-16 19:08:57 |
| 79 | thelittlebank | 92.377 | 2022-06-01 19:23:15 |
| 80 | r00sj3 | 89.597 | 2022-06-19 19:30:21 |
| 81 | seraphim502 | 89.584 | 2022-06-29 06:26:42 |
| 82 | schlees | 89.530 | 2022-06-28 08:51:12 |
| 83 | hivecreators | 89.017 | 2022-06-09 14:57:36 |
| 84 | risingstarhub | 88.701 | 2022-06-11 16:41:48 |
| 85 | maxsieg | 86.511 | 2022-06-18 12:03:51 |
| 86 | hivevault | 84.451 | 2022-06-10 20:21:27 |
| 87 | piggybox-004 | 84.199 | 2022-06-18 14:06:42 |
| 88 | balaz | 82.717 | 2022-06-26 06:25:06 |
| 89 | neoxian | 80.500 | 2022-06-20 20:09:30 |
| 90 | detlev | 77.650 | 2022-06-06 13:14:21 |
| 91 | richie.rich | 74.254 | 2022-06-05 15:32:39 |
| 92 | muterra | 73.644 | 2022-06-27 09:46:33 |
| 93 | mistakili | 73.568 | 2022-06-14 10:13:30 |
| 94 | silverstackeruk | 73.507 | 2022-06-17 10:39:48 |
| 95 | piggybox-003 | 72.196 | 2022-06-02 11:25:15 |
| 96 | pandasquad | 71.927 | 2022-06-12 19:33:24 |
| 97 | endaksi1 | 71.660 | 2022-06-13 08:20:51 |
| 98 | bozz | 71.413 | 2022-06-02 16:21:06 |
| 99 | rezoanulvibes | 71.062 | 2022-06-04 08:41:27 |
| 100 | dalz | 70.481 | 2022-06-13 06:44:15 |
| 101 | fundacja | 70.098 | 2022-06-09 23:01:54 |
| 102 | johnhtims.life | 68.867 | 2022-06-01 16:52:06 |
| 103 | martibis | 68.538 | 2022-06-04 07:40:33 |
| 104 | pouchon | 68.174 | 2022-06-27 08:15:30 |
| 105 | beststart | 67.791 | 2022-06-16 18:02:24 |
| 106 | steemvault | 67.567 | 2022-06-10 20:20:06 |
| 107 | tzofiah | 66.643 | 2022-06-09 12:00:57 |
| 108 | steemychicken1 | 66.595 | 2022-06-29 20:24:03 |
| 109 | peak.fund | 65.884 | 2022-06-14 20:04:45 |
| 110 | marthaehinome | 65.512 | 2022-06-14 20:42:36 |
| 111 | nostalgic1212 | 64.838 | 2022-06-14 00:39:45 |
| 112 | guiltyparties | 64.690 | 2022-06-14 02:18:30 |
| 113 | brumest | 63.914 | 2022-06-04 13:06:48 |
| 114 | taskmaster4450 | 63.278 | 2022-06-03 01:11:12 |
| 115 | neumannsalva | 62.985 | 2022-06-14 14:11:03 |
| 116 | cryptog33k | 62.257 | 2022-06-20 12:21:12 |
| 117 | vimm | 62.216 | 2022-06-17 18:43:45 |
| 118 | lemouth | 61.957 | 2022-06-06 18:50:51 |
| 119 | ironshield | 60.936 | 2022-06-26 14:32:00 |
| 120 | vevette | 60.734 | 2022-06-04 07:21:57 |
| 121 | niallon11 | 59.049 | 2022-06-27 09:58:36 |
| 122 | blrog | 57.462 | 2022-06-11 12:48:57 |
| 123 | communitybank | 57.365 | 2022-06-10 20:10:15 |
| 124 | ipromote | 56.853 | 2022-06-27 19:43:36 |
| 125 | steemflow | 56.354 | 2022-06-20 07:41:36 |
| 126 | crimsonclad | 56.239 | 2022-06-06 16:36:09 |
| 127 | uadigger | 55.112 | 2022-06-04 12:06:48 |
| 128 | michelmake | 54.691 | 2022-06-25 18:10:27 |
| 129 | riverflows | 54.207 | 2022-06-17 01:26:42 |
| 130 | ewkaw | 53.781 | 2022-06-17 23:23:12 |
| 131 | sketch.and.jam | 51.366 | 2022-06-27 23:29:12 |
| 132 | blockmine | 51.256 | 2022-06-28 18:48:12 |
| 133 | primersion | 50.823 | 2022-06-03 09:23:57 |
| 134 | hivestorage | 49.441 | 2022-06-08 05:42:36 |
| 135 | r351574nc3 | 49.392 | 2022-06-19 06:53:18 |
| 136 | kenny-crane | 49.069 | 2022-06-29 04:21:15 |
| 137 | r2cornell | 48.728 | 2022-06-06 20:28:00 |
| 138 | nbs.gmbh | 48.386 | 2022-06-12 19:15:18 |
| 139 | livinguktaiwan | 47.791 | 2022-06-20 17:33:51 |
| 140 | osak | 46.819 | 2022-06-18 18:55:45 |
| 141 | zedcell | 46.632 | 2022-06-30 15:04:12 |
| 142 | cflclosers | 45.692 | 2022-06-10 00:27:27 |
| 143 | fredrikaa | 44.661 | 2022-06-04 10:16:09 |
| 144 | vincentnijman | 43.781 | 2022-06-17 12:40:21 |
| 145 | grindle | 42.992 | 2022-06-16 08:51:24 |
| 146 | engrave.cold | 42.899 | 2022-06-07 10:59:09 |
| 147 | hallmann | 42.848 | 2022-06-19 22:55:57 |
| 148 | techcoderx | 42.797 | 2022-06-13 01:10:21 |
| 149 | anarcist69 | 41.623 | 2022-06-22 02:15:03 |
| 150 | condeas | 41.604 | 2022-06-03 22:03:30 |
| 151 | monochromes | 41.548 | 2022-06-22 13:21:06 |
| 152 | tipu | 41.020 | 2022-06-16 22:11:42 |
| 153 | irenenavarroart | 40.261 | 2022-06-13 23:03:24 |
| 154 | powpo | 39.948 | 2022-06-06 04:56:45 |
| 155 | hivebank9292 | 39.509 | 2022-06-21 06:19:45 |
| 156 | genesishealthy | 39.491 | 2022-06-18 03:13:54 |
| 157 | uwelang | 39.222 | 2022-06-05 07:51:54 |
| 158 | hermes.apocrypha | 38.880 | 2022-06-29 17:49:30 |
| 159 | nuthman | 38.113 | 2022-06-15 20:50:18 |
| 160 | catinthewindow | 37.740 | 2022-06-07 07:54:39 |
| 161 | deeanndmathews | 36.973 | 2022-06-03 06:48:33 |
| 162 | leaky20 | 36.667 | 2022-06-28 10:21:48 |
| 163 | bulldog1205 | 36.388 | 2022-06-20 17:48:00 |
| 164 | winniex | 35.931 | 2022-06-01 02:33:39 |
| 165 | shitsignals | 35.553 | 2022-06-08 04:39:06 |
| 166 | fedoraonmyhead | 35.398 | 2022-06-19 03:56:03 |
| 167 | behiver | 35.186 | 2022-06-26 16:56:30 |
| 168 | sanjeevm | 34.990 | 2022-06-14 05:50:15 |
| 169 | hakeke | 34.831 | 2022-06-09 11:08:54 |
| 170 | kheldar1982a | 34.735 | 2022-06-14 21:52:18 |
| 171 | thebeardflex | 34.331 | 2022-06-25 19:32:12 |
| 172 | contrabourdon | 34.308 | 2022-06-12 06:00:39 |
| 173 | revisesociology | 33.968 | 2022-06-30 05:53:48 |
| 174 | adambarratt | 33.932 | 2022-06-16 09:19:09 |
| 175 | investingpennies | 33.789 | 2022-06-10 20:20:39 |
| 176 | beta500 | 33.783 | 2022-06-10 20:22:15 |
| 177 | mariannewest | 33.740 | 2022-06-02 20:11:21 |
| 178 | deegramofficial | 33.596 | 2022-06-26 13:25:00 |
| 179 | gohive | 33.198 | 2022-06-08 23:22:33 |
| 180 | toofast-ace | 32.928 | 2022-06-09 13:54:33 |
| 181 | fat-elvis | 32.449 | 2022-06-17 15:08:57 |
| 182 | josediccus | 32.184 | 2022-06-11 05:21:36 |
| 183 | joshman | 32.058 | 2022-06-27 19:11:18 |
| 184 | wrestorgonline | 31.873 | 2022-06-20 23:42:24 |
| 185 | theb0red1 | 31.872 | 2022-06-07 06:16:18 |
| 186 | mrspointm | 31.804 | 2022-06-29 23:42:42 |
| 187 | abbak7 | 31.517 | 2022-06-20 18:45:45 |
| 188 | vermithrax | 31.396 | 2022-06-04 18:19:12 |
| 189 | naomish | 31.325 | 2022-06-09 12:01:30 |
| 190 | ruthsh | 31.325 | 2022-06-09 12:02:27 |
| 191 | fermionico | 31.134 | 2022-06-26 17:11:45 |
| 192 | rishi556.engine | 31.052 | 2022-06-17 01:13:42 |
| 193 | thegaillery | 31.003 | 2022-06-09 23:57:45 |
| 194 | kolbjorn | 30.796 | 2022-06-06 08:28:12 |
| 195 | orlandumike | 30.629 | 2022-06-07 20:22:42 |
| 196 | mathowl | 30.532 | 2022-06-01 16:40:21 |
| 197 | bdmillergallery | 30.445 | 2022-06-23 00:08:21 |
| 198 | shaunmza | 30.335 | 2022-06-14 19:21:45 |
| 199 | ragnarokdel | 30.204 | 2022-06-03 00:48:42 |
| 200 | louis88 | 29.682 | 2022-06-09 11:42:42 |
| 201 | photobook | 29.588 | 2022-06-09 10:12:03 |
| 202 | choism | 29.422 | 2022-06-14 23:02:09 |
| 203 | hive-174581 | 29.247 | 2022-06-15 08:26:30 |
| 204 | homesteadlt | 29.084 | 2022-06-05 06:40:18 |
| 205 | nftmart.wallet | 28.860 | 2022-06-15 01:40:27 |
| 206 | holoferncro | 28.770 | 2022-06-30 09:15:03 |
| 207 | skenderbeu | 28.592 | 2022-06-02 23:25:18 |
| 208 | alexaivytorres | 28.549 | 2022-06-06 14:30:54 |
| 209 | urun | 28.368 | 2022-06-22 03:13:39 |
| 210 | bit4bit | 28.307 | 2022-06-13 10:18:27 |
| 211 | muratkbesiroglu | 28.021 | 2022-06-22 08:26:33 |
| 212 | anneadam | 27.099 | 2022-06-11 19:39:54 |
| 213 | danmaruschak | 27.048 | 2022-06-08 11:12:15 |
| 214 | sourovafrin | 26.883 | 2022-06-28 05:44:18 |
| 215 | toofasteddie | 26.137 | 2022-06-29 20:42:42 |
| 216 | celestal | 25.907 | 2022-06-21 14:03:45 |
| 217 | youtuberin | 25.870 | 2022-06-24 05:39:51 |
| 218 | gadrian | 25.833 | 2022-06-07 06:12:15 |
| 219 | danielhuhservice | 25.669 | 2022-06-13 18:05:06 |
| 220 | papilloncharity | 25.622 | 2022-06-19 20:03:42 |
| 221 | mangowambo | 25.150 | 2022-06-27 15:28:18 |
| 222 | alexvan | 24.962 | 2022-06-09 20:19:18 |
| 223 | xplosive | 24.660 | 2022-06-30 14:41:39 |
| 224 | gwajnberg | 24.647 | 2022-06-27 16:01:45 |
| 225 | dedicatedguy | 24.317 | 2022-06-19 20:06:24 |
| 226 | offgridlife | 24.307 | 2022-06-08 17:20:57 |
| 227 | jznsamuel | 23.665 | 2022-06-07 23:42:33 |
| 228 | mrpointp | 23.499 | 2022-06-29 23:43:24 |
| 229 | choogirl | 23.114 | 2022-06-06 19:59:45 |
| 230 | abdex9 | 22.946 | 2022-06-02 18:17:54 |
| 231 | jedigeiss | 22.924 | 2022-06-19 20:24:54 |
| 232 | sandymeyer | 22.856 | 2022-06-26 11:52:51 |
| 233 | dera123 | 22.739 | 2022-06-17 22:08:36 |
| 234 | obsesija | 22.537 | 2022-06-24 00:24:24 |
| 235 | zokka82 | 22.523 | 2022-06-19 09:11:42 |
| 236 | luislrt | 22.373 | 2022-06-30 01:11:27 |
| 237 | arcange | 22.192 | 2022-06-20 13:03:48 |
| 238 | bhattg | 22.028 | 2022-06-06 15:53:06 |
| 239 | curangel | 21.972 | 2022-06-06 14:33:21 |
| 240 | crypt0 | 21.922 | 2022-06-23 21:22:51 |
| 241 | epic-fail | 21.448 | 2022-06-14 02:52:54 |
| 242 | xg4028 | 21.402 | 2022-06-11 05:53:33 |
| 243 | montanita | 21.250 | 2022-06-20 11:37:24 |
| 244 | creativemary | 21.051 | 2022-06-20 11:32:03 |
| 245 | archon-gov | 21.013 | 2022-06-20 14:39:57 |
| 246 | c0ff33a | 20.963 | 2022-06-25 10:46:12 |
| 247 | neoxian.alfa | 20.950 | 2022-06-26 22:54:00 |
| 248 | mproxima | 20.873 | 2022-06-05 15:27:51 |
| 249 | lovequeen | 20.771 | 2022-06-10 08:28:21 |
| 250 | stevieboyes | 20.583 | 2022-06-27 09:19:27 |
| 251 | tomhall | 20.251 | 2022-06-16 20:44:54 |
| 252 | jaster | 19.813 | 2022-06-27 02:17:33 |
| 253 | dante31 | 19.761 | 2022-06-12 09:32:39 |
| 254 | eforucom | 19.737 | 2022-06-14 17:22:39 |
| 255 | robinron | 19.675 | 2022-06-26 13:09:21 |
| 256 | priyanarc | 19.277 | 2022-06-06 14:48:42 |
| 257 | yole | 19.050 | 2022-06-04 01:13:27 |
| 258 | kargul09 | 18.818 | 2022-06-27 14:57:06 |
| 259 | albuslucimus | 18.796 | 2022-06-08 14:07:18 |
| 260 | darkflame | 18.545 | 2022-06-21 21:11:51 |
| 261 | soyrosa | 18.463 | 2022-06-06 20:45:21 |
| 262 | vcclothing | 18.319 | 2022-06-30 03:49:18 |
| 263 | anderssinho | 18.268 | 2022-06-26 13:42:18 |
| 264 | khan.dayyanz | 18.175 | 2022-06-20 10:22:27 |
| 265 | wwwiebe | 17.806 | 2022-06-15 14:59:57 |
| 266 | guurry | 17.568 | 2022-06-15 14:03:12 |
| 267 | andyjaypowell | 17.394 | 2022-06-01 08:22:30 |
| 268 | gabrielatravels | 17.374 | 2022-06-26 06:19:27 |
| 269 | adamada.stem | 17.287 | 2022-06-23 00:37:12 |
| 270 | shimozurdo | 17.277 | 2022-06-09 20:11:18 |
| 271 | juecoree | 17.245 | 2022-06-09 03:15:21 |
| 272 | galberto | 17.084 | 2022-06-12 03:03:48 |
| 273 | reiseamateur | 17.054 | 2022-06-15 19:33:48 |
| 274 | rodrook | 16.972 | 2022-06-04 02:08:57 |
| 275 | kendewitt | 16.919 | 2022-06-26 07:26:18 |
| 276 | hivesql | 16.810 | 2022-06-08 17:45:54 |
| 277 | mammasitta | 16.736 | 2022-06-07 21:22:51 |
| 278 | julian2013 | 16.703 | 2022-06-16 11:50:51 |
| 279 | doze | 16.673 | 2022-06-23 16:08:30 |
| 280 | diehardknocks | 16.600 | 2022-06-28 02:59:30 |
| 281 | unorgmilitia | 16.552 | 2022-06-22 22:17:06 |
| 282 | generikat | 16.503 | 2022-06-01 01:42:06 |
| 283 | paxjulia | 16.483 | 2022-06-21 17:56:18 |
| 284 | baibuaza | 16.437 | 2022-06-01 01:58:24 |
| 285 | merthin | 16.395 | 2022-06-14 09:50:39 |
| 286 | dandays | 16.289 | 2022-06-08 06:53:18 |
| 287 | juliakponsford | 16.197 | 2022-06-30 17:14:09 |
| 288 | ericvancewalton | 16.158 | 2022-06-01 00:55:03 |
| 289 | blueeyes8960 | 15.868 | 2022-06-20 14:55:42 |
| 290 | straykat | 15.804 | 2022-06-08 23:58:00 |
| 291 | sponge-bob | 15.655 | 2022-06-09 00:49:24 |
| 292 | empress-eremmy | 15.630 | 2022-06-13 05:17:09 |
| 293 | spi-steemcity | 15.515 | 2022-06-19 05:33:42 |
| 294 | bil.prag | 15.501 | 2022-06-11 03:05:30 |
| 295 | eturnerx-honey | 15.499 | 2022-06-15 22:53:57 |
| 296 | erikklok | 15.442 | 2022-06-27 19:42:36 |
| 297 | jongolson | 15.418 | 2022-06-03 17:31:42 |
| 298 | garlet | 15.338 | 2022-06-04 20:12:30 |
| 299 | eisenbart | 15.321 | 2022-06-25 10:24:18 |
| 300 | nonameslefttouse | 15.072 | 2022-06-14 16:35:51 |
Posted Using LeoFinance Beta