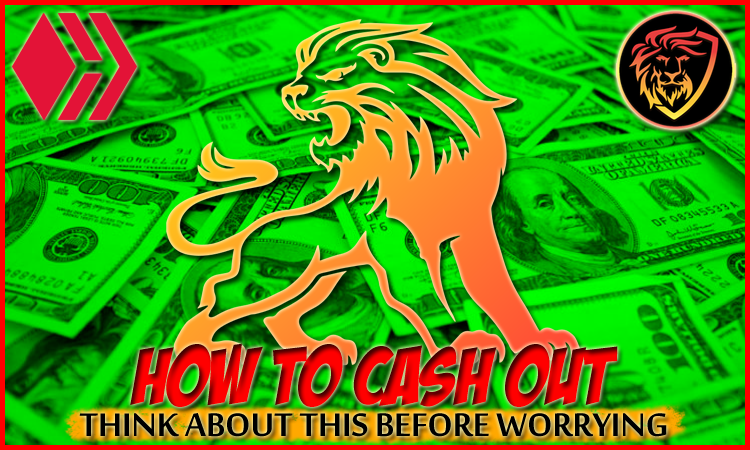 ---
"I Want To Cash OUT."
This is probably not the answer you are looking for, but I promise you that it will be something you need to hear before you are starting to think about cashing out your earnings..
"I am new. I want to know how to cash out what I earn. Thx"
This and very similar sentences have started to pour in on various comment sections lately. I have nothing against people asking questions and the basic know-how to cash out is definitely something I personally think is an important thing to know as an active Lion (user on LeoFinance) or Hiver (user on Hive). It's obviously vital for users in other communities as proofofbrain as well, but if- or when you know how to do it on one place, you know how to do it everywhere.
Despite the fact that everything so far in this article is about cashing out, including the actual cover for the article, I will not tell- or show you how to do it. That's something you can- and will learn elsewhere.
This is more about the things you should think about before you cash out, or even before you are having thoughts on cashing out. Especially if you are new and are asking these questions early on, which a lot of users seems to be doing. This is for the people who wants to take this golden opportunity to actually change their lives for good. This is for people who long for success.
---

---
Socialize And Make Friends
I have talked about this numerous of times in the past and even though it should be natural to engage and interact with people on a social platform, we still have people here doing literally nothing in terms of engagement. They don't interact with other peoples content and some of them are even ignoring their own audience by not responding to any of their comments.
If you're at a party, I guess you talk to someone, right?
I doubt that you'll just stand in a corner throwing out some random sentences for yourself, in some weird, desperate attempt of making new friends. Especially if you won't even respond to them if, and I say if someone actually would say "Hi!" to you. It's a two-way street.
Someone has to take the first step, but you always need two people to actually talk with each other. Otherwise there won't be much of a dialogue. On #Hive- or any of the communities, make sure to comment on content. Make meaningful and well-thought comments.
---

---
Build Your Brand
You don't have to be an expert in marketing, sales or business to be successful on Hive. Hive is for everyone. With the various communities out there, there's a place for everyone, but you need to build and audience and you need to build your own brand.
What you say, share and discuss and how you do it is literally the first impression you give people. You should treat others the same way you want to be treated. Treat people with respect even if you disagree on something. Feedback aren't always positive. You can give people constructive criticism and still be nice to people. Something else that isn't wise to do, according to me, is to talk about cashing out the first second you join because you are likely to look like a taker and takers are usually selfish and greedy.
Selfishness and greed are two things that are commonly looked at as ugly and bad, and even though everyone has the right to do exactly what they want with their stake and their earnings, most people on Hive supports people who are investing something back into Hive. They want to support people who contributes in one way or another and people are looking to support people who believes in the project.
Often, just by saying the sentence: "I want to cash out", people read "I want out" and people aren't likely to support and reward users who are only in this to fill their own pockets, cashing out and grabbing as much as they can for themselves. We want to support people who are eager to invest something back into the platform. It doesn't necessarily have to be in terms of money, even though it's a good idea to power up at least some of your rewards.. But you definitely need to give something back if you're being rewarded and if you expect to be rewarded in the future.
Your investment might be to spend a lot of time making comments or sharing in-depth reports or analysis. You might be an expert in terms of crypto and can share some insider information. Whatever..
You need to figure out what you can do for others.
Also, to be consistent, honest, trustworthy and all of those things also matters, if you want to have a reputation of being a straight up person. If you want to come off like a retarded, selfish, greedy idiot. Just do the opposite. I'm not here to teach you how to behave, I'm just sharing you some tips.
---

---
This Is NOT Rocket Science
Neither Hive or any of the communities out there are charity platforms. We have combined our efforts and helped hundreds of people from all over the world to pay rent, get shelter or a new laptop and even though most of us love to help others around us, we are looking for something in return. We exchange things here.
You can't come here and expect to get the world for nothing.
If you are being disheartened because you didn't earn 100 USD on your first, rather poor publication you have the wrong mindset. You can't compare yourself with others. You might not earn a single cent for days, weeks or even months. There's often very logical reasons to why someone is being rewarded while another person is not. The important part is to figure out the difference, because 9/10 times there is a huge difference, even though the quality of the content is the same or similar.
The difference might be the reputation someone has, what they have done previously and how people are giving something back to the community.. But it might be something completely different as well so don't take things for granted. So, the first thing you should do right now, is to go out there and make some connections. Make some comments. Set a goal for yourself if that helps you.
Make sure to socialize and invest in your own future.
When the time comes, you'll have the answers for what to do with your stake.
Posted Using LeoFinance Beta