Introduction:
I was going to announce the winners of all my recent giveaway posts today but while I was browsing the vast web I randomly came across an article that I thought would be interesting to share with those who read my blog. That article is titled, One-Third of Americans Making $250,000 Live Paycheck-to-Paycheck, Survey Finds. As the titled indicates the topic at hand is the income of Americans who earn $250,000 or more. It also compares saving power of the different generations.
---
---
Personal Thoughts:
I often wonder how much annual income is enough. Of course what is or isn't enough will be subjective. Many things such as were we live, cost of living, TAXES and many other factors determine how much fiat we need. This specific article refers to Americans and notes generational differences in regards to earnings spent/saved. The article claims that One-Third of Americans Making $250,000 Live Paycheck-to-Paycheck. Taking the information at face value, to me that is insane but not surprising. Humans in general are very bad with money. Many don't look past the weekend and take for granted their paycheck will always come. Its the mindsets of people that need to change. We are taught bad money habits from those around us and fall into the same pitfalls the generations before us fell into. Its not an easy cycle to break but doing so will lead you to financial freedom or at least give you the best chance at having financial freedom.
I find that most will spend what they earn. This means if your paycheck is $500 a week by the end of the week you will be broke. If you suddenly get a raise and your paycheck becomes $550 by the end of the week you are still broke. Many simply up their standard of living each time they start to earn more money and they do so without saving. If you find it hard to save fiat my go to suggestion is to open a second bank account and have the bank remove a percentage from each of your paychecks to place in your newly created Savings Account. Then forget that savings account exists until you are in dire need of money or until you retire. If you can fight the urge to dip into that account you would have made your first step in having a nest egg built for yourself. After all $50 from $550 is less than 10% of your weekly paycheck (You can apply this to any amount), you can even drop that to 5% if you want and once you get comfortable start to increase that percentage. Once you take this baby step you might even find yourself enjoying the feeling of saving money. Congrats you broke the cycle, look at other ways to earn and start having your money work for you instead of you working for money.
---
---
Quotes From The Article:
Some 36% of households taking in nearly four times the median US salary devote nearly all of their income to household expenses, according to a survey by industry publication Pymnts.com and LendingClub Corp. It's particularly true among millennials, who are now in their mid-20s to early 40s: More than half of top earners in that generation report having little left at the end of the month.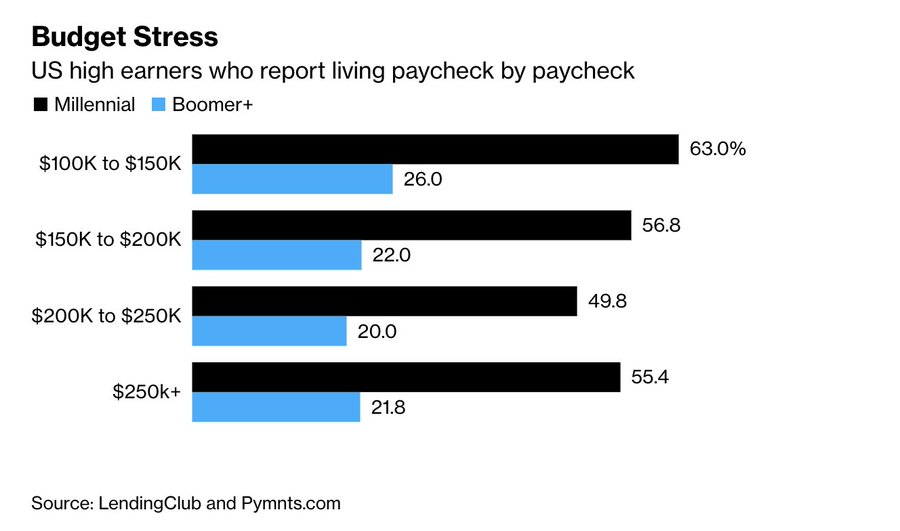 Housing expenses, which typically take up large chunks of the budgets of wealthier people, have skyrocketed during the pandemic. For example in Orange County, California, a top-tier home cost $1.7 million in April, up from $1.2 million in February 2020, based on Zillow Group Inc. data. A mortgage on that house, assuming a 20% down payment, would cost about $100,000 per year. That's 40% of a $250,000 annual pre-tax income.
**The LendingClub survey was conducted from April 6-13, based on about 4,000 US consumers.
Link To Full Article: https://www.bloomberg.com/news/articles/2022-06-01/a-third-of-americans-making-250-000-say-costs-eat-entire-salary
---
---
Final Thoughts
Looking at the provided graph we can see Millennials out earn Boomers by over 50% in all four categories running from $100,000- $250,000 USD + of earned income. Which is interesting since the article notes that this spending/saving "issue" is particularly true among Millennials. The conclusion I take from this is Millennials on average are likely to earn more than boomers but also spend more/have the same bad spending habits as boomers. Chances are if you are on the HIVE network (the network this blog you are reading is located) and reading this you have already broke the cycle and likely already have or about to put your money to work for you. Welcome to the club of free thinking individuals who managed to think outside of societies standard of "living".

Posted Using LeoFinance Beta