Dear Hivers,
Have you ever been to a fancy hotel room where everything was perfect? From the lights to the gorgeous curtain and that super-comfy bed which feels like heaven is right here?
The secret is in the preparation. You see, they prepare the room before the guest arrives.
When it comes to content, shouldn't we prepare our post before the reader arrives? To make this happen, we have to fix few things.
That is why I thought I will write this article to discuss the before and after publishing mistakes that can be minimised.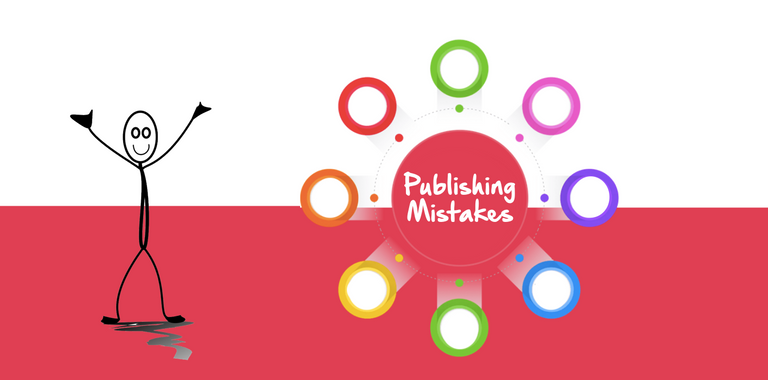 I have committed every single mistake — and the goal is to remember them the next time when you are publishing your article. It will only help you become a better creator.
And with this thought, I am sharing 7 publishing mistakes that can be avoided.
---

---
#1: Not changing the URL
---
Long URLs (also called permalink) for your posts are generally bad. Short ones are good — even for SEO and for your readers. I won't go into the technical details here.
But I have selected two comments from an SEO forum to show the power of short URLs. It is a good rule of thumb to pick short over long.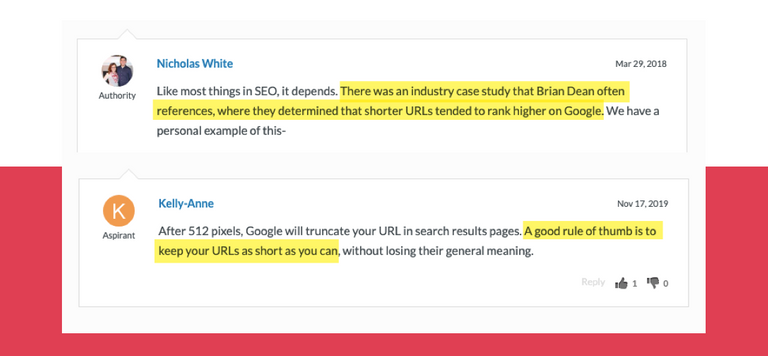 In short: You convert long URLs into short ones. Here is an example:

As you can see, I used two words in the URL even though the title of the article was long.
How to do this?
Let's say I am using @Peakd. Then I go to the editor and click the pencil icon. Now I change the URL and hit the tick button to save the new URL. If you try once, you will get it.
Tips:
Do not use excessive words in the URL
Do not use a generic term (page1) in the URL.
Note: Changing URL is not possible through Hive.blog
---
#2: Not @ the right way
---
This is a rare case. Still worth discussing though. I have noticed members here tag various whales and witnesses — like dozens of them using @ — in the middle of the content.
Is that bad? You know it.
But still, if the circumstance demands, then tag the right way. I prefer to tag at the end of the article with a clear message. Like this:

Note: The key is to tag at the end of the article, so the reading flow is uninterrupted. Minor issue but still a publishing mistake.
---
#3: Not using enough tags
---
Use at least 3 tags. In fact, I always use 8 and more tags. When you think about it, 8 isn't a lot because you are combining relevant tags — community tags — and popular tags.
The bottomline is: More relevant tags are good. Remember this before hitting the publish button.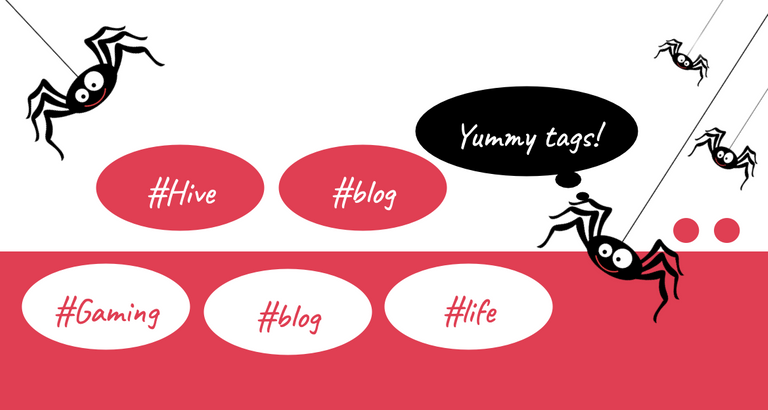 I even wrote an article on tagging that you should read.
---
#4: Not adding enough images
---
Most people stop at one image at the top of the article. That is perfectly fine if your article is under 300 words.
But if it is more? Think about it. Perhaps you can try adding another image. This is because using text to hold attention is difficult these days — until you have mastered it.
You see, text wrapped with shiny words cannot be cooked easily. It takes time, effort, and experience.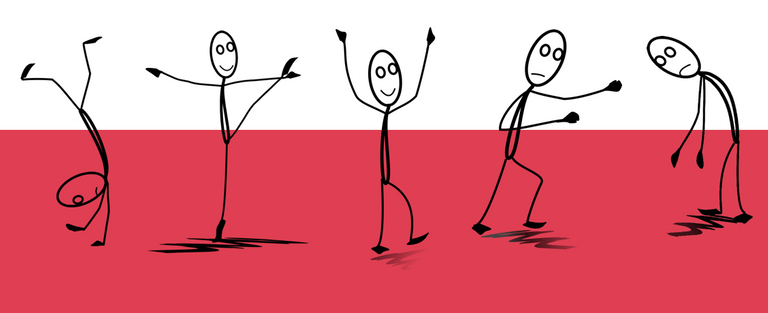 Therefore the other alternative way is to sandwich images between your paragraphs. You marry text with images. And this, in turn, motivates your reader to continue reading.
I have talked about images before. And I will continue talking about it as Hive can use lots of good images. Here's the tutorial to follow.
---
#5: Not editing enough
---
Remember: Writing should be separated from editing. In this case, don't rush through the process. Don't hit the publish button if you are NOT going to edit later.

When it comes to editing, this is what I do:
Look for typos (tiny grammar mistakes are OK — not a big deal)
Look for long sentences — make them short
Look for long paragraphs — make them short
Look for logic — and see if the logic is "seamless" (airtight logic)
And with this, once you have edited the post, you hit the publish button.
All these 5 were pre-publishing mistakes. Let us look at two more that are a bit outside the box — yet equally important.
---
#6: Not promoting your post
---
Most people publish and walk away. But there's an opportunity to do more. Right now, we have three ways to promote your article:
Go to relevant Discord group (and post in Promotion channel)
Go and engage with others (by commenting)
Go and share your article on Twitter.
While #1 and #2 happens in and around Hive, I like to focus on #3. Because Twitter works like gangbusters. You can also see my first month of Twitter experiment here. Notice the likes and retweets on my new account: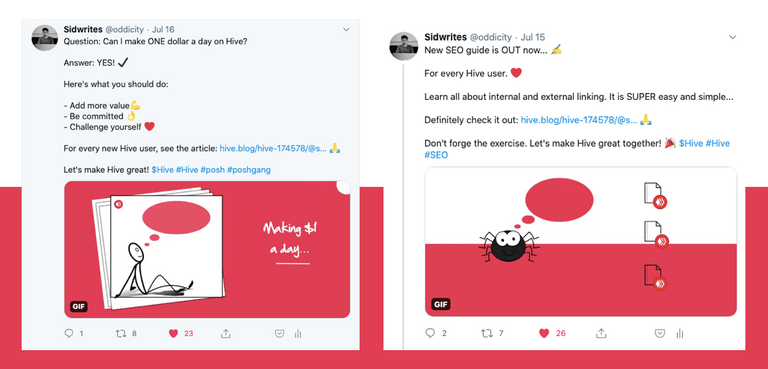 Note: When you promote on Twitter, you are going outside of Hive and into the public surrounding yourself with a different crowd. You will also earn support of the Hive Twitter gang (which is incredibly active). Plus, you may also bring some of this new crowd to visit Hive. Overall, it is a win-win situation.
I also notice some Hivers are sharing on Facebook. Whatever works for you — do it. Share your content though.
---
#7: Not publishing a masterpiece
---
And finally, as you are publishing, why not publish article that moves people — inspires them — and even transforms their lives? This is the power of writing.
Now why is this important?
Because in whatever we do, our work has to be meaningful. Personally, I prefer adding a lot of value. Value that is useful not just for 7 days but for weeks and months to come.
Here is a comment I found recently. It was posted months after I quit Steemit in 2017: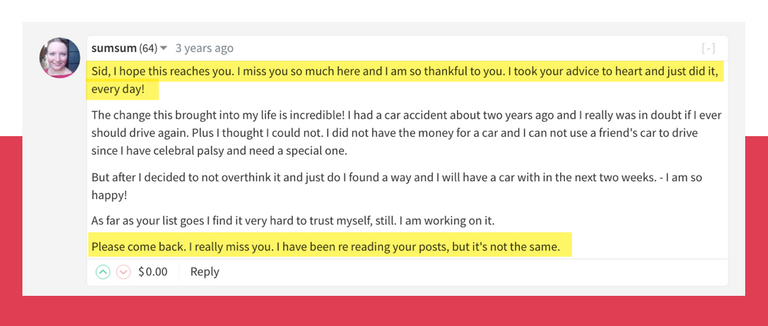 You see, nobody can buy such a comment. It is priceless. And if you go through the article, you will find several other comments that are equally powerful.
Note: Although you don't have to do what I do, but one can certainly commit to writing ONE masterpiece article per month, right? Article that stays even when we are gone — that leaves a legacy behind. That influences people. And inspires them for a better tomorrow.
Hand to my heart, you never know what one GOOD article can do. So strive to write masterpiece. Give it a try — you will absolutely love the results. I would recommend writing ONE masterpiece a month.
Perhaps we can discuss this in detail soon.
---

---
So there you have...
We are done with all the seven! Some were common publishing mistakes and some probably new to you. The last one, of course, is the most important.
To summarise:
Don't forget to use short URL
Don't forget to use @ wisely
Don't forget to use good number of tags
Don't forget to use images between paragraphs
Don't forget to edit
Don't forget to promote on social media
Don't forget to write your masterpiece
And with this, I hope and wish you found this article useful. If you knew all of them, see this article as a refresher. If you found a couple of them useful — then apply it in your next article.
In fact, you may want to try them out soon. Perhaps pick one or two and start using it in your next blog post. Publish carefully.
Also, do let me know your thoughts in the comment section. I would love to hear from you. As always, let us together continue writing — implementing — and learning.
Cheers,
Sid
---
If you liked this article? Feel free to comment and upvote and reblog.