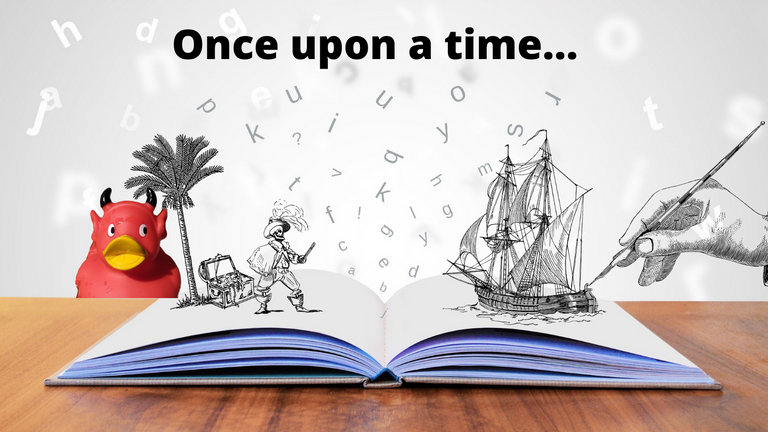 Designed with Canva
---
"Once upon a time..." is all I could say before I got interrupted.
"Daddy," he asked. "I already know that one."
"Oh really?" I replied. "So tell me how it continues"
"No, you tell me another story."
"Ok, let me think."
I tried buying some time. And after a few seconds I continued.
"A long time ago, in..." I started and there it was again.
"Daddy, I know that one, too."
"Ok, I give up." I sighed. "How about you tell me a story then?"
"Oh yes, but you have to let me think, too."
"Well, go ahead." I leaned back and got a nice little story told.
"How about a little red duck?" he asked.
"Sure, why not? What about that duck?"
"So there is this duck, and it is a he. And he is a little bit older. Like you, daddy" he said with a grin.
I chuckled and said: "Alright, but watch were you're going with this."
"The duck also has a son. A nice little duckling. And a wife. The duckling has to have a mother of course. And a few weeks ago the duck started this big adventure."
This was my time to make an educated interruption with a grin so I asked: "What kind of adventure?"
"He found a big thing, like a giant hive," he paused.
"And then, he went inside," he continued.
"Oh, that sounds scary," I said with a quiver in my voice.
"Yes, at first it was really scary for the duck but you don't have to be afraid," he tried to calm me. "All the others he met inside that hive were really nice. He even found a group called Dreemers and they showed him all these nice adventurous things."
"But what were those adventures?" I asked impatiently.
"Well, I will tell you on Friday, ok?" He leaned back and grinned at me. "Now it is bed time."
Oh, I began to understand. 'Be careful my son, I can play as well,' where my thoughts when I continued with a little bit of whining. "Oh please, please tell me a little more about that duck."
"Ah, ok," he tried to impersonate me. "How about I tell you that he had a big dream for many years but never dared trying?" he teased me.
"What was it?" I was sincerely intrigued.
"The duck always wanted to be a writer." he said while knowingly nodding his head. "And because he meets and engages with the Dreemers, he finally gets a chance to start living his dream. Isn't that wonderful?"
I was stunned for a moment. Where is the conflict? Where the development?
"Oh, my son," I started patronizing him. "If only it were that simple in real life. If you want to tell a story, it has to be believable and you need some suspense."
"You will see. It will happen. Just wait for Friday." he crossed his arms. He must have gotten that from watching me finalizing my decision.
"But the duck has never really written before. And he is new to the hive so he doesn't know anything about the community that will read his writings, right?" I tried making suggestions.
"Yes. So what? He is really determined and has been waiting for such a chance his hole life. At some point he has to do it and why not now?"
'Ok, at least some suspense and a little character development,' I thought and was satisfied.
"Ok, I will wait until Friday."
"Good"
"But I want to hear one more little thing about the duck," I urged him and added: "Please, please, please."
And he must have learned a lot from me and recognized the role shift when he smiled and said: "Only, if I get an extra dessert tomorrow"
Uh, what a sharp little ..... He had me this time, so I asked "Ok, what will it be?"
"Whatever you are having" he said.
"Ok," I said. "Let's see... How about tomorrow we will have spaghetti ice cream?"
"What is that?" he asked.
"Right, you never had that before." I said and thought about how to describe it.
"Why not?" he interrupted my thinking.
"Because it takes some effort to make. But tomorrow we will have some. So here is how it goes:
First, we put some whipped cream into a bowl
Then we put some vanilla ice cream through a pasta press so it looks like spaghetti
Put the ice cream spaghetti over the whipped cream and on top some strawberry yam
And that looks like spaghetti but it is ice cream dessert."
"Sounds yummy." He rubbed his belly. "Can I have some now?"
"No," I said firmly. "You are already in bed, your teeth are brushed and it is time to sleep."
"Oh please, please." he begged.
"I can describe you the taste if you want. But then you finally have to go to sleep."
"Ok, I will." he promised.
"The important thing when eating spaghetti ice is the ratio of cream, ice and yam. Every spoon has to have a little bit of all three. And eat it carefully. The cream, being cooled by the ice, is not sweetened. I forgot that before. No sugar in the cream. Understood?"
"Yes, understood. But I like sugar." he interjected.
"Well, there's plenty in the ice cream itself and in the yam. You'll see," I explained.
"Ok"
"So the cream is first on your tongue. It is cooled a little bit by the ice but not sweet. You feel it but without the sugar you cannot taste it. Only a tiny little smell reaches your nose. When the ice cream finally reaches your tongue, after the cream melted away, all the sweetness makes your taste buds explode while being shocked by the cold. When that is over the yam warms it up and gives it the final sweetness kiss with a touch of strawberry taste. And with every spoon this process repeats. Isn't that yummy?"
"Daddy?"
"Yes?"
"I want some!"

Hello dear Scholar and Scribe Community.
Exactly two months ago I began my journey on Hive with my first blog post. It has been an exciting journey since then and I was lucky enough to encounter the Dreemport community two weeks ago.
I decided to join them and today I am very glad that I did.
Reading has been part of my life for many many years now and over time a few story ideas developed in my head but I never took the time nor did I even dare writing them down. So when Dreemport announced we will be visiting this community in August and when I saw what challenges lie ahead of us it was a dream come true.
Since I am not familiar with this community (of course I immediately started reading about your rules and perusing a few posts) please be patient with me during my first steps here. I welcome any and all tips you might have to improve myself as a writer as well as a new member in this community.
Your Hannes Stoffel (Nome de Plume of course😊)

Header image designed with Canva