Proudly 😊 represented by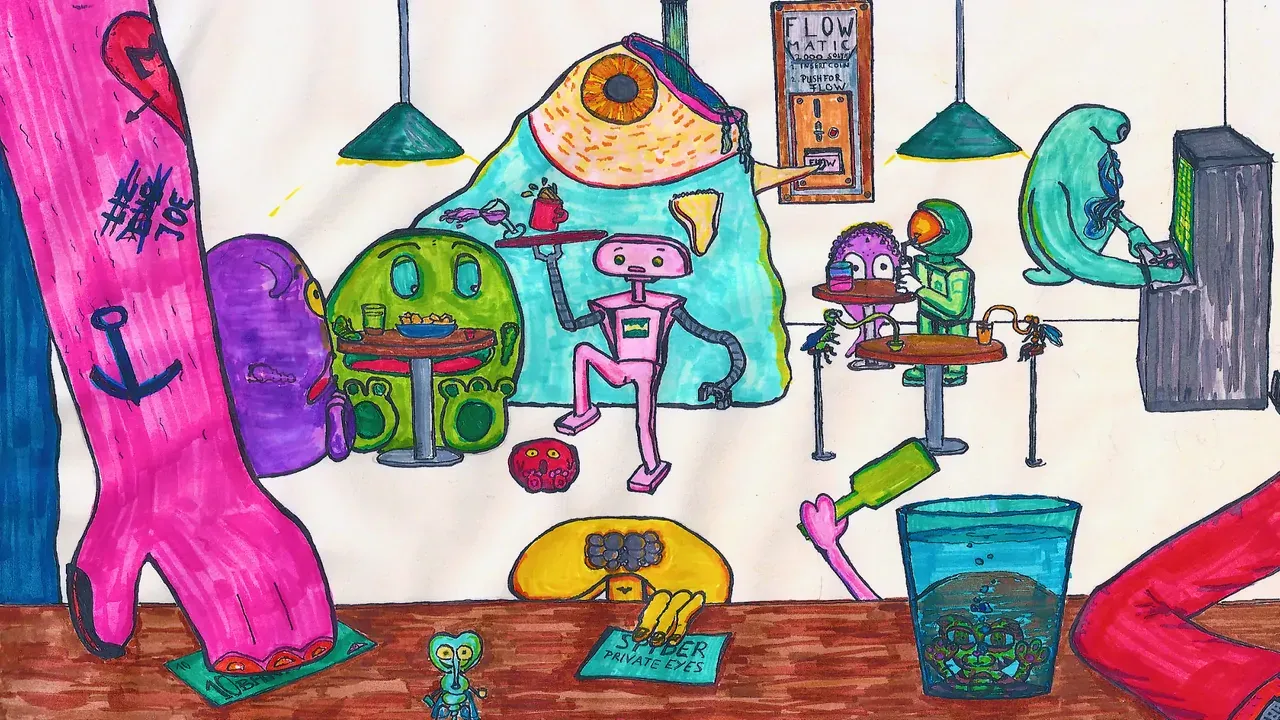 (credit @solymi)
Where is this coming from?
A year ago 😱(already), I have published the first series of this saga, the "2020 🐝 Hive Blockchain Games 🎮 - The power of having fun!", and to be honest, by then, I didn't envision how quickly this ecosystem would grow. It feels so good to experience such amazing achievements from everyone creating these games that the list of "Thank you for being on #HIVE" would be too spammy to be included in a post like this one. Anyhow, congratulations to everyone, well done so far!
A small word of advice for the ones that didn't manage to quite yet, achieve. Patience is the key if you can afford it, but listening to others a major breakthrough, usually free of charge.
In 2020, I have worked closely with @doze to get that amazing picture for the already crazy long post. I loved the experience of working with him and his amazing art/design skills. For 2021, the idea was sort of the same as I didn't have any other great dude like him to draw my cover page that stayed pinned to my profile for this long (hopefully doing great things). And because this year I am meeting lots of new faces on the @atexoras.pub, I have decided to give a chance to someone else (🙏@doze for everything).
That lucky guy (he didn't know I choose him) is @solymi with the above cover picture, that by the way represents, for me, both a caricature of how quickly sketched ideas on HIVE, can become fun games that later on, transform into businesses (hopefully this will continue).
I have started this tag on #HIVE a couple of posts before the first Hive Blockchain Games post, and I still continue to use it occasionally, but the initial idea ended up far away from what I thought it would end up. I later realized how hard it's to predict the trends on tags or how people interpret them within their own social behaviors.
Still, I am recalling and encouraging everyone to use it (especially outside of HIVE) to reference games built or interfacing with HIVE directly. Long term it will play a great deal for everyone enjoying this industry.
Into my experience about #HIVEGames
The following list includes some previously mentioned games on the 2020 post, some of them that kept evolving and some not. I go down to some extent about any news around all of them.
---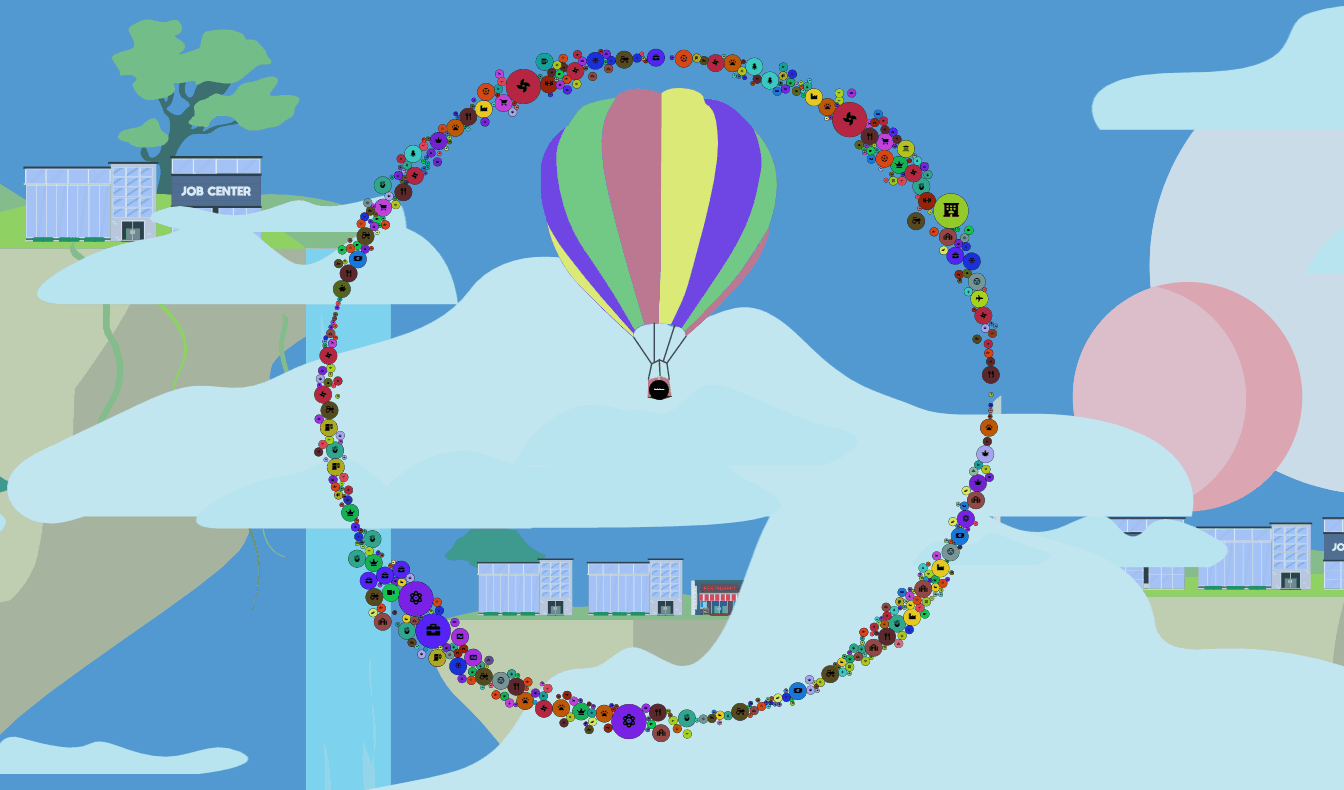 dCITY is a city simulator game based on Hive-Engine Non Fungible Tokens. The NFTs represent assets in the game. Each individual card a building, citizen, etc., and the total collection of your cards is your city. dCITY allows players to optimize their cities in terms of buildings, population, and income.
Note: The gif is actually a command you can do for your city to pulse like that. On the right-top side of the game UI, there is a box to type other accounts to visit, in that box type "dcitybeat" and enjoy your city as a beatbox! Thanks to @scriptioner
Creator: @gerber
Support: Discord Server
2021 Updates
The 3rd edition was released and 1st edition cards can't be minted anymore. On top of those, we have now several other features such a building combining and loading. There's a completely new UI developed by @scriptioner and still some features and buildings appearing now and then.
The game is continuously evolving and strategy-wise a never-ending hype of fun. True that for new players it might be a bit challenging at the moment, but start with the manual here and go from there, you will slowly get the reason why we all love it.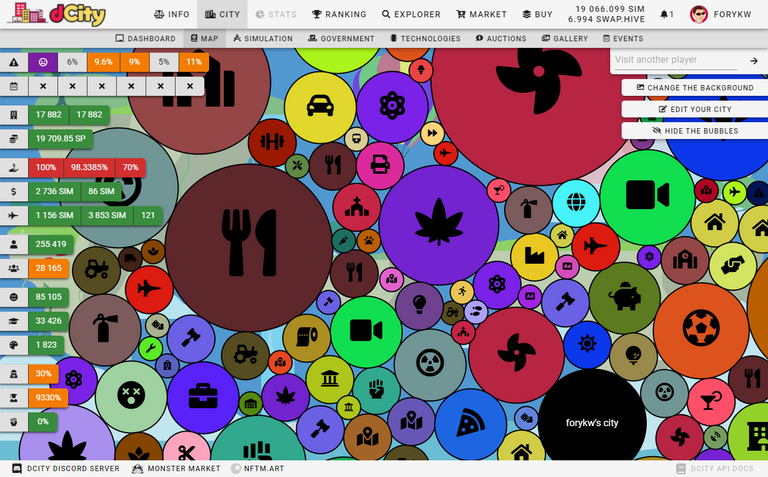 ---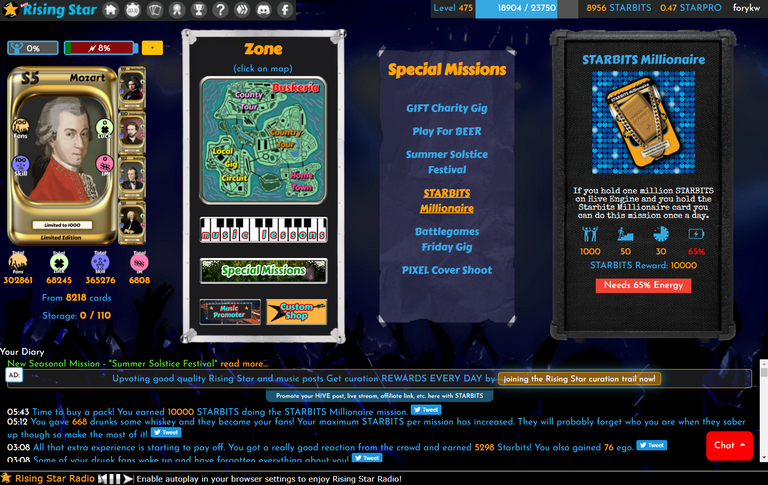 A very fast-expanding game, with no initial investment needed. You can listen to music while playing and one day even become a world star with lots of fans. Who knows right? Also, if you happen to be a music producer or songwriter, then things just got more interesting! You can now mint NFTs with your own music and sell them in this game.
Creator: @risingstargame (@atomcollector)
Support: Discord Server
2021 Updates
Wow, this game has progressed! Now with a userbase of more than 1000 users playing, where you can be entitled to win HIVE by just being at the top ranks. In addition since my last post, many new cards have now been released, making the population of NFTs richer by the month it passes.

On top of that, you can now buy real music NFTs! Or if you prefer, stake STARBITS (game currency) on the sales of those assets.

All along, the strategy levels are to the roof and there is so much more gameplaying that is sometimes overwhelming to think these games can evolve so quickly! Don't forget to check the marketplace too, there is a massive correspondence between other Hive-Engine tokens and NFTs being sold within this ecosystem.
---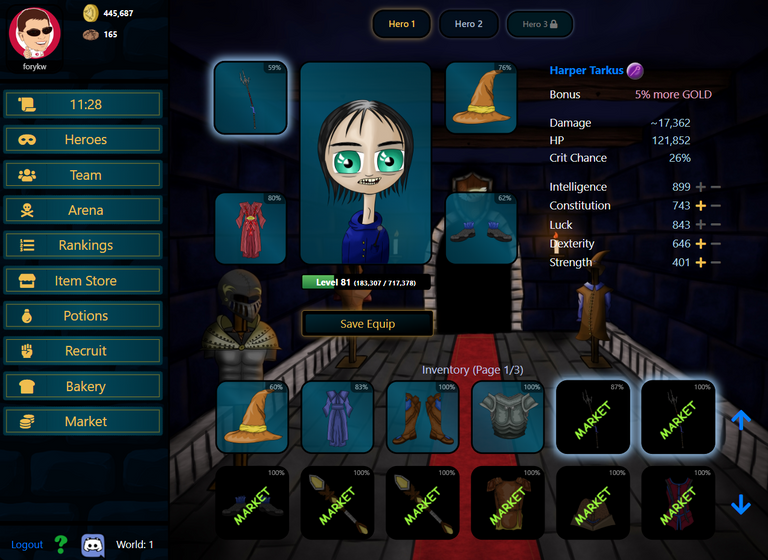 Do you like a medieval fighting strategy with attributes, items, upgrades, and so on? Then check this one out. You also don't need an initial investment to start playing this one.
Creator: @holybread (@simplegame)
Support: Discord Server
2021 Updates
Check this comment done on this post by @simplegame.
This game development has been running flawlessly and most of its efforts have progressively been shifted to a new game (bellow) called Thunkgaria. Both Thunkgaria and Holybread are fantasy-based RPGs, developed by @simplegame team. You can check additional information on their main webpage: https://thunkgaria.com
---
⚔️Thunkgaria - Not (yet) connected to HIVE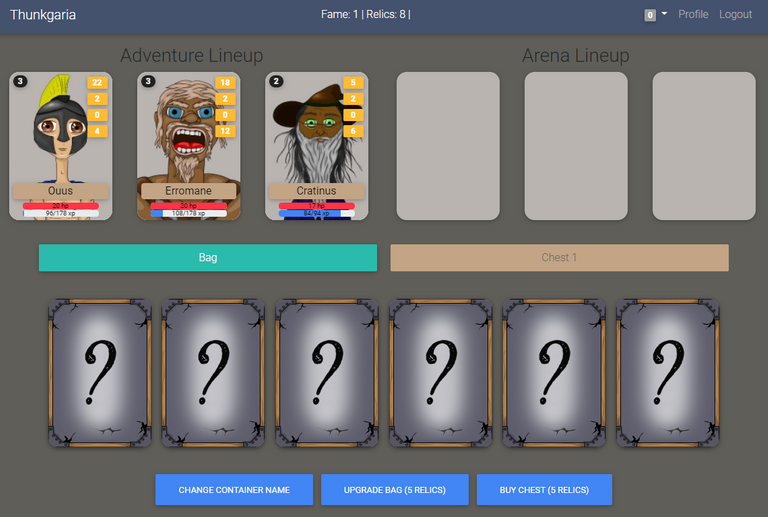 This is the second game mentioned above. This is not yet connected to the HIVE blockchain BUT it will BE and is currently being developed with a focus on stabilizing the strategy and mechanics of the game.
Creator: @simplegame
Support: Discord Server (same as the Holybread)
Personal Experience
I have played the game for a couple of months and it's quite simple enough to drive through the initial strategy of growing your character's experience and weapons. Over time you start paring characters with higher experience and gear to then fight for relics at the arena with other players (PvP).
For more details, please check this comment.
---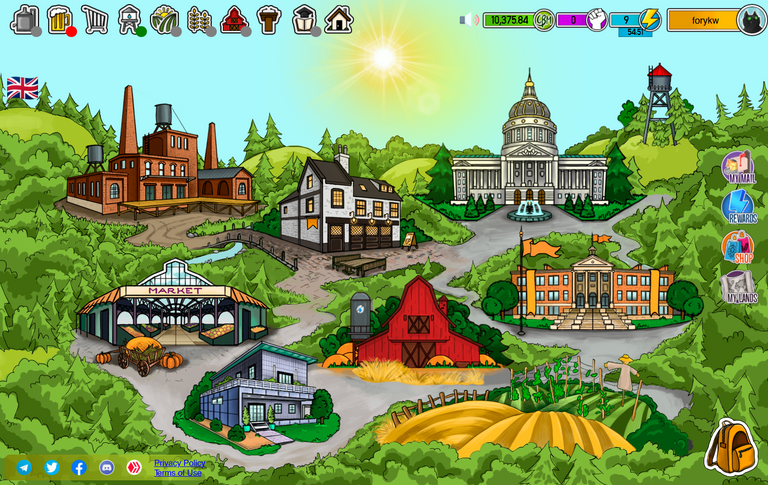 Wanna learn how to brew beers (like me) and not actually have to go through the real process just yet? Then check this one... no initial investment.
Creator: @cryptobrewmaster (@rollie1212)
Support: Discord Server
2021 Updates
Oh boy, this one has been a game in constant development, lots of new features (and buildings) being released every month, really great to watch and fun to play. Since my last post, there were no buildings that existed besides the brewery (factory) and the Pub... now? ALL buildings are released! In addition, we have also upgrades, and cards that enhance ingredients.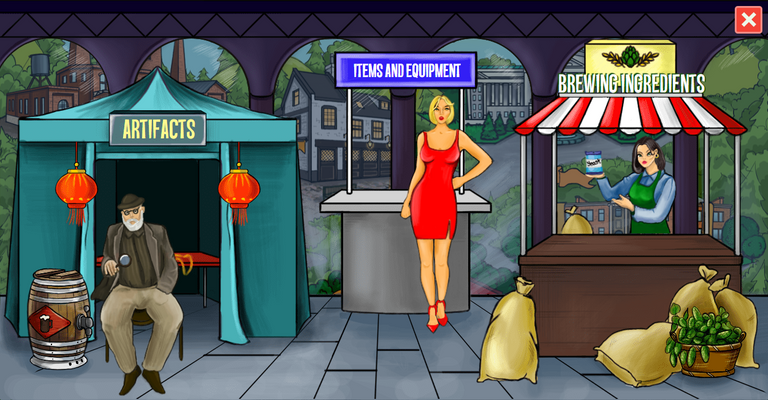 Lots of other things, such as guilds (stills on route to be activated), passports, and recently a "new" icon! LANDS! I think everyone is familiar with the concept of lands around the blockchain ecosystem. With almost 9000 users... it's one of the games reaching the biggest userbase on HIVE!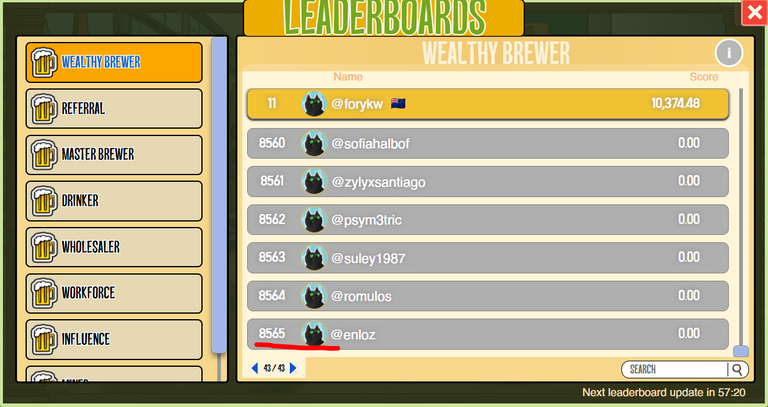 It has an in-game wallet to manage the game currency (CBM) that you can transfer in and out (requires you to purchase a license) of the game to the Hive-Engine market.
---
This one just launched and will be coming under the umbrella of the likes of games such as CryptoBrewMaster and OceanPlanet. Currently, you can purchase packs, for further info head down to the Discord.
Creator: CBM Team (@rollie1212 as advisor)
Support: Cryptex24 Discord
Roadmap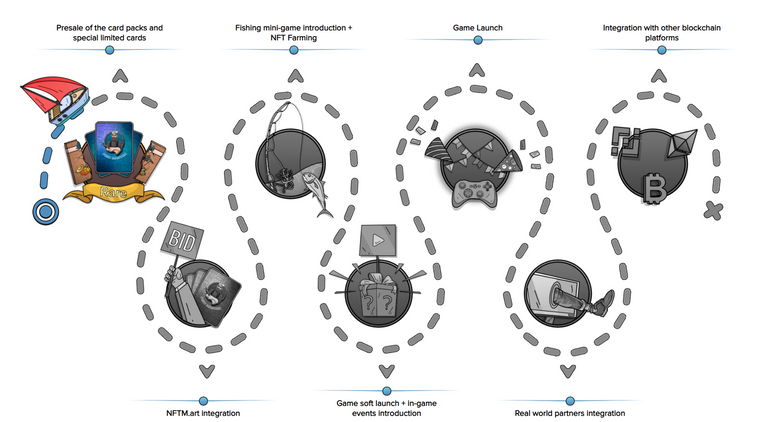 ---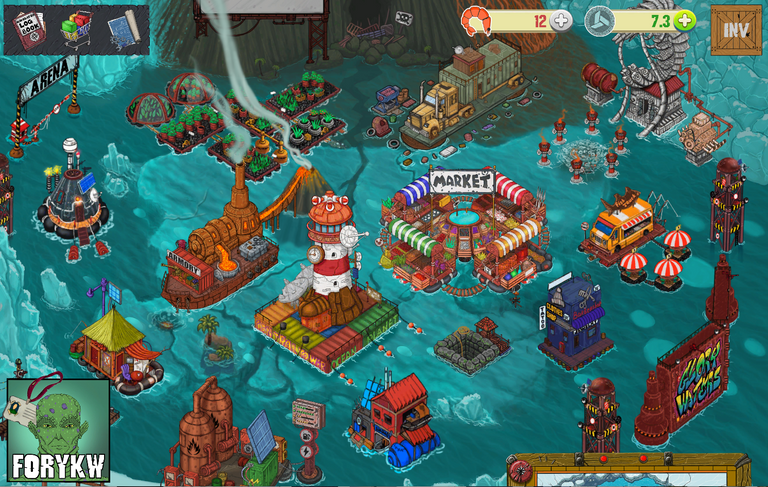 Ocean planet is an adventure game, positioned on the post-apocalyptic world (hopefully we will never need to reach this). You can mine the ocean, build artifacts, trade them and even fight against the ones who wish to loot your precious items!
Creator: CBM Team (@rollie1212 as advisor)
Support: Discord Server (or Cryptex24 Discord)
Personal Experience
This is a new concept game coming to HIVE. Involves no initial investment, and is largely still in development but you can play it already for some time. Lately, it has been progressing quite fast, and there is a lot of testing and feedback by all the users that can help shape strategy even further. Image wise looks very nice and decent to be commercialized as a rock-solid old 2000's game graphics I just loved.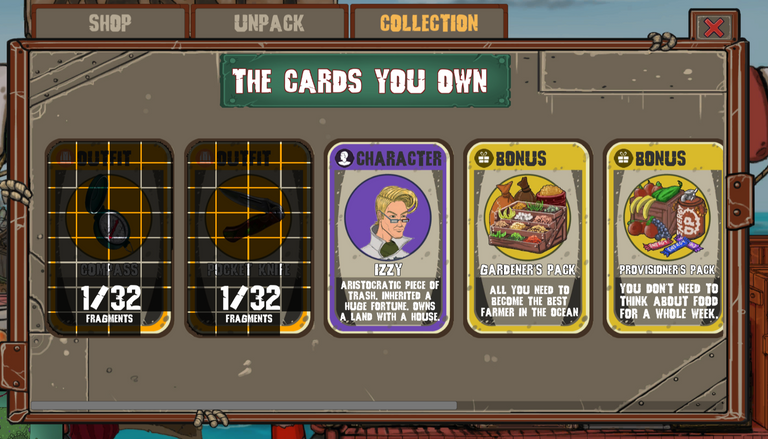 Mine the ocean and then sell those artifacts for CRYPTEX tokens. There are also big boxes with parts of NFTs that you can progressively collect to form an item (a new concept on HIVE as far I can see). I would really watch this space for the time being, the map is Epic and there are lots of places to explore!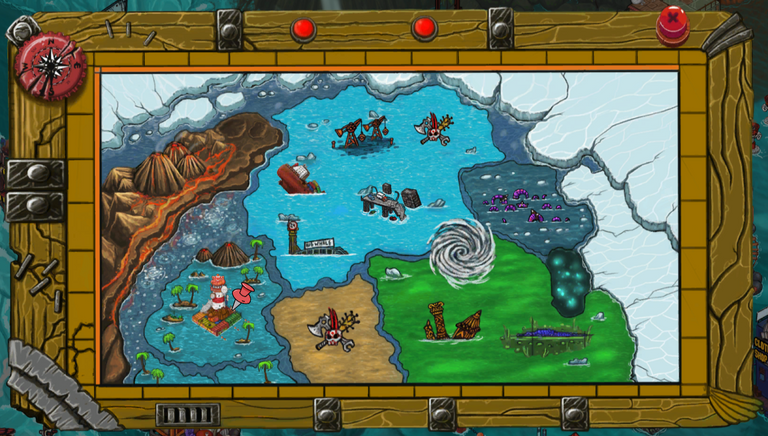 ---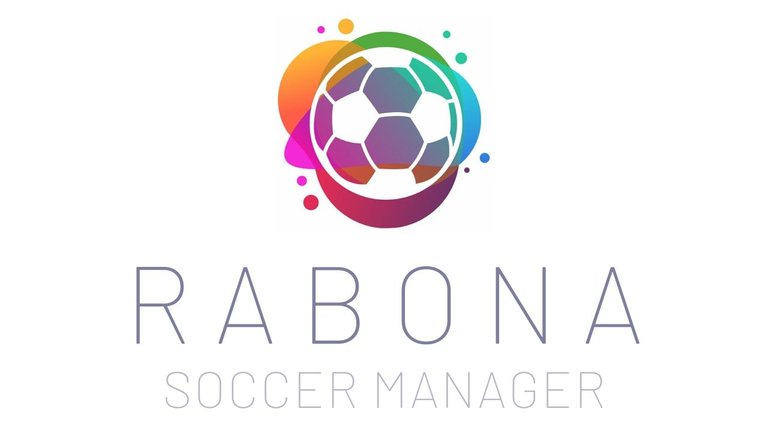 This one was actually launched in 2020 and since then has been improving over time. But because it was just missed on my previous post, I am adding it now as new. It has now another developer producing a different UI for the game, in parallel to the one that already exists. Requires a minimal investment (5 USD at 50% discount, previously it was 10 USD) to start playing, and all you need is a HIVE account.
Creator: @rabona (@rondras team)
Support: Discord Server
2021 Update
Definitely glad to play this one as they are constantly making lots of improvements over time, fixing bugs, and making the mechanics more worthwhile. If you are a new player, I would check the guide page for a quick read and understanding of how things work.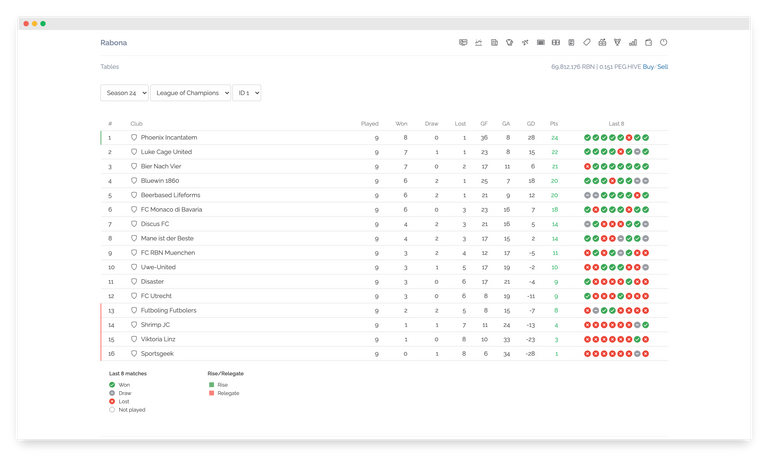 High detail about a match result so that you can plan your strategy wisely on the next team formation.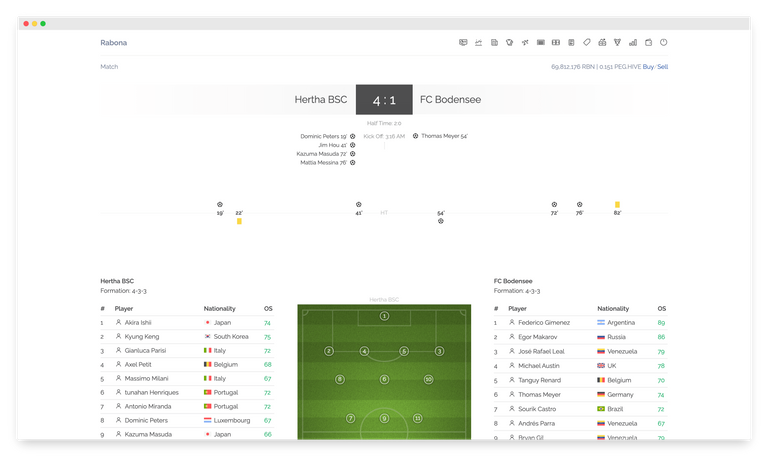 Upgrading your buildings to be able to receive more fans and diversify your income sources. In addition, there are modifiers for many other attributes like schooling new young players or speeding up the building upgrades times.
This one also uses an internal wallet and exchange for you to trade the game currency (RBN) to HIVE and back. Currently, the prices are way undervalued, so, if you looking to quickly rising on the ranks playing this game, buying RBN is very very cheap! This is no financial advice and please don't interpret games as an investment.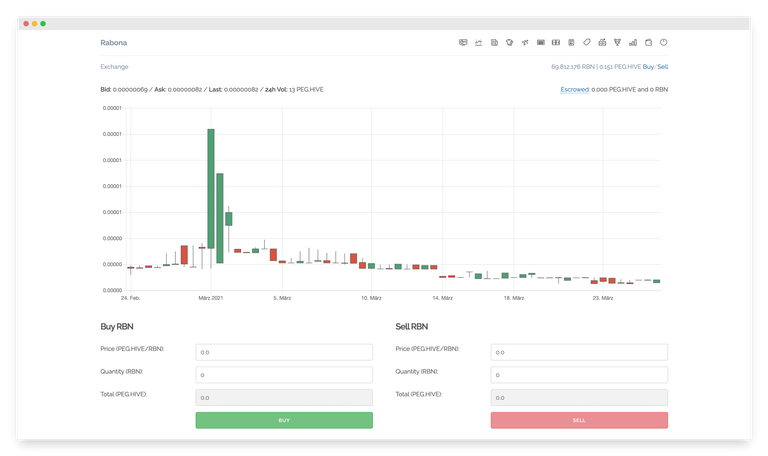 ---

The game of the best smoking standard! 😅 Realistically speaking this would completely knock me out, but within the game, I am a producer of weed, a smoker, and a gambler at the same time. Ingenious playground for a fun group of people that would love to enjoy some related topics.
Creator: @hashkings (@qwoyn)
Support: Discord Server
Personal experience
Never saw so much up-taking in a game initially. There was a couple of hiccups at the beginning (like any other development of alpha/beta game goes into), but quickly these became fixed and the most surprising part of it was the fact that there was already a huge amount of people playing the game when these happened. I personally didn't really bother about it, but even if you did, the team would either make things fair or refund you, so, zero risks for trying the game.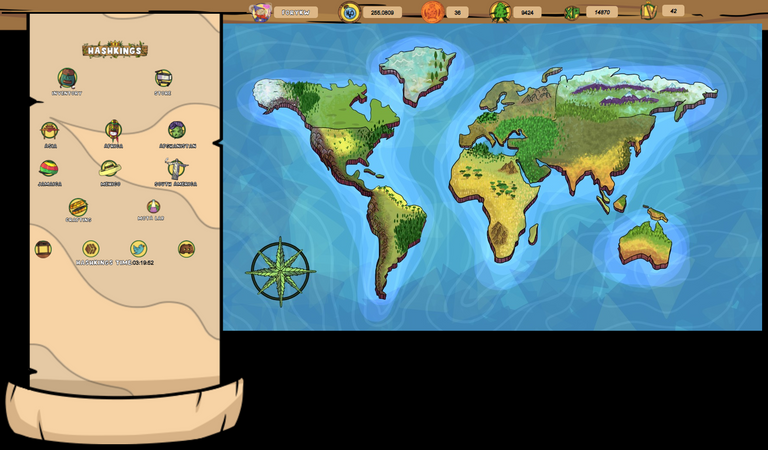 The game is made of lands (within certain regions) where you can plant seeds (NFTs) and then you will need to water them with HKWATER tokens. Depending on the region and seed type, your crop will grow faster or slower, and when harvested it might offspring more or less BUDS tokens.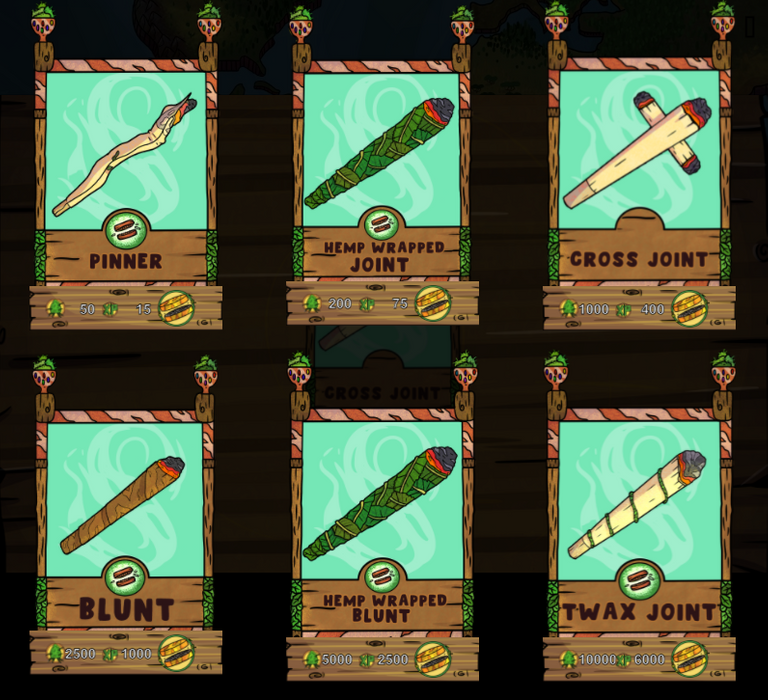 These can be used to craft joins that when smoked, will provide you the ultimate experience and allow you to upgrade your water towers NFTs.
Eventually, you become a super mega being, able to smoke the entire world hemp! 😎
---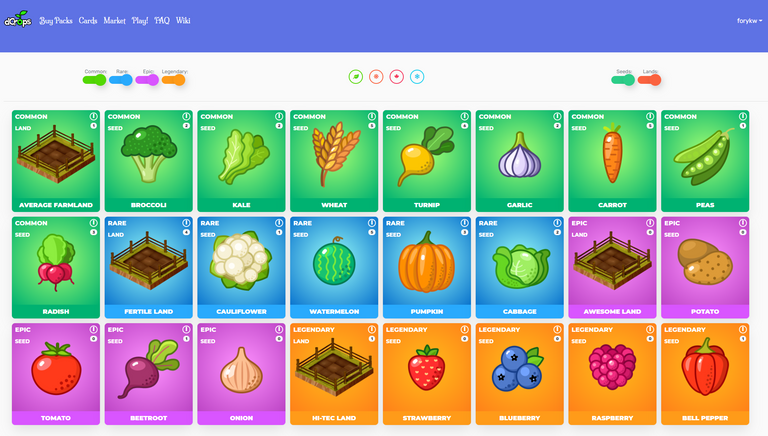 Wow! This was another great find... so far, looks very quick and impeccably positioned for a Hive-Engine NFT based game. It's similar to the style of dCity game, but for planting and harvesting crops. I don't understand how I missed this one, but I am now playing it.
Creator: @dcrops (@scriptkittie)
Support: Discord Server
Personal experience
Done a quick walk around and it was easy enough to understand the basics and start playing it in a matter of minutes. There was a couple of things that I guessed, but to my view, they were not so explicit on the FAQ. I will get reach out to the creator to mention those at a later stage to help if I can.
Overall speaking looks already a very addicting game, on a per-week basis. It's not something that looks like you need to be around every day, for now at least, so that's a plus for me. Or to some extent a relaxing fact, because I am already playing so many games that to experiment, trial, and get these opinions out there, becomes a challenging task.
I will be exploring this one in more detail over the next weeks and if something new shows up, I will update this section.
---

Do you know "Magic the Gathering" or the Blizzard "HearthStone" card games? This is the HIVE blockchain version of them. But in this case, you do actually win real rewards on every game you win. Requires an initial deck purchase to win rewards, but for all the fun involved and the potential wins, definitely worth it!
Creator: @splinterlands (@aggroed)
Support: Discord Server
2021 Updates
Well, there is lots happening on this one. Being one of the biggest games on HIVE... Since last year, the new UNTAMED expansion is progressing... along with forms of connecting with other blockchains to transfer funds and the in-game currency, DEC. Yes, you can now deposit/withdraw to more than just Hive-Engine. There is also some new feature for Guilds, the brawls, where you fight with other guild players!
This is a game that you really wanna play if you like strategy card games. Also, important to note that because the user base is so big, things like trading NFTs or even renting can sometimes become a very interesting game too.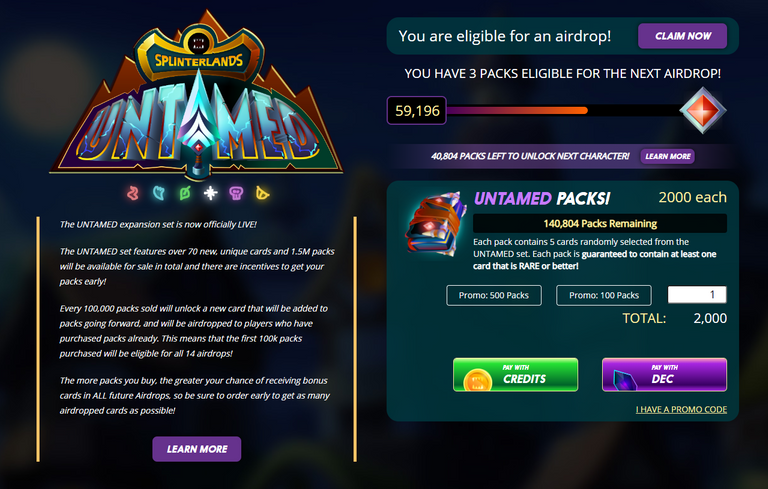 On top of all this amazing news, we have so much-awaited, LANDS (everyone is doing this). This new feature will unleash a new game style that not even Blizzard is capable of harnessing! Blockchain technology is ruling in this sense.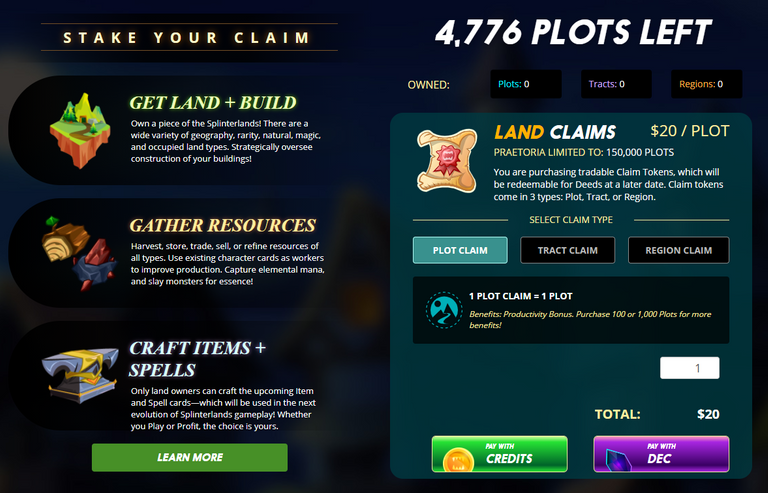 Watch the space and if you feel like it's too much for your wallet, my advice is to rent some cards first so you have a feel, and then if that's not your world, you don't need to worry much.
---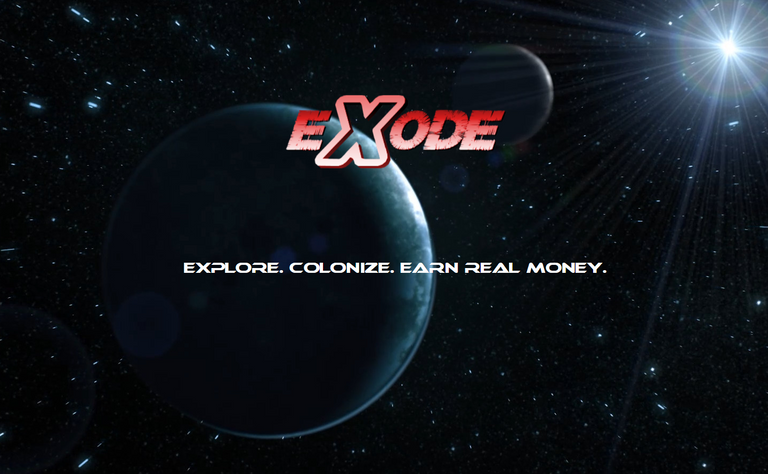 EXODE is a space colonization game set in a fictional universe.
It is 2325 and nearly all of mankind has been wiped out on a galactic scale by hostile aliens. Players are space captains visiting faraway as yet unattacked stations - just as those stations come under attack.
They are tasked with an exceptional mission: to take some of the last survivors on their starships, escape to unknown destinations, colonize new planets and prevent the extinction of mankind.
With the hope that some of them, at least, won't be found by the aliens . . .
Creator: @elindos
Support: Discord Server
2021 Updates
I have been away from this one for some time. And I am going, to be honest, I suck at this one, every time I try to do the evacuation, I just get lost after the little end, mess up and kill everyone on my ship! 😆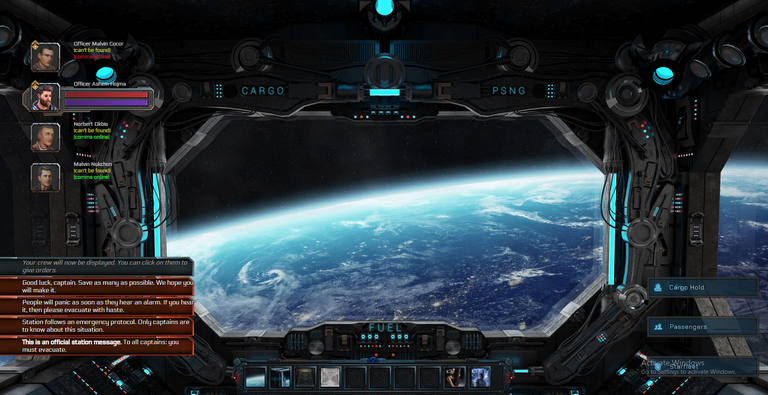 I would advise new players to start reading the wiki page before even trying to play it. There are some details you need to take in first in order to understand the mechanics of the game.
I see now that we are done with the ALPHA first phase and we are onto the second phase of the game. Not sure 100% what that really means in terms of game progress, but I would love anyone, either players or @elindos himself to clear up my mind a bit.
Therefore, I am requesting the so much-needed update from someone playing this the "hard way"! Lots happened and I didn't follow. Please let me know more for me to report accurately.
---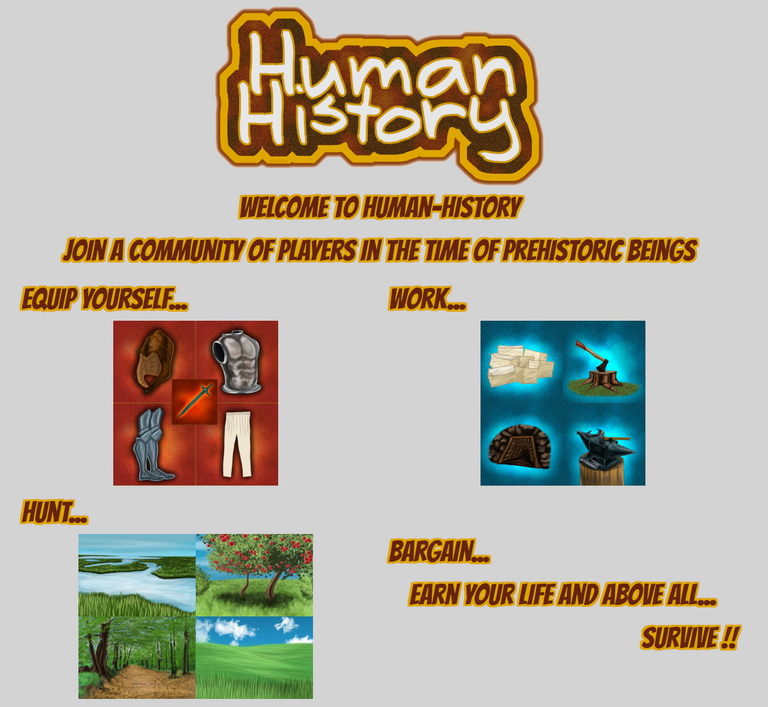 This is man cave game! Almost... 😁 You will enjoy coming back to your roots and work, hunt, and try to survive like a pre-historic man. There are clans and you can even build yourself a house to sleep better and protect yourself from the harsh world out there.
Again, this one is from 2020 but back then I didn't understand enough to talk about it.
Creator: @human-history
Support: Discord Server
Personal Experience
I have played quite a bit of it and it looks very interesting. I need to find out more about the plans of the game to be sure what to say more. But in my view, the next step would be to incorporate it on the HIVE-Engine, with NFTs and new assets that allow more functionality and strategy.
For now, I will be continuing to watch this space and giving it a swirl now and then. I will especially try to test those "advertisement" options and the faucets. Keywords guys!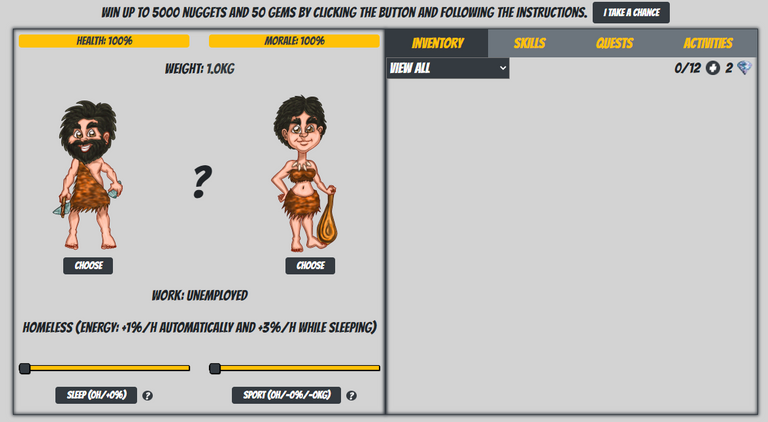 When the drawings came (initially there were just boxes with numbers), it all took a different overall picture right? Things become more intuitive and pictures talk too... so, it really made my day when I saw it. Are you playing this one? Let me know in the comments below.
---
⚔️Unsung Hero (currently in development)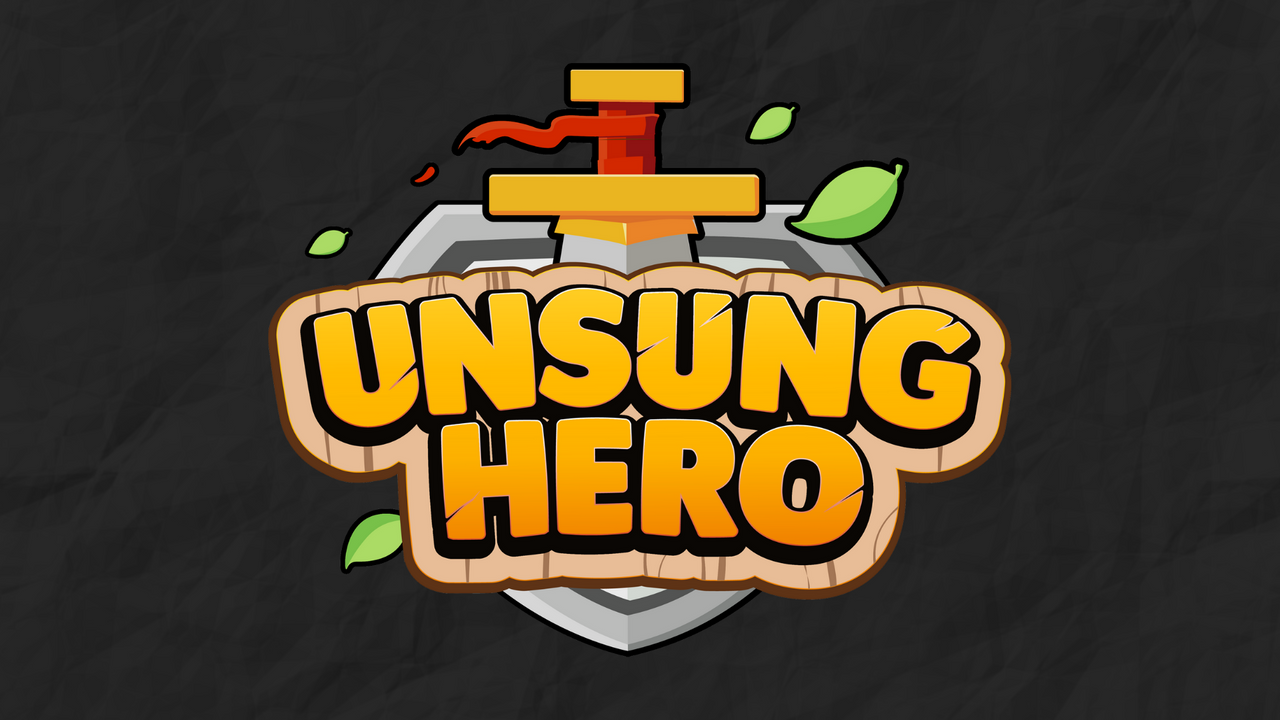 This one was announced at the Hive Fest back in December 2020 and since then I am following the developments at https://peakd.com/@slowsundaygames. For more details about the announcement check this post.
Creator: @slowsundaygames (@scrooger)
Support: ?? Check https://peakd.com/@slowsundaygames (until it launches) or for Discord Server for now check Qurator server
---
🐷Piggericks (currently unavailable)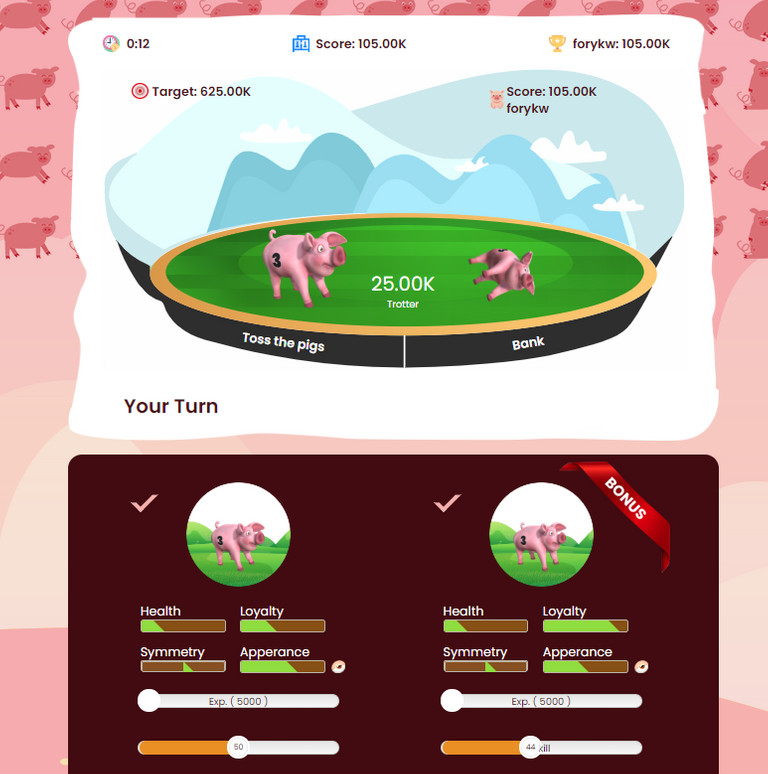 Another one that was super fun to play! Was in Alpha development back in 2020, but you could already give it a try and you would not require an initial investment. Basically roll pigs and play with odds and attributes. Note that you could only withdraw to Ethereum addresses, so that might have been related to the fact of things not being available at the moment.
Creator: @piggericks (@knircky)
Support: Discord Server
2020/21 Updates
The game is/was currently not available (at the time of writing of this post) and for further information either contact the creator or visit the Discord channel. If there are any updates during 2021, I will do my best to update this post. If eventually becomes clear that this venture will not continue, I will remove it on the next post.
---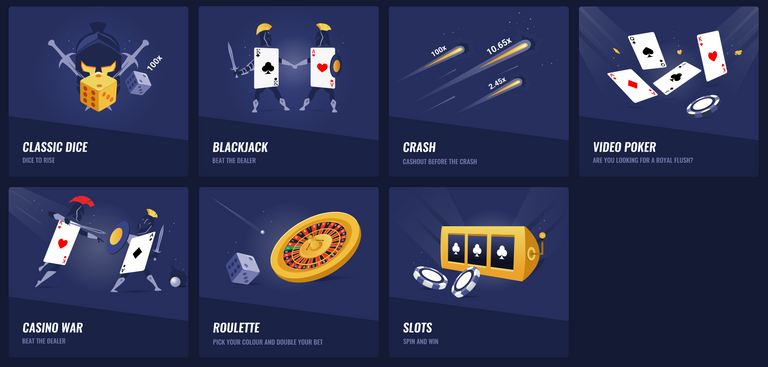 Find yourself eager for some Gambling rolls? Try your chance responsibly here.
Note: If you play dCity game mentioned above, you can win some tokens for free (with the Casino card) and use them to enhance your spending in this one.
Creator: @kryptogamers
Support: Discord Server
2021 Updates
New UI, new games, and faster processing times at all corners of the game. A plus of this game is that it's fully integrated into HIVE, so everything you do gets reflected on your HIVE wallet. No need to transfer in or out of an in-game wallet.
Included in the tokenomics of the game is a pool of rewards for everyone staking GAMER tokens. As mentioned above on the note, if you play dCity and have Casino cards, you can win GAMER tokens daily.
---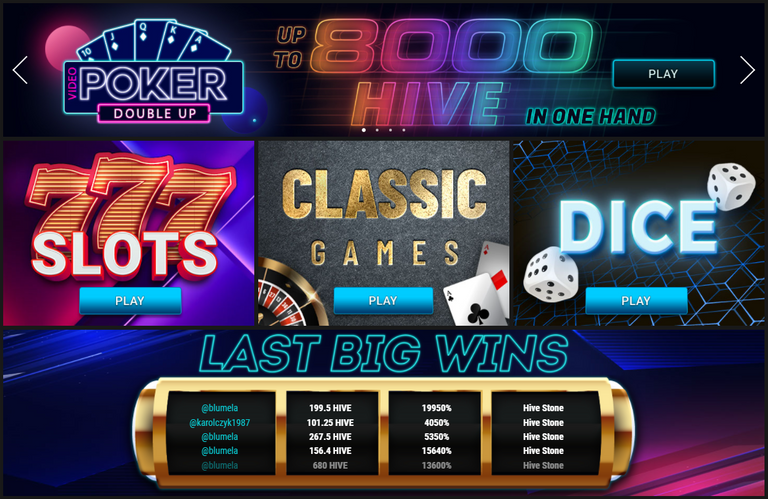 Another one I missed last year (this is actually from early 2019, or even late 2018) when the fork happened and the account moved to HIVE. Big miss from my side, not sure why. Similar to Krypto Gamers but has visuals and concepts of playing.
Creator: @hiveslotgames (previously @steemslotgames)
Support: Discord Server?? [email protected]
Personal Experience
I haven't played much, just a few times and I don't know exactly who is the owner. But the website works fine and the Twitter account is quite active too. If the owner would like to contact me for more details I would appreciate it (and update this).
---
♻️ Games Removed
I have removed a couple of games that weren't either working anymore or that were not integrated with HIVE in order to reduce the size of this post and to keep the focus on HIVE for the ones that are expanding in this ecosystem. If you still want to check them out, head back to any of the previous posts (listed at the end of this post) for further details.
---
📡 Exploring
If you want to keep close to new games coming into the ecosystem, here are some usual places to check them out.
Note: The early development of these games powered by the HIVE blockchain and Hive-Engine, along with the userbase is heavily promoting the awareness of how easy is to start a business on HIVE. Even if it can sometimes be a bumpy road, the fact that it has such a diverse community of early adopters makes it to be a wanted (valuable) nice surprise for anyone trying to begin something with minimal resources.
---
💱 Buying/Selling NFTs
Wanna know places to buy/sell your NFTs on games like the ones above? Check them out here then!
Note: Contact me or drop your own website below if I missed you. I will test first and then likely add you above.
---
🖐️HIVE5's!
Have fun, good luck on all the gaming, and lots of teaching "how to play" to new players.
For #news about the #HIVE blockchain, and other stuff. I am following all users!
In addition, if you are looking for a nice place to either reach out, share or just have a great time, come along to @atexoras.pub gatherings. We welcome everyone on the HIVE blockchain.
Vote for Hive-Engine Witnesses here
---
🐝 Hive Blockchain Games 🎮
| Year | Title | Post link (👆4+ℹ️nfo) |
| --- | --- | --- |
| 2021 | The ecosystem is expanding! | (credit @solymi) |
| 2020 | The power of having fun! | (credit @doze) |
---
💳 Cryptocurrency Cards