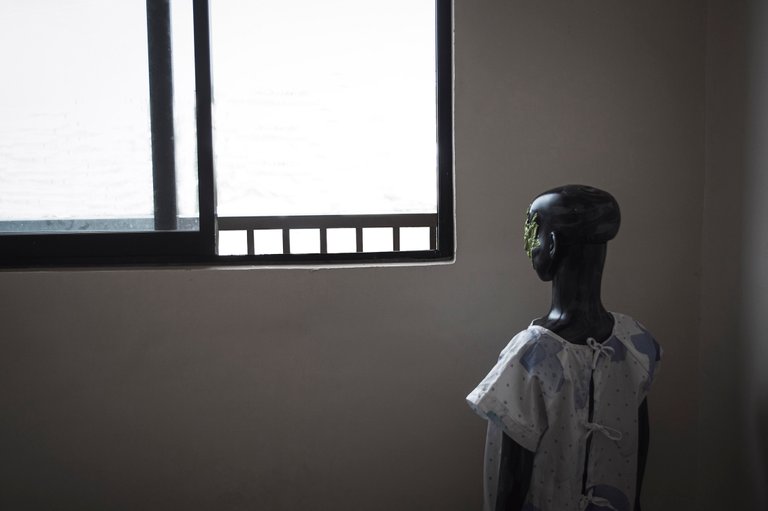 Because of this corona thing, the focus has been turned to the doctors and nurses - calling them heroes - being the frontliners of this battle. I do think they are and they are doing a hard job dealing with the pandemic.
But because of it, it made me think of my own personal experiences with them and how I think a doctor as well as some nurses in particular aren't my "heroes" but as my "villains".
Reason why I want to make works that revolve around patients
You see, it's not just because I want to represent being "injured" or it's just a metaphor, but it's literally what I've experienced and is the very reason why I can say "I'm breathing art" and "art makes me alive".
The wheelchair and the patient are representations of my own childhood trauma but I want the works to be "not as personal as possible". I'd still want to deal with the general experience that everyone can relate, but of course I have my own connection with them.
I don't want to be identified as someone with PTSD. I don't want to be all "victim huhuhu" all the time either, or just the girl who always talk about her trauma huhuhu give her sympathy. I don't want any of that. But I understand that it will always revolve around me and that I will always be reminded of it cos that's literally what the illness is all about lol.
The doctor and nurses failed me
Their malpractice is the very reason why I have PTSD and why it rekks my life now. The very persons who should be "saving my life" are the ones who took it from me. ( And yes yes I know I make mistakes as well and have clouded judgment sometimes and that I should not blame it on my PTSD cos I can be a shit human sometimes )
I could literally dig in their lives and probably rekk their lives too because of the malpractice, causing me psychological damage but I want none of that.
What I've just been thinking about though is that... I wonder how they are now. I wonder if they are hailed as heroes during this pandemic or if they rekt someone's life as well. Are they still alive? How many lives have they damaged just because they disregard a patient's psychological health. If they are still walking around not even conscious about the fault they did years ago.
I don't remember any of them. Not even their names. My brain has prevented me from remembering them. But I also wonder what if I meet one of them in the streets.. my conscious brain doesn't recognize them but my subconscious very well recognize them. What if I feel uneasy around a person without even knowing why, or worse, have a breakdown without knowing the reason.
---
Sacrifices are commendable, still
Even though I have my personal experiences and biases against some of them, I still commend their sacrifices especially now during this pandemic. They may or may not be conscious of the damages they have done before, but I still consider those doc and nurses in particular to be my villains.
They are doing their jobs and everybody makes mistakes after all. But they just fucked up during that time. XD
Just that... history can't be erased. And I hope they are doing well and not continuing to rekk someone else's lives.