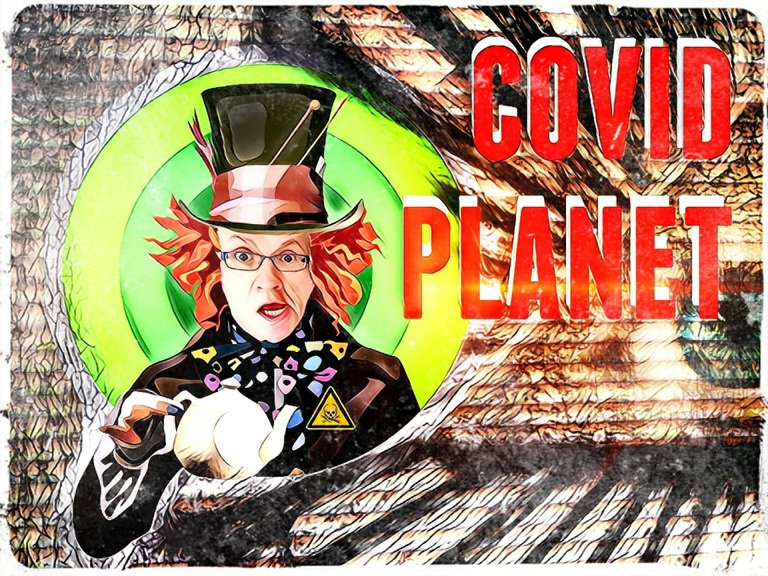 Gott im himmel?! Was is das?!
I growled Germanically in the direction of the front door from my armchair.
There had been a noise as if something had been pushed through the letterbox and landed on the floor.
I snorted. I knew better than to fall for such twaddle. That's what they wanted me to think.
Gently, I pushed the near-empty pizza box from my lap and got up from the armchair. Pizza crust crumbs showered like dead man's skin from my torso onto the floor.
Ha, something for the Good Lady to hoover later.
I laughed then stopped.
No, she wouldn't be able to hoover it up later because I had locked her in the garage for decontamination.
She had been furious of course, shouting all manner of shit about me going too far and how there will be repercussions.
I shook my head sadly.
It was not through choice I had thrown a blanket over her head and hustled her out to the garage. Oh no, not at all. When I had heard her on the phone talking about the Gates at the school I knew she must have been compromised.
How far did the malign tentacles of the Gates Foundation reach? They were in my daughter's school?
And so, I had thrust her into the garage which I had freshly lined with tinfoil, quartz crystals and Guava skins.
It was known as a healing chamber, I had seen it in a YouTube video which starred a man with a beard that looked like someone had wiped their arse with his face.
He had told me all about the lies we were being fed by the internet.
I believed him utterly.
In fact, when he yelled, open your eyes, people?! - I had nearly fallen off my chair in shock.
Because I had thought my eyes were already open.
With a mammoth effort I had attempted to open them further. Through the tears, I had clicked a random square on my screen which led me to another video.
The man in this video (how come they are always men?) told me that I should be proud of myself for doing my own research.
A small part of me wanted to squeak that this wasn't research, I was simply watching a funny video but I squashed that thought down.
Of course it was research. This was researching 2020 style.
This man, who didn't have a beard like a skidmark showed me lots of diagrams that visibly demonstrated that there was a giant rogue planet in our solar system which was the source of COVID.
I was intrigued.
How the hell could this Planet X be the source of COVID? How did that work? And why was he now telling us not to wear masks?
BECAUSE YOU ARE BEING LIED TO!
Yelled the man in the video.
And so, I found myself in the hall staring at an envelope on the floor which looked as if it had just come through the letterbox (a likely story) with a wife locked up in my outside garage decontamination chamber.
I bent forward to pick up the letter then paused.
Was it a letter or was that what they wanted me to believe?
Lol.
I said sneeringly at no-one in particular.
Grinning wryly, I sashayed away from the letter and into the lounge.
It was probably time to get the missus out of the garage anyway.