Recently,
@wesphilbin
started a new project which he hopes will inspire people on the blockchain. He also hopes that others will be motivated to participate as well. So, let's get the ball rolling, shall we...?
This new project is called the Thoughtful Daily Post and can range from sharing a favorite quote or writing an in-depth piece of a positive nature, whatever you feel is within your grasp on any particular day! The outline of the project can be read here, in his original post:
When trying to decide what I might be able to contribute for #thoughtfuldailypost, I remembered a sticker which I saw recently on the rear-window of a vehicle nearby. The owner of the vehicle is apparently a dog lover, and had a bit of wisdom to share from that perspective: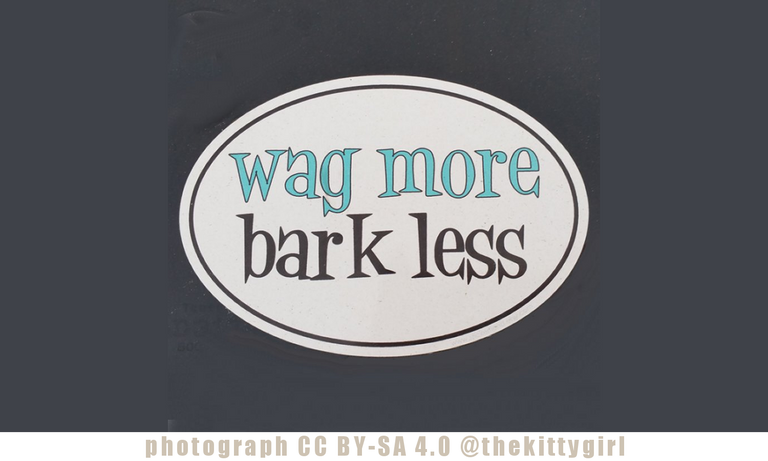 The wisdom here, of course, is to strive for more tail-wagging happiness in our lives and spread that happiness to other people rather than "barking" at them for all the things that we perceive is wrong. Happiness comes from within, so it is something we must cultivate, not something we can buy.
There are so many people here on the blockchain that are already living-proof of that principle, and I think it would be wonderful to see them participate in #thoughtfuldailypost, at least on an occasional basis as I hope to remember to do! So, to help get the ball rolling, I am going to tag a few people that might appreciate this:
@artemisnorth
@bluefinstudios
@brisby
@clayboyn
@derekrichardson
@dfinney
@dhavey
@dkkarolien
@dreemsteem
@dswigle
@enginewitty
@eveningart
@freedompoint
@freedomtowrite
@inthenow
@jackmiller
@jamerussell
@juliakponsford
@jaynie
@katrina-ariel
@mamma-dukes
@mariannewest
@melinda010100
@mfxae86
@pennsif
@poeticsnake
@saffisara
@sgt-dan
@shadowspub
@snook
@soyrosa
@staceyjean
@thehive
@zord189

 😊




24-Jun-2019