Steem Basic Income
Steem Basic Income is a social experiment to bring a voluntary self & crowd-funded basic income to as many Steemians as possible. Members join by sponsoring others into the program. Steem Basic Income is delivered through providing regular upvotes to member content.
Upvoting Bonuses
Each time we receive author rewards for a post or comment by any official SBI account, we check the value that each member added to the reward. That value will be added to the member's balance, with a multiplier of 1.34x. (This is temporarily reduced to 1.10x until our VP recovers to 80%).
For example, if you upvote us by $0.10, then $0.11 would be added to your balance when the post pays out. In most cases, this means that a vote for SBI is more profitable than a self-vote. You are rewarded directly for your contribution to the long-term sustainability of the program! You do still have to be enrolled in @steembasicincome to receive this benefit.
This is a great way to boost the voting power for program accounts. If your program (or account) does any self-voting to build a permanent SP base, please consider upvoting @steembasicincome each day instead.
We aim to post only once per day from the main account, with up to two more posts total from our other accounts. If you are trying to not miss any updates you should set your auto-voters at a 2 per day limit due to time zone differences.
(Official SBI Accounts: @steembasicincome, @sbi2, @sbi3, @sbi4, @sbi5, @sbi6, @sbi7, @sbi8, @sbi9, @sbi10, @sbi-booster.)
Here is a step-by-step guide for how to use SteemRewarding to deliver your VP overflow to these accounts: https://steempeak.com/rewarding/@holger80/6whidb-current-state-of-steemrewarding-com
As each upvote is delivered by our newly automated system, it selects the highest VP account that can deliver the full scheduled upvote value. This visual represents the upvotes that were delivered by @steembasicincome over the last
six
days, and the table shows the actual % weight of each upvote.
In cases where 20% of pending vote balance is greater than the 100% maximum deliverable upvote from all ten voting accounts, the unvoted amount remains in pending upvote balance until eventual upvote delivery.
STU shown are estimated, and may be different than actual STU at post payout. The 100% upvotes are delivered alongside additional upvotes from our other voting accounts.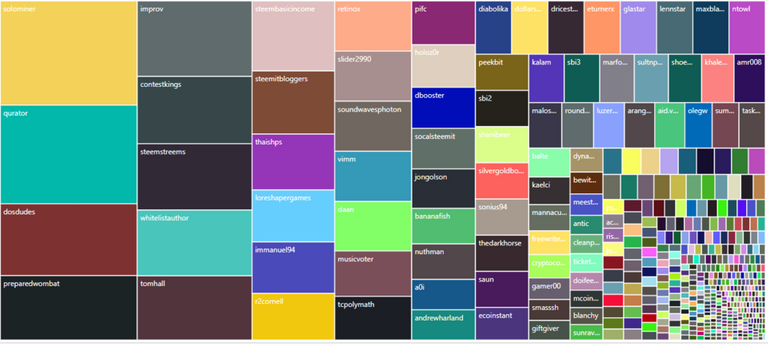 (@steemsql data visualized in Power BI by @josephsavage)
| author | vote_weight | STU_estimate | permlink |
| --- | --- | --- | --- |
| @solominer | 10000 | 1.519 | actifit-solominer-20190601t113322645z |
| @solominer | 10000 | 1.519 | full-spectrum-style-transfer-art-peach-tree-branches-with-leaves |
| @solominer | 10000 | 1.519 | infrared-photography-tree-filled-lot-with-big-clouds-on-the-way |
| @solominer | 9960 | 1.513 | infrared-photography-lovely-logic-checking-out-a-large-pine-tree |
| @solominer | 9245 | 1.404 | infrared-photography-yates-power-substation |
| @solominer | 8676 | 1.318 | nffphugu |
| @solominer | 8076 | 1.227 | walter-passing-by-luci |
| @solominer | 7963 | 1.21 | walter-smell-my-finger |
| @qurator | 10000 | 1.519 | qurator-s-photo-friday-or-photography-competition-78 |
| @qurator | 10000 | 1.519 | qurator-s-shining-qurite-50-or-mvd |
| @qurator | 10000 | 1.519 | qurator-s-toss-up-thursday-36-free-for-all-promotion-competition |
| @qurator | 10000 | 1.519 | the-daily-qurator-618 |
| @qurator | 10000 | 1.519 | the-daily-qurator-619 |
| @qurator | 10000 | 1.519 | the-daily-qurator-620 |
| @qurator | 10000 | 1.519 | the-daily-qurator-621 |
| @dosdudes | 8814 | 1.339 | 139-dosdudes-is-proud-to-present-steemmonsters-alpha-flesh-golem-card-giveaway-contest-no-upvote-no-resteem-no-follow-required |
| @dosdudes | 8311 | 1.262 | kf9nf2g7 |
| @dosdudes | 7295 | 1.108 | 4395fiic |
| @dosdudes | 7282 | 1.106 | 140-dosdudes-is-proud-to-present-steemmonsters-alpha-flesh-golem-card-giveaway-contest-no-upvote-no-resteem-no-follow-required |
| @dosdudes | 6683 | 1.015 | 8kk8z342 |
| @dosdudes | 6336 | 0.962 | 141-dosdudes-is-proud-to-present-steemmonsters-alpha-flesh-golem-card-giveaway-contest-no-upvote-no-resteem-no-follow-required |
| @dosdudes | 6259 | 0.951 | 142-dosdudes-is-proud-to-present-steemmonsters-alpha-flesh-golem-card-giveaway-contest-no-upvote-no-resteem-no-follow-required |
| @preparedwombat | 8768 | 1.332 | zapfic-writing-contest-week-62 |
| @preparedwombat | 8288 | 1.259 | actifit-preparedwombat-20190529t040805214z |
| @preparedwombat | 7465 | 1.134 | the-moment-merkel-realized-trump-changes-everything-for-germany |
| @preparedwombat | 7437 | 1.13 | what-will-the-price-of-steem-be-at-the-end-of-june-2019 |
| @preparedwombat | 6956 | 1.057 | 150-steembasicincome-units-and-a-1-400-sp-power-up |
| @preparedwombat | 6799 | 1.033 | i-guess-i-missed-the-memo-about-spud2 |
| @improv | 10000 | 1.519 | chapter-5minutefreewrite |
| @improv | 8603 | 1.307 | three-awesome-things |
| @improv | 7123 | 1.082 | rodeo-5minutefreewrite |
| @improv | 6953 | 1.056 | nunchucks-5minutefreewrite |
| @improv | 6116 | 0.929 | grow-the-freewritehouse-postcards |
| @improv | 6106 | 0.927 | take-my-ideas-please |
| @contestkings | 10000 | 1.519 | contest-kings-verified-1st-june-2019 |
| @contestkings | 10000 | 1.519 | contest-kings-verified-2nd-june-2019 |
| @contestkings | 10000 | 1.519 | contest-kings-verified-30th-may-2019 |
| @contestkings | 10000 | 1.519 | contest-kings-verified-31st-may-2019 |
| @steemstreems | 10000 | 1.519 | actifit-steemstreems-20190529t044218870z |
| @steemstreems | 9603 | 1.459 | actifit-steemstreems-20190530t035652240z |
| @steemstreems | 8062 | 1.225 | actifit-steemstreems-20190531t043117612z |
| @steemstreems | 6795 | 1.032 | actifit-steemstreems-20190601t045611237z |
| @steemstreems | 5036 | 0.765 | actifit-steemstreems-20190602t044434245z |
| @whitelistauthor | 10000 | 1.519 | white-list-author-winners-29th-may-2019 |
| @whitelistauthor | 10000 | 1.519 | white-list-author-winners-30th-may-2019 |
| @whitelistauthor | 10000 | 1.519 | white-list-author-winners-31st-may-2019 |
| @whitelistauthor | 9141 | 1.389 | white-list-author-winners-1st-june-2019 |
| @tomhall | 10000 | 1.519 | alpha-kw-8-appics-im-22933 |
| @tomhall | 10000 | 1.519 | alpha-kw-8-appics-im-23145 |
| @tomhall | 10000 | 1.519 | alpha-kw-8-appics-im-23256 |
| @tomhall | 8158 | 1.239 | ein-kleiner-spaziergang |
| @steembasicincome | 10000 | 1.519 | enhanced-votes-graph-31-may-2019 |
| @steembasicincome | 10000 | 1.519 | outgoing-votes-report-29-may-2019 |
| @steembasicincome | 10000 | 1.519 | sbi-in-an-hf21-world-part-1-50-50-rewards |
| @steemitbloggers | 10000 | 1.519 | 45ivqd-daily-rally-upvote-selection-nickyhavey |
| @steemitbloggers | 9232 | 1.402 | daily-rally-upvote-selection-goldendawne |
| @steemitbloggers | 7840 | 1.191 | 5ukrqf-daily-rally-upvote-selection-joanstewart |
| @thaishps | 7441 | 1.13 | dibujando-globos-or-or-video |
| @thaishps | 6647 | 1.01 | dibujando-una-florecilla-or-or-video |
| @thaishps | 5430 | 0.825 | what-is-steem-or-or-or-video |
| @thaishps | 4432 | 0.673 | que-es-steem |
| @loreshapergames | 9198 | 1.397 | tetris-an-introduction-to-the-gameplay-loop |
| @loreshapergames | 7272 | 1.105 | why-i-love-rogue-and-its-successors |
| @loreshapergames | 5784 | 0.879 | achieving-maya-in-game-design |
| @immanuel94 | 8681 | 1.319 | earn-sbi-or-plkn-by-mining-in-minecraft-10-sbi-or-20-plkn |
| @immanuel94 | 7016 | 1.066 | steem-craft-or-2-or-added-multiworld-support-teleport-signs-and-loading-bar |
| @immanuel94 | 6338 | 0.963 | skyroad-me-or-survival-cobblestone-mining-contest-or-results |
| @r2cornell | 10000 | 1.519 | come-join-me-and-enjoy-some-beautiful-flowers |
| @r2cornell | 10000 | 1.519 | first-monies-raised-for-8-month-old-ana-who-is-need-of-brain-surgery |
| @retinox | 10000 | 1.519 | chart-stellar |
| @retinox | 10000 | 1.519 | upvote-game-c-round-56-win-3-shares-for-your-steembasicincome-with-every-post-reglas |
| @slider2990 | 10000 | 1.519 | focus-stock-of-the-day-cr-land |
| @slider2990 | 10000 | 1.519 | focus-stock-of-the-day-kba |
| @soundwavesphoton | 10000 | 1.519 | can-you-make-sense-of-this |
| @soundwavesphoton | 10000 | 1.519 | yes-i-like-this |
| @vimm | 10000 | 1.519 | fkthdvynw |
| @vimm | 10000 | 1.519 | fkzcxxk2w |
| @daan | 10000 | 1.519 | snax-auth |
| @daan | 9721 | 1.477 | how-i-created-a-successful-freelance-business-using-steem-and-bitcointalk |
| @musicvoter | 9206 | 1.398 | thursdayupdate-vdsdahiivr |
| @musicvoter | 8907 | 1.353 | saturdayupdate-joinusforradioevolvedlivetomorrow-304rx5ujbv |
| @tcpolymath | 9410 | 1.429 | now-you-can-sell-multi-bcx-cards-to-my-bot-for-more-dec-than-burning-and-a-few-golds-as-well |
| @tcpolymath | 8019 | 1.218 | ottermaker-bot-has-moved-over-100000-dec-in-two-days |
| @pifc | 7511 | 1.141 | 1-000sp-goal-tracking-06-01-goals-to-reach-by-june-14th-2019 |
| @pifc | 6968 | 1.058 | week-59-s-curation-contest-winners-14-sbi-shares-awarded |
| @holoz0r | 7060 | 1.072 | cities-skylines-city-4-part-11-final |
| @holoz0r | 7000 | 1.063 | holoz0r-s-a-z-of-steam-crysis-warhead |
| @dbooster | 7689 | 1.168 | legend-of-zelda-animated-gifs |
| @dbooster | 5857 | 0.89 | apple-is-finally-killing-itunes |
| @socalsteemit | 7345 | 1.116 | the-socal-spotlight-week-62 |
| @socalsteemit | 6061 | 0.921 | show-us-your-california-contest-week-33 |
| @jongolson | 6747 | 1.025 | el1gzco0 |
| @jongolson | 6318 | 0.96 | cpueipnl |
| @bananafish | 6700 | 1.018 | mizu-no-oto-every-image-has-its-haiku-cada-imagen-tiene-su-haiku-32-ganadores |
| @bananafish | 5048 | 0.767 | tell-a-story-to-me-hollow-earth |
| @nuthman | 6662 | 1.012 | actifit-nuthman-20190601t051059685z |
| @nuthman | 5075 | 0.771 | don-t-put-off-visiting-your-grandparents |
| @a0i | 10000 | 1.519 | goats-birds-and-alpaga-ecfac3a087543 |
| @andrewharland | 10000 | 1.519 | disabled-and-homeless |
| @diabolika | 10000 | 1.519 | why-i-stopped-eating-pork |
| @dollarsandsense | 10000 | 1.519 | breaking-a-dry-spell---lifes-work |
| @dricestudio | 10000 | 1.519 | water-snake-by-the-buddhist-drice |
| @eturnerx | 10000 | 1.519 | q-pop-selection-for-april-may-2019 |
| @glastar | 10000 | 1.519 | 75emyy |
| @lennstar | 10000 | 1.519 | are-egoists-getting-wealthy-or-does-wealth-make-you-egoistic |
| @maxblaschke | 10000 | 1.519 | gbyte |
| @ntowl | 10000 | 1.519 | chapters-to-adventure-a-five-minute-freewrite |
| @peekbit | 10000 | 1.519 | work-finished-for-today-and-now |
| @sbi2 | 10000 | 1.519 | sbi-upvotes-report |
| @shanibeer | 10000 | 1.519 | im-the-gutter-gourmet-how-i-spent-a-month-eating-other-peoples-leftovers-environment-the-guardian |
| @silvergoldbotty | 10000 | 1.519 | 29th-of-may-stax-delegation-based-community-upvote-bot-and-quality-content-curator |
| @sonius94 | 10000 | 1.519 | danke-regina-stoiber-hilfe-bei-dem-verfahrensverzeichnis |
| @thedarkhorse | 10000 | 1.519 | round-21-free-delegations-for-4-weeks-upvotes |
| @saun | 9952 | 1.512 | steemit-lrztbb4o |
| @ecoinstant | 9012 | 1.369 | 91b06941 |
| @kalam | 3441 | 0.523 | kalam-1559164341929-kalams-instagram-feed--20190529-231221 |
| @kalam | 2950 | 0.448 | kalam-1559251360986-kalams-instagram-feed--20190530-232240 |
| @kalam | 2517 | 0.382 | kalam-1559411145414-kalams-instagram-feed--20190601-194545 |
| @sbi3 | 8896 | 1.351 | 6wh9sc-weekly-upvote-report |
| @marfonso | 4824 | 0.733 | actifit-marfonso-20190529t223203119z |
| @marfonso | 3867 | 0.587 | actifit-marfonso-20190601t224852086z |
| @sultnpapper | 7075 | 1.075 | seasoned-with-sult-n-papper-june-1-2019-hello-i-am-new-here-or-at-least-it-feels-that-way |
| @sultnpapper | 1490 | 0.226 | psg4uh |
| @shoemanchu | 4360 | 0.662 | 8-giveaway-contest-1-share-of-steembasicincome-no-upvote-no-resteem-no-follow-required |
| @shoemanchu | 3979 | 0.604 | ajowovxm |
| @khaleelkazi | 8115 | 1.233 | ewwyx269 |
| @amr008 | 7839 | 1.191 | actifit-amr008-20190529t155637321z |
| @malos10 | 7804 | 1.185 | he-aprendido |
| @roundbeargames | 7472 | 1.135 | running-in-unity-is-easy-and-hard-or |
| @luzeroc4 | 7299 | 1.109 | mi-hermano-antonio-jose-obras-de-arte |
| @arangoaqet | 7129 | 1.083 | fnmfyro5 |
| @aid.venezuela | 7092 | 1.077 | aidvenezuelabringingfoodaidtothestreetsllevandounaayudaalimenticiaalascalles-m85mu1yj2j |
| @olegw | 6459 | 0.981 | filming-and-taking-photos-on-first-startup-europe-regatta |
| @sumatranate | 6308 | 0.958 | actifit-sumatranate-20190529t025312409z |
| @taskmaster4450 | 2282 | 0.347 | is-steem-heading-for-a-new-coke-moment |
| @taskmaster4450 | 2038 | 0.31 | the-future-of-bitcoin-moon-or-doom |
| @taskmaster4450 | 1875 | 0.285 | eos-social-media-site-announced-the-voice-is-the-latest-entrant |
| @balte | 6180 | 0.939 | das-baltengold-bg-26-update-ist-das-baltengold-wirklich-spasten-fantastengold |
| @kaelci | 5929 | 0.901 | ulog-21-just-babblin |
| @mannacurrency | 5593 | 0.85 | brazil-small-city-in-brazil-implements-a-modest-partial-basic-income |
| @freewritehouse | 5095 | 0.774 | thank-you--nathanmars-- |
| @cryptocopy | 4991 | 0.758 | jumping-into-card-delegation-gearing-up-for-the-next-splinterlands-battle-season |
| @gamer00 | 4627 | 0.703 | special-package |
| @smasssh | 4491 | 0.682 | did-you-know-that-part-1 |
| @giftgiver | 4185 | 0.636 | 3377w6-giftgiver-weekly-update |
| @dynamicrypto | 4097 | 0.622 | dynamicrypto-1559296484180-dynamicryptos-instagram-feed--20190531-115444 |
| @bewithbreath | 3731 | 0.567 | inner-journey-amazing-adventure-exploring-the-mind-and-the-self |
| @meesterboom | 3646 | 0.554 | canadian-girl-beers |
| @antic | 3280 | 0.498 | commute-log-color-test-page |
| @cleanplanet | 3270 | 0.497 | jhanuhgs |
| @ticket4fun | 2052 | 0.312 | bitcoin-meme-randomly-found-on-the-internet |
| @ticket4fun | 1121 | 0.17 | i-love-this-forrest-gump-meme |
| @doifeellucky | 1635 | 0.248 | doifeellucky-1559336036557-doifeelluckys-twitter-feed |
| @doifeellucky | 1417 | 0.215 | doifeellucky-1559170548872-doifeelluckys-twitter-feed |
| @mcoinz79 | 1564 | 0.238 | mcoinz79-1559435246762-mcoinz79s-twitter-feed--20190602-022726 |
| @mcoinz79 | 1428 | 0.217 | mcoinz79-1559358571871-mcoinz79s-twitter-feed--20190601-050931 |
| @blanchy | 2871 | 0.436 | today-is-a-big-day-for-me |
| @sunravelme | 1495 | 0.227 | have-you-ever-questioned-the-nature-of-your-reality-zn5y7cqc |
| @sunravelme | 1154 | 0.175 | 5gph1f-working-title-msp-creative-writing-curation |
| @mariannewest | 1382 | 0.21 | day-586-5-minute-freewrite-tuesday-prompt-chapter |
| @mariannewest | 1224 | 0.186 | alpha-kw-8-appics-im-22972 |
| @city-of-dresden | 2589 | 0.393 | city-of-dresden-1559361924066-cityofdresdens-instagram-feed--20190601-for-city-of-dresden |
| @joaohazim | 2557 | 0.388 | steem-alguma-novidade-sobre-os-smts |
| @soofluffy | 2515 | 0.382 | actifit-soofluffy-20190529t033715343z |
| @bearone | 2490 | 0.378 | lip-balm-test-1-honey-and-vanilla |
| @ecuaminte | 1252 | 0.19 | tokenbb-topic-check-my-latest-fight-ko-1559359999758 |
| @ecuaminte | 1197 | 0.182 | tokenbb-topic-check-my-latest-fight-bo-1559360562830 |
| @guifaquetti | 2336 | 0.355 | lancamento-do-livro-book-release-felipe-sosa-memorias-del-maestro-interprete-y-compositor-pt-en |
| @dse | 2300 | 0.349 | making-some-money-with-our-investment-the-go-pro |
| @thehive | 2297 | 0.349 | 6hhhav-general-temp |
| @hans001 | 1263 | 0.192 | the-pain-g0zxuqbf |
| @hans001 | 1014 | 0.154 | tipu-investment-followup-01-y1yx7uua |
| @dynamicgreentk | 2198 | 0.334 | dynamicgreentk-1559092575322-making-vinegar-from-the-leftover-fpj |
| @shadowspub | 2137 | 0.325 | our-steem-from-the-inner-blocks-discord-may-29-recording |
| @duckmast3r | 2120 | 0.322 | brave-rewards-going-pretty-good |
| @mitchtokita | 2065 | 0.314 | spring-evening-meadows-sunset |
| @snook | 1995 | 0.303 | z0kior86 |
| @revisesociology | 1723 | 0.262 | spud-progress-report-for-may-2019-1030-steem-via-proxy-spum |
| @tbnfl4sun | 1700 | 0.258 | actifit-tbnfl4sun-20190530t004914883z |
| @scilwa | 1665 | 0.253 | psdcd7 |
| @nickyhavey | 1621 | 0.246 | actifit-nickyhavey-20190601t083034450z |
| @blissfish | 1553 | 0.236 | minnow-spotlight-brittandjosie |
| @psionic-tremors | 1545 | 0.235 | no-music-but-pure-red-today |
| @actifit-peter | 1516 | 0.23 | actifit-actifit-peter-20190529t201316167z |
| @rishi556 | 781 | 0.119 | tokenbb-reply-free-dec-battle-steem-1559394658567 |
| @rishi556 | 718 | 0.109 | psg83h |
| @joshman | 1444 | 0.219 | 1-of-a-water-well-or-who-s-going-to-match-me |
| @clayboyn | 1438 | 0.218 | coffee-and-philosophy-ep-63-announcement-and-details |
| @felipejoys | 847 | 0.129 | fire-splinter-gets-me-to-silver-i |
| @felipejoys | 527 | 0.08 | my-rewards-for-steemmonsters-and-for-observing-a-black-hole-in-a-point-n-click |
| @bluengel | 720 | 0.109 | 4j75dkrr |
| @bluengel | 582 | 0.088 | darkest-at-sunrise-csyaiay3 |
| @steempatron | 1299 | 0.197 | the-next-sbi-share-goes-to-crypt0 |
| @atomcollector | 1203 | 0.183 | 20190601t181457377z-hope-with-grand-space-adventure |
| @dalz | 1199 | 0.182 | b1-june-keynote |
| @crypticat | 1169 | 0.178 | newest-and-best-steem-gaming-site |
| @armadilloman | 599 | 0.091 | re-jrcornel-is-it-too-late-to-buy-litecoin-20190529t220747834z |
| @armadilloman | 556 | 0.084 | re-jeezzle-whichever-way-the-wind-blows-20190530t004402055z |
| @jaki01 | 1149 | 0.175 | psgbfp |
| @newageinv | 1147 | 0.174 | actifit-newageinv-20190602t032542461z |
| @satren | 1123 | 0.171 | steemmonsters-splinterlands-teste-ich-mal-den-votebot |
| @dreemsteem | 1122 | 0.17 | fireflies-pupa-book-2-entry-16-vendetta |
| @timothyb | 1109 | 0.168 | actifit-timothyb-20190601t043102176z |
| @saffisara | 1102 | 0.167 | a-love-package-across-the-ocean-thank-you-enginewitty-3k7hm23a |
| @stever82 | 1096 | 0.166 | 5v9uvb-steem-monsters-and-sbi-giveaway-and-winner-announcement |
| @edprivat | 1089 | 0.165 | 20190531t110402235z-attention-charlie-puth-acapella-cover-by-ed-privat |
| @darth-azrael | 696 | 0.106 | darth-azrael-1559138859768-darth-azraels-twitter-feed--20190529-160739 |
| @darth-azrael | 377 | 0.057 | darth-azrael-1559239979514-darth-azraels-twitter-feed--20190530-201259 |
| @wonderwop | 1055 | 0.16 | weekend-freewrite-589-potatoes |
| @louis88 | 527 | 0.08 | quiz-freitag-kw22-4-bilder-1-wort-100-liquids-auszahlung |
| @louis88 | 517 | 0.079 | das-grosse-louis88-and-friends-gewinnspiel-1-von-10 |
| @philodendron | 1033 | 0.157 | 3y1mll-imperium-original-song-by-philodendron |
| @steemmillionaire | 1024 | 0.156 | actifit-steemmillionaire-20190531t210759176z |
| @emergehealthier | 1002 | 0.152 | actifit-emergehealthier-20190601t030610983z |
| @blewitt | 971 | 0.147 | she-turns-17 |
| @miti | 952 | 0.145 | mydailymanualcurationfeaturedposts2019-05-29-h5tafz8qv3 |
| @simonjay | 506 | 0.077 | mugged-and-hurt-29-5-2019 |
| @simonjay | 433 | 0.066 | mugged-and-hurt-part-2 |
| @nessos | 930 | 0.141 | nextcolony-es-wird-kolonialisiert |
| @hrissm | 903 | 0.137 | binance-thanks-but-no-thanks |
| @tipu | 193 | 0.029 | re-libertad-anyone-20190529t231737 |
| @tipu | 183 | 0.028 | re-20190530022718246-diceroll-20190530t090119 |
| @tipu | 177 | 0.027 | re-the-rich-apricot-20190531t182346 |
| @tipu | 169 | 0.026 | re-re-serenity-20190601t054052 |
| @tipu | 168 | 0.026 | re-20190601154856952-winnersreply-20190601t160424 |
| @richatvns | 442 | 0.067 | meme-challenge-123-entry-2-simple-misunderstanding-1559259275 |
| @richatvns | 421 | 0.064 | memeday-s03m30e01-entry-3-fact-jack-1559259332 |
| @wholeself-in | 847 | 0.129 | through-the-lookingglass-cyltperr |
| @calisay | 823 | 0.125 | album-covers-contest-64-winners-of-2-sbi |
| @fitinfun | 494 | 0.075 | freewrite-day-586-chapter |
| @fitinfun | 313 | 0.048 | ntopaz--fitinfun--525177249--ntopaz-thailand-photography-monochrome-fitinfun--2019-05-31-21-03-07--artwork--none |
| @cryptictruth | 789 | 0.12 | steem-monster-card-giveaway-61-jyd0lgdg |
| @tattoodjay | 789 | 0.12 | actifit-tattoodjay-20190531t225933931z |
| @petecko | 284 | 0.043 | petecko-re-kytka-ps8tmp-20190529t220436500z |
| @petecko | 272 | 0.041 | petecko-re-kytka-ps8rcb-20190529t222126219z |
| @petecko | 221 | 0.034 | petecko-re-humanityfy-v2gqcny2-20190601t171653164z |
| @chrisparis | 772 | 0.117 | actifit-chrisparis-20190530t200135024z |
| @anarcist69 | 771 | 0.117 | i-just-registered-as-a-block-producer-for-snax |
| @andrewgenaille | 746 | 0.113 | fifty-shades-ceyh9jdu |
| @jjprac | 733 | 0.111 | v-muzeu-horni-briza |
| @lighteye | 381 | 0.058 | q10-what-s-the-liquid-staking-proportion-in-your-snax-portfolio |
| @lighteye | 335 | 0.051 | breaking-news-killing-assange |
| @c-squared | 195 | 0.03 | 20190529t231244250z |
| @c-squared | 174 | 0.026 | 20190601t163648966z |
| @c-squared | 171 | 0.026 | 20190531t105702881z |
| @c-squared | 166 | 0.025 | 20190601t163656515z |
| @wesphilbin | 375 | 0.057 | alpha-kw-8-appics-im-22963 |
| @wesphilbin | 320 | 0.049 | silly-saturday-with-monomad-and-colorchallenge |
| @foodfightfriday | 692 | 0.105 | 5-24-2019-round-44-winner-of-3-steembasicincome-shares-with-an-additional-20-steem-give-away-as-a-little-sweet-treat-plus-a |
| @d00k13 | 686 | 0.104 | spud2-i-did-my-due-diligence-now-im-looking-for-a-company-to-make-onelovedtube-merch-suggestions-lq68ojol |
| @bengy | 675 | 0.103 | passing-on-the-steem-torch |
| @greendelivernl | 667 | 0.101 | aquaponics-2019-9-2571806672ff1 |
| @sarez | 350 | 0.053 | no-point-in-studying-now-if-there-is-no-world-left-in-ten-years-student-climate-change-protestor |
| @sarez | 295 | 0.045 | i-powered-up-5-5-steem-and-stopped-my-7-steem-powerdown-all-for-spud2 |
| @connecteconomy | 641 | 0.097 | pillar-best-wallet-for-all-your-eth-tokens |
| @helpie | 611 | 0.093 | 7njymn-helpie-hangout-saturday-2pm-est-6pm-utc |
| @ucukertz | 610 | 0.093 | re-theycallmedan-i-have-an-announcement-20190530t004650223z |
| @cflclosers | 215 | 0.033 | mqr7ib24 |
| @cflclosers | 205 | 0.031 | smell-the-flowers |
| @cflclosers | 185 | 0.028 | bjpqzi2u |
| @cryptoyzzy | 590 | 0.09 | cryptoyzzy-1559101709964-cryptoyzzys-twitter-feed- |
| @indicator | 587 | 0.089 | 2019-05-30-updown-upbit-midreport |
| @phoenixwren | 578 | 0.088 | purging-progress-ulog-tjkhrpdj |
| @blockurator | 201 | 0.031 | psbde1 |
| @blockurator | 192 | 0.029 | psbdfg |
| @blockurator | 183 | 0.028 | psbdjl |
| @felt.buzz | 556 | 0.084 | jgf2odfm |
| @lordneroo | 551 | 0.084 | tottehnam-vs-liverpool-who-are-you-rooting-for |
| @bashadow | 550 | 0.084 | tis-the-season-of-the-moose |
| @curatorcat | 549 | 0.083 | just-like-herding-cats-fun-with-photography |
| @richardtaylor | 546 | 0.083 | psa2cp |
| @shortsegments | 545 | 0.083 | thought-provoking-protest-sign-dsygoezm |
| @ichmusslaufen | 540 | 0.082 | actifit-ichmusslaufen-20190529t215830103z |
| @blacklux | 299 | 0.045 | actifit-blacklux-20190529t201125003z |
| @blacklux | 232 | 0.035 | 5xcyyl-adoptme-project-2-0-applying-process-open |
| @aussieninja | 530 | 0.081 | exhaust-run-1559307026 |
| @tulwave | 524 | 0.08 | tulwave-1559434566578-tulwaves-instagram-feed--20190602-021606 |
| @cryptoandcoffee | 523 | 0.079 | looking-in-from-the-outside |
| @pardinus | 520 | 0.079 | weekly-card-giveaway-last-week-s-winner-b74e77dcb74eest |
| @c0ff33a | 513 | 0.078 | q08c5q7q |
| @the-sports-nerd | 504 | 0.077 | thursday-thoughts |
| @reggaemuffin | 258 | 0.039 | re-cryptopiotr-psd3sb-20190531t094957129z |
| @reggaemuffin | 240 | 0.036 | re-ackza-pscvj9-20190531t165809824z |
| @richi0927 | 495 | 0.075 | videojuegosbasadosenblockchain-ydpwrz4zfg |
| @fuadsm | 486 | 0.074 | re-geekgirl-psg87u-20190602t031417890z |
| @jayna | 479 | 0.073 | actifit-jayna-20190530t034426582z |
| @tristancarax | 474 | 0.072 | i-remember-the-rodeo-5-minute-freewrite-friday-prompt-rodeo |
| @tychoxi | 467 | 0.071 | re-davidpakman-could-donald-trump-s-judgement-be-any-worse-20190529t204049727z |
| @anthonyadavisii | 460 | 0.07 | anthonyadavisii-1559175099376-anthonyadavisiis-instagram-feed--20190530-021139 |
| @viking-ventures | 459 | 0.07 | name-of-the-nevi-chapter-28-a-mara-books |
| @abbak7 | 458 | 0.07 | 3qrjs3 |
| @simmania | 250 | 0.038 | 808 |
| @simmania | 208 | 0.032 | 813 |
| @forecasteem | 188 | 0.029 | 2019-05-31-updown-upbit-result |
| @forecasteem | 150 | 0.023 | 2019-06-01-updown-upbit-eth |
| @forecasteem | 118 | 0.018 | 2019-06-01-updown-upbit-xrp |
| @doskinas | 454 | 0.069 | jordan-series-the-secret-smugglers-route-to-petra |
| @mytechtrail | 453 | 0.069 | mytechtrail-1559188119962-mytechtrails-twitter-feed--20190530-054839 |
| @johndoer123 | 449 | 0.068 | genetic-mutant-found-in-my-yard |
| @sergiomendes | 154 | 0.023 | w1rk4utz |
| @sergiomendes | 149 | 0.023 | the-exterminator-is-back-click-for-more-photos |
| @sergiomendes | 141 | 0.021 | 58qereww |
| @jeffjagoe | 161 | 0.024 | c1ae0ebx |
| @jeffjagoe | 150 | 0.023 | ik3hq2h0 |
| @jeffjagoe | 128 | 0.019 | pg1e67jo |
| @jaichai | 438 | 0.067 | ijch-the-awesomeness-of-discipline-warning-philosophy-inbound-jaichai-style |
| @marcosdk | 438 | 0.067 | modelando-un-vestido-nuevo-para-una-princesa-de-rada-quest |
| @rvgenaille | 423 | 0.064 | terrace-vsg90nq8 |
| @luueetang | 143 | 0.022 | crowd-city-a-peculiar-but-fun-game-g0ljicxr |
| @luueetang | 102 | 0.015 | tasteem-d23928 |
| @luueetang | 91 | 0.014 | luueetang-1559381104518-luueetangs-instagram-feed--20190601-112504 |
| @luueetang | 87 | 0.013 | luueetang-1559358743984-luueetangs-instagram-feed--20190601-051223 |
| @anayakhan | 419 | 0.064 | kids-learn-professions-helps-children-learning-the-names-of-jobs-and-occupations |
| @nikolanikola | 412 | 0.063 | psbwii |
| @djynn | 411 | 0.062 | thought-on-increasing-rewards |
| @resiliencia | 409 | 0.062 | psa2jg |
| @derangedvisions | 408 | 0.062 | are-you-ready-for-the-big-announcement |
| @akipponn | 407 | 0.062 | long-vacation-for-life |
| @kommy | 209 | 0.032 | tokenbb-topic-check-my-latest-fight-ko-1559314674832 |
| @kommy | 197 | 0.03 | tokenbb-topic-check-my-latest-fight-ko-1559412687159 |
| @self-track | 402 | 0.061 | actifit-self-track-20190530t193400905z |
| @sn0n | 394 | 0.06 | 12-days |
| @dinglehopper | 389 | 0.059 | pinky-and-spiky-in-practicing-martial-arts |
| @jokersword | 362 | 0.055 | actifit-jokersword-20190529t171249716z |
| @priyanarc | 361 | 0.055 | i-choose-to-be-happy |
| @ewkaw | 358 | 0.054 | the-tiniest-of-the-tiny |
| @fstateaudio | 357 | 0.054 | bash-the-fash-artwork-by-a-friend-for-skin-contact |
| @minloulou | 352 | 0.053 | wherein-1559372813 |
| @jacuzzi | 184 | 0.028 | art-party-at-the-circus-school-i-started-cdbe0556 |
| @jacuzzi | 162 | 0.025 | steem-you-are-making-me-sad-hardfork-21-eip-bad-idea |
| @pibara | 345 | 0.052 | just-a-little-note-on-my-witness-votes |
| @fitinfunfood | 343 | 0.052 | looking-forward-to-thai-food-at-steemfest-bangkok-for-tasty-tuesday |
| @thevillan | 334 | 0.051 | my-journey-to-becoming-a-whale-is-not-working-as-expected |
| @travelfeed | 334 | 0.051 | food-of-the-world-weekly-round-up-66 |
| @sharpshot | 328 | 0.05 | actifit-sharpshot-20190530t200553914z |
| @partitura | 321 | 0.049 | the-mixed-blessings-of-holidays-hjqdnpoa |
| @pedrocanella | 169 | 0.026 | actifit-pedrocanella-20190530t002136741z |
| @pedrocanella | 148 | 0.022 | actifit-pedrocanella-20190601t001220787z |
| @silverstackeruk | 312 | 0.047 | another-mass-shooting-in-the-worlds-greatest-country-we-get-it-your-really-good-at-killing-other-each |
| @cwow2 | 299 | 0.045 | thinking-about-powering-down |
| @felixgarciap | 295 | 0.045 | advances-in-lyric-poetry-contest-and-new-call-with-the-label-sweetie |
| @silvertop | 292 | 0.044 | everything-still-looking-up-update-to-the-steem-rewards-fund-may-29th-2019 |
| @fromage | 287 | 0.044 | psao3i |
| @botefarm | 153 | 0.023 | the-life-damaging-nest-microfiction-contest-nest-q5pka4uo |
| @botefarm | 129 | 0.02 | leviticus-chapter-8-a-freewrite-poetry |
| @wakeupkitty | 97 | 0.015 | the-old-tart-and-so-on-2co6qyjd |
| @wakeupkitty | 93 | 0.014 | alpha-kw-8-appics-im-23010 |
| @wakeupkitty | 90 | 0.014 | alpha-kw-8-appics-im-23110 |
| @minhaz007 | 146 | 0.022 | sharing-my-steemmonsters-season-end-reward-cards-xtoftn6q |
| @minhaz007 | 132 | 0.02 | minhaz007-1559409444691-minhaz007s-twitter-feed--20190601-191724 |
| @julian2013 | 99 | 0.015 | p105-6qelucn0q1 |
| @julian2013 | 90 | 0.014 | p106-lskqqwdjxd |
| @julian2013 | 87 | 0.013 | bb3d601383eb9 |
| @madstacks | 269 | 0.041 | point-to-point-our-nomadic-travels-part-86-preparation-for-the-move |
| @wolf09 | 262 | 0.04 | wolf09-1559412045394-wolf09s-instagram-feed--20190601-200045 |
| @firecajun9262 | 261 | 0.04 | psanwi |
| @dragosroua | 142 | 0.022 | there-s-something-going-on-with-the-price-of-steem-in-korea-it-trades-at-a-20-premium-on-bithumb |
| @dragosroua | 113 | 0.017 | 30-days-writing-challenge-day-11-rewards |
| @lucylin | 253 | 0.038 | why-i-m-here-and-welcome-to-my-back-yard |
| @damla | 249 | 0.038 | psa2dg |
| @quotes-haven | 247 | 0.038 | wednesday-walk-around-chinatown |
| @carolkean | 245 | 0.037 | lenna-the-little-tart-and-that-cat-day-588-5-minute-freewrite-friday-prompt-rodeo |
| @wolfnworbeikood | 244 | 0.037 | from-las-vegas-stright-to-your-city |
| @teenagecrypto | 128 | 0.019 | teenagecrypto-1559176482393-teenagecryptos-twitter-feed--20190530-023442 |
| @teenagecrypto | 110 | 0.017 | teenagecrypto-1559331207391-teenagecryptos-twitter-feed--20190531-213327 |
| @helo | 236 | 0.036 | psates |
| @thedamus | 234 | 0.036 | my-boy-is-growing-up-fast |
| @azizbd | 232 | 0.035 | helping-a-patient-who-has-no-family |
| @kchitrah | 226 | 0.034 | live-a-life-that-matters |
| @gibic | 225 | 0.034 | eyewitness-flash-fiction |
| @incubot | 223 | 0.034 | 20190601211647200-dicestats |
| @tatylayla | 222 | 0.034 | dormindo-agarradinhos-df962c3795ae8 |
| @omsoc | 123 | 0.019 | yw56t3bo |
| @omsoc | 97 | 0.015 | 396c19b526280f759a2e394f98d1905f-vimmtv |
| @numundo | 217 | 0.033 | numundo-1559409585602-numundo-daily-photo |
| @flemingfarm | 215 | 0.033 | fishing-this-morning |
| @handofzara | 215 | 0.033 | beersaturday-natty-greene |
| @robertandrew | 212 | 0.032 | byyd1ya5 |
| @powerpaul | 211 | 0.032 | psflqb |
| @brisby | 210 | 0.032 | psabgy |
| @torico | 210 | 0.032 | re-yusaymon-20190529t072734527z-la-cordura-original-track-20190529t214506900z |
| @koskl | 108 | 0.016 | 4algaj-my-splinterlands-update |
| @koskl | 100 | 0.015 | 6oes1w-my-splinterlands-update |
| @edouard | 205 | 0.031 | re-nathanmars-usd7-77-steem-with-pushbook-network-216-days-to-go-20190530t091328459z |
| @r00sj3 | 205 | 0.031 | re-soyrosa-lunch-up-the-mountain-xns28oer-20190529t172226157z |
| @run.vince.run | 200 | 0.03 | exhaust-run-1559091972 |
| @crypt-skip | 194 | 0.029 | actifit-crypt-skip-20190529t013236327z |
| @celinavisaez | 102 | 0.015 | zerber-simple-to-setup-ci-platform-for-javascript-projects |
| @celinavisaez | 91 | 0.014 | gray-tailor-your-macos-mojave-experience |
| @syalla | 191 | 0.029 | re-sebescen81-firelotto-zwischeninfo-wce5gpgy-20190530t014947252z |
| @dohe2610 | 189 | 0.029 | pics-of-the-day-61-cycling-thru-time-by-djheinrich |
| @pizzaboy77 | 189 | 0.029 | or-individual-distortion-or |
| @steem-ua | 189 | 0.029 | re-node-js-7-or-turkish-translation-20190601t023327z |
| @ddrfr33k | 97 | 0.015 | 273797afdbe69155016ec19860e0bf8e-vimmtv |
| @ddrfr33k | 92 | 0.014 | fk3yt22eq |
| @upvotebuilders | 188 | 0.029 | upvotebuilders-news-81 |
| @guchtere | 187 | 0.028 | guchtere-re-dosdudes-140-dosdudes-is-proud-to-present-steemmonsters-alpha-flesh-golem-card-giveaway-contest-no-upvote-no-resteem-no-follow-required-20190531t061544020z |
| @johnspalding | 98 | 0.015 | 834186b1bd4f985814a85dbfa200d945-vimmtv |
| @johnspalding | 89 | 0.014 | johnspalding-1559269886455-johnspaldings-twitter-feed--20190531-043126 |
| @gaborockstar | 186 | 0.028 | k5gd8mr3 |
| @lynncoyle1 | 186 | 0.028 | psfjh8 |
| @coolguy222 | 96 | 0.015 | watch-presser-product |
| @coolguy222 | 89 | 0.014 | smart-driver-updater-update-outdated-drivers-automatically |
| @mhm-philippines | 103 | 0.016 | alpha-kw-8-appics-im-22893 |
| @niel96 | 103 | 0.016 | niel96-1559109517727-lunar-express----profitable--crypto-trading-signals--twitter-feed--20190529 |
| @freebornangel | 94 | 0.014 | gov-t-lies-and-internet-legal-theories |
| @freebornangel | 89 | 0.014 | survival-saturday-1-super-jiu-jitsu |
| @mhm-philippines | 80 | 0.012 | alpha-kw-8-appics-im-23195 |
| @niel96 | 80 | 0.012 | niel96-1559375366043-lunar-express----profitable--crypto-trading-signals--twitter-feed--20190601 |
| @drago18121996 | 182 | 0.028 | ale-con-gli-occhi-cerchiati |
| @pixiepost | 102 | 0.015 | actifit-pixiepost-20190529t063050700z |
| @ketcom | 100 | 0.015 | actifit-ketcom-20190529t221659768z |
| @ketcom | 82 | 0.012 | have-you-started-using-the-steemcoinpan-sct-platform |
| @pixiepost | 80 | 0.012 | pixiepost-1559347907599-pixieposts-twitter-feed--20190601-021147 |
| @theslendermancan | 179 | 0.027 | theslendermancan-1559167959549-best-seat-in-the-house |
| @steemstem | 177 | 0.027 | re-omotola5656-the-amazing-world-of-aquaculture-20190531t224954000z |
| @lightestofideas | 176 | 0.027 | lightestofideas-re-threejay-steem-monsters-new-day-new-100-dec-give-away-4-yesterdays-winner-announced-20190601t185012754z |
| @cherryzz | 92 | 0.014 | 4q63vr |
| @cherryzz | 84 | 0.013 | snax |
| @deirdyweirdy | 175 | 0.027 | psdvr9 |
| @simmanis | 175 | 0.027 | 789 |
| @alokkumar121 | 91 | 0.014 | actifit-alokkumar121-20190531t173851011z |
| @alokkumar121 | 84 | 0.013 | cloud-token-wallet-world-s-first-social-wealth-wallet-integrating-all-blockchai |
| @janicechua | 174 | 0.026 | 2e4b9cfc4ba16 |
| @phortun | 174 | 0.026 | psfgao |
| @martha75 | 173 | 0.026 | cuando-tu-esposa-te-descubre |
| @urdreamscometrue | 173 | 0.026 | psf8gf |
| @skrjifen | 172 | 0.026 | steem-cpzuwyiu |
| @paul.atreides | 171 | 0.026 | psepm7 |
| @michealb | 169 | 0.026 | pscw50 |
| @steemflagrewards | 90 | 0.014 | steem-flag-rewards-report---8-flagger-post---2019-05-30-2357 |
| @naythan | 86 | 0.013 | naythan-1559392655441-naythans-twitter-feed--20190601-143735 |
| @naythan | 83 | 0.013 | steem-monsters-opening-7-reward-cards |
| @steemflagrewards | 79 | 0.012 | steem-flag-rewards-report---8-flagger-post---2019-05-31-2243 |
| @marvyinnovation | 168 | 0.026 | marvyinnovation-re-angelinafx-saturday-jun-1-2019-eos-predict-the-price-and-you-could-win-1-steem-20190601t130903401z |
| @minsoenaing | 168 | 0.026 | actifit-minsoenaing-20190531t131121448z |
| @cheese4ead | 166 | 0.025 | actifit-cheese4ead-20190601t202237656z |
| @sawcraz.art | 164 | 0.025 | the-people-in-my-life-the-one-who-taught-me-about-treason-las-personas-de-mi-vida-el-que-me-enseno-sobre-traicion |
| @airiam | 160 | 0.024 | desire-part-1-pick-your-poison-1 |
| @veteranforcrypto | 159 | 0.024 | ulog-16-my-kriptomat-minting-competition-entry |
| @whatsup | 159 | 0.024 | voting-by-witness-proxy |
| @roger5120 | 158 | 0.024 | 5e9qm7w2 |
| @mimismartypants | 153 | 0.023 | actifit-mimismartypants-20190529t215408529z |
| @suedoenym | 152 | 0.023 | its-never-really-about-the-bread |
| @wenchebakken | 150 | 0.023 | actifit-wenchebakken-20190529t012921074z |
| @jojivenna03 | 148 | 0.022 | rewards2edbcbb39e62aest |
| @tiagoferezin | 148 | 0.022 | fred-um-co-que-faz-poses-u3icdebt |
| @mango-juice | 147 | 0.022 | rusty-android-giveaway-just-tag-an-sm-addict |
| @stranger27 | 147 | 0.022 | steem-chi-bitcoin-sho-krashe-kupuvati-vidpovid-ochevidna-steem |
| @acostaeladio | 143 | 0.022 | ntopaz--acostaeladio--2072367873--ntopaz-watercolor-pintura-acuarela-illustrator--2019-05-31-16-46-52--artwork--none |
| @ladyrebecca | 142 | 0.022 | good-content-and-the-magical-whale-in-the-sky |
| @lymepoet | 141 | 0.021 | tulips-season |
| @dreimaldad | 138 | 0.021 | 214-explorationen-11-losses-and-nothing-found |
| @beavishoek | 136 | 0.021 | beavishoek-1559168899625-do-you-remember-heavy-metal |
| @loler555 | 135 | 0.021 | actifit-loler555-20190530t192512818z |
| @valued-customer | 135 | 0.021 | diy-facial-recognition-and-porn |
| @rolsonpatison | 134 | 0.02 | raport-z-perpetuummobile |
| @steemraiser | 134 | 0.02 | steemraiseractivity216-xombi2vh66 |
| @britcoin | 133 | 0.02 | lyqj9opg |
| @lilianajimenez | 132 | 0.02 | proyectoembajadores-rectafinal-equipoyompatnrelevolilianajimenez-2z4myq71li |
| @paulmoon410 | 132 | 0.02 | actifit-paulmoon410-20190530t015248605z |
| @vida-blanca | 130 | 0.02 | apesandtheenclosedmaiden-8d6lb1bbc8 |
| @vladimir-simovic | 130 | 0.02 | gamedevtycoonalsspiel-programmiererinden80ernstarten-qcghmfmx4f |
| @gbindinazeez | 128 | 0.019 | wimczlb-my-head-coach-drill-9 |
| @johnhtims | 128 | 0.019 | 2ahm4x-test-post-ignore |
| @morningshine | 127 | 0.019 | snax-authentication-post |
| @wolffeys | 124 | 0.019 | up-close-and-personal-vol-3 |
| @hattaarshavin | 123 | 0.019 | gattuso-refuses-rp-117-billion-compensation |
| @zaku | 118 | 0.018 | dark-energy-crystal-dec-giveaway-11-show-off-your-battle |
| @erikaliberf | 117 | 0.018 | my-hedgehog-otello-mi-erizo-otello |
| @followjohngalt | 116 | 0.018 | actifit-followjohngalt-20190529t200953967z |
| @sophiej | 116 | 0.018 | unfold-7-perspectives-depliage-choregraphique-au-fta |
| @crimo | 115 | 0.017 | der-luefter-kleiner-beitrag-zum-seo-boss-contest |
| @actipat | 113 | 0.017 | actipat-1559361857052-actipat-on-twitter---20190601 |
| @charityislove | 113 | 0.017 | quick-walk-through-of-a-polo-towers-suite-in-las-vegas |
| @monsterplayer | 113 | 0.017 | yup-i-did-it-the-gf-black-dragon-is-one-card-rarer-now |
| @d4rkflow | 112 | 0.017 | swarmops-translation-or-english-portuguese-or-11-1008-words-translated |
| @edicted | 112 | 0.017 | despite-terrible-ideas-hf21-could-still-be-bullish-for-steem |
| @michaeljn | 112 | 0.017 | sungazerlizzy-7hci4vsa |
| @silverd510 | 111 | 0.017 | rate-reaper-raffle |
| @edebiyat | 110 | 0.017 | bir-can-iki-oeluem |
| @elementm | 109 | 0.017 | makeup-magic-mystifies-me-a-story-in-50-words |
| @achristopherart | 108 | 0.016 | vertigo-pen-drawing |
| @bumex2008 | 107 | 0.016 | flowers-ssmxxjls |
| @faffy | 107 | 0.016 | ntopaz--faffy--321358699--ntopaz-art-painting-steemartist-artzone--2019-05-29-18-53-36--artwork--none |
| @mickvir | 107 | 0.016 | rdh871s9 |
| @dotwin1981 | 106 | 0.016 | 0iatkf0r |
| @photovitamin | 106 | 0.016 | peacock-monomad-contest |
| @daniscib | 105 | 0.016 | whatisthecostoflies-sg1wsx2jat |
| @halzart | 105 | 0.016 | illustration-red-background |
| @phillarecette | 104 | 0.016 | tomatesprovenales-yiapr0tlom |
| @cloudblade | 103 | 0.016 | steem-price-analysis-in-2019-words-may-29 |
| @manthos | 103 | 0.016 | luther-gladiators-of-dragon-isle-or-gameart-commision |
| @metama | 103 | 0.016 | change-is-the-only-constant-taqgnxei |
| @aellly | 102 | 0.015 | -4373e1389202d |
| @choogirl | 102 | 0.015 | lessons-from-mother-ayahuasca-night-7-seeking-my-shadow-and-finding-god |
| @jlordc | 102 | 0.015 | steem-monthly-bills-and-their-upvote-values |
| @kimmysomelove42 | 102 | 0.015 | kimmysomelove42-1559151338959-color-challenge-wednesday-amber-yellow |
| @krevasilis | 102 | 0.015 | actifit-krevasilis-20190529t173356896z |
| @samest | 102 | 0.015 | the-spark-that-lighting-science-contents |
| @didmyownresearch | 101 | 0.015 | actifit-didmyownresearch-20190530t200512781z |
| @ferrate | 101 | 0.015 | do-more-and-enjoy-later-35d04c265cbec |
| @josediccus | 101 | 0.015 | precision-and-value-in-place-of-greed-the-need-for-oversight-in-all-ramifications-f04445906cb34 |
| @lionsmane | 101 | 0.015 | great-night-of-some-mlb-dfs-on-draftkings |
| @okean123 | 101 | 0.015 | niemand-hat-die-absicht-die-meinungsfreiheit-einzuschraenken |
| @ruth-girl | 101 | 0.015 | the-race-fifty-word-story |
| @snowblind5 | 101 | 0.015 | actifit-snowblind5-20190529t194416204z |
| @flaxz | 100 | 0.015 | alpha-kw-8-appics-im-22935 |
| @makpic | 100 | 0.015 | srf7083i |
| @rivalzzz | 100 | 0.015 | ein-paar-boosterpacks-zum-wochenende |
| @boxmining | 99 | 0.015 | news-bitcoin-sv-pumps-on-fake-news-whales-buy-bitcoin |
| @nmcdougal94 | 99 | 0.015 | nmcdougal94-1559154789223-day-70-of-777---seven77-exercise-challenge |
| @steemsistershow | 99 | 0.015 | fen8xm1i |
| @arcange | 98 | 0.015 | steem-statistics-20190531-en |
| @axeman | 98 | 0.015 | good-morning |
| @eeeps.sh7 | 98 | 0.015 | in-the-2019-world-cup--eyes-will-be-on-jasprit-bumrah--kagiso-rabada-and-starc |
| @gaeljosser | 98 | 0.015 | floreciendo-en-dias-lluviosos |
| @iamanosikev | 98 | 0.015 | iamanosikev-1559127196356-girls-are-shit |
| @isarmoewe | 98 | 0.015 | taeglich-ein-neues-thema-tag-25-kapitel |
| @itchyfeetdonica | 98 | 0.015 | ntopaz--itchyfeetdonica--1042261508--ntopaz--2019-05-30-00-00-20--artwork--none |
| @kid4life | 98 | 0.015 | we-have-some-purple-on-our-hands |
| @purapapita | 98 | 0.015 | 55948yx6 |
| @rgov | 98 | 0.015 | cricket-world-cup-2019-should-india-play-pakistan |
| @rhob0t | 98 | 0.015 | make-a-post-on-steem-to-get-snax-tokens |
| @stayoutoftherz | 98 | 0.015 | steemit-austria-bookchallenge-4-das-grosse-heft |
| @stokjockey | 98 | 0.015 | day-two-of-the-saturday-evening-post-12-silver-rounds-set-triple-self-portrait |
| @urme33 | 98 | 0.015 | smarthalo-2-make-your-bike-smarter |
| @also.einstein | 97 | 0.015 | steemit3-pvoki6gc |
| @cheetah | 97 | 0.015 | ######## |
| @denissemata | 97 | 0.015 | cakes |
| @foreveraverage | 97 | 0.015 | foreveraverage-1559134528990-foreveraverages-twitter-feed--20190529-145528 |
| @foxkoit | 97 | 0.015 | good-morning-alla67ca12d5999est |
| @goldmanmorgan | 97 | 0.015 | daily-report-20190529 |
| @iyanpol12 | 97 | 0.015 | tart-5-minute-freewrite-challenge-2019529t2324763z |
| @kadishakho | 97 | 0.015 | -7ecc358eef30d |
| @kamarguita | 97 | 0.015 | arte-porto-de-la-coruna-espana |
| @minimalpris | 97 | 0.015 | 20190529t061425462z-post |
| @shashiprabha | 97 | 0.015 | masala-dosa-photography-mzjpgpcd |
| @chunkysoupsvc | 96 | 0.015 | actifit-chunkysoupsvc-20190529t065445147z |
| @direwolf | 96 | 0.015 | the-new-promo-card-from-steemmonsters-electric-eels-is-a-very-good-addition-to-the-water-team |
| @guruvaj | 96 | 0.015 | philippines-among-slowest-in-mobile-internet-speed-worldwide-philstarcom |
| @heartbeat1515 | 96 | 0.015 | heartbeat1515-1559114956104-heartbeat1515s-instagram-feed--20190529-092916 |
| @highlandcattle | 96 | 0.015 | highland-cattle-calf-3yvn4o48 |
| @open3ye | 96 | 0.015 | true-permaculture-episode-3-companion-planting |
| @stanestyle | 96 | 0.015 | meme-challenge-123-entries |
| @sunai | 96 | 0.015 | pirw9blvy2 |
| @altruistic | 95 | 0.014 | do-you-think-you-are-a-genius-episode-7 |
| @andyjem | 95 | 0.014 | 25-days-old-now-and-she-has-outgrown-her-protective-cage-qzkkhlhl |
| @daltono | 95 | 0.014 | handstand-practice-1558922117 |
| @generation.easy | 95 | 0.014 | hey-steemsilvergold-community |
| @homeartpictures | 95 | 0.014 | alpha-kw-8-appics-im-22942 |
| @massimoc23 | 95 | 0.014 | steemmonsters-card-giveaway-101 |
| @sweettais | 95 | 0.014 | ntopaz--sweettais--512414839--ntopaz--2019-05-29-06-38-37--artwork--none |
| @yanes94 | 95 | 0.014 | ntopaz--yanes94--2013567322--ntopaz--2019-05-29-17-22-39--artwork--none |
| @yanirauseche | 94 | 0.014 | alpha-kw-8-appics-im-23173 |
| @crypt0wid0w | 93 | 0.014 | actifit-crypt0wid0w-20190601t180628454z |
| @jason7282 | 93 | 0.014 | car-meet- |
| @nassimal | 93 | 0.014 | aktueller-stand-bei-nextcolony-4-explorer-verloren-tn6n3yqi |
| @brittandjosie | 92 | 0.014 | 4-oclocky-s-t-e-e-m-p-u-z-z-l-e-c-o-n-t-e-s-t |
| @cecilian | 92 | 0.014 | xws6aac206 |
| @dmilliz | 92 | 0.014 | alpha-kw-8-appics-im-22983 |
| @fredfettmeister | 92 | 0.014 | metalweekend-threesongs-converge |
| @babajaga01 | 91 | 0.014 | actifit-babajaga01-20190529t190126950z |
| @cryplectibles | 91 | 0.014 | copper-age-classic-comic-book-nick-fury-agent-of-s-h-i-e-l-d-from-1991 |
| @harmonyval | 91 | 0.014 | tasteem-38499f |
| @jurich60 | 91 | 0.014 | mydailycolor-0522019-oq2wpc69 |
| @shainemata | 91 | 0.014 | shainemata-1559170698968-shainematas-instagram-20190530-005818 |
| @zyx066 | 91 | 0.014 | life-eternal |
| @ashikstd | 90 | 0.014 | review-of-steem-monsters-cards-imp-bowman-epic-fire-monster |
| @carolinacardoza | 90 | 0.014 | ntopaz--carolinacardoza--899753896--ntopaz--2019-05-30-11-36-11--artwork--none |
| @clove71 | 90 | 0.014 | my-1-year-anniversary-with-splinterlands-aka-steem-monsters-and-meme-contest |
| @egbujorvictor | 90 | 0.014 | 49psnt-happy-new-month-family |
| @ervin-lemark | 90 | 0.014 | actifit-ervin-lemark-20190529t212955594z |
| @ftlob | 90 | 0.014 | wannabeawomanbyangelaauxislight-heartedpurposefulandbrilliant-q258srdfd2 |
| @jlsplatts | 90 | 0.014 | xs2j25g2 |
| @teo73 | 90 | 0.014 | hammersmith-bridge-london |
| @clumsysilverdad | 89 | 0.014 | the-u-s-army-kills-at-home |
| @davidpakman | 89 | 0.014 | another-senator-calls-for-trump-impeachment-proceedings |
| @isnochys | 89 | 0.014 | 0b113cd94ca2b1af830d9b2523d854bf-vimmtv |
| @jordangerder | 89 | 0.014 | sa19mjra |
| @latino.romano | 89 | 0.014 | spanish-freewrite-31-de-mayo-de-2019-mensaje-diario-de-5-minutos-004d05d43bb6fest |
| @sidekickmatt | 89 | 0.014 | kickman14x05-jyu91cugbf |
| @wolontariusz | 89 | 0.014 | orp-nike-historia-najnowsza-tematy-tygodnia-68 |
| @adetorrent | 88 | 0.013 | red-lady-yellow-lady |
| @artpoet | 88 | 0.013 | artpoet-1559297181951-artpoets-legendary-dr-kristian-stuhl-instagram-feed--20190531-120621 |
| @bidesign | 88 | 0.013 | do-you-think-recycling-is-profitable-and-work |
| @dranuvar | 88 | 0.013 | 5-minute-freewrite-day-587-nunchucks |
| @liuzg | 88 | 0.013 | snax-authentication |
| @maxdevalue | 88 | 0.013 | actifit-maxdevalue-20190530t224024063z |
| @robinsonr810 | 88 | 0.013 | zfbgp-steemmonsters-giveaway-and-winner-announcement |
| @satellitesister | 88 | 0.013 | slow-cooker-easy-baked-potato-soup-recipe--allrecipescom |
| @softmetal | 88 | 0.013 | steem-usdt |
| @vermillionfox | 88 | 0.013 | movies-meetups-and-manga |
| @doktormuslem | 87 | 0.013 | 20-tahun-menahan-derita-tetangganya |
| @honeydue | 87 | 0.013 | world-of-color |
| @kirstin | 87 | 0.013 | lotto-mit-zwei-richtigen-gewinnen-eure-2-chance-fr-den-08062019-deutschland-erziele-1-sbishare-1559402139646 |
| @runridefly | 87 | 0.013 | i-received-a-seven77-upvote-from-actifit-uyhzs4an |
| @sacra97 | 87 | 0.013 | una-foto-todos-los-dias-foto-y-fotos-jamon-y-mango-rico-mango-233-365 |
| @yadamaniart | 87 | 0.013 | 4mzdjg |
| @digi-me | 86 | 0.013 | the-climate-changes-happening-in-the-world |
| @gaara | 86 | 0.013 | the-cards-i-got-after-last-season-june-1-2019-yxvjnosg |
| @kp138 | 86 | 0.013 | bitcoin-taking-a-breather |
| @wallyt | 86 | 0.013 | actifit-wallyt-20190601t194720585z |
| @wpkwolfe | 86 | 0.013 | memeday-s03m30e01-entry-2-police-training-1559270614 |
| @yoshi-and-family | 86 | 0.013 | searching-picture-find-the-animal-the-fifth-szjcl1yz |
| @boddhisattva | 85 | 0.013 | monomad-photographic-challenge-cherry-blossom-2019531t93013349z |
| @cryptospa | 85 | 0.013 | ozcntoa7 |
| @lionsuit | 85 | 0.013 | and-master-otis-ltpvnv4h |
| @moncia90 | 85 | 0.013 | shampoo-e-balsamo-bc2vimu8 |
| @teamcn-shop | 85 | 0.013 | 20190531t110000934z-post |
| @anadello | 84 | 0.013 | haslozgadywanka-34-2 |
| @backinblackdevil | 84 | 0.013 | alpha-kw-8-appics-im-23213 |
| @big-m | 84 | 0.013 | 59102a1236ef71f036555dfe08704bf2-vimmtv |
| @doze | 84 | 0.013 | ntopaz--doze--1198057308--ntopaz-art-nature-mobileart-sketching--2019-05-31-09-11-47--artwork--none |
| @drazeus | 84 | 0.013 | 4dc9cz-new-steemmonster-giveaway-and-winner-announcement |
| @iamthegray | 84 | 0.013 | 7xqlub-win-whaleshares-token |
| @thekitchenfairy | 84 | 0.013 | actifit-thekitchenfairy-20190531t025438313z |
| @travoved | 84 | 0.013 | actifit-travoved-20190530t203901467z |
| @trucklife-family | 84 | 0.013 | celebrating-and-remembering-gil-scott-heron |
| @anomadsoul | 83 | 0.013 | the-road-to-steem-fest-or-a-trip-down-memory-lane |
| @elsiekjay | 83 | 0.013 | jmoya8ut |
| @mpelcman12 | 83 | 0.013 | the-hunt-for-238-vttb323g |
| @mr-science | 83 | 0.013 | my-first-seasonal-reward-in-steemmonsters |
| @sawyn | 83 | 0.013 | red-3 |
| @scaredycatguide | 83 | 0.013 | investingmantrasiliveby-971rcrc90n |
| @aremontilla | 82 | 0.012 | un-trozo-de-realidad |
| @arunava | 82 | 0.012 | post-promotion-thread-ee3ed5d3b32b2 |
| @darrenclaxton | 82 | 0.012 | 20190531t232831790z-simple-life |
| @iamevilradio | 82 | 0.012 | song-of-the-day-segments-by-alex-bilancini-zafsulrx |
| @idiosyncratic1 | 82 | 0.012 | idiosyncratic1-1559432864200-idiosyncratic1s-twitter-feed--20190602-014744 |
| @justyy | 82 | 0.012 | --daily-cn-updates-cncnpower-downyy2019-6-1 |
| @karbon | 82 | 0.012 | 4rpx1v-featheredfriday |
| @m18207319997 | 82 | 0.012 | wherein-1559402186 |
| @montycashmusic | 82 | 0.012 | reflections-my-latest-anti-war-slogan |
| @nailyourhome | 82 | 0.012 | reflectionthroughnaildesign327-uhhk17w5zl |
| @smokingfit | 82 | 0.012 | actifit-smokingfit-20190531t214226516z |
| @vibesforlife | 82 | 0.012 | lemon-as-a-natural-medicine-for-skin-and-stomach |
| @virtualgrowth | 82 | 0.012 | love-playing-poker-at-the-wsop-in-vegas-anyone-want-to-stake-with-steem-and-or-votes |
| @aschatria | 81 | 0.012 | headless-original-art-deep-style-hand-drawing-coloring-and-computer-manipulation |
| @irvinc | 81 | 0.012 | podcasteducativo-lamuertebiolgica-04vg3gkpoh |
| @flauwy | 80 | 0.012 | marvel-2019-the-coding-of-the-superheroes |
| @maxer27 | 80 | 0.012 | moi-progress-v-prilozhenii-partiko-ranking-49 |
| @xr-hammergaming | 80 | 0.012 | h76plnlt |
| @dorian-lee | 79 | 0.012 | 259-armdown |
| @marcocosta | 79 | 0.012 | dibujo-de-simpatico-peludo-a-trazo-suelto |
---
Questions?
Please read our
FAQ
, which has a wealth of quality information. If you still have questions, ask in the comments section or join us in our
discord channel
.

---
The Block Party! ➡️June 20th-23rd
Steem Basic Income is an official sponsor of The Block Party.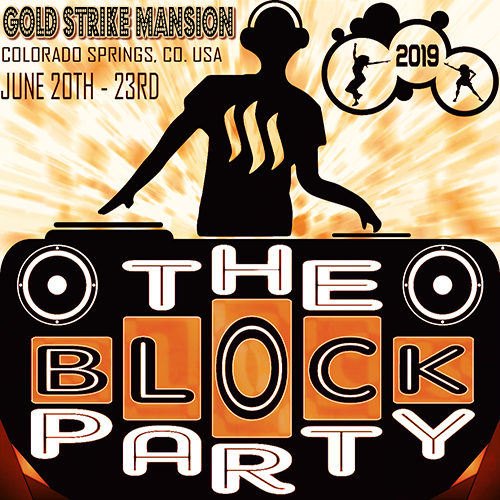 image by logo contest winner @edxserverus