Just a quick glance at a 4-year chart of STEEM and a 3-month chart of HIVE reveal striking similarities: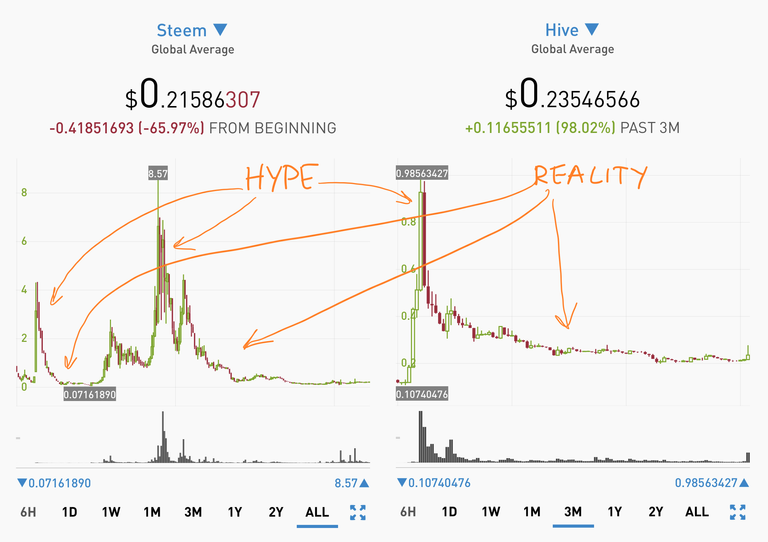 During hype events token price shoots up easily and after an immediate correction it slowly slides until it stabilizes in the $0.15-$.20 range. Token price also seem to correlate well with the blockchain usage and cannot be simply dismissed as a series of manipulated boom-and-bust cycles.
In order to have a meaningful discussion about the future of Hive social blockchain it is important to understand what Hive is. After all, didn't we have four years to figure this one out?
There is no shortage of Hive definitions:
a social blogging platform with incentives;
a censorship-resistant media platform;
a decentralized social network;
a platform for social apps;
a blockchain for web 3.0;
and so on.
But the problem with these descriptions is that none of them can be used to build a business model for future projections. And without a model (even a simplistic one), it is impossible to do a sensitivity analysis to determine the critical variables that have the most significant impact on the success of the system. These variables are essential for setting priorities and estimating the possible outcomes of development projects.
Hive as a Subscription service
If Hive is defined as a subscription service, then HIVE holders are subscribers and the inflation (currently 8.1%) is an "invisible" subscription fee which is being taken (through a dilution process) from user accounts on a continuous basis and redistributed to four groups of beneficiaries.
Why this definition is important? Because it can be calculated in a spreadsheet and can be used as a "reality check" for future projections.
First, let us start with
Subscribers:
Hive allows subscribers (holders of HIVE) to influence the distribution of subscription fees (inflation). It can be compared to, say, Spotify, where the distribution of subscription fees to artists is determined by the demand for their work. Spotify is a centralized service and can offer better terms to the top talent.
In this respect, the proof-of-brain consensus on the Hive blockchain is much more transparent and a fair system, where equal rules apply to all content creators and curators.
Another very impressive aspect of Hive is that the rewards pool receives a considerable 65% share of all subscription fees.
According to the recent blockchain analysis by @sacrosanct, every day 82,252.8 (2.5 million per month) new HIVE being created and distributed.
Which means that Hive pays over $336,000 per month (1.6 million HIVE at $0.21 exchange rate) to content creators and curators. Not bad for a social network with just 22,000 active monthly accounts according to @dalz.
This impressive result is made possible in large part by
Hive Sponsors:
Oh, you've never heard of them? It's time for you to meet... the liquid HIVE holders.
Sponsors do not earn HIVE and can't even influence the distribution of subscription fees and yet inflation affects them in the same way as everyone else.
What is the extent of this phenomenon? According to the recent Daily Hive Report by @penguinpablo, 62% of the total supply of HIVE is kept in liquid (non-vested) form.
In that sense, major exchanges are Hive sponsors: @binance-hot (35M liquid HIVE), @huobi-withdrawal (35M), @bittrex (20M), @upbitsteem (6M), they all keep funds of their clients in liquid form to ensure instant accessibility.
What about passive
Investors:
Users who powered up their HIVE (Hive Power holders) receive back 15% of total HIVE inflation in recognition for their commitment to hold HIVE for a longer period of time.
Even as the amount of their Hive Power increases, the percentage of their holdings is relation to the total HIVE supply continues to decrease at the rate of about 4.7% per year at the current ratio of non-vested (62%) vs. vested HIVE(38%).
Does this mean that passively investing in HIVE is not a good strategy? Not at all! As long as the overall ecosystem is growing faster than the rate of dilution of your capital, you have a positive return on investment. And the value of a social network is often estimated as a quadratic proportion of the number of active users due to the network effect.
There are many examples in the history, when open and decentralized initiatives toppled established closed systems and completely re-invented entire industries. And with all the app development and experimentation going on Hive, it appears that Hive is approaching the critical mass, when it will offer critical advantages over centralized social networks. You may also want to check out an article by @taskmaster4450 Peak Centralized Social Media.
Back in the day, it was not possible to buy "Internet shares", you could only buy shares of a specific company. This time, investing in Hive Power is like participating in the success of all the projects and initiatives on the world's most advanced social blockchain.
Increasing share of Hive via
Active Curation:
For a Hive user to maintain the share of HIVE, their Hive income must exceed the rate of inflation of HIVE (currently 8.1%). And this is not an easy task.
According to regular reports published by @dalz, the best Hive curators are outperforming inflation, but not by much: @appreciator (12.6%), @upmewhale (11.7%), @rocky1 (12.9%).
To achieve this level of performance, it is essential to use automated voting tools (e.g. hive.vote) and use all available voting mana in a consistent manner.
Decentralization of HIVE
This may not be immediately obvious, but the fact that current HIVE owners cannot easily increase their share of Hive is good news.
First, it ensures that the decentralization of the blockchain will continue in the long term. Today, Hive is already one of the most decentralized blockchains in existence and is a significant step in that direction compared to Steem (https://www.waivio.com/@arcange/is-hive-decentralized-and-who-governs-it). According to @arcange: "the first 31 accounts hold only 35.74% of the Hive Power".
Secondly, it offers better opportunities for new users to join the network, as existing holders are also required to add value to the community to maintain their status. This allows new users to thrive on Hive and establishes a positive atmosphere of fairness.
Beneficiaries:
There are four groups of beneficiaries that receive the newly minted HIVE. Authors and curators together receive 65% of the inflation and it is shared approximately 50/50 between the two groups. Hive Power holders receive 15%, while blockchain witnesses get 10% and another 10% is allocated to the Decentralized Hive Fund (DHF/DAO).
According to @dalz: "A total of 8,697 accounts have earned authors rewards, out of which 7,191 have earned more than 1 HIVE. The top 20 earnings, is around 7% of the total author reward pool."
At the same time, top 20 witnesses receive 82% of the witness pool, which makes them one of the highest HIVE earners and potentially one of the most significant sellers of HIVE (witnesses need to cover hosting and capital expenses for the network nodes).
Another significant source of liquidity are the recipients of DHF/DAO funding. Currently, only 8 projects receive funding from the fund in support of software development and other initiatives.
There is an interesting chart published by @dalz featuring top 20 cumulative HIVE earners for June 2020: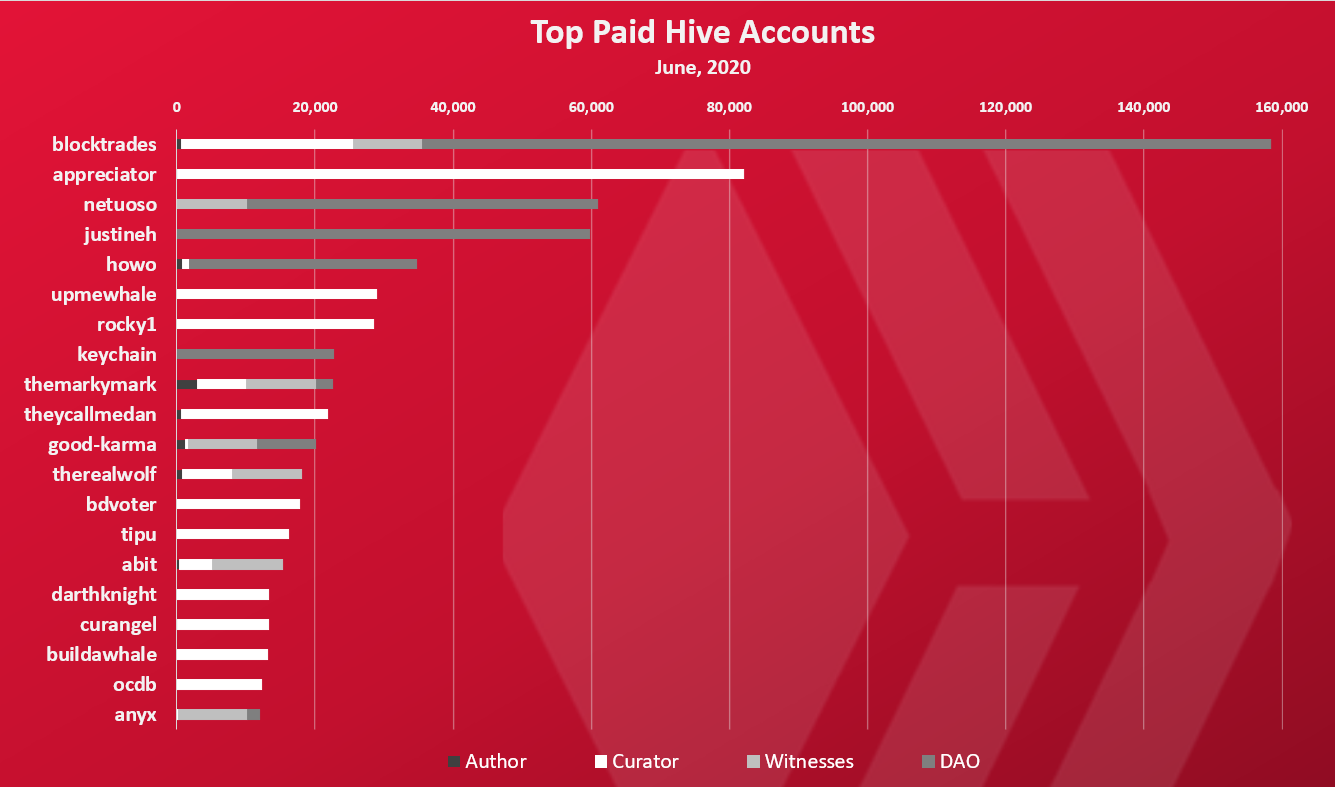 What we can see from that chart is that 6 out of 8 DHF project recipients are in the top 20 along with top 11 curators and 7 witnesses. About half of top earners have two or more income streams on Hive.
Quick analysis
If we were to optimize the model for the price of HIVE, it is important to understand the balance of HIVE inflows (buying) and outflows (selling). We can have a model of the re-distribution mechanism, but we also need a deeper understanding of the selling habits of beneficiaries.
Hive been around for just a few months and much of the trading activity was associated with users moving their assets between Steem and Hive, but in the last month we see some level of stabilization.
Net deposits/withdrawals chart from the Exchanges Transfer Report by @dalz: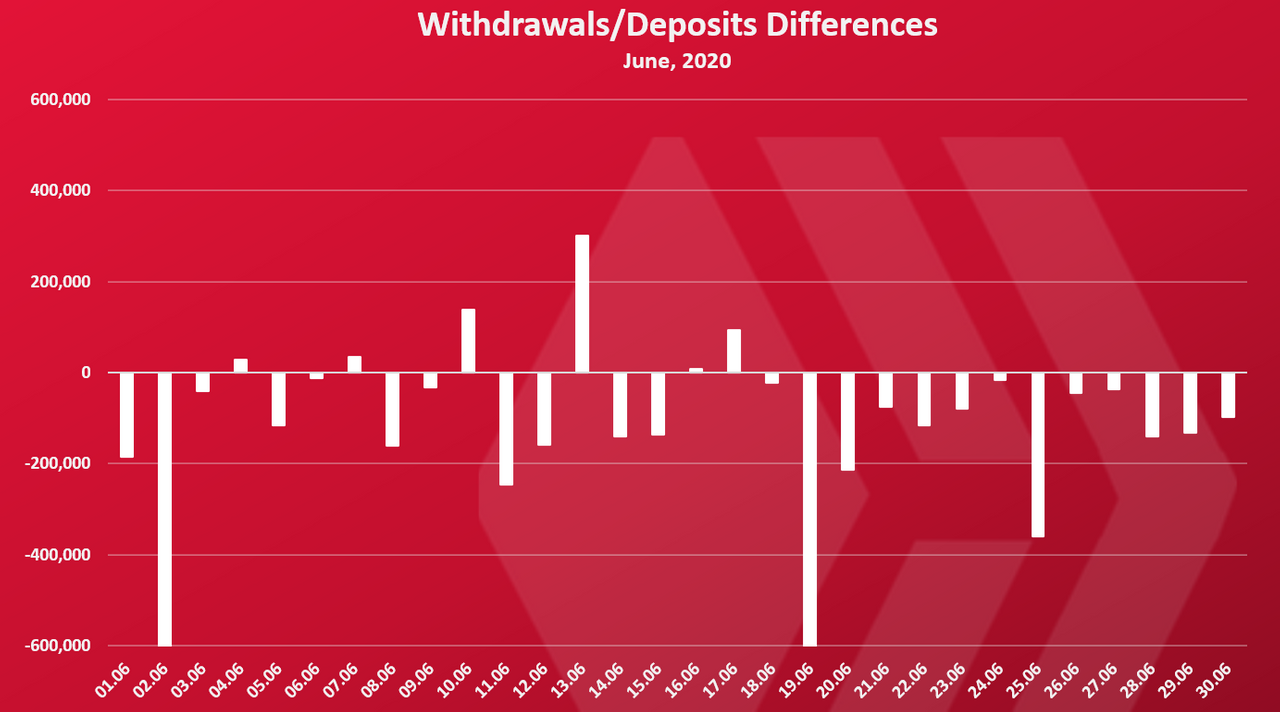 Note: Net outflows to exchanges may drive down the price of HIVE, but the net difference between the HIVE transferred and withdrawn remains in liquid form on exchange accounts, which serve as sponsors for the Hive community, as explained earlier.
What we now know is that beneficiaries continue to sell HIVE until the price approaches $0.20, at which point some of them begin to accumulate more HIVE, while others (for example, users from countries with lower per capita income) continue to sell their Hive revenues. As a result, we see a flattening of the curve, but the slow decline in price continues.
Strategies going forward
There are some ideas and strategies being discussed by the community. For example:
Onboarding new users
There seems to be an almost universal consensus that if it were easier for new users to join Hive, the price of HIVE would rise.
Unfortunately, the subscription model tells us that if these new users were to join Hive without buying a lot of HIVE, then the price of HIVE would not increase. In addition, new users who don't have a lot of HP on their accounts are unlikely to earn a lot of new HIVE, which means that these accounts will not work as a trap for the newly minted HIVE either.
Improving blockchain software
Operators of blockchain nodes could benefit from software that requires fewer resources and is less costly to operate.
This in turn would allow witnesses to sell HIVE cheaper and drive the price down even further.
Card games and non fungible tokens (NFTs)
Since NFTs do not use HIVE as collateral, their success on the Hive blockchain may not have much impact on the price of HIVE. Essentially, they function outside of the Hive subscription model.
Reducing the inflation rate
Reducing the speed of transfer of value (subscription fees) from current holders of HIVE (subscribers) to beneficiaries can reduce the amount of HIVE available for sale. At the same time, however, it may reduce the motivation of authors and curators to engage with Hive.
Throughout Steem's history, the rate of inflation has been reduced, but this has failed to prevent the price of STEEM from falling.
Communities
In line with the subscription model, the introduction of the communities did not increase the price of the token, as the communities do not increase the demand for the token (at least until the introduction of SMTs), nor do they reduce the selling pressure.
Smart Media Tokens (SMTs)
The unique feature of SMTs is the Automatic Market Maker (AMM), which allows instant conversions between HIVE and the smart media token. This process requires certain amount of HIVE to be locked in the AMM. According to the subscription model, these HIVE accounts will operate in a similar way as sponsors (holders of liquid HIVE), offering a considerable advantage to all other participants in the Hive blockchain.
Depending on the extent to which SMTs are adopted (apps, communities), they can have a major impact on the price of HIVE.
Attention trading
Disclaimer: The author is actively involved in the Waivio.com project, which includes attention trading.
This is a form of decentralized, action-based advertising, where companies place offers directly on the Hive blockchain, announcing rewards for certain actions, such as including a link in a post, viewing a video, completing a survey, tracking an account, etc. Offers also include eligibility requirements for users, such as minimum reputation, number (quality) of followers, number of posts, etc. Once an eligible user makes a qualified post / comment / action on Hive, the company makes the payment.
In the process, companies purchase liquid HIVE and distribute it in small quantities to many users on Hive. Some users may choose to cash out their rewards, while others may choose to accumulate them.
The attention trading creates a continued positive demand for HIVE.
Attention bids can also play an important role in onboarding new users, as they will have a clear path to earning HIVE, particularly in the early stages of their experience on Hive.
Conclusion
The Hive blockchain provides a transparent and fair mechanism for the distribution of subscription fees (inflation) to authors, curators, witnesses and developers. But without stable external demand, the price of HIVE is destined to return to the historical resistance level in the $0.10 to $0.20 range, where many beneficiaries prefer to accumulate their HIVE earnings rather than sell them.
Many exciting and promising projects and initiatives are taking place at the same time on Hive. Our quick analysis within the narrow definition of a subscription model revealed that Smart Media Tokens and the attention trading have the greatest potential to establish a long-term positive trend for the price of HIVE.
Please join the discussion in the comments.