Organizing is a must, especially if you have more stuff than the law should allow for just one person. 😂
For more than a year, off and on, I have been attempting to organize and re-organize my "STUFF". I lived in a larger house before moving here, so there was not room for everything here, but that was ok, because I don't NEED everything. It didn't matter before, because if I wanted to keep it, there was space for it.
Last fall I finally finished going through, putting away, throwing away, giving away things from what would normally be a spare bedroom. It was stacked over my head like a storage unit after I moved here. Over the last few years I went through it a few times, each time resolving more and more things, but it never quite got finished.
When I came home to work a couple of years ago spurred by covid, I needed to put my work desk and equipment in "the room". It happened so fast that there was no time to make a decent space or acquire a proper desk table, so my VP and one of the managers came to my house and brought my computer to help get it hooked up. Now normally after that, employees could hook up their own stuff, but I was the first person out and they were not sure what all it would take to make things work, so there I was, no warning, with the VP and Manger in my "storage room" I wasn't quite comfortable as you can only imagine, but I know them both very well (at work) so we all got a few laughs as they told where their work things were in their homes. Of course that made me feel much better. (NO !! ) ha ha
Anyway, since then I have worked off and on to resolve the rest of the stuff in this room and mostly finished that last fall. After that, it was my intent to slowly go through the rest of the house, drawers, closets, everything, to see if anything I kept before could be reduced, re-organize, consolidated and etc.... a second cut of sorts.
Just so you'll know, I am not trying to be a minimalist, just getting things down to the best it can be, for what I have and where I am now.
The next project I decided would be the closet in the computer room. I have a shelf unit in there and most things on it are semi organized, but I still want to go through every shelf and box and container and see if there is anything or a lot of things that will not make the "keep" cut. If I free up space there, I can move things from other places to the closet and become even MORE organized.... or that is the plan.
This almost looks organized, doesn't it? I think a third of it will GO.... but we will see.
The first thing I wanted to do was clear the whole top shelf of the shelving unit. Don't worry, I am not addressing the whole closet in this post, just the baking pans on top shelf.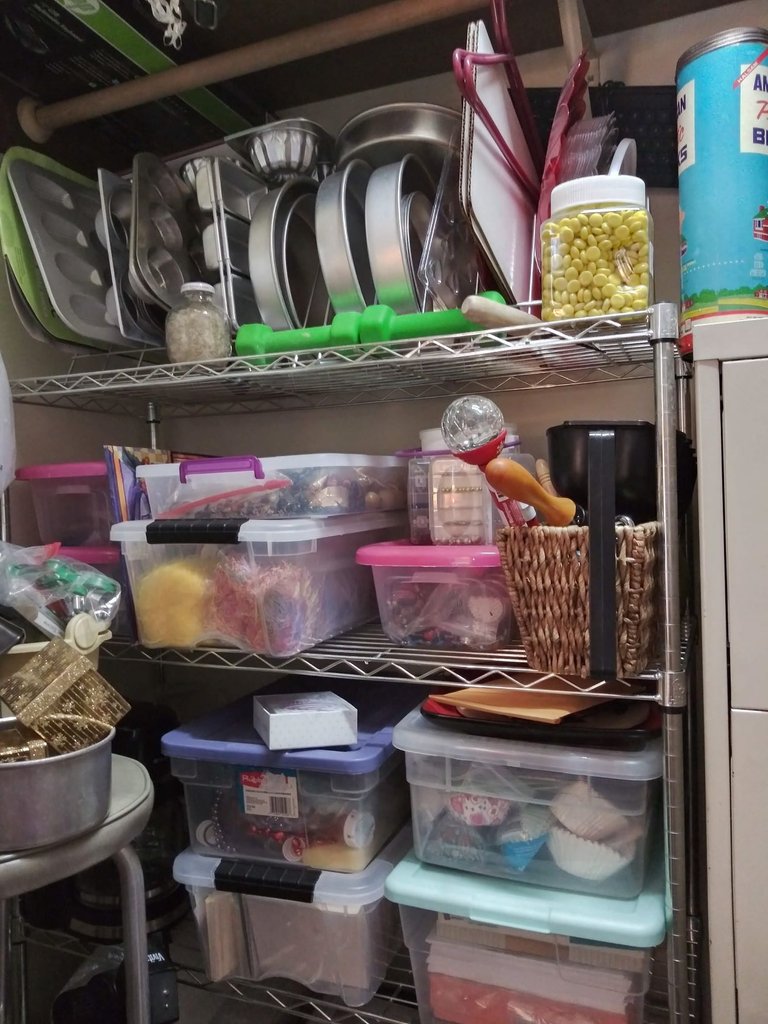 I already had these racks from back in my 30s, when I baked and decorated cakes for other people from my home. They are and were very handy, but for now and for these pans, not the most compact way to store them, especially since I rarely ever use them these days.
Let me interject here, I adore baking pans, so even though I just admitted I rarely use them now, there is no way I'm letting them go at this time. Even if I rarely use them, if I want to use one, it is already paid for and I already have it. I have a strong attachment to my pans.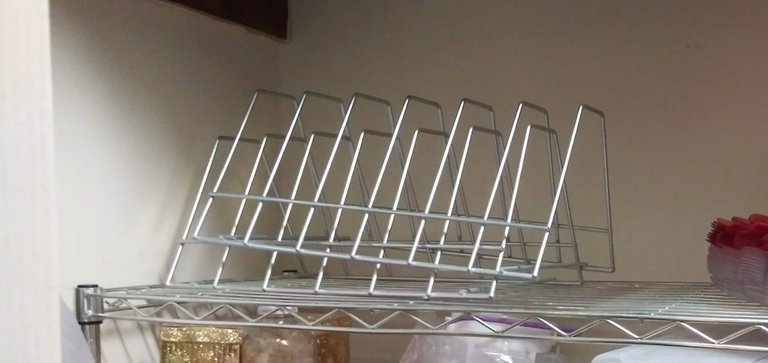 That made me laugh when I typed I had a strong attachment to my pans, but for real.... at some point I may need an intervention if I need to actually let them go.
😆
So ... I am using an idea that I thought up last year, when I had gone through my kitchen cabinets initially. I have a lower cabinet that is good for storage, but not convenient for getting anything in or out. The door to it opens to the side of my stove, but the shelves go far back into the corner beside the stove and are as deep as the depth of the stove. Of course any storage is good, but if you can't reach it without getting on your knees and crawling back there.... well... you see .... That is inconvenient enough if you are young, but if you are older and getting on your knees is a grand undertaking and getting back up, not possible in a dignified looking way, then you can understand all the more..... yeah... try not to picture it ....LOL !
(cupcake pans and mini muffin pans)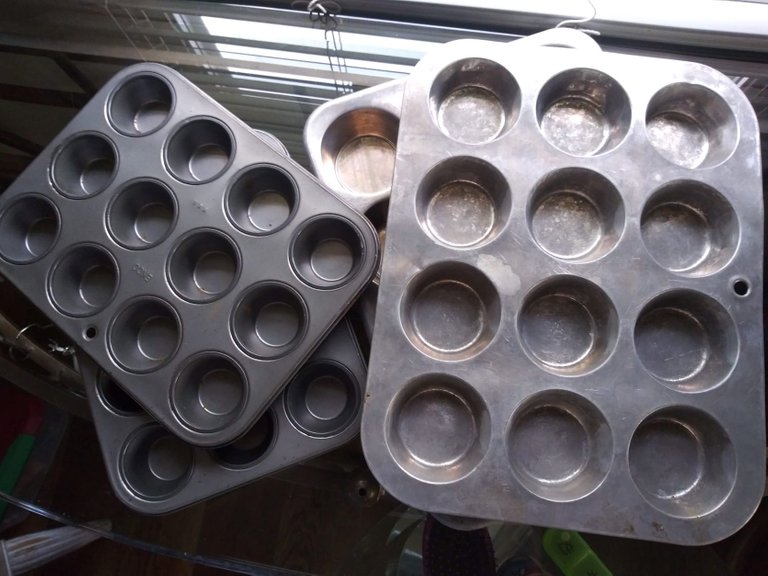 So my idea was last year and now again, is to take photos of anything that is going into inconvenient or bundled storage, so that I can make a file on my computer that shows everything back there or in a large tote together, so if I want something later and am not sure where I put it, I won't have to go rummaging through cabinets and bins to look for it. I simply pull up my file, look at the photos to see if it is there and if not, I will look at the "next place file".
(jumbo muffin and mini fluted pans)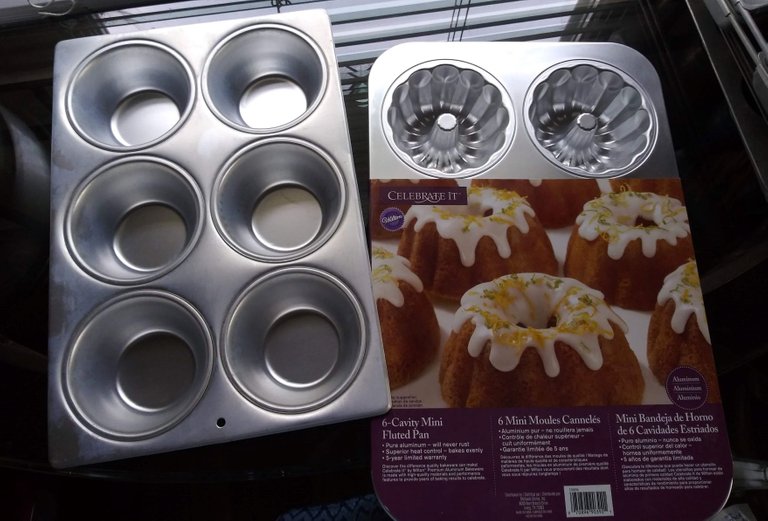 Imma genius... right ??
😉
(2 large vintage bundt pans)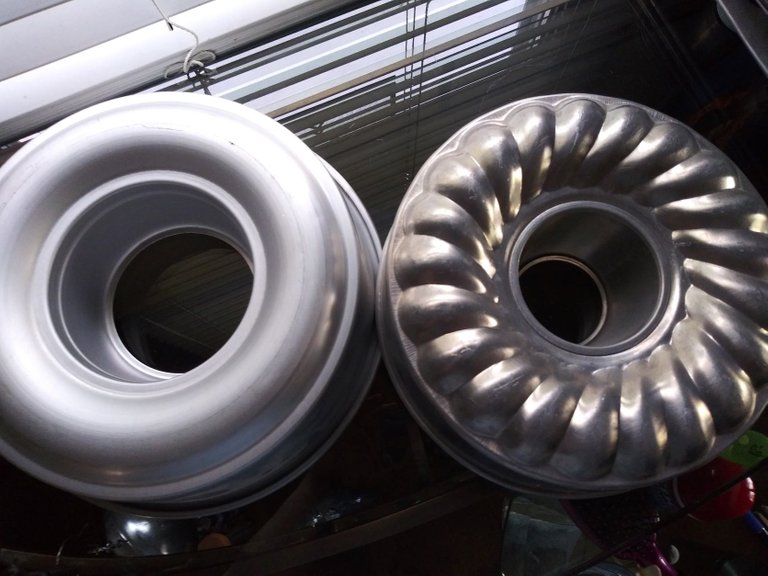 I felt like a genius when I first thought it up when doing the kitchen cabinet. (but not so much like a genius when I wasn't sure how to spell genius ha ha)
(twisty mini loaf & madeliene pans)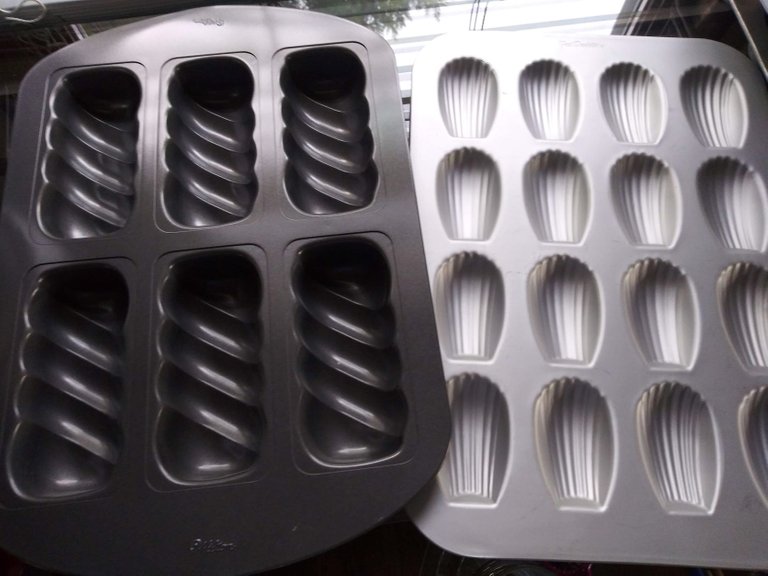 Do you think I have too many?
(secret note, this is not even CLOSE to the half of them)
(springform pan, removable bottom)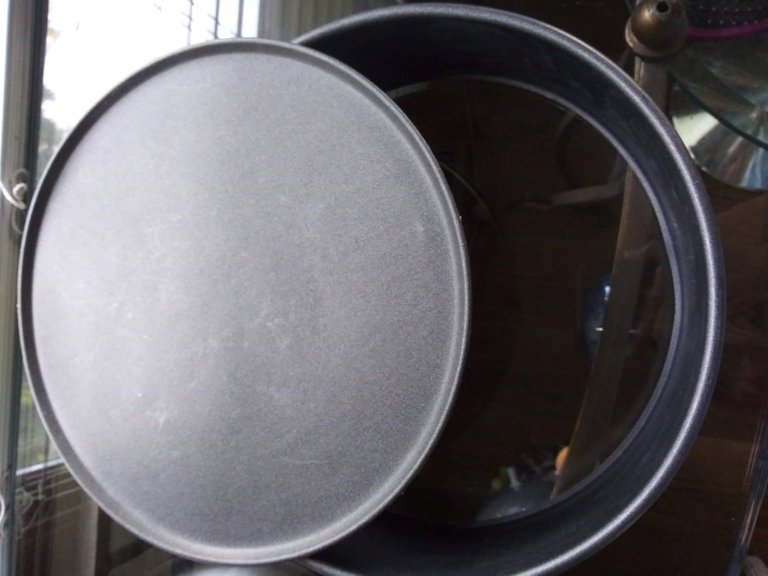 Gotta luv a heart pan. ❤️
(small red bundt pan)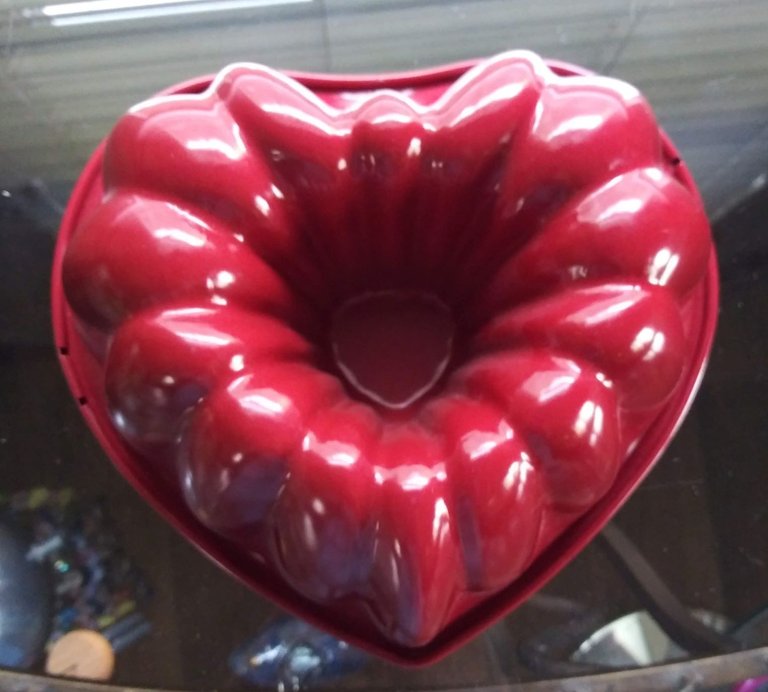 But wait ! That's not all ! How about some mini loaf pans? If you notice that on lots of pans I have doubles. That is because when I use to bake in bulk, using a pan once, letting it cool, washing it, preparing it and then baking some more was simply out of the question !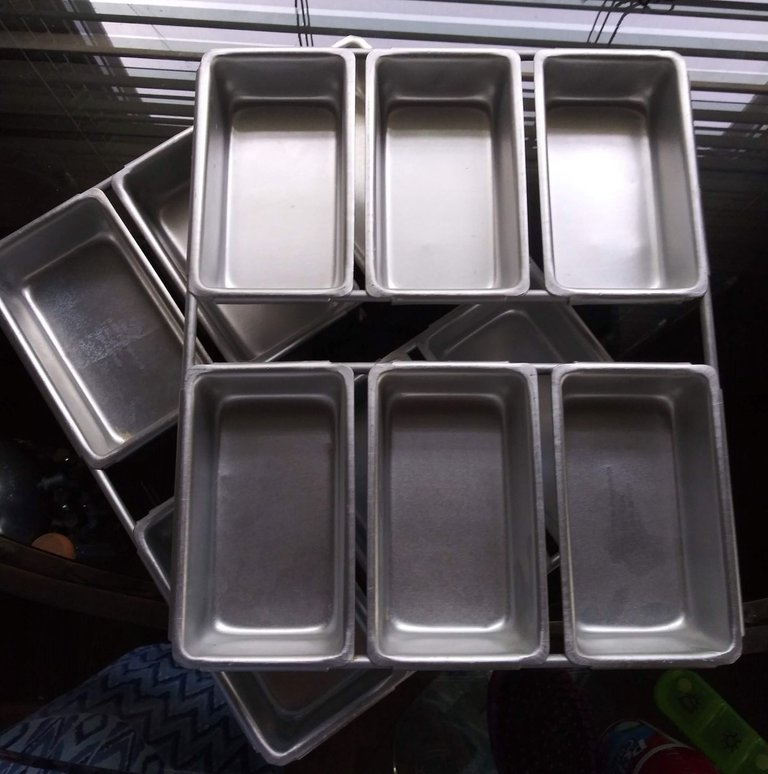 So now, all the photos are taken for what will fit in one large bin.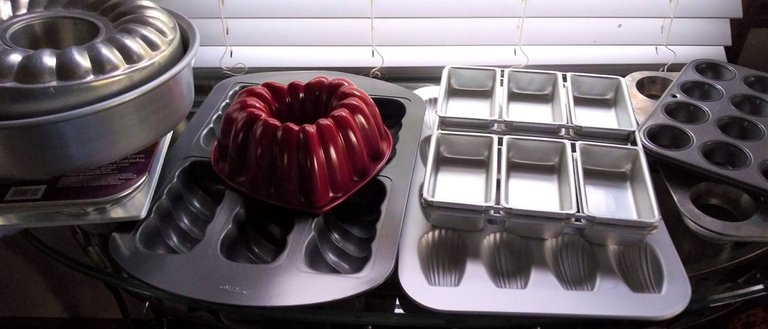 ... so into the bin they go !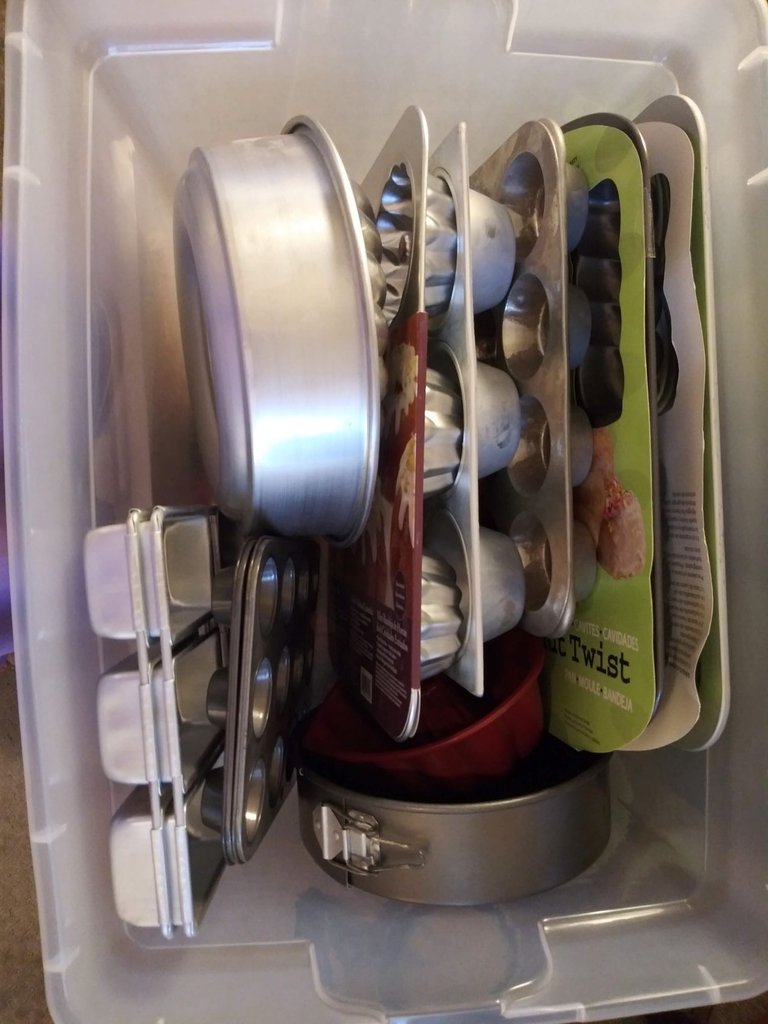 Now they are in top of the closet and if I need something after a while and forget if something I want is in there, I don't have to pull the bin down just to check. No sense in doing something over your head like that unnecessarily, especially as you get older, but for convenience sake, at any age.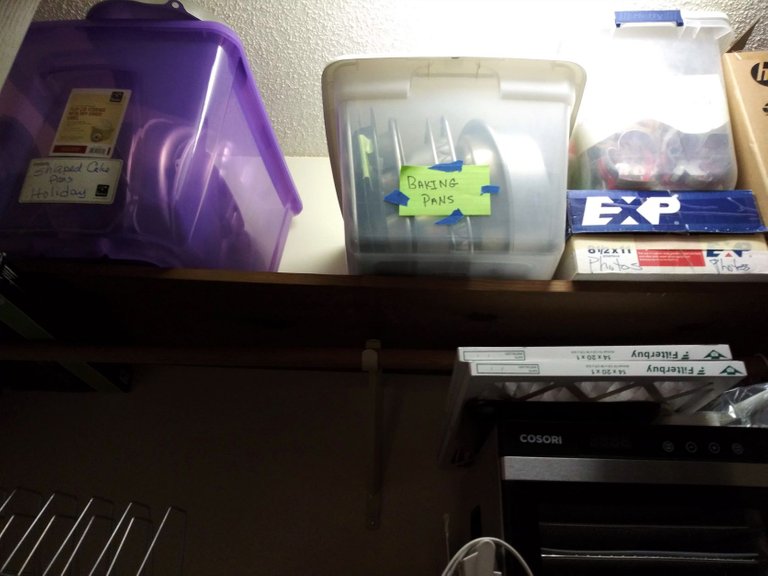 I love this use of technology that wasn't heard of back in my younger days. Digital photographing of things is fun and useful. Once I make a file on my desktop under an "Organizing" file, I also copy the file to an external hard drive, just in case.
I hope you like my idea and maybe it could be useful for something you are doing.
I took today off of work thinking I might be busy making things for my Mom's birthday tomorrow, but someone else had some fun idea and wanted to do it, so now I just have a free day. I did picture going out to look for some flowers and other errands, but not sure what if anything will happen on that, since we are supposed to have thunderstorms off and on all day.
...but time will tell, as it always does.
Hope you have a happy day.
❤️ YOU !
Jacey