With all of the growth we've seen in the LeoFinance community lately, it's become more and more apparent that we have a need for diverse content. We've all discussed this at length through posts, comments and interactions on Discord.
While it's important that we continue to talk about LEO - especially fundamental concepts for new users and also feedback/ideas for recently added and desired features - it's equally important (or arguably more so) that we have diverse content on LeoFinance.
Many have already jumped into this argument and I think it's pretty straightforward. Our goal is not to be a platform for LeoFinance people to talk about LeoFinance. Our goal is to be a platform that merges the best of what blockchain technology has to offer with the best of what content creation and social media has to offer. Our aim is to give readers a high quality experience where they can read, learn and enjoy crypto and finance content while rewarding the authors who provide that experience.
Changing the Way I Curate
I curate nearly every post that is made through https://leofinance.io. I do this both with my personal account (this one) and the official LeoFinance curation account (@leo.voter).
The incentives are that upvotes from my personal account carry a decent amount of LEO (mostly from the trail of users that follow my vote for high quality LEO content).
Additionally, my upvote is what determines the featured content on the homepage of LeoFinance. It uses a simple algo that takes my vote weight and how long I waited to vote on a piece of content in order to rank its quality relative to others.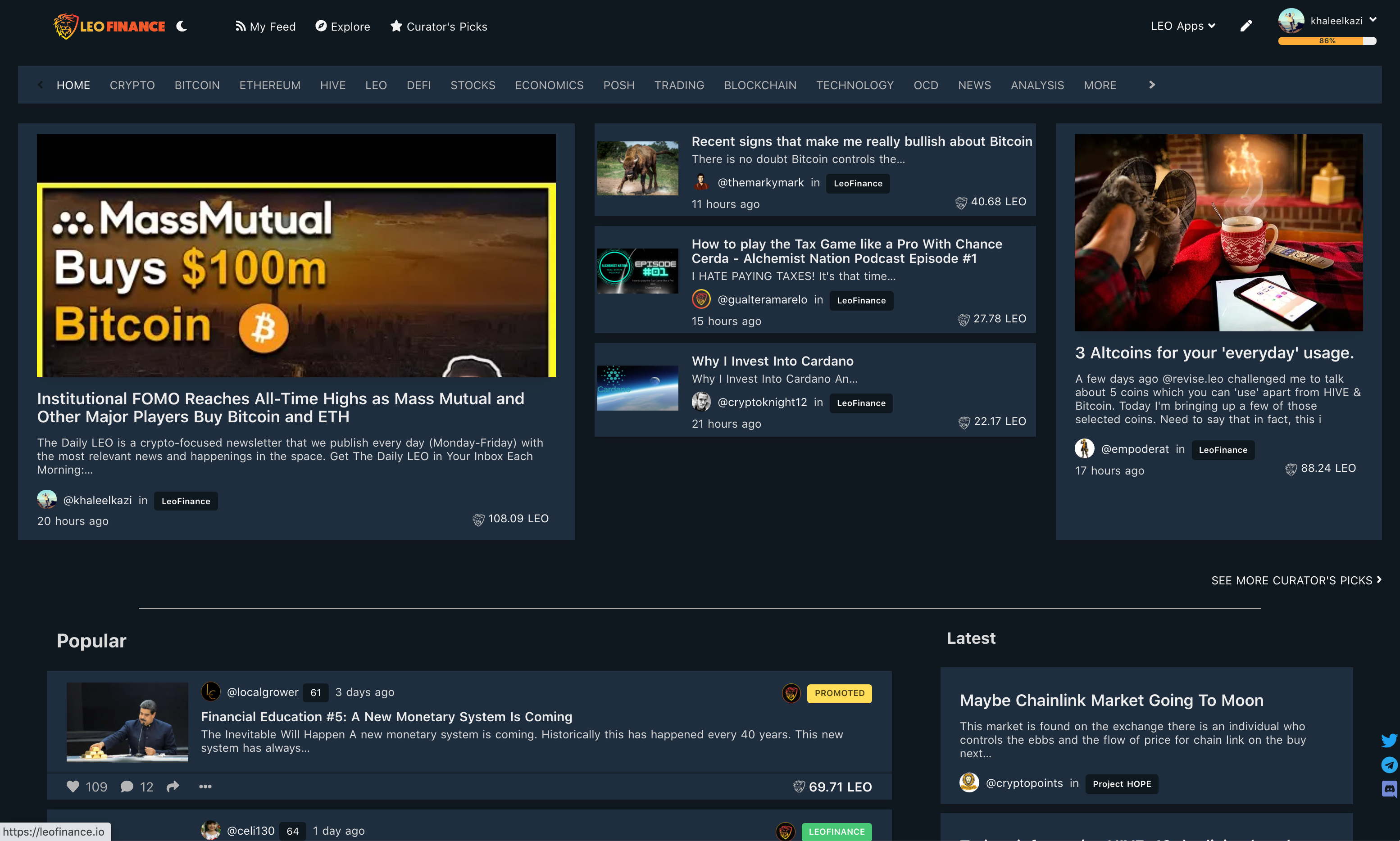 The content I upvote also populates the /curated page (Curator's Picks):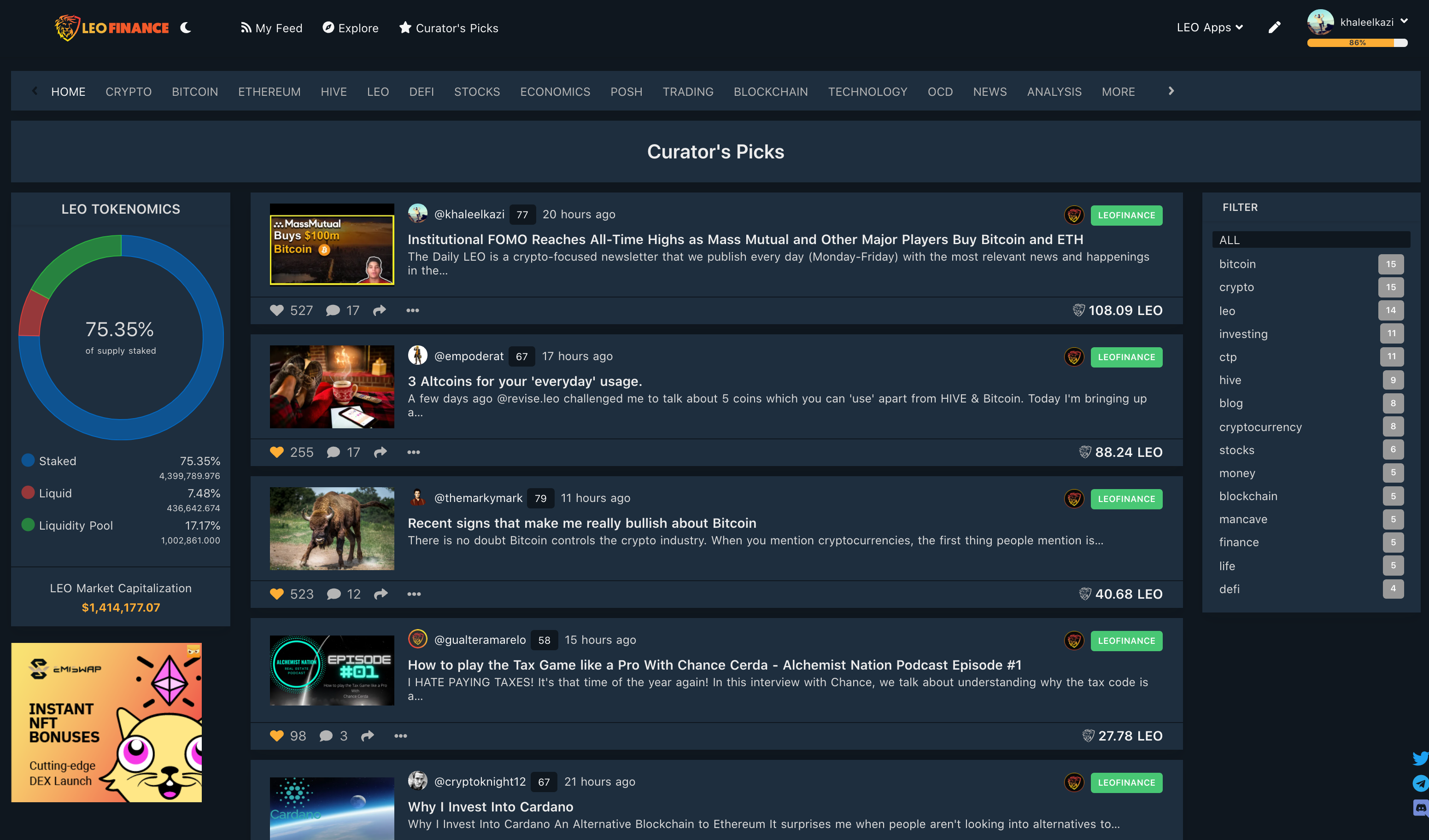 So the incentives from my curation are:
More LEO rewards
Featured on the homepage/Curator's Picks feed
More HIVE rewards - @leo.voter upvotes (currently at 1.8M HP)
Prioritizing Non-LEO Content
I still love LEO content and can't emphasize that enough. Any time I see a post about LeoFinance that gives us constructive feedback/a glimpse of LeoFinance through the user's perspective, I read it and take notes. I'll often upvote it too.
With that said, a change is necessary on LeoFinance. We need more diverse content creation and more diverse content curation. It's more important now than ever before that we create a vibrant experience both for our existing user base and for the incoming readers and new users who come to https://leofinance.io to read/engage with crypto and financial content that has nothing to do with LEO at all.
As you can see from the home page screenshot and Curator's Pick screenshot above, I've been changing the way I curate already.
I'm giving priority upvotes to anyone who posts about general cryptocurrency info. Some of my favorite examples are:
There are so many examples of diverse content being created. People who are creating more generalized content that is relevant to people outside of LeoFinance. I feel bad displaying only 9 content creators here as I know I'm leaving many other great ones out of this list. This list is simply the last several posts that I've personally curated which are non-LEO related from authors who I know to write great content consistently.
How Will My Voting Habits Change Specifically?
The beauty of a proof of stake setup (like the one LEO has for determining rewards distribution to content creators/curators) is that your stake is your voice.
When you upvote something, you're telling the whole world that you believe this particular piece of content and its author deserve x amount of LEO for their hard work. Unlike holding something like ETH where your stake general doesn't give you a say in what happens on that network, holding LEO gives you a voice.
When you hodl LEO as LEO POWER (staked LEO), your stake is your voice and you get to voice your opinion each day as you upvote content on our community's platform.
Nobody can tell you how to use your stake. We can discuss ideas and talk about why one way of voting is better or worse than another from our subjective points of view, but nobody will take your stake away for upvoting only LEO content. If you're a LEO stakeholder and you decide to only upvote content that has LEO in the title, that is completely your choice. Nobody will punish you for doing that. We should, however, openly discuss why that might not be the most beneficial direction for LeoFinance. We should talk about why it's important to have a diverse group of creators covering a wide range of subjects:
Favorite crypto projects (like Jk talking about RUNE)
Bitcoin/crypto industry ideas (like Edicted)
General Bitcoin/Crypto news stories as they break (like Jondoe and Jrcornel)
The fundamentals of money/finance (like Chekohler)
The intersection of tech and finance (like Taskmaster)
Trading, news, opportunities and financial metrics (like Rolland)
Global finance and crypto's positive impact on the world (like Josediccus)
Technical analysis and trade setups (like Forexbrokr)
There are plenty of great examples out there already and I didn't make this post to single anyone out or give praise to anyone over another person. The point is that there are so many different things you could write/discuss here on LeoFinance and doing so is what will attract people from outside of Hive/LeoFinance altogether. That's our main goal, isn't it? To onboard the masses to LeoFinance.
In order to add greater incentives to users who create high quality content that is non-LEO related (general crypto content/financial content like the above examples) and encourage content that ranks well on Search Engines, draws people in from social media, etc. I have decided to give a much heavier weighted vote to certain pieces of content.
Prior to the last few days, you may have seen my voting habits. I often gave pretty flat and even upvotes to everyone whether they wrote about LEO or something else. I'm still going to upvote LEO stuff and when it's exceptional, I'll upvote it with a high %... BUT, I am going to keep a special eye out for content like the examples I've laid out here and I will voice my opinion about the quality of this content with the weight of my vote. That's all any of us can do: use our stake to voice our opinion.
These votes will come from both my personal account and @leo.voter (which again, uses HIVE POWER to curate as well - 1.8M of it). You may see small upvotes on some posts (~10%) and then you may see large upvotes on others (35-100%) when I see something exceptional.
Side note: we're about to launch a series of updates from the @leofinance account talking about some major UI overhauls happening before the end of this year (including microblogging and a new project called LeoFinance Lightning DB). Along with these updates, I've also decided to throw in a new feature for tipping creators. This tipping idea is one that many have requested and I think under the context of this post, it's more important now that we have a way to show extra love to our awesome content creators.
The new tipping feature will allow us to reward users based on the traffic we see their content getting as well. If we find content that ranks well 1 month from now, we'll be able to send a tip to that creator for their evergreen content driving continuous traffic to our platform (we're also working on a feature that will allow you to upvote content after the 7 day window - that will launch around January of 2021. More info coming in our 2021 roadmap at the end of this year).
Side Note to my side note: there's a new feature on LeoFinance where you can see a feed of content curated by any user. We're going to add a button to the profile page where you can navigate to this. For now, you can drop in on any of your favorite curators and see what their voting habits look like by going straight to the URL field and entering their username/curated (i.e. https://leofinance.io/@leo.voter/curated).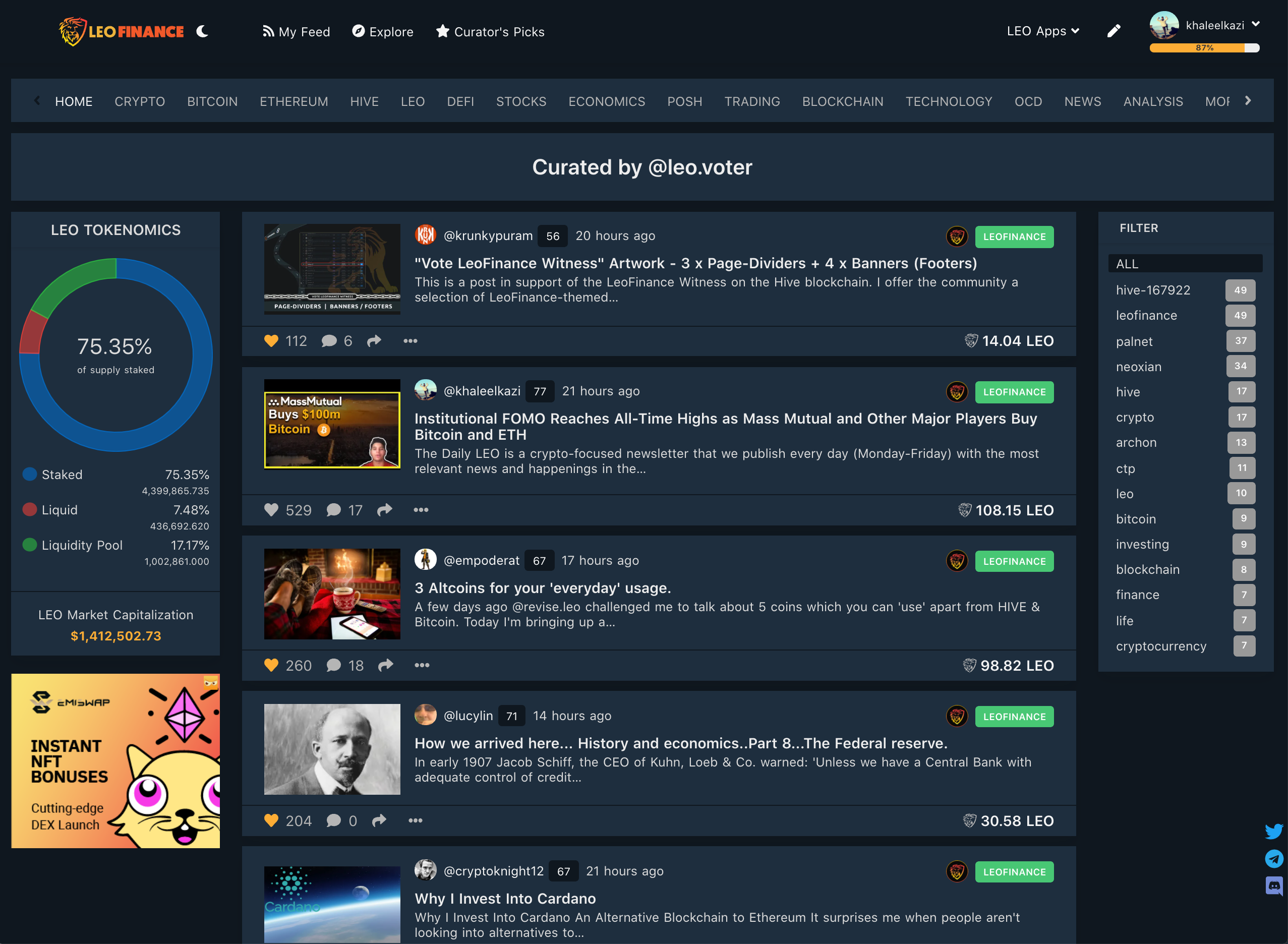 Posted Using LeoFinance Beta